Winter is upon us, people, and you know what that means: IT'S SWEATER WEATHER! So you cheerfully climb up to your attic — or wherever it is that you keep your winter clothes — like it's Christmas morning and pull out your favorite sweater. But when you go to wear it, you're shocked to see that it looks like this:
Right then and there, you think to yourself, "How the heck can I shave my sweater?" It's not a stupid question, and fortunately for you the answer is right here: It's this beloved Conair fabric defuzzer ($13+)!
And when I say people are loving it, I mean LOVING it. In fact, 82% of reviewers left positive reviews! So let's dive in to see why customers are raving about this thang.
According to this reviewer, the fabric defuzzer saved her $1,500+ chair after her cat went to town scratching up her chair cushions.
This customer used the fabric defuzzer to remove the pills from their socks....in the car!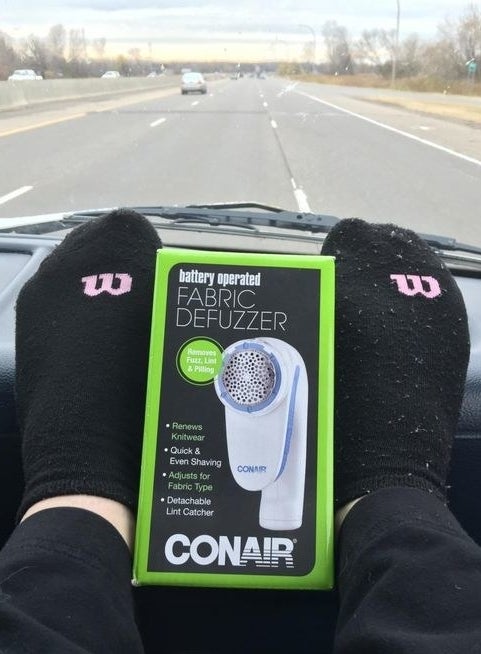 It can even make blankets that pilled from being washed and dried feel brand new again!
Or save gloves from the ~ghost of winters past.~ This result is so satisfying, I JUST CAN'T.
And last but not least, the moment we've all been waiting for...it will definitely renew your super fuzzy, all-time favorite sweater! No need to throw it out — just give it a shave!
You, doing a victory dance after defuzzing everything you own:
Get it on Amazon for $13+ (available in nine colors; also available as battery-operated or rechargeable).