1.
The Book of Unusual Knowledge perfect if you're someone who loves learning tons of random facts, telling your loved ones about all the cool tidbits stored in your brain, or excitedly parking yourself in front of the TV every night to watch Jeopardy!
Promising review: "My best friend is always telling me new facts about the most random things so when i saw this, I knew it had to be added to his bookshelf. And let me tell you the list of random facts keeps on coming. Yeah, yeah, I know... The Internet... but sometimes it's nice to disconnect from technology and read a real book. Couldn't be happier with this purchase." —Gregory
Get it from Amazon for $9.93.
2.
A vanilla bean simple syrup for adding some delicious vanilla flavor to coffee, tea, cocktails, mocktails, baked goods, and well, basically everything.
3.
A eucalyptus and lavender shower/bath pouch that'll help give you a spa experience right from the comfort of home. These may also help provide some relief from colds, congestions, and stress.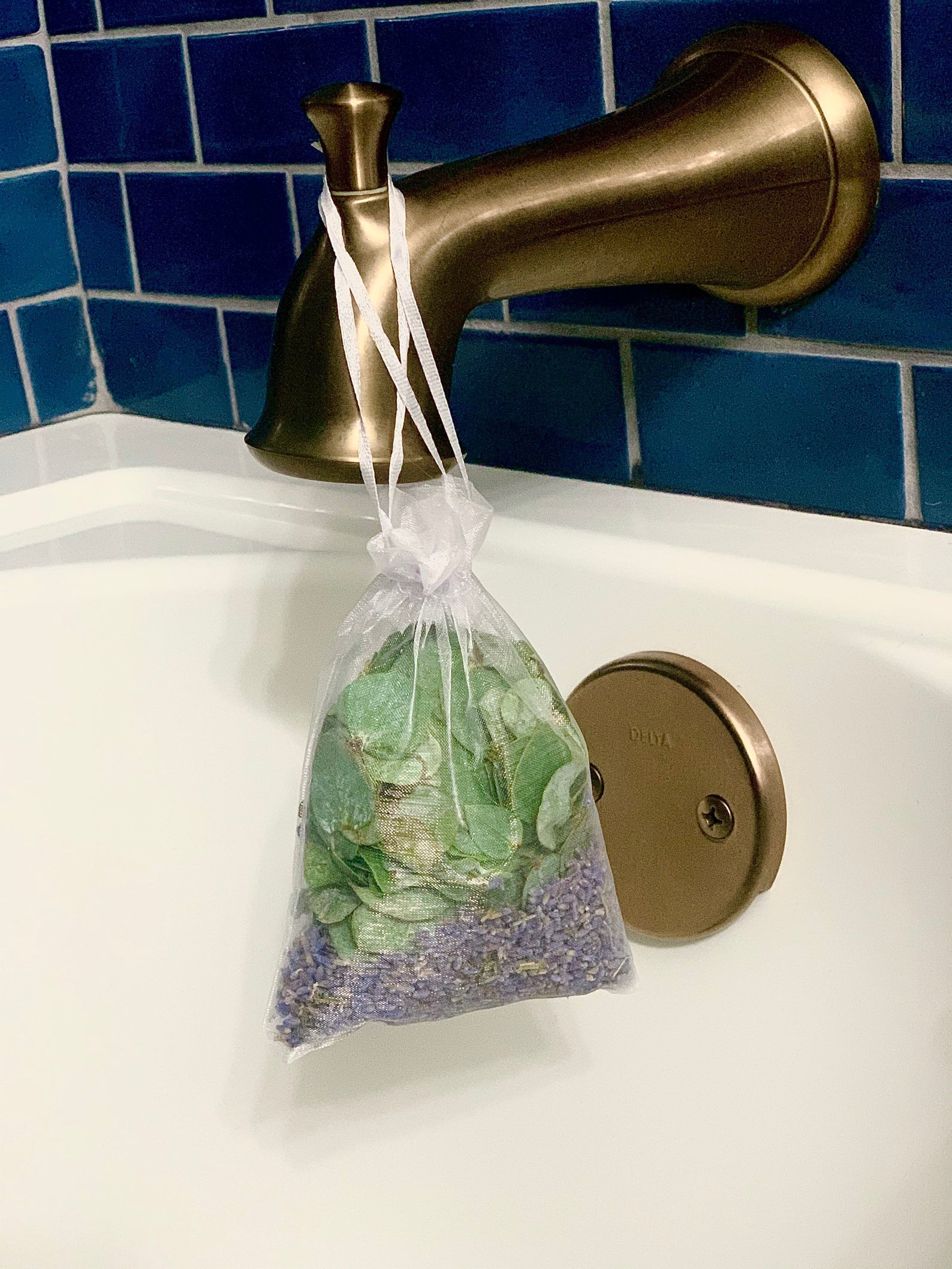 Eucalyptus Blooms is an Etsy shop based in Charlotte, North Carolina that sells eucalyptus and lavender shower and bath products and bouquets.

Promising review: "Not only does these enhance my shower experience, but my whole bathroom smells nice all the time!" —Edward
Get it from Eucalyptus Blooms on Etsy for $12.79/three pouches or $16.79/five pouches.
4.
A light-up makeup mirror for making your vanity feel like it belongs to a rock star and considering that you ARE a rock star, it's only fitting you treat yourself to this.
This mirror features three magnifying panels, a button that allows your dim or brighten the lights on it, a 180 degree rotation, a tri-fold design, and comes with a USB cable.

Promising review: "This is the perfect makeup mirror. It's the perfect size to put on a table to do your makeup or eyebrows. I love it because it's lightweight and portable. If you don't want to use the cable included, just use four AAA batteries." —Tac
Get it from Amazon for $22.99.
5.
A puzzle you'll have so much fun assembling because just LOOK AT HOW FREAKING CUTE IT IS!!! You don't even have to be a dog person to appreciate how precious this is! 
Badge Bomb is a small business based in Portland, Oregon that sells adorable puzzles, patches, enamel pins, stickers, magnets, socks, and more!
Get it from Badge Bomb for $20.
6.
A heart-shaped waffle maker that may just make you realize that you do actually "love" mornings. Or maybe you just like eating waffles in the shape of a heart. Either way, it works!
Promising review: "I absolutely LOVE my new waffle maker. I'll be honest — it is much smaller than I expected. You can carry it in one hand with ease. (It's a about the size of one hand.) But I really do love it. They turn out pretty fluffy so even though they're small, they have substance to them. Plus, how can you beat a heart waffle???" —Rachel
Get it from Amazon for $19.99 .
7.
A book of crossword puzzles you'll find start off easy and get tougher as you make your way through the book. By the end, you're sure to become a crossword pro!
Promising review: "This puzzle book is perfect. I took it on a plane and was able to complete multiple puzzles before we landed. I am not Einstein, but it wasn't too hard or too easy. I would def buy another one." —Whenpigsflyaway

Get it from Amazon for $11.69.
8.
A mascara to give you lashes so dramatic, no one will believe you when you tell them you bought it for less than $5 on Amazon.
Promising review: "I got tired of breaking the bank over mascara. My sister suggested Essence Lash Princess False Lash Effect and I IMMEDIATELY fell in love. It provides dramatic length and great volume. I can honestly say I can't stop looking at my eyelashes in the mirror every single day because of how awesome they look. Also, it is very long wearing. I go from an eight-hour workday right to the gym and sweat like crazy...and this stuff doesn't budge! I love it!!" —Carrie E Miller
Get it from Amazon for $4.99.
9.
A fleece tortilla blanket that'll make you feel like the inside of a warm, melty burrito in the best possible way.
Promising review: "This blanket is soft and warm. My 3-year-old will say 'make me a burrito' when she wants to be covered while laying on the couch and it's probably the cutest thing ever. The blanket is big enough for my husband who's 6'1" to cover his body and share it with me, which I was surprised about since it's round. I'd definitely buy this blanket again! The price was great, too!" —Aimer L'infini
Get it from Amazon for $19.99+ (available in four sizes).
10.
A set of woodland animal pencils to seriously upgrade your writing utensil game. These cuties are ready to write down anything and everything you need.
11.
An assortment of Cadbury chocolates for bringing your tastebuds on a trip across the pond, without needing a plane ticket.
Comes with one Curly Wurly, one Picnic, one Twirl, one Starbar, one Crunchie, one Wispa, one Dairy Milk Caramel, one Double Decker, one Dairy Milk, and one Flake.
Promising review: "Just received several days ahead of estimated delivery which was very nice. All the chocolates/candy are very freshly dated and were protected by the packaging. The box itself was a bit dented but everything inside was perfect. I am very happy with this purchase. Several years ago, I went to a local British store and bought about $40 worth of candy for a British vs. American 'taste-off' for the kids, (we would read a book and then try to eat meals/snacks like the characters for a new experience). This was so much less expensive and I saved myself the two hour round-trip drive. Can't wait to show the kids and remind them of that taste-off picnic!" —dp
Get it from Amazon for $18.70.
12.
A car diffuser to help give your vehicle a sweet scent. Am I the only one who is unreasonably excited at the thought about getting into my car and being greeted with the scent of fresh linens?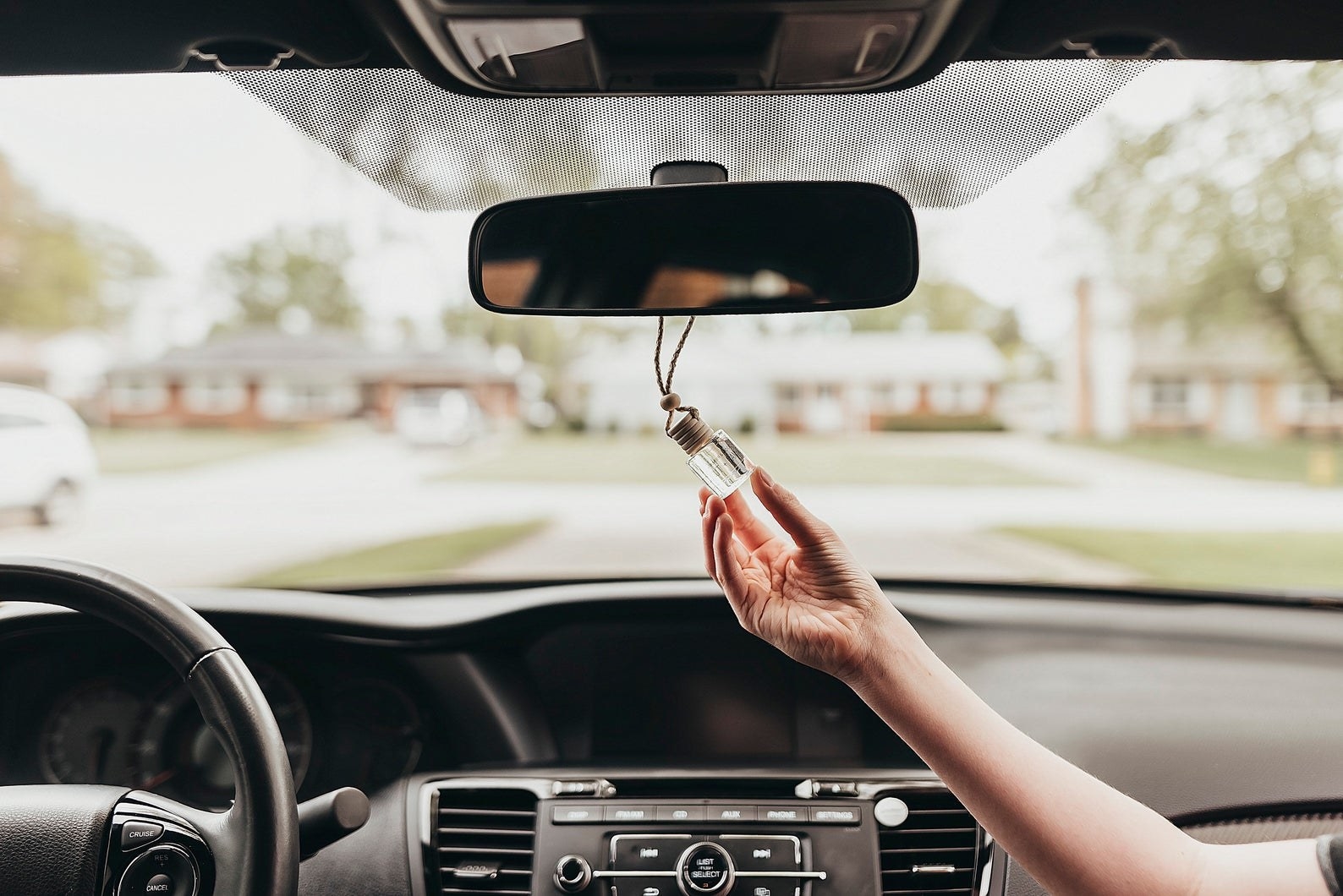 Amber & Wood Co is a woman-owned Etsy shop based in Valparaiso, Indiana that sells high-quality aromatic goods like pure soy wax candles, car diffusers, and freshening sprays.
Promising review: "I love these little car diffusers so much! They are cute and very fragrant. I got Winter Mint, Orange, and Connie Pine Cone. I may get some more for each of my girlfriends as a gift." —Allison Hutzell
Get it from Amber & Wood Co on Etsy for $8 (available in 19 scents).
13.
A Book of the Month subscription that'll help take the guesswork out of picking your next read. Each month, you'll choose from a selection of great books you want delivered. If nothing strikes your interest, you can save your credit and apply it towards a future month instead.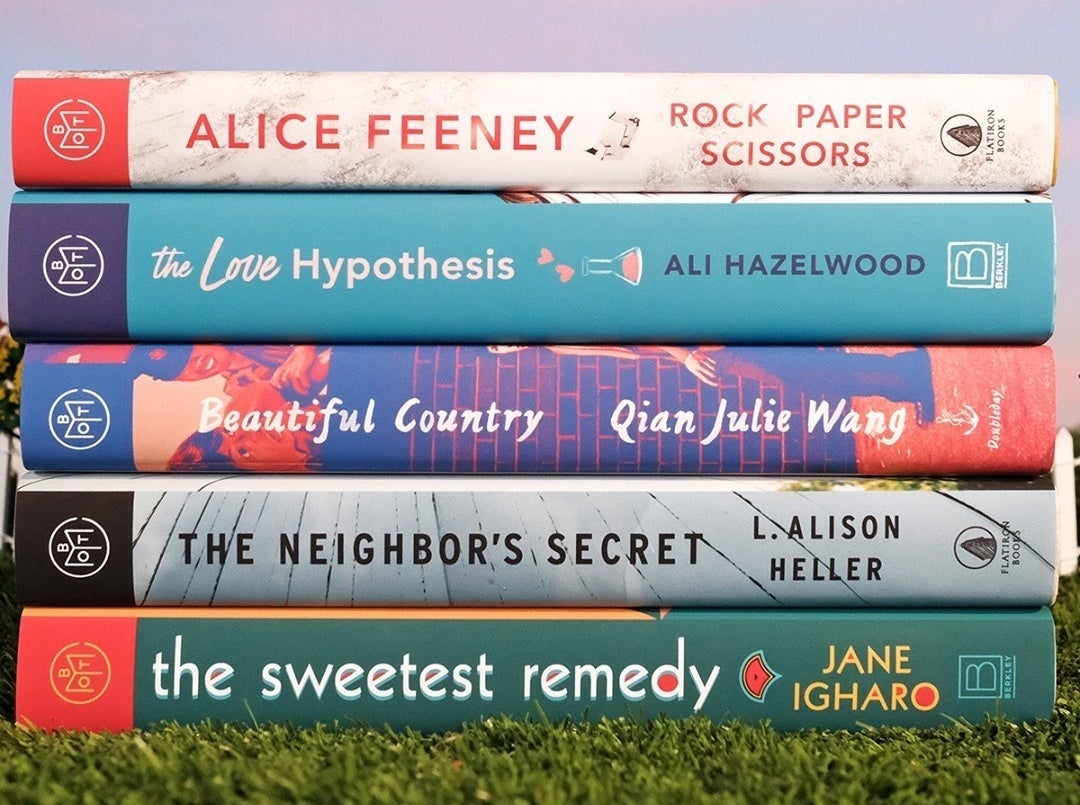 I joined Book of the Month a few months ago because I wanted to read People We Meet on Vacation and my local library had a waitlist. I thought I'd sign up for one month and cancel my subscription right after, but I am here to say that was not the case. I'm hooked on my BOTM subscription and can't recommend it enough. 

At the start of each month, they add five new books to the app. These books span all sorts of genres, include reads from new authors and returning favorites, and some even have a theme (AKA: spooky reads for Ocotber). You can choose up to three books per month. All three of your selections can be from that month's book picks or you can pick a book or two from that month's selections and choose add-on books — I've been doing this lately as I'm working on creating my own little ~home library bookshelf.~ If you don't like any of their monthly selections that is A-OK! Simply skip that month and a credit will be applied towards future months. 
It's such a fun thing to treat myself to each month and makes for a perfect gift (both to yourself and to loved ones). Happy reading! 
Sign up for Book of the Month starting at $9.99/first book and $14.99/each month after!
14.
A phone camera lens set for making all of your Instagram followers think you you hired your very own personal professional photographer — THAT is how good this set is about to make your grid look. 
Includes one 12x zoom telephoto lens with a manual focus ring, one fisheye lens, one macro lens, and one wide angle lens. Compatible with most devices!
Promising review: "I am truly amazed by the quality of these lenses. I have bought two before these, but honestly these are the best ones so far! The telephoto lens is a bit heavy, but it works really well. They all do. It arrived at a perfect time. It all came very well-packed in the box with instructions, a black little bag where I managed to fit everything it it, the telephoto lens, a fish eye lens, a wide angle lens, and a macro lens. It also came with a tripod for the phone, and it works really well. This is amazing!" —Nathalie
Get it from Amazon for $23.99+ (available in two sizes).
15.
Tequila Mockingbird: Cocktails with a Literary Twist, a recipe book that'll give you inspo for creative cocktails and bar bites based off of your favorite literary classics.
Promising review: "Love the recipes, and the variety: simple, complex, sweet, tart, bitter etc. The literary puns were spot-on, and I liked the idea that the drink could match both the themes at work in the story, and sometimes even the literary criticism surrounding the novel. The suggested games at the end were very funny, and the illustrations also added to the whole presentation." —Spilt Over
Get it from Amazon for $7.39/hardcover or $9.99/Kindle.