Everything is exhausting when life is dragging you down, including cooking, but our plebeian bodies need food to operate. And while it's convenient to order takeout or nourish any hunger with the nearest bag of chips, you probably don't want to make that a nightly ritual.
That's why I recently asked the BuzzFeed Community, "What's your go-to meal to cook when you're feeling depleted mentally, physically, or emotionally?" And ya'll delivered with some great responses. So here are the easy meals that I'm looking forward to trying myself during my next scheduled breakdown:
1.
"I get frozen chicken nuggets and one of those salad kit bags from the grocery store that already has all the ingredients and dressing included. Then I put the cooked chicken nuggets on top of the salad. It's tasty, plus there's protein, veggies, and fat in it. It's pretty effortless, practical, and great even when it's super hot outside."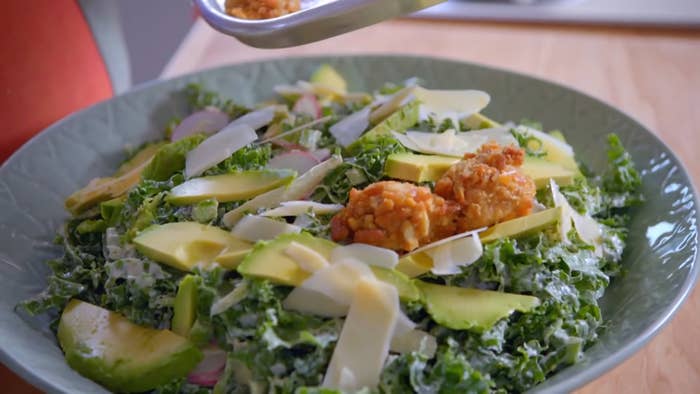 2.
"Cooked rice and soy sauce with salt, pepper, and generous heaps of butter. Set it, forget it, and 20 minutes later, you have a meal. Plus, you can make so much of this that your next burnout meal is leftovers!"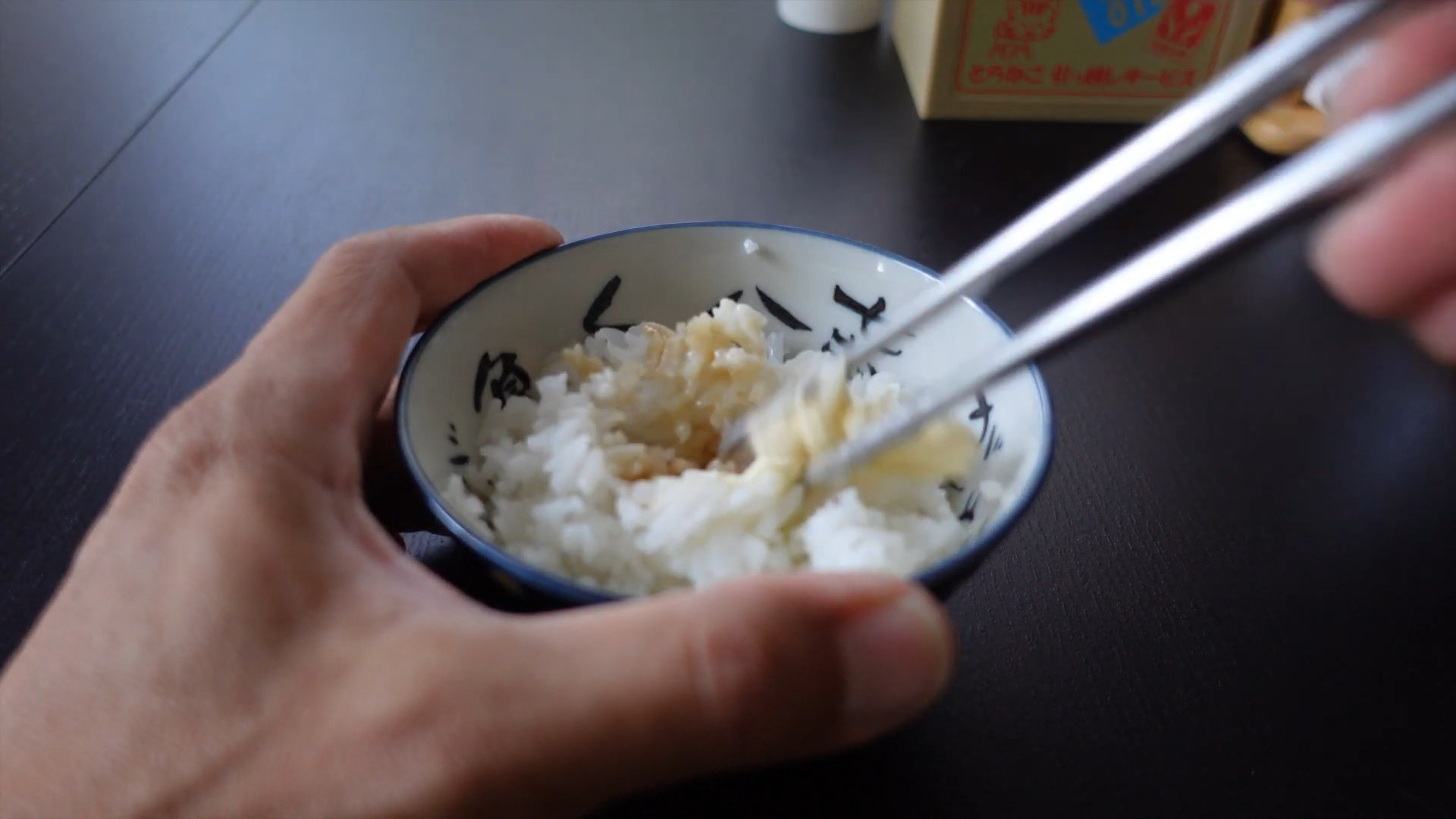 3.
"My go-to dish when I was living alone, working three jobs, and going to school was Annie's mac and cheese with extra additions — I'd add in a package of dried tortellini and a bunch of frozen veggies, too. Then after making the cheese sauce, I'd mix it all together and add in a can of tuna. It sounds weird, but it had enough flavor variety to not get boring and was easy to reheat when I didn't feel like moving."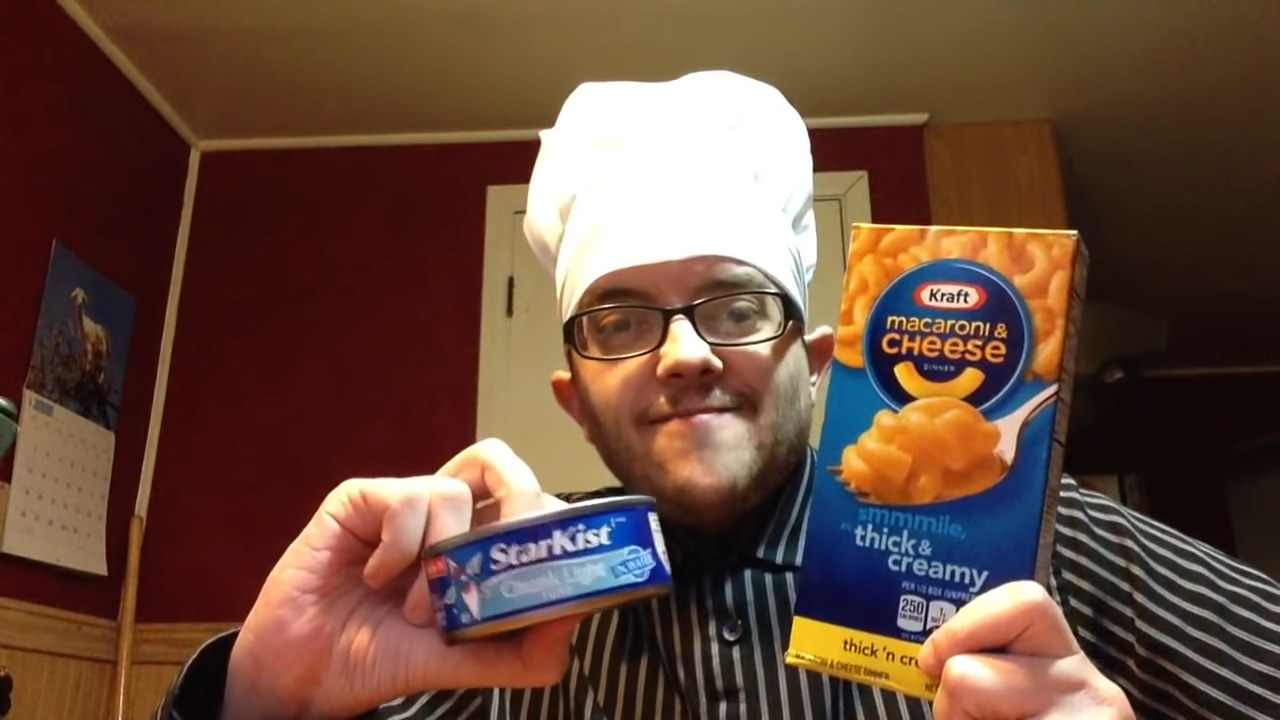 4.
"Eggs over easy on toasted and buttered seedy bread. Healthy, filling, and comforting."
5.
"Having been overworked and underpaid for years, I eat like a college student most of the time — I've often relied on Pillsbury tube pastries over the years. Here's my mom's recipe for a special dish with them: Soften an 8 oz. brick of cream cheese in a pan, and stir in two large cans of packaged chicken — season liberally with black pepper and garlic. I also add some red pepper myself. Then, open two cans of Pillsbury crescent rolls. Instead of separating the triangles to roll into crescents, squish the seams together so each can of rolls gives you four rectangles of dough. Spoon a heap of the chicken mix onto one side of the dough-rectangles. Fold the dough over and pinch the edges shut, and bake according to the instructions on the Pillsbury tube."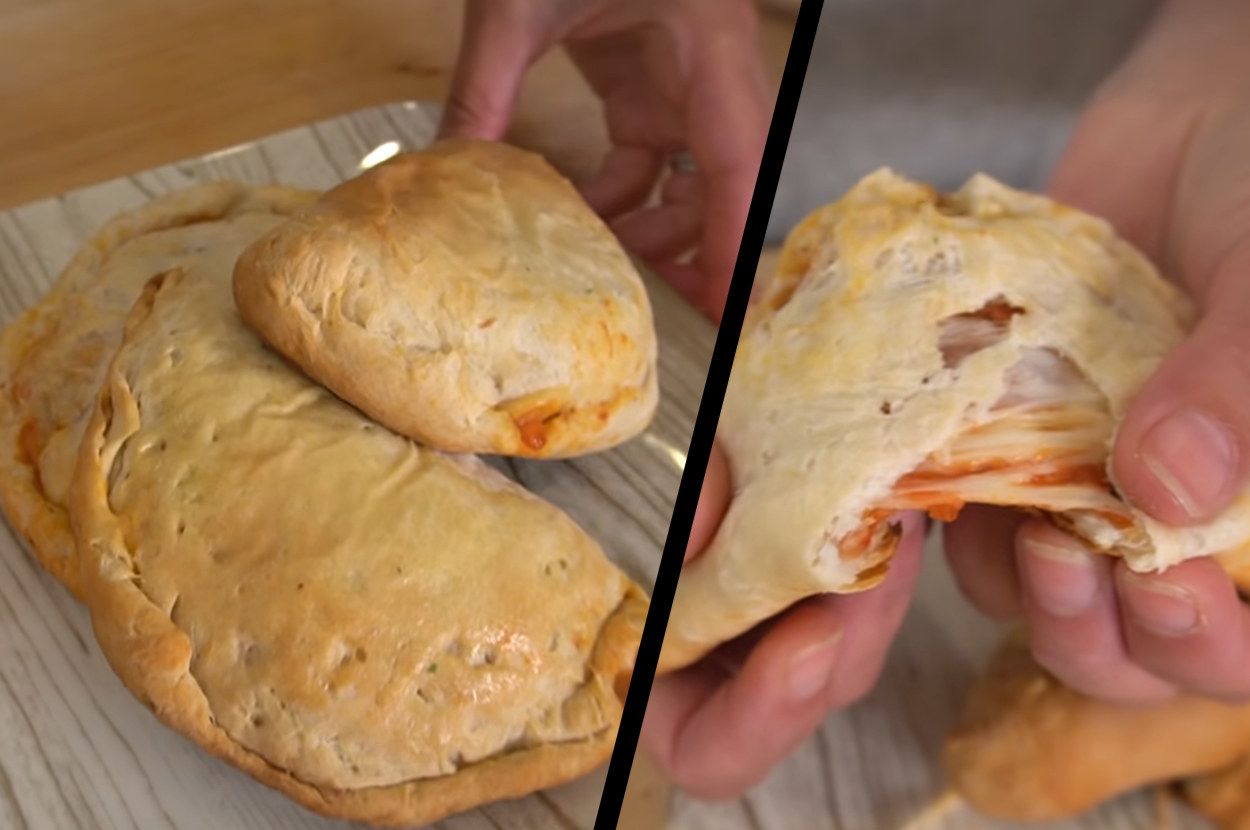 6.
"For my vegetarians and vegans out there, here are my favorite burnout meals to make: Frozen ravioli with pesto is one. Roasted halved potatoes with broccoli and cheese is another. And another great dish is rice or couscous with chickpeas plus frozen green beans/peas."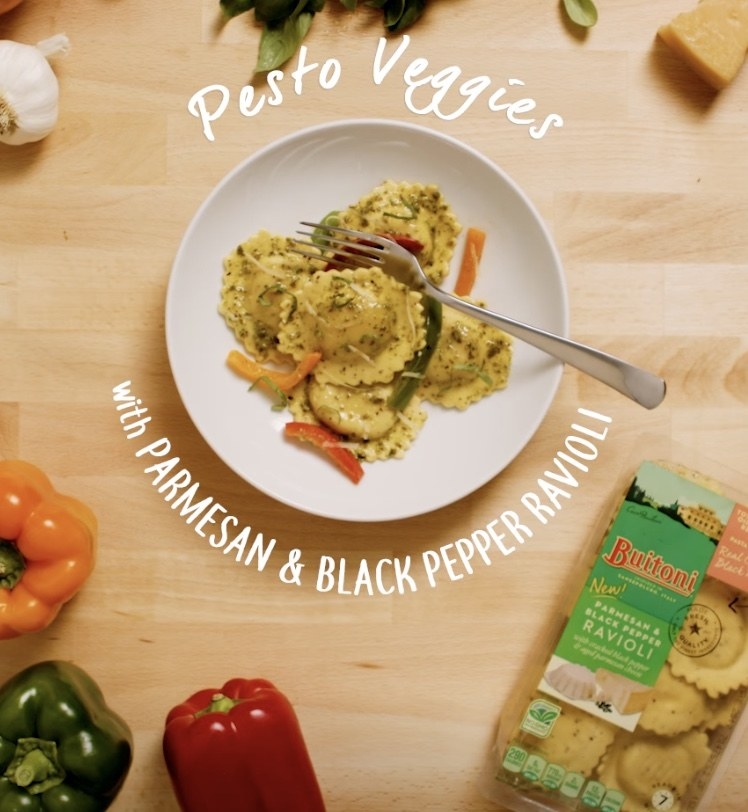 7.
"Ramen is everything. Here's what I do with mine, when I have the energy for additions: First off, I toss the seasoning packet and use Better Than Bouillon instead. Once the noodles have cooked, turn off the heat and add one or two eggs. Cover them in the noodles and let it set for one to two minutes before transferring to bowl. Stir with one to two ripped slices of American cheese, a pat of butter, toasted sesame seeds, chile oil, and chopped green onions."
8.
"I love mashed potatoes, but never have the energy to peel and boil potatoes, and instant ones just taste awful. That's why Ore Ida Steam 'N' Mash potatoes are the best. You just take the bag from the freezer and pop it into the microwave for 10 minutes, then add milk and butter. It tastes just like made from scratch. I don't even need a potato masher; I just use a fork! And I'll usually throw a piece of defrosted salmon in the oven with Trader Joe's Soyaki sauce to make it a full meal."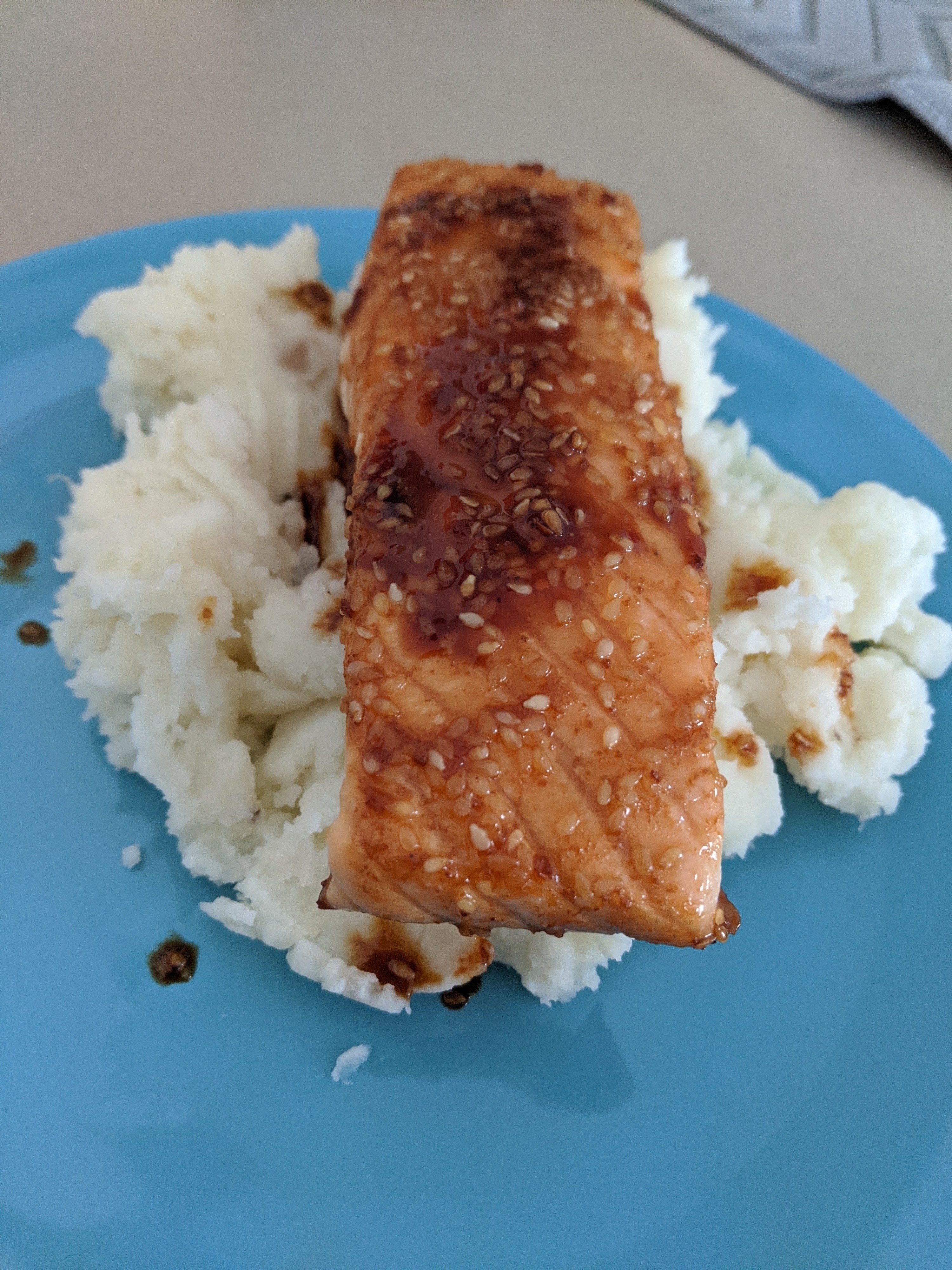 9.
"Boil spaghetti noodles and drain. Sprinkle sharp cheddar shreds over the hot noodles, and stir until melted. Sprinkle in salt and pepper, and you're done! Easy cheesy pasta!"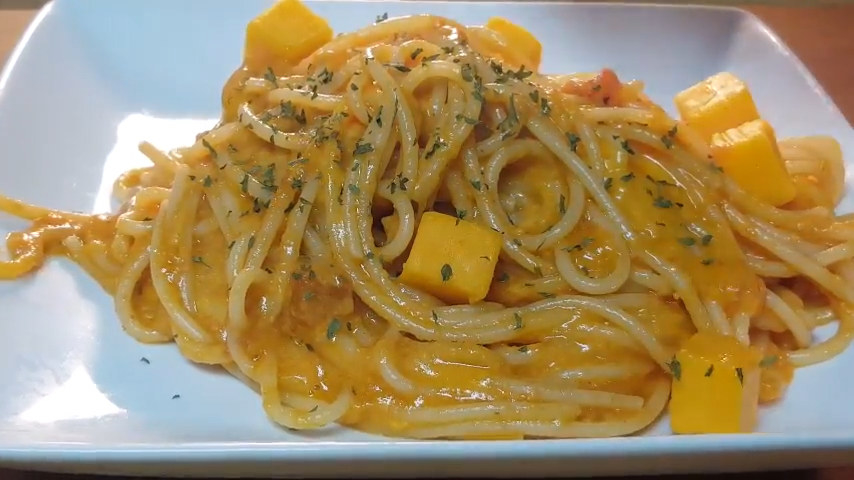 10.
"This is one of my favorite assemble-only recipes. All you need are Birds Eye Crispy Chicken Dippers, Ben's Original Long Grain Microwave Rice, and Blue Dragon Sweet Chili Dipping Sauce, either mild or hot. Oven-bake the chicken dippers until they're done, though I keep mine in for 20–25 minutes because I like them crispy. Then, nuke the rice pouch for two minutes. While that's happening, cut up the chicken dippers into pieces into a large eating bowl. Pour some chili dipping sauce over them, chuck the rice in, and mix it well. After that, it's ready to eat with a spoon."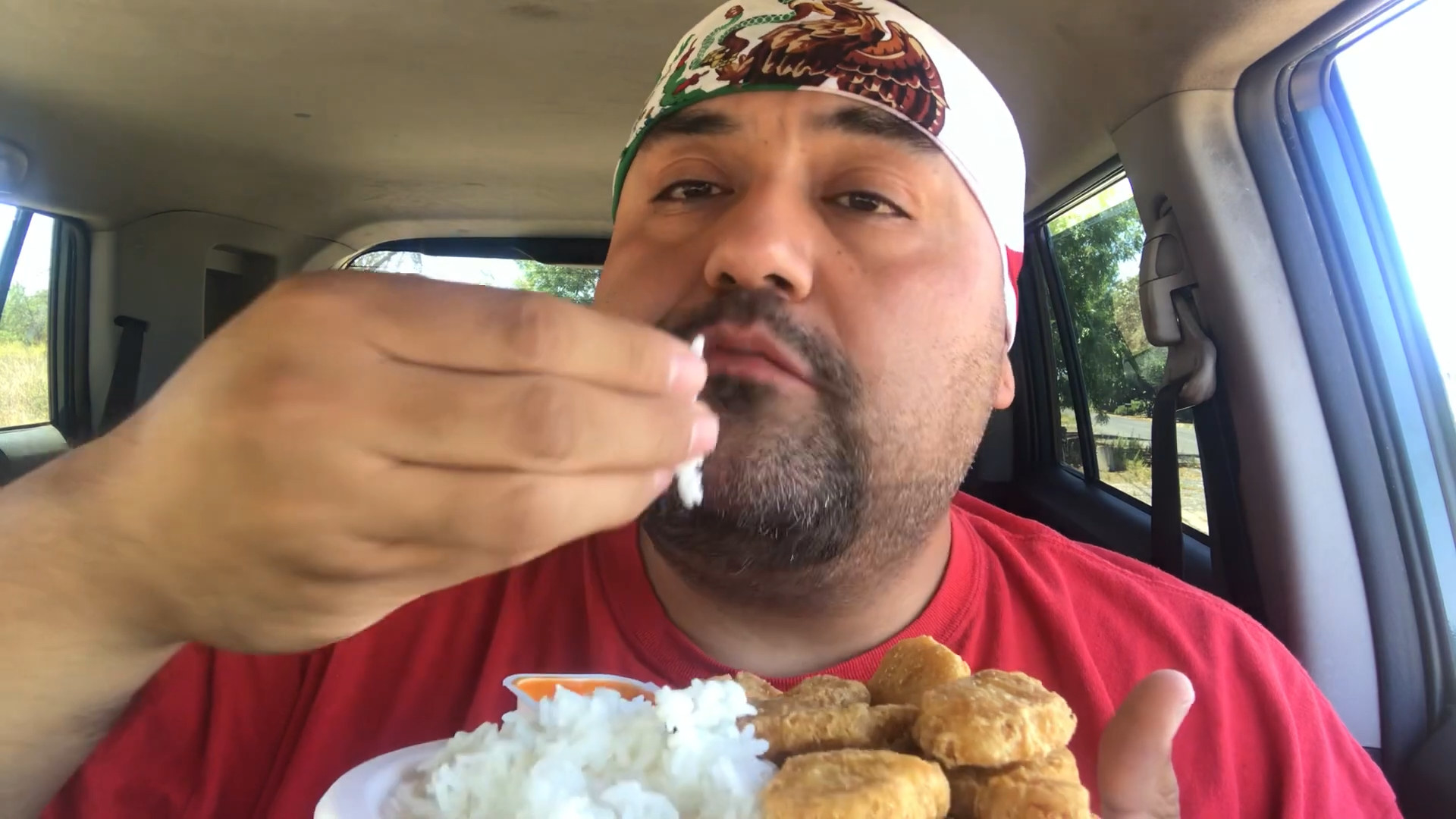 11.
"Canned chili is great. I throw it in a pan on the stovetop for a few minutes or microwave it in a bowl. Sometimes, I'll just eat a bowl of it. Other times, I'll throw it over a bowl of Fritos or a microwaved baked potato, and maybe grate some cheese on top."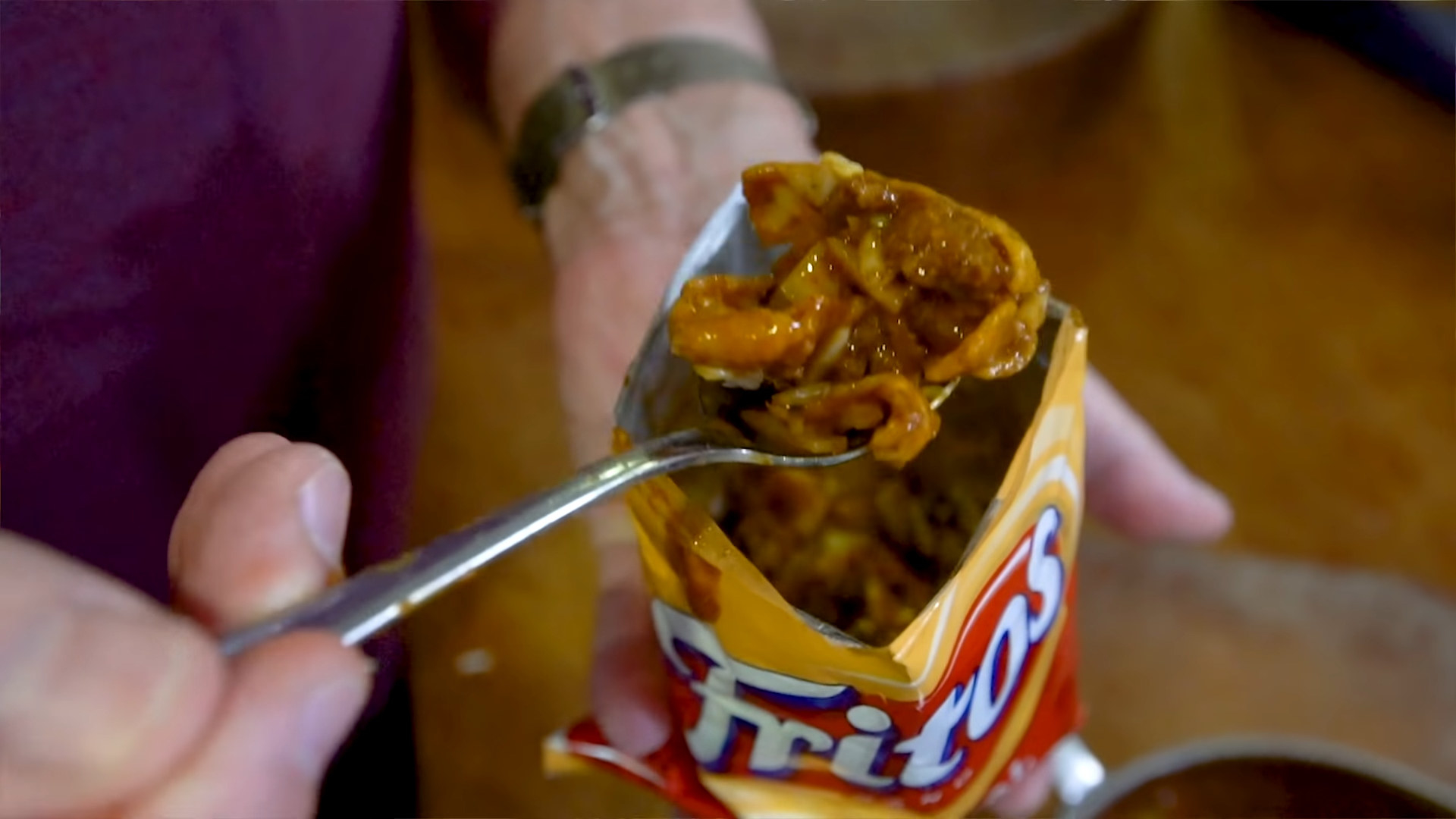 12.
"I make chickpea salad. It's super easy, healthy, and lasts for several meals. It's just a can of chickpeas, a cup or so of diced celery, half of a diced red onion, one tablespoon of mayo, one tablespoon of lemon juice and fresh dill with salt and pepper to taste. Eating this simple chickpea salad instead of snacks that make me feel gross helps me feel better about my choices, which in turn helps me feel better emotionally."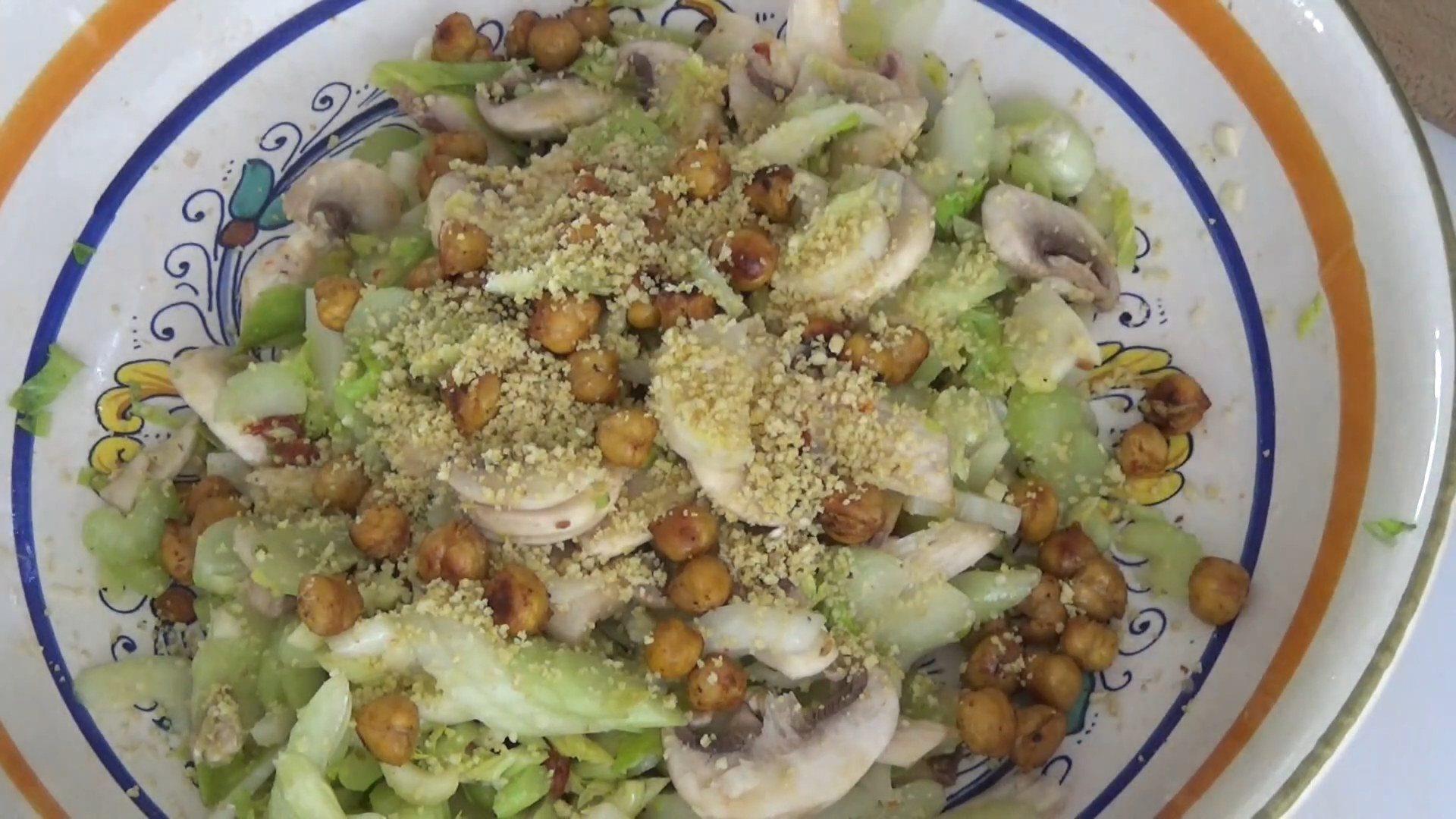 13.
"At least once a week, I make the following: a veggie burger topped with whatever fixings I have — avocado, cheese, pickles, and/or mustard. I skip the bun to avoid empty carbs. Then, I add an easy salad — just a handful or two of whatever greens I have topped with any dressing I have. If I'm out of dressing, then I just drizzle olive oil and balsamic plus a pinch of salt. It's fairly healthy, filling, and best of all takes next to no effort. And if my partner is extra hungry, I'll make frozen fries or tater tots as an additional side."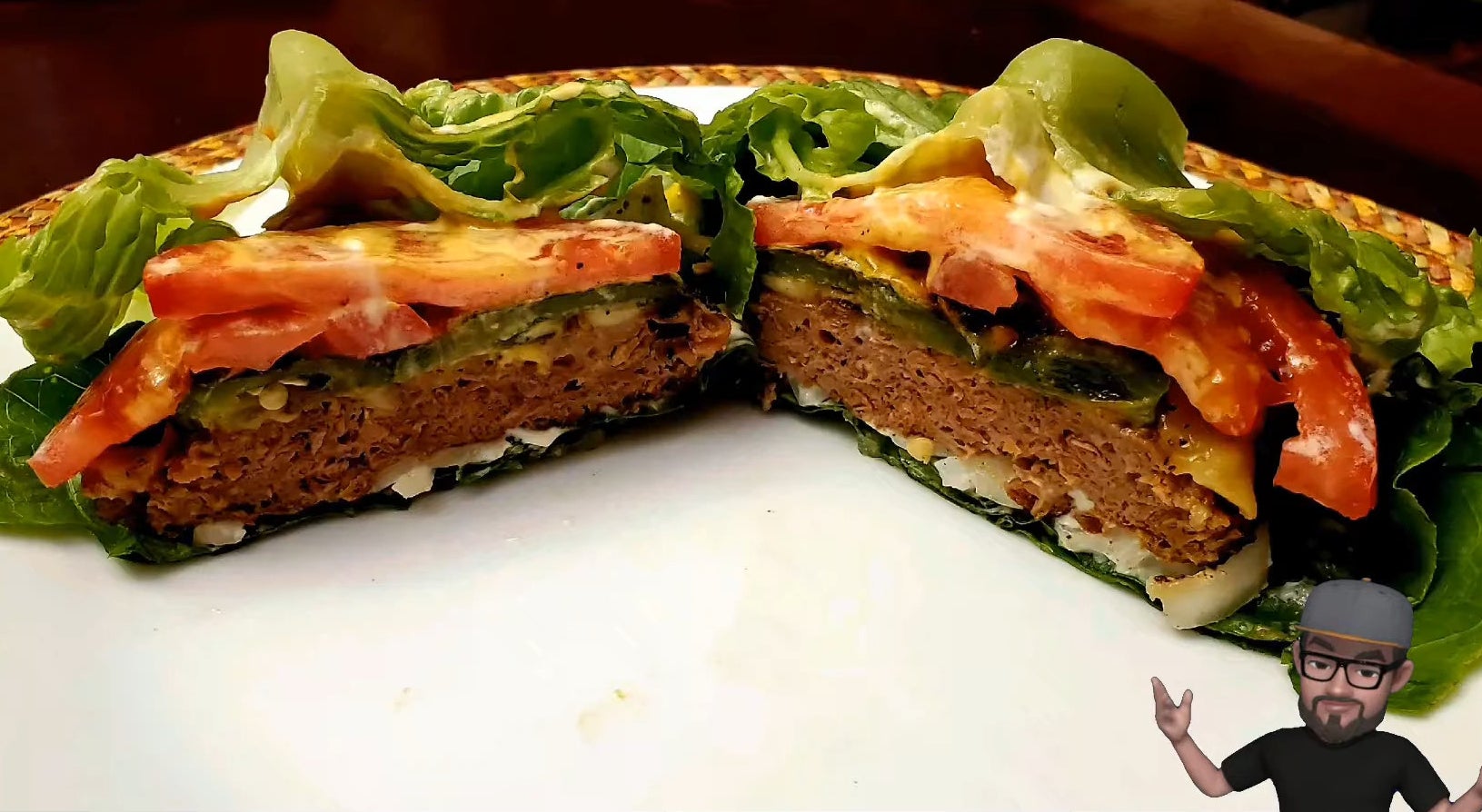 14.
"Cheeseburger macaroni is my go-to meal when I need something easy to make. All that's needed is a box of Velveeta Shells and Cheese or Kraft Deluxe Mac and Cheese plus 1 lb. of ground beef — super easy! Make the mac and cheese first; then, set it aside or keep it warm on the stove. Brown the beef and season it with anything you like — I usually do chopped onion, garlic salt, and cracked pepper. Drain the meat, and pour into the mac and cheese. Stir, then chow down! Sometimes I'll sprinkle some Hidden Valley Ranch Seasoning mix on top for a little extra something-something."
15.
"Quesadillas! Super easy. All you need is tortillas, cheese, and butter."
16.
"Soup. All you need is a stove or microwave and a bowl. I like to keep around frozen vegetables, dry pasta, and bouillon soup base just for this. You just boil everything, so it requires very little attention, and you can add in anything else you have the energy to prep."
17.
"Fried eggs on top of pasta. It sounds like a weird combo, but it will keep you full for hours. Butter, salt, protein, carbs — this meal pretty much got me through college!"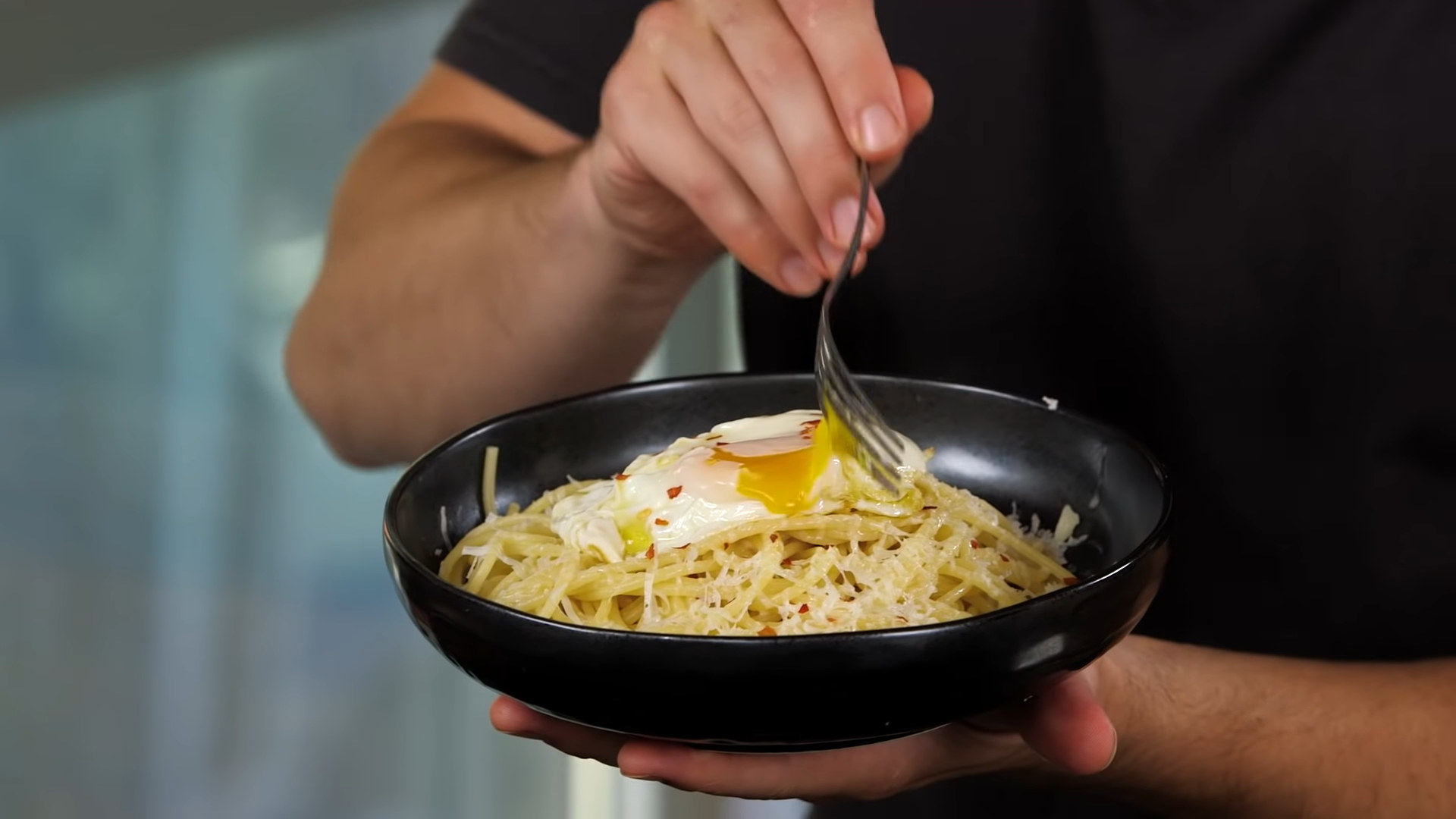 18.
"I heat up an instant oatmeal packet in the microwave, and then I add a scoop of canned pumpkin and cinnamon. It's become my depression comfort meal. Pumpkin oats + comfy couch + mindless TV = survival."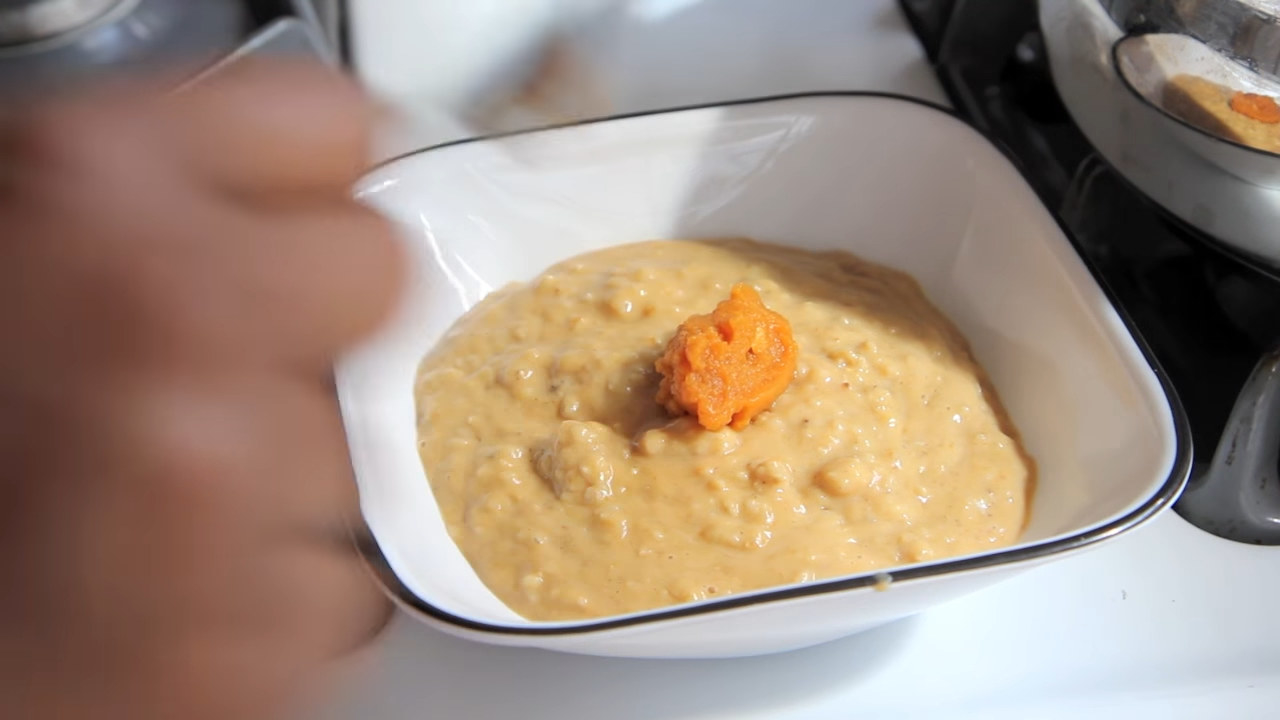 19.
"I like to make a super easy potato and egg scramble. Chop up half of a large-sized russet potato into hash-sized bits and put in a microwave safe bowl. Drizzle with olive oil, and add salt and pepper to taste (or whatever spice you like). Microwave between two and three minutes, loosely covering with a paper towel or lid — make sure the bits are at least tender. Crack in an egg or two, and whisk. You can also add chopped up ham or other savory protein and cheese, and stir all of it until incorporated. Then microwave in 30 second intervals, stirring between intervals to make sure the eggs cook evenly — should be done within two minutes."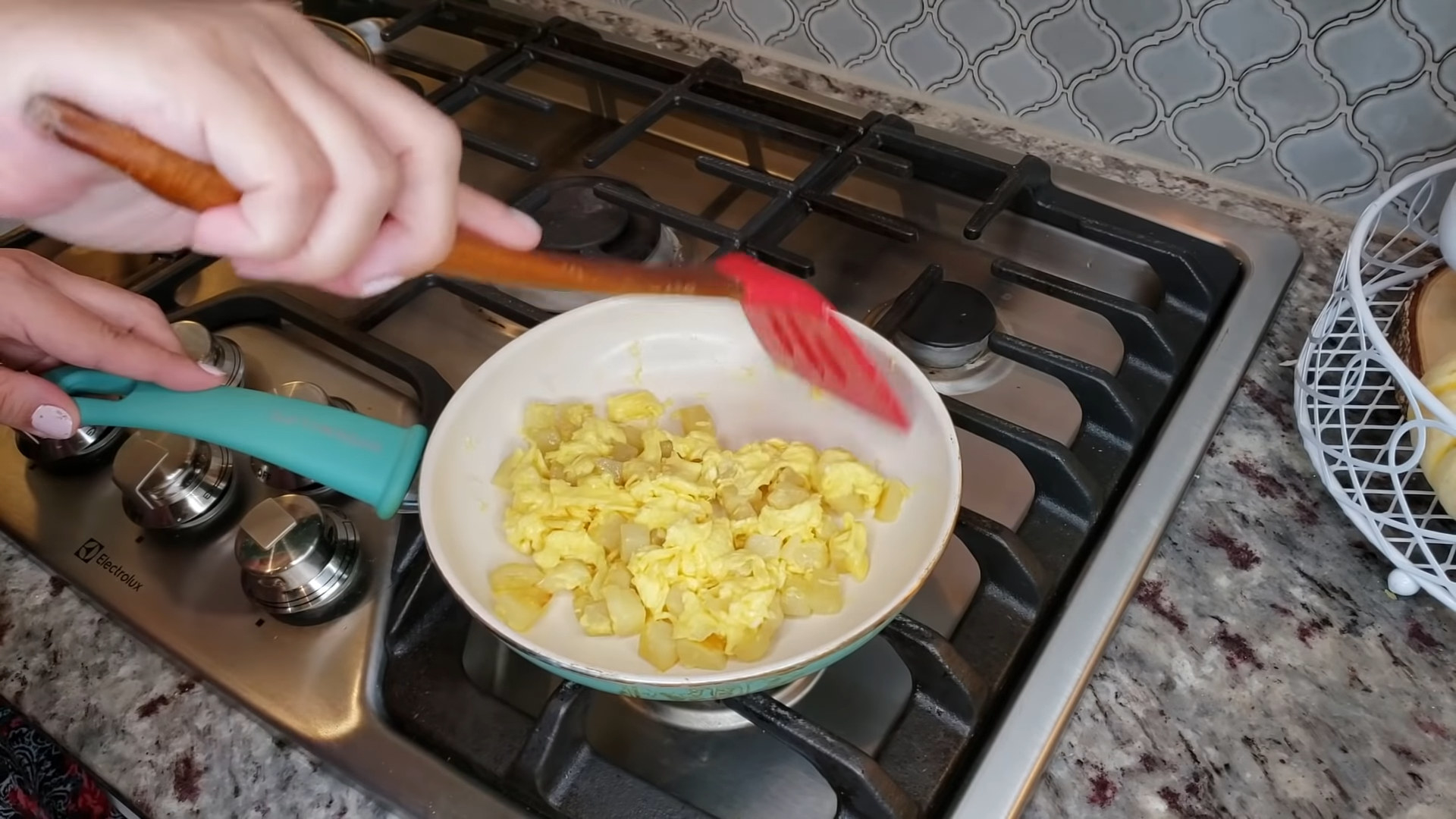 20.
"I microwave a sweet potato for 10 minutes and top it with tuna mayo. Another go-to dish is boiled rice with soy or teriyaki sauce, and maybe even an egg on it."
21.
"I usually order delivery when I'm down and don't want to cook, but nachos are my other go-to. All that's needed is chips, ground beef, black olives, jalapeños, and salsa. The key is the salsa — depending what moves me, it can be mild, medium, or hot, tomato-based, tomatillo-based, or chile-pepper-based."
22.
"Frozen Italian meatballs and instant mashed potatoes."
23.
"Mine might seem complicated, but it's honestly the easiest, fastest, and best dinner: First, cube a few potatoes and cut Brussels sprouts in half. Put them on a baking sheet and add unpeeled garlic cloves. Drizzle olive oil, salt, and pepper on everything. Next, put bone-in chicken thighs skin-side up on top of the veggies. Add a ton of salt under the skin and on top of it. Bake everything at 425°F for 45 minutes. Final step? Enjoy."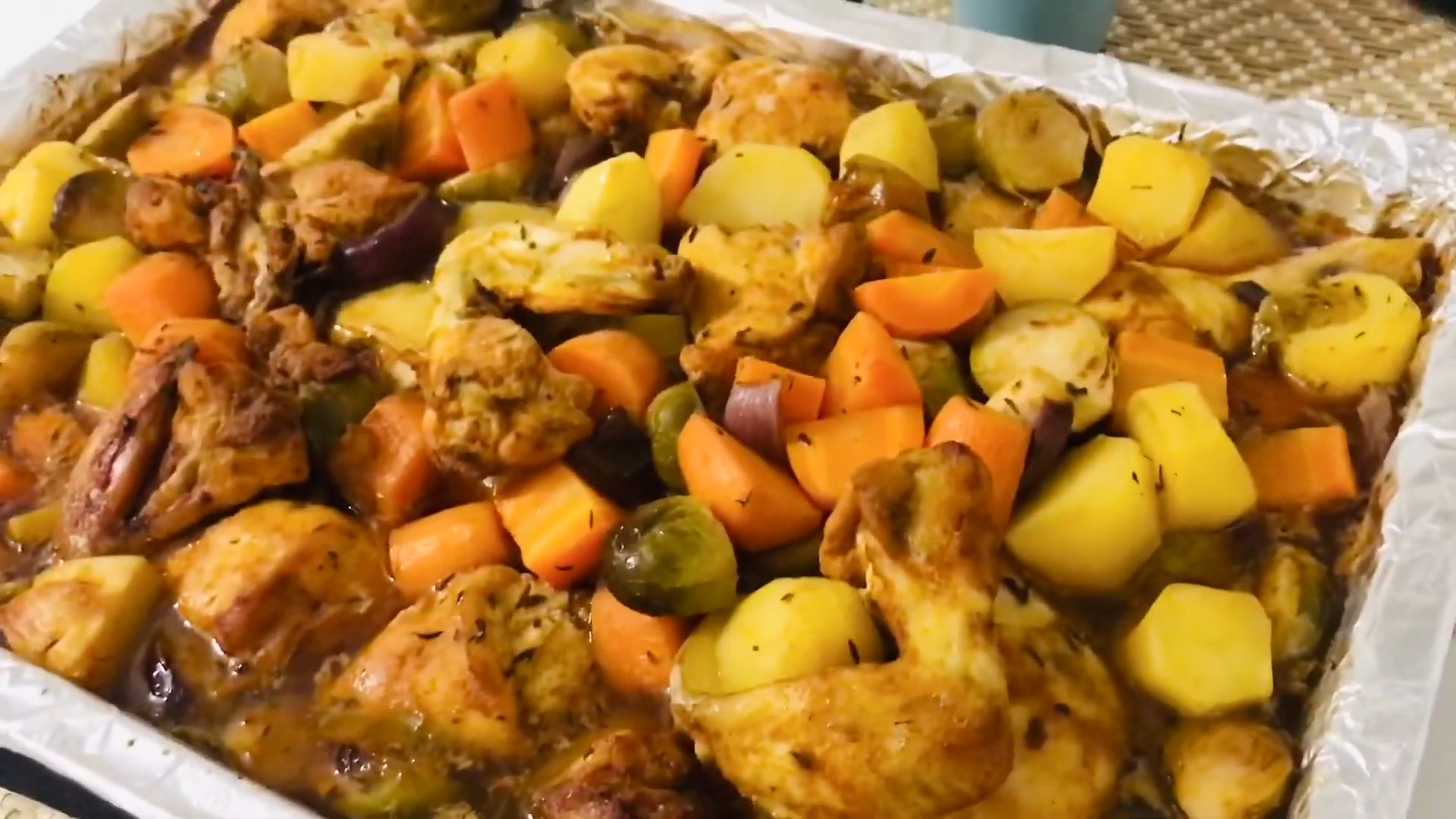 24.
"Egg or tuna salad. All you need are hard-boiled eggs or tuna, mayonnaise, mustard, spicy relish, green onion, and spices to your liking."
25.
"I toss a few vegetarian nuggets into my air fryer, microwave some veggies, and eat it all over instant rice with some sort of sauce (my current favorite is Yellowbird Bliss and Vinegar). It's so tasty! And I can have all three components prepping at the same time, so it's a super easy-to-make meal that's done in minutes."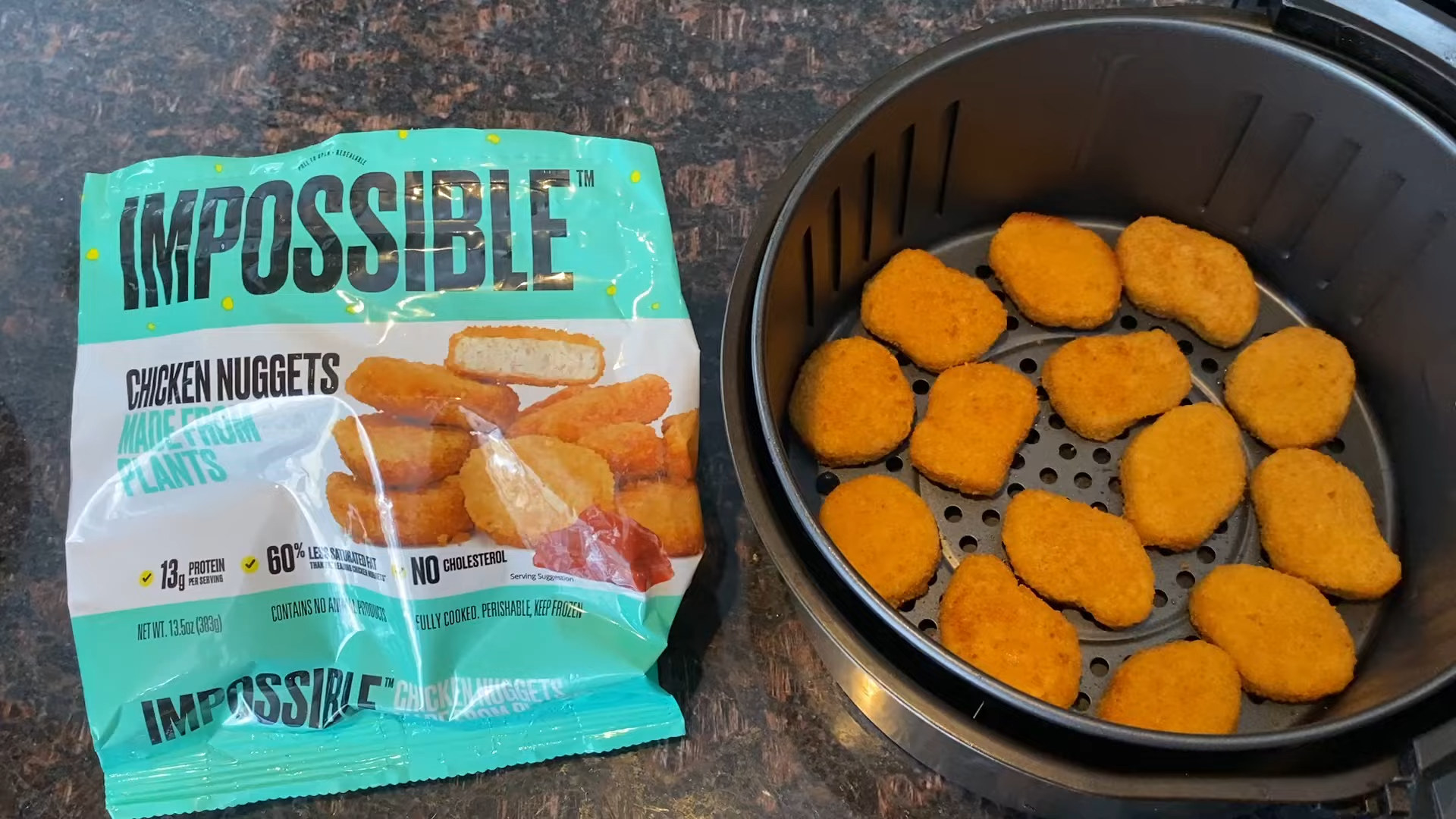 26.
"Cheese slices, pepperoni, olives, and nuts, all in their original containers and packaging. It's my 'stressed charcuterie.' Oh, and wine — need that, too."
27.
"My go-to comfort meal is a spin on Salvadoran casamiento. It's vegan, cheap, tasty at any time of the day, and delicious as leftovers. You can make it with whatever canned beans are sitting in your cupboard. I like kidney beans, pinto beans, or black beans. First, you cook a couple servings of rice on the stove or in a rice cooker — add more rice if you want leftovers or if you're using a big can of beans. Then, chop up some green onions and garlic, and fry them in oil for a few minutes in a separate large pan at low heat. Add in the can of beans, liquid and all. Let it simmer for a few minutes while you dice and salt one to two tomatoes. Add the tomatoes, then gradually stir in the cooked rice. Remove the pan from heat and give the rice time to soak up the liquids. Season with salt, pepper, and Sriracha to taste, and serve with lime wedges."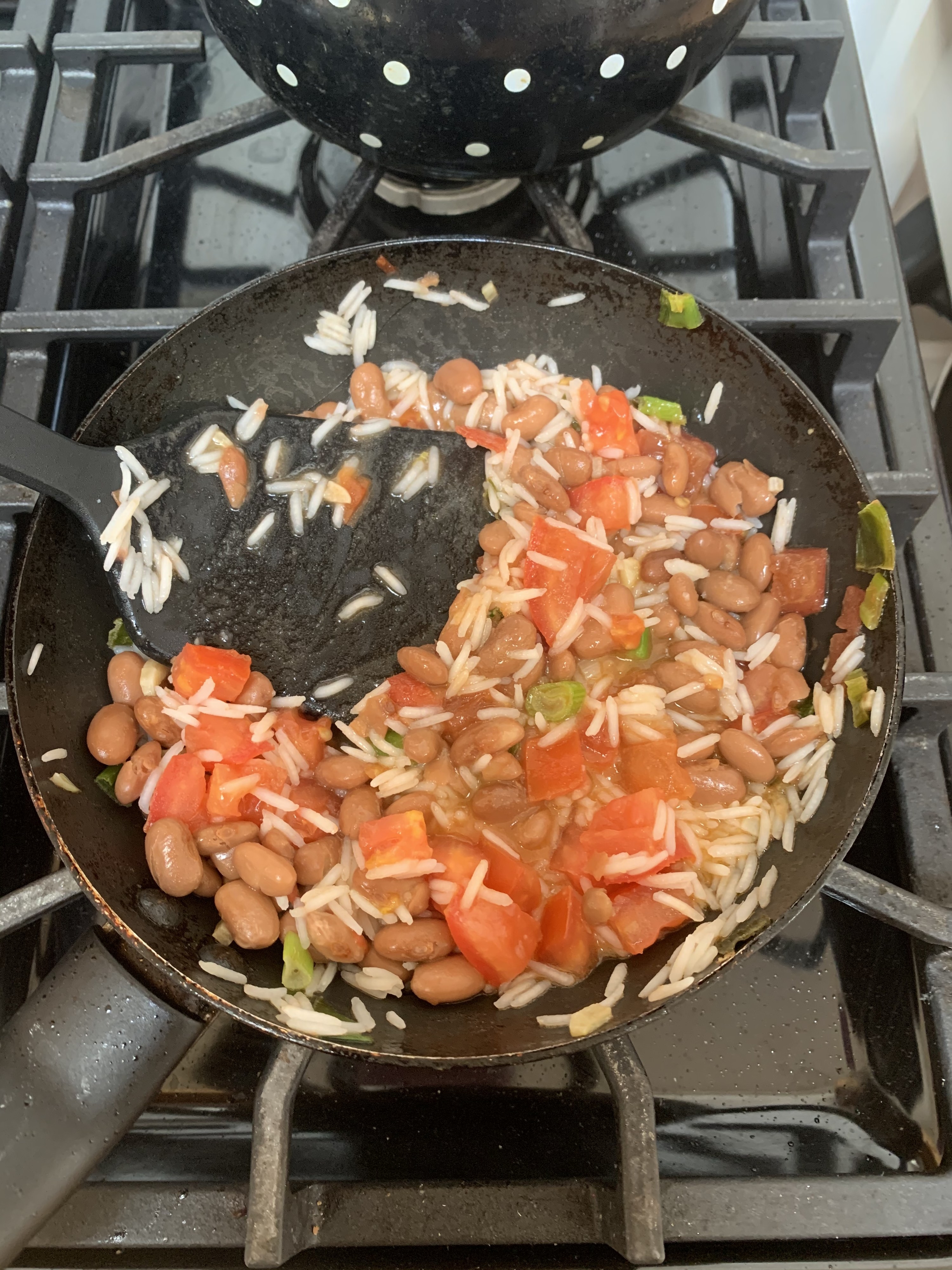 28.
"Egg sandwich! When I was going through depression I lived off these. I'd cook up two eggs, toast some bread, sprinkle on some cheese, and added a little bit of mayo (so good, I swear). It's quick, easy, and relatively nutritional."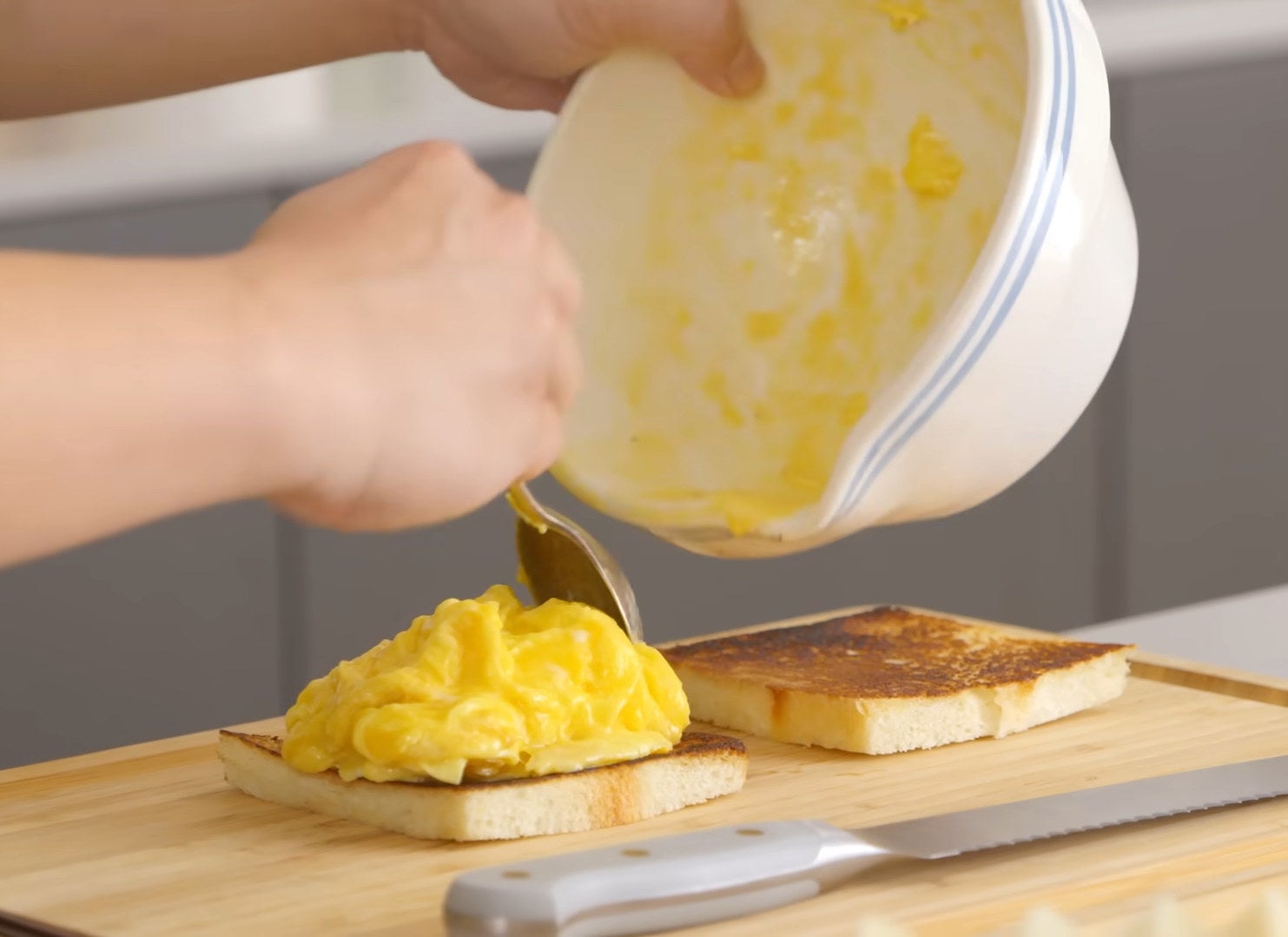 29.
"My fave: Wrap some Raclette cheese in a tortilla wrap, and microwave for a couple minutes — warm, easy comfort food."
30.
"I'll stop by the grocery store and pick up a rotisserie chicken, a couple of sweet potatoes, and a salad mix kit. Poke a few holes in the potatoes and bake them at 400°F, shred some chicken, and mix the salad. And there's your meal! It's healthy, makes you feel full and satisfied, and you can always mix up how you make the potato, or even grab some tortellini to mix it up. Easy, relatively cost friendly, and I can typically make it last another meal or two."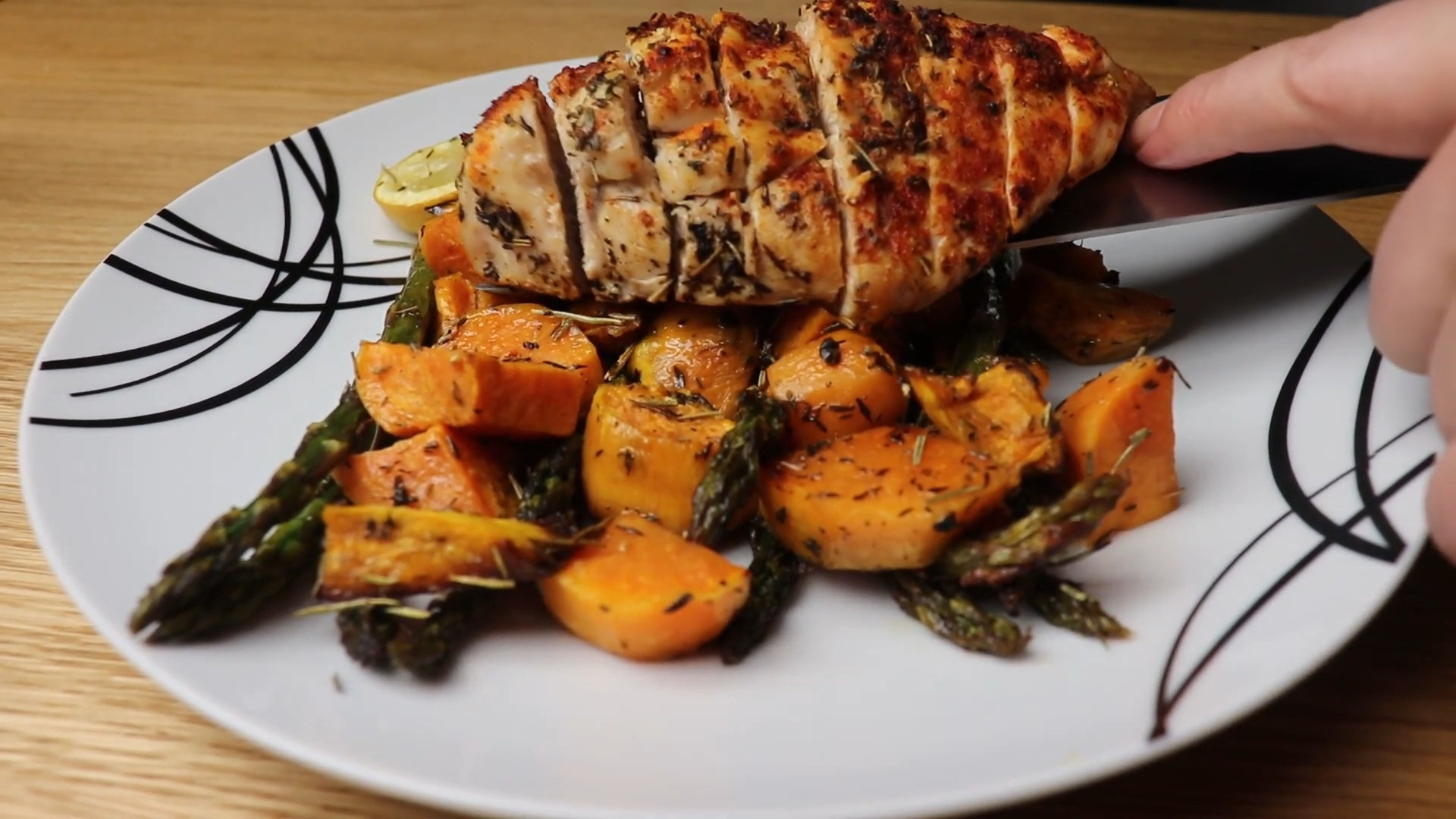 31.
"Old Italian staple: macaroni and peas. Boil ditalini pasta and add either cooked peas with the cooking liquid or a can of young English peas (like Le Sueur) and their packing liquid. Drop in a few generous 'glugs' of extra-virgin olive oil, salt, and pepper. Top it off with Parmigiano Reggiano cheese if you have it. It makes for an outstanding meal."
32.
"I boil pasta and mix it with microwaved cheesy broccoli. It's a way to convince myself that I'm being slightly healthy, but it's still comfort food. And if I'm really burnt out, I swap the pasta for microwaveable rice. I used to make this all the time during law school finals."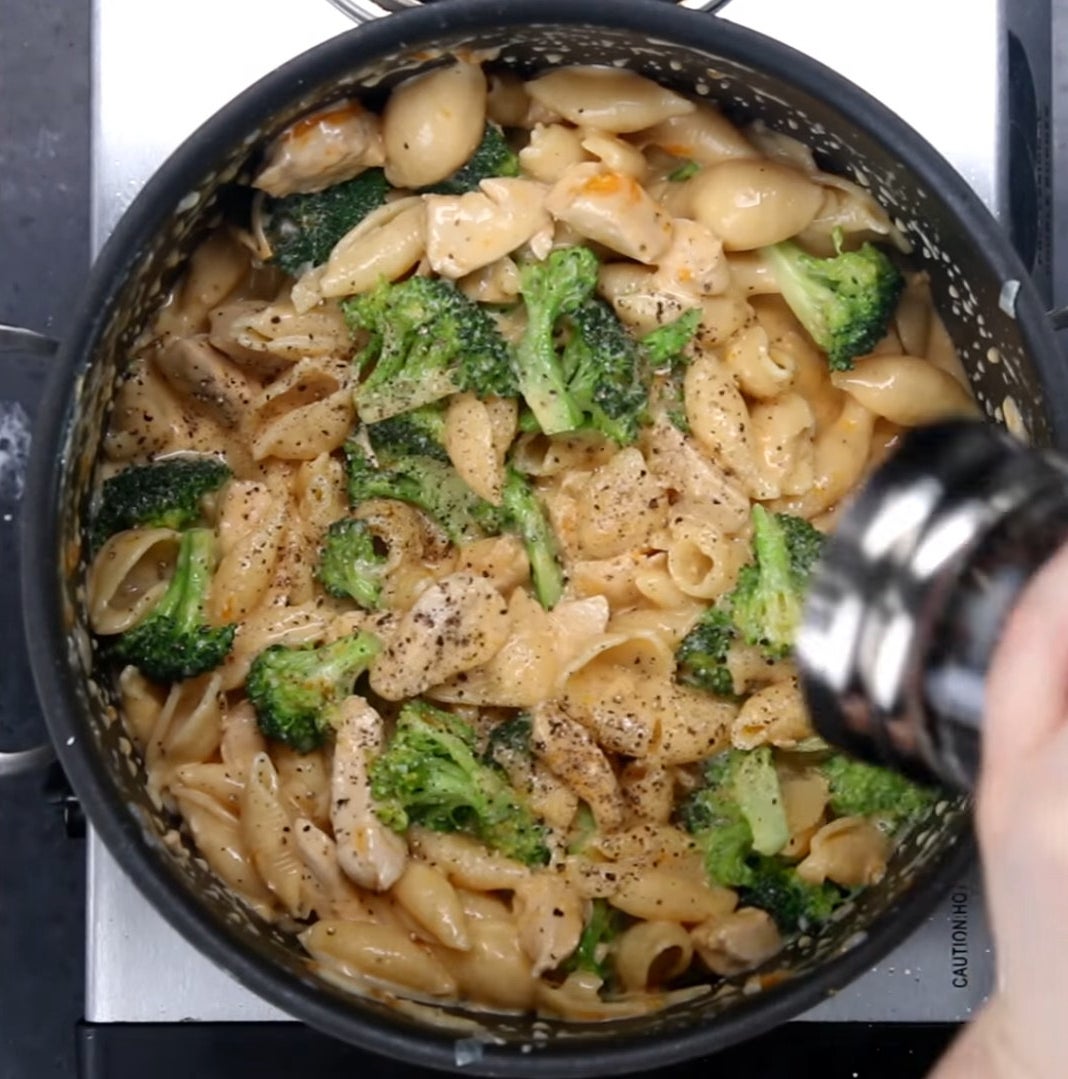 33.
"I get endless grief and disbelief for this, but when I am too tired to cook, I eat corn chips and cream cheese. People who once made fun of me always came back later to tell me they tried it and were now addicted. My personal preference is plain corn chips and plain whipped cream cheese, but go with whatever makes you happy."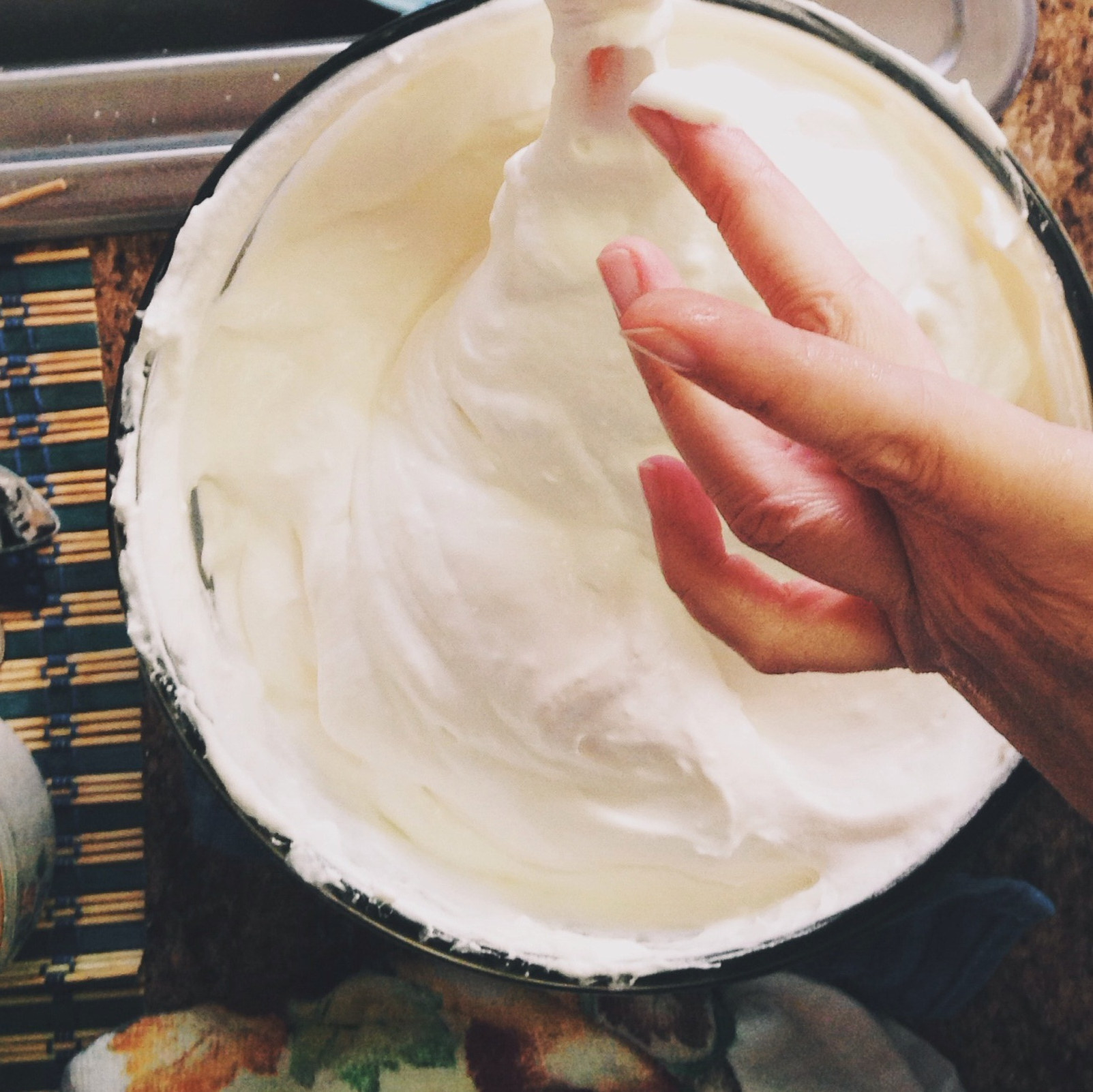 34.
"This tuna pasta salad is super simple: All it calls for is cooked pasta, mayonnaise, chopped cheddar cheese, celery, green onion, spicy relish, salt, and pepper."
35.
And finally: "For me, I'll just put anything on toast — baked beans, hummus, guacamole, or cream cheese, with some Everything but the Bagel seasoning from Trader Joe's and red chile flakes. It's not a proper recipe, but if you're going through depression and even getting a glass of water or going to the restroom seems like a 10-mile trek, there's nothing much easier than 'toast, spread, and shake.'"
Which meals seemed like they'd be the most comforting during tough times? What's your own go-to meal to cook when you're too burned out to cook anything else, and how do you make it? Drop it in the comments.
And remember: You deserve to be taken care of, sweetie. Even if the one caring for you is yourself. I'm rooting for y'all!
Note: Submissions have been edited for length and/or clarity.