The trailer gives us a look at all of the different realities Wanda, Vision, and other characters will be inhabiting during this series, and it looks so good.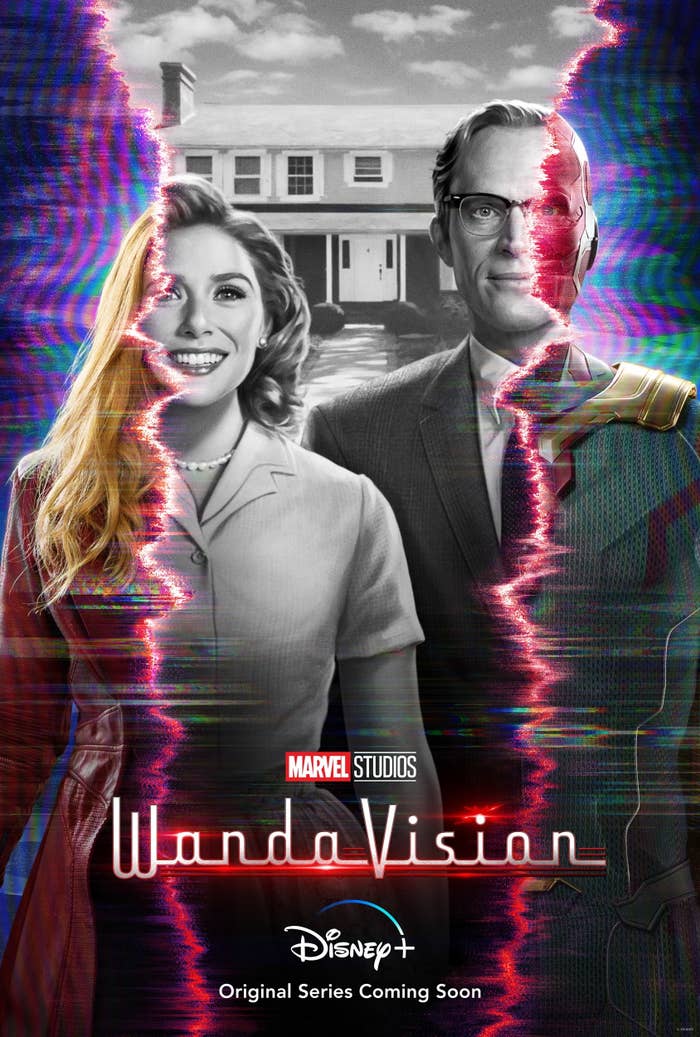 And while the trailer is barely more than a minute long, there are already a lot of details/Easter eggs we have to talk about right now:
1.
First, at the very beginning of the trailer, we see Wanda and Vision driving off in a car with a "Just Married" sign and the license plate "0102." The number could be a nod to Avengers Issue #102 or Vision and the Scarlet Witch Vol. 1, Issue #2.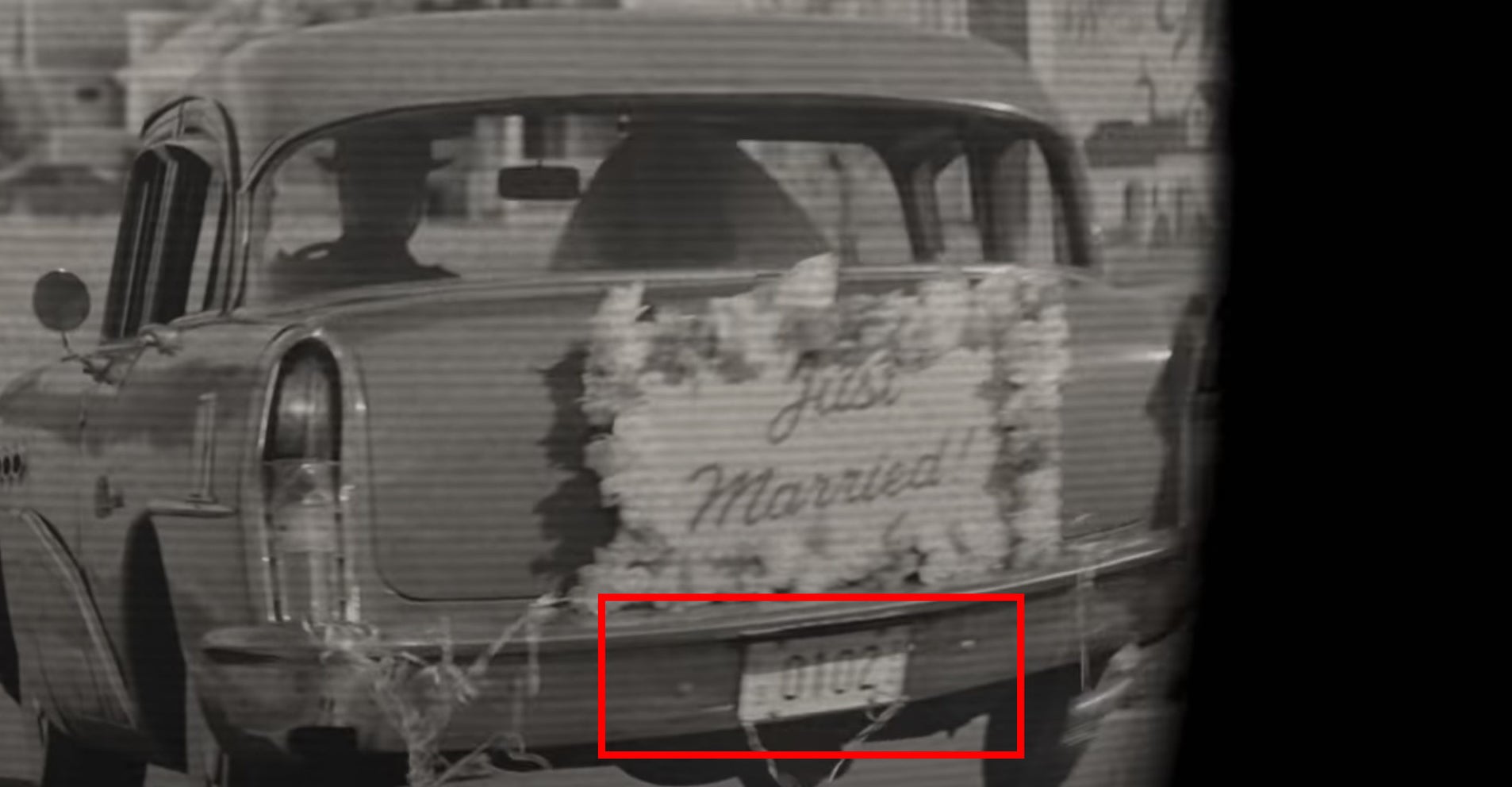 2.
WandaVision will combine the styles of classic sitcoms, so the sets are all nods to some iconic shows, like The Dick Van Dyke Show.
3.
The living room Wanda and Vision are dancing in on their wedding day looks like the one from The Dick Van Dyke Show as well.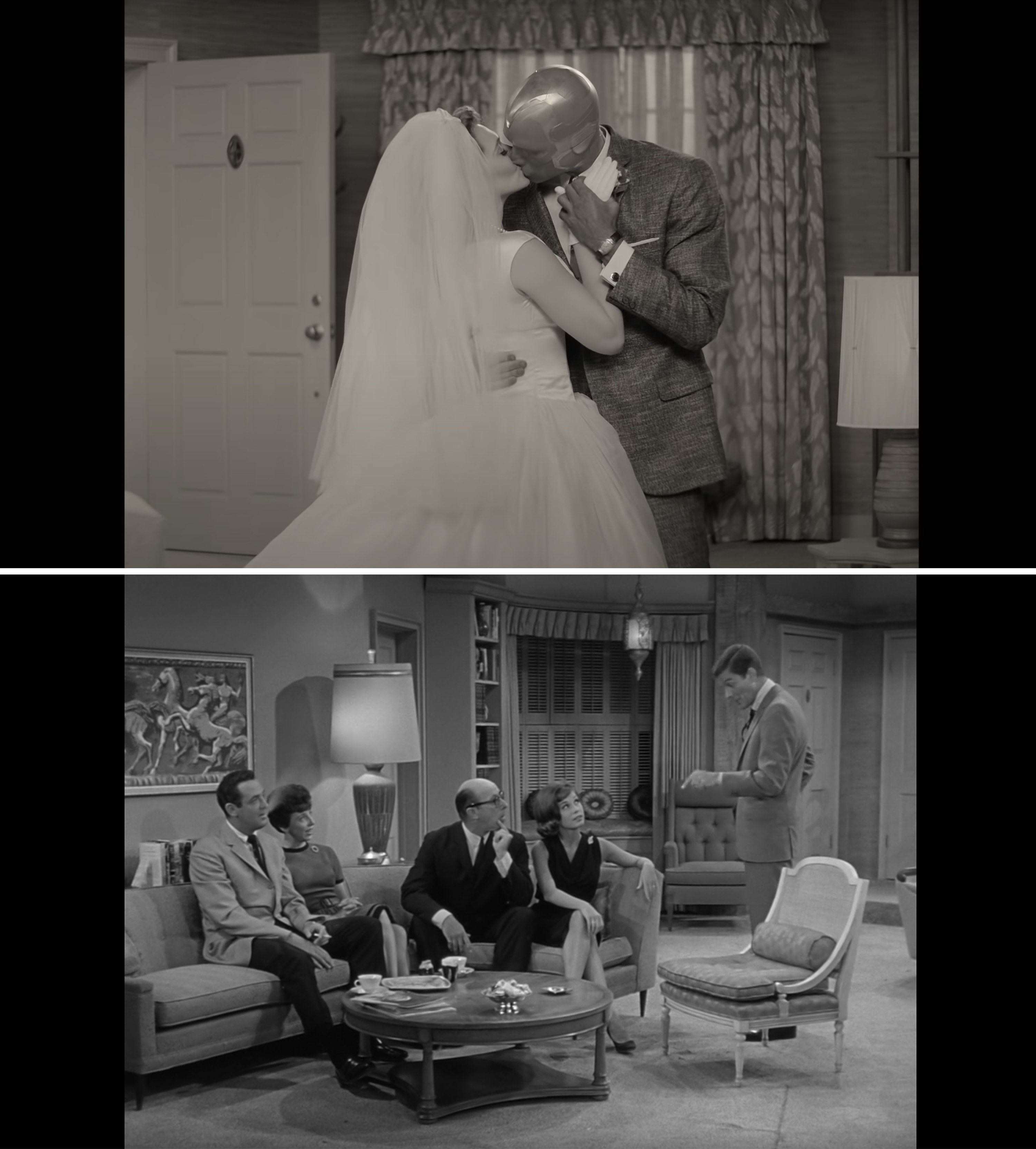 4.
And Wanda is often dressed up like Lucille Ball as Lucy from I Love Lucy.

5.
The wine bottle that Wanda magically pours reads "Maison Du Mépris," which in French means "House of Contempt," and it has a large "M" logo — this could be a nod to the iconic "House of M" storyline from the comic books.
6.
And it looks like WandaVision could be featuring the beginnings of "House of M," because we see that Wanda is altering reality at several points.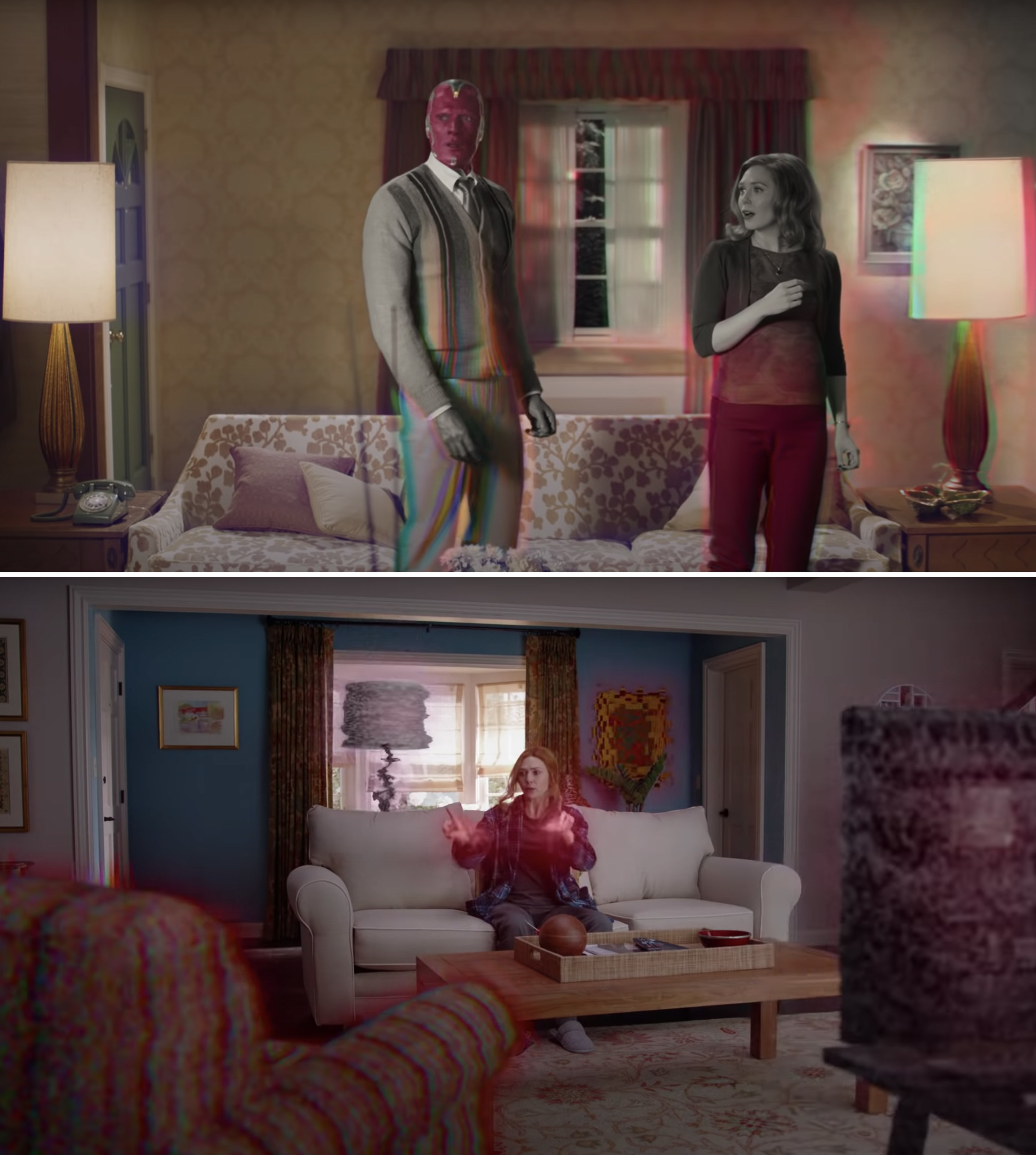 7.
Also, you can spot Wanda and Vision holding two baby boys, who are most likely their children, Billy and Tommy.
8.
At one point, Vision is wearing a green plaid shirt, which could be an homage to The Vision comics by Tom King from 2015, where Vision wears the same thing.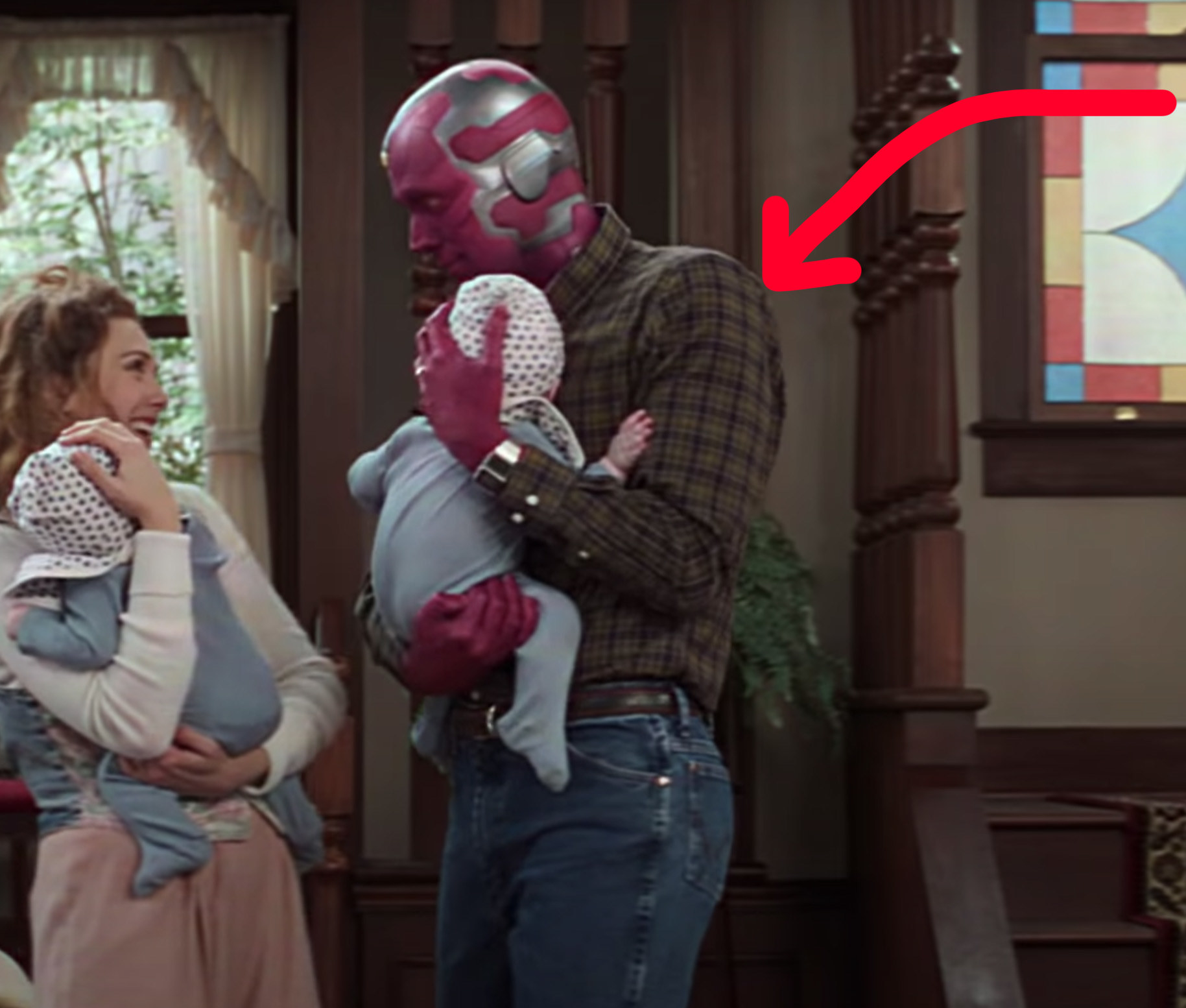 9.
We also get a first look at some new (and returning) MCU characters — first, we see Debra Jo Rupp, who is best known for That '70s Show and Friends, playing a seemingly nosy friend.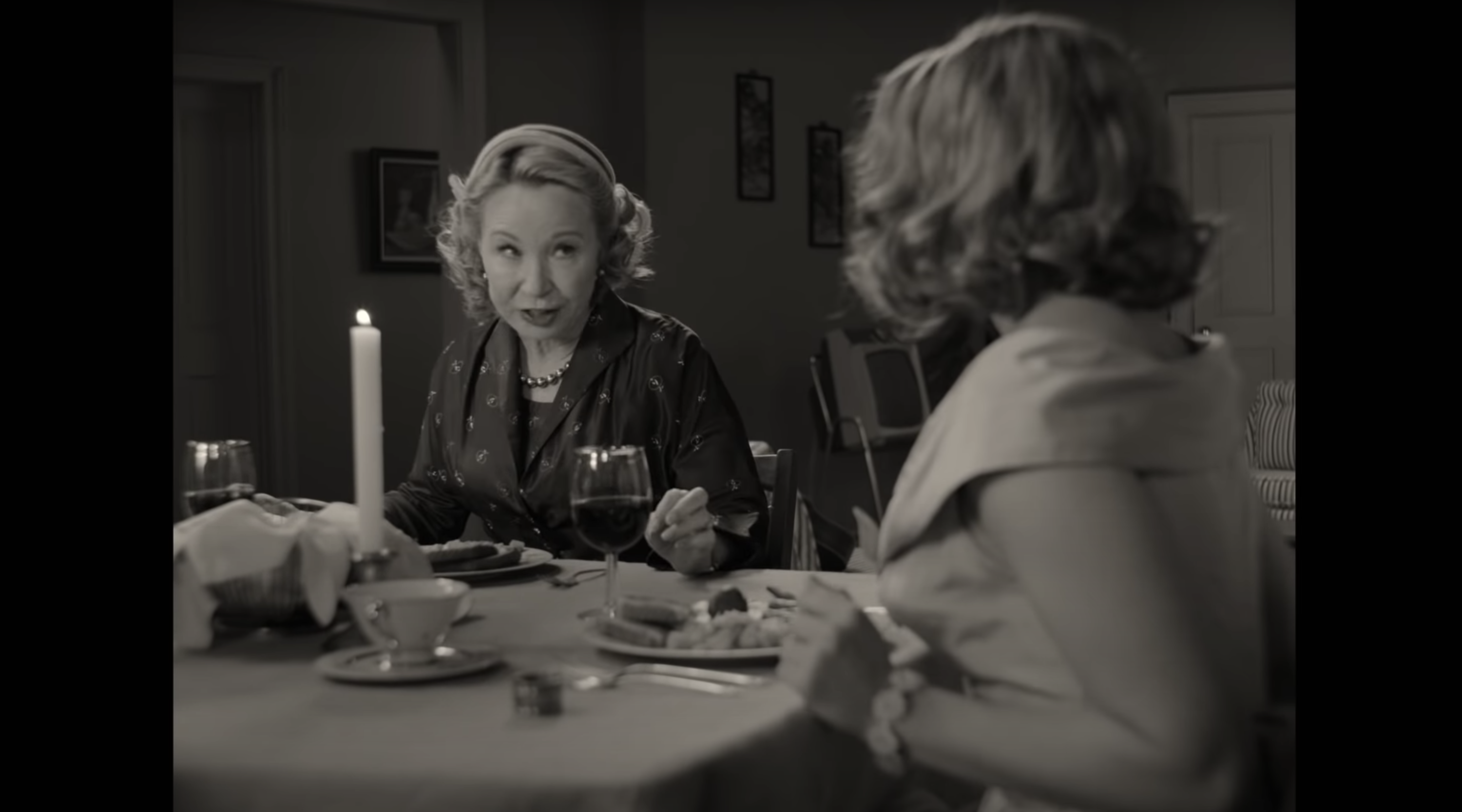 10.
And Fred Melamed, who notably starred on Lady Dynamite, plays Arthur, Debra Jo Rupp's husband, in this alternate reality.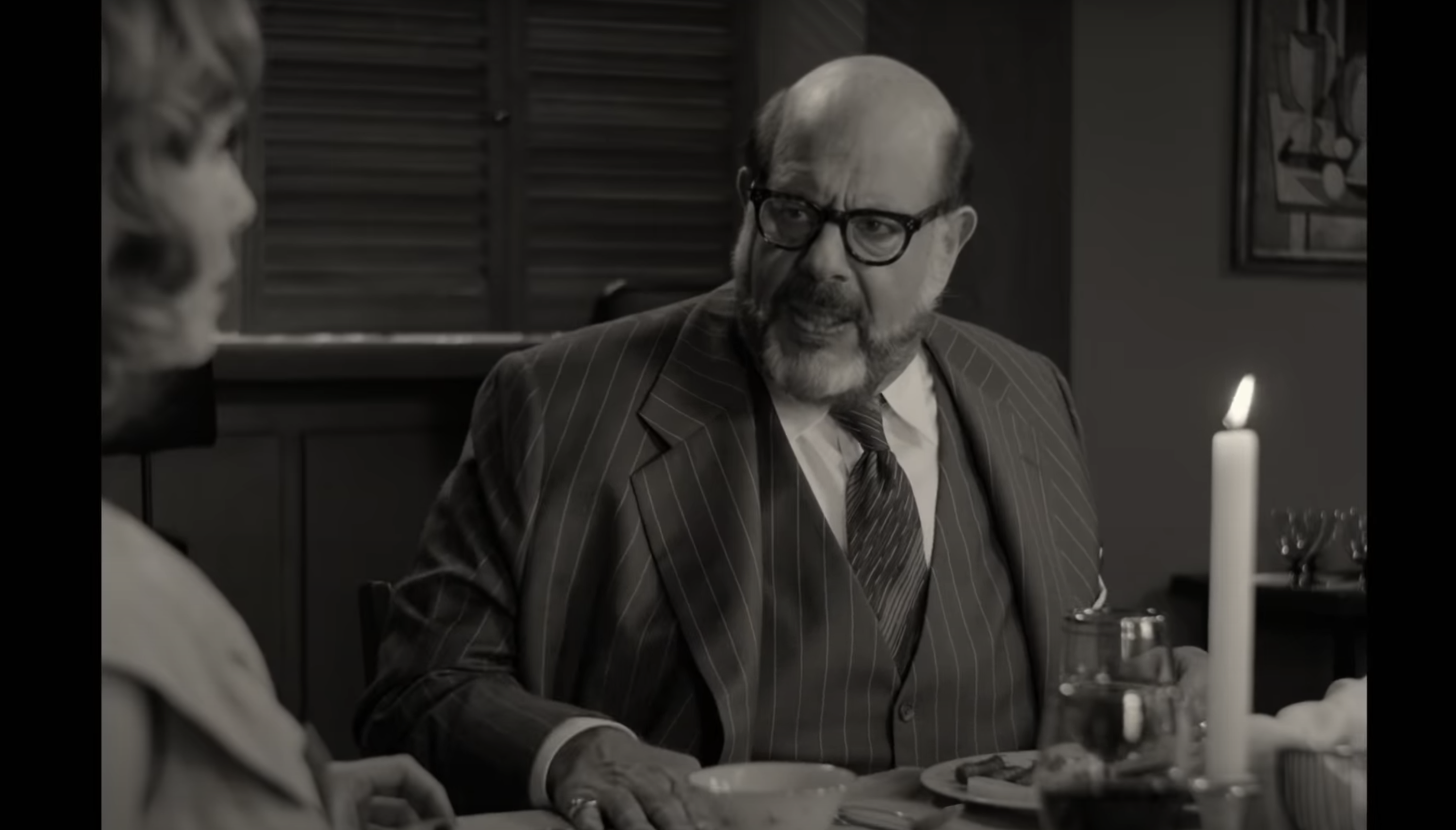 11.
This is also another moment where we learn that Wanda and Vision don't remember anything about their previous lives — a nod to Wanda trying to block out Vision's death.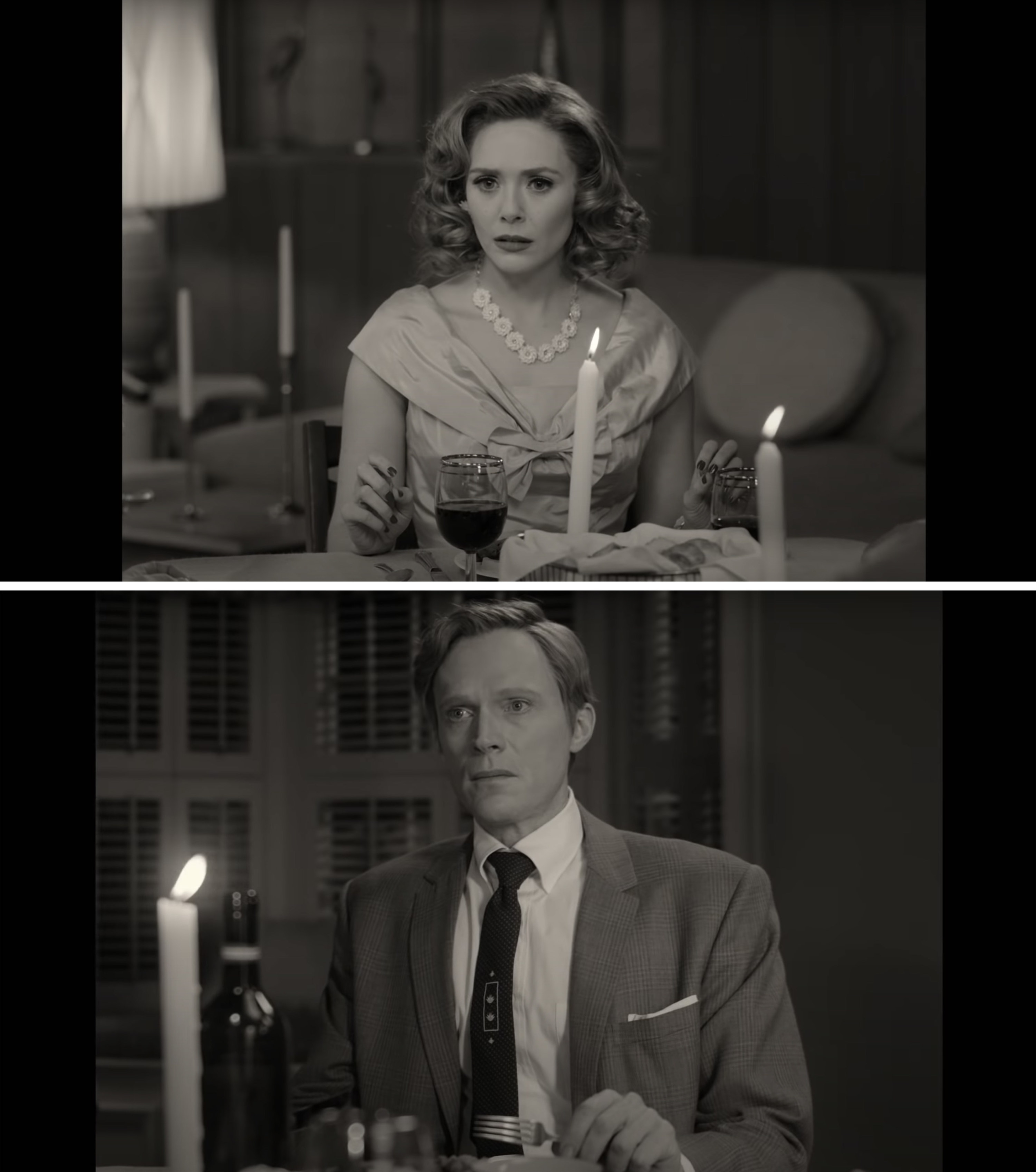 12.
We also get our first glimpse at Kathryn Hahn's character, who appears in several different realities, and she even breaks the news to Vision that he's actually dead.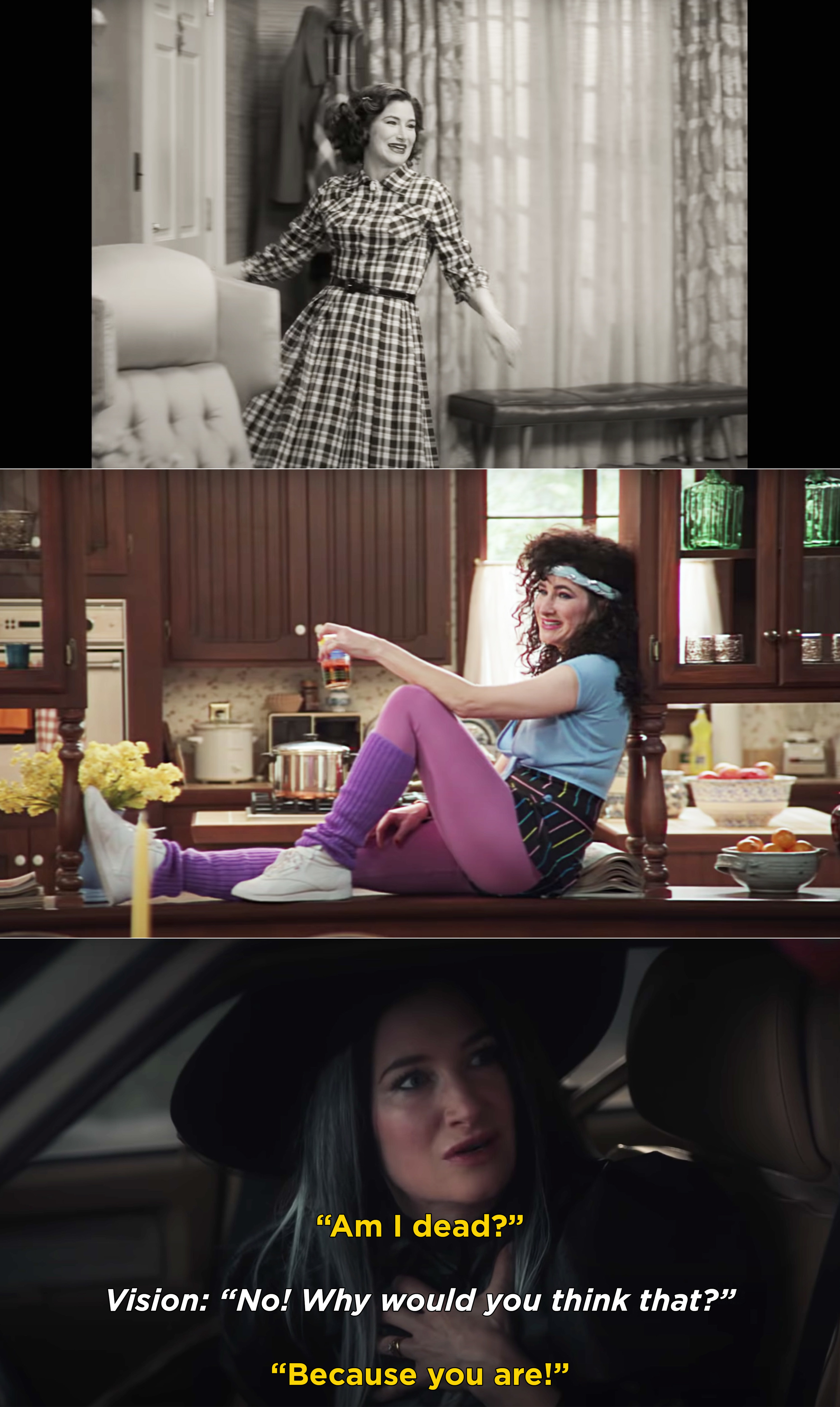 13.
Also, while we don't have official confirmation on who Kathryn is playing, there are rumors she could be Agatha "Agnes" Harkness, a powerful Marvel witch who becomes an important mentor for Wanda.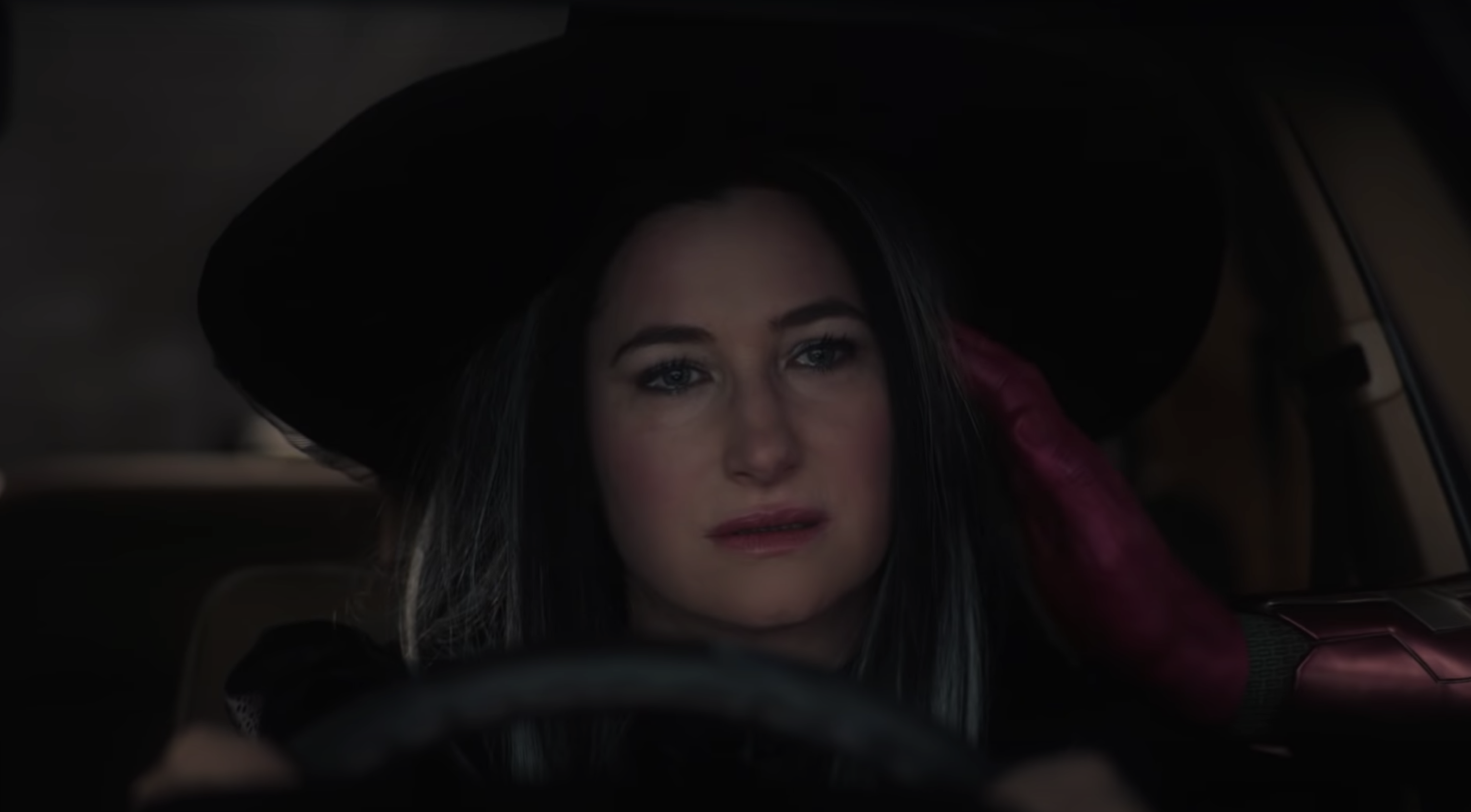 14.
The last new face we see is Teyonah Parris playing an older Monica Rambeau — it looks like she crashes down somewhere, and I'm equal parts stressed and excited.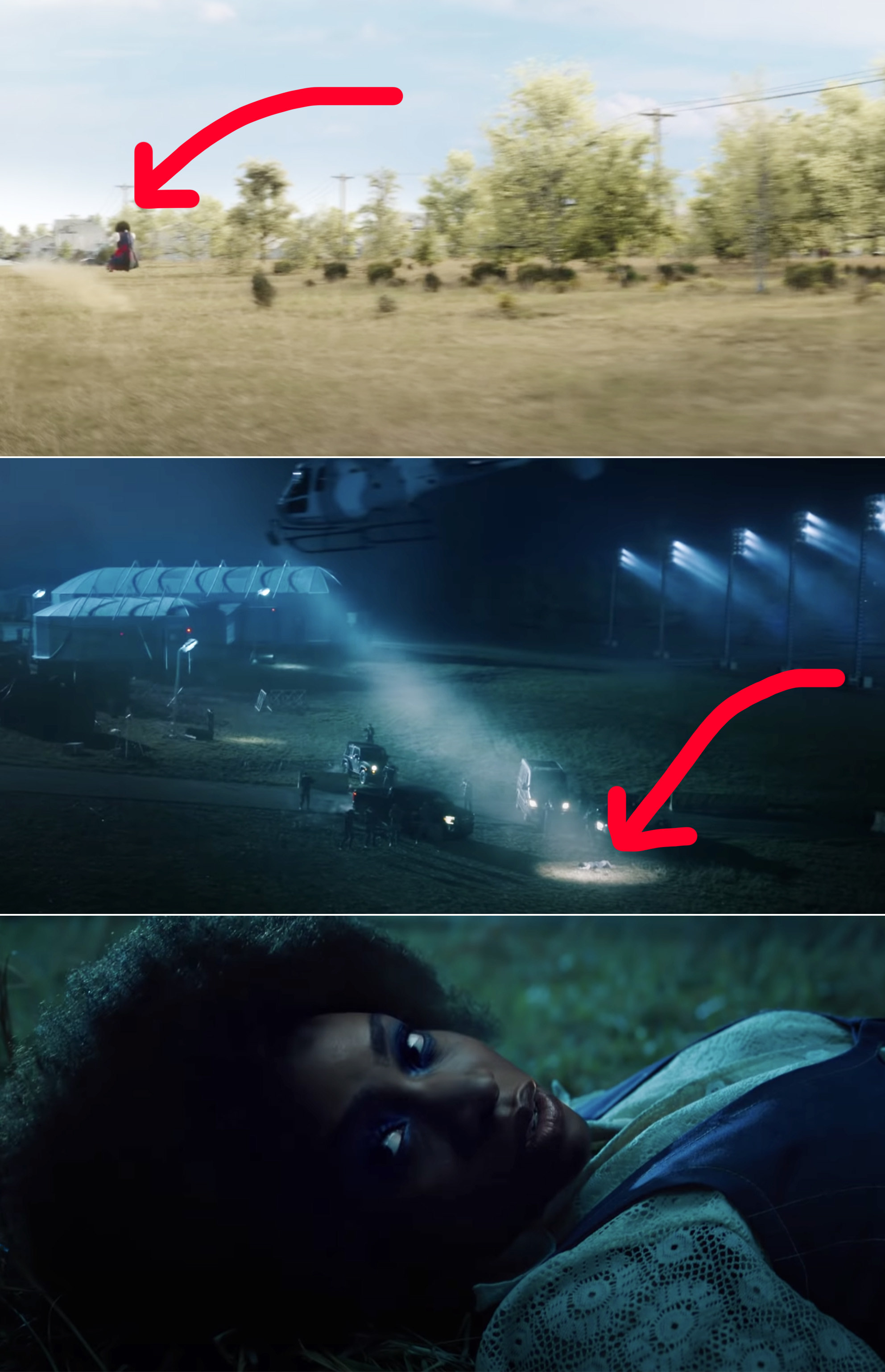 15.
And finally, we get a glimpse of Wanda and Vision in their original outfits from the comic books, which is just super fun.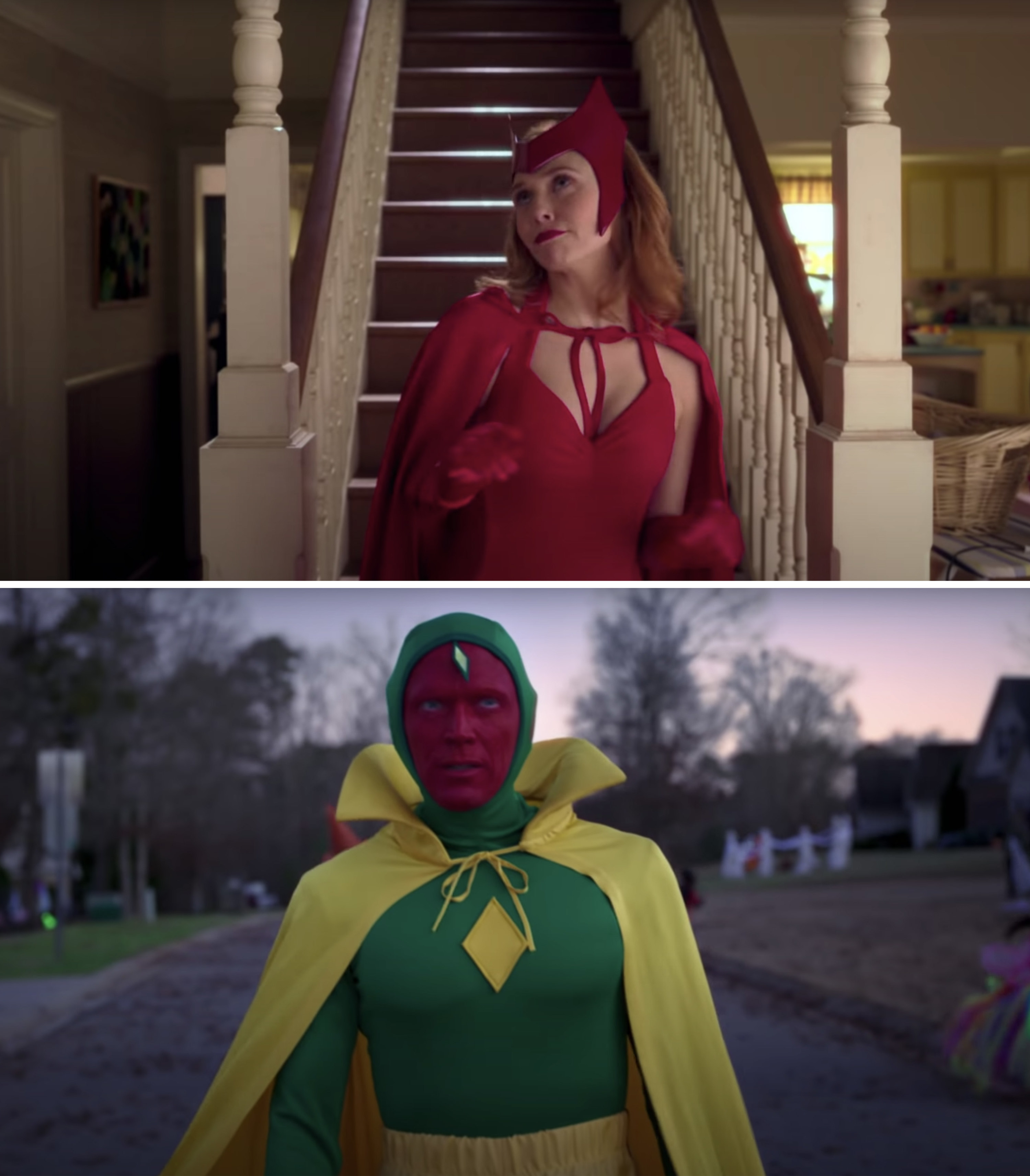 Basically, I am SO excited we get to see Elizabeth Olsen and Paul Bettany explore these characters even more, and this show looks incredible.