1.
An adorable (and waterproof) bullet vibrator with 10 settings and a discreet design, so you can bring ~good vibes~ with you on the road. Not to mention, this petite prince has over 4,000 5-star ratings from very happy customers.
Promising review: "Buy it NOW. You absolutely cannot go wrong for the price. Shipped discretely. Buy this gift for you, your gf, your wife — would make a great gift for a bachelorette party, divorce party, or just for fun for yourself. Strong vibration. Nice color (deep purple). Not too loud. Love the brand." —Lenore Barnhill
Get it from Amazon for $10.28.
Here's even more bullet vibrators if you're wanting to keep it discreet.
2.
A rabbit vibrator inspired by Fifty Shades that's earned over 1,000 5-star ratings thanks to how it satisfies reviewers with 36 different vibrating combinations and dual motors for simultaneous external and internal stimulation.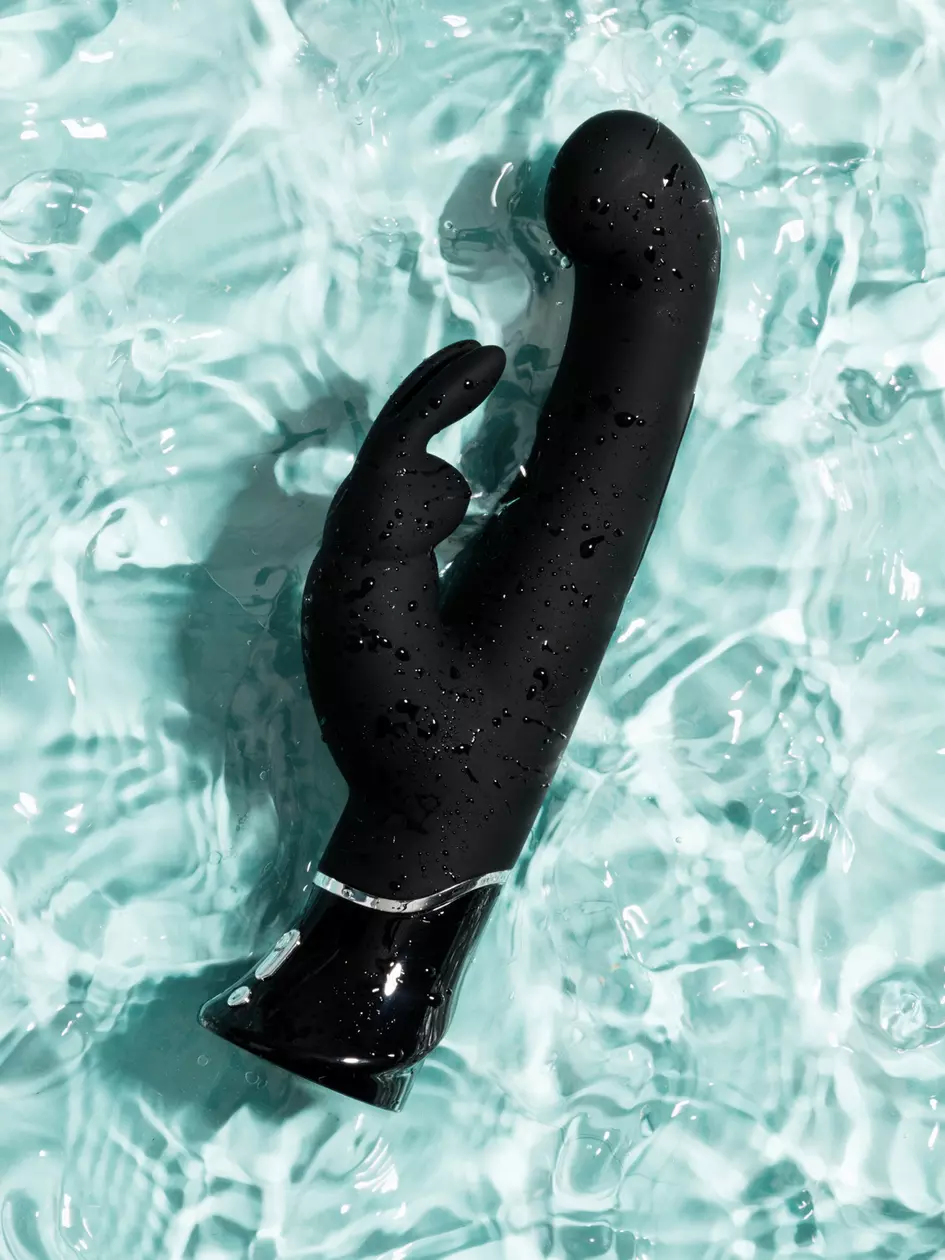 This rabbit vibrator weighs in at 10 inches long with an insertable length of 5.5 inches and soft, silky, body-safe silicone that's submersible, offering thrilling rumbles as you play. If Christian Grey had a penis that did all of these things, could you really blame Anastasia for falling for him?
Promising review: "My friend told me to buy this and that she orgasms in 40 seconds. I didn't believe her, first time trying this I left a big wet patch on my grey sheets. I'm not even a huge toy fan but this has me wanting to use it every night! I love it!!" —Cookie
"I don't think I was prepared for how amazing this actually is. You can orgasm in seconds if you're not careful. The vibrations feel amazing. My husband and I love using this, especially when he's in my ass. There are literally no words, you'll be seeing stars." —LaLaa
Get it from Lovehoney for $99.99 or Amazon for $69.95.
Check out these other rabbit and dual-stimulating vibrators if you're in the market!
3.
A vibrating ring equipped with a textured vibrating pad to stimulate the clit or balls — your pick.
The silicone ring stretches to fit a variety of penises (or dildos), and the vibrator has five speeds and patterns for up to 25 varying intensities.
Promising reviews: "This is a great addition to solo or couples' play. The ring is super stretchy and can fit around any of our toys. Loved when she was on top. She was able to grind on it without having to hold a heavy vibrator. Super quick and easy to clean and charges quickly! It's pretty quiet considering how intense the vibration can be." —Howard Martin
"This vibrating ring is made out of good-quality material. It's soft and stretchy with a nice snug fit but not too tight. It can be worn in a variety of ways and used in different positions. The vibrations are pretty powerful while also being relatively quiet. The battery lasts quite awhile but charges pretty quickly. And best of all, it's super easy to clean because it's waterproof and can even be used underwater. I highly recommend this product. It's not too expensive and was shipped discreetly." —NSFB
Get it from Amazon for $39.99.
4.
The Empress 2 clitoral suction vibrator by Vush boasts a waterproof design and 40 potential pulsation and vibration combinations to explore. This pretty-in-pink vibe has over 2,000 5-star reviews, so I really don't think we should question its power.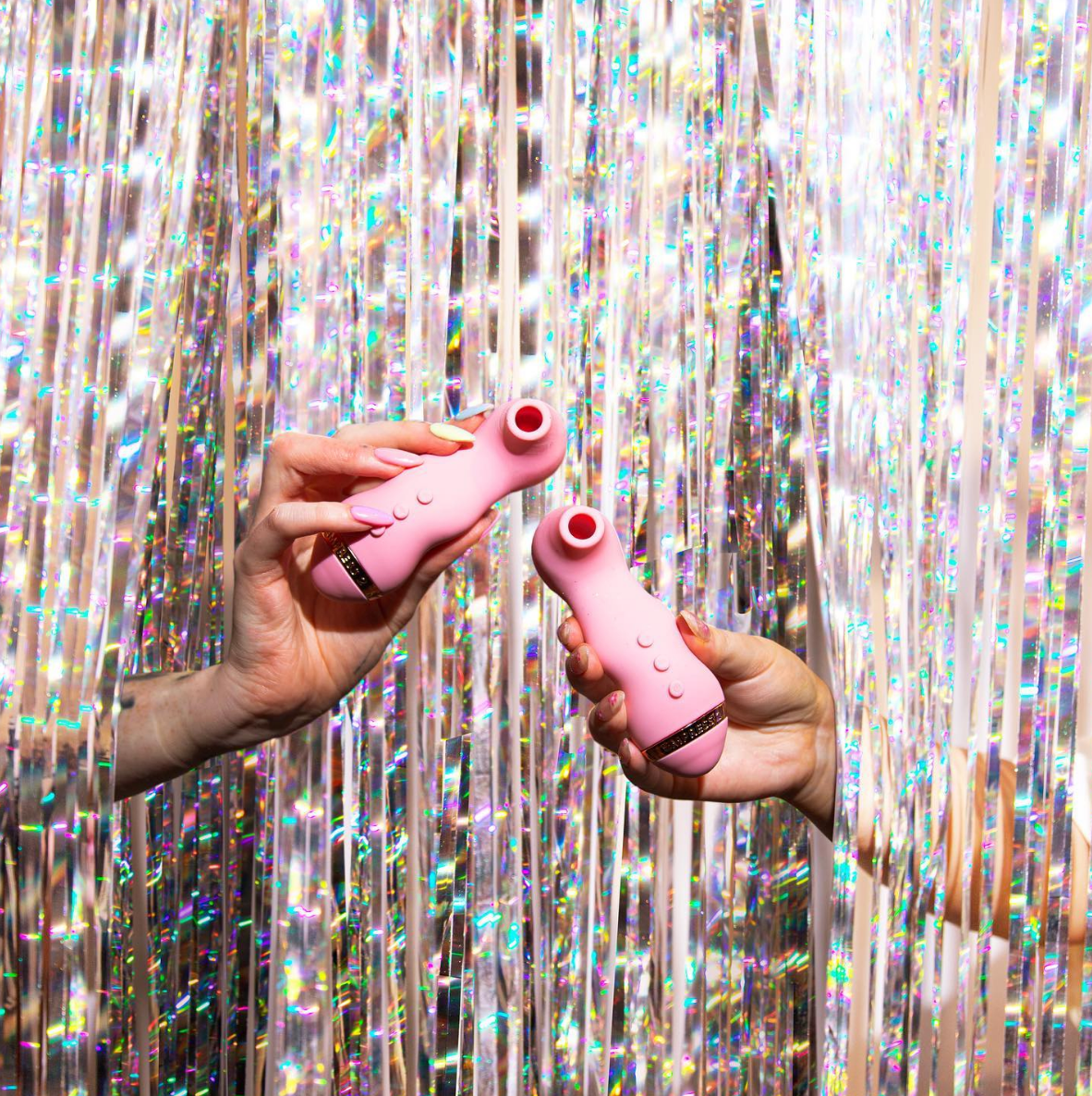 Promising reviews: "Empress is an apt name for this little pink powerhouse. This isn't self-love made easy, this is self-love transcendent. The Empress provides release worthy of the gods, who may very well be jealous. Cannot recommend this piece of magic enough!" —Heather R.

"I've had a few toys over the years and thought this would be fun but nothing special. I was TOTALLY WRONG! It's amazing. The size and shape made it easy to handle at a few angles and the various options are simple to go from teasing to pleasing. Fantastic on it's own and easy to use with a partner or during intercourse. Highly, highly recommend! Worth every bit of hype." —Taylor H.
Get it from Vush for $160.
Vush is an Australia-based sexual wellness brand that's all about self-love and creating IG-worthy sex toys that'll rock your world and match your aesthetic.

5.
A flexible vibrating butt plug that'll sync to the beat of their favorite songs, mimic customized patterns, or buzz along to user-created vibration modes already on the app. Your new nightly checklist: charge phone, update sex toy app, charge butt plug...makes sense to me.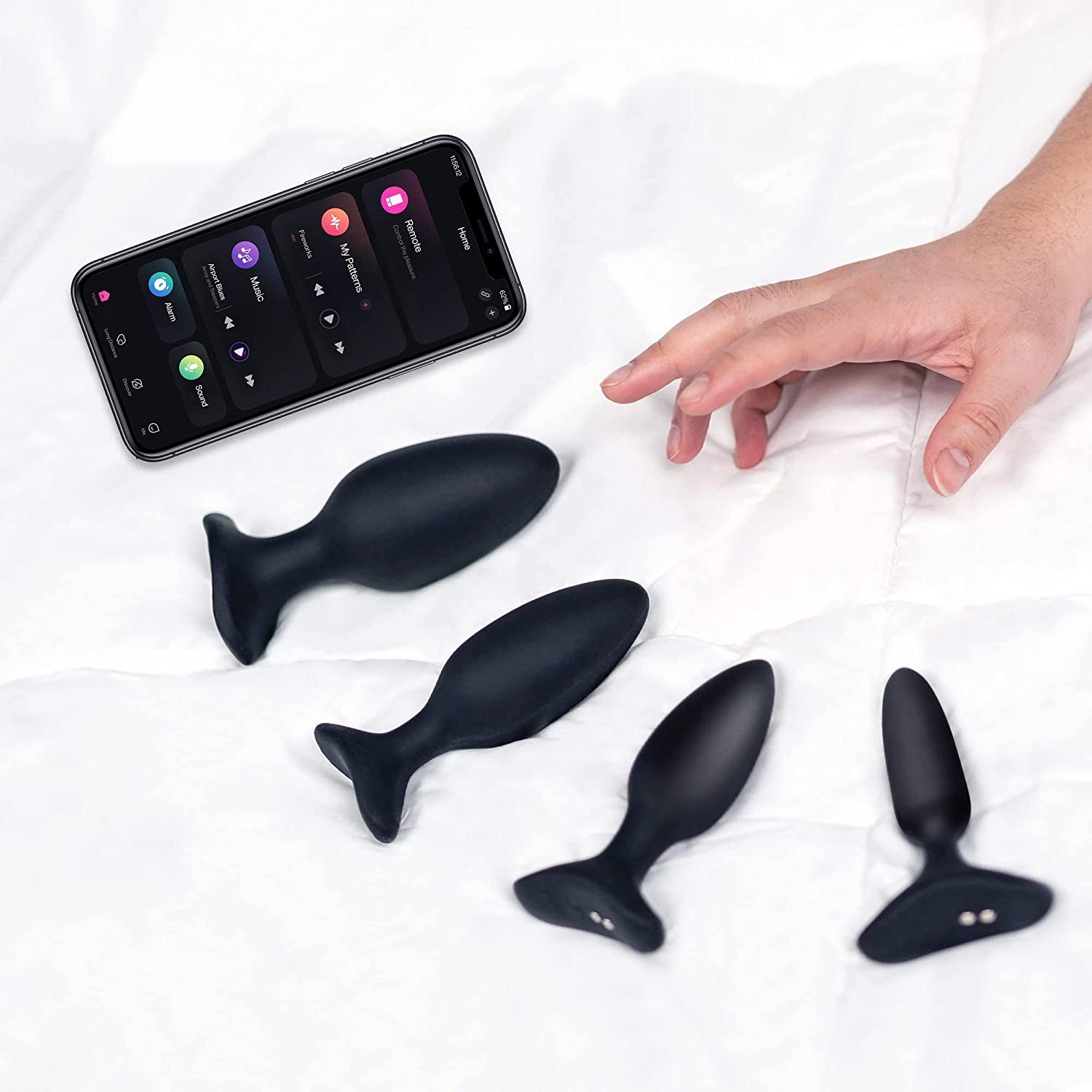 Supple, body-safe silicone offers a waterproof exterior and a flared base helps the plug stay put.
Promising reviews: "Heck yes! Buy it, buy it now! Liked this so much we ordered the bigger version and the Edge. The user interface could use a lot of work but once you get it going you'll forget about it in the bliss that the vibrator is delivering. The battery life seems to be pretty good, used it for over an hour with no issues. It is reasonably quiet but you couldn't wear it in a quiet place like a restaurant." —RDouglas
"We have had a great time with this. I bought the largest and it took a bit to get used to it. We are a couple of states away from each other and he has had a great time setting me off while I'm at work or doing things around home. The vibration is very intense at the highest setting and at the lowest just keeps you on edge. Being made of the material that it is, you have to keep it clean and let it air out, so it doesn't smell if you get any fecal matter on it. Definitely recommend!" —JayyDee
Get it from Amazon for $89+ (available in four sizes).
6.
A minimalist vibrator that boasts 4.8 stars from reviewers, three speeds, and a tapered tip for targeted stimulation. This vibe includes a convenient canvas carrying bag for when you eventually decide to take it on the go.
Promising review: "Somehow, I've made it to 29 years old never taking care of myself. I know, it's crazy, but it always weirded me out; so keep that in mind for my review. This was a great intro to self-care. It's the perfect size and not intimidating at all. I found that other types were a crazy size or function. It was overwhelming and a little scary. But I'm really glad I bought this. This is perfect size and features for me. It has three vibe strengths and are constant vibes. The material is soft. I used this with the aloe lube (I don't know if that's a thing but I did it) and really liked the combo. It comes with a little zip pouch to store it. The mini lube + toy + charger all fit so it'd be good for travel. I think it would be fun to use with my partner, too. If this is your first, I highly recommend it." —Amy
Get it from Maude for $49 (available in three colors).
7.
A powerful miniature wand vibrator with over 2,000 5-star reviews and created with supple silicone for a soft-touch feel. Roses are red, violets are blue, this 20-function mini wand will take you to that blissful, blurry edge...boo.
Promising reviews: "This thing is like a Dualshock 4 controller: the vibration strength/various speed settings are crazy. Even after all these months, it's still vibrating with the same consistent strength. Depending on how much you use it, the batteries can last up to weeks or even months at a time. It definitely relieves the 'pain'..." —8Bit-BMO
"I thought I knew what an orgasm was until I bought this thing. My soul leaves my body every time I use this and it never disappoints me. The battery life is fantastic and the vibration strength, oh my god. Do yourself or your partner a favor and buy this. But heads up, your partner may not need you anymore." —Mackenzie
Get it from Amazon for $19.95+ (available in seven colors).
8.
A submersible Satisfyer Pro 2 boasting over 40,000 5-⭐️ ratings from reviewers because of its non-direct clitoral stimulation and 11 pulsating suction intensities. If 40,000 doesn't seem like a lot, just know that it's more than the population of people living in Atlantic City, New Jersey. 😳 
It might just be Amazon's most beloved sex toy, seriously.
Promising reviews: "I'd write a long, detailed review, but I'm too busy enjoying the most intense orgasms of my life. Do yourself a favor and buy it." —A.L.
"I have been waiting for something like this forever. Helped me to get over that edge. Best thing since sliced bread. I highly recommend this." —etheldrea
Get it from Amazon for $39.95 (available in three colors).
9.
A triple-stimulating vibrator complete with graduated anal beads, a thick internal shaft, and external rabbit "ears," so you can try to reach all your favorite spots at once. And when you do, make sure to add to its 1,700 5-star ratings.
Seven powerful vibration modes in the shaft and rabbit ears along with flexible anal beads offer a lot of stimulation whether you like to use your toys alone or with a partner, for foreplay or the entire session. A magnetic charger helps ensure a waterproof seal so you can use it in the shower or bath.
Promising review: "When I say this gave me life, took it, and gave it back again... 🥴 It was everything I wanted and then some. I was really impressed by the touch and feel of it — it was very silky-like, then the vibration settings OMG. It takes no time or effort to clean it. I most definitely would recommend you get it! I promise you will not be disappointed cause I slept like a baby when it was all over." —Andrea
Get it from Amazon for $35.99 (available in pink and purple).
10.
A vibrating masturbator sleeve that does away with all the bulk of a classic masturbator but still delivers with 10 vibration settings and a customized snugness based on your (or a partner's) grip and rhythm. The removable bullet is rechargeable, so while it's charging up you could even use this toy "acoustic" with your favorite lube.
There's a little bump at the top for an even more stimulating touch to the base of your tip, and ridges on the inside so that every movement offers stimulation.
I don't have a penis, but this looks incredible, and I want it.
Promising reviews: "Where do start!!!!! This has brought so much more spice into the bedroom. My bf was a bit scared at first, but this has changed our sex life big time!!! It's a must, I don't use it often, but I love it and so does my bf." —Denise S.
"A fantastic masturbation product. All frequencies have a lot to offer. The frenulum tickler is the big plus. This product can make me come in seconds." —Dale
Get it from Amazon for $23.99.
11.
A unique luxury vibrator literally inspired by Egyptian gods to deliver an indulgent, one-of-a-kind pleasure session. The vibe has eight vibration modes and three interchangeable attachments: a slim one for G-spot stimulation, another petal-shaped one for tickling your favorite erogenous zones, and a ball-shaped one for play that gets right to the point.

Or grab the newer Bess 2 (also on Amazon), which includes an anal bead attachment and a heating element!
Promising reviews: "Beautiful, quality and you can't get bored with the different attachments. Very easy to keep clean which is high on my list. Perfect for multi-orgasmic people!" —Yvonne P.
"I already own the Hero from the Legends line and was so impressed with the overall quality and elegance of the toy I was dying to buy another Zalo product. I went with the Bess because I am familiar with this type of toy and love it. I love the attachments which make this toy versatile and the two separate motor heads in both ends of the toy. The Bess is absolutely stunning. The quality and workmanship is unparalleled (and this is coming from someone who only buys luxury brand sex toys). So far the little silicone ball attachment is my favorite. What makes the Bess stand out to me (beyond what I already mentioned) is that not only does it offer numerous strong vibration speeds, but the different patterns are to die for. I highly recommend trying this toy. My only warning is start on the lowest setting. It's a big jump in strength to the next setting. And learn the settings before you try it out." —S. L.
Get it from Zalo or Amazon for $99 (available in three colors).

12.
A dual stimulation rose vibrator, which reviewers have rated 4.6 out of 5 🌟  and affectionately refer to as the "Soul Snatcher." The egg lets you get a little internal action, while its nine-speed tongue petal can stimulate your clit, nipples, and soul (apparently).
Promising reviews: "I've seriously never had a partner who could perform better than this toy. A lot of settings and speeds. Love it." —Amazon Customer
"This is a really fun toy. Definitely more of a flicker instead of a licker, but intense nonetheless. It's a different feeling from a simple vibrator because of the flicking motion, and it feels amazing. I have zero complaints. The material is soft and easy to clean. The little buzzy bulb on the end is really powerful, too!" —T.D.H.

Get it from Amazon for $29.99.
13.
The best-selling Puff compact suction vibrator has over 2,000 ⭐️ ⭐️ ⭐️ ⭐️ ⭐️  reviews and an overall rating of 4.7/5 from satisfied users (including yours truly). Probably because it's equipped with five powerful pulsation intensities that'll leave you breathless and wondering if you should buy a second one to use while the first is charging...no, just me?
Ah, good ol' Puff. *sighs dreamily* Every time I think I have found a new favorite sex toy, I go back to this one and am reminded all over again why I love it. There's only five intensities: simple, to the point — and I like to start at 3 and end at 5. It's incredible for edging, if you want to enjoy a longer session and it's also perfect for quickies. It's my go-to shower toy because it's waterproof, and I have actually considered just leaving it in the bathroom, but I won't. True story: it died on me the other day mid-session for the first time (I've had it for over a year and maybe charged it...twice?), so the battery lasts longer than you for the most part. Anyways, this is the toy I recommend to all of my friends and I have several who own it, and it's also the toy I recommend to random strangers I meet who are looking for new ways to come because yes...when you're a sex toy writer, that's a thing that happens. If you need to know more about this sex toy and why I personally love it, make sure to read my Unbound Puff review.
Promising reviews: "Was hesitant to try this since I wasn't sure about the whole suction aspect but I do not regret going for it at all! Such an incredible price for an equally amazing toy! If you're on the edge about getting this, just buy it, you'll love it <3" —jillian
"I'm new to all of this. My friends literally raved about Puff for a year before I finally decided to get one. I did not know…I could feel like that. It is amazing. It took me some time to fully utilize the suction feature in the puff, but the vibration itself is *chefs kiss*. I also used it once during sex with my boyfriend and phew!!! I don't even know if I have any words. Great for beginners!" —B.
Get it from Unbound for $48 (available in quartz and mint).
14.
A sleek and curvy G-spot vibe elegantly designed to flex with your body and reach your favorite spot, so you can give it the TLC it deserves. Not to mention, all you have to do is plug it up after each use and it'll always be ready for your next self-love sesh.
At 7.6 inches long and 1.5 inches wide (at the largest point), this vibrator sets itself apart with 10 unique vibration modes.
Promising reviews: "I am so glad I purchased this to add to my collection, this toy is super soft and I love that it is flexible and ribbed for pleasure. It is very quiet but also powerful. I love that each mode has a different color so you can just memorize your favorite color setting, no more counting how many times to click it to get to your favorites anymore. It is a great length and thickness, just right to get the job done ;)." —Laurin Sutton

"Wow, when my husband got this for me I didn't think it could do what it does for me. It hits my G-spot so good I squirt every time, back to back. Even after my husband used it on me it make the sex even better." —Seth&nikki
Get it from Amazon for $36.98 (available teal and purple).
15.
An automatic masturbator designed with an actual handle for effortless stroking. Plus, this toy has seven vibration patterns and four thrusting patterns to deliver a sucking sensation during play.

Promising reviews: "I recently broke up with my partner and was getting sick of my left hand. I then found this gem, and WOW, is it like magic! It has just the right tempos to bring you to that point of no return and the right grip to push you over the edge. Now, I'm not even in a rush for a new partner! :D" —Matthew C.
"This is an easy masturbator to use; you just stick your member in, and the machine does all the work. The variation of speeds will make this work for anyone, whether you like it quick and sturdy or you like to go slow and steady. You surely will be happy with the outcome of this machine, and your member will thank you. The hammer shape makes you feel that you are holding the one and only but in sex toy form. You will truly feel like Thor when you use this masturbator, and feel the lightning-like feeling from your member to your toes. That ultimate tingling sensation when you release. Grab the hammer and just let it do its magic." —Alex
Get it from Honey Play Box for $113.33.