1.
A warming, flavored 4-in-1 lubricant to make going down on your partner taste a little sweeter. There are fruity flavors and dessert-inspired flavors that all warm up with a little friction, whether it's a massage, oral sex, or a gentle blow.
The glycerin-based formula of this paraben- and sugar-free lube allows it to warm with skin contact, whether by friction or gently blowing — so, it can be used as a massage oil as well! Some people love to keep it natural below the belt and some people love a touch of fragrance or flavor, whatever floats your boat.
Note: According to the brand (Wet), Fun Flavors 4-in-1 lubricant is not recommended for those with sensitive skin.
Promising reviews: "I liked this product a lot. It warms up by touch and even warmer by blowing or breathing on it up close. It isn't too runny or too thick. It also taste pretty good considering it's lube. I'd buy this again for sure! Also doesn't stain the sheets. Easy clean up: just wipe off with wet rag or wipes and gone." —Precious Rose
"This stuff makes something I love doing even better!! The taste isn't overpowering and honestly there's no clean up afterwards. Your significant other will be REALLY happy and so will you!! Do both of you a favor. Buy several." —Smithoffred

"The flavor was my favorite part. It reminded me of blowpops, the lollipops with gum in the middle!!" —J. A. S.

Get it from Amazon for $10.99 (available in assorted sizes and five 4-in-1 warming flavors).
2.
A water-based flavored lubricant by Lovehoney that's created with a toy-safe formula to help keep things slick and comfy for all kinds of play — vaginal, anal, and definitely oral. Get it in fruity flavors like watermelon and cherry, or really celebrate your lover with the birthday cake flavor!

Promising review: "I ran this lube through the gambit of all things external. It was a good change of pace and something fun to add to foreplay, sensual play and teasing. I will also add that I did not use this lube internally basically due to the ingredients. However, you can put a few drops on yourself or your partner and have some fun. This stuff lasted ages for me. Very seldom did I have to add more once it was applied. Some water or saliva work great to bring it back. It has a fresh, sweet and fruity smell; no weird odors. To the touch it is about as viscous as a normal water-based lube. I did not see any staining from remnants either. The taste is extremely sweet, tart and you get a little hint of watermelon but mostly just fruity flavors. Any lubricant flavors are there and gone shortly after. All couples should invest in a little treat like this." —AllenTries (on Watermelon)
"This was exactly the flavored lube I had been looking for! It's very sweet, but the taste and smell are good. I typically stay away from cherry flavored things because they usually taste like medicine, but this one tastes more like candy! I also have the LH strawberry lube, which I like, but I prefer the cherry because its flavor is stronger. This is my go to lube when giving my husband oral because it masks his natural smells and flavors a bit! Also, when I use toys while giving oral, I can just use a little extra of this lube to give the toys more slip. The bottle is the perfect size for travel, although I haven't traveled with it yet, but I am confident in the seal of the cap. It seals well considering I've tossed it in drawers and stored it upside down and no leakage so far! I tend to get lube all over my lube bottles while in use, but it cleans off really easily with just a rinse. I'd recommend this lube if you're looking for a sweet fruity flavor!" —PKH (on Cherry)
Get it from Lovehoney for $9.99 (also available in cherry, strawberry, and birthday cake).
3.
A sugar-free dessert-inspired lubricant boasting a versatile water-based formula for all types of play and adding an especially delicious taste to any oral explorations between lovers.

Promising review: "I like to lick my hand every so often in my sessions. I know that may seem weird. I used flavored ones in the past. It's kind of like snow cone flavoring only in lubricant form. Makes my self exploration a lot more pleasurable. Love the flavor thus far. My only complaint is it does not stay slippery for long. With this being edible, I am not sure I can complain." —PinkWaterLily
Get it from Amazon for $8.99+ (available in 12 flavors).

4.
Bestselling #LubeLife offers an array of flavored water-based lubricants that'll add to your oral play. Whether you choose cotton candy for carnival vibes, mint chocolate chip or birthday for a sweet treat, or even one of the new cocktail flavors like Piña Colada or Mojito, you're in for a delicious session with your S.O.

A water-based formula means its safe for all kinds of play, as well as compatible with your favorite silicone toys and latex condoms. TBH, I tried the Birthday Cake flavor and it's actually delicious? It's a little sweet for my taste, but also I don't imagine I will be eating lube for the hell of it all the time, y'know. It's super slick and easy to clean up, but the smell is strong. Still, don't let it deter your because you wouldn't be here if you didn't want to ad a certain je ne sais quoi to your blowjobs, rimjobs or cunnilingus.
Promising reviews: "This tasted just like ice cream and made everything so much more enjoyable." —Christine Klamm (on Mint Chocolate Chip)
"This is our second bottle! We absolutely love this stuff, it tastes amazing. Just like birthday cake! Word of warning take a hot shower after because it does linger and will clog your pores. It's water based, lasts for a long time and will keep them down stairs longer than normal because now you not only look like a snack but you taste like one too!" —Marissa Stocker
"It lasts a while depending on how often you use it. But I have used it frequently the past year and I still have at least a quarter of the bottle left. The smell is awesome and it tastes good. Favorite lube brand." —Jazmyn LaRocque
Get it from Amazon for $9.99 (available in nine flavors).
5.
An edible water-based lubricant created with a sugar-free fruity flavor (like strawberry or cherry) for a delicious explosion in your mouth as you lick, suck, and slurp your lover into oblivion and beyond.

Promising reviews: "Taste like the strawberry strudels that Pillsbury puts out. And it works very, very well. To say we are satisfied is an understatement!" —Lexie
"Bought it for me and my girl and Woooooooooow tastes was way better then expected. She was loving her Popsicle nonstop. And I couldn't get my face out the cake with the strawberry. 😋" —Bryant S.
Get it from Amazon for $7.73+ (available in three flavors).
6.
A sample pack of five flavored lubricants that includes tropical passion, banana, green apple, pineapple, and strawberry, so you can try them all and elevate your head game with your favorite one!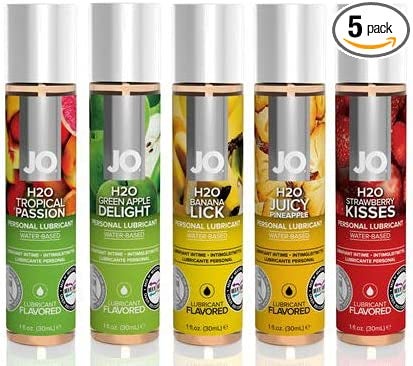 Each lubricant is water-based and 1 oz. Flavors include: Tropical Passion, Green Apple Delight, Banana Lick, Juicy Pineapple, and Stawberry Kisses.
Promising reviews: "My husband and I enjoy the flavors and scents. It isn't super sticky but leaves a silky texture afterwards. It can be a little more of a clean up than other lube but I prefer the silk texture over stickiness any day!" —Tori Lee
"A cute kit to try out the many different flavors. I personally love this brand and the flavors taste exactly like what they are said to be. Not to mention the lubrication is magnificent as well and not at all sticky like some." —Madicyn Logan
Get it from Amazon for $24.75.

7.
A strawberry-flavored lubricant by Astroglide, which offers a slick and comfortable feeling to all kinds of sex with its water-based formula. Not to mention, the delicate strawberry flavor elevates the taste of blowjobs, cunnilingus and rimming for an all-around good time.

Promising reviews: "Has been great for the flavor and great as far as the lubricant goes. One of the best brands I can buy and this has been a great price." —Craig mastej
"Has a nice strawberry flavor and is a great lubricant that cleans very easily with a little water. Dries quickly if you're not using it." —BAOUOKIE32
Get it from Amazon for $7.96+ (available in 2.5-oz. and 5-oz.).

Not looking for flavor? We've got a round-up to help you figure out which lube is right for you.
8.
An edible cotton candy lubricant adds something sweet to oral sex or foreplay. But it's also water-based and toy-friendly in case you just really love the smell and taste of cotton candy, and want to use it solo.

A convenient spray pump allows you to simply spritz and get started. You ever hooked up at a carnival? Well, now — at least according to one reviewer — you can imagine it.

Promising reviews: "Oral sex next level! I can't say enough good things about this stuff! We've tried multiple flavored lube, this is hands down the best. It really does taste like cotton candy, with no chemical weird taste to it. My only complaint is it's sticky, but that won't stop me from buying it again." —saintbrandi
"This stuff is delicious. It does get sticky after a while but hopefully it won't take that long!" —Booyah
Get it from Amazon for $8.45.

If you want to heat things up even more, definitely check out this list of arousal serums and lubes.
9.
Sliquid Swirl is formulated as a vegan, water-based lubricant making it body-safe for all kinds of play. Plus, it has a subtle tangerine peach flavor for mouthwatering fellatio, rim jobs, and cunnilingus.

Promising reviews: "OK seriously taste like peach candy! You won't want to leave any of it on your honey. 😉 Best tasting ever!! Will definitely buy again." —Mj
"Great fruity sauce for enhancing the taste of hotdogs with a sexy fruity aroma. Loved the taste and smell when in use. Absolutely delicious, not sticky or tacky. A lot goes a long way, unless you acquire a taste for it as we both did. So scrumptious in use, yummy! Used during anal and it's slippery and thick enough for comfort. My hubby was squealing in ecstasy while getting pegged." —Ruskoi
Get it from Lovehoney for $16.99.

10.
A cupcake-flavored vegan lubricant designed with a water-based formula for reliable and slick comfort that'll help you take your oral sex and foreplay to the next level.

Not sure which flavor to get? Try the sampler pack, which includes cupcake, strawberry and non-flavored silicone lubricant.
Promising reviews: "In terms of oral sex, this product is great for taste and the texture on your skin isn't sticky and hard, it's very easy to wash off. My boyfriend still prefers the flavorless lube version of this for having sex, though." —MOLLY
"Smells and tastes sooooo good and the bottle was bigger than expected! Also love that it came with a pump and a sample of their silicone lube. Super happy with this!" —Karmin Faye
Get it from Amazon for $9.99 (also available in strawberry or watermelon, or in non-flavored water-based and silicone).

11.
A gelato-inspired lubricant boasting a water-based formula for slick and dependable comfort with a delicate aroma of desserts shared between lovers at a romantic twilight dinner.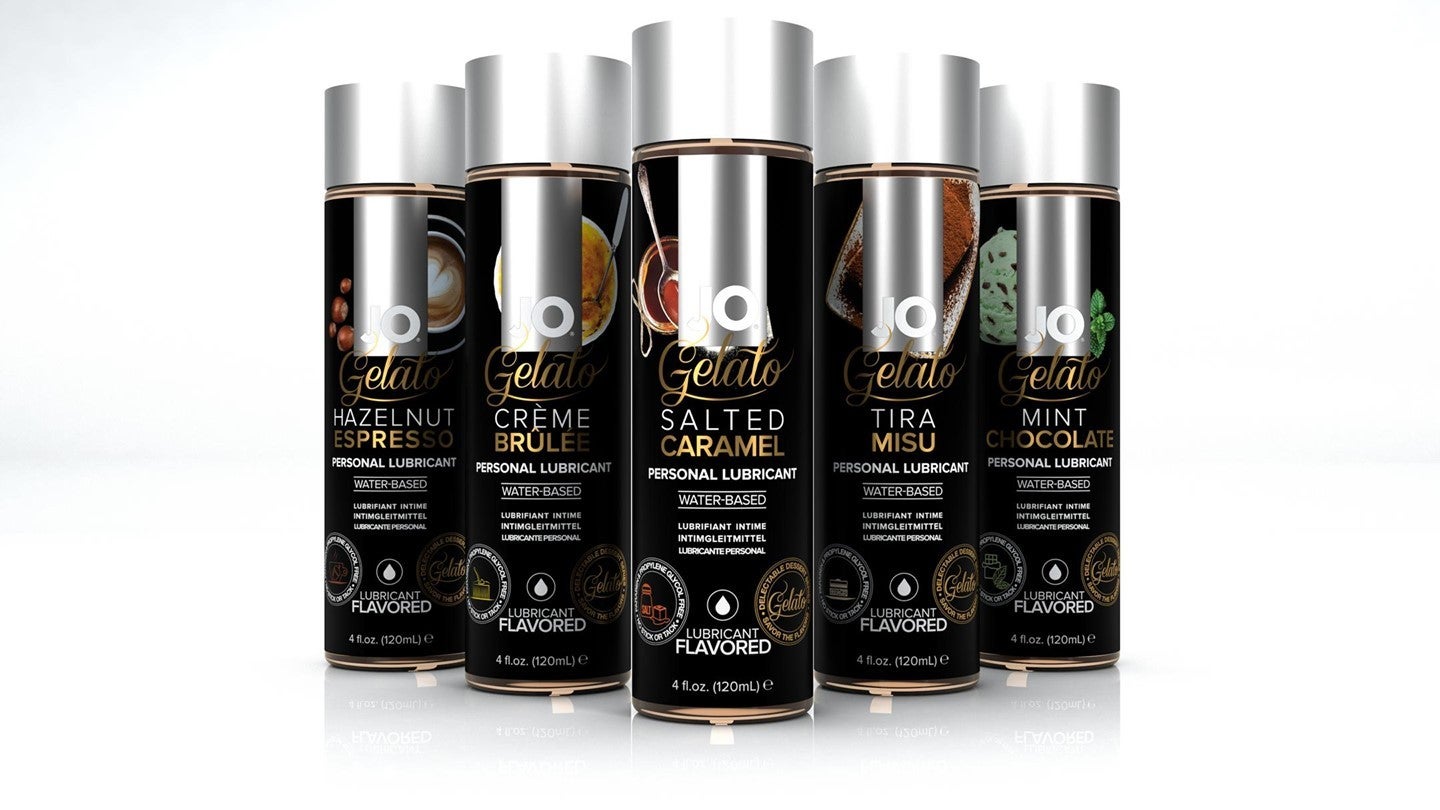 This pack includes the flavors creme brulee, hazelnut espresso, salted caramel, tiramisu, and mint chocolate.
Promising reviews: "I was reading the reviews for this AFTER I had bought it and was wondering if I made a good purchase. I used it the first day I received it and I have to say, we both loved it. It wasn't too sweet and it didn't leave us sticky. Definitely will buy this again!!!" —Alaina Johnson

"Okay, so lube is always going to taste a little like lube, but this stuff is amazing! Friend and I both agreed we wanted actual tiramisu after using it. It stays nice and slick and doesn't get super sticky or tacky, even with 'vigorous use', but you may need to apply a little more here and there depending. Overall, my favorite lube I've ever tried. Excited to test more from this brand!" —Jillian
Get a 5-pack from Amazon for $27.99 (also available in individual flavors: tiramisu, salted caramel, chocolate delight, white chocolate raspberry truffle, creme brulee, decadent double chocolate, and mint chocolate).
12.
A five-pack of flavored lubricants by Doc Johnson that come in a travel-friendly bottle in case you want to take your sexcapades on your next getaway. Each flavor boasts the same water-based formula, so you can get freaky in the sheets (no staining!) whether solo or partnered.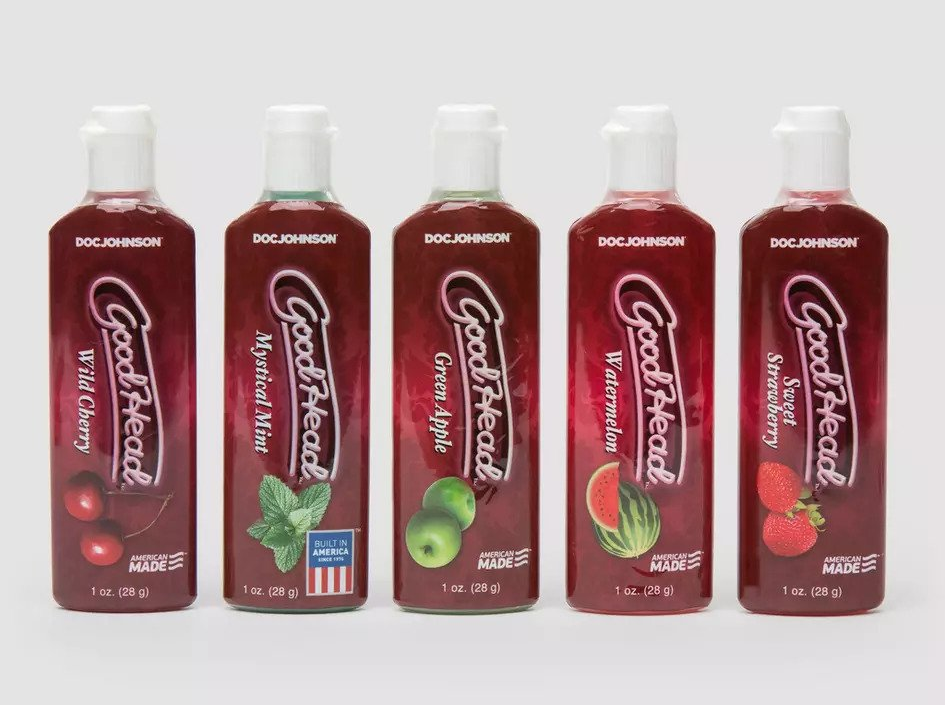 Flavors in this set include Wild Cherry, Mystical Mint, Green Apple, Watermelon, and Sweet Strawberry. Each bottle is 1 oz.
Promising reviews: "Very slick, not sticky and lasts. One small dollop of this is your good to go! The taste is pretty good too! Good to take on holiday! Wish they did bigger bottles!" —Anonymous
"My wife gives excellent blowjobs and she told me that these blowjob lubes made it even more pleasant for her to do so. She said keep buying them." —Anonymous
13.
An organic lube boasting a sweet strawberry flavor created with natural ingredients, so you can enjoy slick and comfortable sexy times with a lover or your favorite toys (because, yup, this lube is toy-friendly!).

A vegan formula created with aloe vera gel means this lube is also a good option for anal play!
Promising reviews: "Great stuff. It's all natural and edible and has a natural fruit flavor and scent, which is tastefully subtle. The taste reminds me a bit of fruit-flavored yogurt, but less sour than yogurt." —gatherer_hunter
"This stuff is amazing. It not only does the trick of a great lube, but the flavor is amazing. It's like adding an actual creamsicle to having sex. Definitely grabbing the other flavors as well." —M. D. Thornton
Get it form Amazon for $11.29.

And here's a round-up of the best anal lubes, if you want more options!
When bae chooses *not* to try out the flavored lube:
BTW, if you love this content and want to stay on top of what's happening in the sexual wellness world, make sure to follow BuzzFeed After Dark (@bfafterdark) on IG—a hub for the horniest of BuzzFeed shoppers. 😏