Content warning: Discussion of domestic violence and sexual assault.
For context, as part of Depp's testimony, he alleged that the "fecal matter" was found on his side of the bed after an argument following Heard's 30th birthday. His security guard, Sean Bett, sent Depp an image of the bed when Depp considered going back for some of his things. Depp claimed that Heard "tried to blame it on the dogs," which he said was untrue.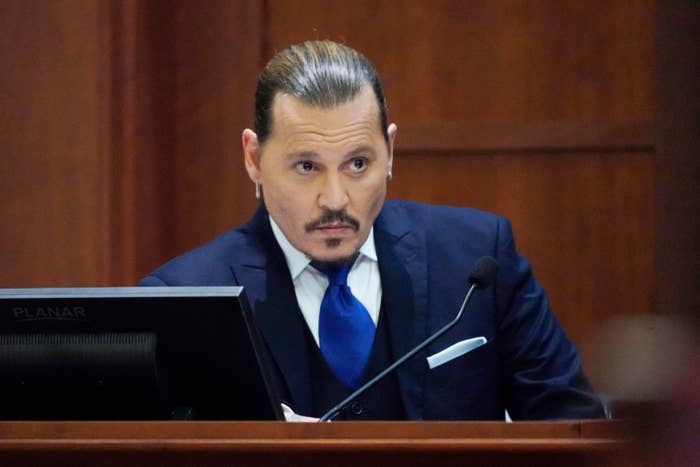 It's not the first time Depp has made the claim — he recalled the same story in his 2020 libel lawsuit against the Sun, after the paper called him a "wife beater," which he lost. Heard testified that Depp had grabbed her hair, thrown a champagne bottle at her, and smashed glasses while drunk and high. The judge ruled that Depp had "assaulted Ms Heard as he had done on previous occasions when he was stressed."
The judge in the UK case also concluded that it was "highly unlikely" that Heard or her friends had deliberately defecated on the bed. But, as the Virginia trial continues, the claim has remained in the popular consciousness — with memes about "Amber Turd" and #MePoo trending across social media.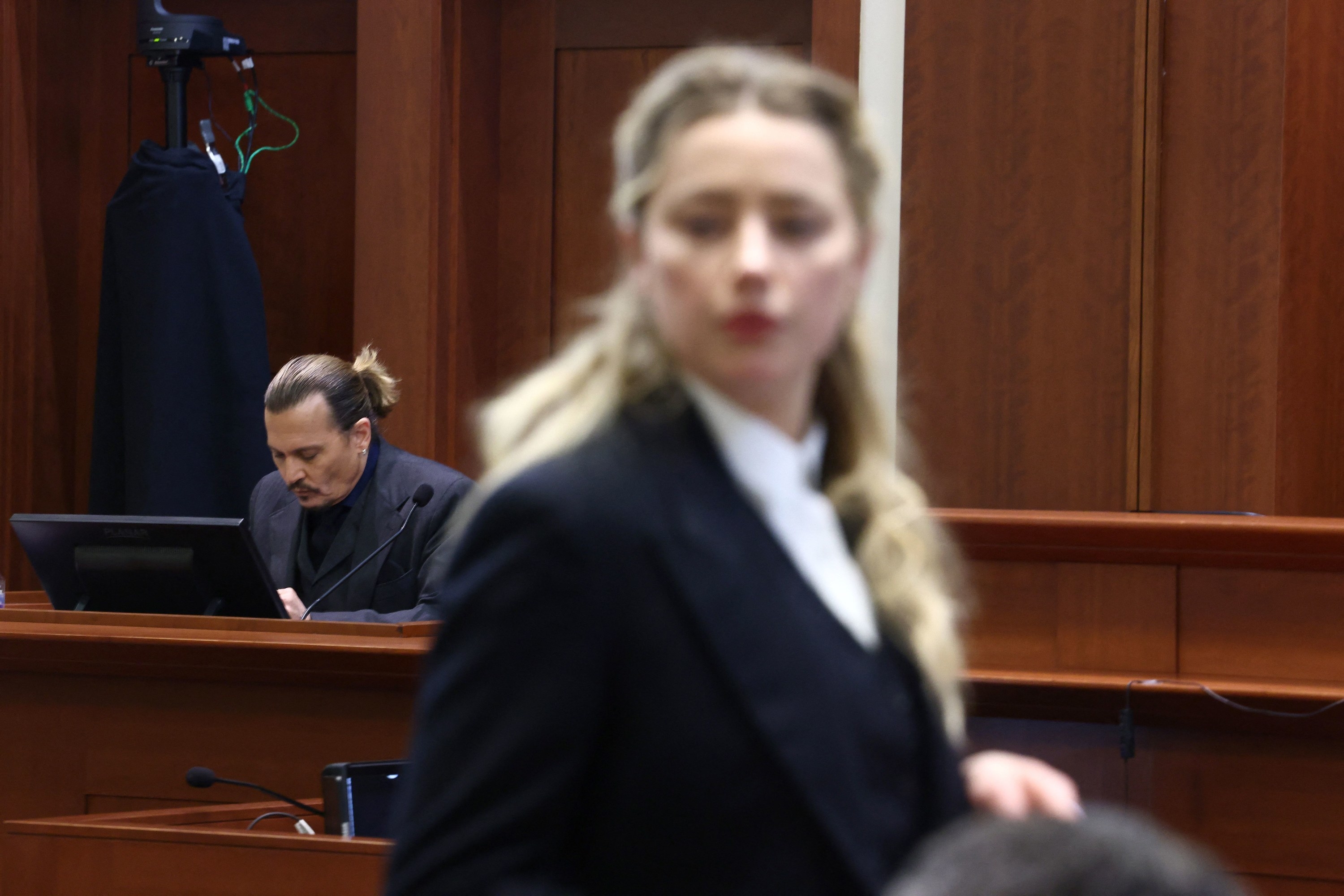 And now, the "Depp v Heard Cuckoo trial" is part of an SNL skit — with Kyle Mooney taking on the role of Depp, and Aidy Bryant as his lawyer.
Kate McKinnon opens the sketch as an MSNBC reporter, saying, "With all the problems in the world, isn't it nice to have a news story we can all collectively watch and say, 'Glad it ain't me?'"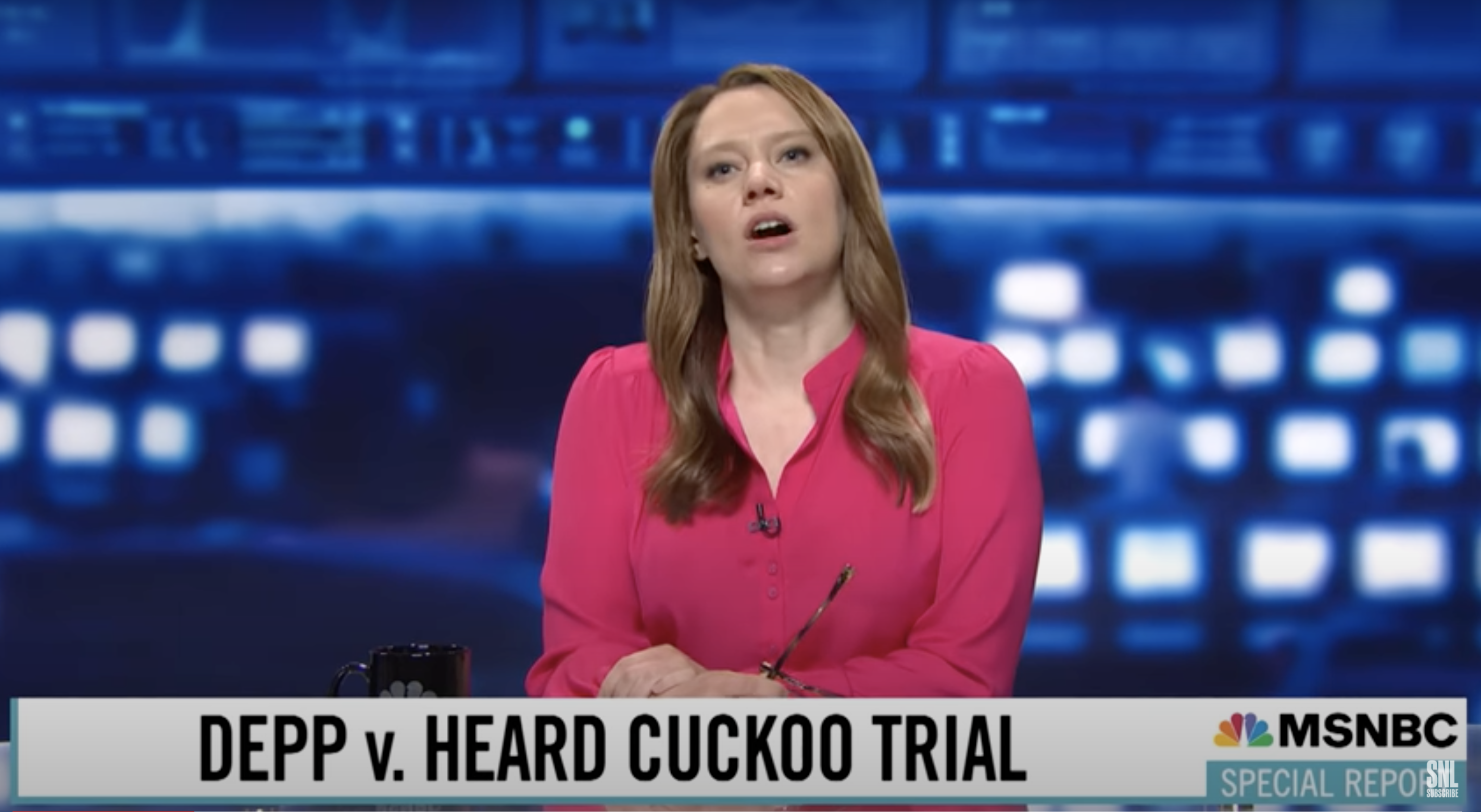 The scene then goes to the courtroom, where new evidence of the fecal matter being discovered is presented. Cecily Strong as the judge says, "I'll allow it, because it does sound fun — and this trial is for fun."
Cut to Kenan Thompson as Depp's property manager discovering the "dookie," looking around saying, "Damn, it smell like boo-boo in here!"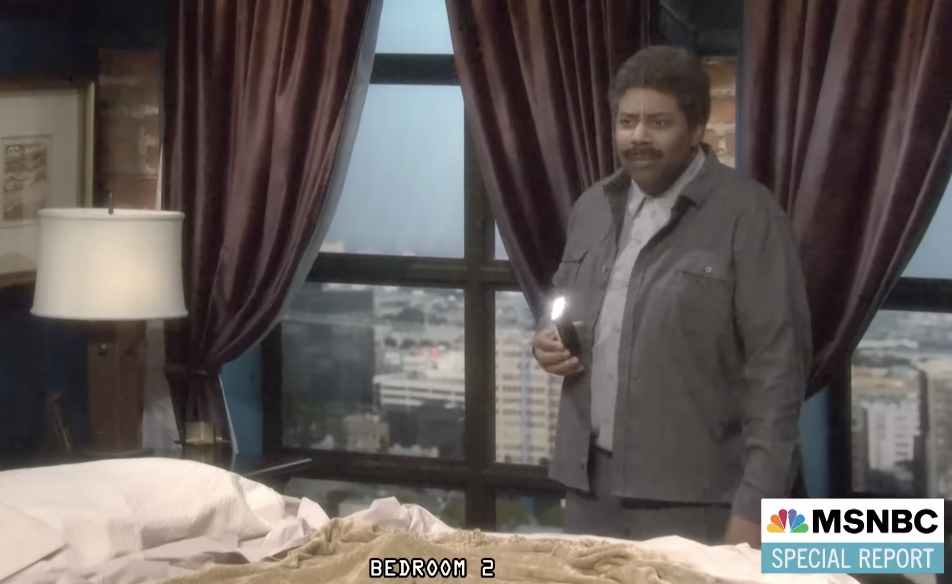 Kenan's character also references an incident where Depp's finger was severed, saying, "You know she cut that joker's finger off? If I'm lying, I'm flying."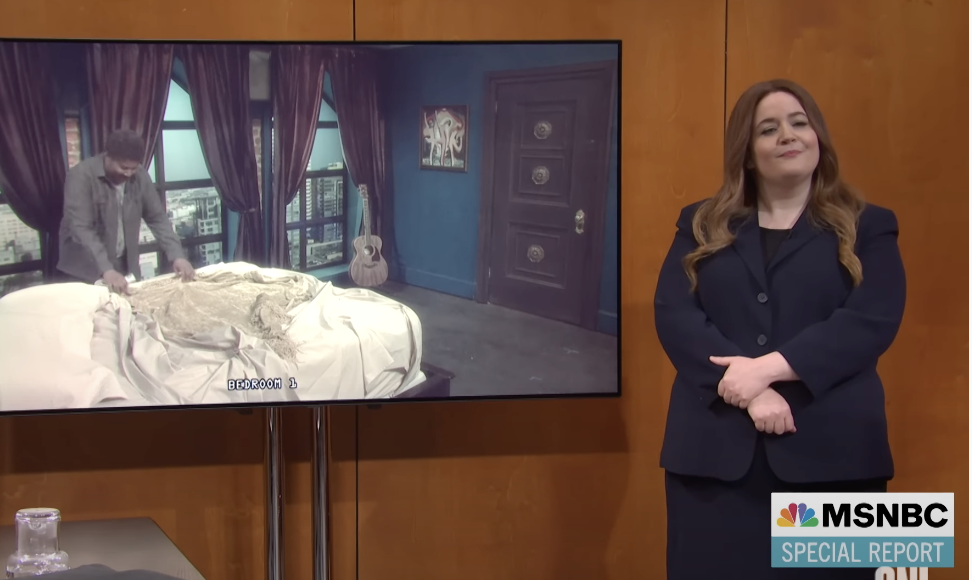 "I'd like to see more of this video," the judge continues, "because it's funny."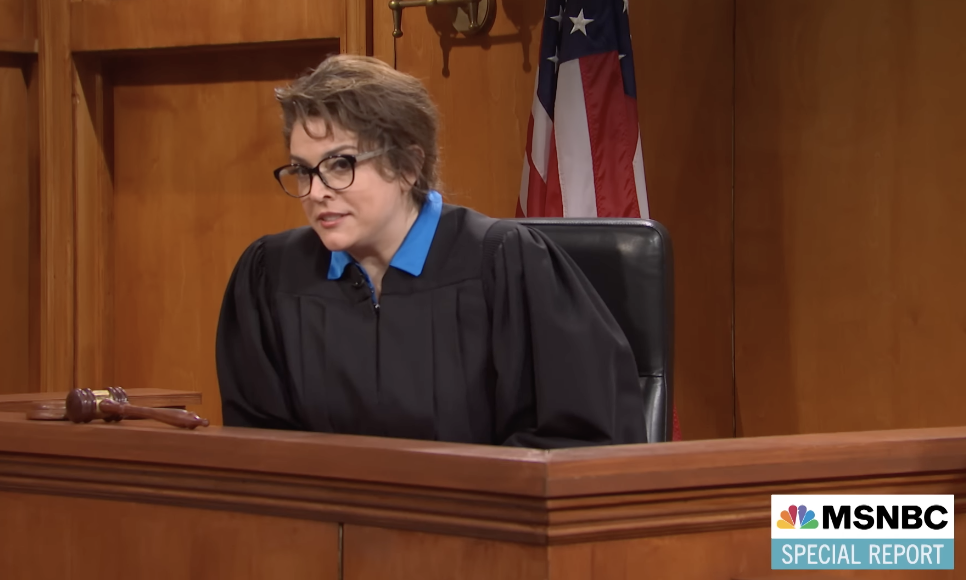 Various house staff then speculate, joking, "That mess ain't come out no dog, that came out of a dehydrated adult."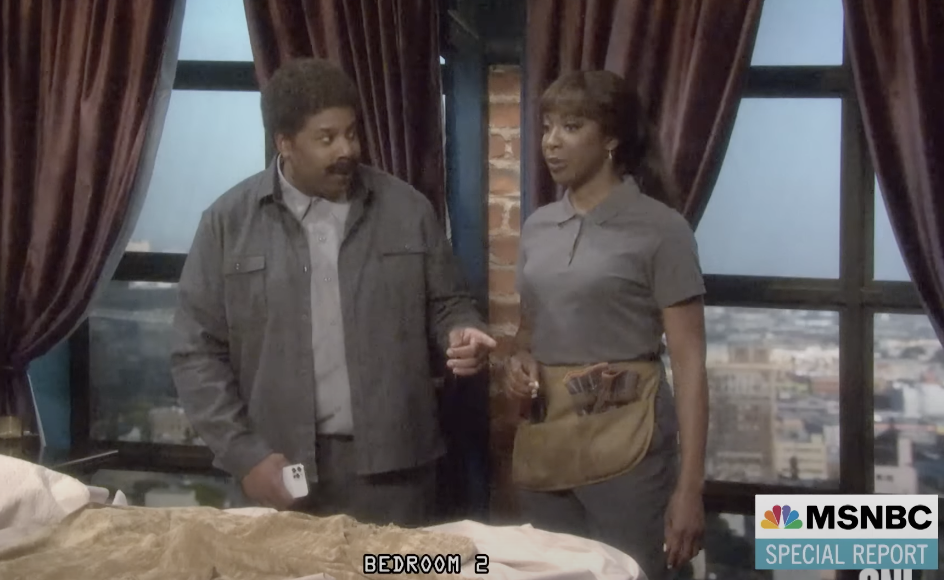 "Maybe the wife did it," Kenan continues. "Remember, she already cut the boy's finger off. And my daddy always told me, if a girl will cut your finger off, she will boo-boo in your bed."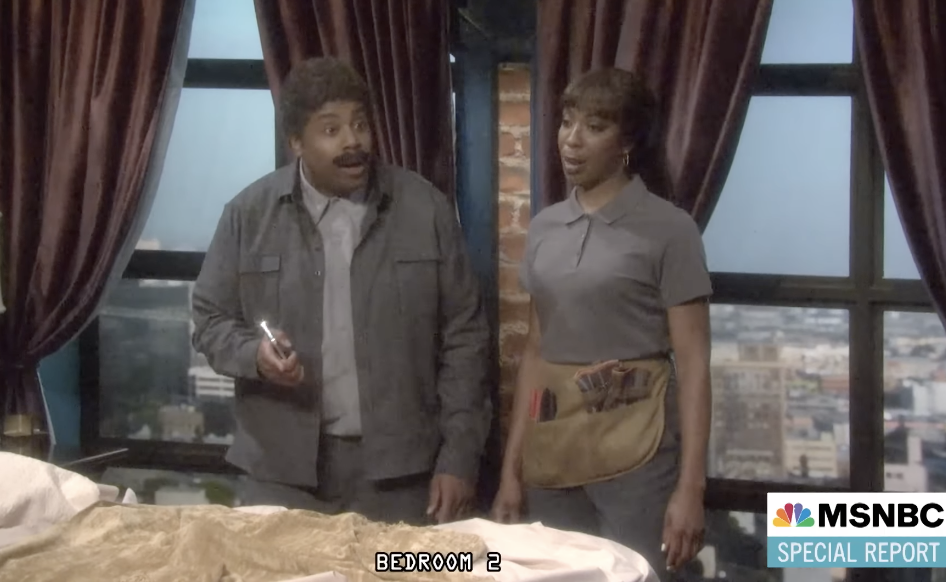 At one point, Mooney's Depp is asked if he finds the trial "amusing," to which he smirks, "A little, yes." The judge then smiles and pulls out a glass of wine, saying, "Aye aye, Captain Jack."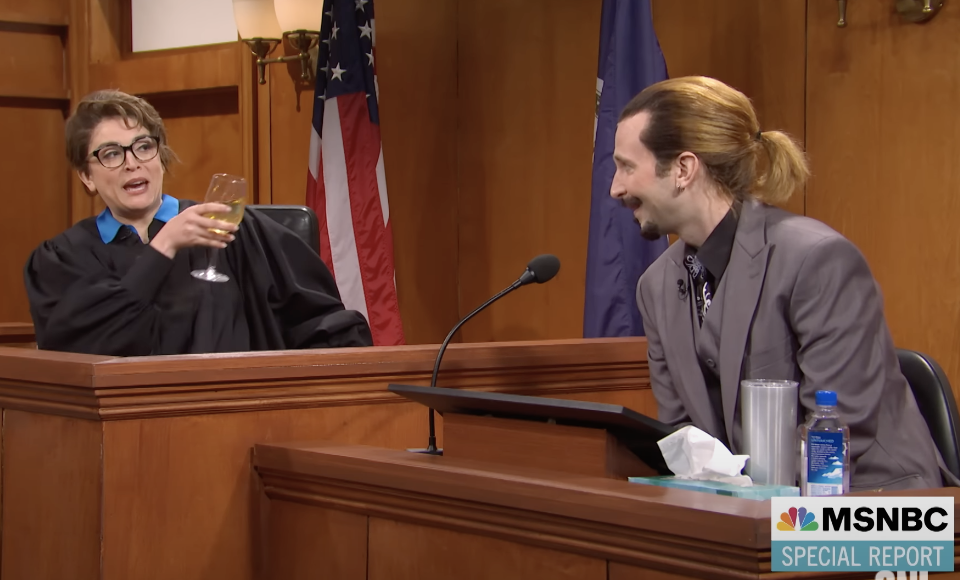 Following the house stuff saying how much they "hate" their jobs, the judge then concludes, "I believe Mr. Depp's story. But on the other hand, your constant little smirk lets me know this is not the first woman you've made so mad, she pooped in your bed."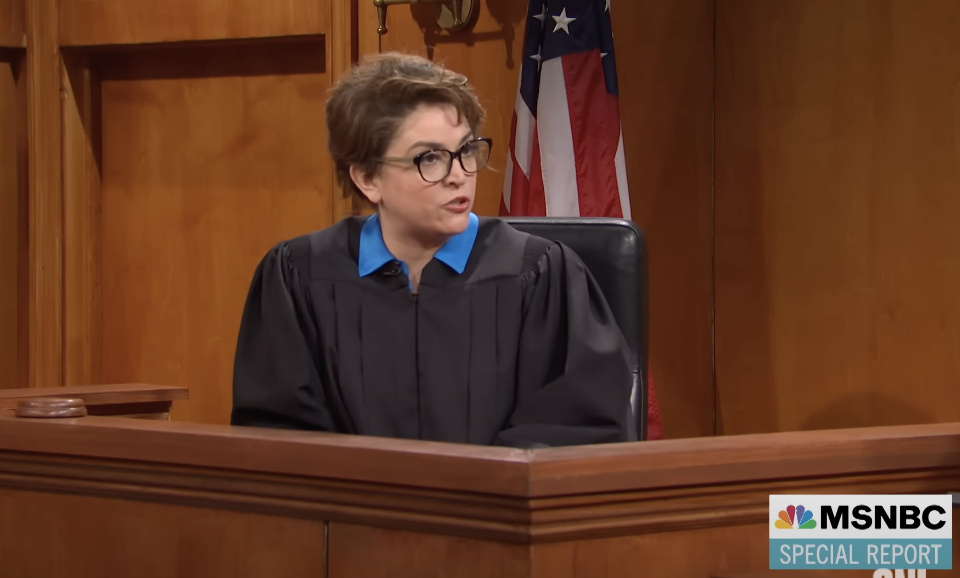 "I guess I have been known to be a full nightmare," Mooney's Depp adds, before the cast go into their "Live from New York" intro.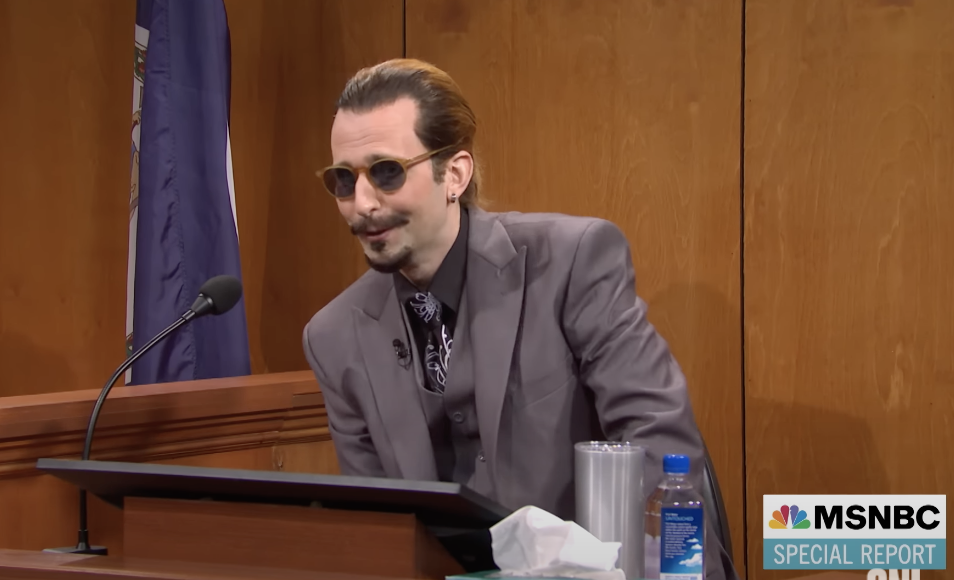 You can watch the full skit here and read more about allegations made in the trial here.
If you or someone you know is in immediate danger as a result of domestic violence, call 911. For anonymous, confidential help, you can call the 24/7 National Domestic Violence Hotline at 1-800-799-7233 (SAFE) or chat with an advocate via the website.
If you or someone you know has experienced sexual assault, you can call the National Sexual Assault Hotline at 1-800-656-HOPE, which routes the caller to their nearest sexual assault service provider. You can also search for your local center here.