When you talk about actors on the rise, all lists are incomplete without Jabari Banks on it. His breakout role as Will in Bel-Air, the 2022 dramatic reimagining of The Fresh Prince of Bel-Air, took audiences on a roller coaster of emotions and begging for more. Jabari demonstrated that not only can he make viewers laugh, but he also has the ability yank fans by their heartstrings as he gets vulnerable on-screen.

Well, the series is back for Season 2! And to celebrate, I sat down with Jabari to breakdown the viral Season 1 finale, explore how his character plans to "rebuild," learn about behind-the-scenes moments with the guest stars, and so much more!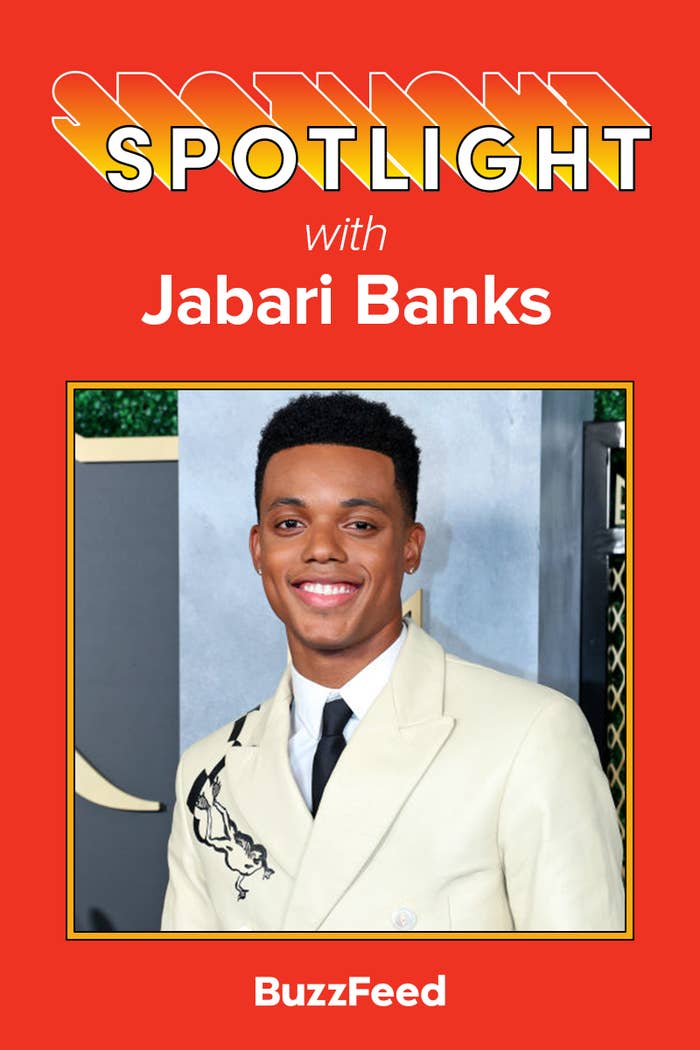 1.
What has been the most challenging and rewarding part about playing Will?
I would say the most challenging part about playing Will is the expectations that everybody has for me to fulfill these shoes. That's a lot of pressure. But the most rewarding part is that I get to play Will Smith, you know what I mean? It's just fun. I'm able to bring myself to this role and I'm supported by a group of people who love me, and who want to see me win. At the end of the day, I just show up authentically, and just have fun every day. So, that's definitely the most rewarding part for sure.

2.
The conversation shifted in Season 1 from audiences being nervous to see the reimagining of this classic sitcom to anxiously awaiting for Season 2 to arrive. How did that make you feel to help end the doubt surrounding the series?
Told you so! I want to say, "I told you so!" [laughs] But nah, it's definitely dope. I'm glad that it was received well. We put a lot of heart into the show. And it means a lot to a lot of us. The fact that it was received well was beautiful and we really just want to heighten the whole situation in Season 2. And I think that's what we did, so I'm excited for people to see it.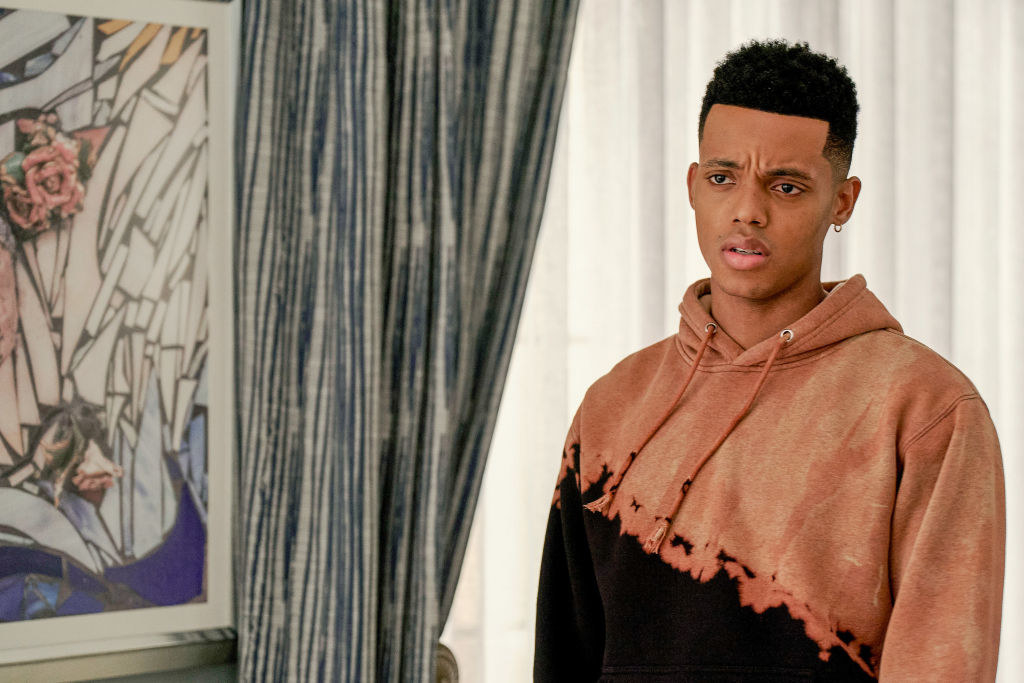 3.
Did you feel any pressure to quote-unquote deliver after coming off such an amazing debut season?
It was a different type of pressure. In season 2, I didn't really feel it as much as Season 1. I knew that I wanted to heighten whatever we did in Season 1 and keep our heart. A lot of times, I think you can get into that sophomore slump, or you'll start focusing on how it went Season 1, so you try to do it that same way. We really leaned into the authenticity in Season 1, and so that's exactly the way we had to do it in Season 2. Nothing's ever going to hit the same, so we just had to shift gears a little bit. We have Carla Banks Waddles, who was our new showrunner, and she's amazing! She has been such a force in this effort, so, yeah, I'm excited for Season 2.

4.
The Season 1 finale was heavy! The reunion between Will and his father (played by Marlon Wayans) really blew viewers away, including myself. What was your biggest takeaway as an actor during that emotionally raw scene? And how were you able to put yourself in that mood for the scene?
That was the last scene that we shot for Season 1, so by that point we had done the premiere. We were still working on the show when the [premiere episode] had come out. By that time, we did the premiere, we did the press junket, and there was still conversation on who's going to play Will's dad. So for me, that had been building up since episode one. But when we got on set and I knew it was going to be Marlon Wayans, I was like, "Wow, it's an amazing opportunity to play with this legend!"
We had to lean into the source material and and it was a heavy scene. Marlon and I really had to trust each other, and be there for each other as actors. He really showed up, so I showed up and, and it was just really dope. It was a little bittersweet though, that being the last scene. People were crying. 

5.
In Will Smith's memoir, he talked about that scene and how he fumbled on a line that ultimately threw his whole vibe off, later how James Avery gave him a pep talk, which helped him mentally get back into the scene. Did you have a moment like that with Marlon, where you guys kind of played off of each other's energy and pushed each other to get to that moment?
Oh, absolutely! Marlon was improving — it wasn't written into the script that he would choke me, and so Marlon just did it on one take. Everybody, even the cameraman, jumped back like, "Oh, God!" I was shocked, but I kept going and got that raw motion. I love that as an actor, as well, like other actors just throwing me a lob and seeing what I do with it. That was one of those moments. That was super fun for me. I called HR after [laughs] — I'm joking. 

6.
Executive producer Rasheed Newson said Season 2 will focus on "rebuilding." Describe Will's mindset this season and how that plays into the aspect of "rebuilding."
Going into Season 2, Will's mindset is to find his freedom and to find himself outside of the walls of Bel Air. We meet a lot of new characters while Will's on his own journey. I would say Season 2 is even more of a coming-of-age story than Season 1 was. With the theme rebuilding, I think Will is trying to rebuild himself and find himself within LA, and what that means for him. We see him at the top of the season, enjoying himself in South LA, because that feels a little bit like home to him. But you can never run from your family or from your past, so I think we'll see him reconnecting and rebuilding with his family as well.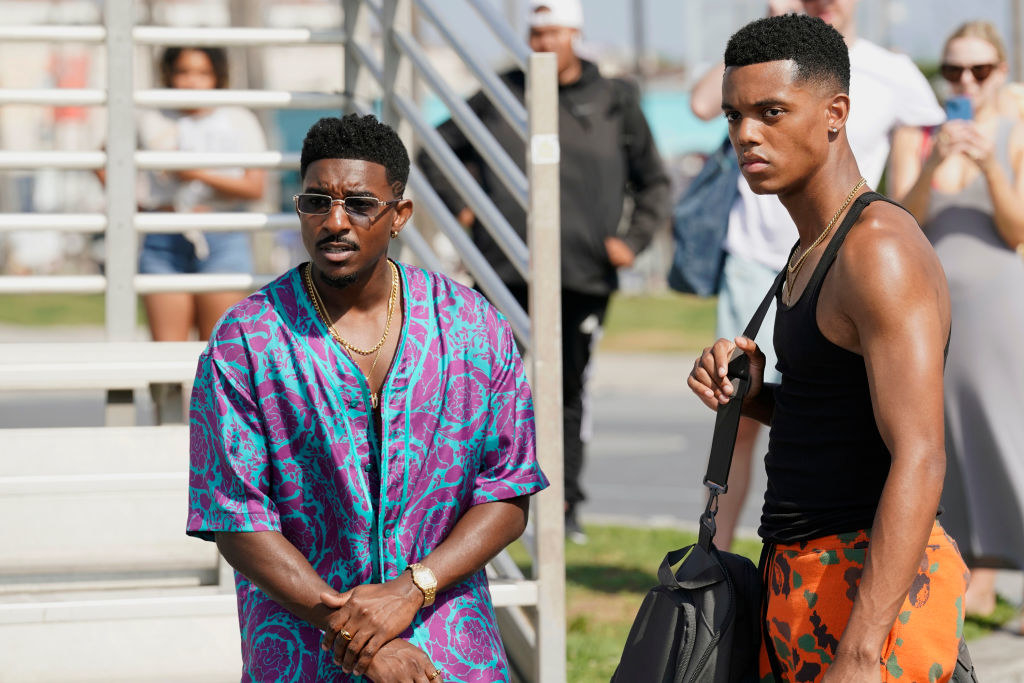 7.
For me, "belonging" has always been one of the main themes of the show and the original — whether it be in a new place, within your family, or even your own culture. Why do you think that's a topic that still deserves to be discussed in 2023?
It's important because I think all we really have is community. It's important to have a community and to feel like you belong there, and to have people around you that treat you like you them. When we have these kinds of fish-out-of-water stories, it reminds us that it's important to make everybody feel important; make everybody feel like they have somebody. 
That's why Will's journey is a true coming-of-age story, because I think we have a lot of characters who make him feel loved, like Uncle Phil and them, who go out of their way to make him feel like he belongs. I think a lot of people can resonate with that, and that's a mirror to our society.

8.
You mentioned new characters earlier and Tatyana Ali makes an appearance in Season 2. What was it like working with the original Ashley Banks? And did she offer you any advice?
Wow, Tatyana was crying the whole time! She didn't give any advice, she was just crying! No, no, no, no, I'm kidding. Tatyana was a joy! She's such a sweetheart. She had these beautiful scenes with her and Ashley (played by Akira Akbar) and it was just like a mirror from OG to to new. It's so dope to see on-screen and I promise you, the reveal of her is like one of my favorite things that happens in episode one. It was amazing having her on set...she's such a pro.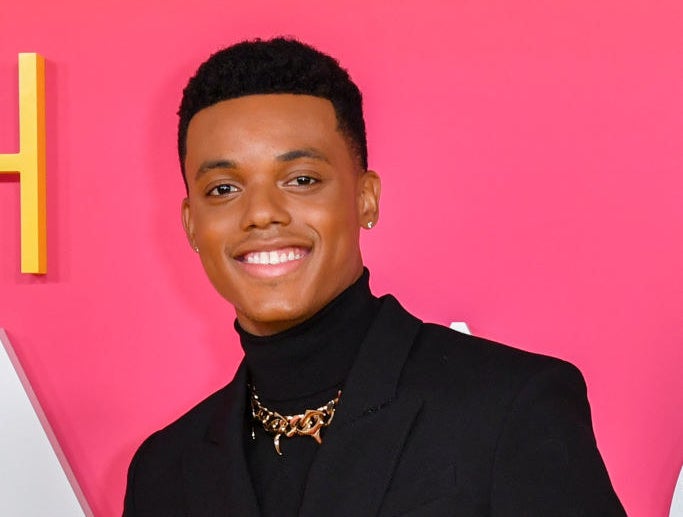 9.
Saweetie is also in Season 2. What's something you learned about Saweetie that might surprise people?
Saweetie is on top of her shit! She's on top of her game. Excuse my language. He's on top of our game. Our first time shooting was on a yacht and it was a long day. We shot there for two days and so on the second day, you know, everybody was tired. Saweetie came on set and she has just a ball of energy. She came in and she knocked her stuff out. It was a joy working with her. She's amazing. I didn't know what to expect to be honest. I was just surprised that she actually came on the show [laughs].

10.
What was your favorite behind-the-scenes memory with the cast?
That's the thing, we just have so many! It's hard to pinpoint one. We'd all just go into Olly Sholotan's trailer and we'd just chat and eat our food. That's what we do, kind of, on our off-time.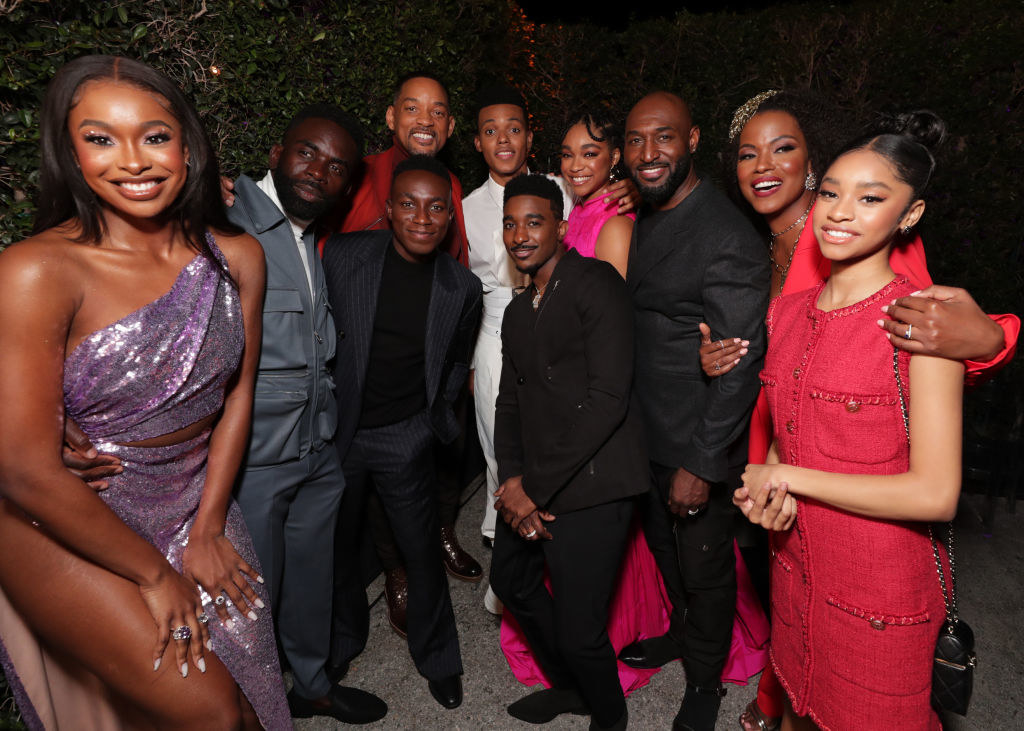 11.
Do you all have a cast group chat?
Oh, yeah, it's called Bel-Air baby. Oh, baby. Yeah.

12.
Ha, I love that! What's everyone's texting style? Who's most likely to not text back in the group chat?
I'm most likely not [laughs]. I just I am not great with my phone. I think the most active in the group chat is probably Cassie (Cassandra Freeman). She's always telling us about something, but it's great.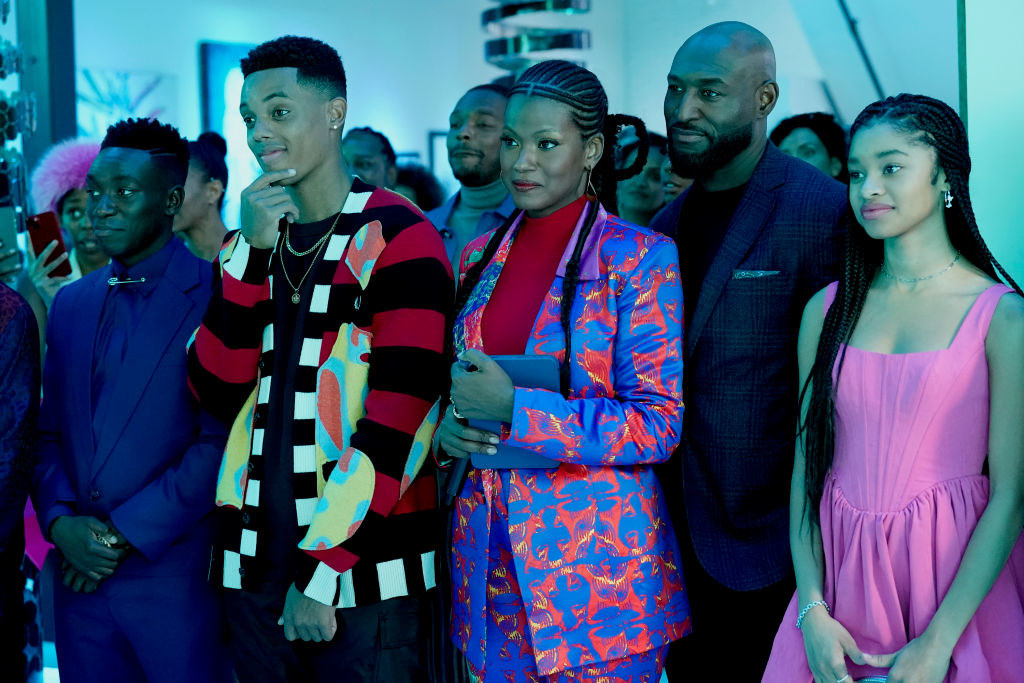 13.
If you could put your own spin to another iconic scene from the The Fresh Prince of Bel-Air which would it be and why?
I would love to reimagine the episode where Will and Carlton go to jail. That was really fun in the original, but it also had some serious tones. And so, I kind of want to mirror that and show what that would be like today, because teens get into trouble all the time. But what does that look like in 2023? 

14.
I love that you brought up Carlton, because I know a scene that stood out for me was when his blackness was called into question while he was trying to join a fraternity. Conversations on "what it means to be or act Black" are still happening today. Again, why is it important to stress these topics? Why should we be talking about this openly?
We've got to figure that out as a community. We always say being Black is not a monolith — that's a quote that we kind of use — but we really forget that that's the truth. We all have vastly different upbringings, so with this expectation that there's a certain way to be black, I think that hinders us in a way. I think letting go of that idea and having conversations about it, is the best way to get to that solution.
I'm so proud of us for even opening that door, for us to have those conversations. I think in the '90s — in the original — they kind of played on the fact that Carlton's the typical Black guy. But that's okay. I think in this series we're really showing that that's okay. It's okay to be yourself. And in the same way with Will on Bel-Air, it's okay to be yourself; It's okay to not have grown up pristine, with a silver spoon. Showing different ways of growing up is important.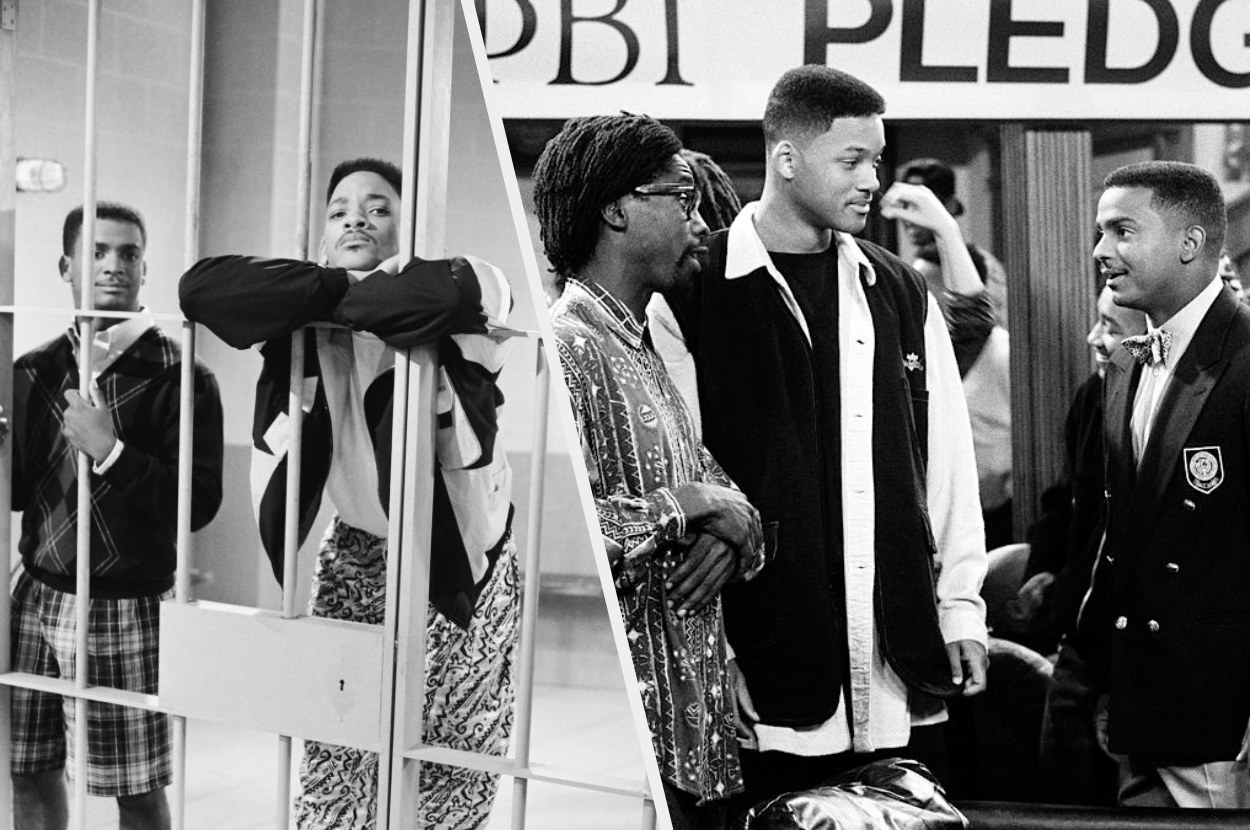 15.
Exactly, because we all come from different walks of life. Okay Jabari, lastly, what do you hope fans take away from this new season?
Wow, I want fans to walk away from Season 2 going, "WHERE IS SEASON 3?" That's what I want them to say. Throughout the hiatus I've gotten a lot of messages like, "When's Season 2 coming out? Is there any word?" So, I'm super excited for Season 2 to be out and for fans to just indulge, indulge, indulge! I just want them to walk away with a sense of family, a sense of community, love, light and a sense of belonging. How about that?

That sounds good to me! Does Season 2 have you feeling any of those emotions? Let us know in the comments below!