This week, the final four bakers battled with patisserie to win a coveted spot in the season's final. Here are 19 absolutely delightful moments from the episode, plus 15 anxiety-inducing ones.
Warning: Spoilers (and potential emotional turmoil) ahead. 

1.
DELIGHTFUL: The opening, which suggests that iconic musicians such as Elvis, David Bowie, and Freddie Mercury regularly emerge from the afterlife to watch The Great British Bake Off being filmed (so they don't have to wait for the episode to air like the rest of us living, breathing schlubs). As far as ideas for what happens in the next life go, I like this one.
Signature Challenge: Patisserie-Style Layered Slices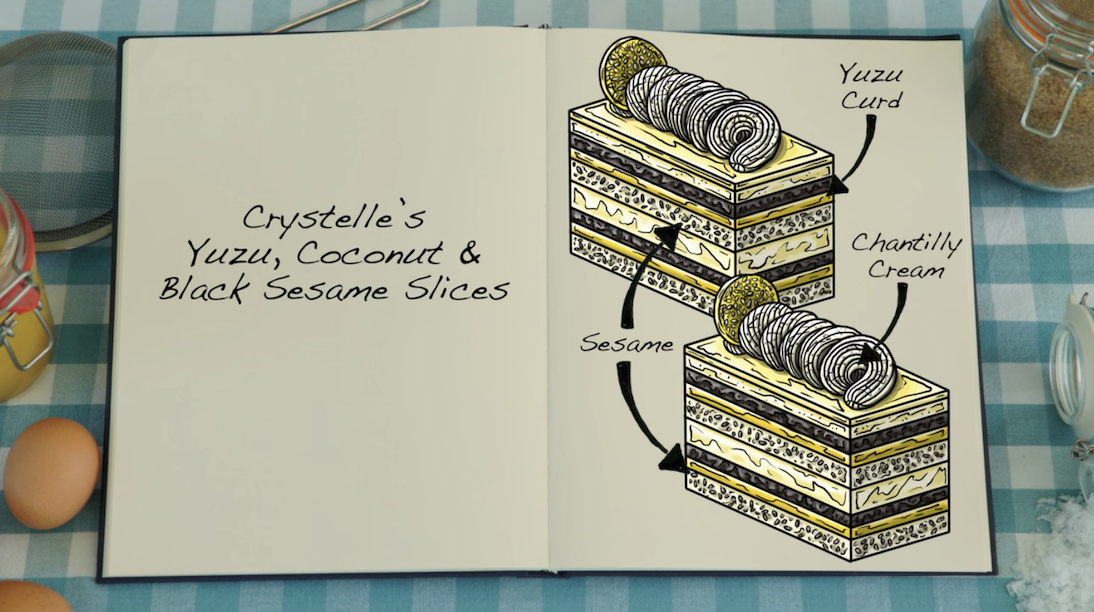 2.
STRESSFUL: Hearing Crystelle call herself the "least capable baker" left in the tent.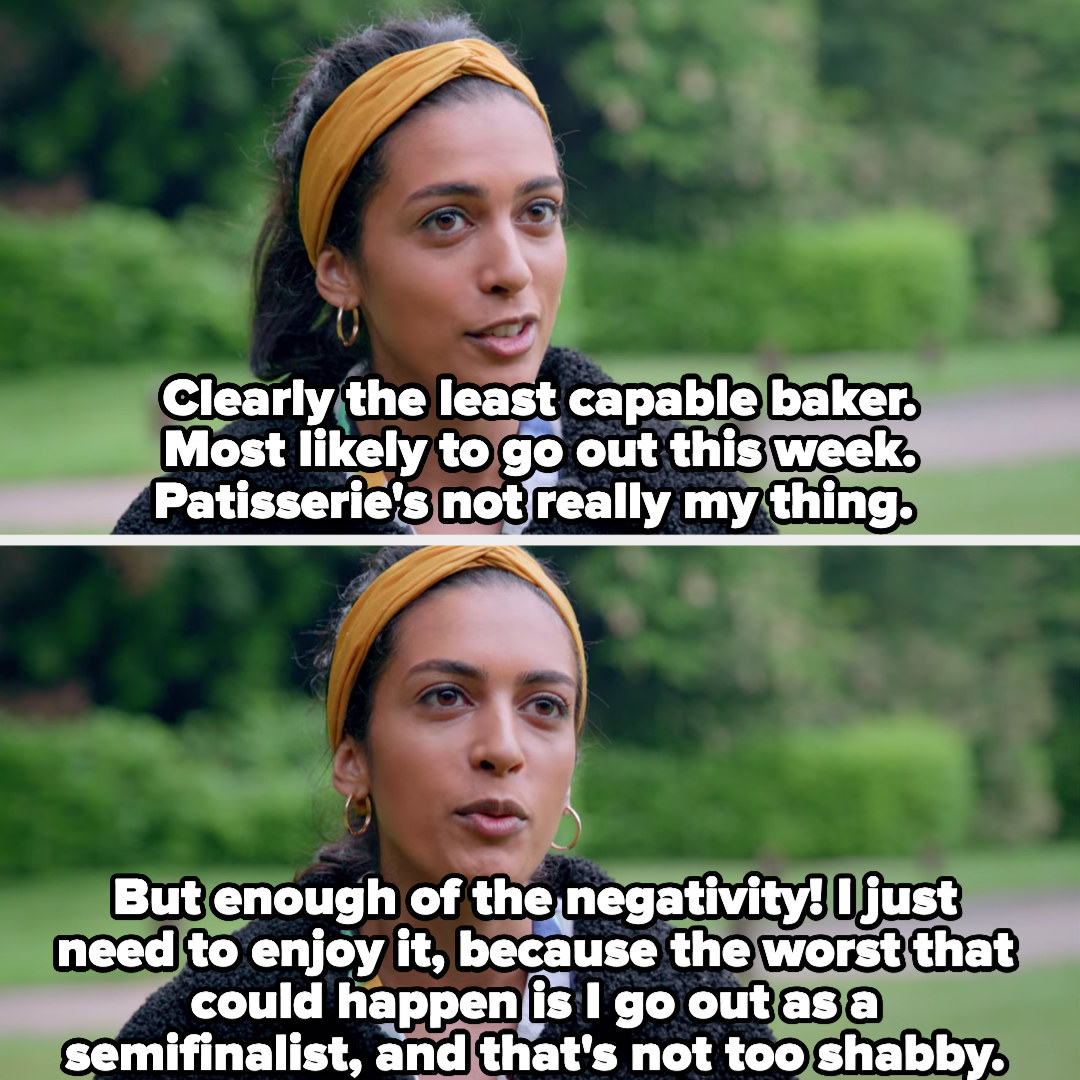 The same Crystelle who made this gluten-free masterpiece...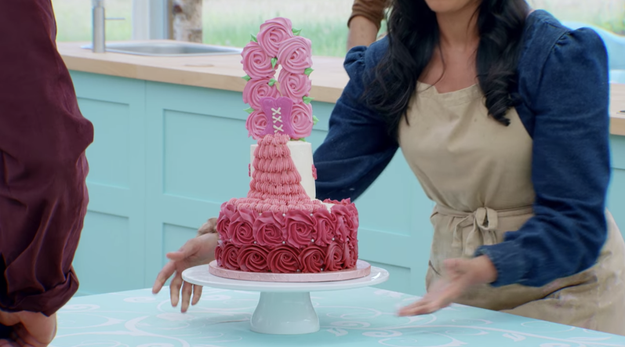 ...and this sublime pie?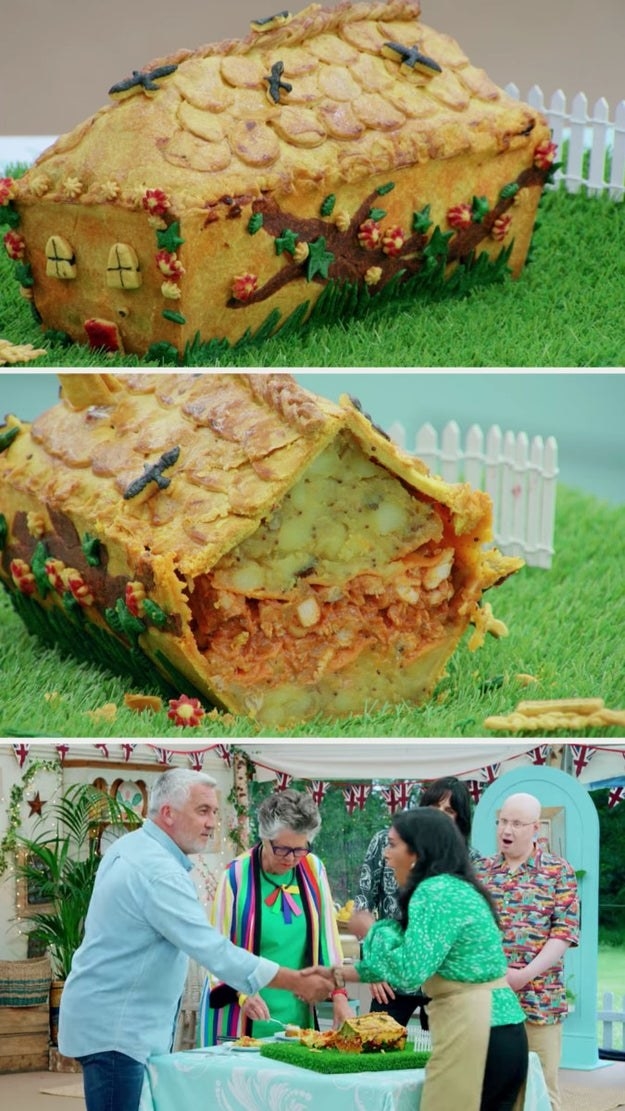 Nope, sorry, Crystelle. I'm just not buying that you're not a contender here.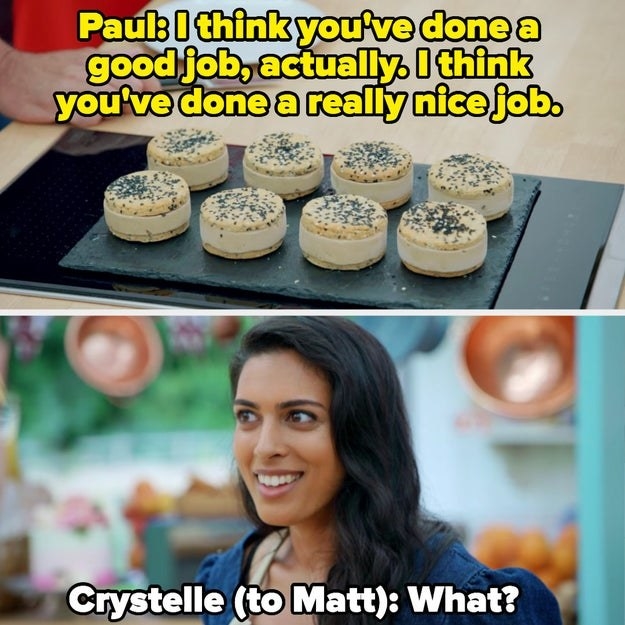 3.
STRESSFUL: Giuseppe being mortified by his mistaken attempt to cook incomplete batter...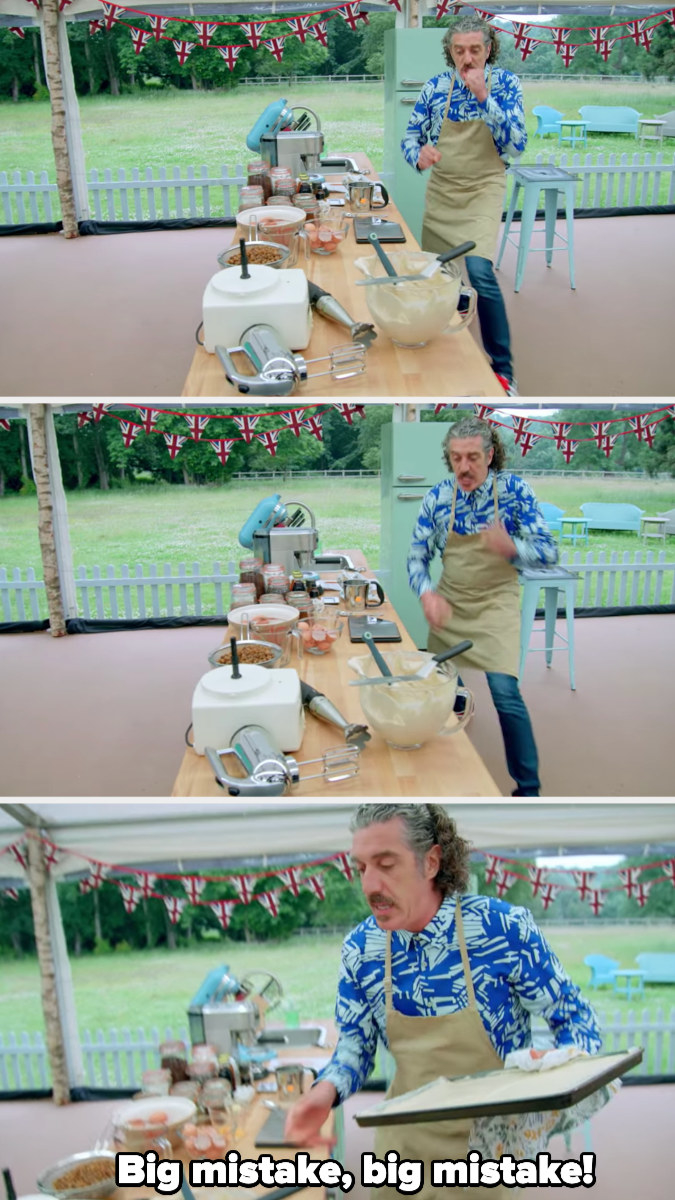 ...and pulling it out of the oven at the exact same time the judges come over to casually chat with him. Apparently, he forgot to incorporate the flour into the batter, a very un-Giuseppe-like move.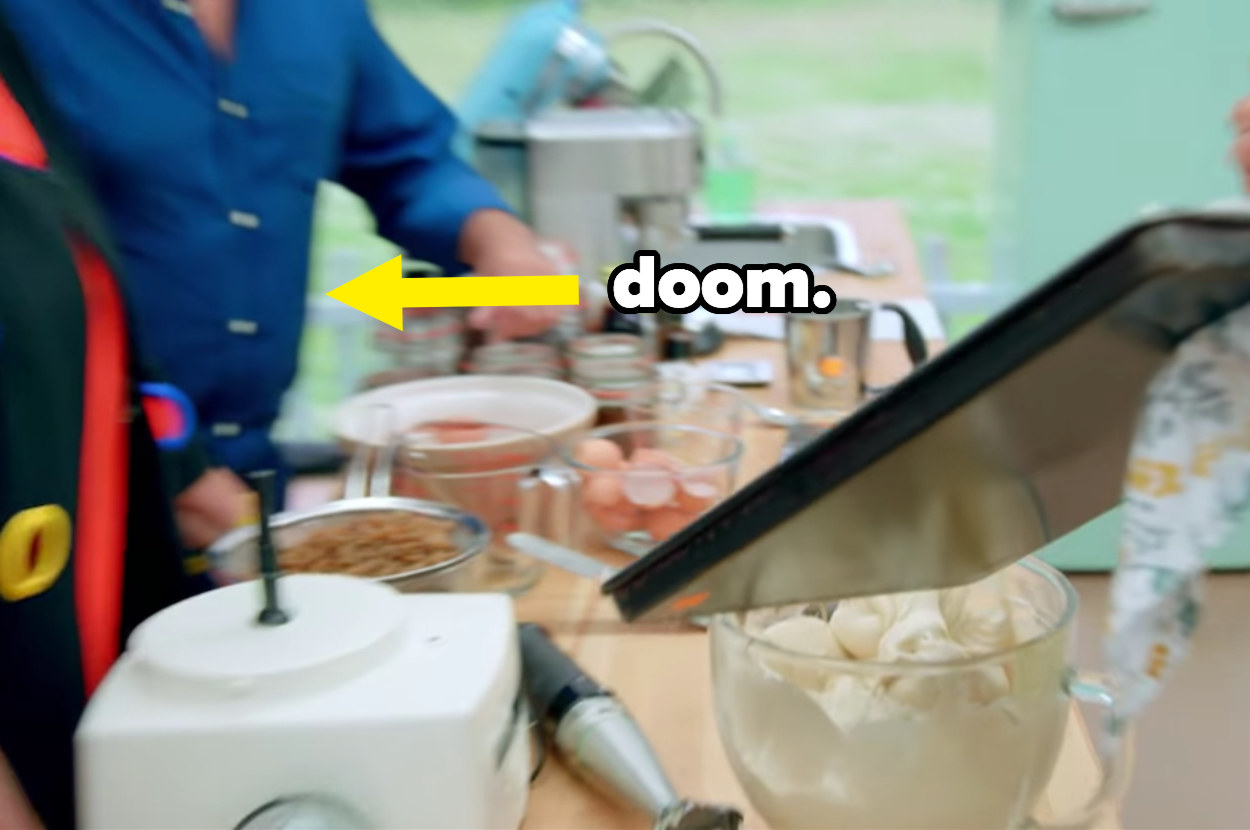 4.
DELIGHTFUL: The touching compliment Chigs receives about the way his baking skills have improved during his tenure in the tent.
Side note: This comment on last week's recap about the power of Chigs' glasses is my new favorite fan theory. Not just for the Bake Off, but for all pop culture in general.

5.
DELIGHTFUL: Jürgen being caught red-handed...while making a murder-themed beet juice cake. If we've learned anything this season, it's that Jürgen's gonna Jürgen.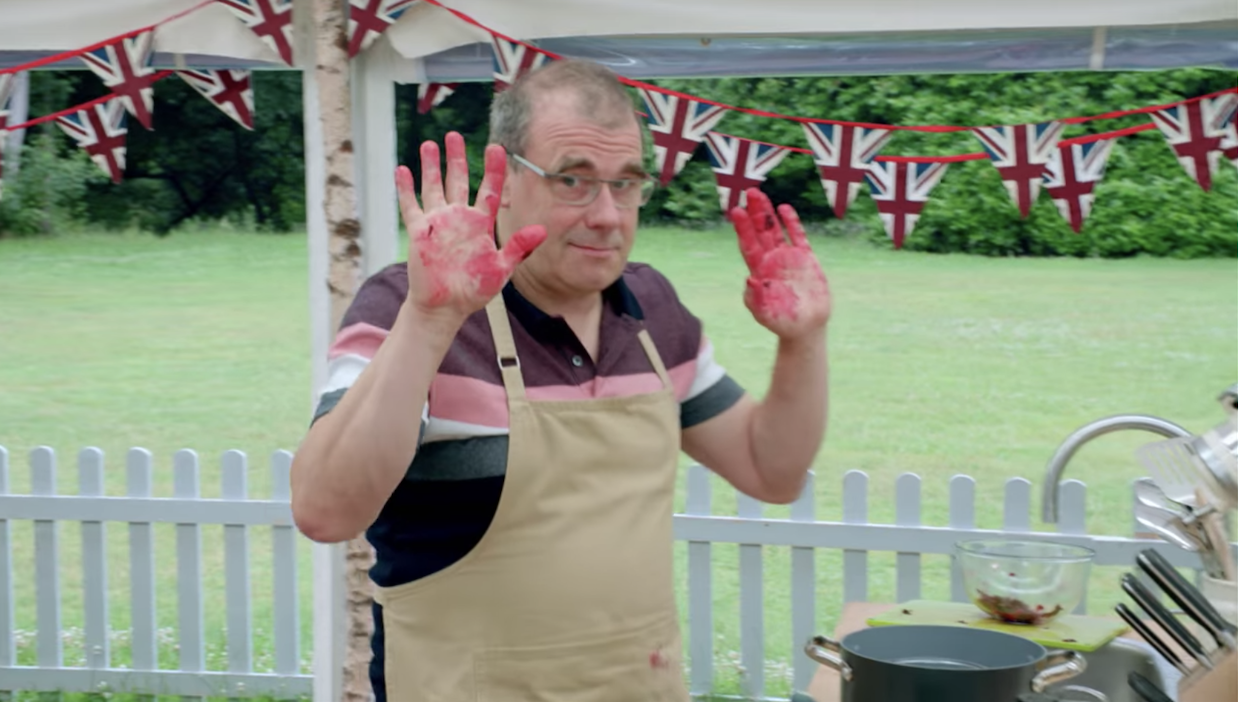 6.
STRESSFUL: Chigs finishing his slices well before the other bakers. I don't know why, but someone finishing early makes me nervous. It reminds me of debriefing with friends after a math test and finding out that a problem you thought was very simple actually took them a whole page of equations to figure out. It never bodes well.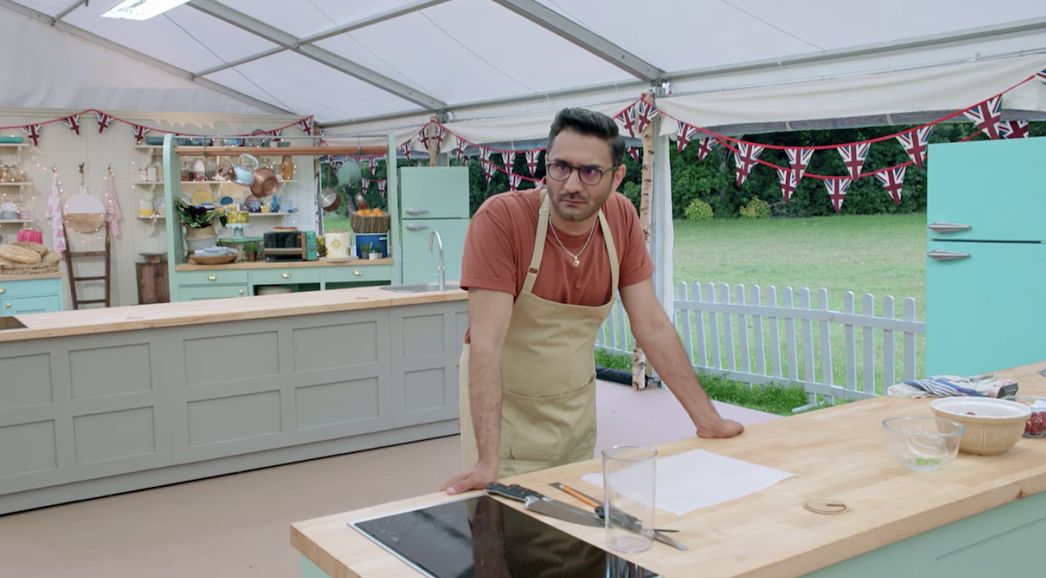 7.
STRESSFUL: Netflix, get your corporate synergy out of my baking show.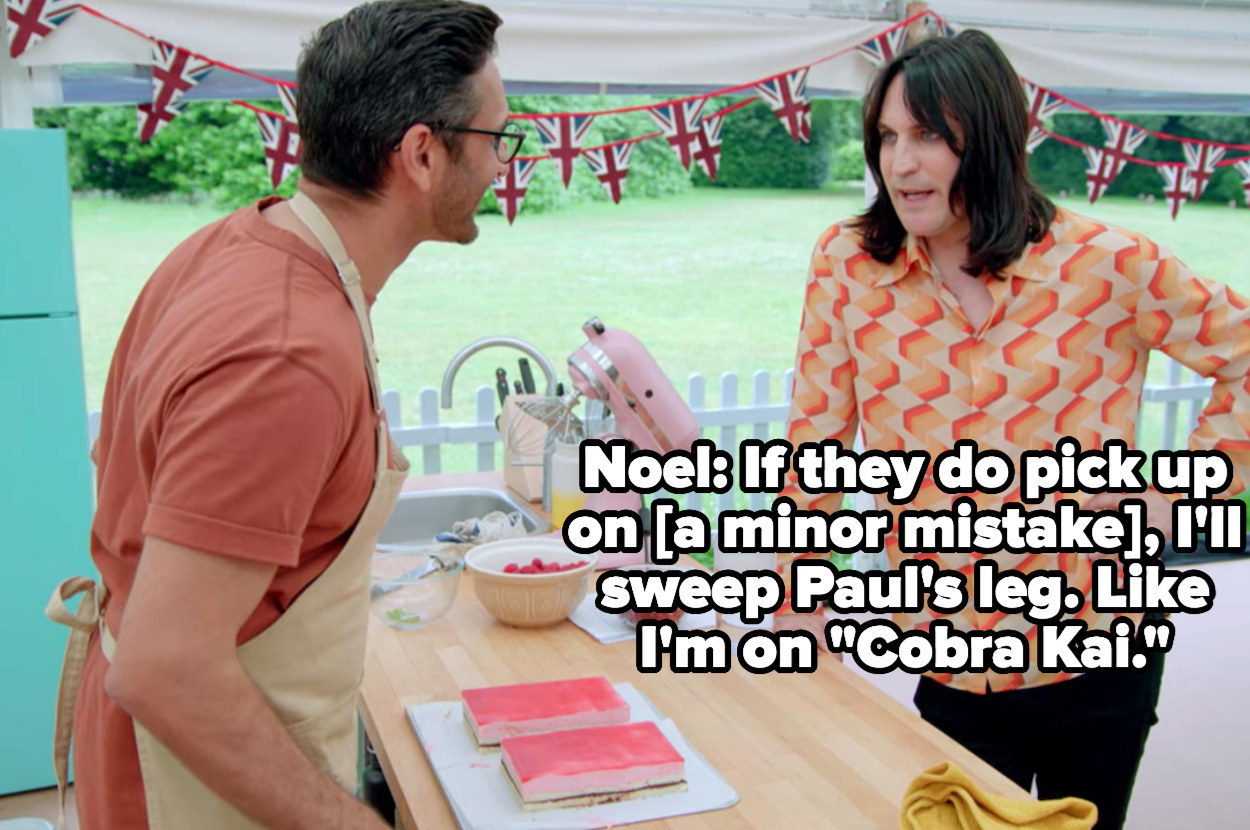 8.
DELIGHTFUL: Wow, this is a satisfying challenge.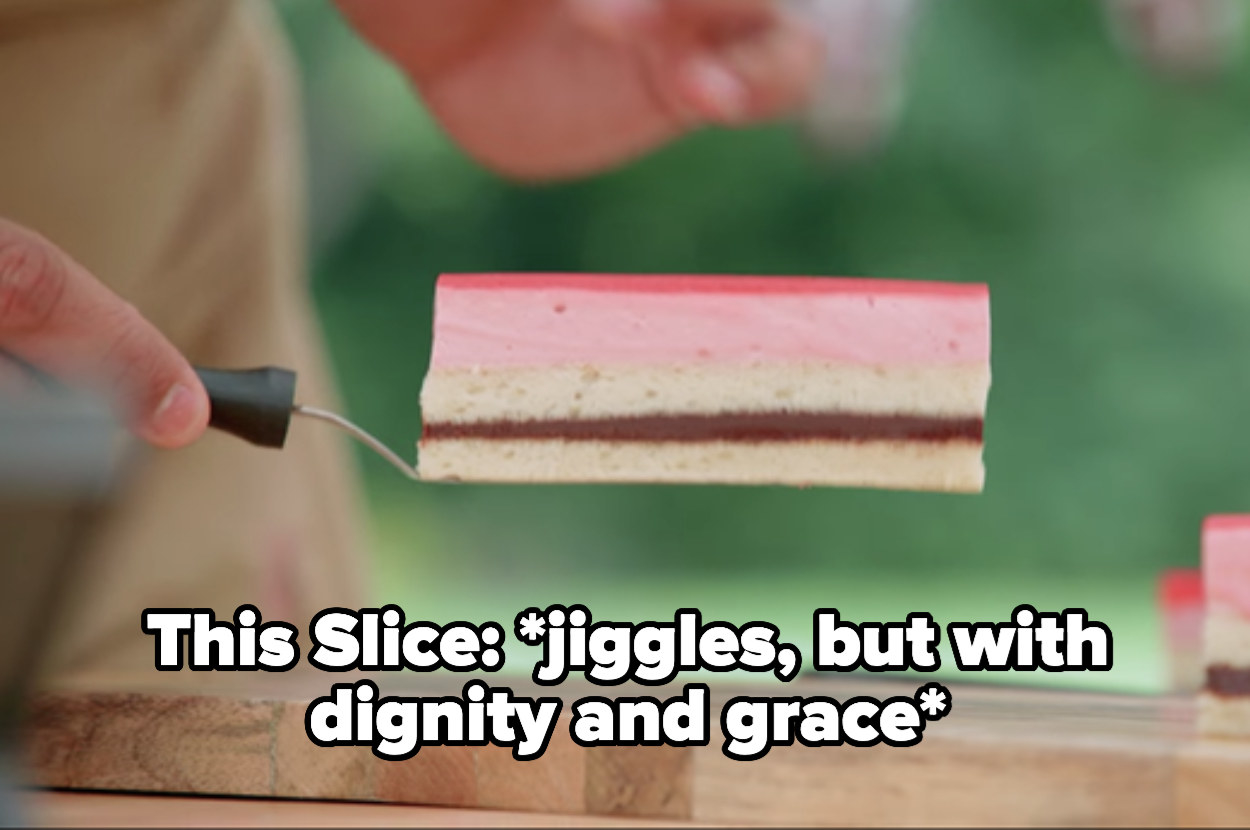 9.
DELIGHTFUL: Chigs getting a sweet, sweet, semifinal handshake. He didn't finish early because he didn't understand the assignment, he finished early because he's a goddamn marvel. I never should've doubted (or projected my math class baggage onto him).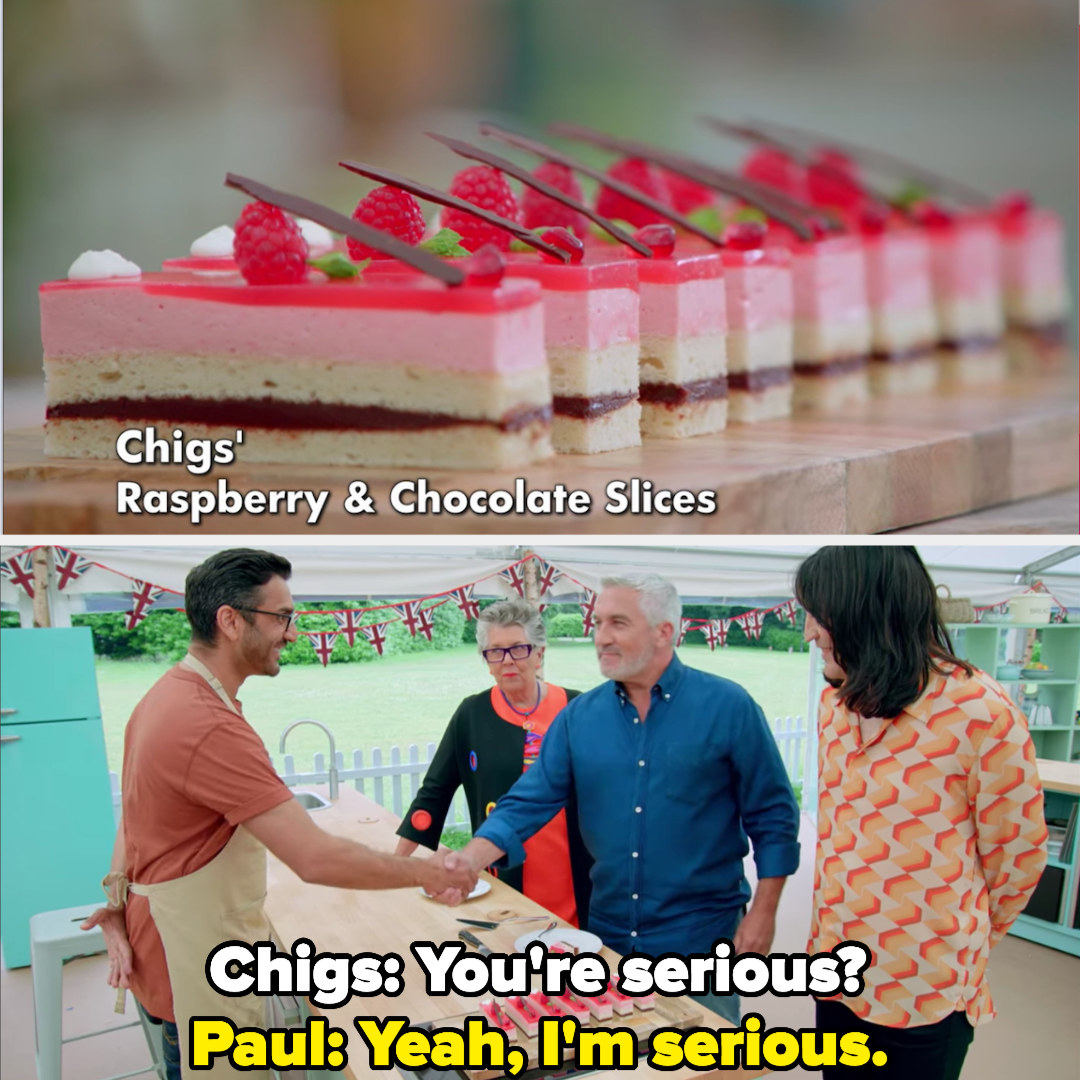 10.
DELIGHTFUL: Jürgen's reliably impressive (and murder-y) slices. Prue adores them, but Paul isn't overly fond of the flavors. And based on that last comment, Prue may be planning a coup. (A Proup? ...I'll let myself out.)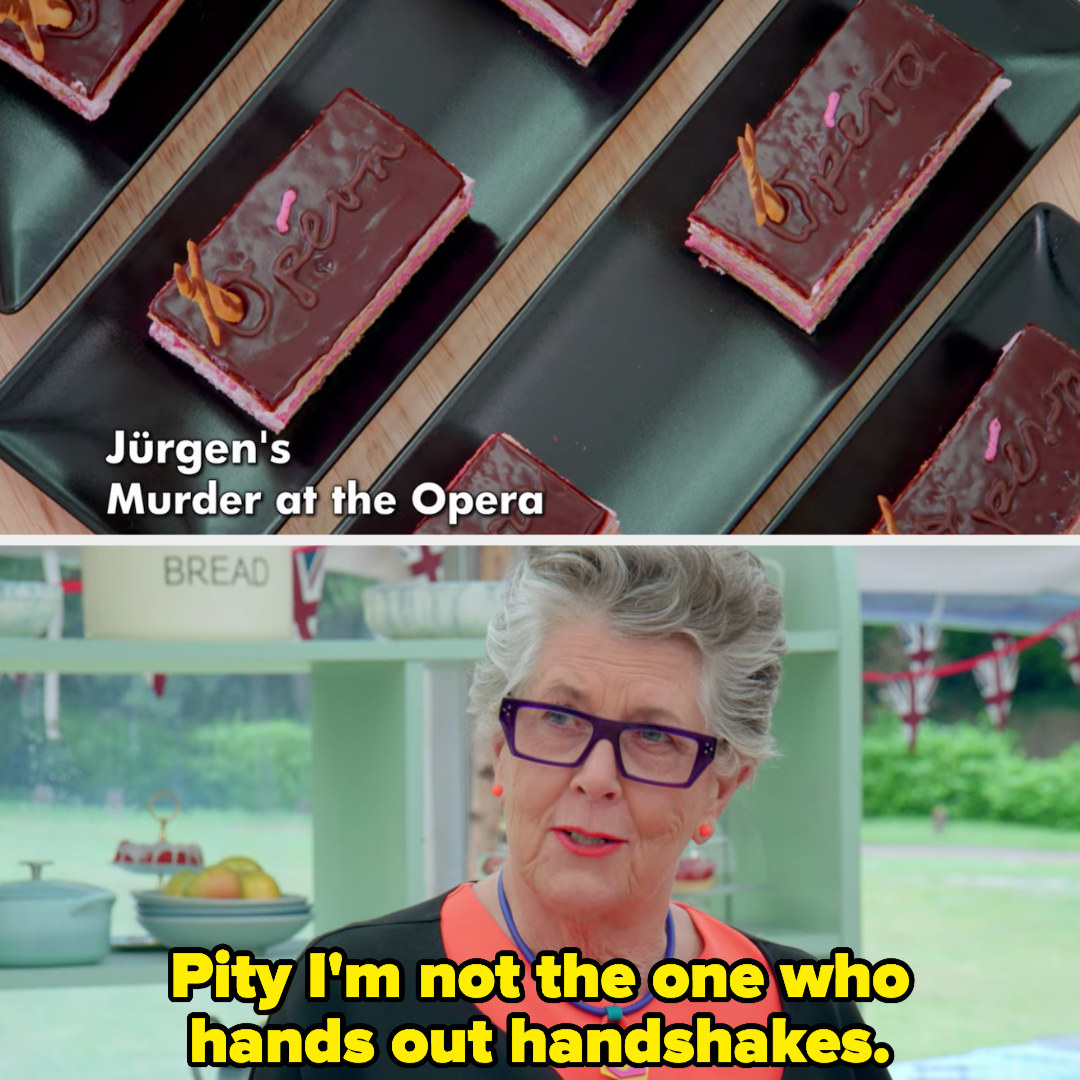 11.
DELIGHTFUL: Folks, that's two, count 'em, two handshakes in the Signature Challenge, and the second goes to "least capable baker" Crystelle for her yuzu, coconut, and black sesame slices. The speed at which she proved that pre-episode assessment of her chances wrong gave me whiplash.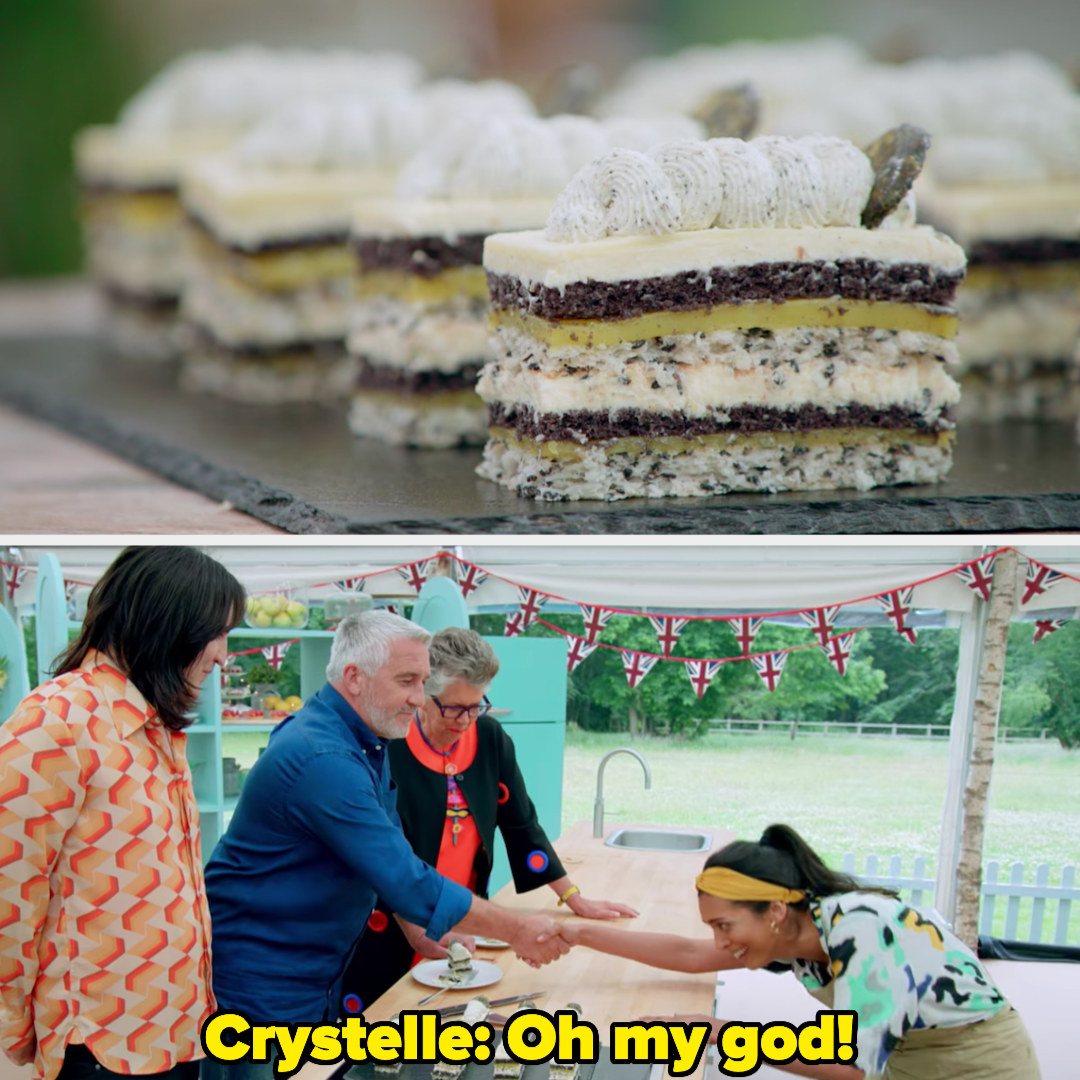 12.
DELIGHTFUL: Three?! Has inflation hit the handshake market? That being said, I'm sure Giuseppe's tiramisu slices were transcendent.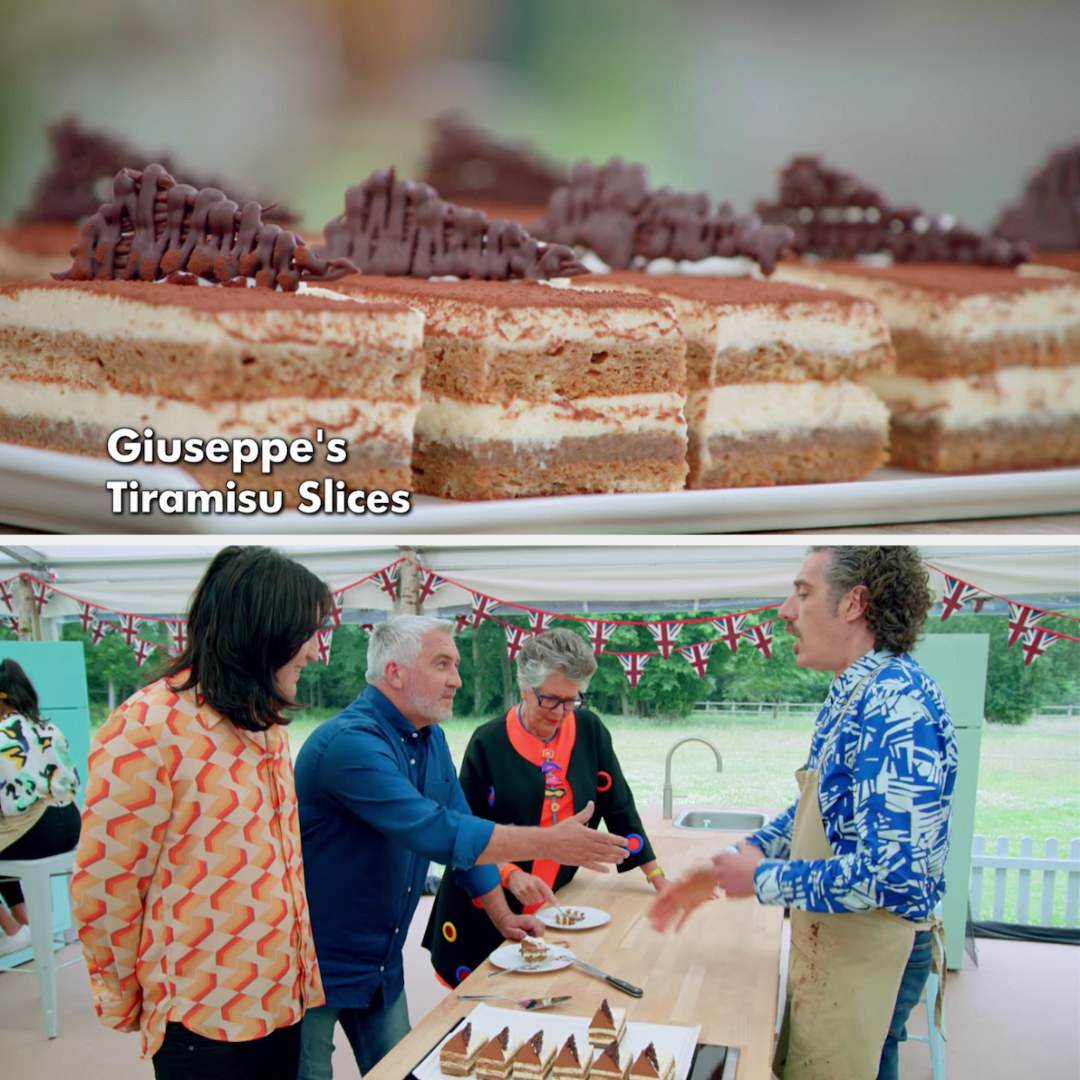 13.
STRESSFUL: Jürgen being left out of Handshake Bonanza 2021, and the subsequent return of his mournful German laugh.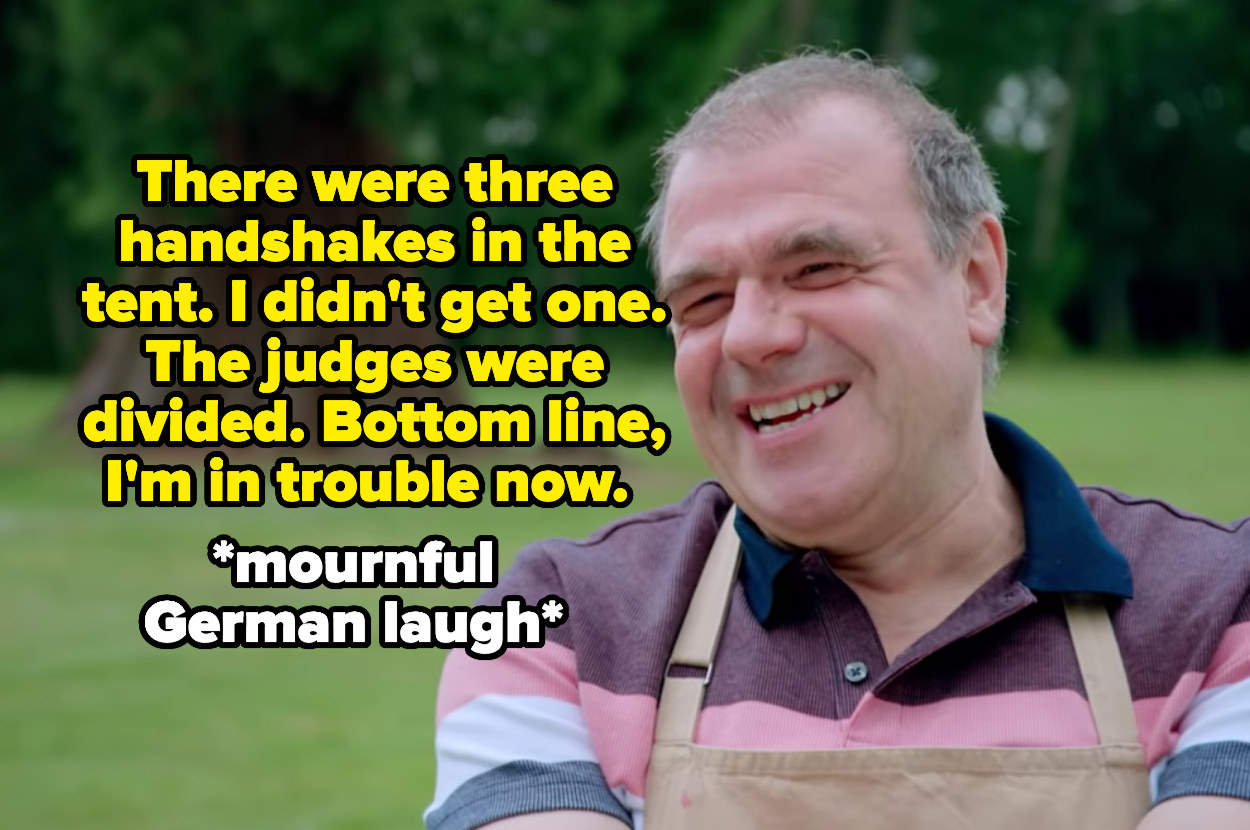 Technical Challenge: A Sablé Breton Tart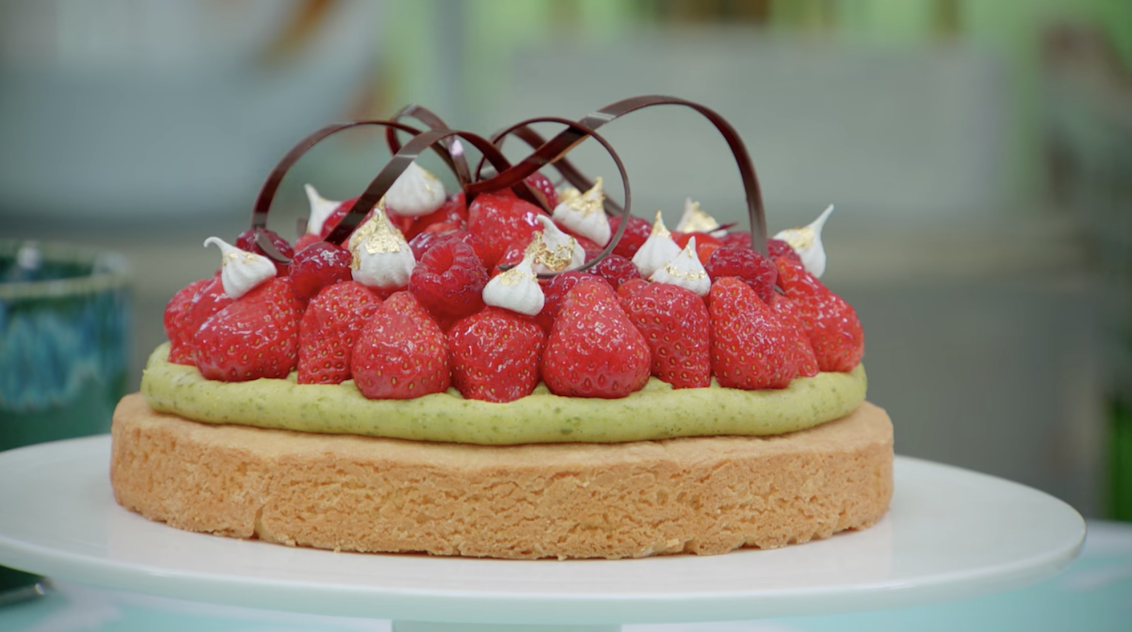 14.
DELIGHTFUL: This baby duck, which is blissfully unaware of climate change, war, and the wanton cruelty of French pastry.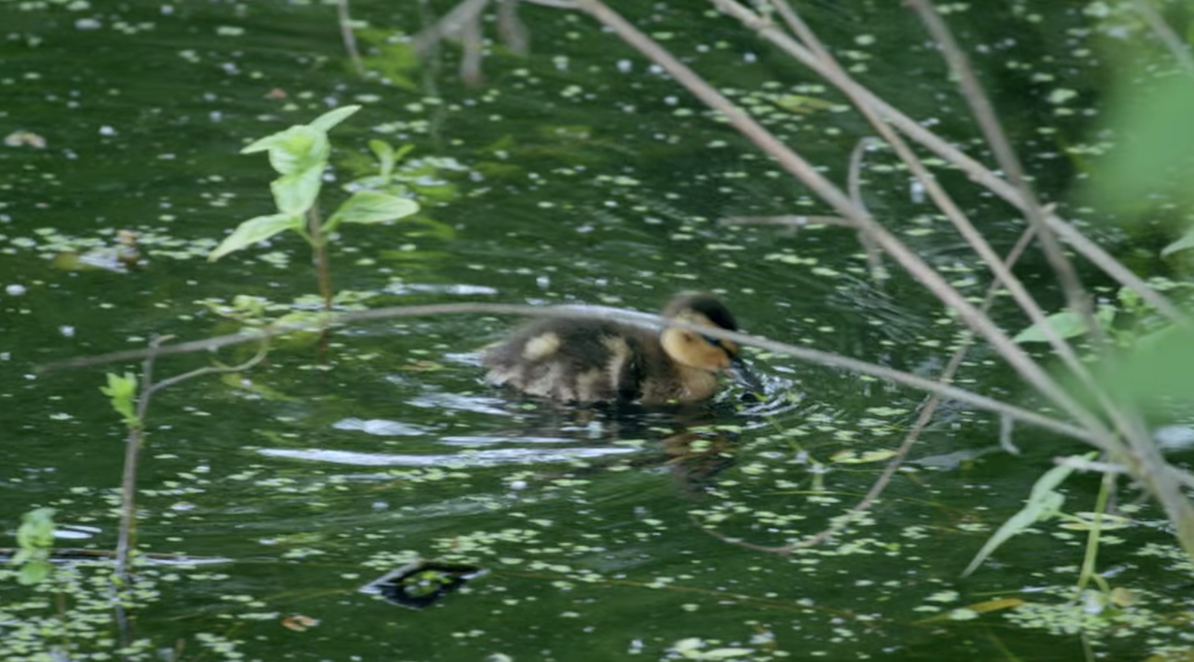 15.
STRESSFUL: Jürgen trying to politely tell Noel to stop doing improv so he can focus on baking this extremely complicated French thing.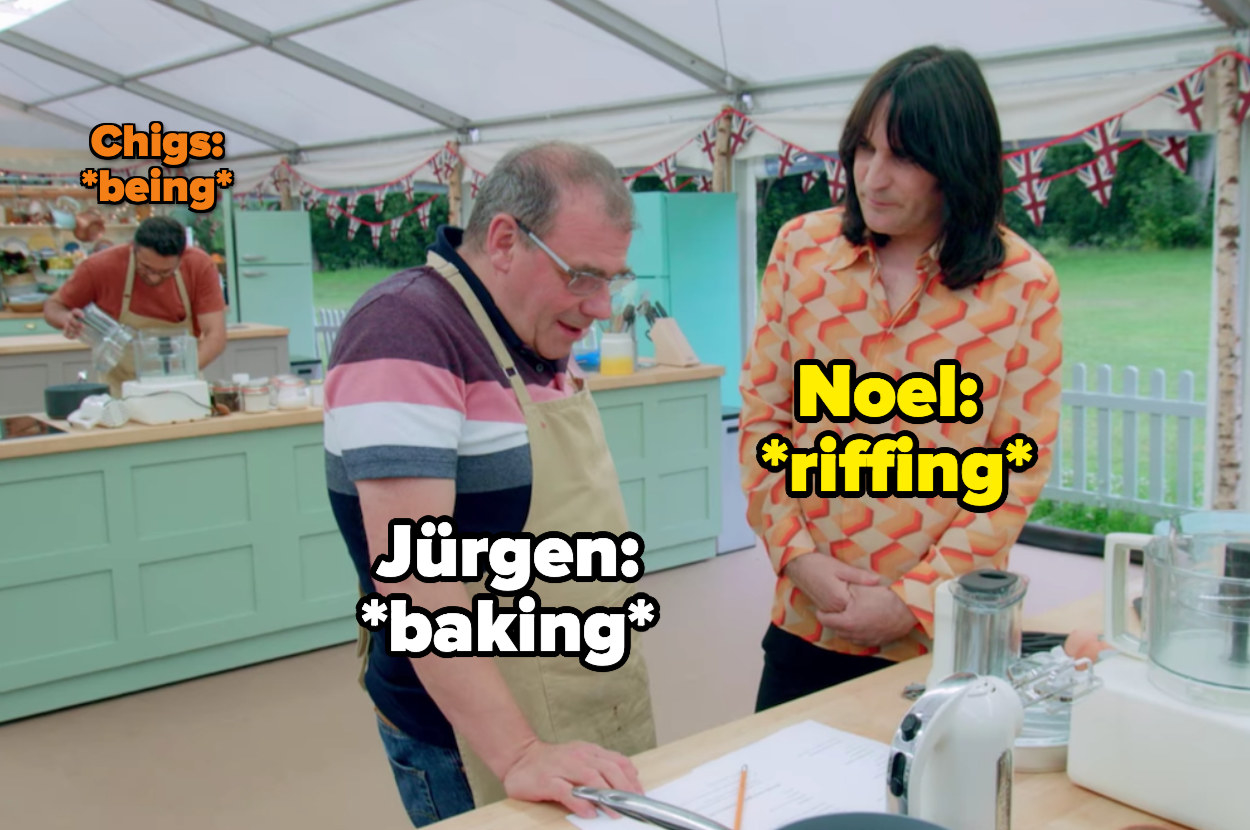 16.
STRESSFUL: Chigs didn't find the piping nozzle for his meringue kisses (and therefore assumed they weren't given one) until after the kisses were already in the oven.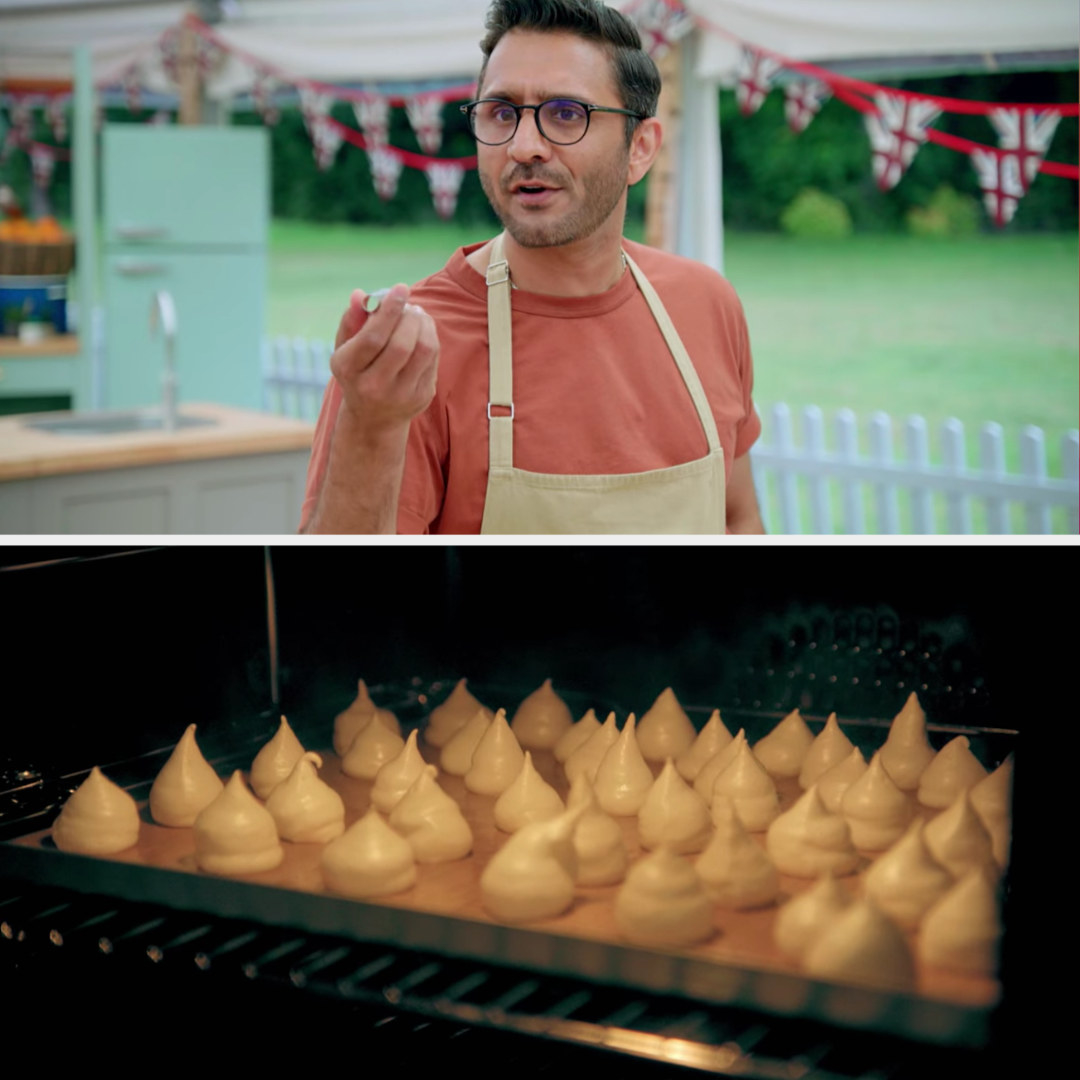 17.
DELIGHTFUL: The brief moment where Chigs wondered, "Why have we been assigned a fascist dessert?"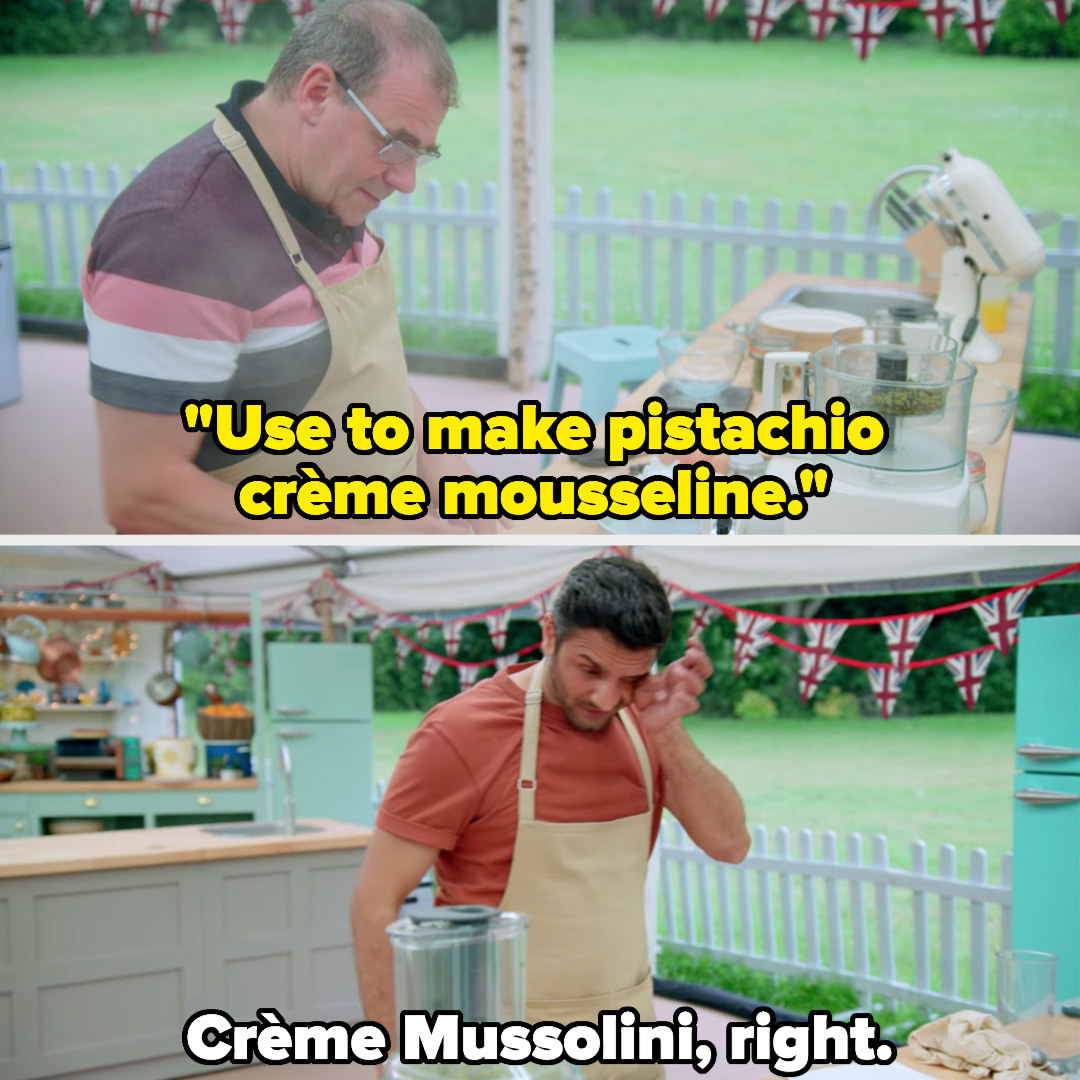 18.
STRESSFUL: Crystelle's pastry deciding to be all dramatic and collapse in the oven, even though it knows how high the stakes are.
19.
STRESSFUL: Chigs opening the fridge to check in on his rapidly melting tart, and discovering this menacing puddle of melted Technical Challenge dreams.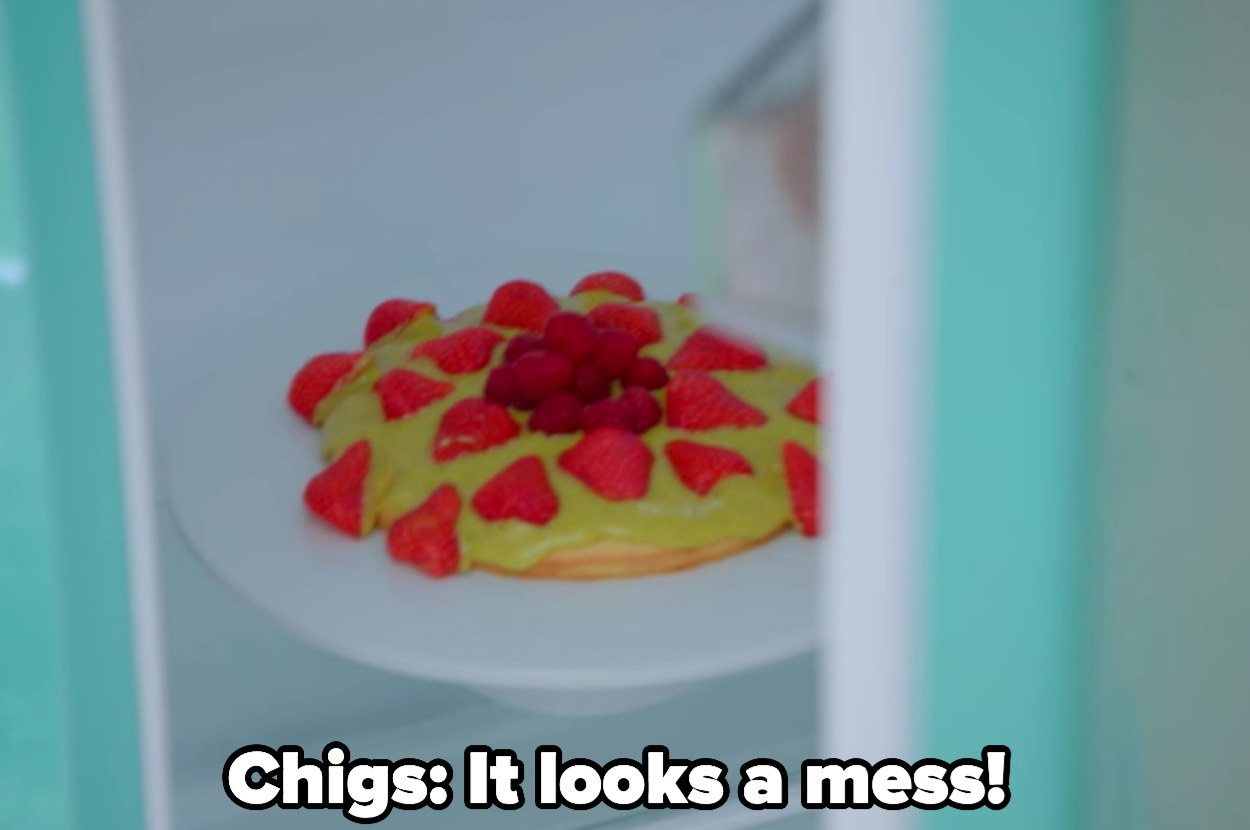 20.
STRESSFUL: Chigs placing last in the Technical, which in all fairness, seemed nigh impossible.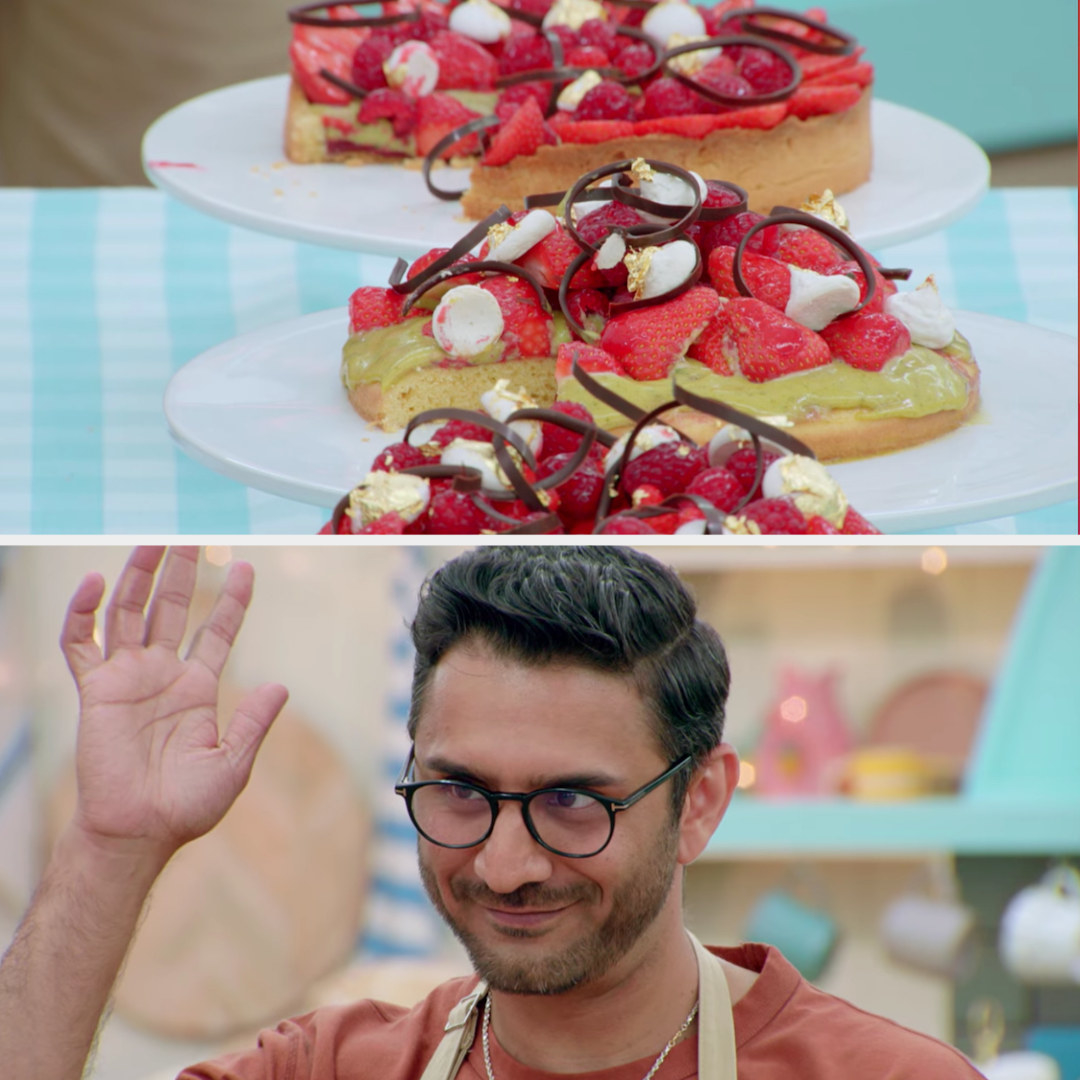 21.
DELIGHTFUL: Jürgen placing first in the Technical, putting him in good spirits following his handshake-less Signature.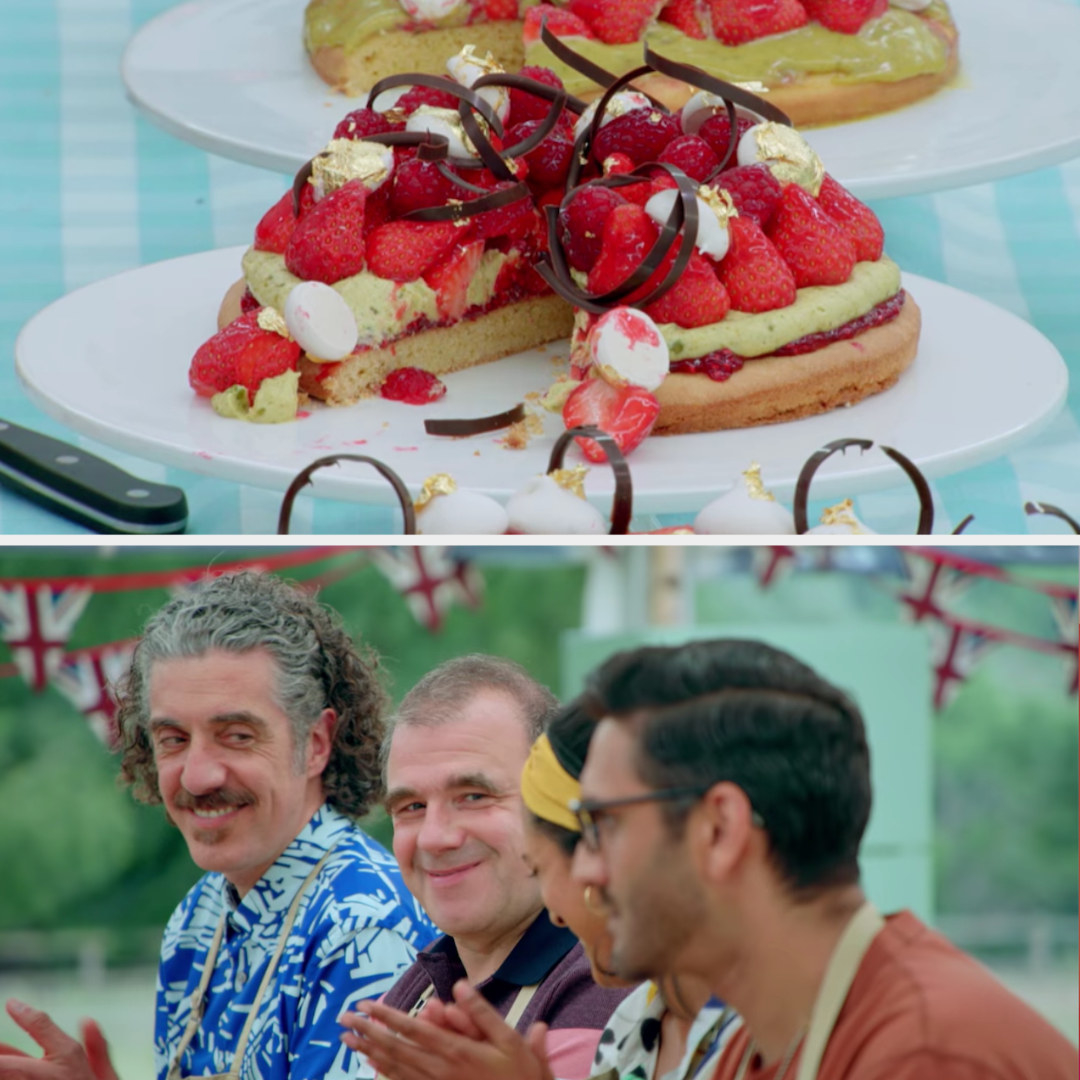 Showstopper Challenge: A Spectacular Themed Banquet Display (With At Least 12 Individual Entremets Desserts, Arranged Around A Beautifully Crafted Edible Centerpiece)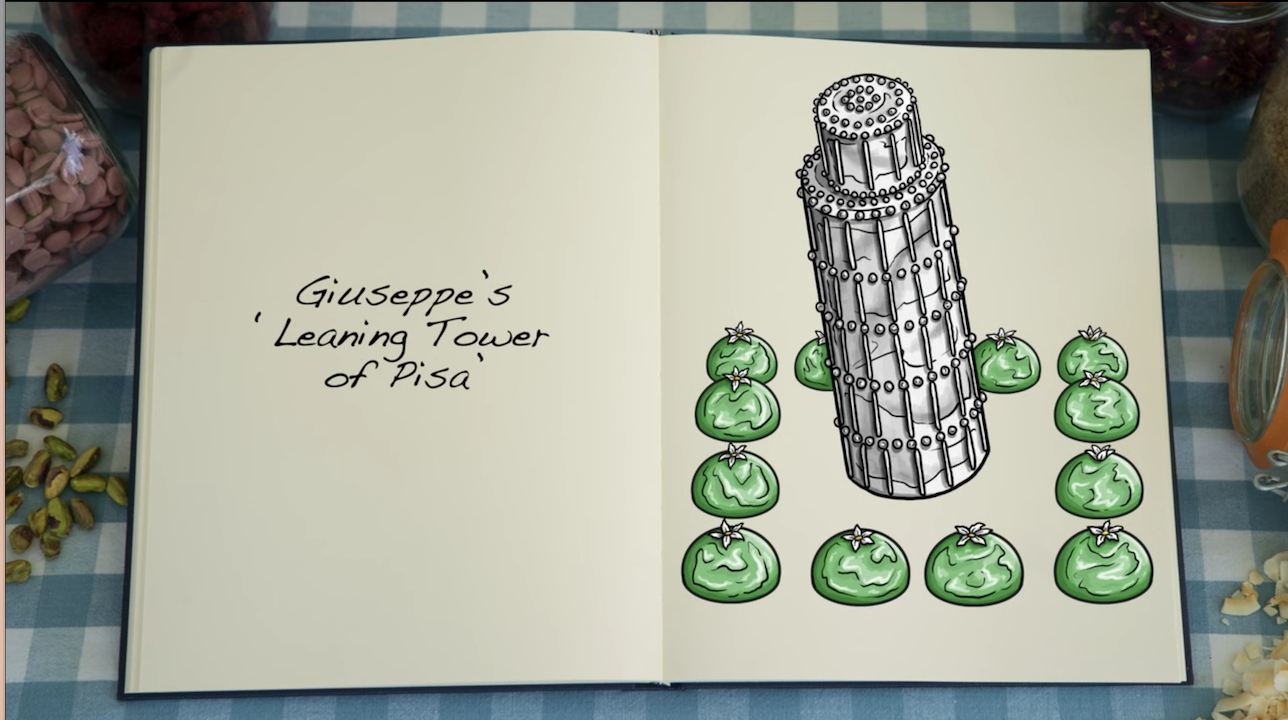 22.
DELIGHTFUL: Giuseppe finding a loophole and theming his Showstopper after a notoriously "wonky" monument: the Leaning Tower of Pisa.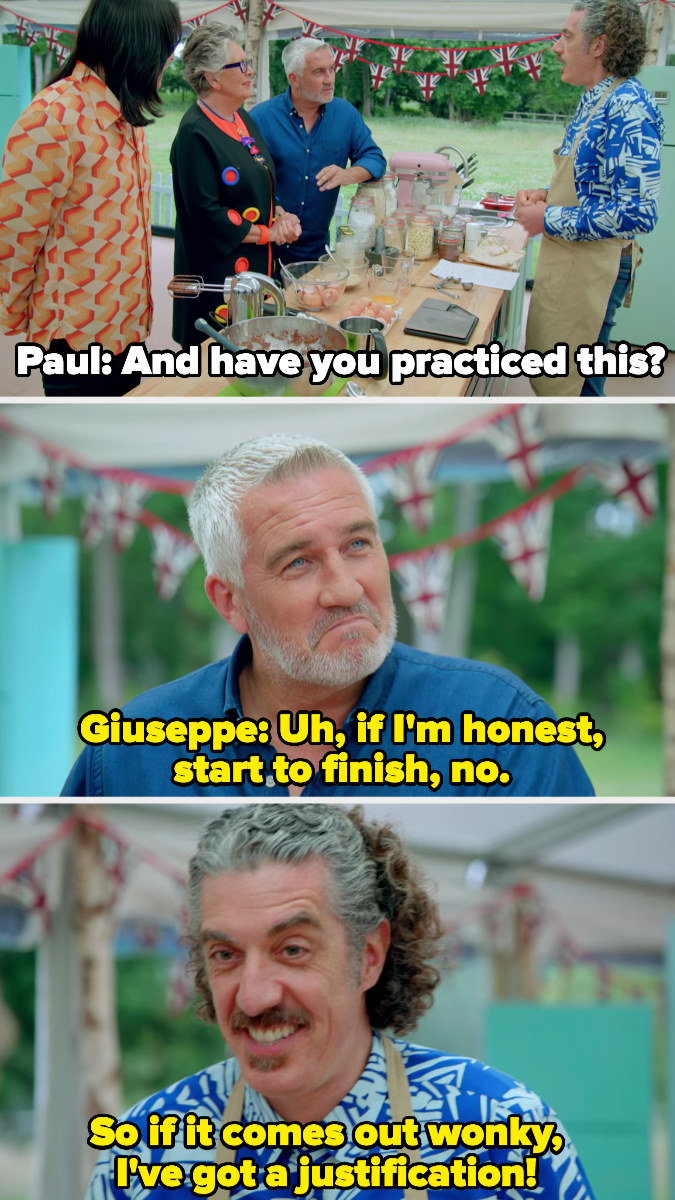 23.
DELIGHTFUL: Jürgen theming his Showstopper around a photograph from a children's encyclopedia that fascinated him as a child: that of a Torii, a gate that traditionally denotes the entrance to a Shinto shrine.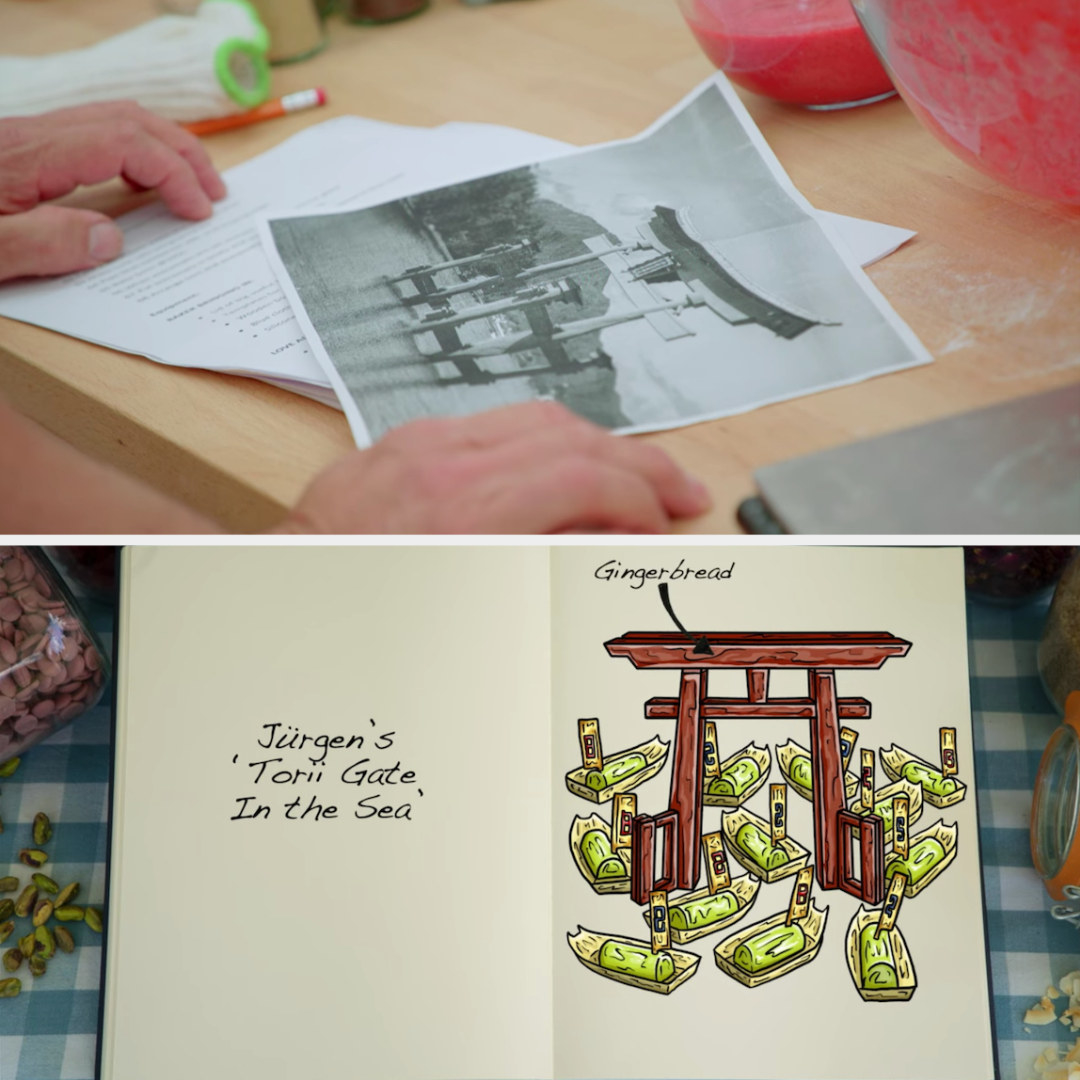 24.
DELIGHTFUL (AND ALSO A LIL' BIT OF A BUMMER): Crystelle's Showstopper being themed around her sister's wedding, which has been delayed due to the pandemic.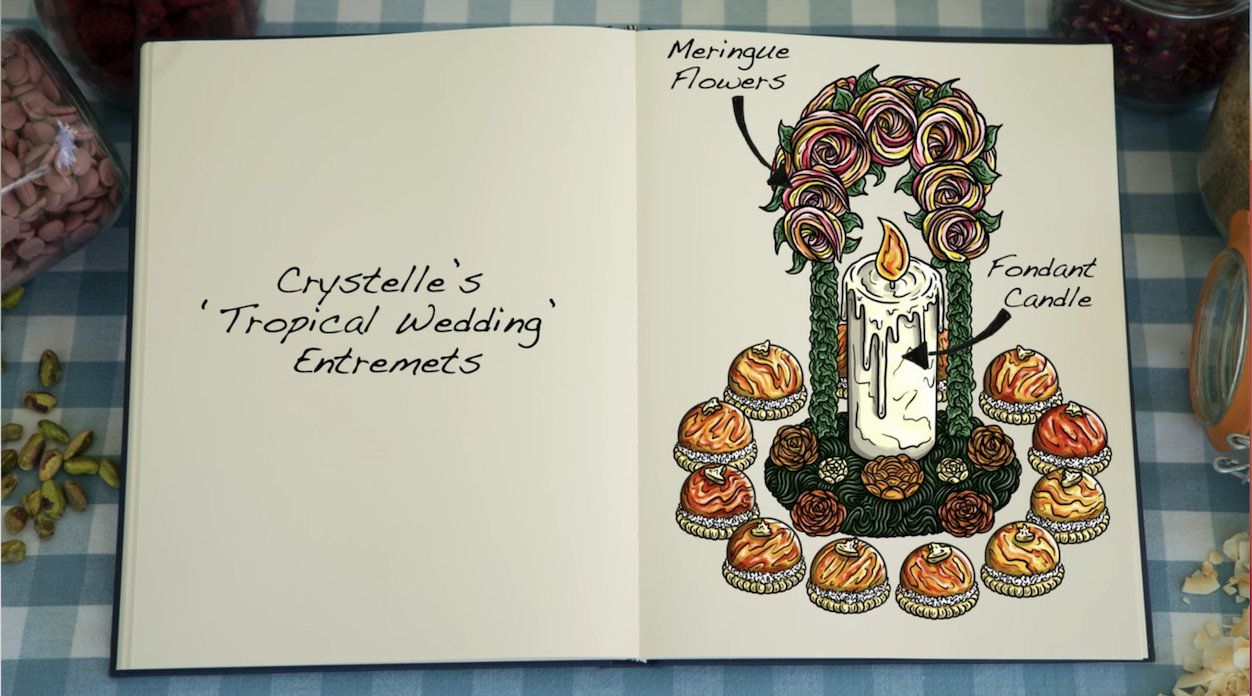 25.
STRESSFUL: The way my heart stopped when Chigs said this.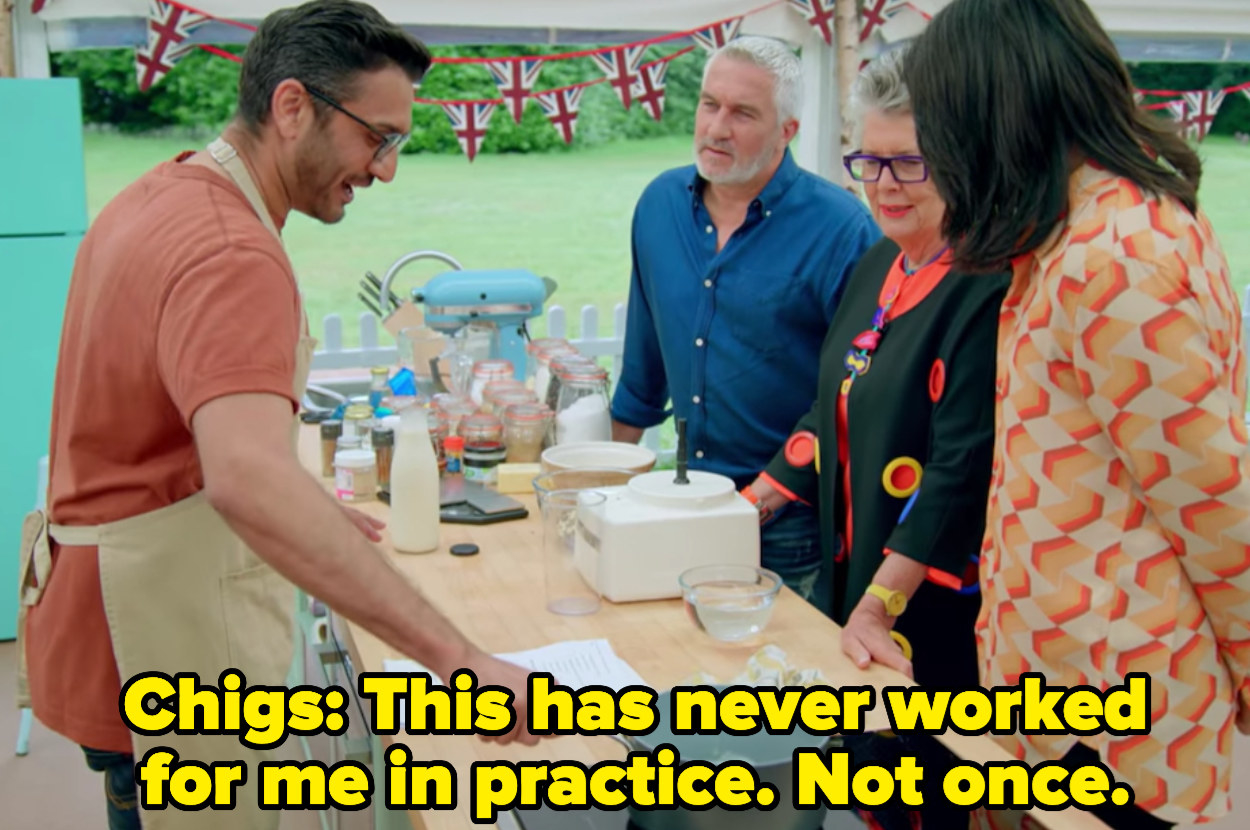 26.
STRESSFUL: Jürgen very nearly doing "this thing" (i.e., dropping his bakes onto the carpet) again.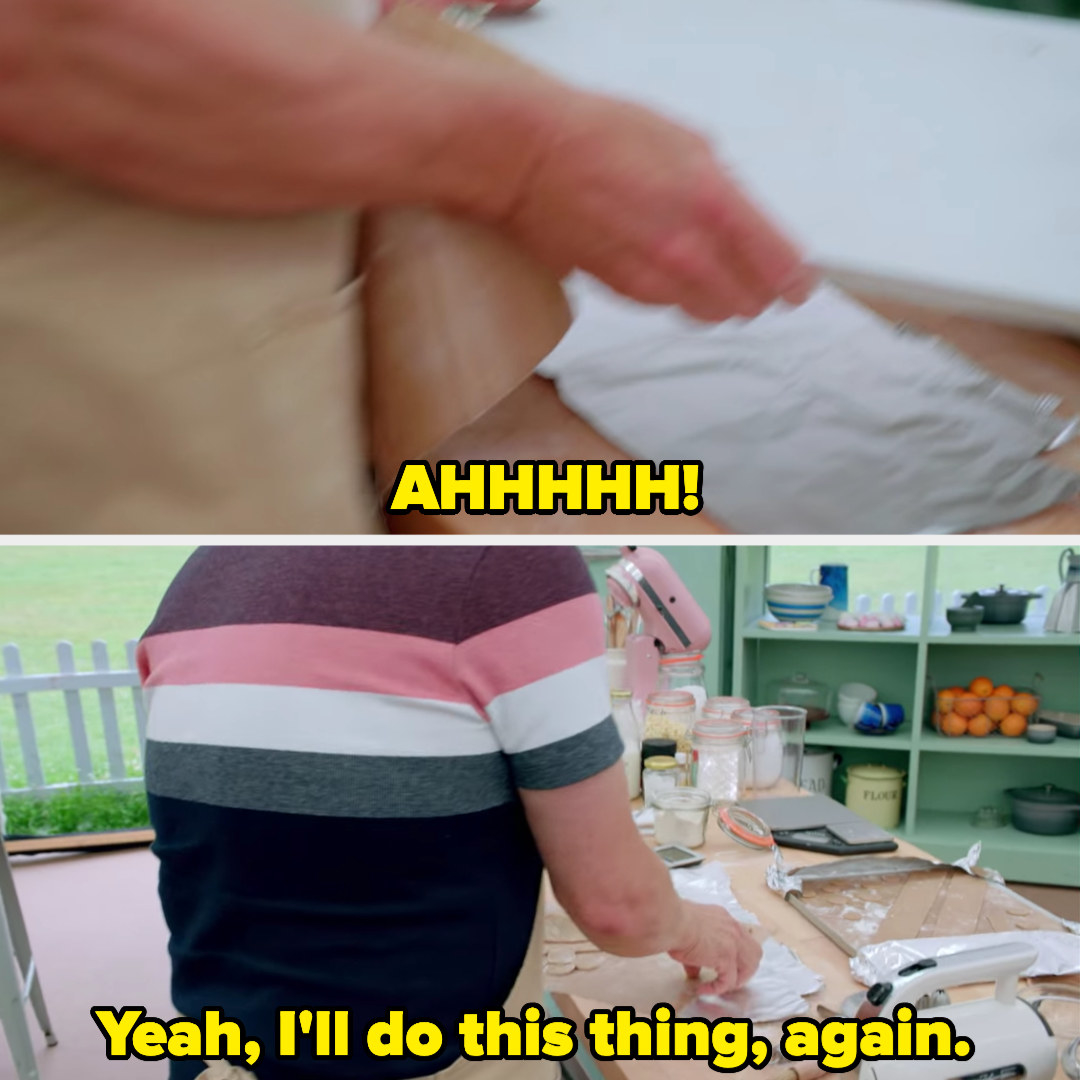 27.
STRESSFUL: Chigs accidentally knocking a piece of his biscuit tree's trunk right off.
28.
STRESSFUL: Jürgen realizing that he's forgotten to bake an essential element of his Showstopper, without which it won't be able to be assembled. It was at this point that the semifinal stress became so acute that I needed to pause the show and take a lap around my apartment.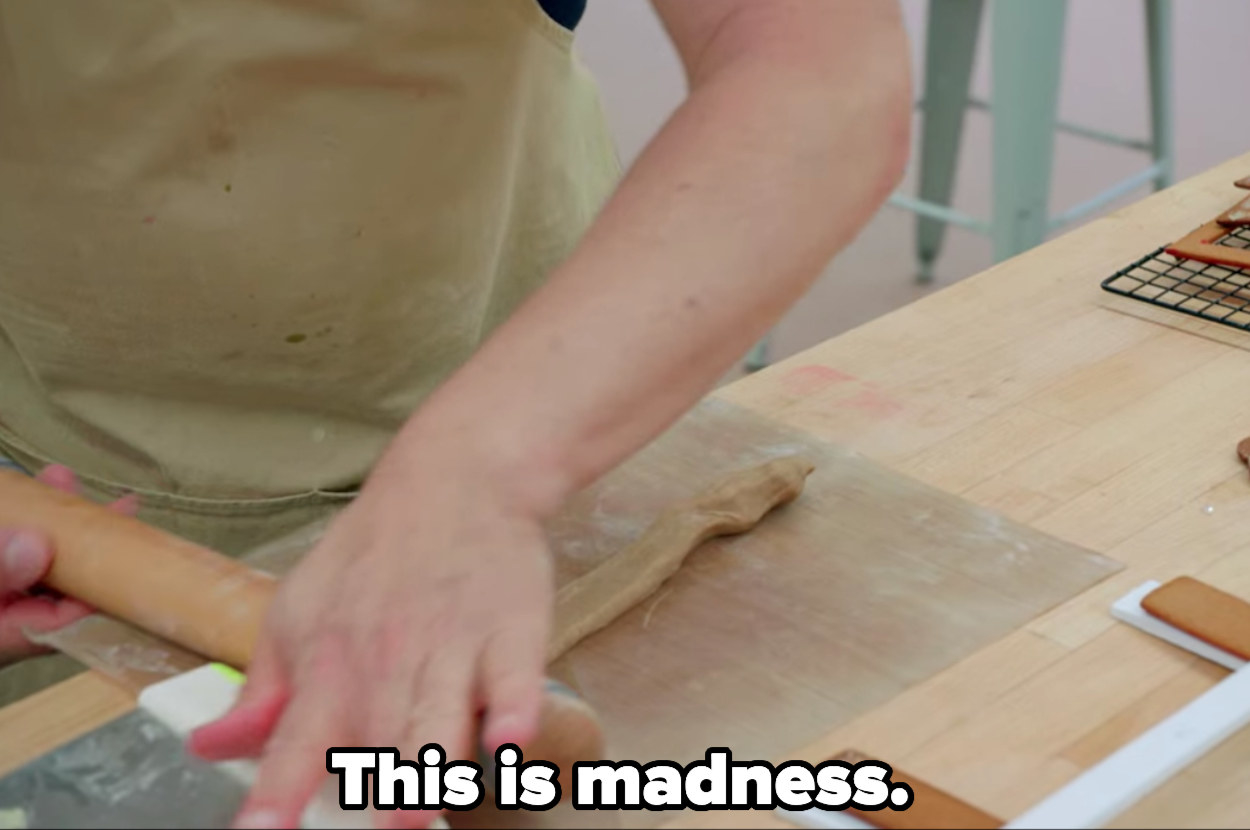 29.
DELIGHTFUL: Jürgen powering through and delivering a Showstopper the judges only fault for the undersaturated color of the lil' boats.
30.
DELIGHTFUL: No practice, perfect Showstopper: That's the Giuseppe way. (The judges have minor critiques about the flavors, but still. Look at this thing.)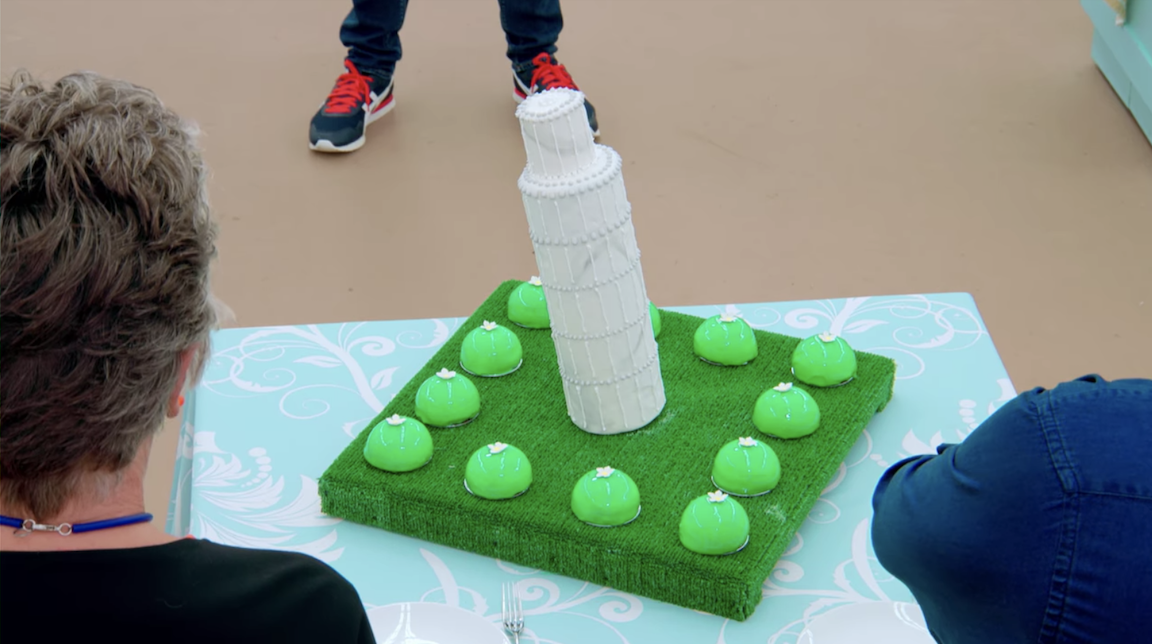 31.
DELIGHTFUL: Chigs' Showstopper, upon which Paul and Prue shower praise. (Again, the only thing that's off is the color of the entremets, which were supposed to be bright red.)
32.
DELIGHTFUL: Crystelle's gorgeous centerpiece, which is worthy of a real-life wedding. Paul called it "flawless," while Prue thought it was "just beautiful."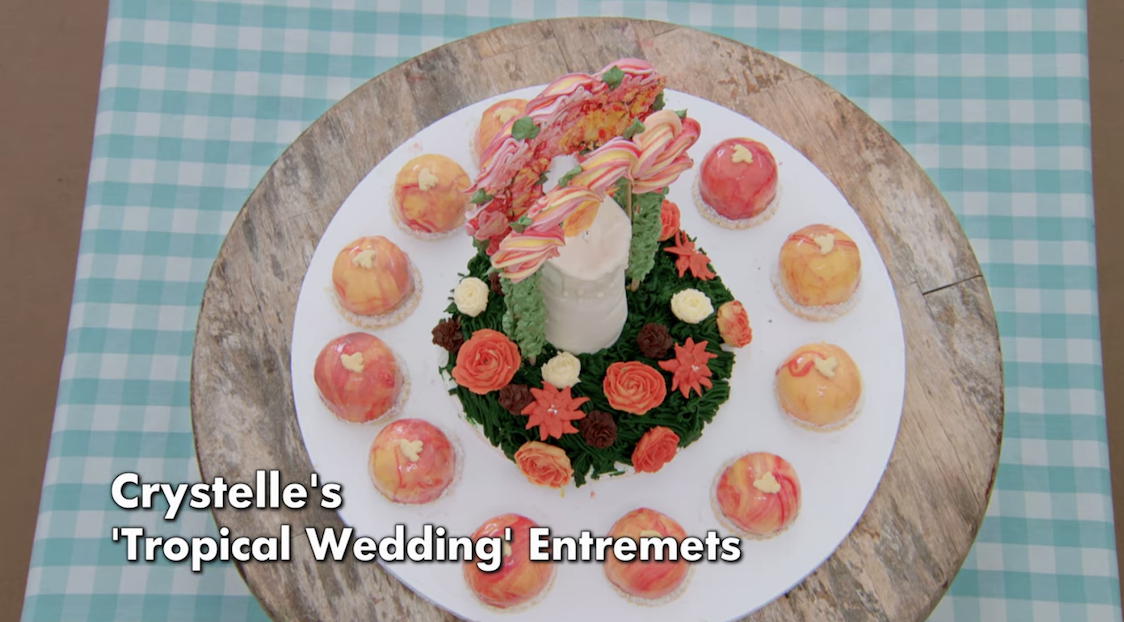 Crystelle teared up when she heard their comments. You know what, I don't think anyone should go home this week. In fact, I might stop watching this episode right now and live in a reality where all of the bakers get to stay.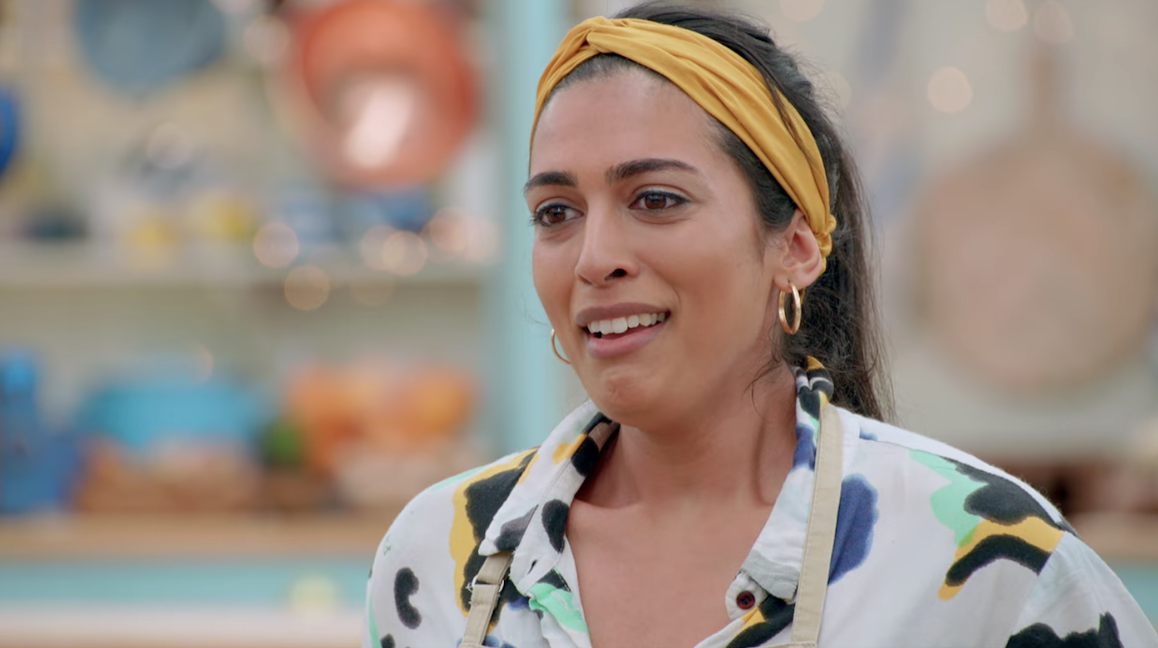 Final Results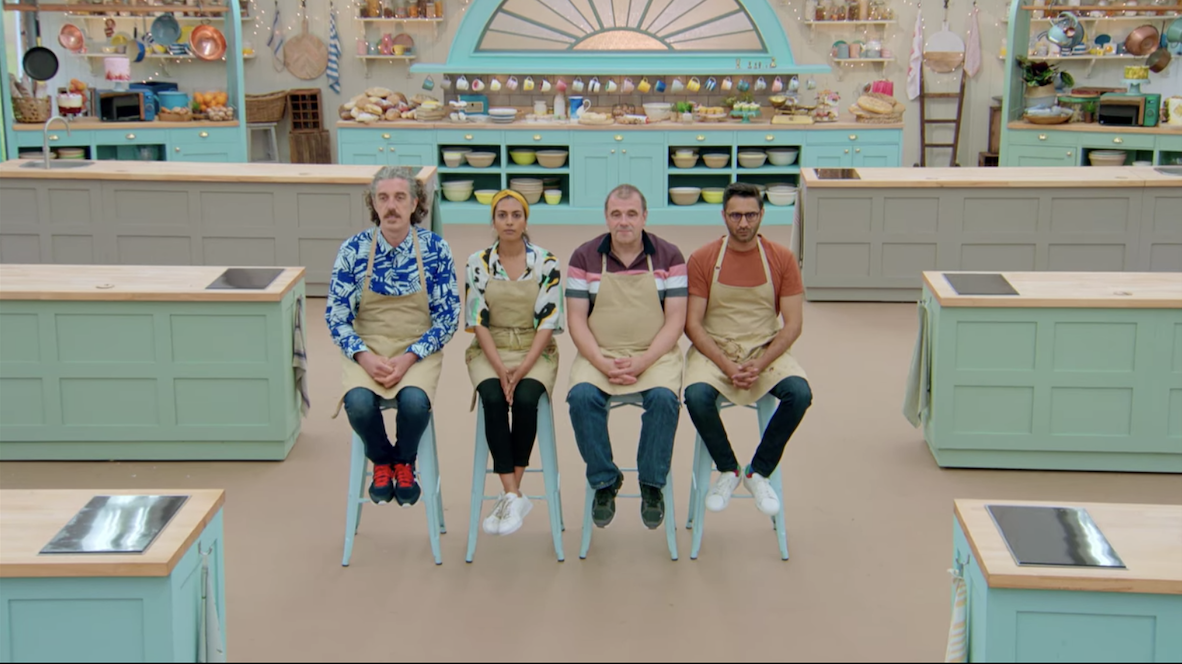 33.
DELIGHTFUL: Crystelle making this face when she's named Star Baker. She's always been a contender for the crown (or the bouquet and decorative plate), and it's wonderful to see that confirmed before the finale.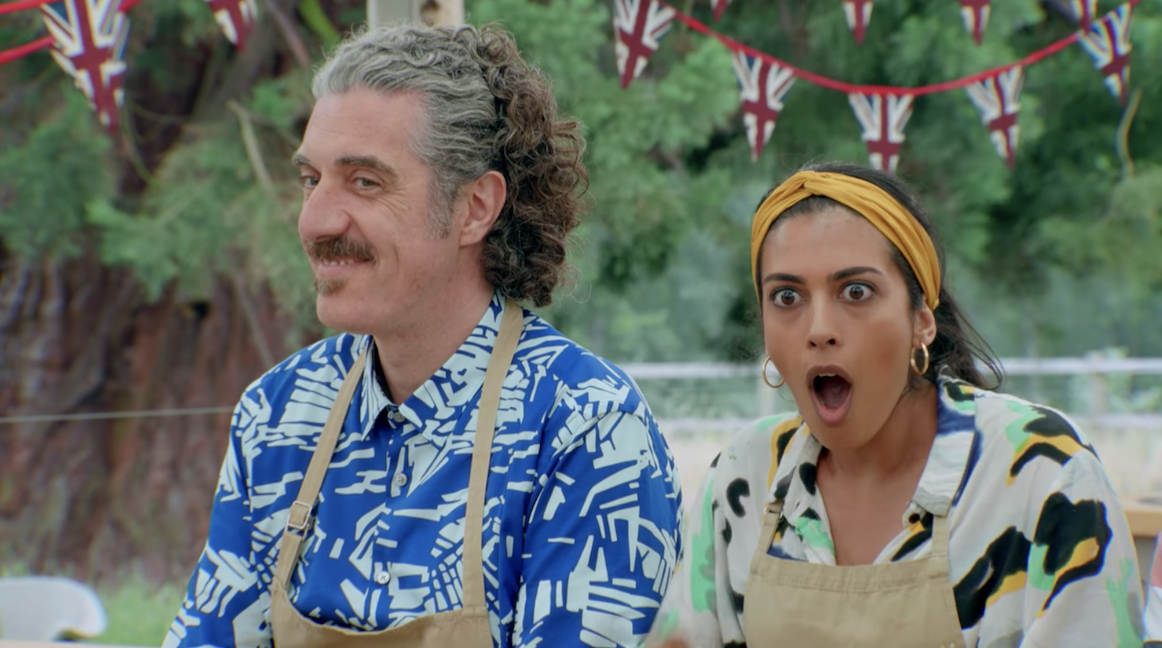 34.
STRESSFUL: Saying goodbye to Jürgen, who no one can deny has been an absolute force of nature this season. It's a shock he didn't make it to the finale, but it speaks to the strength and talents of these final four bakers that this last elimination came down to tiny, barely-there errors.
Farewell, Jürgen, aka the Jürgen-ator, aka Jürgy Pops. You're a German treasure, and I hope you take some time off to pursue your next favorite hobby: playing the trombone while staring at the sea. Say hi to Humphrey for us.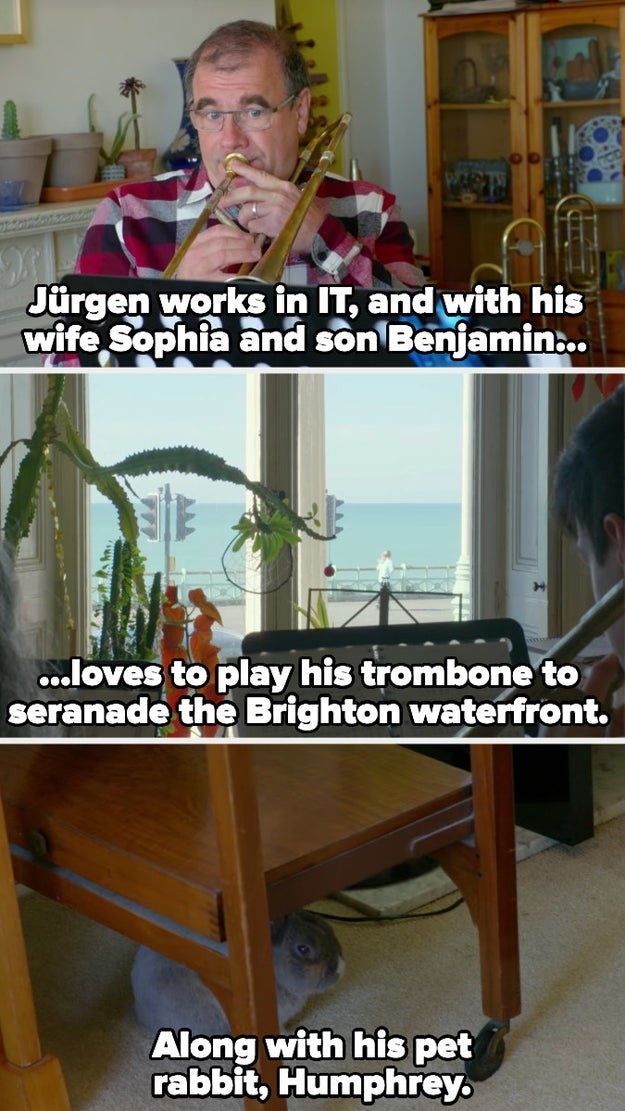 This concludes our semifinal recap! What were your favorite moments from the episode? Who do you think will win this season? Approximately how fluffy is Humphrey the Bunny? Tell us your thoughts in the comments!