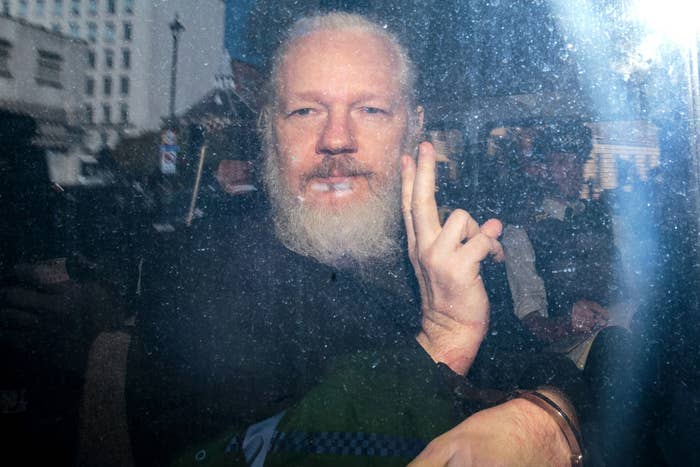 WikiLeaks founder Julian Assange was dramatically dragged from Ecuador's London embassy, where he has spent nearly seven years, and was arrested Thursday on behalf of American authorities for his alleged role in "one of the largest compromises of classified information" in US history, the Department of Justice said.
Assange, 47, is facing a federal charge of conspiracy to commit computer intrusion for agreeing to break a password to a classified US government computer, the US Attorney's Office for the Eastern District of Virginia said in a press release. If convicted, he faces up to five years in prison.
Ecuador officially removed Assange's asylum, leading to his arrest. UK police said Assange's arrest was for allegedly breaching bail conditions related to a Swedish case, but later confirmed he'd also been arrested on behalf of the United States, which had served an extradition request.
Shortly after his arrest, he was found guilty of breaching his bail conditions during a court hearing in London and faces up to 12 months in jail.

Assange's first hearing on extradition to the US will be May 2. He will appear in UK court by video from jail.

According to a federal indictment unsealed Thursday, Assange allegedly engaged in a conspiracy with Chelsea Manning, a former Army intelligence analyst, to help Manning crack a password stored on US Department of Defense computers that were connected to a secret US government network used for classified documents and communication.

Manning, who used the computers to leak classified documents to WikiLeaks, was arrested in 2010.
"Cracking the password would have allowed Manning to log on to the computers under a username that did not belong to her," the federal indictment said. "Such a deceptive measure would have made it more difficult for investigators to determine the source of the illegal disclosures."
US authorities accuse Assange of "actively encouraging" Manning to leak more classified information to him.
During one such exchange — according to the federal indictment — Manning told Assange that "after this upload, that's all I really have got left" to which Assange replied, "curious eyes never run dry in my experience."
After his arrest on Thursday, Assange appeared at a packed hearing at Westminster Magistrates' Court in central London where he was found guilty of breaching his bail conditions by failing to surrender to police in 2012 when he sought refuge in the Ecuadorian Embassy to avoid extradition to Sweden over a sexual assault case.
He faces a jail term of up to 12 months when he is sentenced at crown court. District Judge Michael Snow was scathing about Assange, who had earlier pleaded not guilty, and refused to give evidence over what his lawyer claimed was "bias" of a previous judge in the case.
"His assertion he has not had a fair hearing is laughable and I'm afraid it's the behavior of a narcissist who cannot get beyond his own selfish interests," Snow said.
"He hasn't got close to establishing in this case that he had a reasonable excuse," the judge added. "His behavior through his counsel is shameful. I have no hesitation at all in finding Mr. Assange guilty."
He will be held in custody while he awaits sentencing.
Assange, wearing all black and with his hair tied in a bun, had been led into the dock carrying a copy of Gore Vidal's History of the National Security State — the same book he was clutching when being dragged from the embassy earlier in the day.
For several minutes before the hearing, Assange read the book, holding it up so members of the packed public gallery could see. At one point, he noticed a supporter in the gallery wearing a yellow vest with a Julian Assange badge. Assange silently saluted the supporter, while the supporter held up his fist.
During the hearing, which lasted just over half an hour, a lawyer for the US government revealed that the extradition request for Assange, along with the arrest warrant, had been made on Dec. 22, 2017, during the first year of the Donald Trump administration.
Describing Assange's dramatic arrest, the lawyer said that Metropolitan officers arrived at the building in west London after 9 a.m. to meet the ambassador who was set to serve Assange the documentation revoking his asylum.
The officers tried to detain Assange, but he "barged past them," the lawyer said. In the ensuing struggle, Assange yelled "This is unlawful" while additional officers were required to help handcuff him.
During the hearing, the district judge advised Assange that while he could not consent to his extradition today, "you could consent to your extradition to America in the future once the domestic matters are resolved."
The prospect of Assange consenting to being extradited to the US prompted laughter in the public gallery, after which he flashed two thumbs up and winked at those gathered in the gallery.
After the hearing, Assange's lawyer, Jennifer Robinson, said the extradition request set a "dangerous precedent" as it meant journalists could be extradited for "having published truthful information about the United States."
She said Assange would be contesting and fighting extradition, adding: "We've requested he now gets medical treatment. He's been refused medical treatment for the past seven years since being inside the embassy."
Sweden's investigation into the final sexual assault complaint against Assange was dropped in 2017 after prosecutors concluded that "all prospects of pursuing the investigation under present circumstances [were] exhausted." However, they said it could resume if Assange made himself "available" to the Swedish courts.
After Assange's arrest, the Swedish Prosecution Authority released a statement that said the preliminary investigation into Assange's case could be reopened until August 2020.
Assange repeatedly claimed that his removal from the embassy would mean he would be sent to the United States in relation to his activities with WikiLeaks.
Assange's lawyer in the US, Barry Pollack, said in a statement that he hoped the priority for UK authorities was getting Assange "proper health care, which he has been denied for seven years."

"Once his health care needs have been addressed, the UK courts will need to resolve what appears to be an unprecedented effort by the United States seeking to extradite a foreign journalist to face criminal charges for publishing truthful information," Pollack said.
It was no secret that Assange and WikiLeaks were under investigation by US authorities, and speculation that Assange had already been charged in a US court spiked last fall after journalists discovered a court filing in federal court in Alexandria, Virginia, that had nothing to do with Assange, but twice referenced his last name.
The court filing involved a request by federal prosecutors to seal criminal charges for an unrelated defendant, suggesting that the text was a sloppy copy-paste job by the government from a previous, secret request to seal criminal charges against Julian Assange. The Justice Department refused to confirm that there was a sealed case against Assange, and efforts by a press freedom group to convince a judge to unseal any such records — if they did exist — was unsuccessful.
More recently, Chelsea Manning was subpoenaed by a grand jury in the Virginia court, and was jailed when she refused to testify. Manning's legal team confirmed that prosecutors wanted to question her about information she leaked to WikiLeaks in 2010, when she was an Army intelligence analyst. Manning was found guilty of violating the Espionage Act and sentenced to 35 years in prison, but she's been free since former president Barack Obama commuted her sentence shortly before he left office in January 2017.
Manning, who is still in jail, is appealing her incarceration.
Almost immediately after the police announced the arrest, Ecuador President Lenín Moreno released a video statement, which made a series of allegations against Assange's behavior in the embassy.

"Today, I announce that the discourteous and aggressive behavior of Mr, Julian Assange, the hostile and threatening declarations of its allied organization, against Ecuador, have led the situation to a point where the asylum of Mr Assange is unsustainable and no longer viable," Moreno said.
"Ecuador sovereignly has decided to terminate the diplomatic asylum granted to Mr. Assange in 2012."
Moreno said that Assange had "violated the norm" of not intervening in "internal affairs of other states."
"On the other hand, Mr. Assange violated, repeatedly, clear-cut provisions of the conventions on diplomatic asylum of Havana and Caracas, despite the fact that he was requested on several occasions to respect and abide by these rules," he said. "He particularly violated the norm of not intervening in the internal affairs of other states.
"The most recent incident occurred in January 2019, when WikiLeaks leaked Vatican documents. Key members of that organization visited Mr Assange before and after such illegal acts."
He also said Assange had installed "distortion equipment" in the embassy.
"The patience of Ecuador has reached its limit on the behavior of Mr. Assange," Moreno said. "He installed electronic and distortion equipment not allowed. He blocked the security cameras of the Ecuadorian mission in London. He has confronted and mistreated guards. He has accessed the security files of our embassy without permission.
"He claimed to be isolated and rejected the internet connection offered by the embassy, and yet he had a mobile phone with which he communicated with the outside world."
Moreno said he has guarantees from the UK that Assange would not be extradited to a country where he could face the death penalty.
"In line with our strong commitment to human rights and international law, I requested Great Britain to guarantee that Mr. Assange would not be extradited to a country where he could face torture or the death penalty."
"The British government has confirmed it in writing, in accordance with its own rules."
UK Home Secretary Sajid Javid tweeted: "I would like to thank Ecuador for its cooperation & @metpoliceuk for its professionalism. No one is above the law."
In a statement, UK Minister of State for Europe and the Americas Sir Alan Duncan said Assange's arrest came after "extensive dialogue" between the UK and Ecuador.
"It is absolutely right that Assange will face justice in the proper way in the UK. It is for the courts to decide what happens next," the statement read. "We are very grateful to the Government of Ecuador under President Moreno for the action they have taken.
"Today's events follow extensive dialogue between our two countries. I look forward to a strong bilateral relationship between the UK and Ecuador in the years ahead."
In a statement to BuzzFeed News, Elisabeth Massi Fritz — the Swedish lawyer representing the woman who made rape allegations against Assange — said the Swedish police investigation into the incident should be reopened.
"My client and I have just received the news that Assange has been arrested in London," she said. "It did understandably come as a shock to my client that what we have been waiting and hoping for since 2012 has now finally happened.
"We are going to do everything we possibly can to get the Swedish police investigation re-opened so that Assange can be extradited to Sweden and prosecuted for rape. No rape victim should have to wait 9 years to see justice be served."