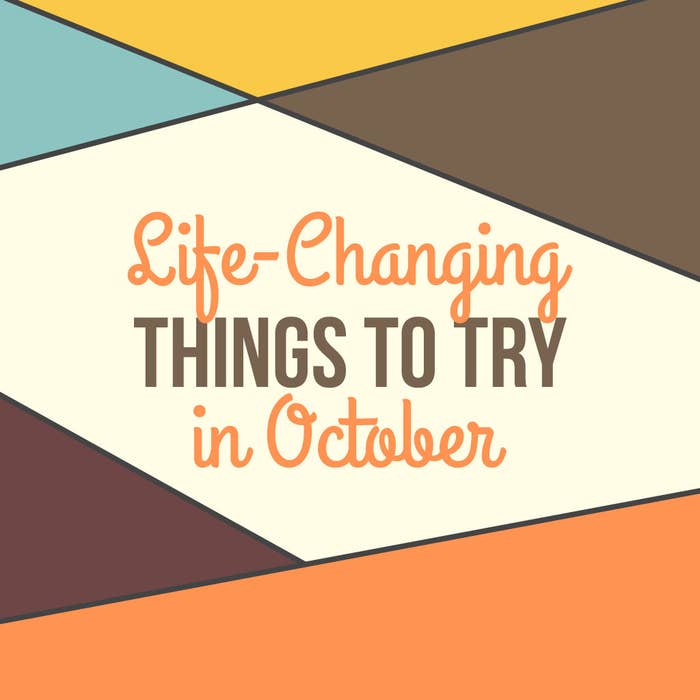 The BuzzFeed staff is always trying new products, apps, hacks, and DIY projects, and we decided it was time to start sharing the best of them with you. Each month, we post our recommendations for what's actually worth it. For the sake of transparency, items under "Things We Bought" and "Tricks We Learned" were purchased with our own money and/or were not the result of a PR pitch. Those under "Things We Tried" are items that were provided to us at no cost for the sake of review. (But! We're under no obligation to write a review of those things, let alone a positive review.)

Let us know in the comments what sorts of things you'd like us to review next month!

1.
Booband ($30), an elastic band that keeps the ~ladies~ in place when working out.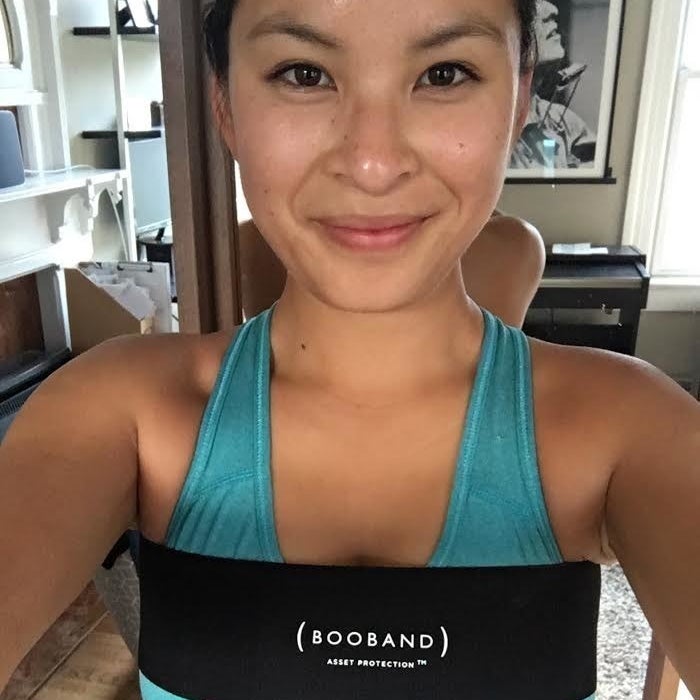 Never EVER in my wildest dreams did I think I would publish this information but, for the sake of big-ish tatas everywhere, here goes: My dream team is 32DD and working out with them is the absolute worst. When I go down, they go up. When I go up, they go down.
Anything that involves bounce can be downright painful when Aunt Flo is involved (or even when she's not!) — but running is *especially* difficult. I typically claim that I'm allergic to running or "it's not my thing." But when I started training for a triathlon, I couldn't escape it, and I started looking for solutions for my sweater stretchers.
The Booband was discovered by, of all people, my boyfriend. The product is so mind-blowingly simple and effective that I'm truly shocked I had never heard of it. The Booband is a long, elastic strap, about three or four inches wide, with velcro on one end. I wear it strapped on top of my sports bra. I thought it'd feel like a corset, but because the fabric is very flexible, wearing it was actually really pleasant. It felt like getting a gentle hug from a very big headband.
The company claims you should wear the band to avoid saggy breasts, but that's not why you should get this product (love your saggy bewbz!!!). The Booband not only made me feel more comfortable, but more confident running in public, too. I started picking up my pace and stopped fearing workouts that ended in burpees. This thing is, hands down, the best 30 bucks I've ever spent on my chest pillows. —Nicole Nguyen
Get it from Amazon for $30.
2.
UCC Single Serve Coffee Packets ($10), Japanese pour-over coffee pouches that take the stress out of your morning brew.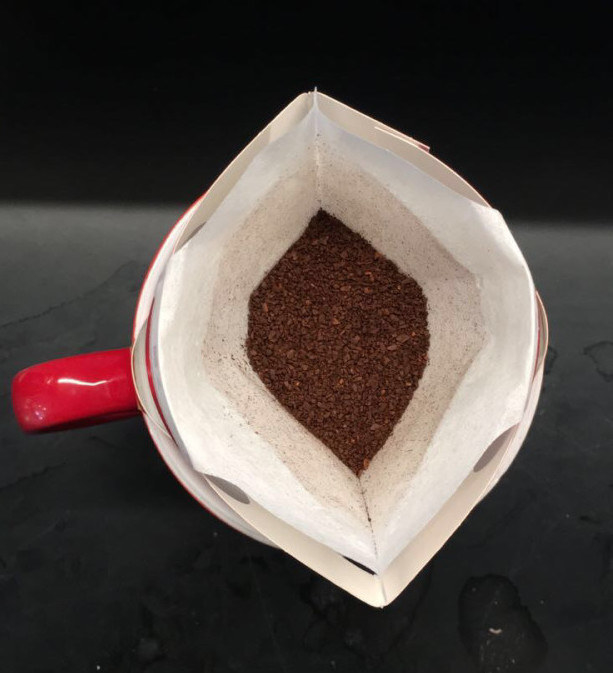 3.
TP-Link Smart Bulb ($34.99), a Wi-Fi-enabled lightbulb you can control from your phone or Amazon Echo.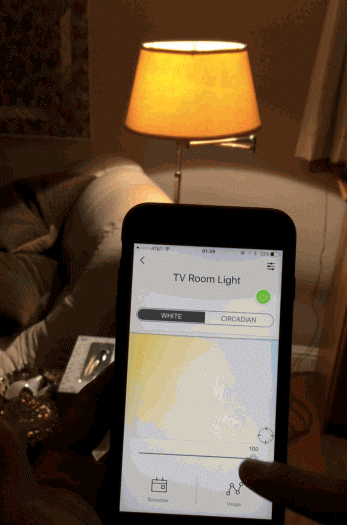 So I've only recently gotten into the whole connect-everything-to-the-internet craze. After falling in love with my Amazon Echo, I decided to invest in a smart light bulb: the TP-Link LB120. So how has a smart bulb changed my life? You can dim it to near night light levels so when I get up and pee it doesn't ruin my night vision. You can control it with Alexa, so I can turn my lights on and off with my VOICE, as well as tell her how bright I want the lights to be. I can just say, "Echo, living room lights 50%," and it will change the light accordingly.
If you don't have an Alexa-enabled device, you can control the bulb with a free Kasa app (available on iOs and Android).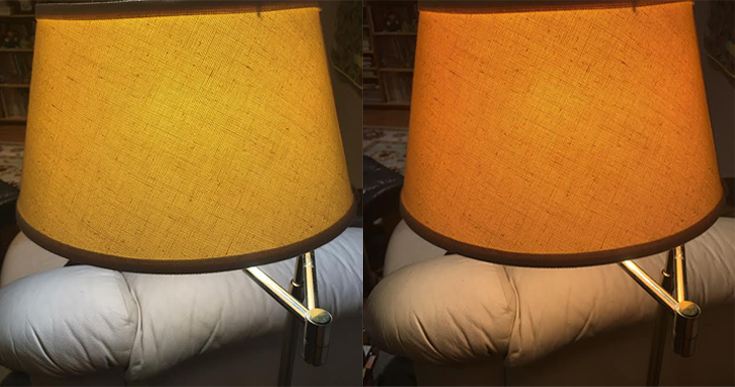 4.
Tabby Cat (free), a Google Chrome extension that lets you play with a cat every time you open a tab.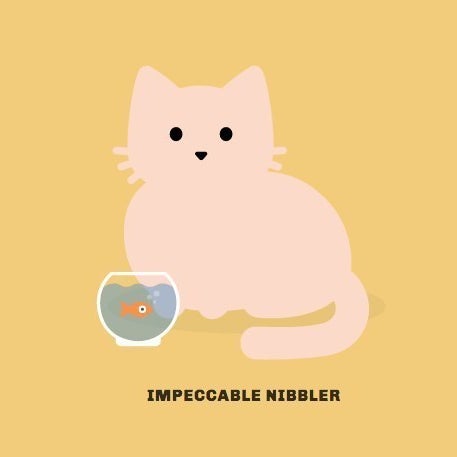 This Chrome extension pops up a cute virtual kitty you can "pet" with your mouse every time you open a new tab. Sometimes they purr and make happy faces at you. Sometimes they just want to look at you, and if you try to pet them, they are grumpy.
Each kitty has a cute name like "Impeccable Tush," "Cozy Princess," or "Froofy Killer," and at random points (I haven't quite figured out the system, but I'm guessing it's after you open a certain number of tabs), the cats bring you new decorations. After two weeks of use, I have a soccer ball, a campfire, a fishbowl, and a scuba mask. And despite a persistent cat allergy, these felines never make me sneeze.
If you can't see the joy in that, I simply can't help you. —Natalie Brown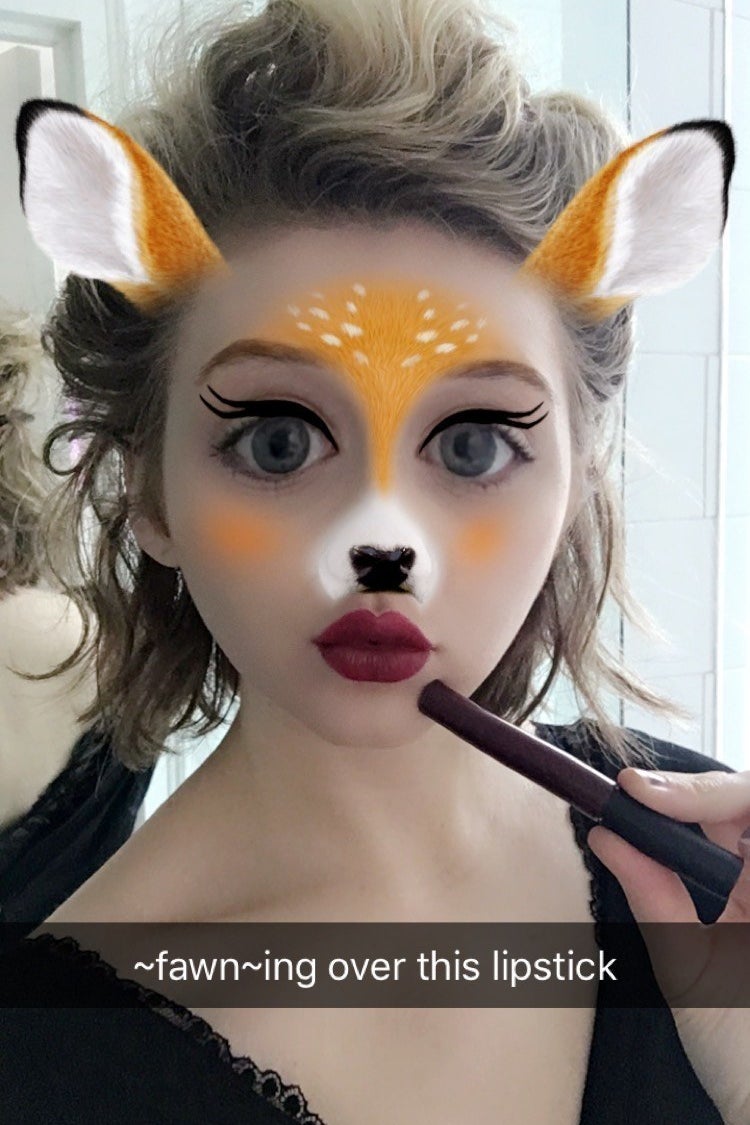 Fall is my FAVORITE season, so even when August was still in a full heat blast, I was desperate to get my hands on the perfect autumn lipstick. I was browsing the Topshop website when a picture of this burgundy wonder popped up at the top of my screen (srsly, @ me next time, Topshop). Next thing I knew, it was in my cart.
This lipstick puts me in my happy place, which (as you can see in the photo above) means I make an annoying, I mean awesome, number of puns. The formula is super creamy and velvety, and it has never dried out my lips. The applicator has a pointed tip for precision around the lip line and a flat edge to fill in easily. You can either apply a light layer to get a stained look, or build for a bolder lip. You do have to be careful not to have too much product on the applicator or the lipstick can get ~everywhere~.
Now I just have to personally apologize to all my other lipsticks for abandoning them for weeks on end. Sorry, guys. —Maitland Quitmeyer
Get it from Topshop for $16.
This formula also comes in four other colors, which you can check out here.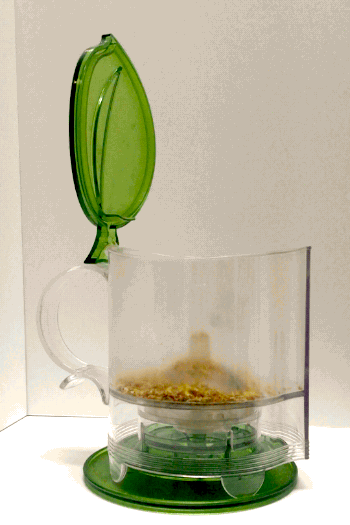 I know what you're thinking. Tea? Exciting? Come on! And yet somehow, this kitchen gadget has changed me from a cold brew addict into a 100% caffeine-free tea enthusiast. Let me explain.
I was reading Dr. Kulreet Chaudhaury's The Prime — my first foray into world of Ayurvedic medicine — and was blown away by the ancient remedies and knowledge. The book identified my inner Dosha (I'm a Pitta, all the way) and offered a list of suggestions to incorporate into my regular routine to help balance my insides. I was so in. One of these suggestions was a combination of herbs to be sipped as tea. I had just previously quit caffeine a month before in another attempt to balance my stress levels and had actually been drinking tea, albeit the bagged kind. It was one of those embarrassing moments when you realize that you don't have to drink tea that's already in a bag — you can grind up whichever herbs you like and make your own fresh tea every day!
Let me tell you, I went wild. I already had a mortar and pestle that was mostly collecting dust in my kitchen. I began to order fennel seeds, cumin seeds, chamomile, coriander…not to mention all of the fresh summer herbs I had ready to go in my refrigerator! It was all too perfect. My mornings began to have an actual routine: Before leaving for work every day I'd grind up my herbs of the day — a very calming experience, I must admit — and poured them into my bottom-pouring tea brewer. It became so fun to watch different combinations of herbs turn the water different colors. After letting the herbs steep for the recommended 4-6 minutes, the fun part begins: dispensing the tea into a mug. I like to make a full 16 ounces on weekdays so I can take the tea with me and sip all day, but the brewer also pours the perfect amount for two servings of tea (perfect for weekends). As for how the pouring works, it's simple: Just lower the tea dispenser into your mug or glass and the tea pours right in.
The idea of working with loose herbs seemed stressful and messy to me, but not so with this brewer. I recommend it to anyone who's looking to make their own blends of tea. Who knows, it may just turn into a new hobby for you, like it did for me! — Whitney Jefferson
Get it from Amazon for $32.99.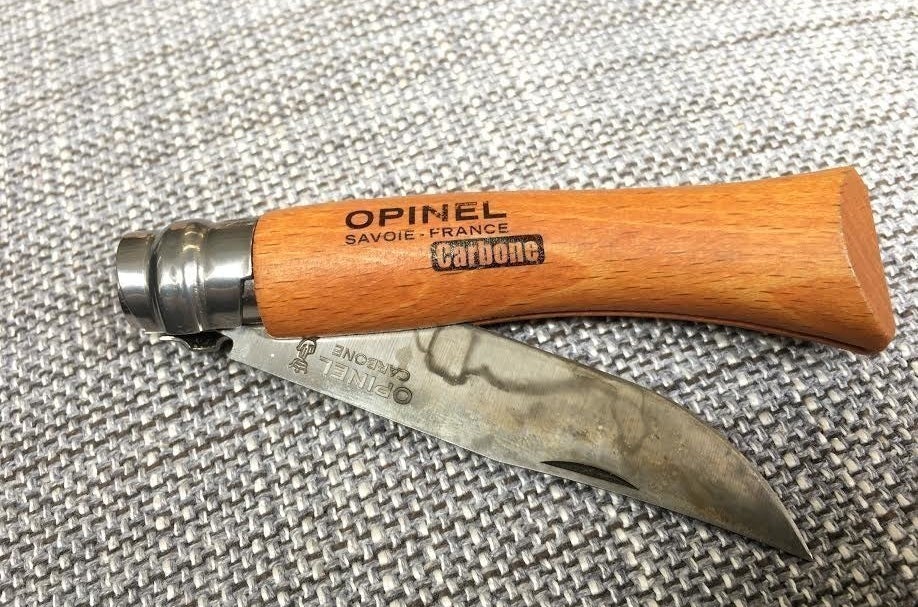 Knives are insanely useful tools. This is something I've learned over the past two months. I've always sorta been an "Every Day Carry" kinda guy. I like having a bag with me wherever I go that has tools and accessories for whatever occasion or problem I might find myself in. After some Extensive Knife Research that I spent far too much time on, I took out a loan, sold my kidney, and put down the entire $11 to buy an Opinel knife that I had read SO MUCH about. Opinel is a French company that has been making knives for YEARS, and it has a small cult following because the knives it makes are designed to last a lifetime. It has only two moving parts: the folding blade and the rotating collar to lock the blade in place. You won't have to worry about any parts wearing out, because there really only two parts and they're easy to fix or replace if the knife does somehow break on you.
I've used this thing countless times. Opening boxes, whittling wood skewers for cooking meat over a fire, cutting those thick tags off shirts, splitting hot dogs, you name it!
8.
Tend Skin ($12.47), a miracle product that stops skin irritation and ingrown hairs in their tracks after shaving and waxing.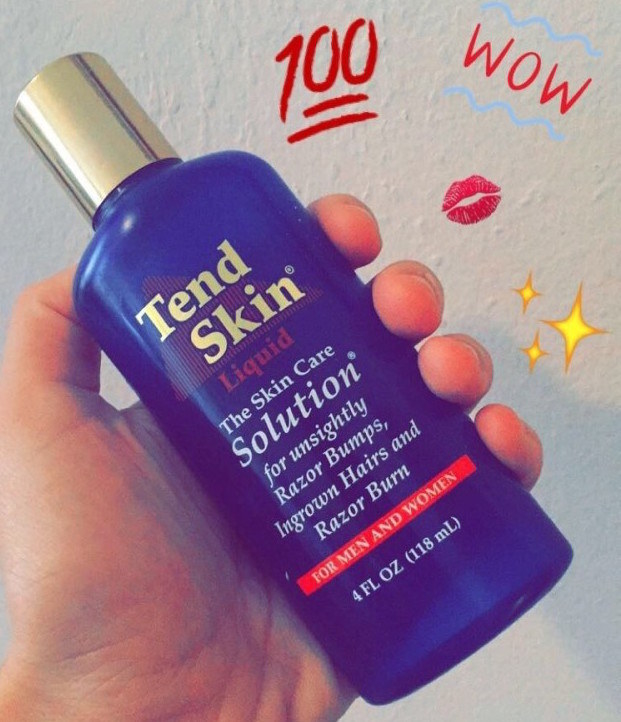 I went on vacation to South Carolina a month ago and literally walked out to the lake and dropped this speaker in the water to test its ~waterproofness~ — much to the horror of my friends. When it hit the water, it submerged, floated to the top of the lake, and continued to play music, like it hadn't just been dunked in a body of water. When it's submerged to a certain point, the sound will turn off and then turn back on as soon as it breaks the surface of the water. The sound is great — loud enough that you could still hear it while paddle boarding 50 yards off the dock, but also quiet enough when we decided to take it inside the house to play during dinner. It has a built-in platform so that it doesn't go rolling around on hard surfaces, and it has a a textured plastic grip so that it won't slide around if you have it on a boat, dock, paddle board, etc.
It has a rechargeable battery and also includes a USB port so it can charge your devices while you're out and about, which is great if you're on a boat all day and you're phone is dead from taking so many boomerangs. Not that that happened to me. The speaker also comes with a one-year warranty card. I would highly recommend this speaker to anyone whether they're going to be dropping it in lakes or not. It's lightweight, sleek, and can easily fit into any bag you're carrying around. The speaker's bass is delightfully on point, and you get the added bonus of getting to watch the bass thump on the speaker through its passive radiators, which is oddly satisfying. —Shannon Rosenberg
Want even more great product suggestions? Sign up for BuzzFeed's Gift Guide Newsletter!
If you can't see the signup box above, just go here to sign up for the BuzzFeed Gift Guide newsletter!