Tom Sandoval And Ariana Madix Find Out How Well They Know Each Other
Your favorite couple from Vanderpump Rules puts their relationship to the test.
by
,
,
,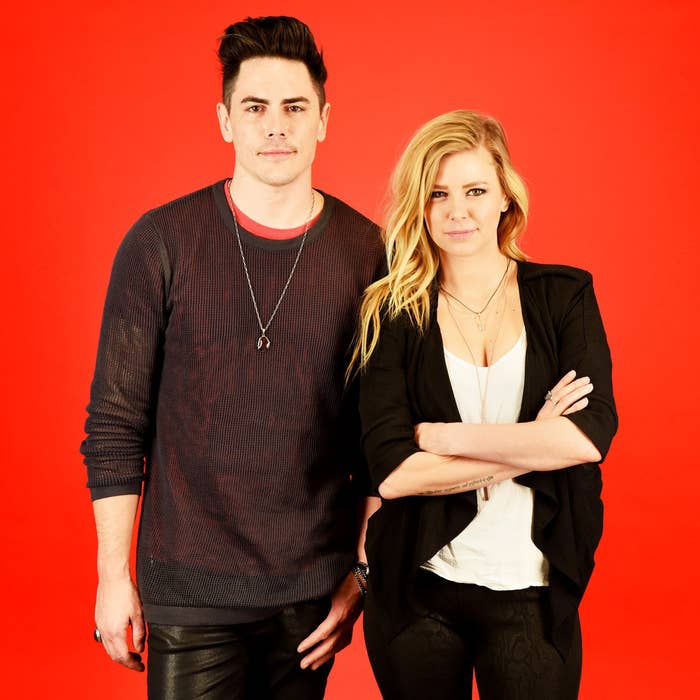 Tom Sandoval and Ariana Madix are two stars on Bravo's Vanderpump Rules who have been through the ringer this season thanks to Tom's very involved ex-girlfriend, Kristen Doute. But Tom And Ariana proved their love was too strong for exes that are trying to break them up, and managed to make it out alive and still very much together. They stopped by BuzzFeed to see how well they know each other, and here's what happened.
What is Tom's favorite food?
What is Ariana's favorite movie?
Ariana: I'm sorry. I don't really know the answer to this question either.
Tom: Oh shoot.
Ariana: I almost wrote that actually!
Tom: I know you love that movie too.
What is Tom's favorite song?
Tom: Go Karoake
Ariana: I was actually going to go one step beyond that. I think you'll appreciate my answer.
Tom: Yes, that's a good one.
Ariana: I almost put that, but then didn't. I don't know.
If Ariana could switch lives with any Real Housewife who would it be?
Ariana: Yayyyy.
Tom: Yes!
Ariana: She's so pretty.
What is Ariana's favorite candy?
Tom: We ate Fun-Dip in the bed recently.
Ariana: It was messy. We were like crack addicts.
Tom: We were under the covers, it was like Party Monster, when Macaulay Culkin was shooting up in the bed or whatever. That was us but with Fun-Dip.
Who is Tom's celeb crush?
Tom: Do I know this person's name? Because I'm always like "that one girl from..."
Ariana: Oh I put a dude.
Tom: Oh I know!
Ariana: Oh, you do love him. You think he's the best. But Brandon Boyd.
Tom: Brandon Boyd is cool, that's more like late '90s.
Who is Ariana's celebrity crush?
Tom: The girl from Edge Of Tomorrow.
BuzzFeed: Emily Blunt?
Ariana: I don't like her. I don't NOT like her.
Tom: She's cool.
Ariana: She's cool. But I'm not like, I don't care. That was a weird one for you to pick.
If Tom had to switch hair with another cast member, who would he switch with?
Tom: I do love her hair.
Ariana: I was thinking maybe you'd want to switch hair with Schwartz so that you could fix it because you hate how his hair is so bad.
Tom: Katie is always fixing his hair because of his nervous twitches, and he'll be like, "I don't know man" and keep running his hands through his hair. She'll put hairspray in because it's such a mess. If you noticed he looked like a flock of seagulls half of the season.
What is Tom's favorite word?
Tom: It's "Like, um..."
Ariana: Or "Umm, like..."
Tom: Or, "You understand? You get it?"
What is Ariana's favorite emoji?
Tom: She posted this picture with this emoji. And Charlotte was making the same face in the background. It was really funny.
Ariana: This (😐 ) is my emotional state 99% of the time. Then the gator 🐊. And then honorable mention is the airplane seat 💺. Because that one is so weird.
What is Tom's favorite emoji?
Tom: Ohhhh, you're right.
Ariana: That's what you always put. It's a kiss shower. He does a ton.
Tom: This is 😉 or ;-7.
Ariana: He types it. He's old school.
Tom: I do pictures more than anything.
Ariana: You did this thing the other day where you told a whole story with emojis.
What show does Tom DVR the most?
BuzzFeed: During the season you actually had DVR drama, with Kristen.
Tom: The funny thing is. I got a notice in the mail three months later because Kristen hadn't returned the DVR box. She needed it back so bad. I got a collection notice saying the DVR box has not been returned.
Ariana: I feel like there's a ton of episodes on there.
Tom: And Vanderpump Rules.
Ariana: It's weird because it's just set to record it. So it's just there. But we never watch it. There's so many.
What is Tom's pet peeve about Ariana?
Tom: Yes, god. I'm gonna kill you! I'm like, "Where are all of our house keys?!" She gave two to the same person. And lost one, I don't even know. She's just handing them out! Come on over, take a shower, make yourself at home! Cook some breakfast!
Ariana: Look, I'm being more social! I'm inviting more people into the home!
What is Ariana's pet peeve about Tom?
Ariana: Yup. This. I hate that shit. He's like, "Yeah just come by!" I'm like, "Who's coming by???"
What's one thing that Tom owns that Ariana would want to throw in the garbage?
Ariana: I already threw out everything I didn't like. I was like, "This shit's gotta go."
Tom: Oh, I actually did cross off couch! You hate the bedroom furniture.
Ariana: I do hate the bedroom furniture!
Tom: That painting over the couch is the most expensive thing in the apartment!
Ariana: And I think It's hideous!
Tom: It's not hideous. She has a picture of a black dot on a white piece of paper, and wants to hang that on the wall. A portal.
Ariana: Minimalist. I'm a minimalist. His is like blobs of every color of the rainbow on a giant canvas.
Tom: It is. It's really big. It's a statement piece. It's like me.
What color underwear is Tom wearing?