1.
When Benedict Cumberbatch photobombed all of U2: 2.
When Jennifer fell before even entering the ceremony, and then Ellen brought up her tripping history:

3.
And we witnessed Brad Pitt chomping down on some pizza: 4.
When the ultimate celebrity selfie was being organized...
5.
And the result was this glorious photo: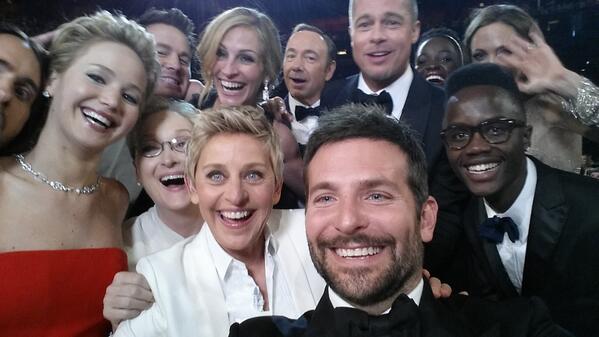 6.
But sadly Liza Minnelli didn't make the cut: 7.
When Ellen snuck up on Leo and Sandy and gave them quite a fright:
(Mostly just Leo, though.)
8.
When Pharrell performed "Happy" and got Lupita to dance with him...
12.
And then Ellen followed through with the pizza and Brad distributed plates...
14.
When Ellen became Glinda: 15.
And Whoopi showed off her Oz-themed tights:
16.
When Jamie Foxx did this little dance:
17.
When Jared Leto made the night about his mom...
And even sacrificed his pizza for her:
18.
This kiss between Leo and Matthew: 19.
When Amy Adams was caught being a little bored:
21.
When Emma Watson and Joseph Gordon-Levitt became the new cutest dream couple:
22.
Meanwhile, Matthew McConaughey and his wife Camilla were the actual, REAL cutest couple:
23.
When Ellen took this selfie with Liza Minnelli: 24.
And collected pizza money in Pharrell's giant hat:
25.
When Jennifer Lawrence and Nicholas Hoult were caught just being adorable:
26.
When Pharrell made suit-shorts a thing: 27.
And when Steve McQueen was ecstatic over 12 Years a Slave winning: