At tonight's 23rd Annual Critics' Choice Awards, the show's host Olivia Munn took the stage with Niecy Nash for a skit titled "Toast to the Good Guys." After doing a bit of thanking, the duo called out their male colleagues for not speaking up at the Golden Globes in support of the Time's Up movement on Sunday.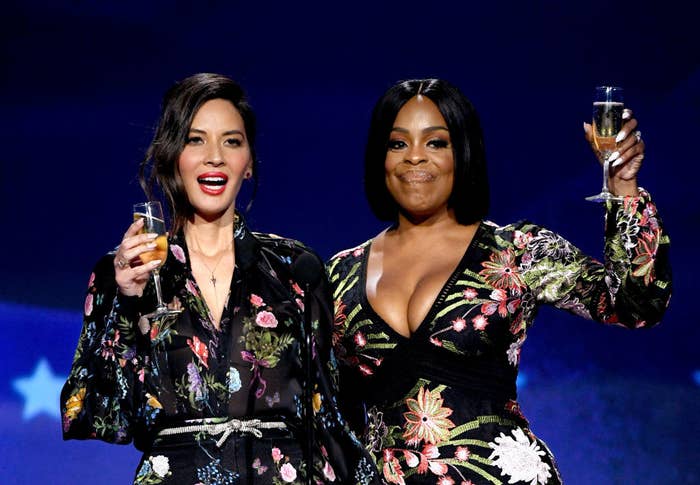 "At this time, my friend Niecy Nash and I would like to make a toast to all the good guys in Hollywood," Olivia started. "I'd like to raise a glass to that studio executive who had me meet him in the studio conference room, instead of his actual hotel room."
"Yes, yes! Congratulations for doing what you're supposed to do!" Niecy followed. "And here's to the male casting directors who didn't ever say anything derogatory to me in an audition."
"Hey, way to be regular human beings, guys! Good job!" Olivia quipped. "Oh, and I'd also like to thank that famous actor who didn't treat me with crap after I said I didn't want to drinks with him after the show. What a guy, huh?"
"Wow! See, that's what I'm talkin' about." Niecy responded, before going IN about the Globes. "I want to say this quickly. Thank you to all of the men for speaking up at the Golden Globes and joining our sisters—"
"Actually, sorry, sorry," Olivia interrupted. "They really didn't say much, there."
Olivia went on, "I do want to say, by the way, thank you to the producers for paying us the same amount of money and Mark Wahlberg a million dollars. He took a pay cut, so it's really nice and generous of him. Thank you so much."
And by the looks of Twitter, people were LIVING for it: