Senior doctors have said patients will not be harmed during a full junior doctor walkout at the end of April, due to emergency cover by consultant doctors on those days.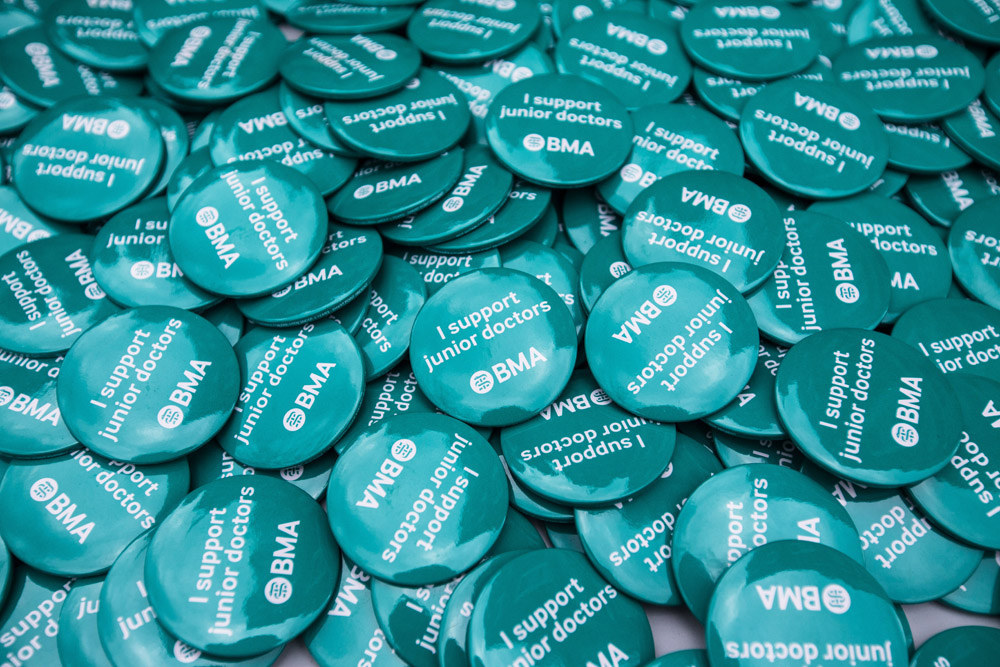 Junior doctors are set to stage their first full walkout ever, including emergency services, between 8am and 5pm on 26 April and again on 27 April in response to the government's decision to impose a contract they believe to be unsafe for patients and unfair to doctors.
The strike will mark the fifth round of industrial action over the issue this year – during the previous ones, only emergency care. Prior to the initial walkout in January, junior doctors had not withdrawn their services since 1975.
Writing in The Observer on Sunday, NHS England medical director Sir Bruce Keogh urged doctors to rethink this escalated action, warning that patients would come to serious harm as a result.
"I worry that the withdrawal of emergency cover will put our sickest, most vulnerable patients at greater risk," Keogh said. "This challenges the ethical framework on which our profession is founded and runs against the grain of our NHS and our personal and professional values."
But emergency departments will remain open when junior doctors walk out at the end of the month, and many of the senior doctors who will be covering the services remain confident patients will still receive the care they need.
"I don't think [the strike] will cause much disruption again," Dr Amir Reyahi, a consultant in emergency medicine in Bedfordshire, told BuzzFeed News. "The full walkout is during the day, when seniors will be around to cover."
He told us the walkout was inevitable after it seemed that the government had been unwilling to listen to concerns junior doctors had about the controversial contract.
"[Health secretary] Jeremy Hunt has completely backed the junior doctors into a corner with no other alternative," he said.
Dr Philip Lee, a consultant in acute and elderly medicine in London, said it was "regrettable" that strikes had reached this point, but also assured us that he was "not worried" about patient safety being compromised on those days.
"At our hospital, acute medicine will be staffed by consultant physicians, consultant surgeons will be on hand to operate in emergencies, emergency departments will be fully staffed by consultants, and intensive care will again be manned by consultants," he said. "All of us are highly experienced in managing very sick patients, having been junior doctors ourselves once."
Dr Ben Fox, a consultant anaesthetist and the chair of the Group of Anaesthetists in Training committee, said that while he felt he was unable to encourage industrial action, he disputed Keogh's claim that there would be no emergency care available during the walkout.
"Consultants (like myself), non-consultant non-training grade doctors (a massive proportion of the workforce), trainees who are not British Medical Association members, and some trainees who are BMA members will be providing emergency care," he told us.
"Many trusts, including my own, are already making plans on how to safely provide emergency care.
"Bottom line – there will be doctors in the house!"
The strike could still be prevented if the government were to resume talks with doctors, Dr Tom Dolphin, a London-based consultant who has previously been on the BMA's contract negotiation team, told us.
The BMA has repeatedly called for further negotiations, but Hunt has said "the matter is closed" due to the BMA's refusal to compromise on Saturday pay for junior doctors.
"The areas of dispute around safety are not ones where the doctors feel they are able to compromise, because lives depend on it," Dolphin said. "Tired doctors make mistakes and they can't accept a contract that will worsen that.
"They really feel they have no choice but to strike as every other means of avoiding this unsafe contract has been tried and ignored or quashed by the government."
Keogh has previously expressed his opposition to Hunt's decision to forcibly impose the contract, and in The Observer acknowledged that doctors feel "disengaged and powerless, and are expressing their frustration through industrial action".
"The current unrest is not just about contracts," he said, "but is the culmination of growing frustration over many years about the difficult conditions in which junior doctors work and train, and about the way they are treated and valued by the multitude of organisations that constitute the NHS."
But many doctors felt his words laid the blame for industrial action solely at the feet of junior doctors and failed to address the government's seeming unwillingness to listen to concerns expressed by medics about rota gaps and issues of inequality that they felt would not be solved by the contract.
"What Keogh doesn't mention is that many doctors crossed a line they never thought they would have to cross by going out on strike at all," Dr Tom Oates, a London-based specialist registrar who has been a junior doctor for 12 years, told us.
"The threat of imposition, the weekend mortality statistics debacle, and the failure of engagement by government at grass roots level has left us with no choice but to stage a full walkout.
"Keogh's influence would be much better used trying to reopen negotiations between the Department of Health and the BMA."
Responding to Keogh's concerns, Dr Johann Malawana, chair of the BMA's junior doctors committee, once again urged the government to reinstate talks with the doctors' trade union. He added that patient safety remained the prime concern of junior doctors.
"The whole profession has supported juniors throughout this dispute and we are grateful," Malawana told us.
"Patients need to know that if the government decides it wants strikes instead of talks, then it's clear senior doctors will be there to look after patients and keep them safe."