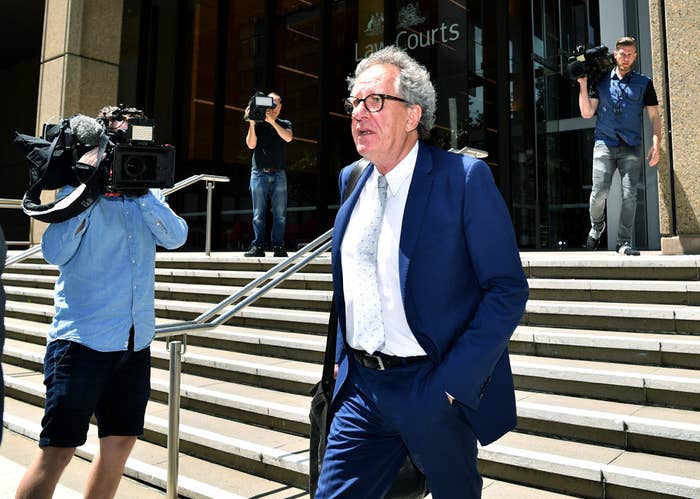 Film star Geoffrey Rush says a text he sent to a female actor saying he thought of her "more than is socially appropriate" followed by an emoji with its tongue sticking out was a Groucho Marx-style joke about how long it had been since they had last spoken.
The Australian actor is suing the publishers of Sydney newspaper The Daily Telegraph and journalist Jonathon Moran for defamation, after they published allegations he had been accused of behaving inappropriately towards a female cast member during a 2015-16 Sydney Theatre Company (STC) production of King Lear.

Rush, 67, has strenuously denied the allegations. He claims publisher Nationwide News defamed him by painting him as a pervert and a sexual predator who committed sexual assault while acting in King Lear, and by suggesting his conduct was so serious that the STC pledged to never work with him again.
Nationwide News will argue a defence of truth, based on a statement from actor Eryn Jean Norvill, who played the role of King Lear's daughter Cordelia in the production, and who allegedly complained to the STC in April 2016 about Rush's inappropriate behaviour towards her.

The stories did not name Norvill, and she did not agree to testify for the newspaper until a relatively late stage in the proceedings.
In Rush's star-studded evidence on Tuesday – Russell Crowe and Rebel Wilson were among the names he referenced in passing – he said he was not a pervert or a sexual predator and had not committed sexual assault on the set of King Lear.
On Tuesday afternoon, he was quizzed over a text he sent to Norvill in June 2016, two months after Norvill allegedly made the complaint, and five months after the end of the King Lear production.
A line in the text said "I was thinking of you, as I do, more than is socially appropriate" and included an emoji face with a tongue sticking out.
Rush denied the text suggested he was habitually thinking about Norvill in a way that was inappropriate: "That is not correct in my mind. It's a throwaway line that's actually a joke. I would say, modesty, in the style of Groucho Marx."
"Why was it more than is socially appropriate for you to be thinking about Miss Norvill?" asked Nationwide News barrister Tom Blackburn SC.
"I can't put it better than, if I can get a recording of Groucho Marx doing it, it's a very flip excuse for not writing sooner," Rush said. "You haven't slipped my mind because I have fond memories about working on Lear. Not realising of course that in the interim, other things had been going on."
"You put in that little emoticon with its tongue hanging out there. Is it panting?" asked Blackburn.

"No, it's the looniest emoticon I could find. If Fozzie Bear had been there I would have put Fozzie Bear … it's a limited choice with emojis," Rush replied.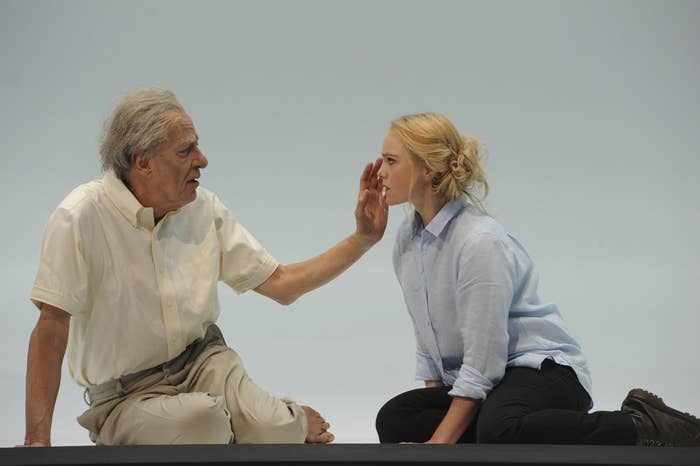 Rush said he had first heard a complaint had been made about him to the STC from his wife, actor Jane Menelaus, when he returned from Prague in March 2017.

"She said, there's a rumour going around that a complaint has been made about you to the Sydney Theatre Company. I said, 'What? What's the rumour?' She said, 'That's all I know. It's theatrical gossip that's been passed onto me by a colleague'."
Gossip is something that "happens in the theatre", Rush said. "The bush telegraph, I call it. It's faster than the National Broadband Network."
Rush said he and Menelaus had speculated about who might be behind the complaint and what it was about.
Of around 15 women involved in the cast and crew, the only one who Rush thought might have made a complaint was Norvill, the court heard.
But he strongly denied that was because he was conscious of causing her "discomfort" in a scene when he, as King Lear, carried Norvill, as the dead body of his daughter Cordelia, onto the stage.
Rather, the guess was "a wild stab in the dark" because Norvill was the only person he made contact with during the play, Rush said.
"We were fantasising or imagining the potential scenario, because I could think of no other incident," he said.
Blackburn also quizzed Rush over his alleged behaviour in the rehearsal room, asking him if "pretty much on a daily basis" he did things including gesturing towards Norvill as if he was groping her breasts, tracing an outline of an hourglass towards her torso, and making jokey, growly animal noises.

Rush said he had not done any of those things.
Blackburn asked Rush if he had stood in front of Norvill, stuck out his tongue and licked his lips in an exaggerated way "a bit like the little emoji in the texts".
Rush denied the allegation, saying: "Don't you think any of the strong women [in the cast such as] Helen Buday or Robyn Nevin would have come up to me and said 'You're acting like a galah'?"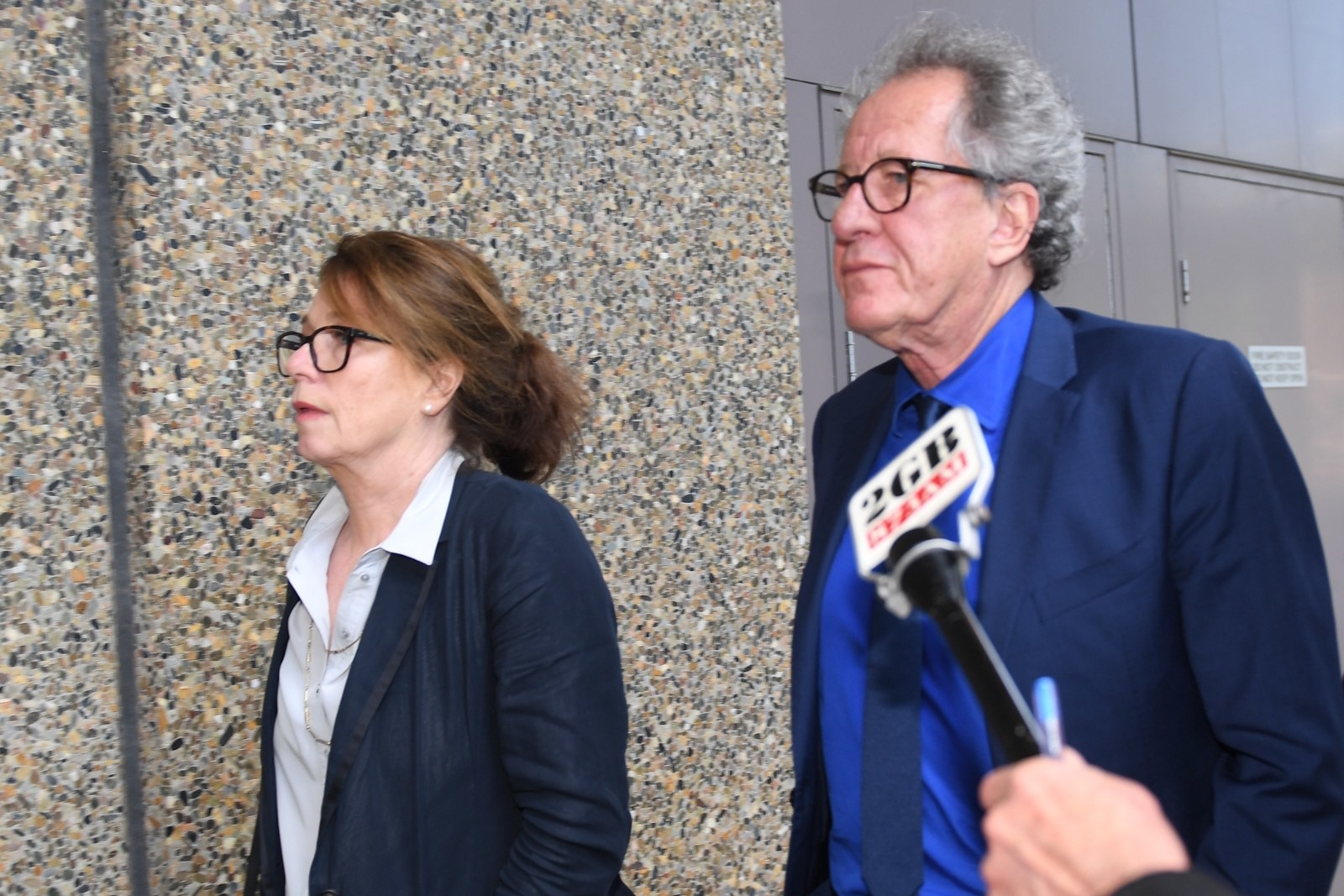 A Nationwide News defence document filed to the court, based on Norvill's statement, alleges Rush traced his hand down her torso and across the right side of her breast during a scene on stage when Rush, as King Lear, is grieving the dead body of Cordelia.

Asked on Tuesday morning if he had ever intentionally touched Norvill on her breast, Rush replied "No".
Earlier in the day, under questioning from his own barrister Bruce McClintock SC, Rush choked back tears on the stand as he explained he would imagine the death of his own daughter to prepare for conveying the "raw, primal grief" of this scene.
"For this scene I've always imagined it was my own real life daughter and she'd been hit by a bus on the street near where we lived ... And I knew she was gone. I carried her to the footpath and every night I would reinvent that scene in my mind," he said. "I needed that trigger."
He said he had "no inkling" that anything was wrong.

"I never detected I was ... making her feel uncomfortable or I was ruffling feathers. No-one came up to me and said 'I think you're getting on Eryn Jean's nerves. Nothing at all."
He said when allegations from the first version of Nationwide News' defence (which was struck out by Justice Michael Wigney) were published in the media, he felt "lower than I had probably ever felt in my life".
"It made me want to give up this profession, because I was deeply embarrassed by it," he said.
Rush also gave evidence about the work of King Lear director Neil Armfield, who Rush yesterday described as his "artistic brother".
Asked if Armfield ever told him to be more "paternal" in the scene where he carries Norvill across the stage, because his actions had become "creepy and unclear", Rush said he could not recall such a direction.

"I don't recall the words creepy," Rush said. "They seem unfamiliar from Armfield's mouth."
At the end of the day, Wigney reminded Rush to not discuss his evidence with anyone, particularly his legal team, as he was in the middle of cross-examination.

"I'm assuming with my wife as well, which will be a blessed relief," Rush replied.
The trial continues.