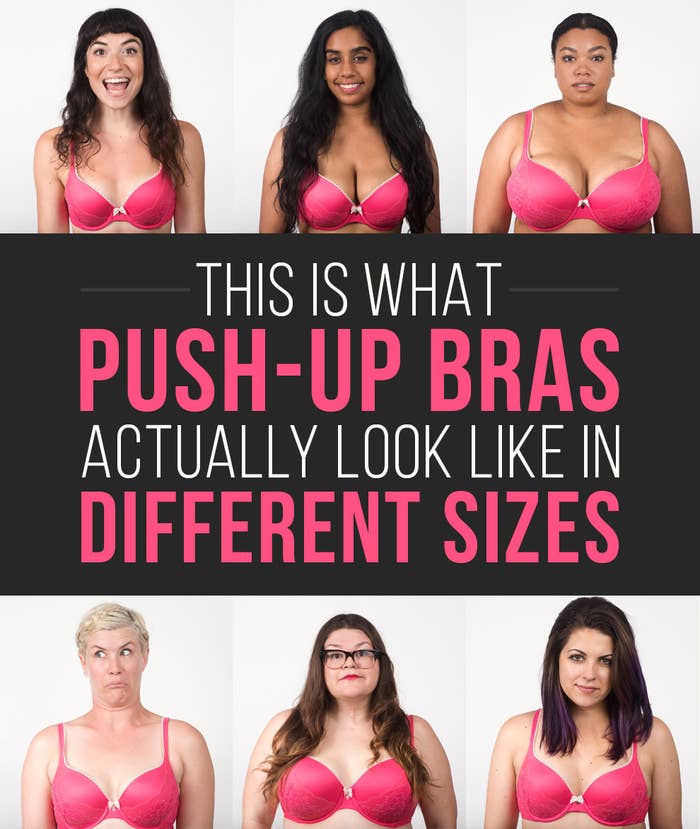 Push-up bras: We know them as the bras that promise to lift your boobs to places they've never been before, like they've become perky little astronauts.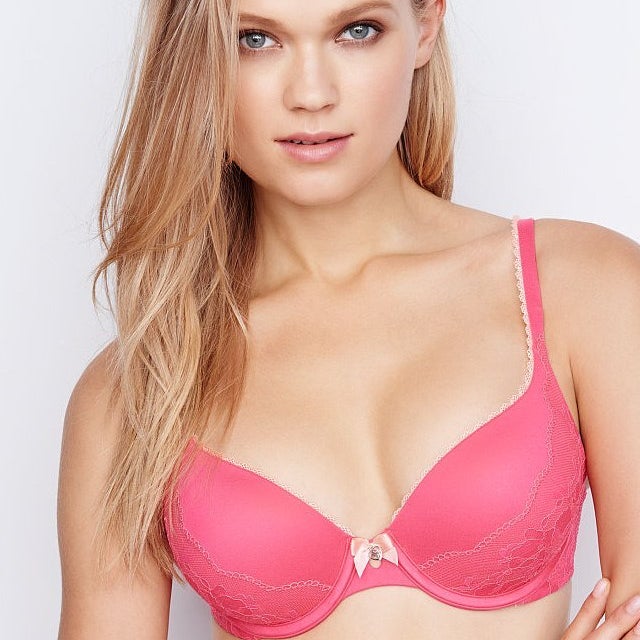 But push-up bras (like all bras) can cost some serious cash. So we wondered, do they actually do what they're supposed to do, or are they just...a bust?
We decided to put some push-up bras (of varying prices) to the test. Allison, Candace, and Morgan (pictured here in their regular bras) volunteered to rep for the A, B, and C cups: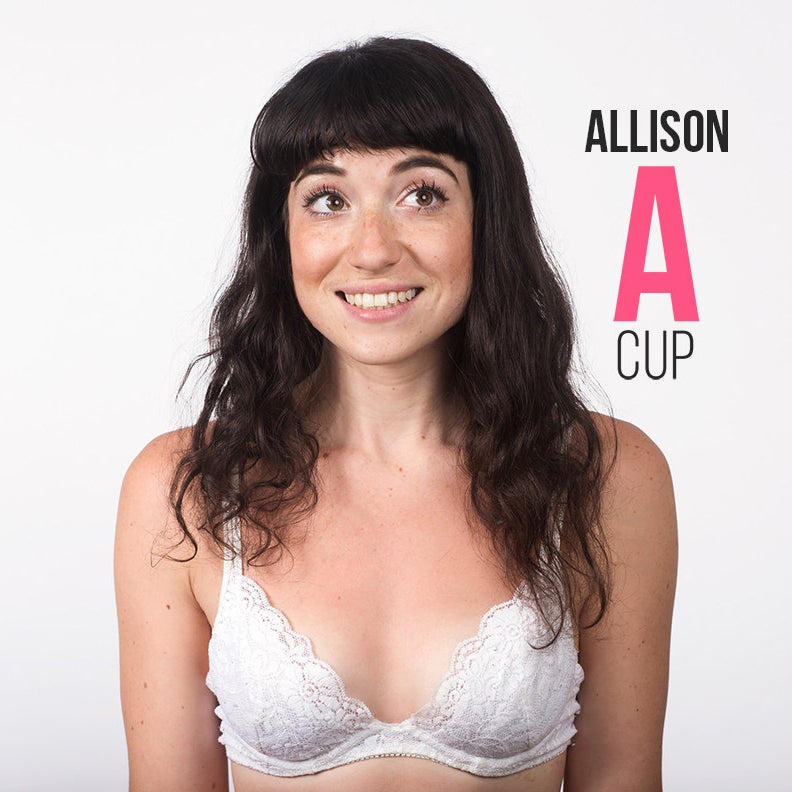 Our expectations:
Allison (34A): I'm not really into bras, but maybe I just need a little ~push~ to get into them?
Candace (36B): I'm expecting to see and feel my breasts kissing.
Morgan (36C): Lots of structure and wires and padding trying to contain my free-range breasts. #downwithbras.
While Nina, Kristin, and Sheridan (also pictured here in their regular bras) agreed to try out some D, DD, and DDD-cup bras.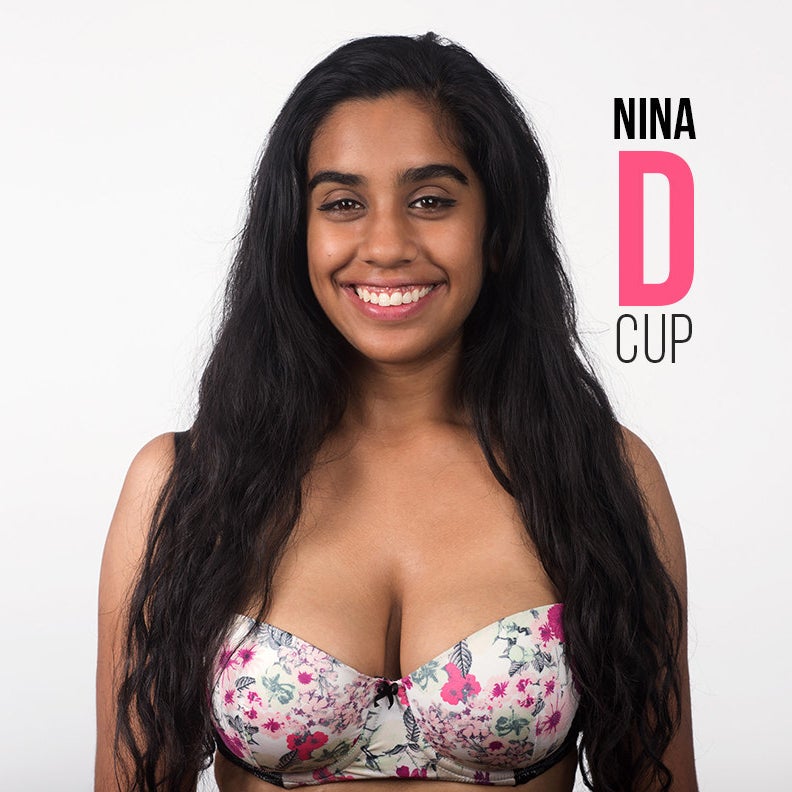 Our expectations:
Nina (34D): I'm hoping my boobs will magically turn into beautiful, perfectly round, sun-kissed globes that gently press against each other but somehow manage to stay in place.
Kristin (40DD): As you can see, my boobs are in a long-distance relationship with each other, so I am in the market for some cleavage. I can normally only get cleave if I physically lift my boobs up with my hands, which I am not allowed to do at work anymore, so you can see my concern.
Sheridan (40DDD): You know what, it is technically possible that my boobs will look as magically supported as the models — all I gotta do is tighten the straps enough to lose all feeling in my shoulders. But it's also technically possible that that I'll marry Prince Harry and be the first black princess in the British royal family.
The first push-up bra we tried was from Victoria's Secret:

Allison (34A): This is so soft and is doing so much for me! I'm not mad at this bra at all. This is what it feels like to have cleavage? Down. Maybe I should wear bras more often.
Candace (36B): I feel like my boobs are resting on two warm pillows snuggling together. It's actually pretty damn soft, but I'm not sure I feel any push up, just more of an uplifting hug. It feels like it's made from chinchilla (obvi. not because chinchillas deserve life).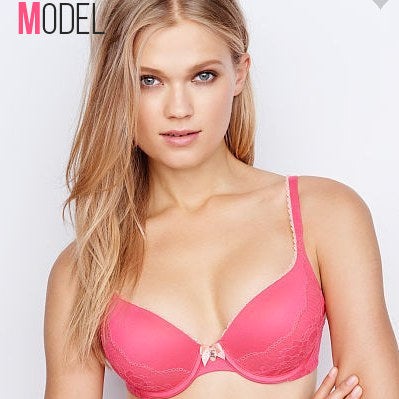 Morgan (36C): As usual, my boobs did not get the memo that they were supposed to touch, but they were definitely lifted, and the material was like heaven in bra form.
Nina (34D): This bra is giving my boobs the luxury treatment, honestly. It's so soft! My boobs are definitely higher than they once were. I think this is the best of the three, but my boobs aren't soaring like I hoped they would. I'd wear it as a regular bra, probably.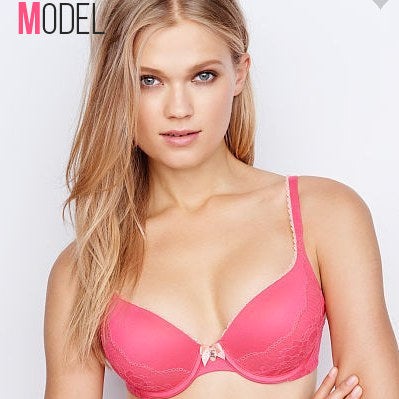 Kristin (40DD): Well, now my boobs are the same size they are one day before my period. But still no cleavage. I'm learning very quickly that there are lots of different boob shapes, and my shape is "the slow-dancing middle schoolers who need to leave room for Jesus."
Sheridan (40DDD): You know what the worst thing about having non-perky tits is? Whenever you put on a push-up bra, it looks like your boob is trying to eat the top half of your body. Though it might not look like it, this bra was surprisingly comfortable AND freed my boobs from my belly button dungeon. My only gripe? There's a war happening between my boobs and my armpits.
The second push-up bra for Allison, Candace, Morgan, and Nina came from Hanes (which only goes up to a D cup in push-up bras):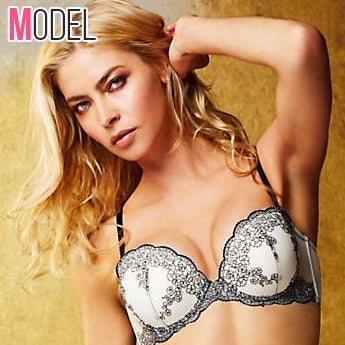 Allison (34A): Ugh. I mean, sure? It's FINE. I don't know, I just don't like bras, I guess.
Candace (36B): Instead of pushing me up, this bra is letting me down. I think my boob is getting a little oozy rather than bougie. If you punched me in the boob right now, I probably wouldn't feel it.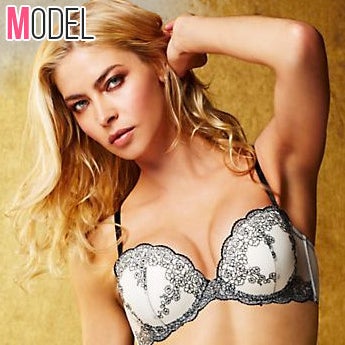 Morgan (36C): I have the oldest boobs in this room plus a child that breastfed for way too long, and this bra is reminding me of all of that.
Nina (34D): I guess I like the design? But there is zero "push" in this push-up bra. Literally none. I'm trying to feel like a ~sexed-up vixen~ and instead I feel like a saggy, sad grandma. Also, boob spillage, but like weirdly on the side? Gross.
While the second bra for Kristin and Sheridan came from Lane Bryant: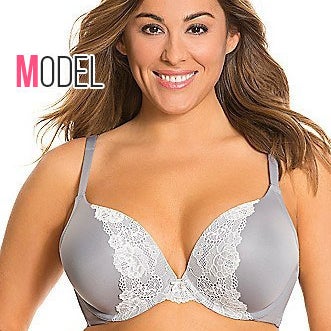 Kristin (40DD): Oh heeeeey, there's a little bit of lift here, sort of, kind of, if you squint. I think I am simply just not built for real cleavage; my girls are too independent.
Sheridan (40DDD): If you can't tell, I'm willing to undergo torture to get my boobs to stay up, but this bra was all loosey-goosey from the get-go no matter how much I tightened it.
For the third push-up bra, everyone tried on a bra from Target: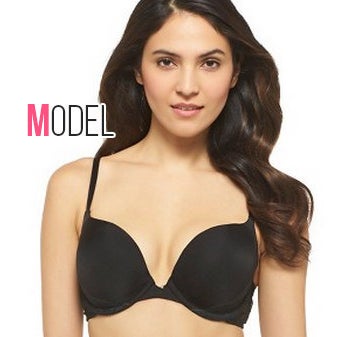 Allison (34A): This bra makes me sad and is exactly why I don't wear bras in general. The cup is GAPING and I can see my nipples when I look down. Bye AF.
Candace (36B): EWEWEW I feel like I'm wearing a sexy cardboard box. The cups are really exposing my boobs and my nip is waving hello to me from below. The single rhinestone says, "I'm sexy, but like a delicate flower."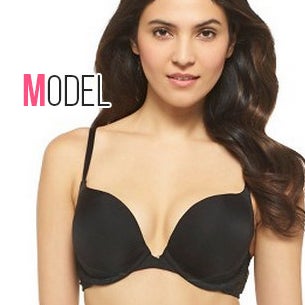 Morgan (36C): Whoever created this bra has probably never seen breasts before. In its efforts to force my breasts to meet, it distorted things so much it looked like my cleavage was being funneled into my belly button.
Nina (34D): Lol no. No to everything about this bra. The front of the band doesn't even come close to touching my skin. I'm sure if I had moved around, my boobs would've morphed into a uniboob. It's just so blah.
Kristin (40DD): I just compared this photo to the one where I am wearing a normal bra, and I actually have less lift now. This bra is perfect for the lady who wants to turn her boobs into big angry cannonballs that she can fire at people or whatever it is I'm supposed to do in this thing.
Sheridan (40DDD): OK so remember when I was all like, "OMG the tighter the better?" Well, I was very ignorant. I actually feel like this bra might cut off my circulation. And while there's significantly less armpit fat, I also find that the cup is not that supportive. No thank you. No thank you at all.

After we tried on all the push-up bras, we each picked our favorite and checked to see if our faves actually pushed our boobs up any more than our normal bras did.
Allison's Favorite: The Victoria's Secret Push-Up Bra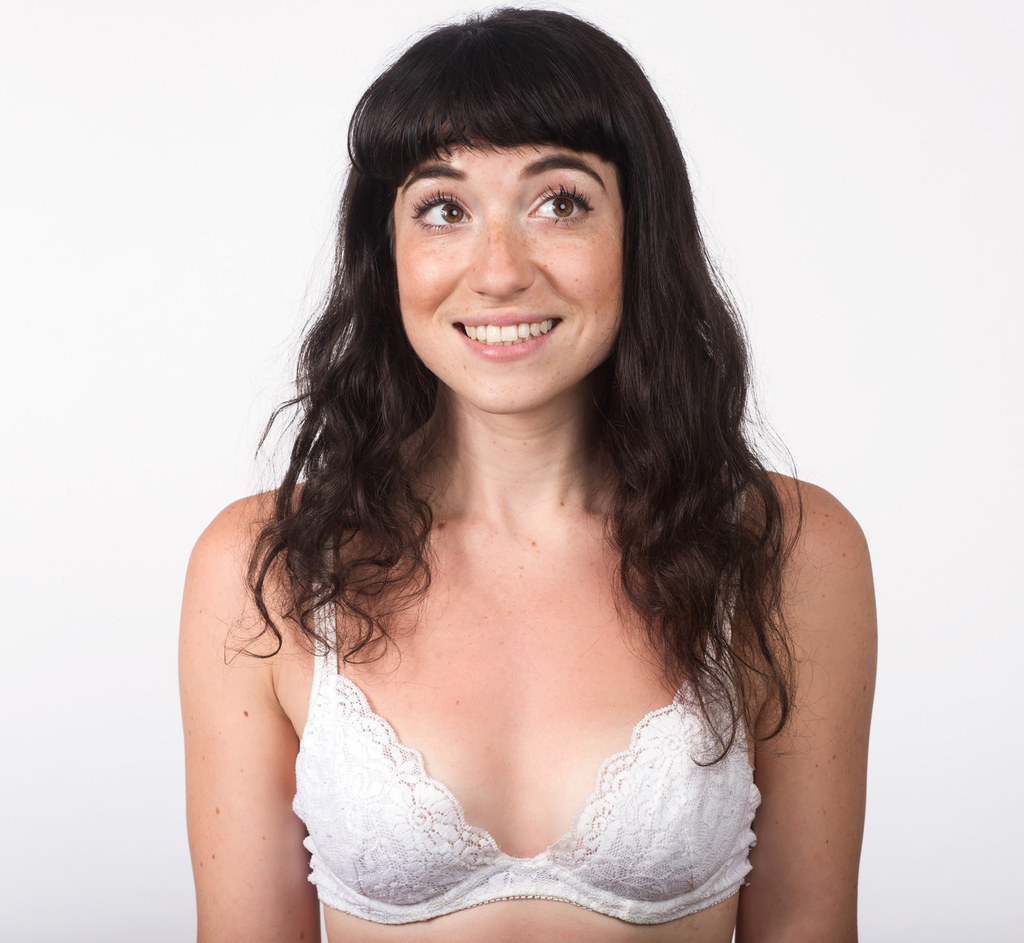 Candace's Favorite: The Victoria's Secret Push-Up Bra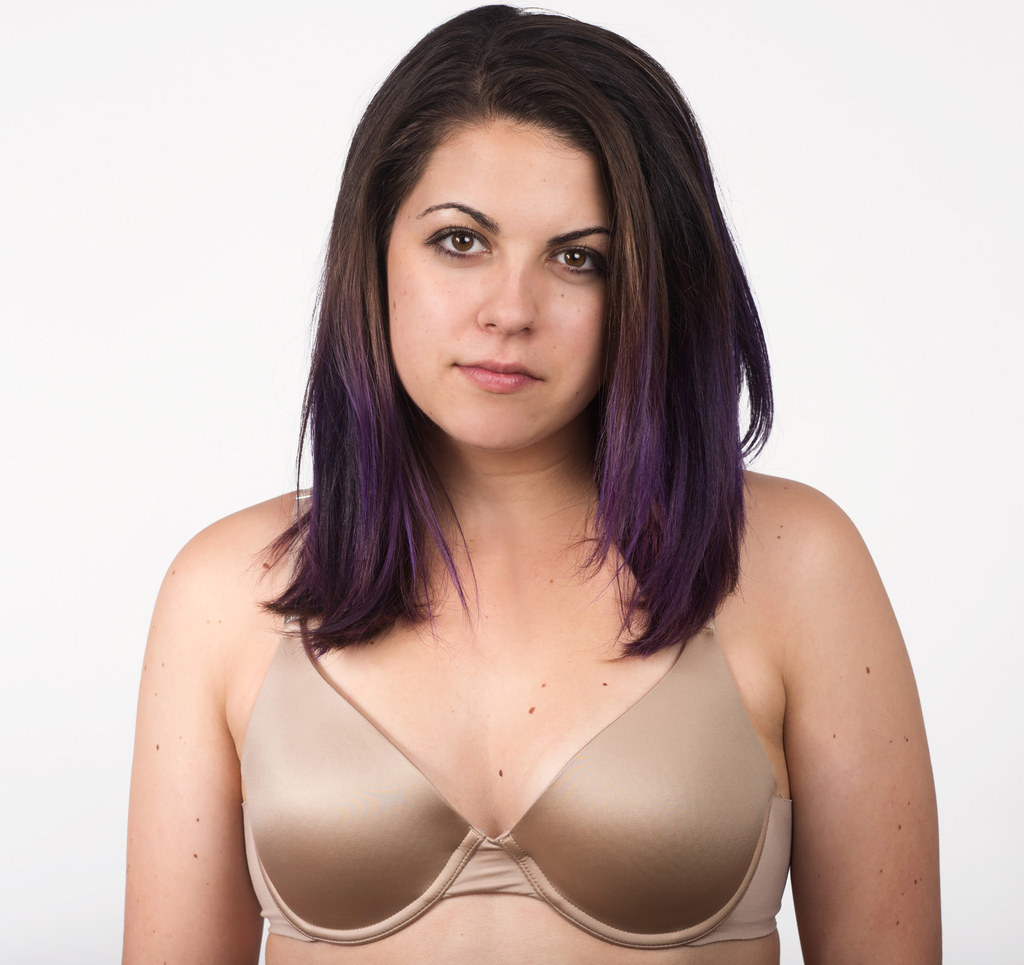 Morgan's Favorite: The Victoria's Secret Push-Up Bra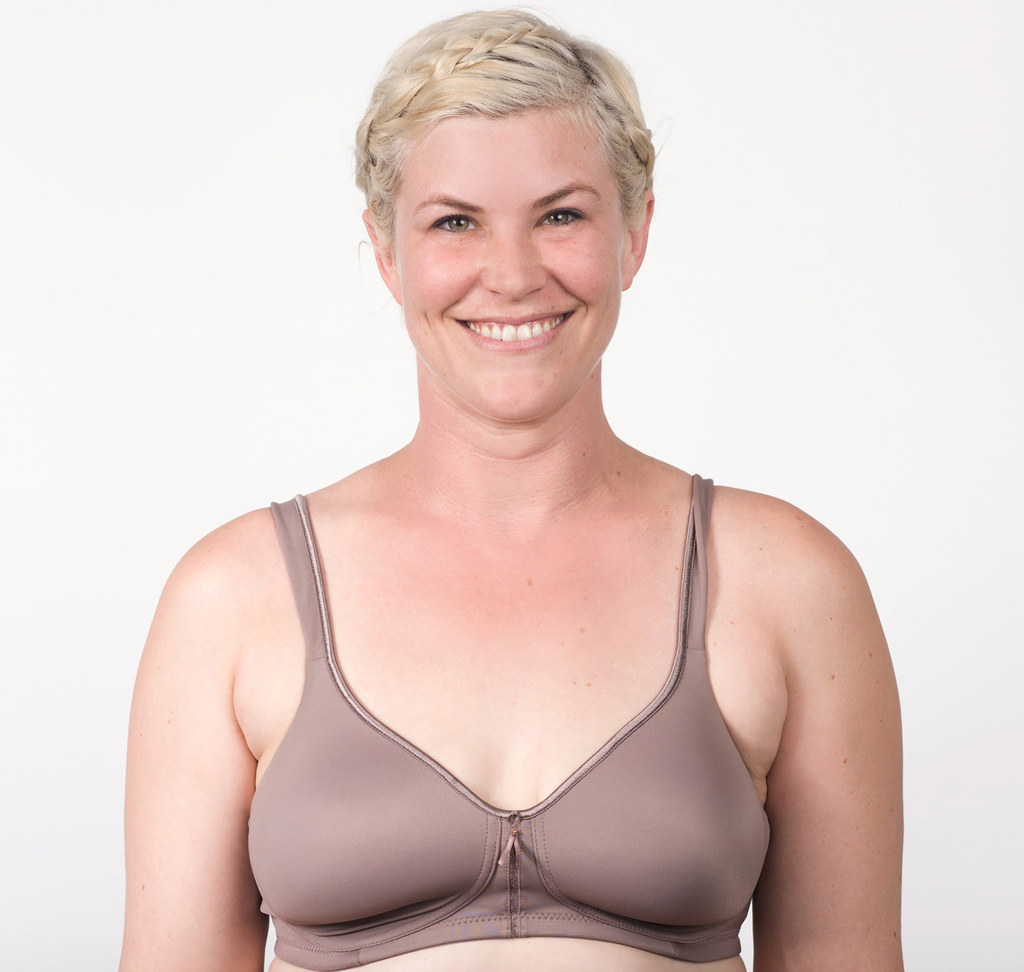 Nina's Favorite: The Victoria's Secret Push-Up Bra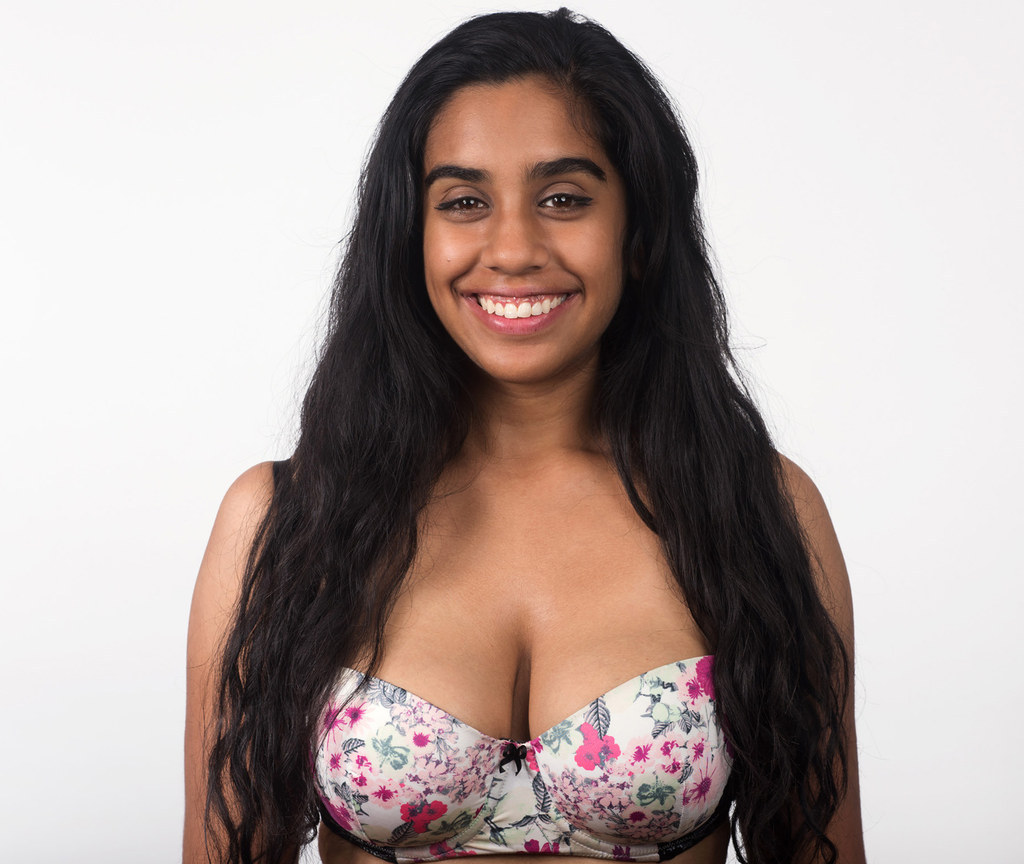 Kristin's Favorite: The Lane Bryant Push-Up Bra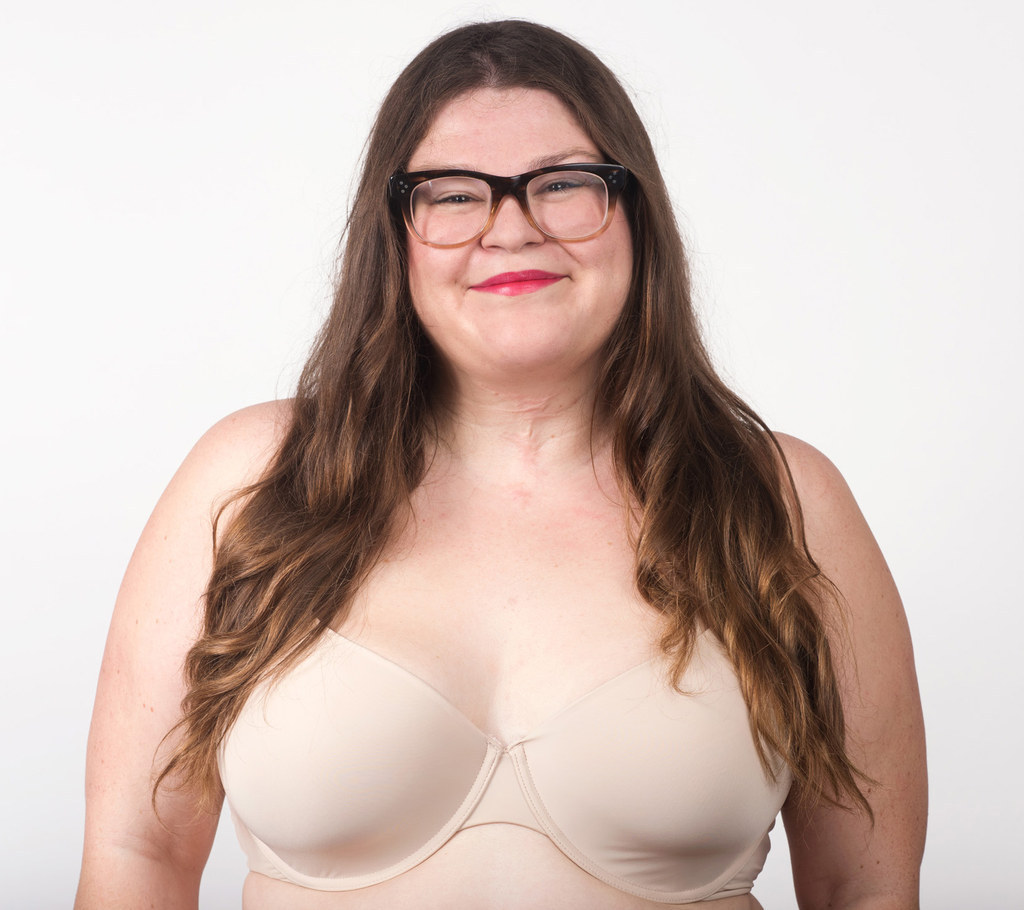 Sheridan's Favorite: The Victoria's Secret Push-Up Bra