If you're reading this post, you came for a Disney house tour, so let's begin with a little teaser:
The above video has over 13 million views on TikTok. So, who is the owner of this surreal Disney house? Her name is Kelsey Hermanson and her family is very into Disney (if that wasn't already obvious)! "I love all the magical details that the imagineers create at Disneyland, and we have tried to re-create our own magic in our home," Kelsey told BuzzFeed.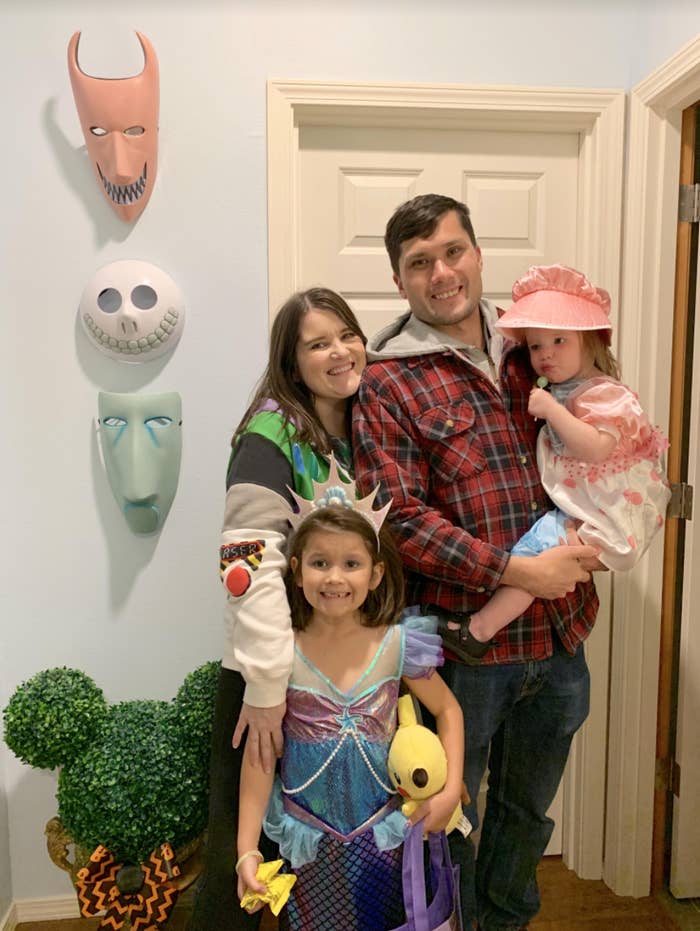 While Kelsey does buy some of her Disney decor, she mainly creates her own Disney designs for her home. "I find a lot of things for my rooms at thrift stores. I also buy some things from The Disney Store, but, mostly, I make things myself. Sometimes I buy things from other artists on Etsy if I can't make it myself," she said.
And Kelsey's husband, Eric, always helps whenever he can. "Eric has done everything from helping me retile our Ariel bathroom to installing light fixtures," she said.
Kelsey's favorite room in her house is the Cinderella master bedroom. "It's the most recent space I have decorated and it is one of the most magical rooms in our home. I found antique furniture and painted it all to look straight out of Cinderella. I also added a bubble wall and the entire room is very dreamy," said Kelsey.
The dining room has a Beauty and the Beast theme.
One of the bathrooms has an Aladdin theme, complete with a magic lamp faucet!
Her entry room has a Rapunzel theme. "My favorite piece that I have made would have to be my Rapunzel lanterns floor lamp. I found an inexpensive floor lamp at Costco and I hand painted the lanterns myself with fabric ink."
A Lilo and Stitch theme makes up her living room.
And her other bathrooms have Alice in Wonderland and The Little Mermaid themes.
Although each room stays a particular Disney theme, Kelsey said she switches things up during the holidays. "Our living room gets a Coco makeover at Halloween and other rooms get a Nightmare Before Christmas theme. We do an 'Under the Sea' makeover and decorate our front yard in a Frozen theme at Christmas," she said.
"I really decorated our house for us to enjoy and it has been such an amazing experience to share it with so many people. I love to inspire others with my designs and I feel so honored to have the opportunity to showcase our home. I enjoy bringing a little bit of magic to my followers every day," Kelsey said. If you want to see more of Kelsey's home, you can follow her on TikTok and Instagram.