1.
A Pink Stuff combo pack including the magical, TikTok-beloved cleaner in both paste and spray form, so you can scrub anything from cookware to walls and bathroom fixtures to rubber shoes shiny clean. Just ~pink~ of all the icky, stained things in your home you can finally clean with this stuff!
Promising review: "WOW!!!! This stuff is amazing. I literally just have to spray it, let it sit for a few minutes, come back, and depending on what I'm using it for I either wipe it and it comes right off or I just use a scrubbing pad and it comes off. There's nothing out there that is anywhere in comparison to this product!!!! This stuff is the absolute best. I highly recommend purchasing this. I can tell you that half of my cleaning products are now going to be thrown out because all I need is The Pink Stuff 😀😀. Whoever invented this stuff is an absolute genius; if you're a clean freak like me this really is the way to go. Also it doesn't have that nasty chemical smell, it smells great. Just buy it you won't regret it." —Twin33
Get it from Amazon for $18.99.
2.
A genius paw cleaning tube you just put some water in, ask your pupper to ~paws~ at the door and let you put their yucky feetsies in, and voila — no more muddy tracks in the house!
Promising review: "Best. Thing. Ever. This product works like a charm. It gets the sand from between their pads and is gentle enough that even my most stubborn pup tolerates it! I have a terrier/Schnauzer that likes to dig, a mini Goldendoodle that's prissy about her paws, and a standard Labradoodle puppy that's still very fuzzy. We have a farm where it's extremely sandy and we stay in a travel trailer. The amount of sand they were tracking into the camper was ridiculous. Now it takes me three minutes to clean and dry off all of their paws. Seriously the best purchase I have made!" —Rachel
Get it from Amazon for $12.99+ (available in three sizes, with or without a lid, and in six colors).
3.
A 20-pack of multi-surface eraser sponges that may not be the name brand, but do not mess around when it comes to messes. Like in the pics below, I imagine the sponge saying (if sponges could talk, that is) "Ha! You call yourself PERMANENT marker? We'll see about that."
Promising review: "Got kids or a messy spouse? You need these! I go through a lot of Mr. Clean erasers, so much that it was easier to cut them in half first because the centers are always the first to go. Then when I found this magnificent pack, I had to try it and I'm glad I did. They are smaller and fit my hand better but also thicker. They seem to work better with less effort which is awesome! Worked great on a Crystal Light counter stain, a bathroom rust ring, a drain circle, and scuff marks on sinks, crayons on walls, Sharpie on binder, a ring around the door knob from greasy mechanic hands on my new unpainted white door, and even the spot high up on the wall next to the toilet where one would lean his hand because it might get out of control if he doesn't have that extra stability? Anyway you get the point; they are awesome." —Sherry
Get 20 sponges from Amazon for $12.95 (or $12.30 with the Subscribe & Save option).
4.
Pumie Toilet Bowl Ring Remover, aka a pumice stone with a handy handle sure to produce results that'll bowl you over, even if the rest of your fam is terrible about cleaning the toilet consistently.
It's great for hard water marks in the tub, too!
Promising review: "We rented a home and the toilets were disgusting. The picture above is after just five minutes with the stone. I had tried bleach, every toilet bowl cleaner available, and countless hours of scrubbing to no avail, but this stone worked instantly! I will be buying several more! The stone does dissolve when scrubbing so you need a couple. I was able to completely do almost two toilets that looked awful with one stone!" —CristaCross
Get it from Amazon for $11.20 (or $10.64 with the Subscribe & Save option).
5.
A reusable watermark remover cloth that also works wonders on heat marks and other little stains on wood surfaces, because we've all forgotten to use a coaster or put a hot plate on our table without thinking (or have relatives who forget regularly 🙃). Turns out those stains aren't a lost cause after all.
Promising review: "Surprised. This actually works. It won't work instantly, you have to be patient. I had bright white huge water spots from a can of soda left on a mahogany table. Nothing worked. Definitely had to put some elbow grease into it but after about 20 minutes, the stain faded significantly. If you didn't know it was there you wouldn't even notice it anymore. It's not completely gone, but it saves the table. I'll work on it some more and see if I can get the rest out tomorrow but as of tonight I'm extremely pleased as I thought this table was going to have to be refinished." —Leyden-Mom
Get it from Amazon for $8.28.
6.
A possibly magical wine stain remover capable of saving you from the effects of your roommate's clumsier moments. Pinot more clothing and carpeting casualties after a boozy night in (or out).
Promising review: "Totally impressed! The unassuming generic packaging and label left me a bit skeptical, but this stuff is almost as exciting as the wine I spilled! This Cabernet stain sat on my ivory faux-fur blanket for over a month before I tried this product. Completely gone in one try! Get this. Seriously. You won't be disappointed." —PersianTess
Get it from Amazon for $10.34.
7.
A multi-surface pet stain and odor eliminator that over 13,500 people (and presumably their furry friends) swear by. Because even the goodest boys and girls sometimes make messes, and you'll want to have this on hand (er, paw) when they do so it can be like it never happened.
This stuff is from a family-run small business, and you can use it on floors, clothes, carpets, furniture, and pretty much anything else. Check out BuzzFeed's full write-up on Rocco & Roxie stain remover.
Promising review: "This is magic! These pics were taken over the course of about 35 minutes. These are year old stains! I'm sold." —Joshua Hurston Hall
Get it from Amazon for $19.97 (or $18.97 with the Subscribe & Save option).
8.
Or Sunny & Honey Carpet Miracle, a cruelty-free formula you can use in most any carpet cleaning machine to battle stains made by humans and pets alike. Your dog and toddler aren't the only ones who sometimes have accidents, though yours are less the bathroom variety and more the spilling-a-full-glass-of-Merlot variety.

It's from a family-run small business that specializes in cleaning products, especially ones for homes with pets!
Promising review: "Worth every penny. I've bought this product so many times now I have it on autoship! Saw the reviews and figured I'd give it a try. My cat likes to pee over the litter box and stained the brand new carpet. I used this in my Bissell and it took all the stain and smell out!!! I'll never use another cleaner." —Wendy
Get it from Amazon for $19.97 (or $18.97 with the Subscribe & Save option).
9.
An incredible natural stain remover that refuses to half-ass its tasks. It won't settle for just preventing a stain from being noticeable — it'll make you question whether the stain was ever really there to begin with. Whether it's food, dirt, or bodily fluids, this stuff is up to the task.

Promising review: "My son came home from daycare with dark red/purple stains on his clothing. They had hours to set into the fabric. We sprayed Puracy on the stains (see picture of them soaking) and let it sit overnight. The next morning we washed the shirt as usual. The next picture is my son wearing the shirt…stains 100% gone. I am in disbelief. This product is amazing!" —Will
Get it from Amazon for $9.99 (or $9.49 with the Subscribe & Save option).
10.
A strong scraper, because while your S.O. remains convinced that the key to washing a crusty pan is letting it "soak" (aka abandoning it in the sink for 24–48 hours), you know better. These babies have the right ~skills~ to ~let~ you get every last piece of  caked-on grease and grub off your beloved cast-iron skillet (and other cookware too).
They've got over 4,000 positive reviews!!!
Promising review: "I have been told I cackle wildly when using these. Where there used to be frustration and curse words, there is now glee and sweet satisfaction. Scraping pans, tins, and tray sheets has become a breeze since I bought these. Originally bought for my cast-irons, but the other cookware wanted in on that nonscratch, sweet sweet scrape action." —Amazon Customer
Get a set of two from Amazon for $4.49.
11.
A set of drawer organizers that'll basically FORCE your partner and kids (and yes, you too) to fold their socks and underwear.
This set includes four organizers: one with six long pockets, one with eight square pockets, one with seven pockets big enough for bras, and one with 24 small sock pockets.
Promising review: "This is a great organizer! No matter what else is going on in my life, at least my underwear drawer gives me the (false) sense that I have it all figured out. This organizer was just what I was looking for. The material is malleable, which makes it much easier to get in and out of my drawer, and it's also very easy to clean. I've been using it for five months now and haven't had an issue with wear and tear at all." —NAD
Get a set of four from Amazon for $15.97 (available in seven colors).
12.
A 100% natural oven scrub made with eucalyptus, peppermint, lemon, and tea tree essential oils that's ready to work oh so satisfying cleaning miracles on all the gunk and residue that are the only downsides of all the yummy meals your family has been prepping lately.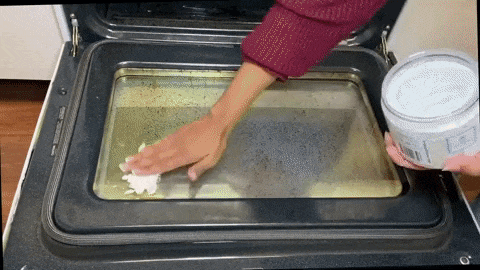 It's from a small cleaning product biz based in Fairfield, Connecticut.
Promising review: "I couldn't believe how clean it got our oven in just a few scrubs with this stuff! It looks brand-new!" —Philip Romanowski
Get it from Everneat on Etsy for $19.99+ (available in two packaging options).
13.
A small-but-mighty pet hair scraper for a targeted way to de-fuzz areas big and small. Just look at that cat, sitting on the rug while their hoomin cleans it — like they don't even care that they leave such furry havoc in their wake.

Promising review: "My family drove from Wisconsin to Washington with our yellow Lab. I didn't think my van would ever be the same again. I bought this tool and was super skeptical, but I was desperate. THIS TOOL LEFT ME SPEECHLESS!!!! After finishing (it did take a bit of time, the tool is small) my floors and seats of my van look BRAND-NEW!!! I would pay triple the amount I paid for this tool. I've never seen anything like it! We own a pretty heavy duty shop vacuum and it didn't even scratch the surface. We also tried every type of pet/lint roller we could find and nothing came close. This tool will blow your mind! After cleaning out our van, I immediately messaged all friends and family with pets (yes, it really is that good!). Don't waste any more time or money on other products. This simple tool will do a better job than you could ever imagine! A MUST-own for any pet owner!" —Amazon Customer

Get it from Amazon for $12.