We all know that cleaning the toilet is a necessary-but-disgusting task. But can we also talk about how the worst part has to be knowing that the brush you just used to scrub all the you-know-what out of your commode is just going to sit in your bathroom until it's time for it to do its ~doodie~ again?
That's where the Clorox ToiletWand disposable toilet cleaning system comes in. It's got a handle and a caddy that can be used over and over like a traditional brush, but — and here's the genius part — it's got a disposable, single-use sponge filled with cleaner on the end. Once you've done the dirty work, all you gotta do is slide the switch on the handle to drop the used head in the trash.
The sponges themselves are also smartly designed. The flat end means you can cover more surface area as you scrub, and the six edges are great for getting into every nook and cranny, including under the rim.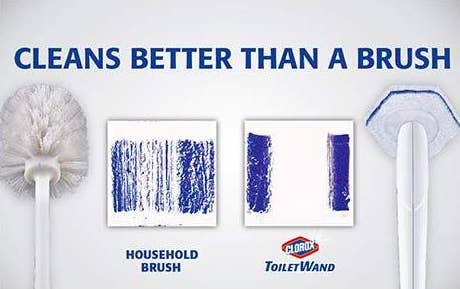 So yes, it sounds like a brilliant idea, but does it actually work for folks who've tried it? I'm glad you freakin' asked, because this product has over 1,000 positive reviews on Amazon from folks who, just like you, typically hate cleaning toilets.
And forgive me for the picture you're about to see, but I want you to truly understand what these babies can do.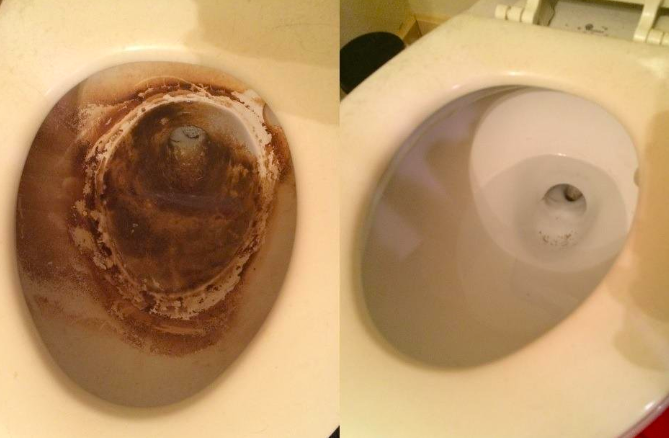 The caddy and wand are super sleek and minimal, so you won't be ashamed to have them in your bathroom. Plus, the extra refill heads can fit inside the caddy until you need them!
TL;DR, if this scrubber is making people actually EXCITED about cleaning their toilets, it's time for you to get in on that action.
Get the wand, caddy, and six refill heads from Amazon for $7.99. You can also get a pack of 30 refill heads from Amazon for $11.99.
Flushing away every last bit of grime like:
Shopping for something specific? Check out BuzzFeed Reviews to find the best things for every budget!