1.
Unbelievable stainless steel cleaning wipes for anyone whose appliances are so stained, they're considering buying new ones. Do yourself a favor and try these wonders out before you do.
Promising review: "If it was possible to give 10 stars, this product is definitely worth the 10 stars. I originally bought this in the store and was most impressed by how well it cleaned the refrigerator from all finger and water marks. But then I ran out and could not find it at the store and and bought expensive spray that was horrible. Got online and found my product of wipes again! My friend came over and said, 'what in the world did you clean your refrigerator with because it looks brand-new?!' It is the best product I have ever used on my refrigerator and stove! Just wipe down and let it sink in, then wipe over with a clean soft towel (etc.) for a polished shinny look! IT IS MARVELOUS! I SAY MARVELOUS! Don't bother with sprays! I bought two containers so that I will not run out for a long time!" —Roie
Get a two-pack from Amazon for $13.05.
2.
A clever velvet slip cover set in case you'd like to get a new couch without actually, uh, getting a new couch. Forget paying for reupholstering or all new furniture — this stretchy wonder can cover up damage *and* give your space a whole new look.
The set comes with a couch/armchair cover plus 1–3 cushion covers (depending on selected size).
Promising review: "Very nice. It does not slip at all! My husband, 7-year-old, and I am constantly on and off the couch all week and it has stayed in place. I did not even attach the straps! Very soft. Made our old furniture look new!" —Kim Davies
Get it from Amazon for $31.49+ (available in five sizes and 10 colors).
3.
Howard Feed-N-Wax Wood Polish and Conditioner, a beeswax and orange oil formula that's basically like a spa treatment for your wood surfaces. In addition to polishing, it adds a protective layer and helps prevent the wood from drying out or fading, so it's time to cue a rom-com makeover montage for your cabinet doors.

Promising review: "Wow, wow, wow! I love everything about using this product but holy moly, the result is awesomely breathtaking. There's no explaining how the polish wakes up the wood grain to a natural shine. It's worth every cent. I even ordered a bottle for my cousin. I know. Weird gift, huh? Well, his hobby is repairing and reigniting old, throwaway wood clocks. I can never figure out what to give him. Today, I was polishing my grandfather's clock with this product and ogling over it when it hit me. There's hardly any elbow grease involved; just follow the directions and presto! m.a.g.i.c. ;)" —Beje
Get it from Amazon for $10.09.
4.
Mr. Clean Magic Eraser sheets to work the same magic as the classic sponge version but in smaller, tighter spaces to give your home an even deeper clean.
Promising review: "I am OBSESSED. The large erasers get all crusty and crumbly after one use and I never want to keep them after one use! These you can take, use, and toss! And sometimes I cut one sheet in half if I'm cleaning a small area like the knobs on the sink etc. NEVER GOING BACK!" —R.S
Get a pack of 48 from Amazon for $14.49 (or $13.77 with the Subscribe & Save option).
BuzzFeed Shopping managing editor Mallory McInnis swears by this stuff! Here's what she has to say: "Have you ever seen the movie The Santa Clause? There's a scene where Tim Allen's character shaves away his white beard and then ~WHOOSH!~ it reappears instantaneously. That's basically my bathtub and soap scum. I've tried many products to keep it at bay, but this is the only one that has ever really worked. Not only does it have a cute dog on the packaging, it also allows me to (easily!) wipe away dastardly soap scum without having to use a lot of muscle! Which is great, because I don't exactly have a lot of muscle to use."
Get it from Amazon for $18.98+ (available with or without a spray nozzle).
6.
A Bissell sanitizing handheld steam cleaner you can use to spot-treat icky patches all over your home *or* clean larger areas. No mess is a match for it, and it's oh so satisfying to use.
It comes with three round brushes, a scraper, a grout brush, an angle concentrator, and a nozzle that allows you to add all those attachments, plus a measuring cup!
Promising review: "Makes cleaning FUN! I will admit I do like to clean. However, I don't enjoy using a toothbrush to get into corners of the bathroom, or scraping anything off the stove. I choose not to use very many chemicals either. I just couldn't wait to use this, and then I couldn't stop! Stains I had scrubbed and used cleaners on that never really got clean suddenly disappeared! I've used it in the shower, on tile floors, in corners of the bathrooms and kitchen, but the microwave blew me away! A couple of shots and it was like I had a brand-new microwave. AND I only wiped it out with a paper towel. No scrubbing necessary! No harsh fumes, just good and clean. I actually used it on my stone fireplace. I've vacuumed the stone with a brush but it still looked dusty. After an hour with the steam shot, it was dust free." —Krista Behm
Get it from Amazon for $36.04.
7.
A set of drawer organizers that basically FORCE you to fold your socks and underwear. Your mom will be so impressed next time she visits; She won't even look under the bed!!!
This set includes four organizers: one with six long pockets, one with eight square pockets, one with seven pockets big enough for bras, and one with 24 small sock pockets.
Promising review: "This is a great organizer! No matter what else is going on in my life, at least my underwear drawer gives me the (false) sense that I have it all figured out. This organizer was just what I was looking for. The material is malleable, which makes it much easier to get in and out of my drawer, and it's also very easy to clean. I've been using it for five months now and haven't had an issue with wear and tear at all." —NAD
Get a set of four from Amazon for $15.97 (available in seven colors).
8.
A simple-yet-brilliant lid organizer with adjustable dividers so you can finally, finally, FINALLY find the lid that actually fits the container you're using, instead of giving up and going with plastic wrap instead.
Promising review: "This product does exactly what it's supposed to and does it well. In under 15 minutes I took my nightmare lid drawer and turned it into a functional, convenient storage space. The dividers were simple to install and provided flexibility. Slowly but surely I am getting my tiny, chaotic kitchen under control, and this got me a huge leap closer." —S. Hawthorn
Get it from Amazon for $15.99+ (available in five sizes).
9.
Easy-Off Professional Fume-Free Max Oven Cleaner, a lemon-scented miracle that'll dissolve baked-on stains and grease you thought would be there till the year 3022.
Promising review: "WHAT WITCHCRAFT IS THIS?! Simply UNBELIEVABLE. Fume free and no gloves needed, but dissolves ANYTHING cooked on! I hadn't cleaned my oven EVER. I simply sprayed it on, shut the door overnight, and wiped it off with paper towels. You don't have to dread cleaning the oven ever again! You can use it for everyday spot cleaning and only have to let it sit for a couple of hours for minor things. I used it on a broiler pan that would not scrub clean with even steel wool. No need to scrub ever again now! My Crock-Pot leaked over the bowl and got burned on the inside heating chamber; I just sprayed, covered, and wiped in the morning. I plan on using it to clean the grill in spring, and I'm sure it will make it a breeze." —Andrew J.
Get it from Amazon for $6.57 (or $6.24 with the Subscribe & Save option).
10.
Or a 100% natural oven scrub made with eucalyptus, peppermint, lemon, and tea tree essential oils that's ready to work oh-so-satisfying cleaning miracles on baked-on messes.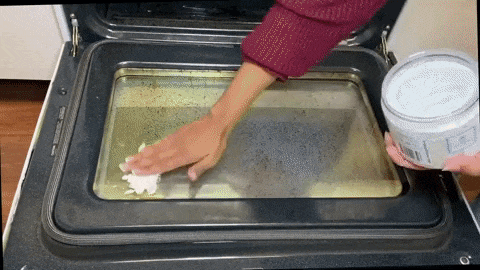 It's from a small cleaning product biz based in Fairfield, CT, and it comes with a scrubber, too!
Promising review: "I honestly didn't believe the hype. I figured it would work only with the metal scrubber, and that the stainless steel was doing all the heavy lifting. I was WRONG. This stuff works with a sponge, with nylon netting, even with a wash cloth. My appliances look better than they have in YEARS! Absolutely worth the money and definitely worth the hype!" —Saundra Mitchell
Get it from Everneat on Etsy for $19.99+ (available in two packaging options).
11.
Waterproof vacuum-sealed space-saving bags for anyone who's ever wanted to literally shrink their clutter. Pop your stuff inside and use your hose-ended vacuum cleaner to remove all the extra air, then ooh and ahh about how small your storage problems now seem.
It also comes with a travel pump, so you can use the bags for packing and reseal them when it's time to head home! Not sure which size to get? For context, the medium size claims to fit 8–10 sweaters and the jumbo size can hold up to four pillows.
Promising review: "These bags are WONDERFUL!! I have two kids and have saved a lot of their clothes because we are expecting to have more children sometime and I would love to not have to rebuy everything, but they seriously take up so much space! I recently shattered three of my bins I use to store the clothes (thanks to below freezing temperatures) and instead of buying more I bought these bags instead and I am SO glad I did. They save so much space and I love that the hand pump is included. Easy to use and doesn't take long at all even on the large bags. Directions printed on each bag so you are reminded how to use them without keeping a box or instruction manual. Thank you for a great product!" —Angela Urruita
Get a pack of five medium-size bags from Amazon for $14.99+ (available in five sizes).
12.
Miraculous Folex instant carpet spot remover, which also works on upholstery to make stains do a Houdini-level vanishing act. Plus, it's odor-free for scentsitive folks.

Promising review: "Can I give it 10 stars? I'm really disappointed I lived without this product for so long. However, I have an overpriced wool carpet that my dogs have destroyed with accidents, bully sticks, and just general recklessness. I gave up on this rug ever being clean again. I've had it professionally cleaned and tried a dozen things myself...and no difference. And so I thought I'd try this assuming that it wouldn't work on the stain-determined rug but that'd I use it on my less tenacious ones. I sprayed it on, reading the instructions saying that I didn't need to scrub it, etc. And minutes later, freaking magic. My very pale-blue-and-white rug is virginal. I admit that I did rub it in a little on the harsher stains/discoloration, but there were plenty of areas that didn't require any follow up rubbing. I'm sincerely blown away and just ordered a second bottle. The price of this product is minimal if you're looking to make your rug/carpet like new again, so I would absolutely recommend trying it. I don't think I've ever been this impressed with anything I've ever purchased. I feel cheated for not knowing about this sooner." —bubbleslovesoap
Get it from Amazon for $8.
13.
A marvelous sink cleaner to polish all sorts of sink surfaces, from porcelain to acrylic to granite, and help eliminate stains and scuffs you had been getting the ~sinking~ feeling you were just gonna have to live with.
It also creates a shiny, water-repellent surface so water will just bead off.
Promising review: "I've been looking for a cleaning product that would remove the stains from my acrylic sink without damaging the surface. I FOUND IT!! This product is unbelievable. Yes, it does require an investment of time and elbow grease, but the results were amazing. It removed stains that had been in my white acrylic sink for quite some time and left the surface squeaky clean, smooth, and shiny, without a scratch. If you have an acrylic sink, this is the product for you. I HIGHLY recommend it!! I'm going to try it on my mother's enamel sink next, and definitely intend to buy Hope's Perfect Sink again. It DOES live up to its name!!" —Beckett
Get it from Amazon for $8.34.
14.
A helpful hanger organizer, because hanging up your clothes is an obnoxious and tedious task as it is — why let tangled hangers make it worse?

Promising review: "You know, it's the simple things that can make life sweet. I ordered two of these, initially one for my daughter, and one for myself. But it is awesome. I've always struggled keeping hangers sorted and orderly, while doing large amounts of laundry. First of all, these hold a lot of hangers. Second of all, I'm a hanger snob lol, and have more than one style, hence the reason I kept both. And third, I love that I can grab them by the top and carry them from closet to laundry room; they've really helped me reduce a bit of extra work when it comes to getting the laundry done. I have lots of skeletal issues, arthritis, spine surgery, etc, etc. this makes it just a little easier for me." —Valerie Foster
Get it from Amazon for $23.53.