1.
A simple-yet-brilliant lid organizer with adjustable dividers so you can finally, finally, FINALLY find the lid that actually fits the container you're using, instead of giving up and going with plastic wrap instead.
Promising review: "This product does exactly what it's supposed to and does it well. In under 15 minutes I took my nightmare lid drawer and turned it into a functional, convenient storage space. The dividers were simple to install and provided flexibility. Slowly but surely I am getting my tiny, chaotic kitchen under control, and this got me a huge leap closer." —S. Hawthorn
Get it from Amazon for $15.99+ (available in five sizes).
2.
Goo Gone's kitchen degreaser, which, well, gets the goo gone! Which is good, because from your stove to your microwave to your counters and shelves, your cooking routine leaves a lot of surfaces gooey (same — no shame).
Look at the difference it made on the reviewer's shelf above, which used to be covered in grease!
Promising review: "Cleaned a house with a thick layer of grease on top of the cabinets over the stove. The picture is worth 1,000 words. It sprays out as a foam so I had to spread it out a bit and I let it sit. Still took a significant amount of elbow grease, but it definitely worked." —Ellen 
Get it from Amazon for $6.99.
3.
A wall-mounted mop and broom holder, because everyone will think you must have your life together if even your cleaning tools are organized.
This organizer has five clamps for holding longer items (mops, brooms, or rakes and other gardening tools) plus six collapsible hooks.
Promising review: "I absolutely love this product! I cleaned my laundry room last week and wanted to organize all my brooms, mops, and even my mini vacuum. This handled the job and then some! It can be installed in minutes and is very strong. I feel comfortable with it holding an item that's moderately heavy compared to the rest. I love the extra hooks as well." —Judyque
Get it from Amazon for $14.97.
4.
A paws-itively amazing rubber pet hair broom with a built-in squeegee designed to sweep up all that shedding (and even liquids!) like no other. I know you don't want to think about how much fur is probably caked into your carpet, but won't it be nice knowing it's all gone?
It also works for people hair, if you tend to shed everywhere (same)! Check out one BuzzFeed editor's hair broom review about using it for that very purpose.

Promising review: "LIFE CHANGER. We have two very floofy cats and I have long, thick hair, so needless to say there is a lot of shedding in our house. I could tell our vacuum wasn't quite doing the trick and I happened to stumble upon this item that looked to be the solution. WOW. First of all, it's a bit of a workout if you've got a medium-pile carpet like I do. I use short, firm strokes with the squeegee side and it pulls the hair up instantly. It's tedious work to do a whole room, but the satisfaction you get when you see all the hair makes it so worth it. Then you'll do a second pass in high-traffic areas and see how much MORE hair there is and wonder how you ever lived like that. Once you've got a nice pile, you can pick the clump of fur up by hand. I like to give it a quick vacuum after to get the dust and dirt that comes up. I haven't used it on our laminate flooring, but I'm sure that will blow me away too. This item is a complete must-have for anyone who owns a furry pet. This broom will absolutely outshine any expensive 'pet-rated' vacuum cleaner out there." —Leanna G
Get it from Amazon for $12.98 (available in five styles including a collapsible version).
5.
Easy-Off Professional Fume-Free Max Oven Cleaner, a lemon-scented miracle that'll dissolve baked-on stains and grease you thought would be there till the year 3022.
Promising review: "WHAT WITCHCRAFT IS THIS?! Simply UNBELIEVABLE. Fume free and no gloves needed, but dissolves ANYTHING cooked on! I hadn't cleaned my oven EVER. I simply sprayed it on, shut the door overnight, and wiped it off with paper towels. You don't have to dread cleaning the oven ever again! You can use it for everyday spot cleaning and only have to let it sit for a couple hours for minor things. I used it on a broiler pan that would not scrub clean with even steel wool. No need to scrub ever again now! My Crock-Pot leaked over the bowl and got burned on the inside heating chamber; I just sprayed, covered, and wiped in the morning. I plan on using it to clean the grill in spring, and I'm sure it will make it a breeze." —Andrew J.
Get it from Amazon for $6.57 (or $6.24 with the Subscribe & Save option).
6.
Or a 100% natural oven scrub made with eucalyptus, peppermint, lemon, and tea tree essential oils that's ready to work oh-so-satisfying cleaning miracles on baked-on messes.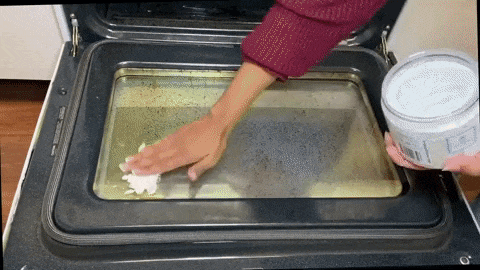 It's from a small cleaning product biz based in Fairfield, CT, and it comes with a scrubber, too!
Promising review: "I honestly didn't believe the hype. I figured it would work only with the metal scrubber, and that the stainless steel was doing all the heavy lifting. I was WRONG. This stuff works with a sponge, with nylon netting, even with a wash cloth. My appliances look better than they have in YEARS! Absolutely worth the money and definitely worth the hype!" —Saundra Mitchell
Get it from Everneat on Etsy for $19.99+ (available in two packaging options).
7.
Mr. Clean Magic Eraser sheets to work the same magic as the classic sponge version but in smaller, tighter spaces to give your home an even deeper clean.
Promising review: "I am OBSESSED. The large erasers get all crusty and crumbly after one use and I never want to keep them after one use! These you can take, use, and toss! And sometimes I cut one sheet in half if I'm cleaning a small area like the knobs on the sink etc. NEVER GOING BACK!" —R.S
Get a pack of 48 from Amazon for $14.49 (or $13.77 with the Subscribe & Save option).
8.
Waterproof vacuum-sealed space-saving bags for anyone who's ever wanted to literally shrink their clutter. Pop your stuff inside and use your hose-ended vacuum cleaner to remove all the extra air, then ooh and ahh about how small your storage problems now seem.
It also comes with a travel pump, so you can use the bags for packing and reseal them when it's time to head home! Not sure which size to get? For context, the medium size claims to fit 8–10 sweaters and the jumbo size can hold up to four pillows.
Promising review: "These bags are WONDERFUL!! I have two kids and have saved a lot of their clothes because we are expecting to have more children sometime and I would love to not have to rebuy everything, but they seriously take up so much space! I recently shattered three of my bins I use to store the clothes (thanks to below freezing temperatures) and instead of buying more I bought these bags instead and I am SO glad I did. They save so much space and I love that the hand pump is included. Easy to use and doesn't take long at all even on the large bags. Directions printed on each bag so you are reminded how to use them without keeping a box or instruction manual. Thank you for a great product!" —Angela Urruita
Get a pack of five medium-size bags from Amazon for $15.99+ (available in five sizes).
9.
A marvelous sink cleaner to polish all sorts of sink surfaces, from porcelain to acrylic to granite, and help eliminate stains and scuffs you had been getting the ~sinking~ feeling you were just gonna have to live with.
It also creates a shiny, water-repellent surface so water will just bead off.
Promising review: "I've been looking for a cleaning product that would remove the stains from my acrylic sink without damaging the surface. I FOUND IT!! This product is unbelievable. Yes, it does require an investment of time and elbow grease, but the results were amazing. It removed stains that had been in my white acrylic sink for quite some time and left the surface squeaky clean, smooth, and shiny, without a scratch. If you have an acrylic sink, this is the product for you. I HIGHLY recommend it!! I'm going to try it on my mother's enamel sink next, and definitely intend to buy Hope's Perfect Sink again. It DOES live up to its name!!" —Beckett
Get it from Amazon for $8.34.
10.
Washable microfiber mop pads that'll fit on your trusty Swiffer WetJet or similar mops so you can kick wasteful and pricey disposable pads to the curb.
One pad can last up to 100 washes and works on pretty much any surface, from wood to tile to stone.
Promising review: "I wanted to reduce waste with disposable pads and I was pleasantly surprised by these. This photo was AFTER I cleaned the floor with the disposable pad! I was able to get a super clean floor, spots were easier to clean up, and it didn't sound like it was scratching my floors. This was easy to use, didn't use more cleaner then the disposable pads, and got my floor cleaner. Definitely gonna but more if the two I got ever wear out." —Riley
Get a pack of two from Amazon for $14.95.
11.
Trusty adhesive cable clips so a tangled mess of cords won't get in your way when you're working on a project and it's coming (*extremely Haim voice*) down to the wire.
They've got over 3,000 positive reviews!
Promising review: "I needed this on my desk to keep my phone charger cord in place. My previous solution was to place a paper clip on the cord and position that between the two desk pieces. This works great for keeping my cord in place. A coworker was in town visiting my office and saw this, and said it was exactly what she needs too. I plan to use the others at home to help clean up the mess of cords behind the wall where my TV hangs. The open part (where the cord goes in) is bigger than I anticipated, so it can hold more than one cord. However, the lightning end of an iPhone cord stays in it, and the top part where you put the cords in is soft yet springy, so it's easy to get cords in and out. It's also probably smaller in diameter than a quarter, so I have it on top of my desk just out of the way of my mouse pad, and it never gets in the way." —B-Dawg's Dad
Get a set of six from Amazon for $6.96.
12.
A possibly magical wine stain remover capable of saving you from the effects of your clumsier moments. Pinot more clothing and carpeting casualties after a boozy night in (or out).
Promising review: "Totally impressed! The unassuming generic packaging and label left me a bit skeptical, but this stuff is almost as exciting as the wine I spilled! This Cabernet stain sat on my ivory faux-fur blanket for over a month before I tried this product. Completely gone in one try! Get this. Seriously. You won't be disappointed." —PersianTess
Get it from Amazon for $10.35.
13.
Amazingly affordable (I'm talking under $3) Scotch-Brite stainless steel scrubbers that'll basically pay for themselves with one very impressive use.
The reviewer above got those amazing results by using one of these in combination with Bar Keepers Friend!
Promising review: "I like to use a lot of cast-iron and stainless-steel pans. But you know what's the worst? Burnt-on oil. I bought these on Amazon because they were both cheap and well reviewed. I expected these to be tough on my hands. They weren't. I expected them to fall apart pretty quickly. They didn't. I expected to have to use a lot of scrubbing force. I don't. What did they do? They removed the burnt-on oil on my stainless steel pans and cast iron pans with a refreshing ease. You apply a little pressure and move it around, and the grease disappears. These are cheap enough not to even give another thought to. Just put them in your cart and get them." —DM
Get a three-pack from Amazon for $2.48 (or $2.36 with the Subscribe & Save option).