66 Things You'll Want To Remember From The "Orange Is The New Black" Season 2 Finale
"Always so rude, that one."
1.
The penultimate episode of Orange Is the New Black Season 2 ended with Vee (Lorraine Toussaint) clocking Red (Kate Mulgrew) in the head, and then beating the hell out of her.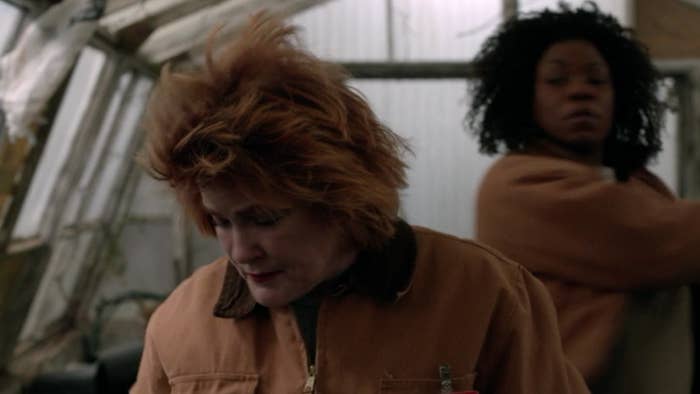 2.
That's the setup for the finale: As a result of the attack on Red, and also because one of the Golden Girls had tried to shank Vee, the episode begins with prison investigators (called SIS) coming to Litchfield to see what's up.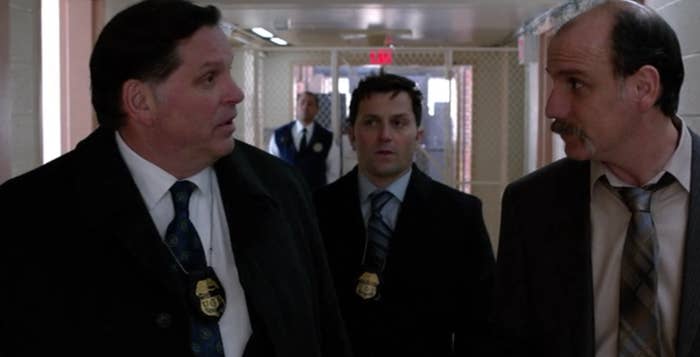 3.
Janae (Vicky Jeudy) and Black Cindy (Adrienne C. Moore) are talking about the investigation when Vee sneaks up on them.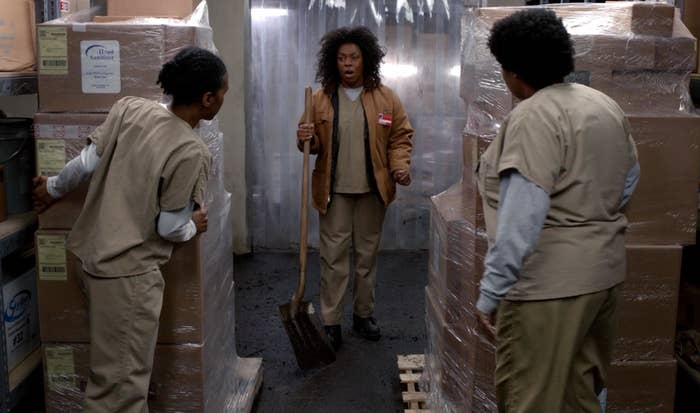 4.
Morello (Yael Stone), Nicky (Natasha Lyonne), and Miss Rosa (Barbara Rosenblat) are all saying Vee did it, though.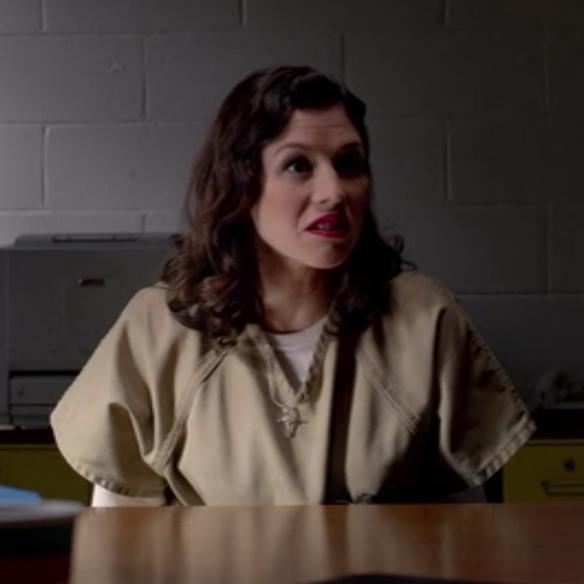 Morello tells the investigators how ugly things have gotten at Litchfield: "At least nobody was trying to kill each other. Now it's like Serbo-Croatia up in here." For her part, Nicky is in a rage about Red being hurt: "It was Vee Parker. For your official purposes."
And in a moment of foreshadowing, Miss Rosa says about Vee, "I don't like rude."
5.
But Vee was right about Red: She's not a rat.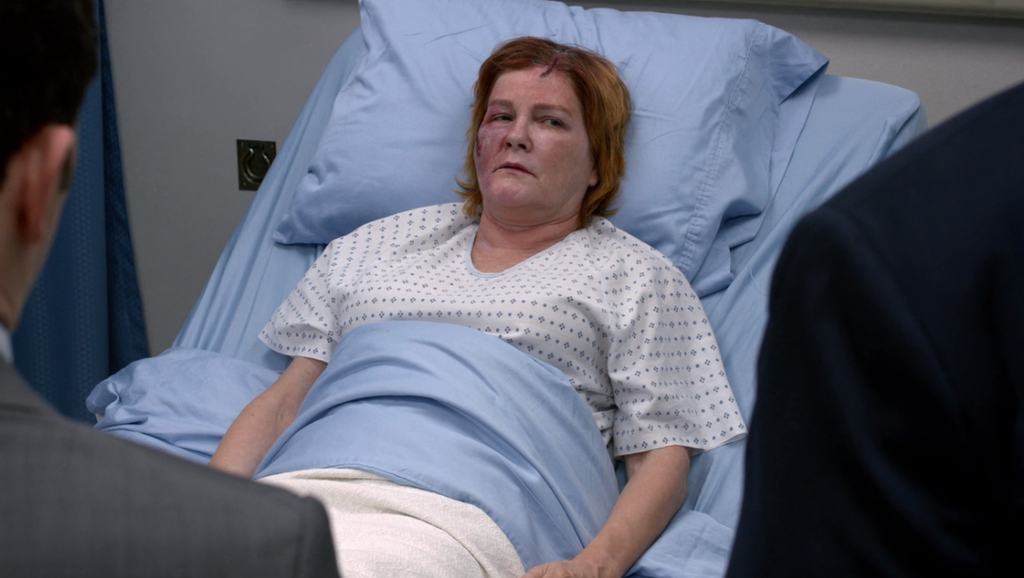 6.
Caputo goes to talk to Piper (Taylor Schilling) in the SHU.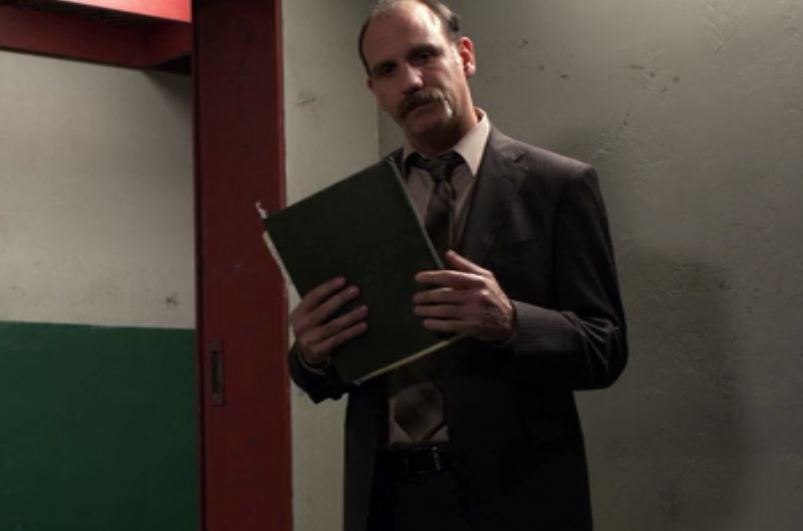 She's in there because, in the previous episode, Caputo caught her in Figueroa's office stealing files from the desk. What he wants to know now is why she was doing that: Might it benefit him? Piper, who is set to be transferred to a different prison and desperately wants to stop that from happening, sees an opportunity.
"My point is, you're a good person," she says. "And Miss Figueroa? She isn't."
Caputo asks Piper whether she thinks Fig is embezzling. "I was gonna take her out," Piper says. She tells Caputo she'll spill everything if he stops her transfer.
7.
Caputo storms into Fig's office to confront her, and is surprised to find her crying on the floor.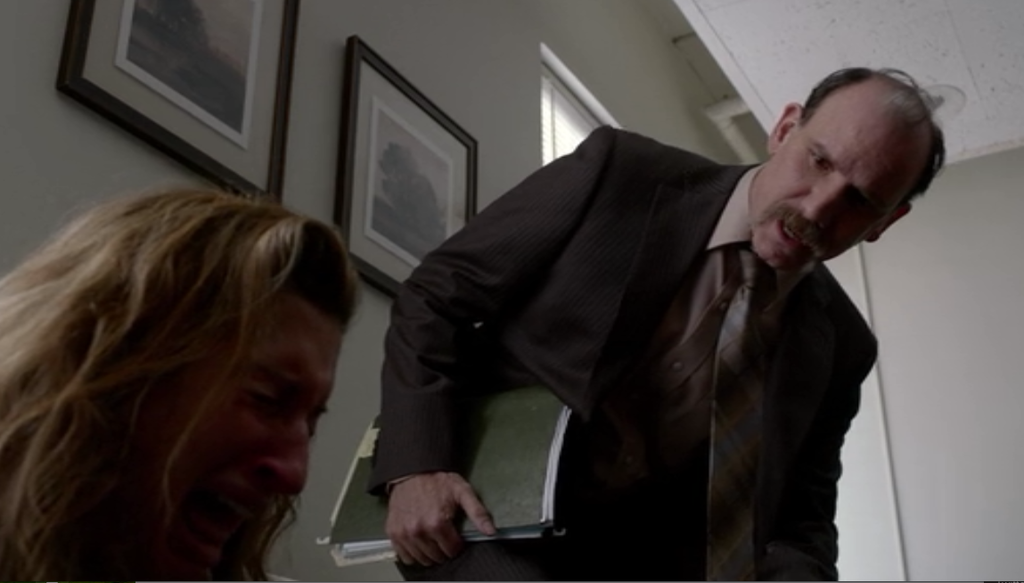 8.
He goes to leave, and then tells Fig to suck his dick. She says, "OK."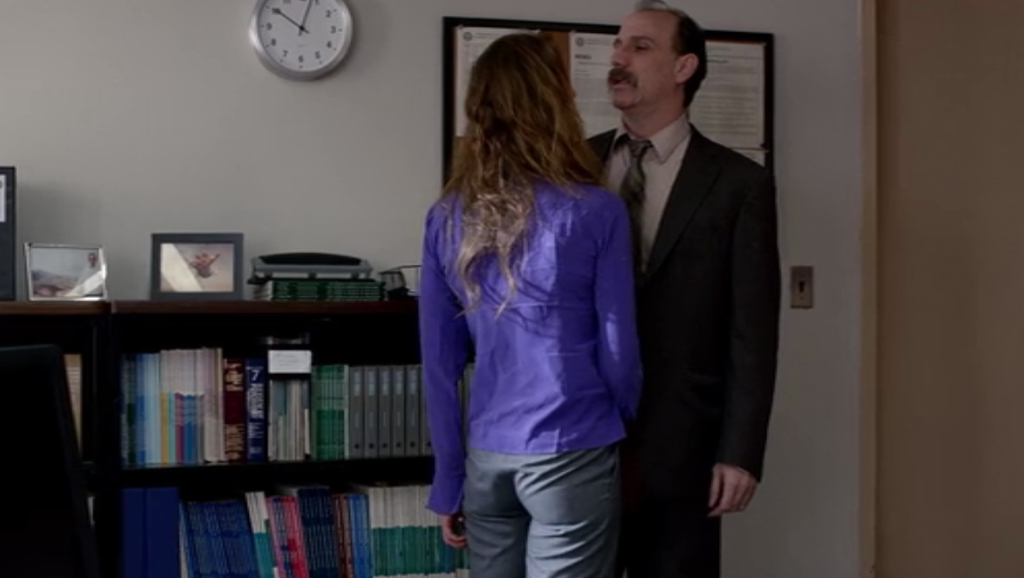 9.
Sister Ingalls (Beth Fowler) is also in the hospital; she's on a hunger strike. She and Red discuss the Vee situation.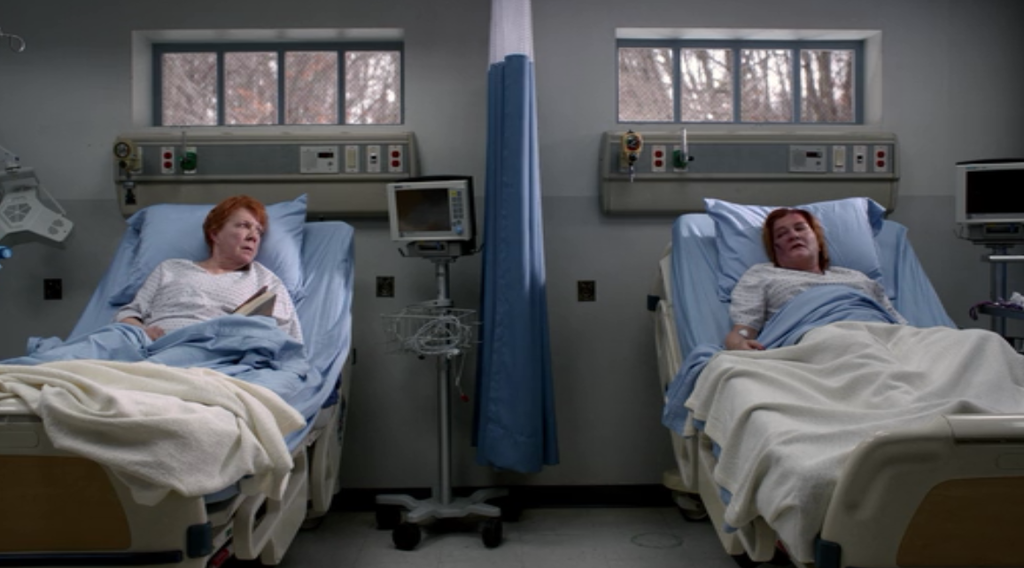 10.
Nicky is incredibly upset about Red. When Piper tries to lighten the mood by telling her that she's no longer being transferred, and that Alex is going to come visit her, Nicky loses it on Piper.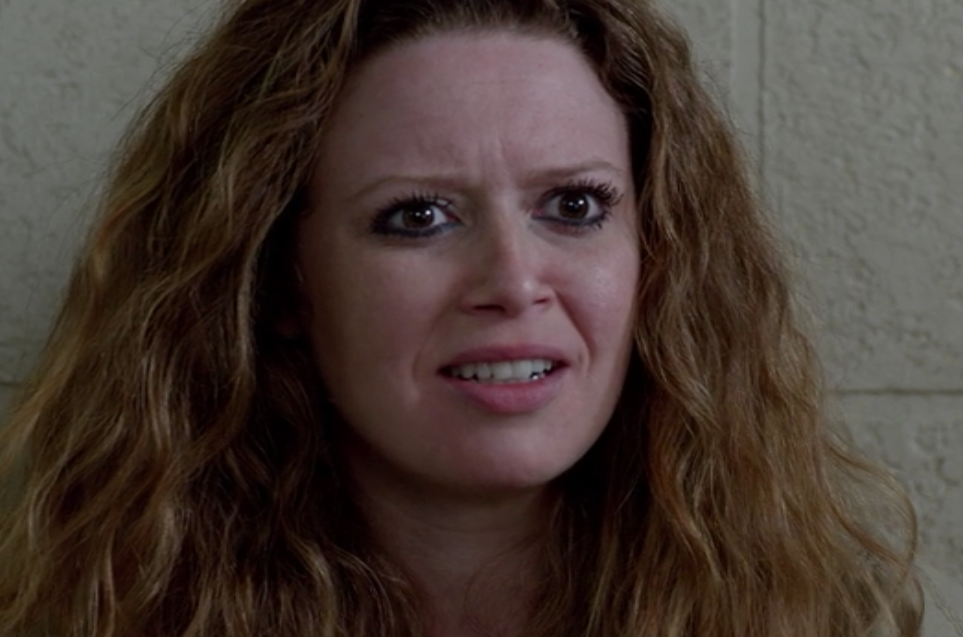 "Jesus, Chapman. You need to figure out what the fuck you want," she says. Piper apologizes for making it about her, but Nicky is furious.
11.
Ruiz (Jessica Pimentel) is crying because she was also on the transfer list, which would have meant going far from her baby. Caputo tells Bennett (Matt McGorry) that he's canceled all the transfers, and Bennett should go let her know.
12.
Taystee (Danielle Brooks) bypasses Vee's table to go sit with Poussey (Samira Wiley). Vee had successfully split them apart, but now Taystee sees who Vee is, and has gone back to her friend.
13.
Vee is watching them — until, that is, Nicky comes up and tells her, "You're an animal."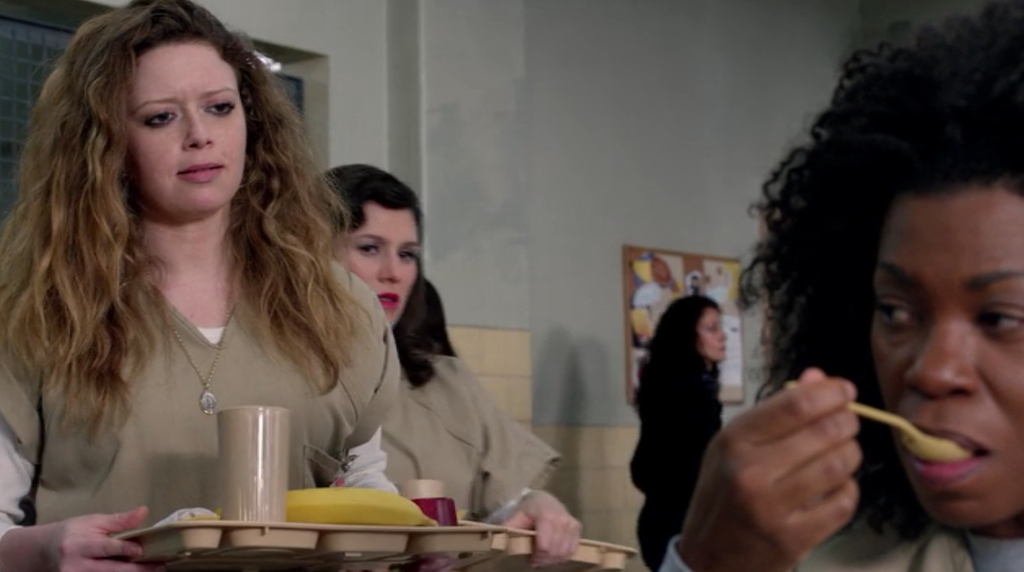 14.
No one goes to Safe Place, the support group Healy (Michael J. Harney) has tried to create.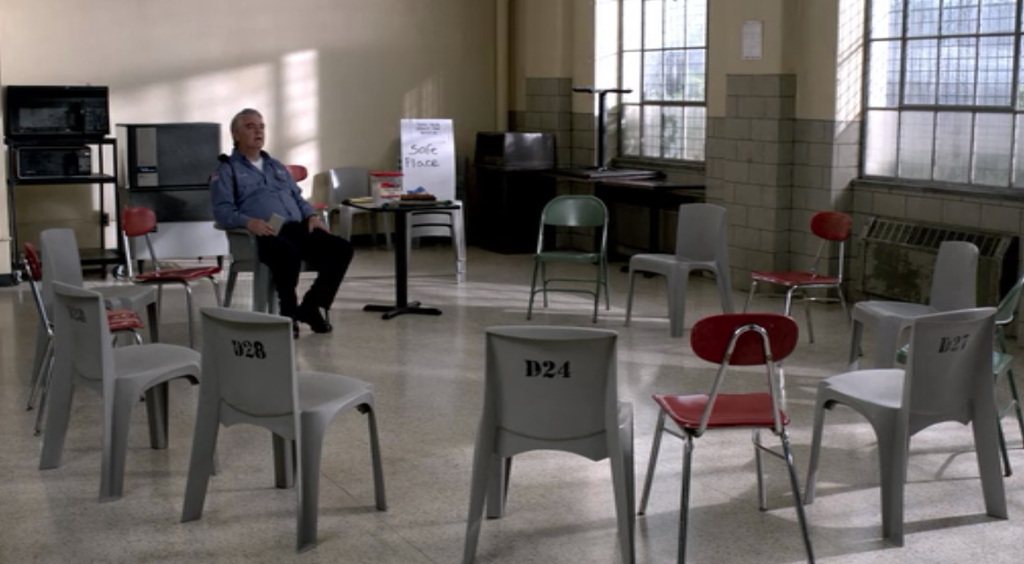 15.
Sophia (Laverne Cox) is giving Pennsatucky (Taryn Manning) a haircut while Big Boo (Lea DeLaria) tries to advise her.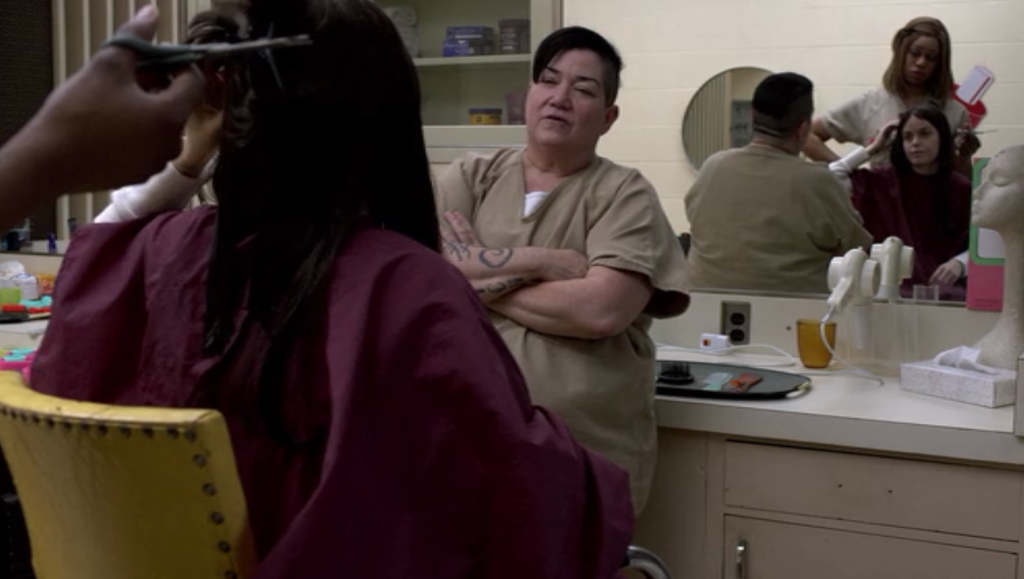 16.
Healy stops by to tell Pennsatucky — whom he's been counseling — that he's canceling Safe Place.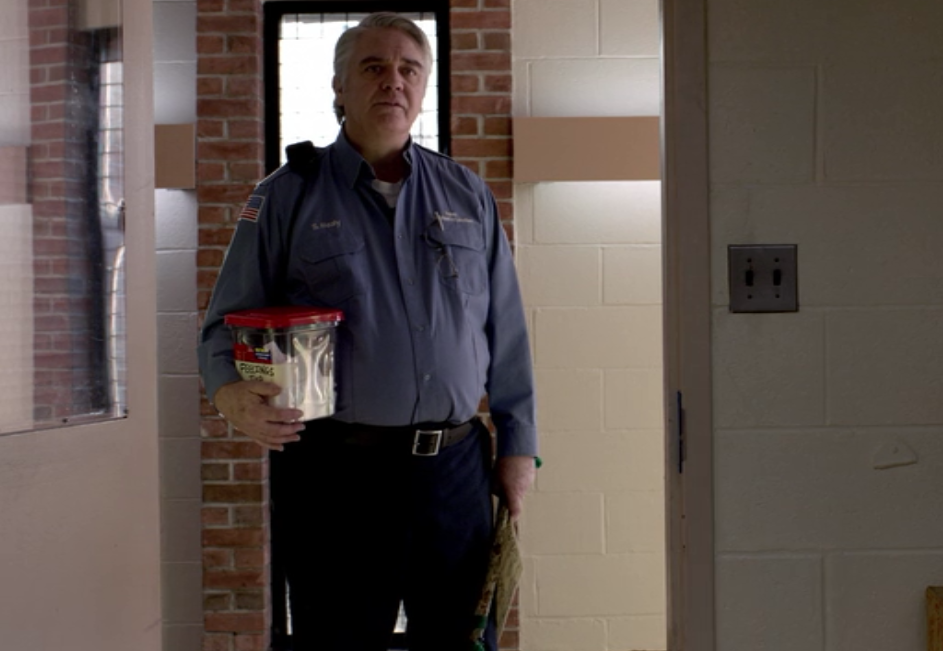 17.
O'Neill (Joel Marsh Garland) comes to Caputo's office and asks what Caputo wants to do about the nuns.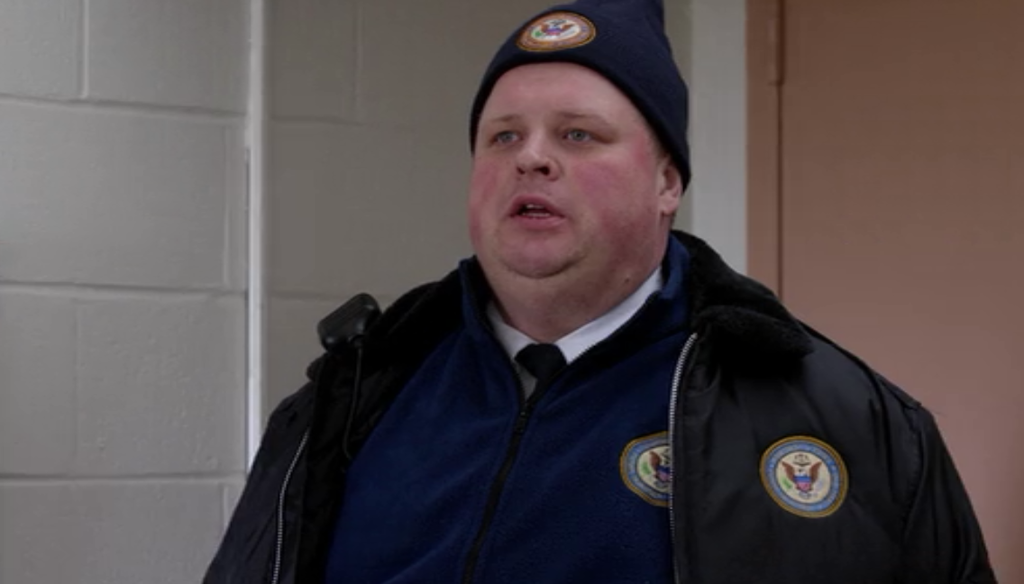 18.
They're there to support Ingalls' hunger strike. Caputo tells O'Neill to "babysit the nuns," and "if the press comes, call me."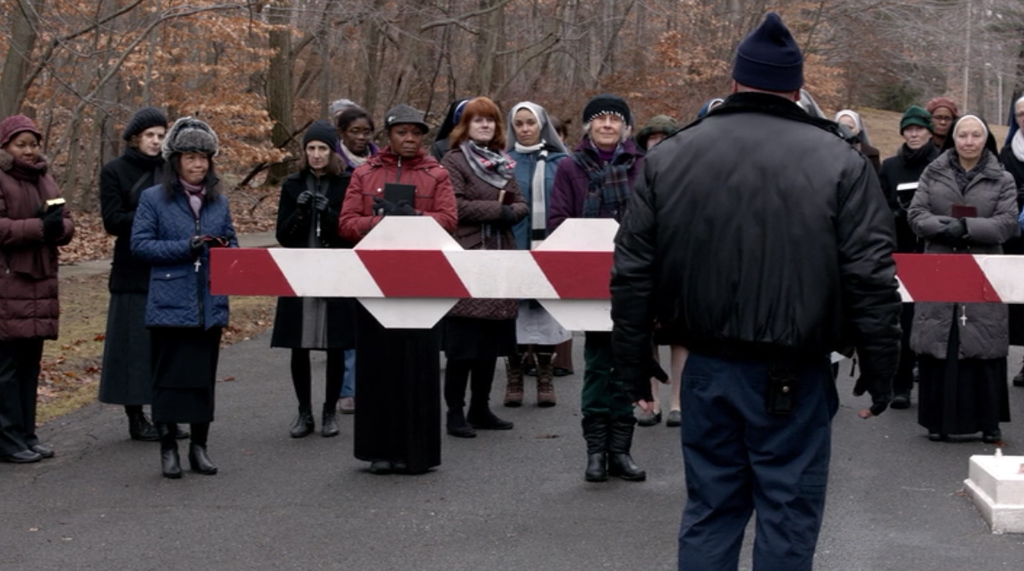 19.
Vee is trying to talk Suzanne into thinking she beat Red, and confessing to it.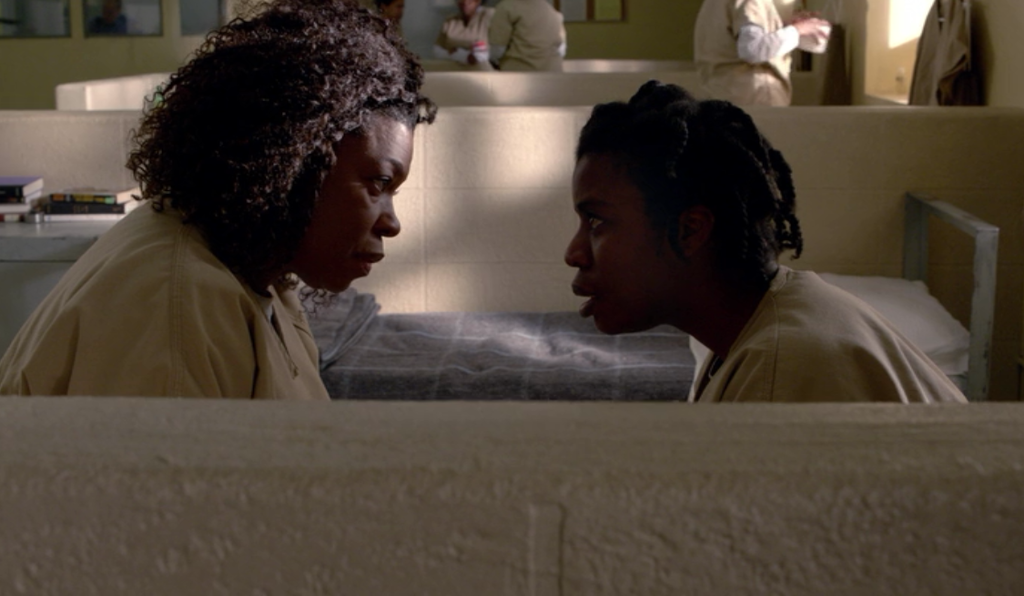 20.
Vee gives Suzanne a gift: UNO. Suzanne clutches it to her chest.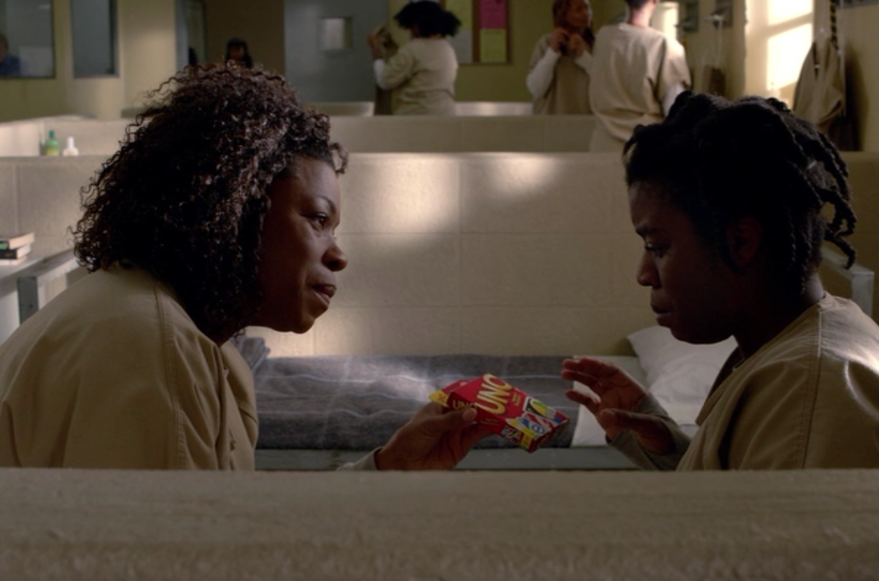 Uzo Aduba — who won an Emmy for her work in the first season of Orange Is the New Black — is so nuanced as the mentally ill, tragic Suzanne. In the dynamic with Vee, it's completely comprehensible to the viewer why Suzanne loves and needs her so much, even if it means sacrificing Suzanne's sweet side in favor of her violent impulses. But even she can't quite understand Vee's manipulation here. As much as she doubts her own version of events, she's having a hard time erasing herself for Vee.
21.
Leanne (Emma Myles) and Angie (Julie Lake) are making fun of Pennsatucky, their former friend.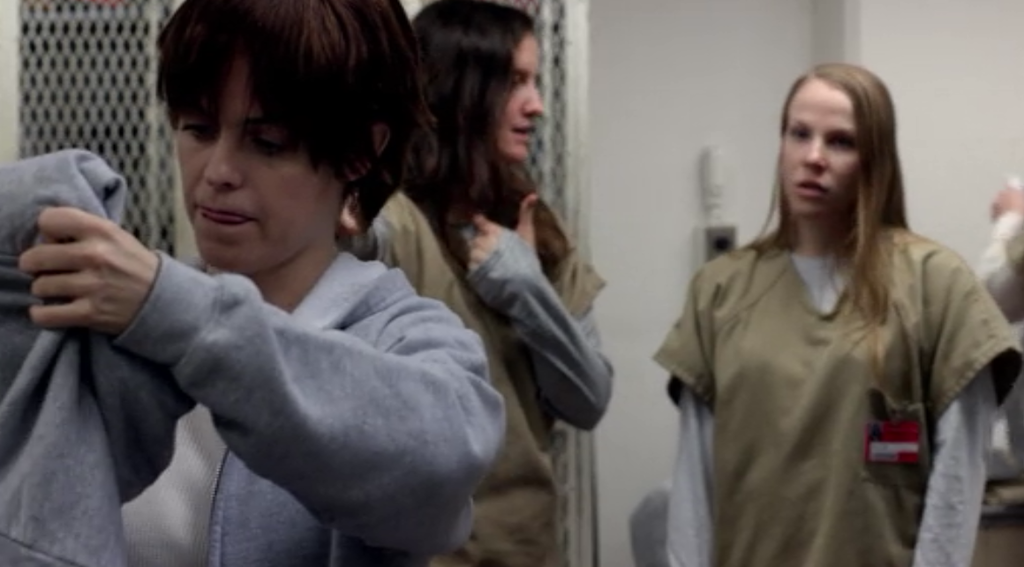 22.
Alex (Laura Prepon) comes to visit Piper!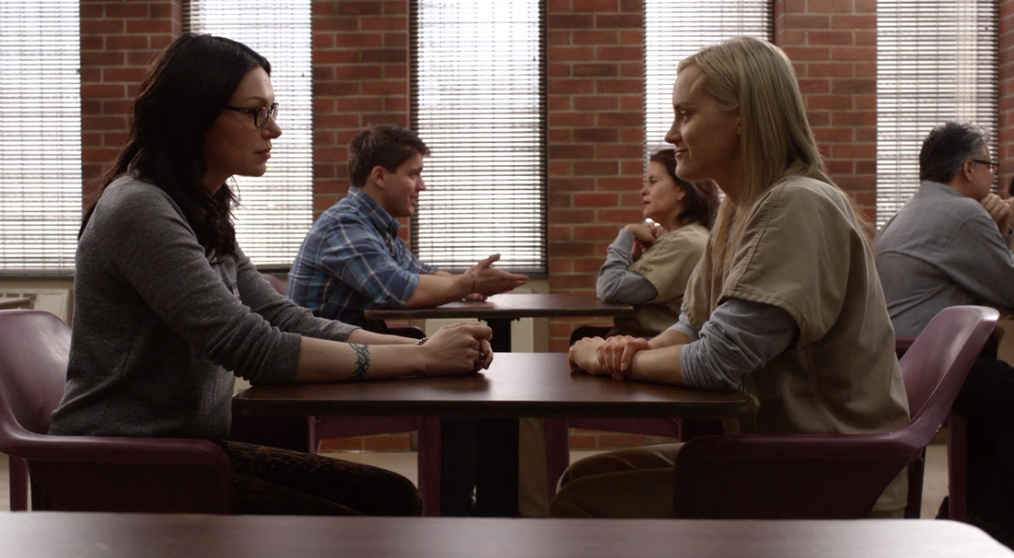 23.
Nicky calls Boo "a traitorous piece of shit" for selling Red out, and asks her to find out where Vee's stash is.
"Find your last shred of loyalty," Nicky tells Boo.
24.
Suzanne is looking for her lock, and can't find it. "I think I did it," she says about attacking Red.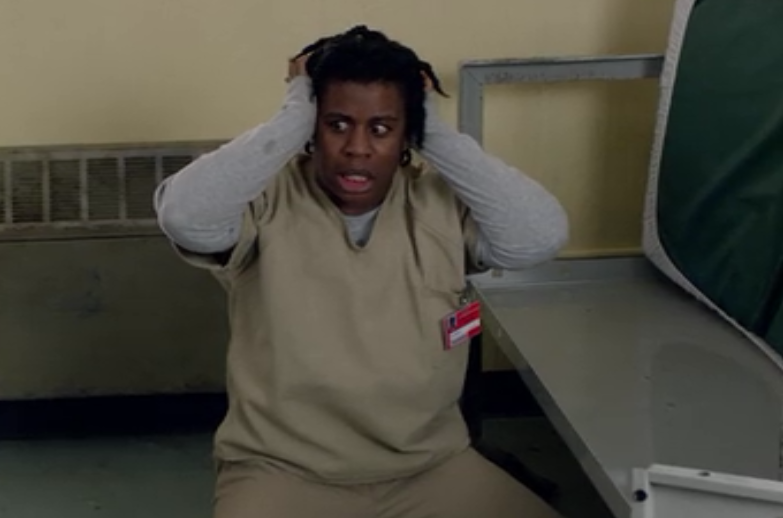 "Vee says I did it," Suzanne says to Taystee. "Yo, Suzanne, Vee is a liar," she responds. And: "That woman is evil." Which is a characterization Suzanne can't handle. "You poor crazy fool," Taystee says with real sympathy.
"I am not crazy," Suzanne says. "I am unique."
25.
Daya (Dascha Polanco) tells Bennett that after experiencing pregnancy, she no longer buys the premise of the show I Didn't Know I Was Pregnant.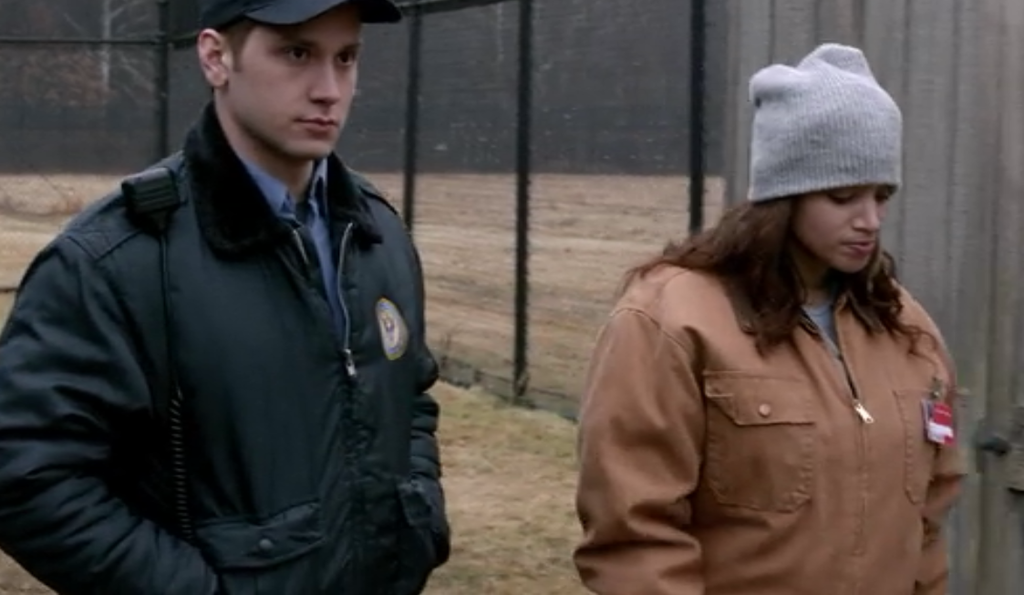 26.
Gloria (Selenis Leyva) catches Norma (Annie Golden) trying to make arsenic in order to poison Vee.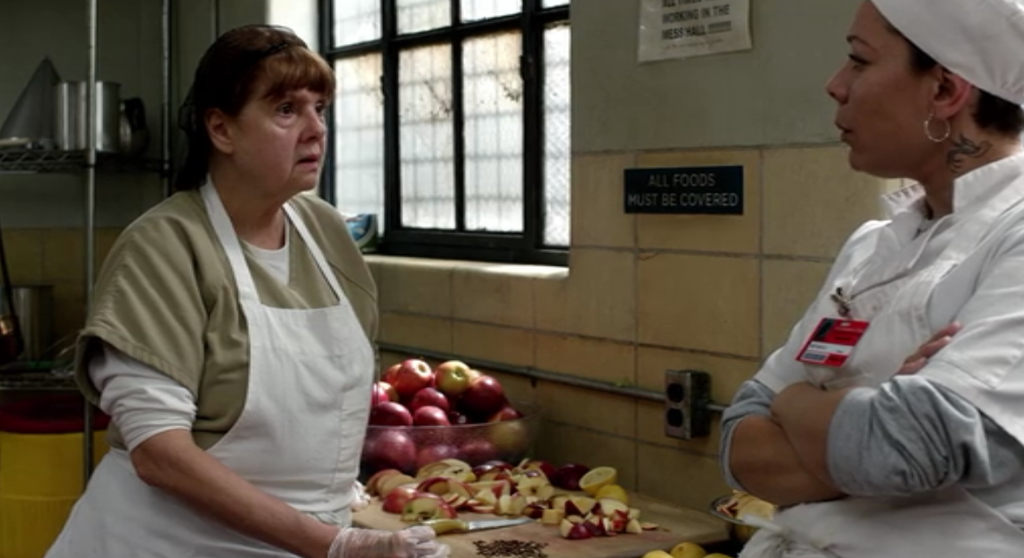 27.
Sister Ingalls sees that the nuns are outside holding a vigil to support her. "Who knew I still had juice?"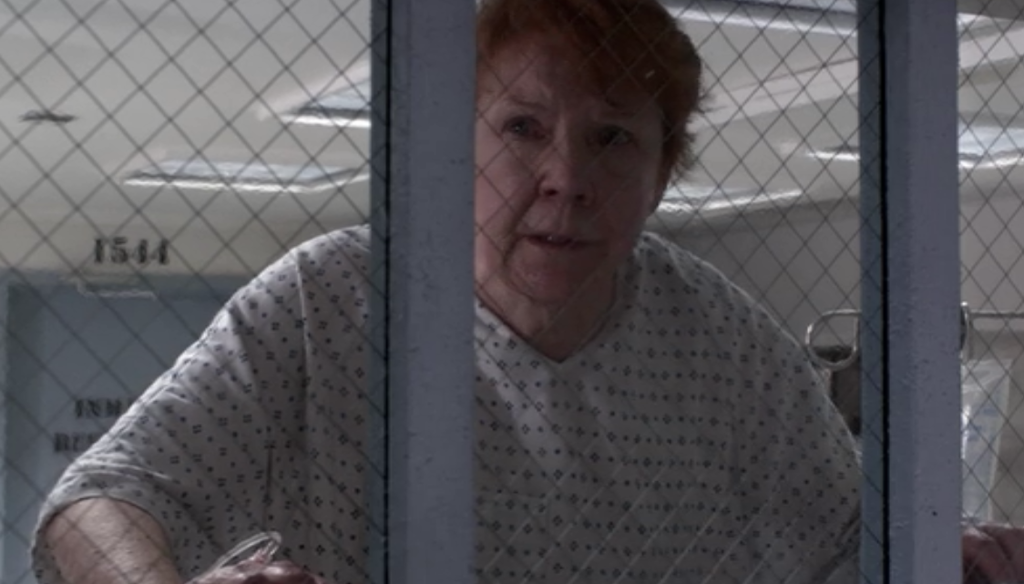 28.
Suzanne is looking at the lock: "I do not remember taking Lady Locksley out there. I do not!"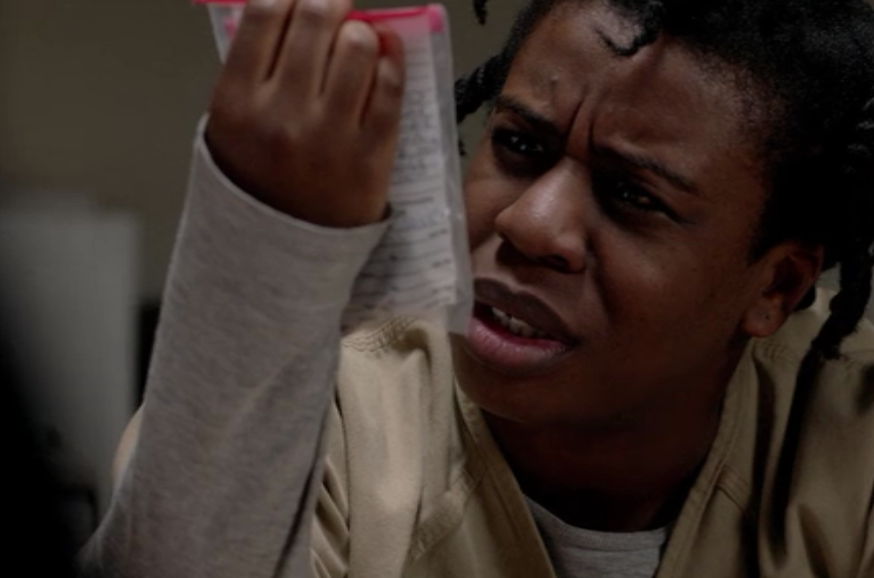 The SIS investigators are pressing her, and they mention that they know she's close to Vee. Suzanne looks proud: "She's the brains. I'm the muscle." She's making little sense. One of the SIS guys underlines "primary suspect" on his notepad.
29.
Morello is driving Miss Rosa to her doctor's appointment, talking chirpily about Toy Story.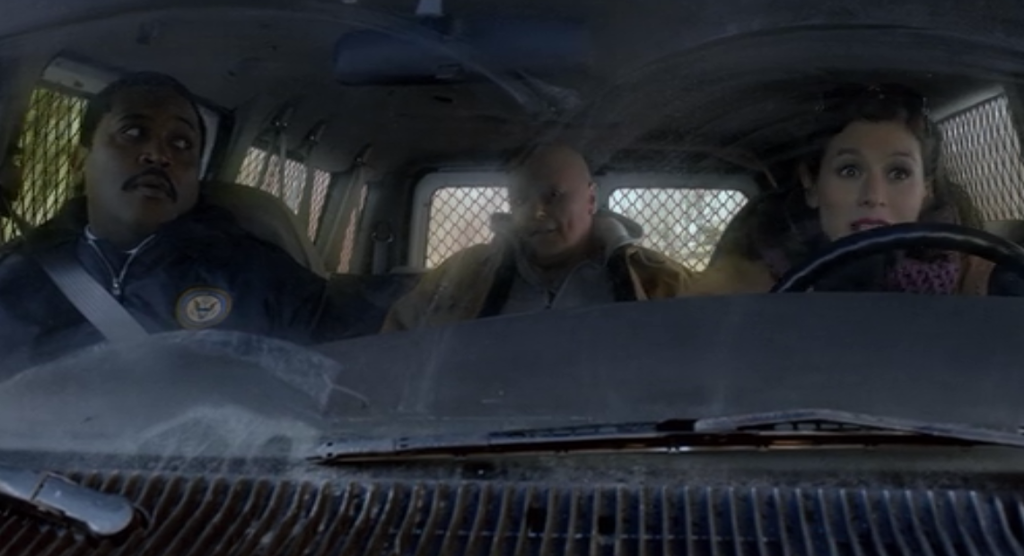 30.
Vee finds a taunting note in her bed that says her heroin has been stolen. She searches for it, and scares the hell out of Black Cindy in the process.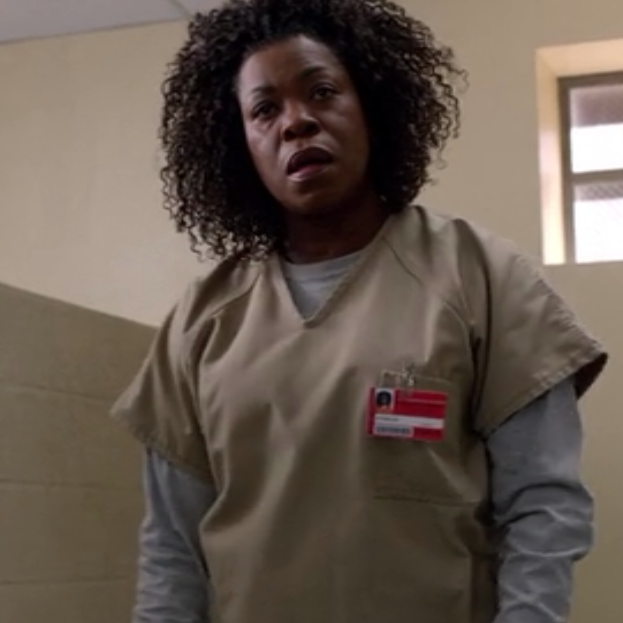 "Who the fuck has been in here?" she asks Black Cindy.
31.
A mopey Healy comes in to see Red and Ingalls; he tells Red that Suzanne is being blamed for assaulting her.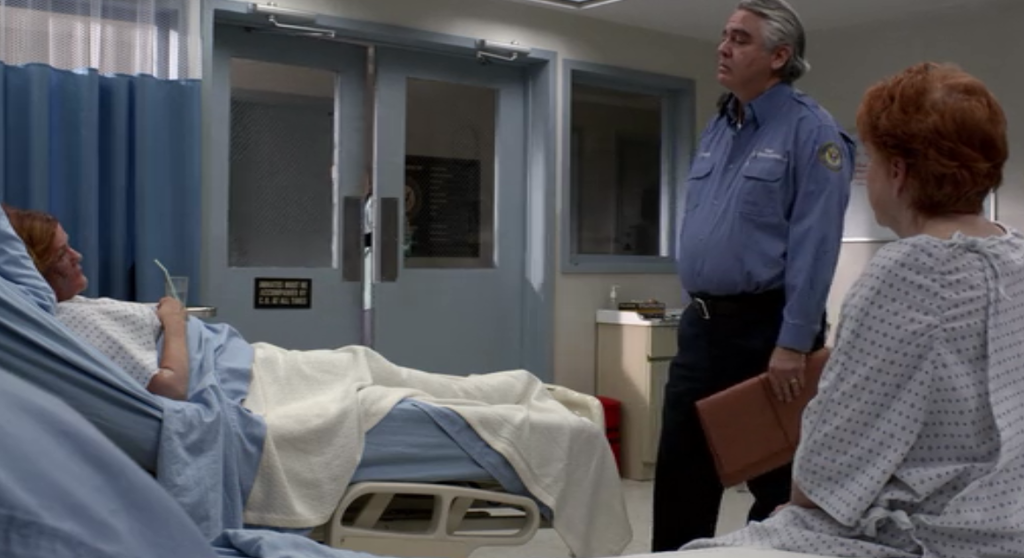 32.
Miss Rosa meets with her doctor: "Do me a favor and talk to me like you would if I was a person you loved."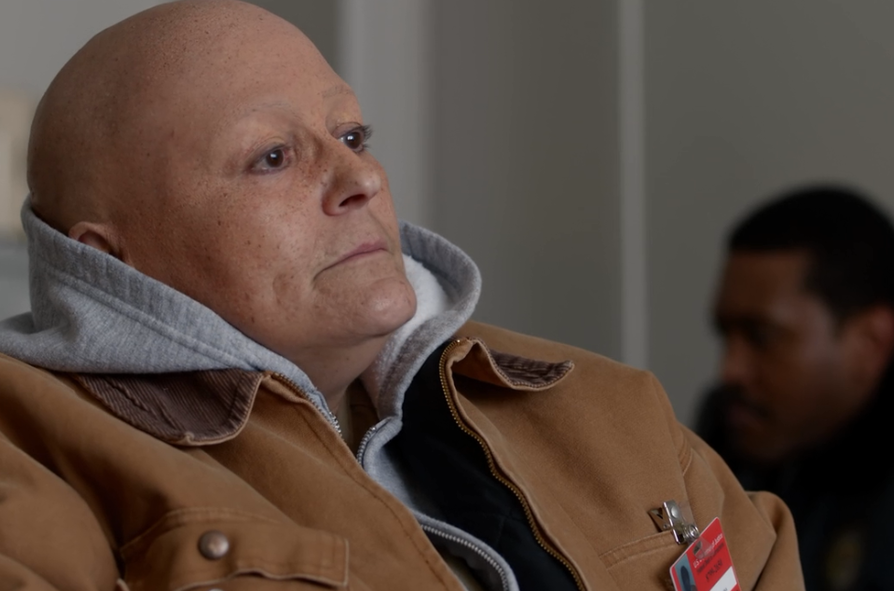 "The chemo's not working. This cancer's aggressive," he says. He tells her she has "three to six weeks" to live. "Thank you," she says simply.
33.
Ruiz's boyfriend and their daughter visit her. Everyone is happy she's not being transferred.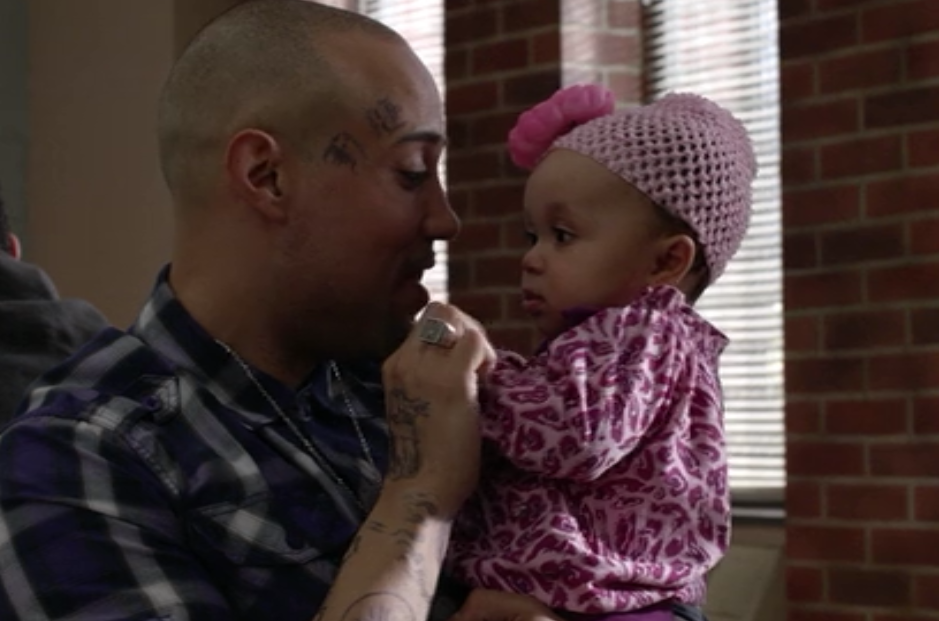 34.
And Polly (Maria Dizzia) and Larry (Jason Biggs) visit Piper and ask for her blessing.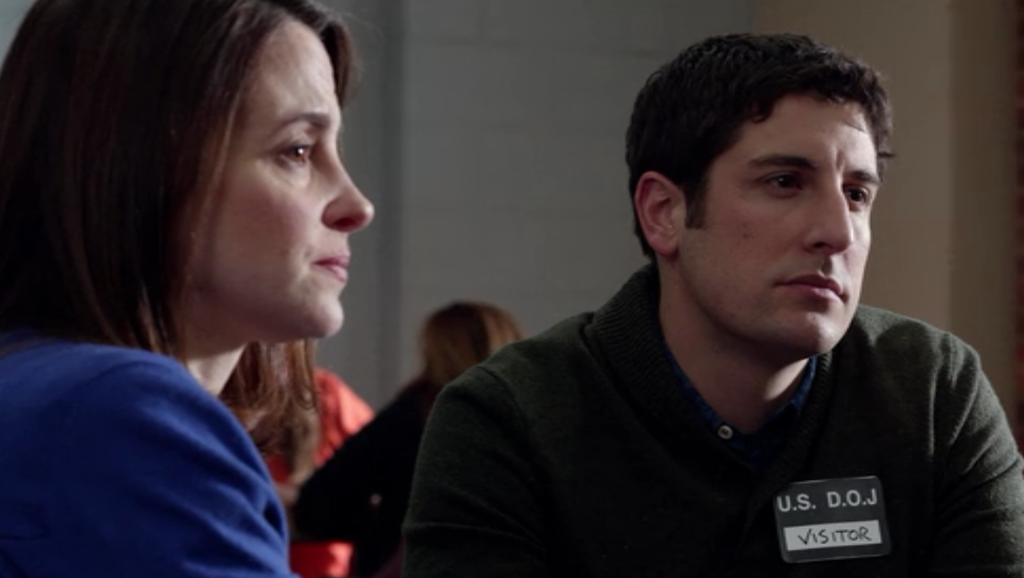 35.
Pennsatucky talks to Healy about Safe Place; he's cold to her.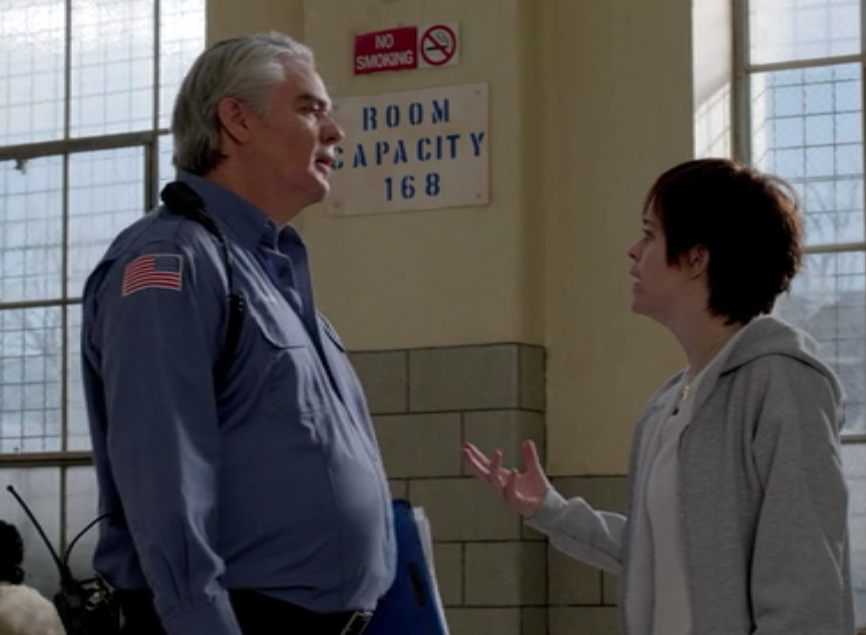 36.
Gloria and Norma make a crazy concoction — there is even dog hair in it — to "make the evil go away." Norma blows it on Vee.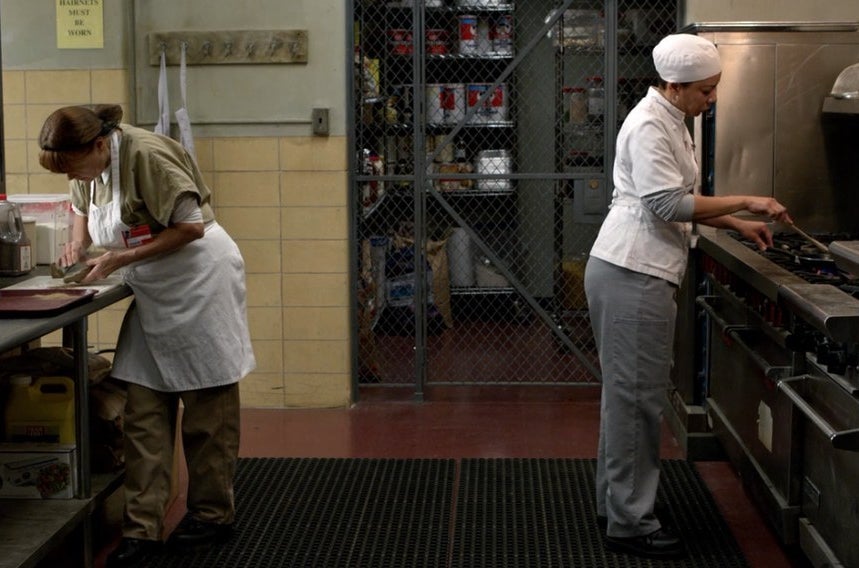 37.
Healy goes to talk to Suzanne. She now totally distrusts her own memories: "I thought I was mopping in the warehouse."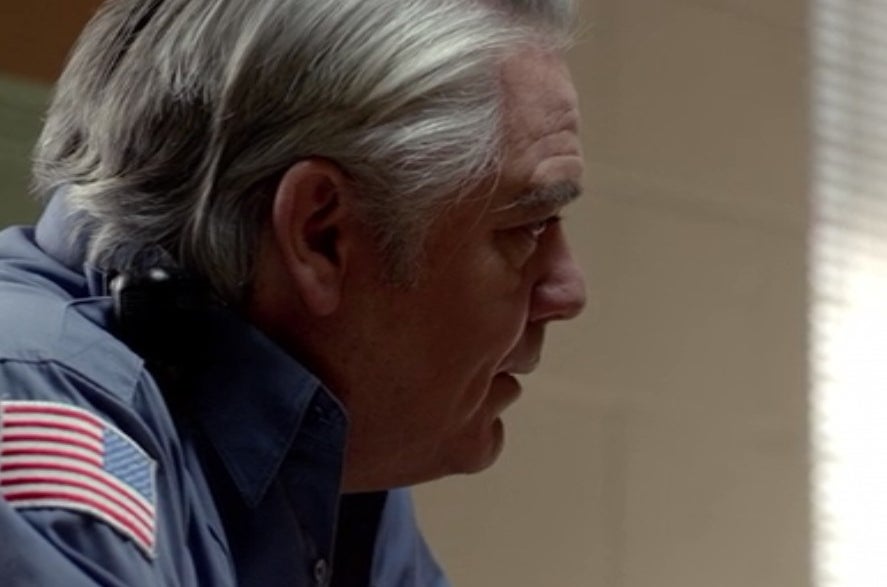 "Who can I trust?" she asks. "Yourself," he says. She laughs before asking whether Red is going to be OK.
38.
"What's going to happen to me now?" she asks. They both look grim.
39.
Fig is packing her office. But she hasn't been fired, she's resigned — because the warden doesn't want a scandal.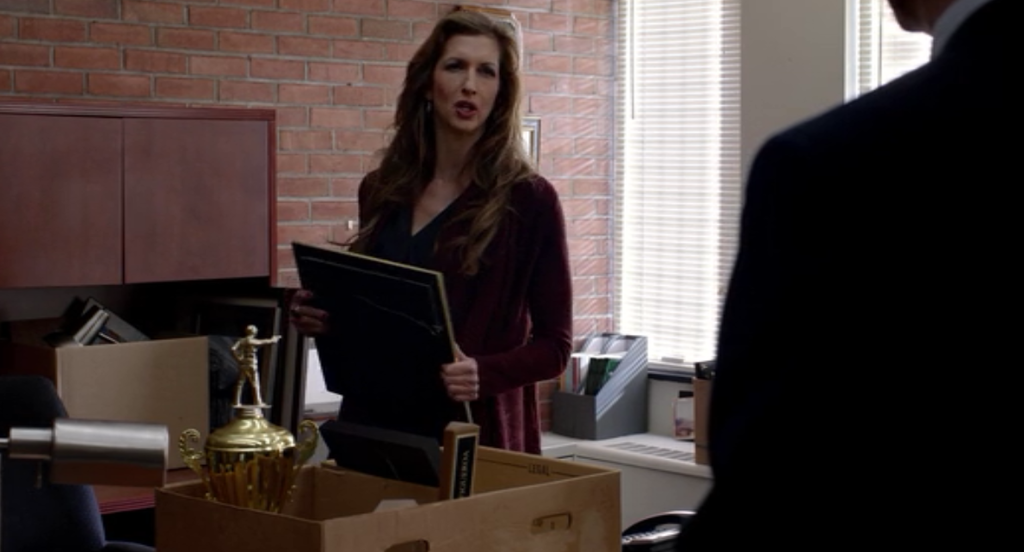 40.
After he leaves, she cries.
41.
Finally, Poussey, Taystee, Janae, and Black Cindy come together, united against Vee.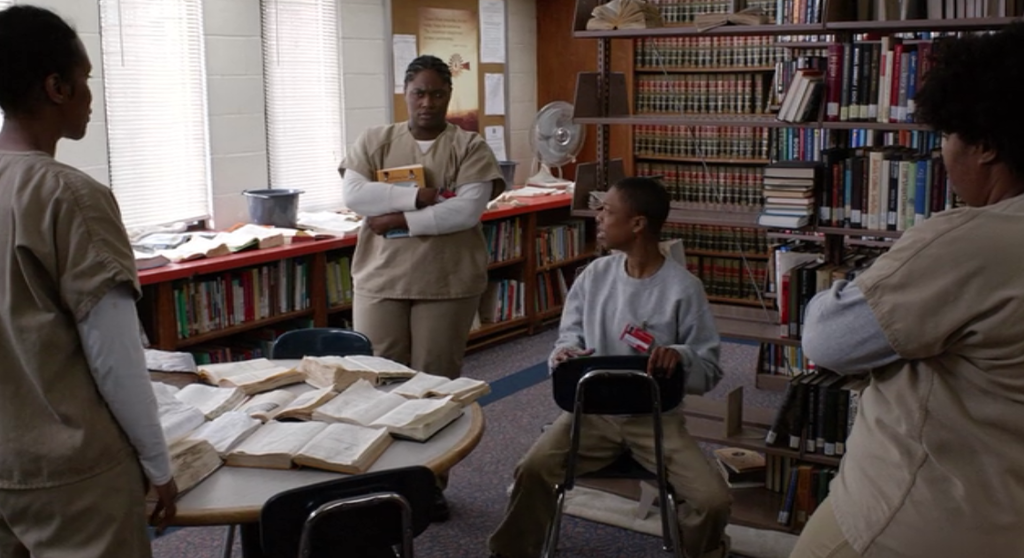 42.
Red gives Ingalls a muffin, which she is thrilled to eat.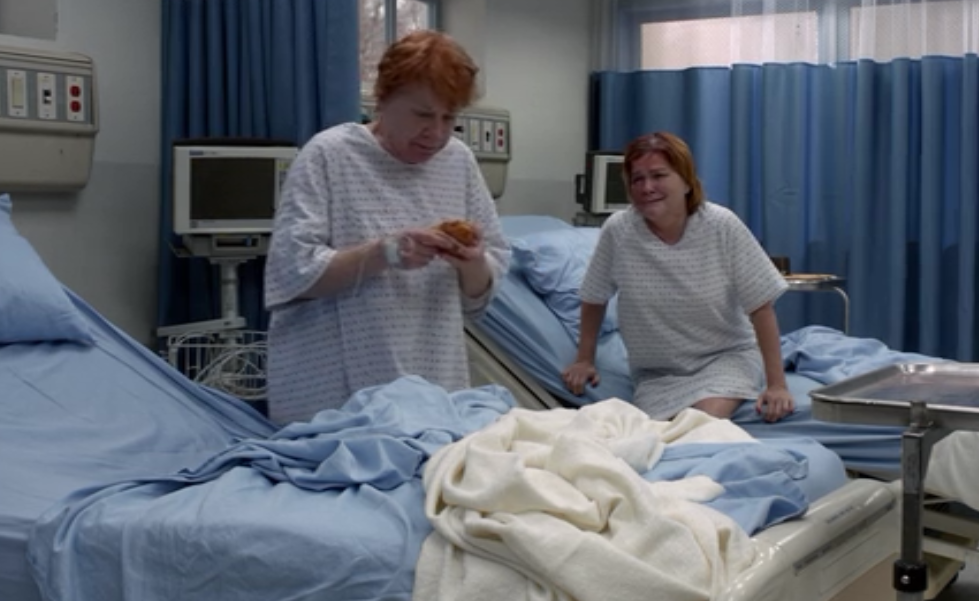 43.
Caputo tells Ingalls that she's not being transferred. (She had no idea she was going to be transferred.)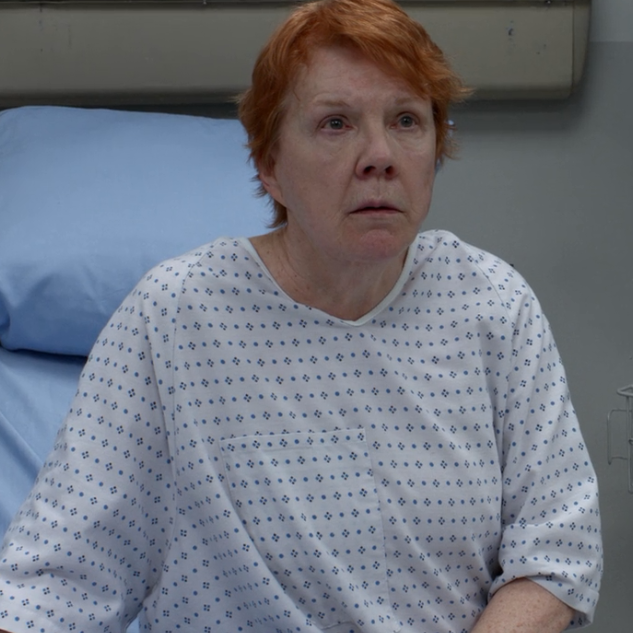 Not knowing she already broke her strike, he asks her to eat for him. "Fig is out. I'm in. Give me a win here," he says. He also gives her a muffin, which she eats. He tells her to call off the nuns.
44.
Healy asks Luschek (Matt Peters) whether he saw Suzanne during the time of Red's attack.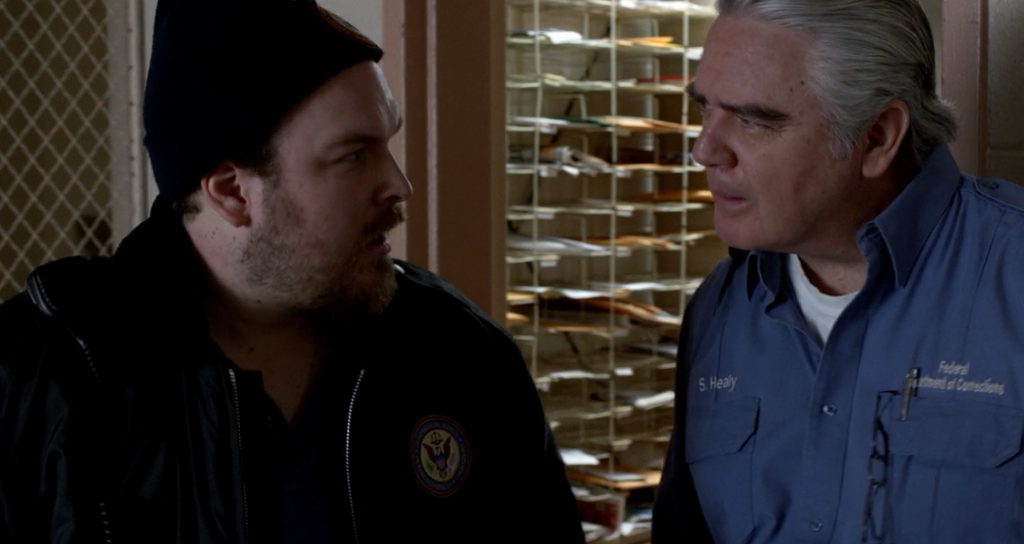 45.
Vee, half-insane by now, goes to Taystee and is both accusatory and ingratiating.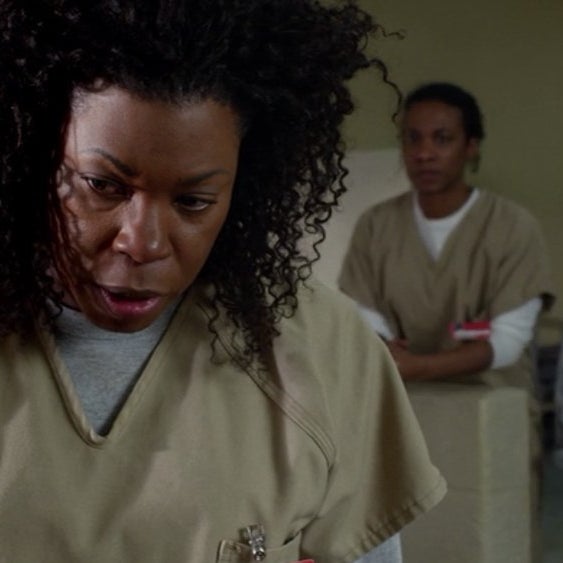 Poussey and Janae show up to protect Taystee; so does Black Cindy. "You'd be 10 years dead now," Vee says to Taystee.
But Vee can't get to Taystee anymore. "Here's the thing about mamas," Taystee says to her. "They're only mamas as long as they've got kids."
Vee answers. "You're turning me out? Fuck you." Black Cindy and Janae tell her they're going to tell the truth about the attack on Red.
Before she goes, Vee tells Taystee, "You break my heart."
"Might be true," Taystee says. "If you had one." After all these years, she is finally free of Vee.
46.
On the way back from the doctor, Morello tries to talk with Miss Rosa, who has fallen silent, about Toy Story 2.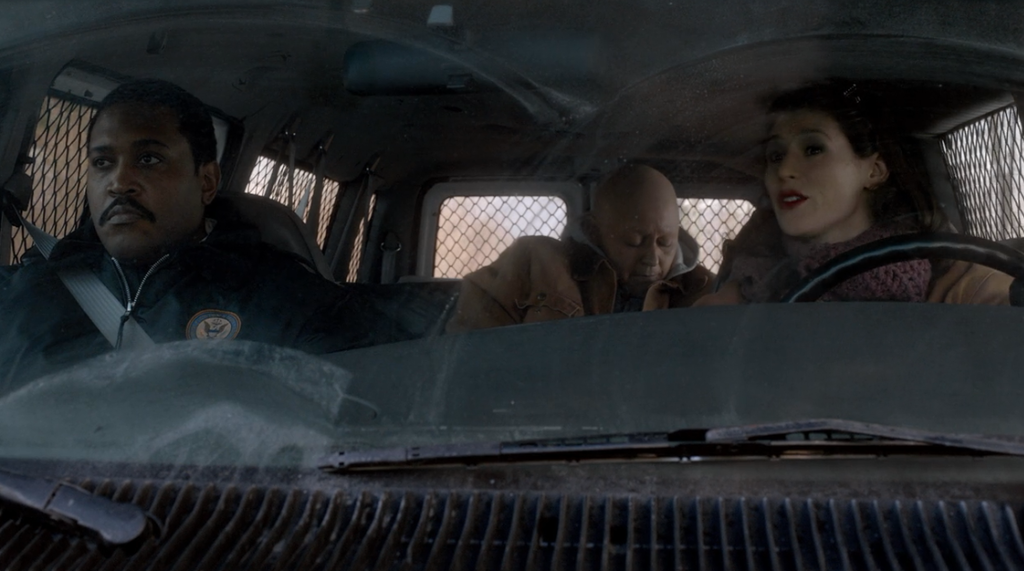 47.
Soso (Kimiko Glenn) tells Piper that prison is "the loneliest place I've ever been and I lived alone in a tree for eight months."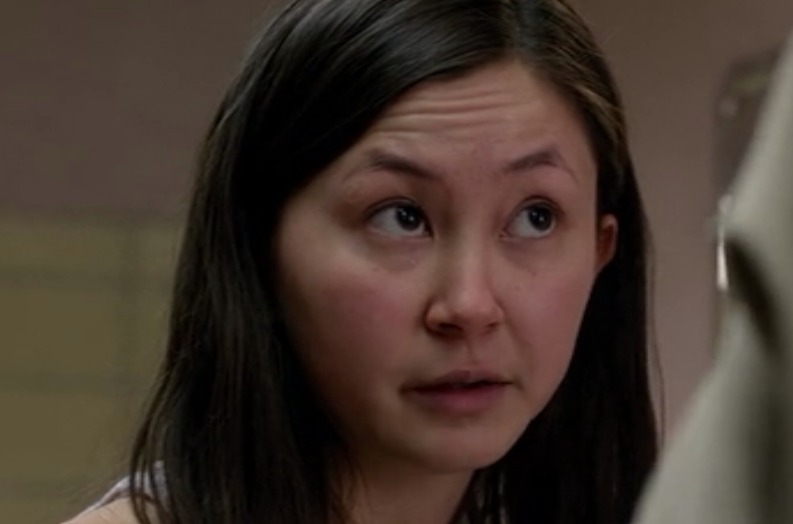 She doesn't think she'll be the same when she comes out. Piper says maybe that's OK.
"It's not fucking OK," Soso says.
"I know," Piper says.
48.
As Suzanne is being told that she's being transferred to maximum security prison, she goes into a preschool reverie.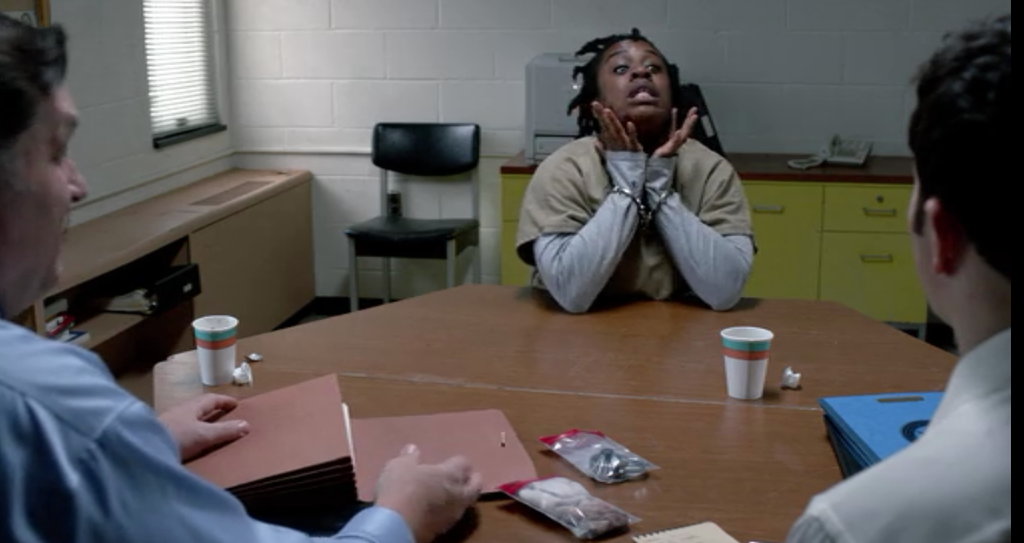 49.
They want to leave so badly that they won't listen when Vee's former family comes to recant.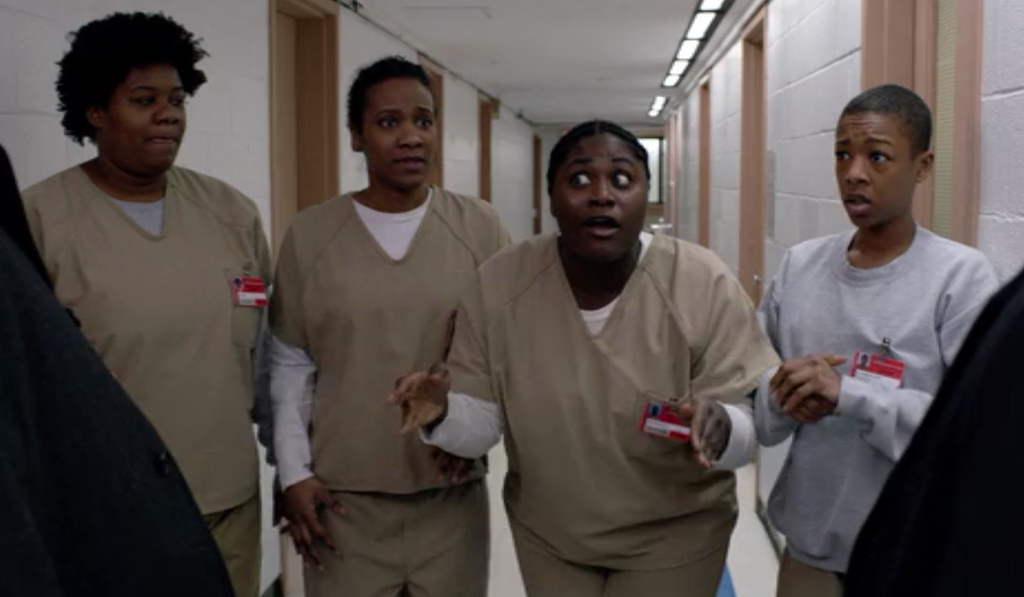 50.
But they can't say no to Healy and his faked work order.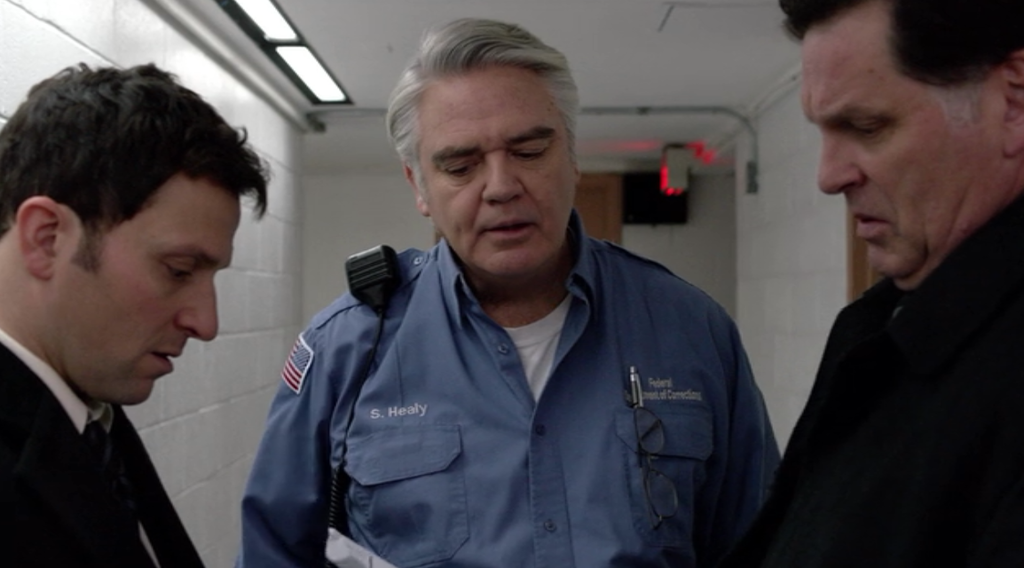 51.
Bennett confesses to Caputo that he's the father of Daya's baby. "It's my second day!" Caputo yells.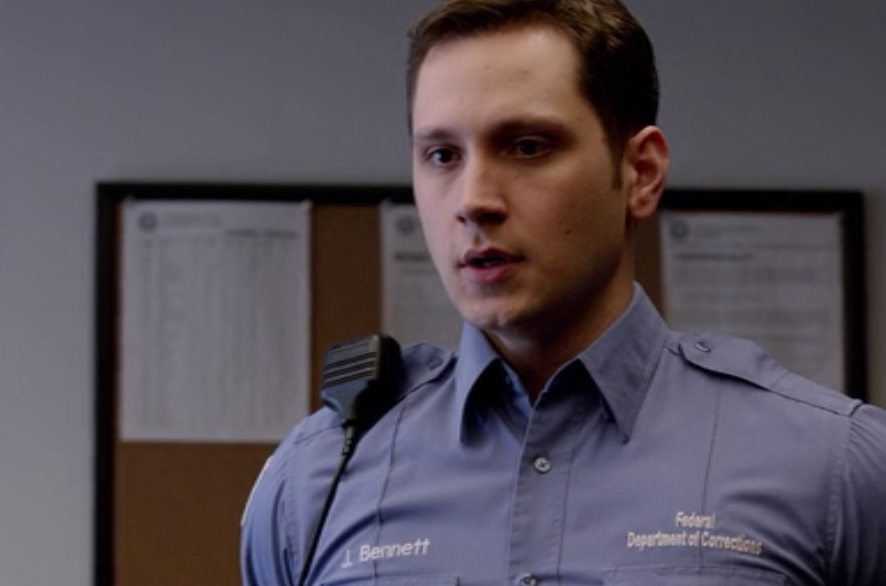 "I can't have this," he says. "No. This has been dealt with." (Pornstache is thought to be the father, and has been fired because of it.) He tells Bennett that he'll send Daya to max if he tells anyone else.
Bennett backs down.
52.
Piper calls Larry, who is with Polly. She asks them for a favor: Find Alex's probation officer and tell him that Alex is violating her probation and leaving town.
Larry starts to press her about it. "Larry, I am giving you the opportunity to fuck over someone that you hate," Piper points out. He doesn't want to do it because he knows Piper wants to be with Alex again. Piper knows Polly will do it. "What's the office called again?" Polly asks.
53.
Vee has escaped through the tunnel.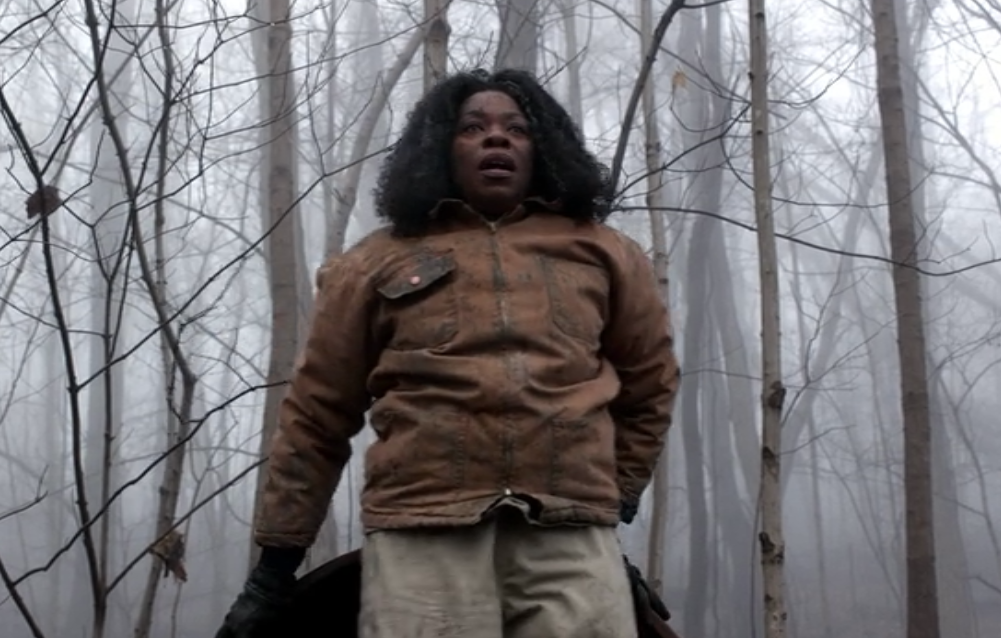 54.
Nicky shows Boo where she has hidden Vee's heroin. Just as Boo has raised the question of whether they should perhaps keep it, the alarm goes off because of the escaped prisoner.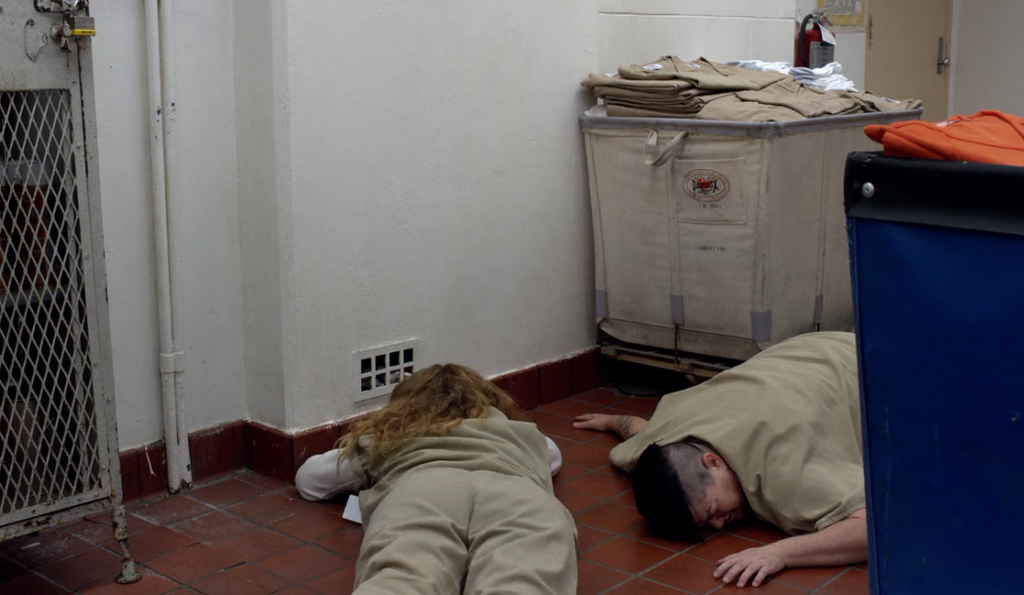 55.
Bennett tells them Vee is missing; Norma and Gloria feel pretty good about themselves.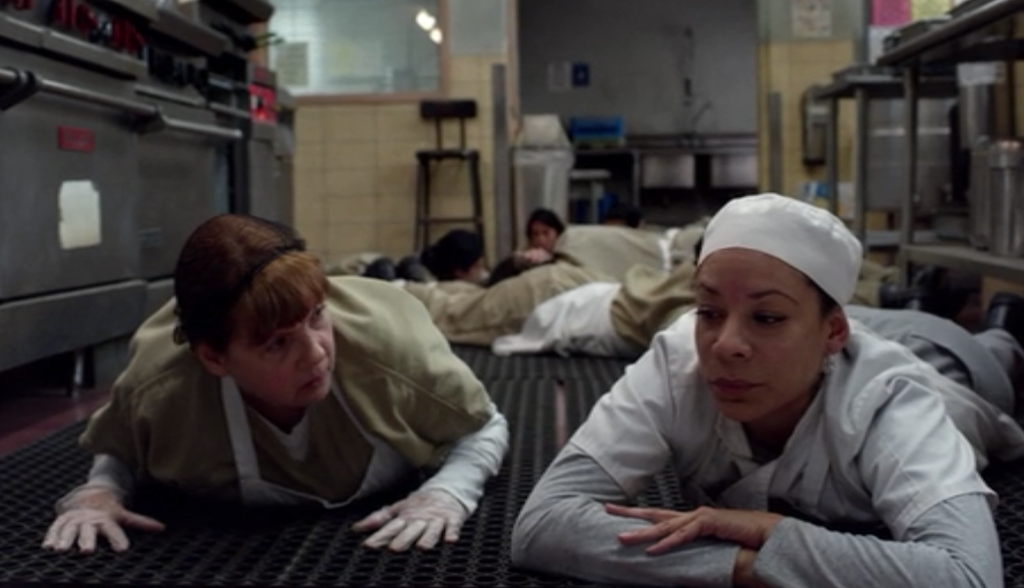 56.
Nicky stares longingly at the drugs.
57.
Someone knocks on Alex's door, and then starts to come in — she gets her gun.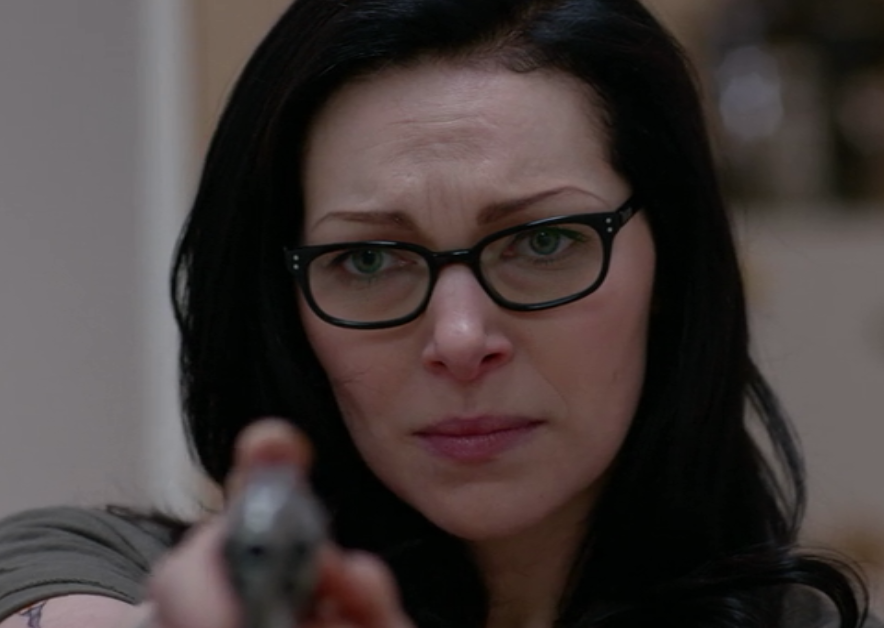 58.
It's David Crockett, probation officer. "Fuck," Alex says.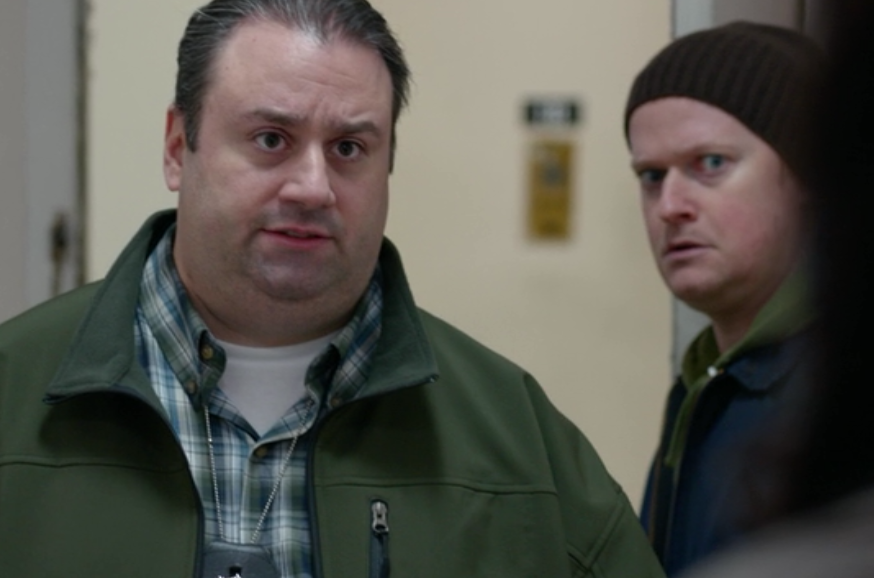 59.
While on lockdown, and without Vee, everyone starts to feel better.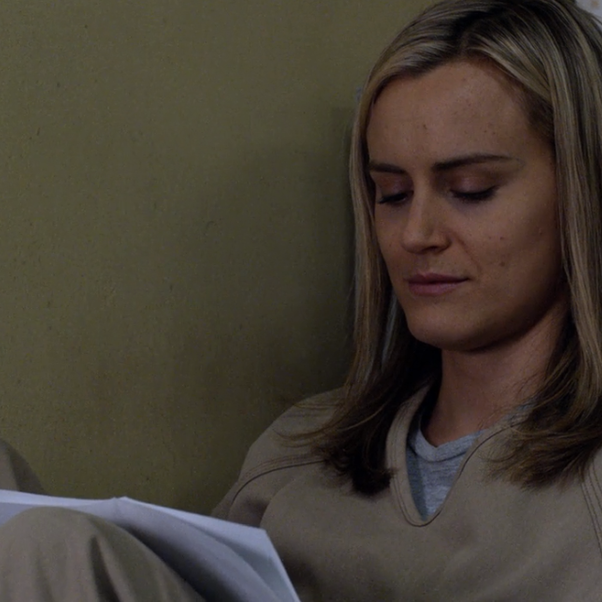 (Piper, almost smug, is reading letters from Alex.)
60.
Everyone, that is, but Suzanne, who is bereft. She holds the UNO box and weeps.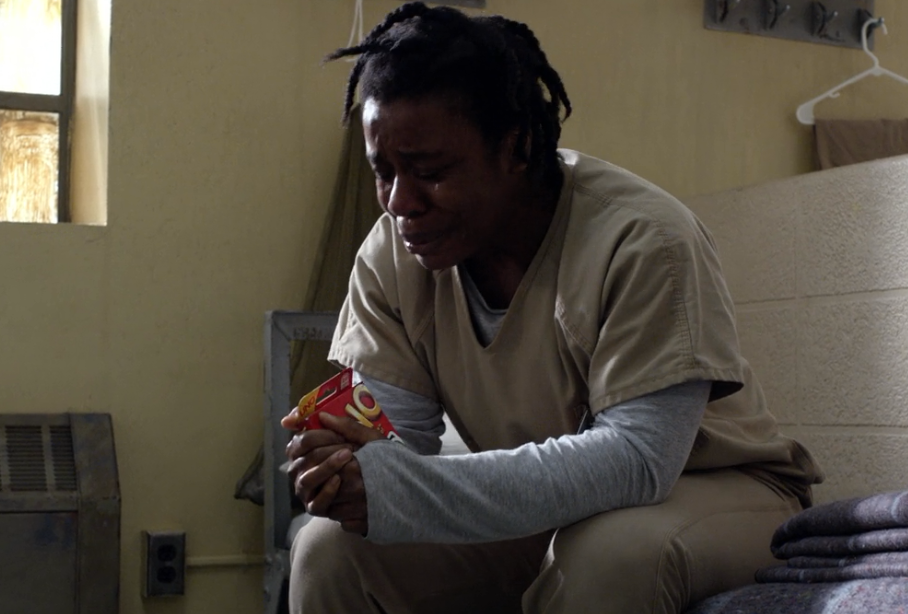 61.
Morello and Miss Rosa have been held outside during the lockdown — which gives Morello an idea.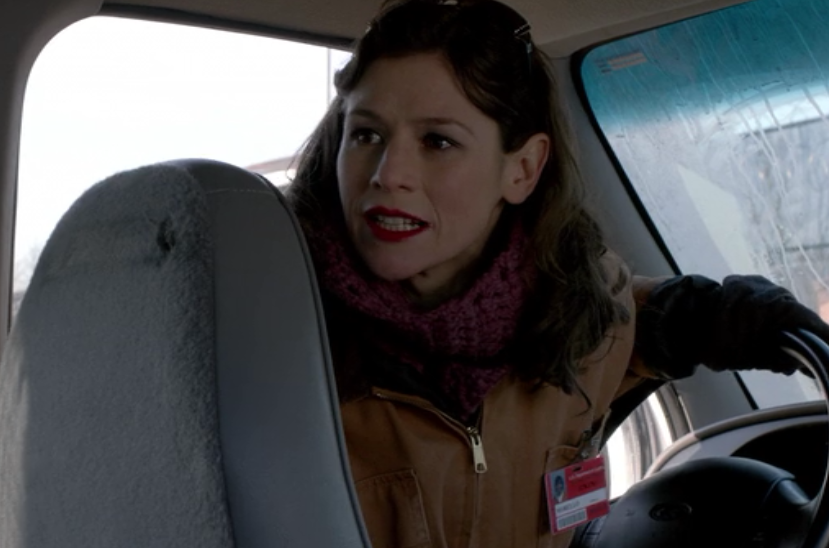 "Don't die in here, Miss Rosa," she says. "Go do it your own way." She leaves the keys. Miss Rosa takes the van.
62.
Miss Rosa, in prison for bank robbery, is used to getaways. Caputo and Ingalls are on their way to talk to the nuns about the end of her hunger strike. He sees the van careening toward them.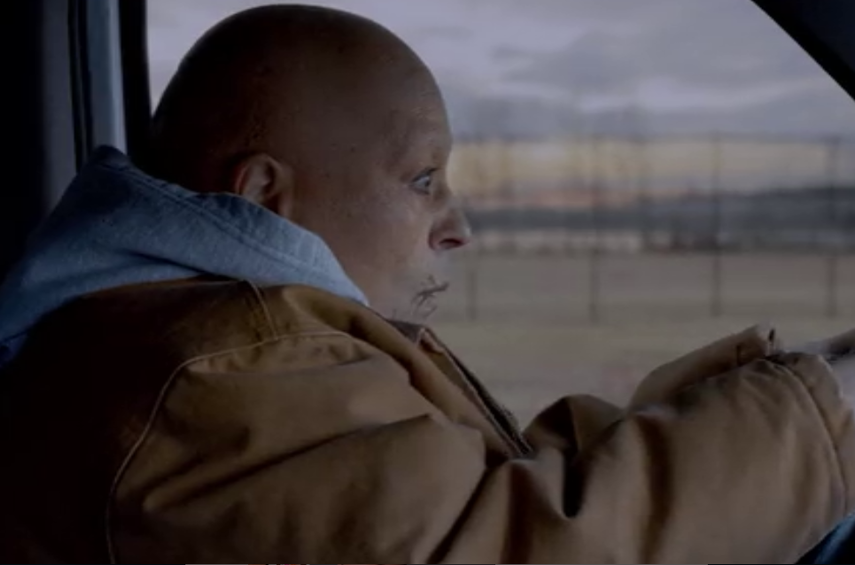 "What the fuck! O'Neill, scatter the nuns!"
63.
O'Neill: "Run, nuns! Run!"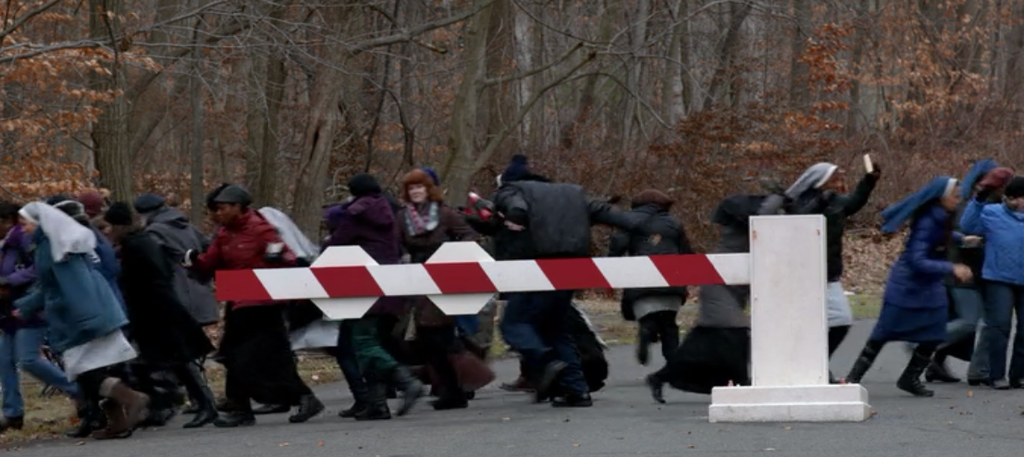 64.
It's freedom for Miss Rosa. She finds a song she likes on the radio — "Don't Fear the Reaper." Literally! And then she sees Vee.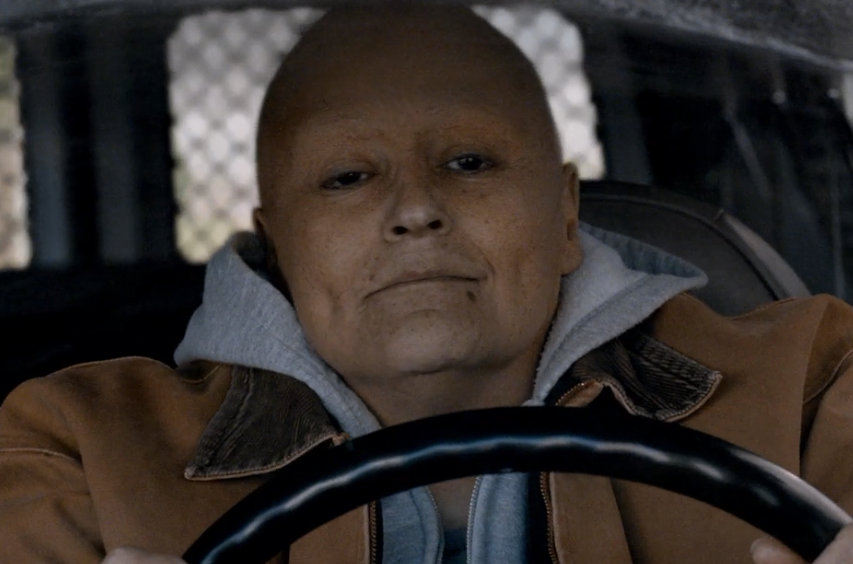 65.
Bye, Vee.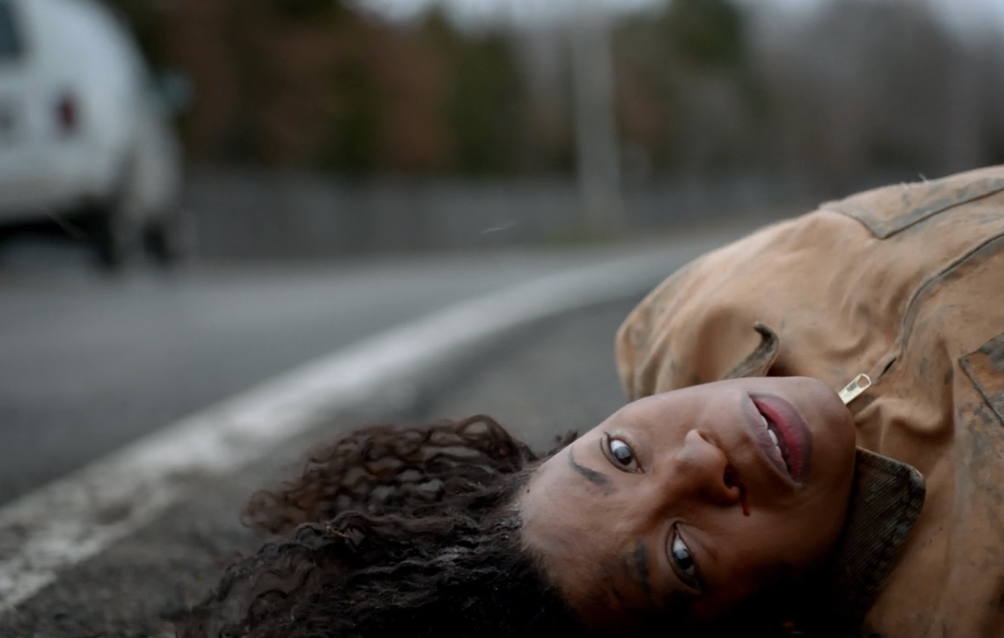 66.
Miss Rosa laughs. We see her as a young woman, full of joy. The sirens are chasing her, but they don't matter. She's free.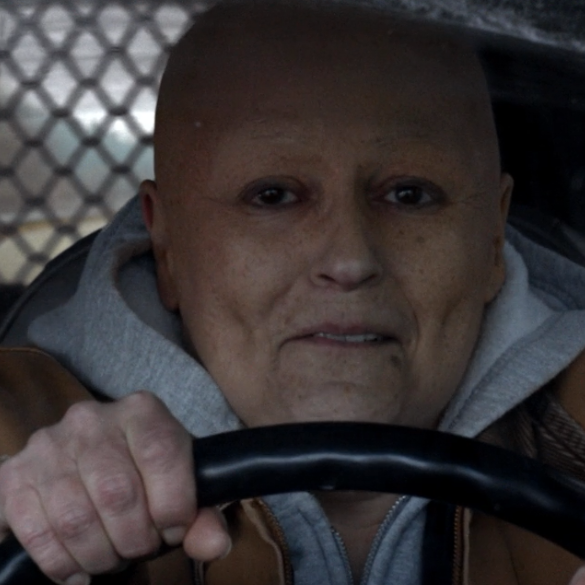 Season 3 of Orange Is the New Black premieres Friday, June 12 on Netflix.