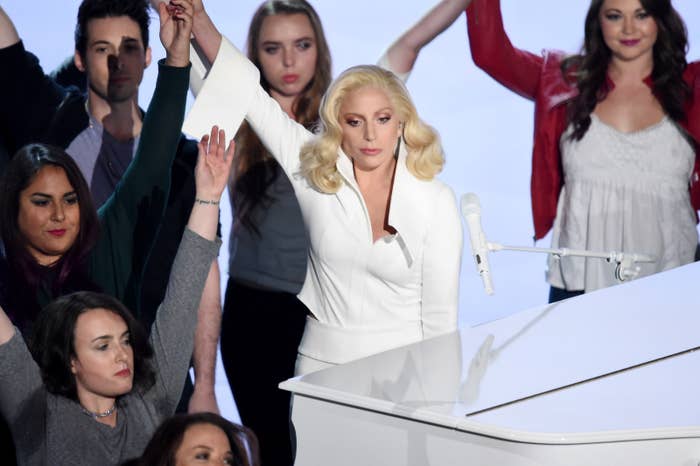 In one of the most moving moments of the Academy Awards, Lady Gaga, surrounded by 52 survivors of sexual assault, performed "Til It Happens to You," her and Diane Warren's Oscar-nominated song.
The song was featured in Kirby Dick's documentary The Hunting Ground, a stirring polemic about sexual assault on college campuses. Going into the ceremony, "Til It Happens to You" was considered the favorite in its category, but ended up losing to the largely shrugged off "Writing's on the Wall" by Sam Smith from Spectre.
Before the upset, Gaga was introduced by Vice President Joe Biden, who upon his entrance received a standing ovation from the audience. Biden, who has taken on campus rape as a cause, implored viewers to take the pledge on sexual consent at itsonus.org.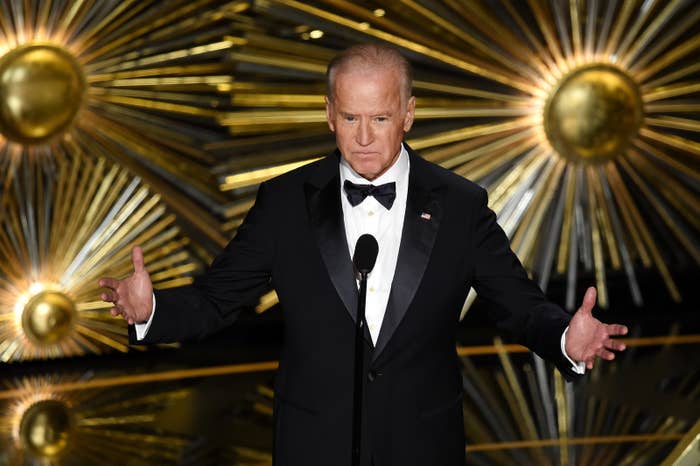 Gaga sang and played the piano with her signature passion. Half-way through her performance, the stage was filled by survivors of sexual assault, many of whom had been featured in The Hunting Ground. They surrounded her piano bearing their forearms on which visible slogans such as "NOT YOUR FAULT" had been written. At the end of the song, they raised their arms together, held hands, and Gaga joined them.

Four of those survivors talked to BuzzFeed News shortly after the song lost. They said they found out they'd be participating in Gaga's performance about five days ago and they noted that some of those included were local, while others were international. Many traveled on their own dime to be part of the performance, the women said. "I hope that if anybody watched and they are a survivor that they know that they are not alone and it's not their fault," one survivor, Annie Clark, said. "There are 52 people up on that stage that believe them."
During an interview on ABC's Oscars red carpet pre-show, Gaga had talked about how important this issue is to her. "It's something that is deeply connected to my heart," she said. "I am myself a survivor; Diane Warren is herself a survivor of sexual violence. We're here tonight very grateful to the Academy for giving us this world stage to reward survivors for being brave and coming forward."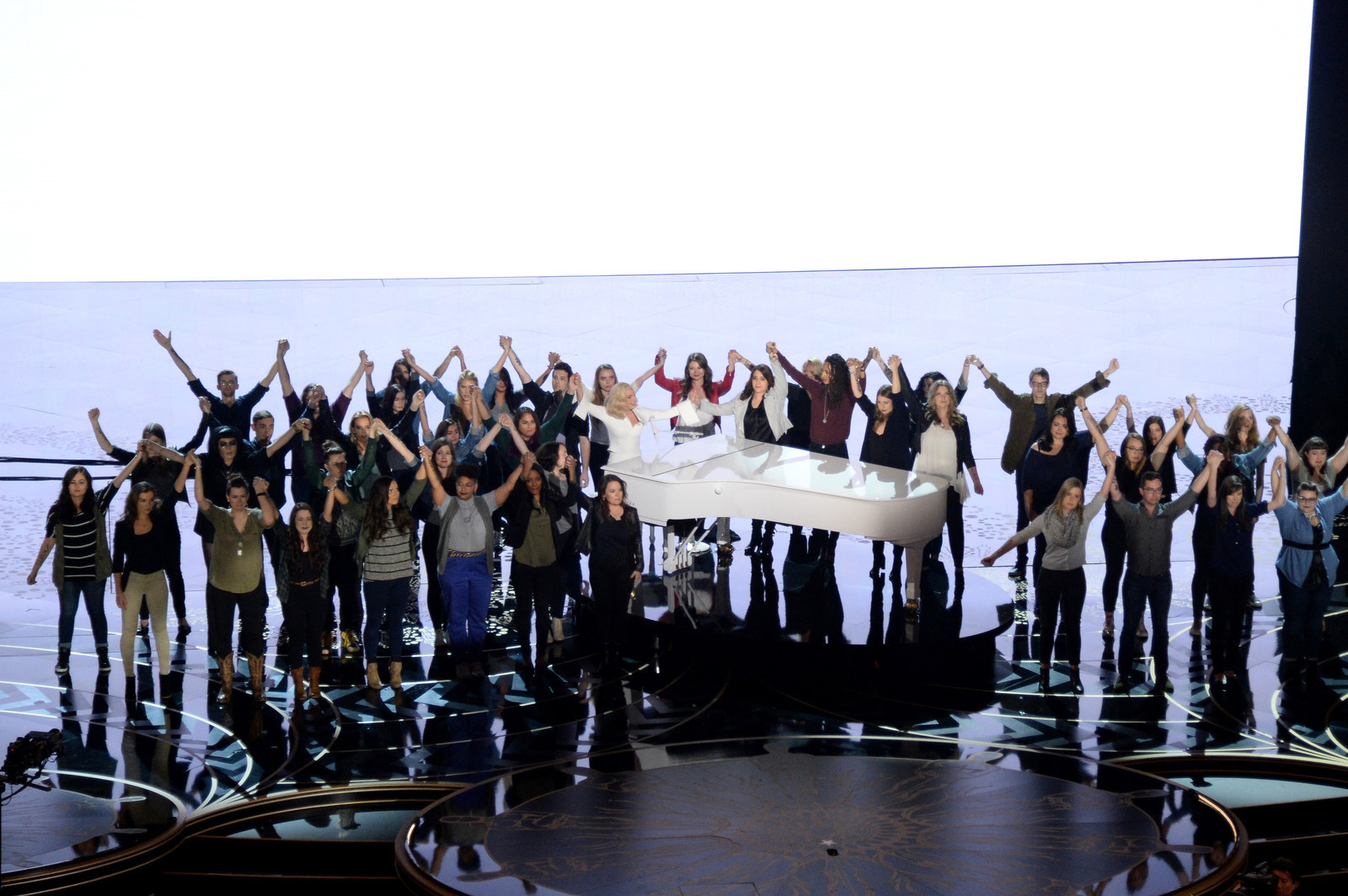 The Hunting Ground first premiered at the 2015 Sundance Film Festival. Director Dick and producer Amy Ziering — whose 2012 feature documentary about sexual assault in the military, The Invisible War, was nominated for an Oscar — interviewed dozens of undergraduate and graduate students for their film, and then focused on roughly a half dozen case studies for the majority of the film. The filmmakers especially focused on activists Andrea Pino and Clark, who pioneered the use of Title IX to induce investigations by the federal government into how colleges and universities handle claims of sexual assault and rape.

"Til It Happens to You" is the hit-making Warren's eighth Oscar nomination. (Her past nominated songs include "I Don't Want to Miss a Thing" from Armageddon, and "How Do I Live" from Con Air). The video for the song, directed by Catherine Hardwicke, was an immediate viral success.
Before the Oscars ceremony, Gaga also explicitly tied her performance to fellow singer Kesha's current legal battle against Sony Music and producer Dr. Luke, whom she alleges raped her. She tweeted, "@kesharose I'll be thinking of u 2nite. This is not over we'll stand by u until you are free to live a HAPPY life. Everyone deserves that."

After the performance, Kesha tweeted, "thank u @ladygaga and VP @JoeBiden for bringing attention to sexual assault at the oscars. it hit very close to my heart for obvious reasons."