For the first time in 18 years, HBO did not receive the most nominations. (It still received 108 nominations but was bested by Netflix's 112.) It's been a steady climb upward for Netflix, which first dove into original programming in 2013 with House of Cards, an immediate favorite for nominations in the drama categories. That first year, Netflix received 14 nominations, a number that increased annually as the streaming service added more programming. Orange Is the New Black, at first categorized as a comedy, premiered the following year in 2014, receiving 12 nominations. In 2015, Amazon got into the Emmys game, and received 12 nominations overall, winning for Best Lead Actor in a Comedy (Jeffrey Tambor for Transparent) and Best Director (Jill Soloway, also for Transparent). It wasn't until 2017 that Hulu got serious with the Emmys with The Handmaid's Tale, which ended up dominating the night, and receiving the first best series win for a streaming service.
Netflix's nominations this year are across a broad number of categories, with The Crown, Stranger Things, Godless, GLOW, Unbreakable Kimmy Schmidt, and Queer Eye all receiving multiple nominations. HBO also dominated in the best series categories — Silicon Valley, Barry, Curb Your Enthusiasm, Westworld, and Game of Thrones were all nominated. HBO issued a congratulatory statement on Thursday that may have contained a dig, considering that Netflix is still not a favorite to win best series: "HBO is very pleased with its 108 nominations, especially the wide range over so many categories. We're grateful to all our nominees for making this the eighth year we've had 100 nominations or more. We look forward to Sept 17th." (Emphasis added.)

But even if HBO's Game of Thrones (or Hulu's Handmaid's Tale) repeats in the Outstanding Drama category, the shift to streaming from cable is symbolic of what's happening in the TV landscape, which has experienced a seismic change in the past five years. Netflix will spend $8 billion (holy shit!) on original content this year as it basically tries to kill everyone else. And HBO, recently acquired by AT&T, has a fight on its hands; as a recent New York Times story revealed, its new owners want it to fight back, and evolve from a boutique service into a monster, just like Netflix. We'll see what happens! —Kate Aurthur
Kit Harington and Emilia Clarke's gamble to compete as leads didn't pay off
You get nothing, Jon Snow. In a move that ran parallel to the fantasy show's plot, Kit Harington and Emilia Clarke paired up to compete in the Outstanding Lead Actor/Actress in a Drama categories this year. Both were nominated in the supporting role categories at the 2016 Emmys (when the show was last eligible) but decided to compete with the lead actors this year for the Game of Thrones' Emmys comeback. It made sense, in a way, given how Jon Snow and Daenerys Targaryen grew closer this season and are shaping up to be the two most important characters in the show's upcoming final season.

Still, changing categories after a year away, where even more awardworthy competition has premiered, proved to be a bad bet. Their costars Lena Headey, Peter Dinklage, and Nikolaj Coster-Waldau, however, all scored nominations in the categories for supporting actors. To the new Game of Thrones leads, the Lannisters send their regards. —Marcus Jones
Modern Family is…outdated.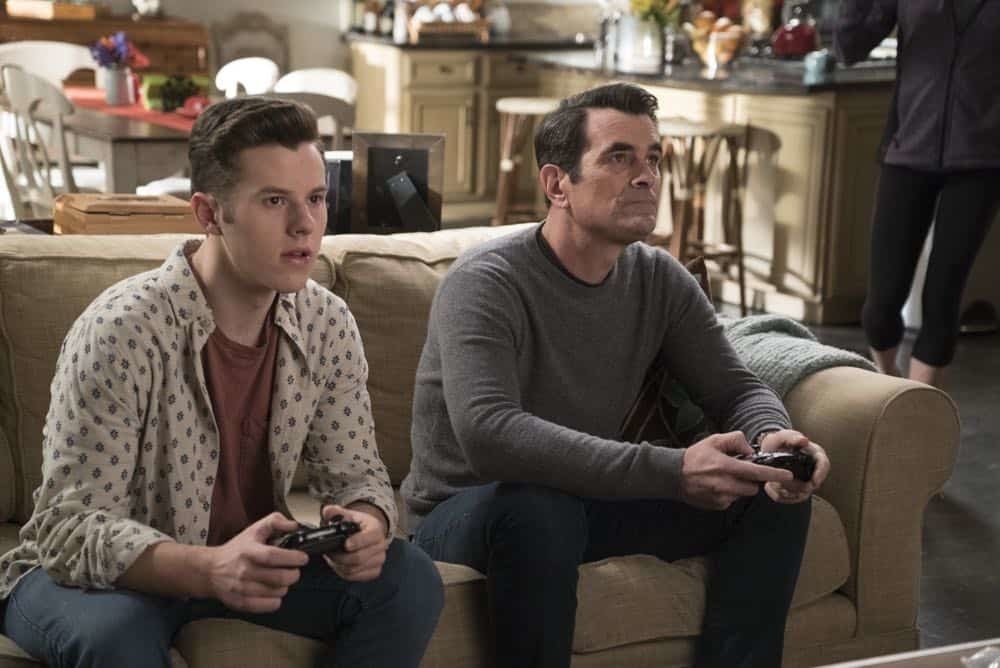 For the first time in the show's history, Modern Family did not receive any Emmy nominations in the major categories.
The ABC show has been nominated in multiple categories since it first premiered in September 2009, including Outstanding Comedy Series for eight years straight (and winning every year from 2010–2014). But this year the Television Academy chose not to recognize Modern Family as it heads into its 10th and possibly final season.
Season 9 of the mockumentary-style comedy wasn't received well by fans or critics, and a show that was once seen as progressive (A married gay couple! A diverse cast!) now appears stale and formulaic compared to more interesting shows like Atlanta, Barry, Black-ish, and The Marvelous Mrs. Maisel. —Krystie Lee Yandoli
Blessed be the cast of The Handmaid's Tale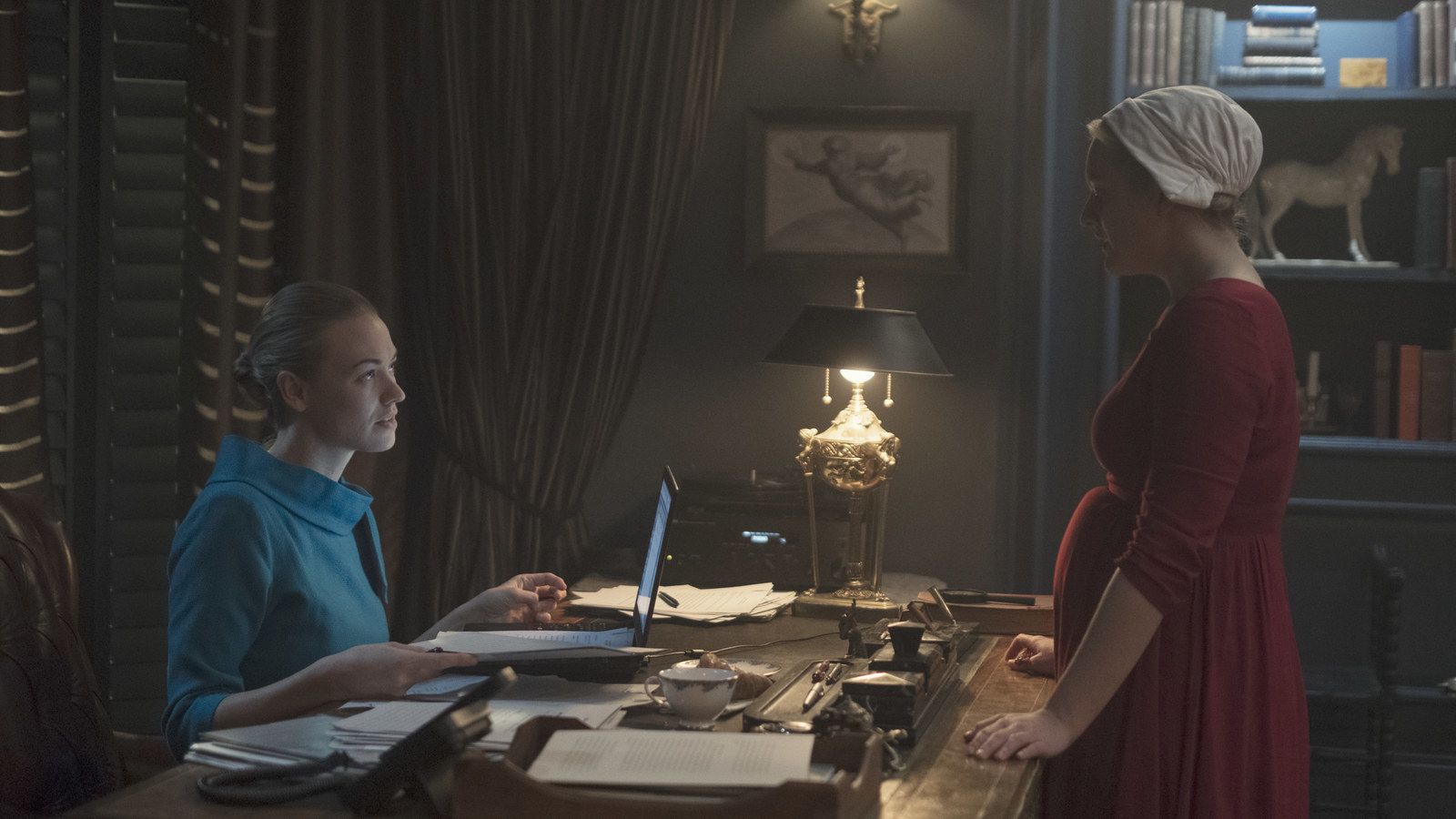 That The Handmaid's Tale kicked ass at last year's Emmys is not news: It won Outstanding Drama Series; Outstanding Lead Actress in a Drama Series (Elisabeth Moss); Outstanding Supporting Actress (Ann Dowd); Outstanding Directing for a Drama Series (Reed Morano); Outstanding Writing for a Drama Series (Bruce Miller); and Outstanding Guest Actress in a Drama Series (Alexis Bledel). It also won for production design and cinematography, which brought the show's final tally to eight wins. This year, the show is nominated in all those categories again — but it also got several new nominations, most notably for Yvonne Strahovski and Joseph Fiennes in the supporting categories.
It makes the battle for Outstanding Drama Series more interesting, since The Handmaid's Tale might not have swept last year had Game of Thrones been in the race. (It aired in summer 2017, so it wasn't eligible for the Emmys).
Not everyone loved Season 2 of The Handmaid's Tale, particularly its frustrating ending. What's inarguable, though, is that the show continues to allude to current events in the United States as the rights of women, LGBT people, and immigrants face threats under a conservative administration. The show is sometimes so relevant that it accidentally trips into headlines, like the episode in which Canada and the show's Gilead got into a feud during a diplomatic visit, or when June's daughter was ripped from her arms the week that family separation at the border dominated real-life headlines. (P.S. Speaking of relevant, what if FX's The Americans snuck in to win in its final year of eligibility? Praise be, indeed!) —K.A.

BBC America is (slowly) planning a British invasion
When Tatiana Maslany was finally nominated in the Lead Actress category in 2015 for playing a slew of clones on BBC America's Orphan Black, it was considered both a victory for the niche cable channel and two seasons too late for devoted fans of Maslany's (and the show's rabid #CloneClub). She lost that year (to Viola Davis for How to Get Away With Murder), but won in 2016. That she was nominated again this year for the show's fifth and final season struck me as a surprise, because I'd forgotten it was even eligible! My bad.
(Also, if you want to laugh, here's the list of characters Maslany is listed as playing in Orphan Black: Sarah Manning, Helena, Alison Hendrix, Cosima Niehaus, Rachel Duncan, Krystal Goderitch, Elizabeth "Beth" Childs, Jennifer Fitzsimmons, Katja Obinger, Tony Sawicki, Veera "M.K." Suominen, Camilla Torres, and Unnamed Clone.)
Maslany paved the way for BBC America to know how to play the Emmys game: Sandra Oh hit the awards circuit hard — and it worked, resulting in her nomination in the Lead Actress category for the terrific Killing Eve. —K.A.
Sandra Oh is the first Asian woman nominated in a Lead Actress category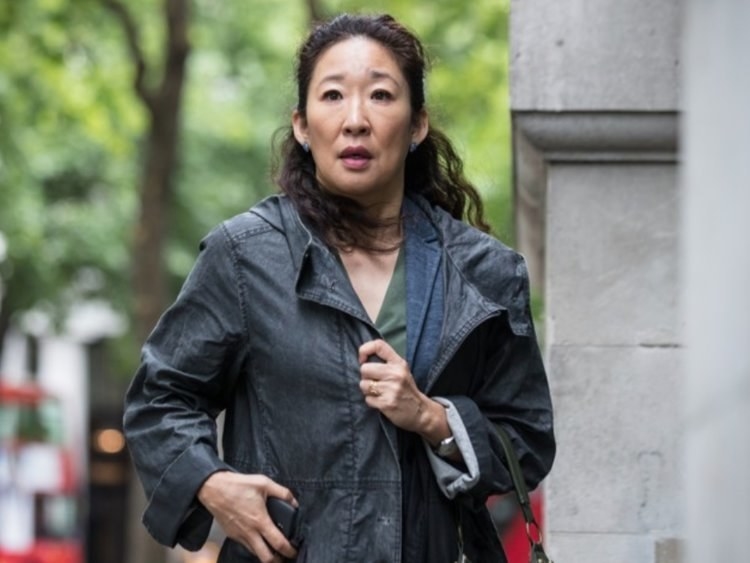 With a nomination for playing ex-MI5 agent Eve Polastri, actor Sandra Oh becomes the first Asian woman to be nominated for an Emmy in the Outstanding Lead Actress in a Drama Series category. (The show's creator Phoebe Waller-Bridge also received a nomination for Outstanding Writing.) Nominations for Asian actors are sparse: There have been only two Emmy wins for Asian actors in history, which went to two actors of South Asian descent (Archie Panjabi and Riz Ahmed).
"I don't want to rest on the fact that a handful of us have had the opportunity and that it stops there," Oh told the Hollywood Reporter of her historic nomination. I want the movement to keep on going. I want the ripple to turn into a wave."
Oh has five past nominations in the Outstanding Supporting Actress in a Drama Series category for her most famous role as Dr. Cristina Yang on Grey's Anatomy. But Killing Eve has given her the principal role she's long deserved — and an Emmy nod is further recognition that a leading role was long overdue.
Still, Oh will have tough competition this year given how fellow nominees Keri Russell (The Americans), Tatiana Maslany (Orphan Black), and Claire Foy (The Crown) are all up for their shows' final seasons, and last year's winner Elisabeth Moss is nominated again for The Handmaid's Tale. —M.J.
Laurie Metcalf rises from the ashes of Roseanne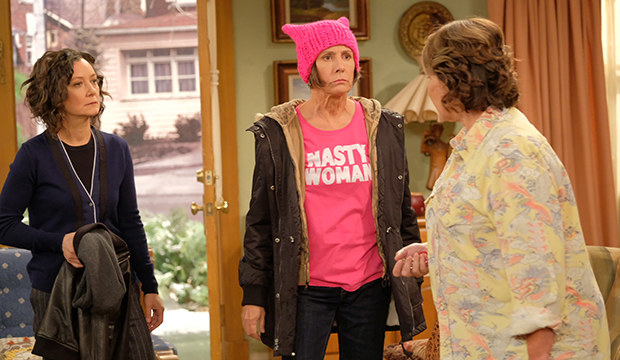 In spite of the drama surrounding the 2018 Roseanne revival, Laurie Metcalf has earned an Emmy nomination for playing Jackie on the ABC series. Metcalf was nominated in the Outstanding Supporting Actress in a Comedy Series category for reprising her role as the sister of Roseanne Conner (Roseanne Barr), Jackie Harris. In the reboot, this meant acting as a pussy hat–wearing political liberal opposite the Trump-supporting Roseanne.
In March, the revival's premiere reached record-high ratings, and Roseanne was immediately renewed for a second season. But in May, after Barr sent out a racist tweet about former Obama adviser Valerie Jarrett, ABC canceled the show. While most were happy to see Barr held accountable, some were disappointed that the rest of the cast and crew would be out of jobs because of one person's racist comments. A month later, the network announced they're picking up a Roseanne spinoff, titled The Conners. Barr won't be back, but the others, including Metcalf, will be.
Perhaps Metcalf was rewarded by her Hollywood peers because she played such a prominent left-wing character on a show beloved by conservatives. But what's more likely is that her career resurgence — an Oscar nom for Lady Bird and two consecutive Tony wins — proved too powerful to ignore. —K.L.Y.
A win for Jesus Christ Superstar could make John Legend and two other iconic musicians EGOT winners.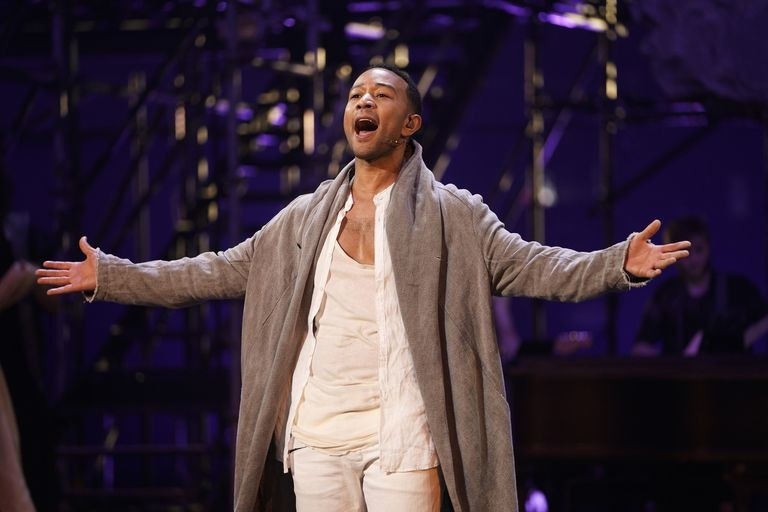 After 10 Grammy wins, one Best Original Song Oscar, and one Best Revival of a Play Tony, John Legend had his sights on Emmys gold to complete his EGOT — and this morning has brought him one step closer.
Legend is nominated for Outstanding Lead Actor in a Limited Series or Movie for playing the titular role in Jesus Christ Superstar. He has some tough competition though, going up against Emmy veterans like Benedict Cumberbatch (Patrick Melrose) and Jeff Daniels (The Looming Tower), so Legend may need some divine intervention to win.
Legend also produced the special with two other iconic musicians vying to get the final award they need to attain EGOT status: composer Andrew Lloyd Webber (The Phantom of the Opera, Cats) and lyricist Tim Rice (The Lion King, Aladdin), both of whom produced the music for Jesus Christ Superstar in 1970. —M.J.
Megan Amram is one step closer to getting an Emmy...for a web series about getting an Emmy
While she has been a writer on critically acclaimed, Emmy-nominated shows like Parks and Recreation, Silicon Valley, and The Good Place, Megan Amram's first two Emmy nominations are coming from her web series literally titled An Emmy for Megan.
Competing for Outstanding Actress in a Short Form Comedy or Drama Series and Outstanding Short Form Comedy or Drama Series, Amram gives more proof that it's always worth it to shoot your shot — sometimes explicitly. —M.J.