If you watched the Jeopardy!: The Greatest of All Time tournament, you know that contestants Ken Jennings, James Holzhauer, and Brad Rutter engaged in quite a bit of hilarious smack talk and Twitter trolling throughout the event.
Well, last night, Ken was officially crowned the greatest of all time after winning three out of the four nights, and he and his fellow contestants had nothing but love for one another.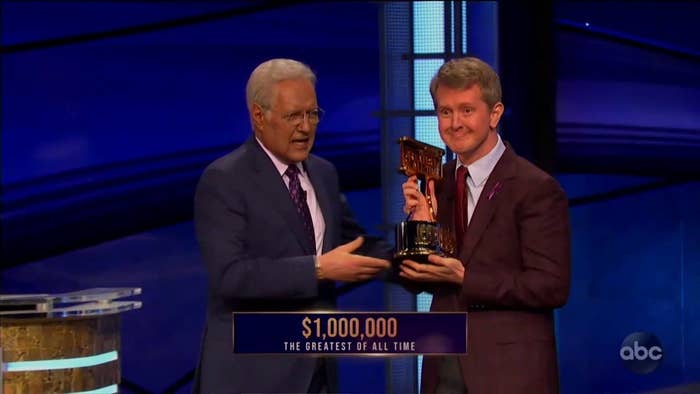 Despite all the hilarious jabs they threw back and forth throughout the competition, both James and Brad were genuinely happy for their frenemy:
After the show, Brad sent Ken even more well wishes and tried to pick up on some of his "buzzer mojo" for next time (PLEASE, let there be a next time!):
But he couldn't resist a little light James trolling:
Meanwhile, James was happy to concede the GOAT title to Ken:
He shared a series of super-gracious tweets about the event:
And had a poignant message for ABC and Alex Trebek:
But continued to crack me up with his wit:
Of course, Ken had his own series of sweet tweets for his competitors:
And then he had the best sign-off:
I think this just about wraps up how we're all feeling right about now:
In conclusion, this tournament was every bit as perfect as I dreamed it would be, and I'm so bummed it's over. Congrats, Ken!