I've been revisiting the movies I was obsessed with as a pre-teen and teen. I've put off Never Been Kissed for a little while because I loved it SO much when I was younger and I was really worried rewatching it would ruin it for me forever. And, well, here's how that went down...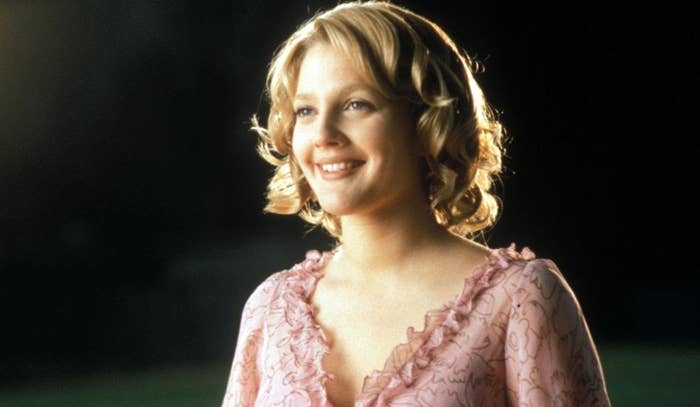 1. Rewatching this BETTER not ruin it for me, it is up there with my all-time fave rom-coms.
2. Drew Barrymore is sublime in this movie (and every movie).
3. I feel like Josie would LOVE Twitter. Especially correcting people on it.
4. I low-key hate the trope that a copy editors are all just wannabe reporters.
5. I relate to Josie and her compulsion to straighten her nameplate a lot.
6. I totally forgot Octavia Spencer was in this!
7. I remember being 13 and being like, "same, Josie, I haven't been kissed either! How embarrassing!" Lmao.
8. Fuck. I enjoy needlepoint TOO Josie.
9. I AM Josie Grossie.
10. Garry Marshall! :(
11. Molly Shannon and John C Reilly are great support cast in this.
12. David Arquette! That's right, he's her brother.
13. I forgot he made up "Josie Grossie". Way harsh.
14. The flashbacks to Josie's actual high school years break my heart.
15. I remember even at the time I thought this white outfit she wears was SO bad. But it's her teased hair and pale lipstick that really complete the awfulness of the look.
16. Jessica Alba! She's one of the popular girls! How did I forget that?
17. That Guy entrance is *Italian chef kiss*.
18. HELLO HOT TEACHER.
19. I have concerns over how I'm gonna feel about his developing relationship with Josie when he *thinks* she's a student.
20. But also. DAMN he's hot.
21. Baby Leelee Sobieski! She's spectacular as Aldys.
22. Is the whole "no white jeans after labour day" an actual thing orrrr? This question has haunted me for two decades.
23. "Yes. You are a guy. Quite a guy. Oh my." I have so much secondhand embarrassment right now.
24. I did not get the "guitar-playing pussycat" reference at the time but NOW I DO.
25. I relate to Aldys' desire to do ALL OF THE THINGS in life. Which is increasingly frustrating because the older I get the more I just want to sleep.
26. The marching band doing the Simpsons theme song is so painfully '90s.
27. Unnnnnnnf Sam Coulson is so freaking hot tho.
28. I know I've said it before but it's all I'm thinking when he's on screen.
29. I love the meta Shakespeare intertextuality in this scene.
30. Oh bb Josie. My heart can't take her awkwardness and impending pain.
31. This is one of two movies in which Drew Barrymore writes a poem for an underserving fuckboi.
32. The prom theme being "the millennium" takes me straight back to high school, wow.
33. Stop trying to make "rufus" happen. It's not going to happen.
34. Oh my GOD James Franco is one of the popular boys??!?!
35. Aldys is SO dorky but I adore her.
36. "The dog park is that way." Ew, Guy is awful.
37. "We've got some underage hotties on our hands here." Rob, don't be a creep.
38. When Drew Barrymore screams "I'm not Josie Grossie anymore", I felt that.
39. WAIT LAVON HAYES (aka Cress Williams) is George?! Amazing.
40. George, don't be a creep.
41. Josie's outfit and hair are marginally better now.
42. SAM STOP GIVING YOUR STUDENT THAT DREAMY LOOK.
43. (It's so, so dreamy. Siiiiiiiiigh.)
44. (BUT STOP IT.)
45. Jessica Alba in that rainbow dress is STUNNING.
46. I feel like Josie would know what the MET is. She's an educated adult woman. She knows things.
47. When I first watched this I did NOT understand what was so ~special~ about that cake hahahahaha.
48. Yas Josie, bang that drum.
49. "Oh my god, someone ate my entire pie." Looool.
50. Josie, bb, I know you slept in but HAVE A SHOWER. CHANGE CLOTHES AT LEAST.
51. "Hi guys. Guy. Guy's guys." This script is incredible.
52. Lol @ George having to watch Josie vomit.
53. Oh NOOOOO the prom flashback. This is the worst one. THE WORST.
54. THE WAY THE MUSIC STOPS! AND THE EGGS HIT HER!! AND DREW'S HEARTBROKEN SOBS!!! THEY BREAK ME!!!! AND THEN SHE RUNS AWAY BECAUSE SHE DOESN'T WANT HER MUM TO KNOW!!!!! AHHHHHHHHH!!!!!
55. I can't take it. It's so saaaaaaad. I'm actually crying rn.
56. "I'm the coleslaw king of the world!" Gross, but also hilarious.
57. Oh NO I forgot Rob hooks up with a 16-year-old. He's 23! Hoo boy.
58. I know Aldys is hurt, but her dropping Josie just like that is a little harsh.
59. Do high schools in America really do these huge-ass carnivals? It's so extra.
60. Riding together on a ferris wheel is one of my faaaave tropes.
61. "Actually I shouldn't say that because I'm your teacher." I am SO uncomfortable. This has always made me swoon a lot but ugggggh he still thinks she's a student. Why can't I turn my brain off?!
62. Ooft these eating disorder jokes. :-/
63. Molly Shannon's character stumbling into sex ed is hilarious.
64. "Excuse me. I have to go die now." Eternal mood.
65. Ah! The penguin story. 13-year-old me thought this was SO deep and important.
66. Josie's prom theme kinda sucks. Like, way to make any single person feel terrible.
67. She's graduated to a corridor/cafeteria strut foursome!
68. The paint scene with Sam is simultaneously cute and CREEPY.
69. Josie's hair looks SO good now. Drew Barrymore really suits this style.
70. Guy playing that guitar and staring at Josie just made my ovaries wither. Ew.
71. I was/am osessed with that popular girl's pink sunglasses.
72. Josie looks amaaaazing in her prom dress and is also reminding me of Ever After. I am way overdue on rewatching that one.
73. Rob's prom costume is grossssss.
74. "Uh uh I'm Disco Barbie!" Jessica Alba's greatest performance.
75. The nerds showing up as DNA is frankly iconic.
76. Josie got prom queen!
77. SAM COULSON DO NOT LOOK LONGINGLY AT YOUR STUDENT LIKE THAT EVEN THOUGH YOU ARE VERY VERY HANDSOME WHILE DOING IT!
78. That "penguin suit" line was not subtle at all. I love it.
79. Um, are teachers allowed to dance with their students like this?
80. Josie, if someone tells you they broke up with their partner, "that's funny [insert nerdy anecdote]" is NOT the appropriate response.
81. "You're amazing Josie Gellar." Once again, I'm both turned on and creeped out.
82. My heart is breaking for Aldys, I hate this dog food scene.
83. What does Sam want to tell Josie right now?! HE. STILL. THINKS. SHE. IS. 17.
84. Lol @ the dog food landing all over the popular girls.
85. "Let me tell you something about this girl. She is unbelievable." YES JOSIE, PREACH.
86. "Find out who you are and try not to be afraid of it." 13-year-old me and also 32-year-old me: *writes down as life advice*.
87. "That was just like Carrie. I thought she was going to kill us all." Hahaha.
88. Oh nooooo Coulson just overhead George asking Josie if she "got something" on him.
89. I get that he's upset but he's also the dude who was very attracted to what he thought was his underage student sooooooo….
90. Damn why does my adult brain ruin everything.
91. Rob doesn't really have any right to be mad at Josie tbh.
92. "Someone once told me that to write well you have to write what you know." Oh this is the first time I heard this advice and it has stuck with me forever. Like everyone says it but in my head it is specifically in Drew Barrymore's voice.
93. "I just knew them as my soul mates. My teachers. My friends." Why is this making me so emotional rn.
94. The way they make you think Sam won't see her article is so TENSE.
95. Her hair and her dress in this final scene is SO GOOD. It holds up.
96. If this were made in 2018 everyone would just be watching it on an Instagram live at home.
97. The countdown hitting zero is such a heart-sinking moment.
98. HERE HE COMES! I'M GRINNING I CAN'T HELP IT!
99. "Don't Worry Baby" playing in this moment makes it even better.
100. GAH I LOVE IT SO MUCH!
101. YES YES YES YES!
102. WHAT A KISSSSSS!
103. ALL OF MY CONCERNS OVER THIS BEING PROBLEMATIC HAVE GONE OUT THE WINDOW IN THIS MOMENT!
104. YES THEY'RE KISSING AGAIN!
105. YES YES MORE KISSES!
106. What a great ending. I'm just going to focus on those amazing two minutes and forget about how uncomfortable the rest of the plot made me.