We Watched Season 6, Episode 19 Of "Pretty Little Liars", And Had A Lot Of Thoughts
The one where PLL became a soap opera.
by
,
,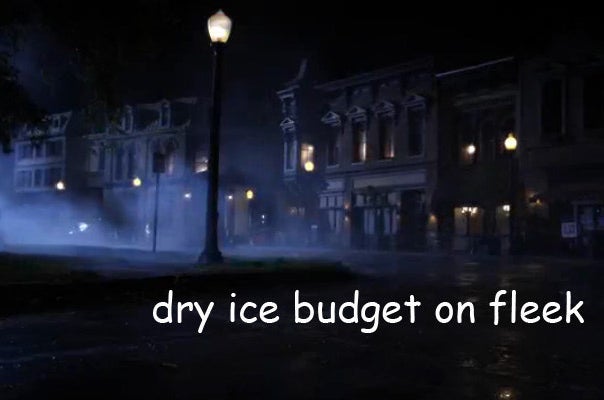 1. Why is Rosewood always so foggy?
2. Even in the middle of summer, there's so much goddamn fog everywhere.
3. Are they living in a moor?
4. It's just so you know shit's 'bout to go down, I guess.
5. Also… why did Emily and Mona get in the car and drive to another location to have this discussion?
6. FFS just go inside and do it over a glass of wine like the bad girls you are, A is going to eavesdrop no matter where you are.
7. Mona is checking off all her alibis like a true shade queen.
8. So, on one hand, I get why they don't trust Mona.
9. But on the other, she's the craftiest bitch around, and would be a perfect ally during all this bullshit.
10. I love how they're chatting away and Aria's like "IDGAF, remember how I was in a lineup?"
11. Sorry, I didn't realise this was the Aria show.
12. "The lighting was terrible." PRIORITIES, ARIA.
13. I mean, same though.
14. And here's Spencer once again schooling these bitches on how to plan their next move.
15. Suddenly, a wild Lucas appears!
16. "My accountants are telling me to spend money," says Lucas' buggy eyes.
17. Lol my accountants tell me the opposite.
18. And by accountants I mean my bank account. Because I can't fucking afford accountants.
19. So fuck you Lucas.
20. But actually who are you Lucas?
21. Why are you here? Why are you so rich? And what the fuck are you up to?
22. He's probably A.
23. Friendly reminder he was on the A team.
24. Wasn't he? I can't keep all the shady people straight in this show there are so many plot holes and red herrings that never went anywhere.
25. This is probably another one.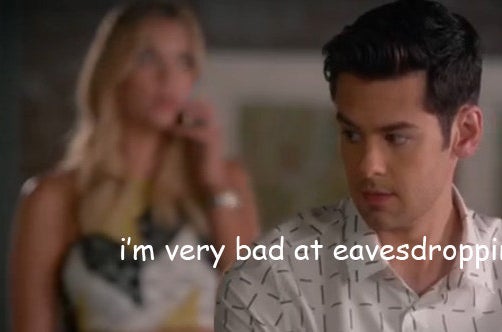 26. Ali and Dr. Rollins are so NOPE.
27. He's like 40 and she looks about 12.
28. "I was thinking we could find a lake or a river." Ugh yeah go jump in the lake Rollins.
29. Omg that fall.
30. A has to be behind it, right?
31. WAS IT AN ACCIDENT THOUGH?? DID A MAKE HER HEEL SNAG?! DID ROLLINS PUSH HER?
32. OR DID SHE DELIBERATELY FALL BECAUSE SHE IS SECRETLY A AND SHE HAS BEEN PLAYING THE LONG GAME?
33. You just never know.
34. I sure fucking hope so.
35. Love how somehow that fall down the stairs has taken all the makeup off Ali's face.
36. The one time someone in hospital would actually be wearing makeup and she's not.
37. So Hanna's like "I'll go visit Ali" and Aria's like, "But she said she'd be back tomorrow."
38. 10/10 friend Aria.
39. I like Emily's casual reminder that election night is three nights away, aka shit is about to GO DOWN.
40. "Who around here hasn't tried to reinvent themselves a couple times?" Yaaas Hanna, slay.
41. Very true though.
42. Remember when Aria had pink hair?
43. Ezra and Aria back at it again with the longing looks.
44. Ezra is trying to hint that he wants the couple in the book TO DRIVE OFF TOGETHER, ARIA.
45. IT'S YOU AND HIM.
46. EZRIA.
47. DRIVING OFF INTO THE DISTANCE.
48. I think? Ezra is acting so weird.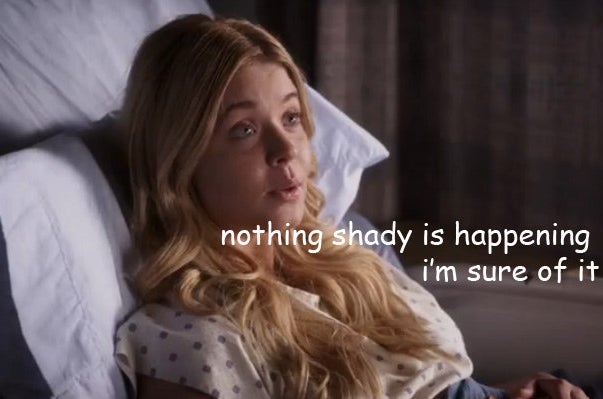 49. Look at all of Ali's flowers. Bet you that one bunch is from A.
50. Hanna's all shocked Ali's coming back to Rosewood? Wat?
51. "You're going to be in Rosewood by yourself?"
52. Um… Ali has literally been in Rosewood the past five years by herself, no?
53. Being a "teacher". And taking care of her psychotic sister.
54. Also, it doesn't matter where she is, or who she's with, A will find her.
55. She was on a farm with Rollins and A found her.
56. Dr Rollins is still really suss.
57. Well, he's next on the suspect list to take the heat off Ezra or whoever they last predicted.
58. Which means he probably isn't A.
59. IT HAS TO BE ALI. Please.
60. OMG. That card! From A!
61. With the dumb emoji-looking faces!!!
62. YEEESSSS A!
63. Sending flowers is a lot nicer than drawing on Hanna's cast while she slept, though. A's getting tame.
64. I love how often the girls in this show video call each other.
65. Just use Snapchat?
66. Oh I thought that guy with Mona was Noel Kahn for a second.
67. Bummer.
68. Whatever happened to old mate Noel Kahn?
69. Sooooo Mona is hanging out with Sara Harvey's henchman.
70. Either Mona is in cahoots with Sara, or she's up to something, and trying to fuck with Sara. Praying it's the latter tbh.
71. Emily made Spencer literally drop everything and come lurk outside a building waiting for this mystery dude? Cool.
72. WHAT'S THAT TUBE? WHAT'S HE GOT THERE?
73. Has Hanna actually ever had a conversation with Rollins before this weird hospital chat?
74. "We're all connected, like a big bowl of linguine." WHAT.
75. In all honesty, Rollins does seem shady. Though I trust literally no one on this show tbh.
76. This "stalking" scene with Em and Spencer is painful to watch.
77. They're literally draping themselves alllll over this guy to distract him.
78. Idk if this would work IRL.
79. He would definitely notice them slipping that tube out of his hand.
80. AND AS IF HE WOULDN'T NOTICE SPENCER DUCK BEHIND HIM?
81. Their detective work is about as good as Toby and Lorenzo.
82. "All roads lead back to Radley."
83. Of course they fucking do. You didn't need to hijack that man to tell me that.
84. Oh man, these girls look so pleased with themselves.
85. Well, I guess at least they got the job done.
86. OMG this Ezra/Nicole/Aria half-flashback scene.
87. I can't even.
88. It's staged like a bad high school play. This is so bad.
89. I'm crawling under the table. Goodbye forever. I can't handle this.
90. Oh god but I can't look away.
91. Rebecca Breeds got some more work though, so yay?
92. Tbh this scene has pretty much doubled her total screen time on this show.
93. And yet we're supposed to care about this character and Ezra's relationship to her?
94. Yeah, nah.
95. This is terrible writing Ezra. Terrible.
96. Like, this is Stephanie Meyer-type shit.
97. So basically Ezra is so upset because he acted like a teenage girl and that's the last time he saw Nicole?
98. Because Nicole had shit to do, and Ezra decided to storm off like a big old jackass on his man period.
99. WHAT KIND OF BABY MAN ARE YOU EZRA FITZ?!
100. Ezra's like, "omg what ending do I go with, the shit made-up version or the even shittier truth??"
101. Aria: "We tell it the way that makes the best story."
102. Y'all better find a new way to tell it then because everything so far is awful.
103. I hate all the Ezria bullshit this season.
104. Let's go back to them fucking in the bathrooms of bars, please.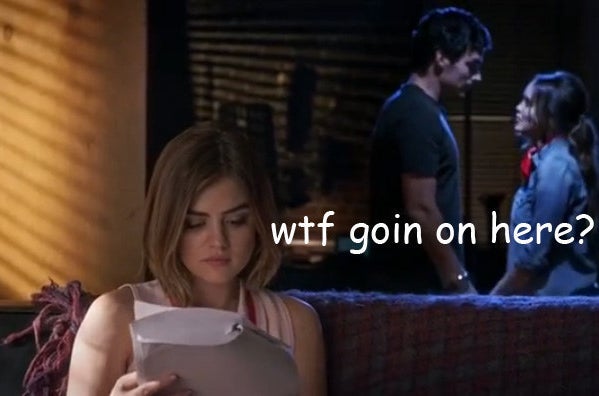 105. This tube guy aka Sara's henchman eats ice cream in a very creepy way. Who just stands next to the truck and occasionally licks their cone?
106. I like how Spencer has Caleb and her mom's campaign, Aria has the book, and Hanna has her wedding to plan, meanwhile Emily is just sleuthing around Rosewood stalking Shower Harvey.
107. And getting her eggs stolen.
108. Um… if Sara can't even hold a pen, how can she drive a fucking car?
109. And was that meant to be a super stealthy "drop" of the Radley plans? Because that was shady as fuck.
110. A lone man in a suit, on a suburban street in the middle of the day, surrounded by kids.
111. Suuuuuure, no one will notice.
112. YAS HALEB GET AT ME. GO MAKE SOME BEAUTIFUL BABIES AND LEAVE EVERYONE ELSE BEHIND.
113. I don't know, or care, what they're talking about tbh.
114. Some kind of plan
115. Finally they're realising what a valuable asset Caleb is.
116. JUST MASH YOUR FACES TOGETHER.
117. OMG though just imagine being Spencer right now. You walk into your house, while talking about really secret stuff on the phone. Then you turn around and your boyfriend and his ex who is also one of your best friends are standing there.
118. Nuts.
119. Omg what is this scene though.
120. Wait, what does Hanna know???
121. This is so weird.
122. HANNA IS SAYING SHE KILLED CHARLOTTE?!
123. WHAT?
124. This CANNOT be real.
125. Like, it just can't.
126. If Charlotte had a stab wound, why did the police ever even think that her death was a suicide?
127. UGH IT WAS ALL A LIE.
128. Fffffuuuuuuuuucccckkkkk yooooooooooouuuuuuuu, Pretty Little Liars.
129. Spencer: "What the hell just happened?!"
130. UM, ALL OF US RIGHT NOW.
131. AND EVERY GODDAMN WEEK.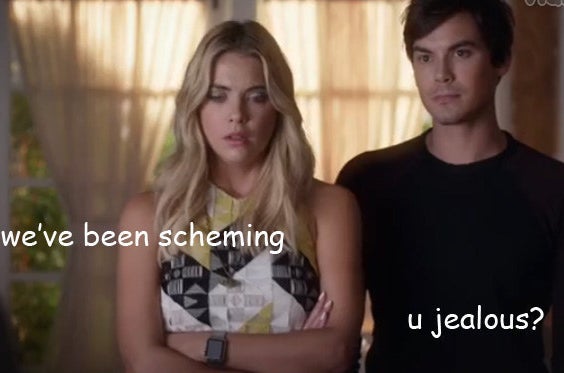 132. I have no interest AT ALL in Ezria's book, or this book lady who is talking to them.
133. Blah blah snooze snooze when is A going to blow something up?
134. So now Hanna, Caleb, and Spencer have roped Emily in on this plan.
135. And I still have no idea what's going on? And I don't particularly care.
136. "I'm just happy someone else has come up with a plan, because I'm all tapped out." - OMG SPENCER, that shade.
137. OH THAT HAND GRAB, HALEB IS ALIVE.
138. Poor Caleb trying to dodge it.
139. Lol at Spencer hitting the wine though.
140. Same, every time I watch this show.
141. To be honest, while I am Haleb AF, and I still think Spaleb is quite hot, I really really hate that they've made boy drama come between the girls.
142. It was the one thing PLL never fucked up and look what they've done now.
143. It makes me so mad.
144. OK. So. This "plot". Hanna is going to tell A that she killed Charlotte?
145. Then, something else? I don't get it.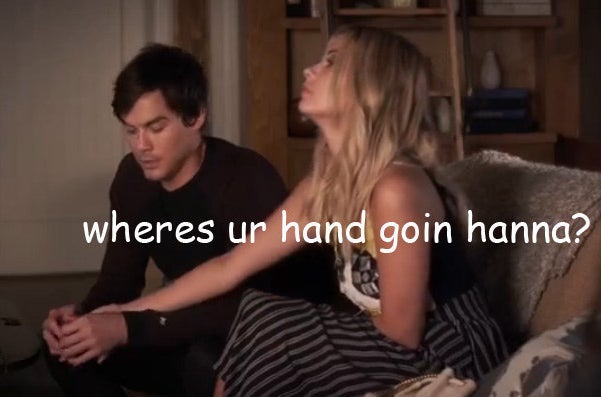 146. So Aria's book boss knew ALLLLLL along about Aria and Liam?
147. Just like everyone knew all along about Ezria.
148. Aria is a bad secret keeper.
149. Or she just can't keep it in her pants.
150. But also, look at Ezra. Can you blame her?
151. Liam is cute too. And looks a lot like Ezra. Get it, Aria. Get it all.
152. Emily wants Aria to tell Ezra. OMG are they actually going to tell an adult about all this?
153. Well, I guess they're all adults now. But they're sure as shit not acting like it tbh.
154. Why is Spencer looking so menacingly at that wine glass?
155. FLASHBACKKKKKKKK!!!!!!!!
156. Aw look at these two. So flirty.
157. They DEFINITELY banged in Barcelona or Madrid or wherever they are rn.
158. Or they DEFINITELY wanted to.
159. See, they've got good chemistry.
160. Poor Spencer. Poor Hanna. Poor Caleb.
161. Ugh @PLL why did you make this so messy.
162. Lucas is SO FUCKING CREEPY.
163. Sitting on his lounge way up high, setting off fire as soon as people walk into the room.
164. Is this foreshadowing?
165. LUCAS IS A.
166. Holy shit, Lucas just asked Caleb, "do you lunch?"
167. Dumb question Lucas, who doesn't lunch?
168. It's a meal.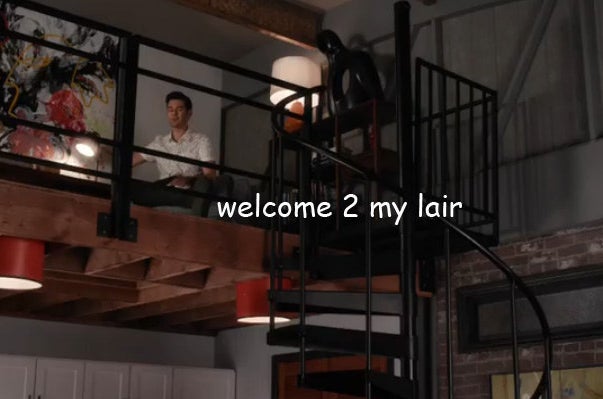 169. Lucas is such a Nice Guy™.
170. "I've finally found a way to give you something no one else can."
171. Like OK then buddy, calm down there.
172. She doesn't owe you anything, mmmk?
173. He is literally acting like every stereotypical controlling male right now.
174. Ugh its creepy as fuck.
175. Lucas is the worst.
176. WHO IS THAT IN ALI'S HOSPITAL ROOM????
177. OH GODDAMN. It's Jessica.
178. This has to be a ghost apparition thing, right?
179. Unless… Is Ali's mom the twin?
180. And she's not really dead?
181. This is like Hanna thinking she saw Ali that time in season one or whatever and Hanna thought it was a dream.
182. BUT SHE REALLY DID SEE HER.
183. Jessica does look like she's had the blur filter put on her.
184. The sure sign of a ghost.
185. Or drugs. Or a super secret twin.
186. FUCK THIS.
187. Ghosts don't open doors.
188. Loving Sara just emerging from the shadows of a dark alleyway.
189. This conversation between Mona and Sara is wonderfully shady.
190. Though they both speak in so many metaphors I don't think I really know what's going on.
191. This could be great if I gave a shit about Shower Harvey.
192. Like, literally no one does, can we flush her down the drain already?
193. OK but what does Sara want? Out of Charlotte's death?
194. This is confusing.
195. Mona just said she's not playing anything anymore.I will never believe that.
196. The only time Mona won't be playing games is when she's dead.
197. Oh wait. That happened last season, and she was STILL playing games.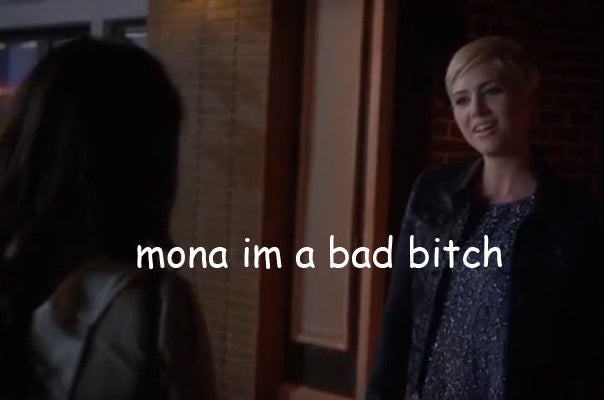 198. Yaaass Aria, finally telling Ezra.
199. About time really.
200. Can we just cut out all the Rollins and Ali scenes?
201. No one ships this, and no one carrrrrrres.
202. Can one (or both) of them be the bad guy?
203. That's the only way I'm gonna give a fuck about this storyline.
204. LOOK AT THIS SQUAD MEETING.
205. The old gang is back together I LOVE IT.
206. Minus Toby but really we don't care about him any more. Poor Toby.
207. Why did Hanna speak into the phone why didn't she just type?
208. This is all so overdramatic.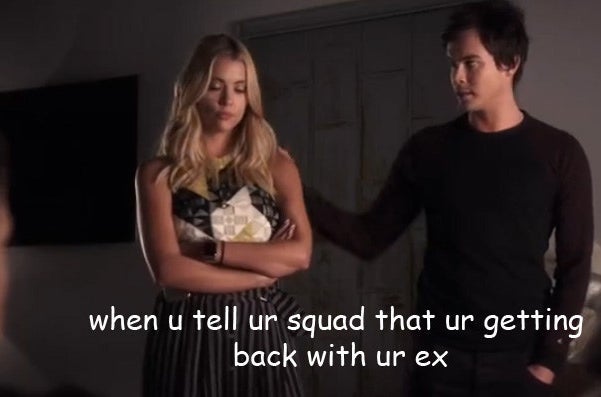 209. Oh... my... god.
210. What the fuck is this?
211. The numbers?
212. The text flying through cyberspace?
213. WHY IS THIS HAPPENING?
214. WHY IS THIS STILL HAPPENING?
215. MAKE IT STOP.
216. I actually can't deal.
217. You know the plot is shit when you spend three minutes watching numbers fly through the air.
218. BRING ON THE FINALE I JUST WANT ANSWERS.
219. Because honestly I am so done.