We Watched The "Pretty Little Liars" Season Finale And Have So Many Thoughts
Back to the good old bell tower we go with a limp body.
by
,
,
,
1. Finale day! This has come around so quick.
2. Remember last finale day? When we were so excited for the A reveal?
3. Now all I want is an end to A's shitty emoji use.
4. Honestly what the hell was that gun emoji. Like we literally needed a translation of that.
5. I do love that the whole gang is together for this.
6. They should have invited Mona though tbh, she's the only brainy one now that Spencer has given up.
7. Uggggggghhhhh not here for the boy drama between the girls.
8. I bet Caleb's secretly lovin' these two fighting over him though.
9. I love how they think they're setting up this trap for Sara Harvey. I mean honestly, over the past HOWEVER MANY YEARS, you guys have always been wrong.
10. But actually, what is their plan? I am very confused.
11. Maybe… they should just call the cops.
12. Ugh Ali and Rollins NO THANK YOU.
13. That kiss was noooooot convincing, or hot.
14. Please just let him be a bad guy. That is the only way I'll be OK with this bullshit that's been happening all season.
15. Can we pause for a second to talk about how good Alison looks without all the heavy makeup?
16. Oh, look. A mention of Jason, after basically no mention of him all season.
17. MAYBE HE IS A-MOJI.
18. I still don't get this whole like, "I loved Charlotte, she was family" thing. It feels like a weird, fake joke that just never ended.
19. She tried to kill you mate. And all your friends.
20. OK Toby looks hot af in these glasses but I TELL YOU WHAT if Spencer decides she loves him again because he actually looks like he can read now, I will lose it.
21. "Oh you wear GLASSES now Toby, I never realised you were a TRUE intellectual!"
22. Spencer is such a show-off.
23. Oh wow Toby wears glasses AND speaks French, Spencer definitely wants to bone him again.
24. So superficial, Spence. In a weirdly intellectual way.
25. But it is true that everyone gains like 10 hot points when they speak French. It's a scientific fact. So we can't blame her too much.
26. How the fuck does Caleb know how to build an electric fence?
27. Well I guess he was like some weird hacking genius at 15 or 16, so let's just assume he knows everything. For plot reasons.
28. All I've got from this episode so far is they're just building fences and planning to drill some holes in the wall, I'm not sure I understand this ~grand master plan~.
29. What are Spencer and Toby even doing?
30. Other than ~reconnecting~.
31. Aria's second degree burns seem to have healed well.
32. Minus the one tiny bandage added for some kind of continuity for the first time. I mean, at least they're trying?
33. How have Ezra and Aria already finished writing this book? It's been like a week.
34. Oh so we're still pretending Nicole is a thing and Ezra is still sad, OK.
35. Well look, I. Marlene - we didn't see the Ezra and Nicole relationship, so tbh we don't really care about seeing Ezra's emotional fallout from it.
36. JUST GIVE ME EZRIA DAMMIT.
37. Ezra's sadness is really killing the sex vibe.
38. Ali is home alone, and asleep. Some bad shit is about to go down.
39. What is that creepy music?
40. OK, what is happening, I actually feel on edge.
41. OMG ZOMBIE JESSICA!
42. HOLY FUCKING SHIT I JUST SCREAMED SO LOUD.
43. I have been waiting for something to scary to happen all season and now it's snuck up and near killed me. Oh Lord, revive me.
44. Oh, this is some Scream-type shit happening here.
45. "Did you miss me?" - Ah that iconic old line making a comeback.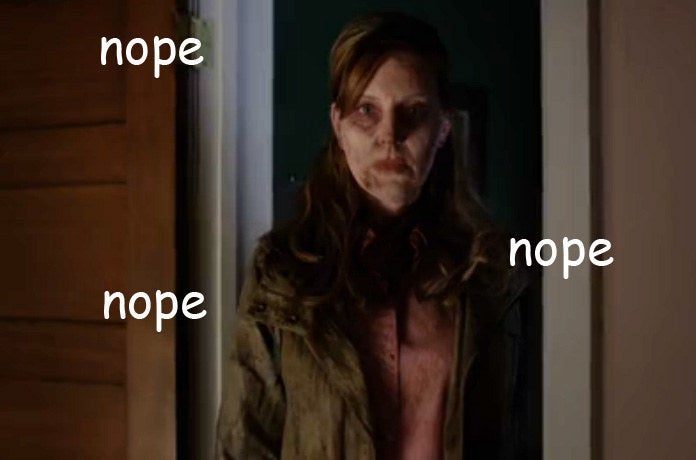 46. Emison fans are probably freaking out right now.
47. Ali has to know that she's not hallucinating.
48. This is Rosewood. Remember when Mona "hallucinated" seeing Ali? Yeah.
49. Jessica has to be this mythical twin that I. Marlene has been hinting at.
50. It's the only thing that would make sense. Though really, would anything make sense?
51. Oh yeah. Yvonne is still a thing. Sorry but I don't care at all about Yvonne and Toby.
52. Or like, any of the new characters. I just DGAF. Zero character development + zero relationship development = zero care factor.
53. MONA IS BACK. To… volunteer for Spencer's mum?
54. But why?
55. And why is she using an old flip phone?
56. She's up to something. Mona is never not up to something.
57. Yeeeeessss Toby and Yvonne are arguing about Spencer.
58. Good. I hope they break up and he can get back with Spencer.
59. And they can speak French together forever.
60. "I won't let you turn me into the woman who says pick me, not her." Go in, Yvonne.
61. But also, I wouldn't be surprised if this is the last episode she's ever in tbh.
62. Haleb back at it again… making a fence?
63. Yaassss get ~closer~. All the shippers are going to be happy after this episode. I can feel it.
64. Love that they can just install flashcams and all this high-tech equipment in the woods.
65. #SoRelatable.
66. Aria just needs to wake up to the fact that she is in love with Ezra.
67. And Ezra needs to snap out of it and realise he is in love with Aria.
68. Honestly these two are clearly endgame why did we ever pretend they weren't.
69. I love that Emily and Aria are sitting in front of a fire drinking red wine.
70. "Remember that we're ADULTS now!!!!!"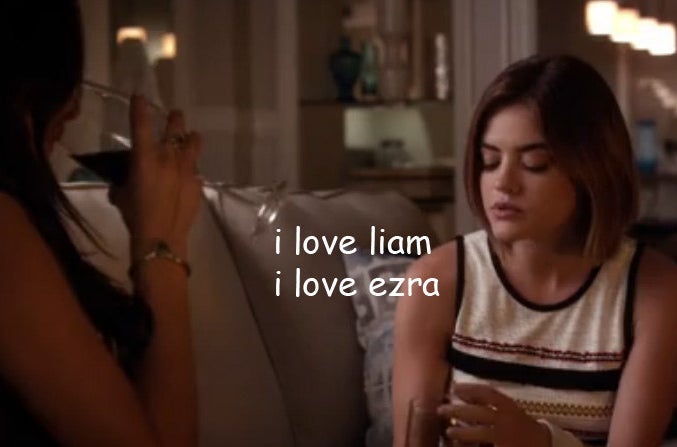 71. WAIT WTF, was that WILDEN in Ali's bed?!
72. If he's the twin I swear to god…
73. I can't deal with this show omg I'm so happy about all the dumb drama this episode. It's just like old PLL.
74. Oh hey shirtless Caleb.
75. Sometimes I forget Spencer and Caleb are together. It's still a little weird.
76. I mean, they have good chemistry but they're so obviously not endgame, it's hard to get attached.
77. Especially when we're still so attached to Spoby and Haleb.
78. DAMN SPENCER. LOOOOOKING GOOOOOOOD.
79. But also looking very naked for Pretty Little Liars?
80. Apparently nobody's ever told these two that "panties" is literally the worst word in the English language.
81. DID SHE JUST SAY I LOVE YOU?!
82. SPENCE!!!
83. AND HE DIDN'T SAY IT BACK?!
84. That's cold, Caleb.
85. These Ali scenes are literally giving me goosebumps. Maybe I. Marlene still has it after all.
86. I'm just praying that that these hallucinations she's having are actual people. I want shit to go down!
87. YES DEAD MOM IS BACK.
88. AND WILDEN AGAIN.
89. With… bloodstains?
90. What's happening?
91. FUUUUUUUUUUUUUUUUUck.
92. MAYBE WILDEN IS THE TWIN TRYING TO GET REVENGE FOR HIS BROTHERS' DEATH AND ALI'S DEAD MOM IS TRYING TO WARN HER. Ugh.
93. DAMN ARIA THOSE SHORTS. OOOOFFT.
94. OK so they really are playing out that Ezria have already finished writing this book? Right.
95. Because I'm sure it's soooo common to write and edit a potentially award-winning, film-inspiring book in like three days.
96. Anything's possible in Rosewood, I guess.
97. OMG SHE KISSED HIM???!
98. Kiss her back Ezra! Do it!
99. YYYYYYYYYYAYYAAAAAAAASSSSSSSS. EZRIA MY OTP.
100. OMG AN EZRIA SEX SCENE.
101. I have never felt so blessed.
102. This is actually a weirdly long sex scene.
103. It's mainly weird because like, surely Ezra hasn't had sex for ages, so it would have all been over in 30 seconds.
104. That Miss Peregrine's Home for Peculiar Children reference killed me. So random. I bet anything it was sponsored to time with the trailer release today lol.
105. This motel is fucking creepy though. Like... who owns it? Spruce it up a bit mate.
106. And the fact that it's called Lost Pines Resort. RESORT?
107. Ooooooooh Hanna and Caleb are allllll alone in a cabin in the woods. Please kiss.
108. Ignore the fact that they both have significant others. Haleb is Haleb.
109. FLASHBACKKKKKKK!!!
110. Aw this is sad. I'm sad that they broke up.
111. But to be fair they were two VERY different people at that time.
112. Buuuuut I still want them to kiss now please.
113. OK can we talk about the fact these girls are just standing there staring into space while these flashbacks are happening?
114. And it's happening, like, a lot.
115. Why is Rollins video calling Ali? Why does EVERYONE on this goddamn show video call each other?
116. I can't think of anything worse.
117. But actually where has Ali gone? And why did she leave her phone behind? Something is not right.
118. I love that Emily called Spencer for help, and Spencer is literally like, "Um, I have more important shit going on. Deal with it yourself."
119. Spencer is so done this season. Same.
120. "Where would she go if she wants to feel safe?" The church where everyone gets murdered. Yep, totally safe.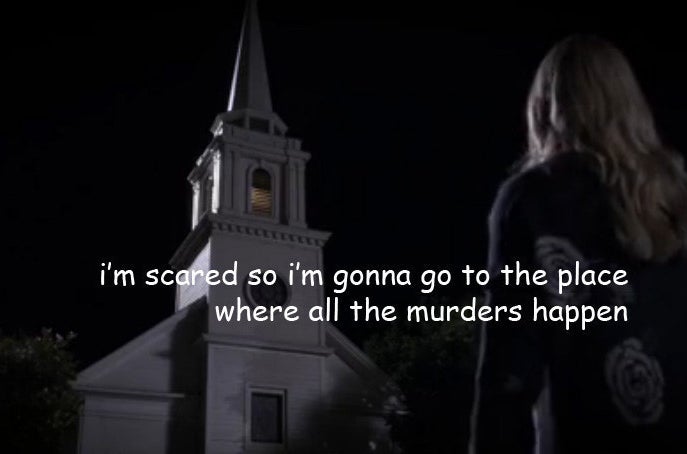 121. Maybe Ali thinks she's got the sixth sense and is heading back to the church to talk to Charlotte, seeing as she's being visited by all these dead people.
122. But honestly, why would anyone go there unless they wanted to either die, or talk to the multiple ghosts of people who have been murdered there?
123. This is dumb. This is how murders happen.
124. You know what else is dumb? This dumb plan to catch A-moji. Like how do they think this will actually work?
125. ANOTHER FLASHBACK! OK this rainy scene is giving me actual goosebumps.
126. Hanna is soooooo getting out of this car. It's raining, she's GOT to get out of the car.
127. YES HANNA! Run dramatically back to yo' man!
128. This is actually so good.
129. Whoa Caleb is a fast packer. Can he help me move?
130. But he left his phone behind??
131. Doesn't Hanna realise that he'll eventually come back to get his phone? Just wait, girl.
132. Unless he did it on purpose like, "I'm going to Europe, leaving my phone behind, so you can't contact me AT ALL."
133. Brutal if true.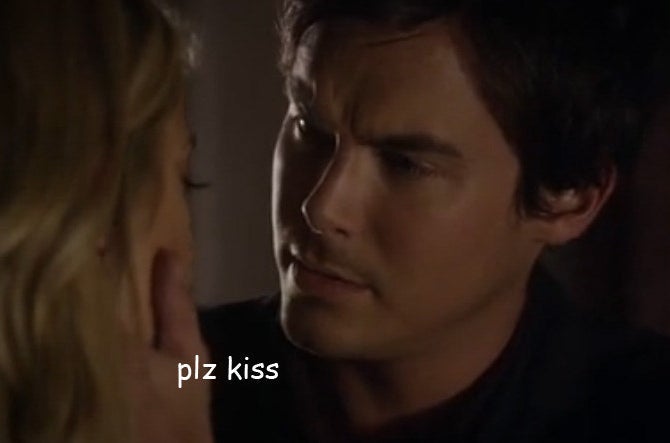 134. But after watching that flashback and Hanna's confession, Haleb HAS to kiss right now.
135. Yesssss doooooo iiiiiiiittttttttt.
136. THEY DID IIIIIITTTTTTTT!!!!
137. CALEB'S THUMB ON HER CHEEK. THE THUMB ON THE CHEEK. KILL ME SOFTLY THUMB ON CHEEK.
138. Honestly, this entire trash season has been worth it for this episode. Basically, just for this scene.
139. Like it's so fucked up that Caleb is cheating on Spencer and Hanna is betraying Spencer AND cheating on her fiance´.
140. It makes me mad but also...
141. THIS KISSSSSSSSS.
142. Meanwhile Spoby is back at it again with the lurking in basements with torches.
143. So... they're looking for a secret room?
144. "I can hammer through the drywall but I'll need to saw through the plywood." This is ridiculous. I'm so here for it.
145. Whyyyyyy is Ali in the church? Just cowering in the corner.
146. Good old dumb beautiful idiot Emily is here to save the day.
147. Ali is saying that she needs help, but have we all forgotten that her husband is a psychiatrist? AKA fully equipped to help with hallucinations? Where is he the one time you actually need him?
148. I love it how Toby needs glasses to read but just whips out a gun in total darkness without a thought. Classic Toby "Shit Cop" Cavanaugh tbh.
149. They only remember he's a police officer when it's convenient for the plot.
150. And he's like "I'M A POLICE OFFICER FREEZE." Like c'mon Toby, that's so not intimidating.
151. You're the police officer who ate spiked gummi bears and got high on the job and could barely stand up.
152. HELLO MONA! What a queen.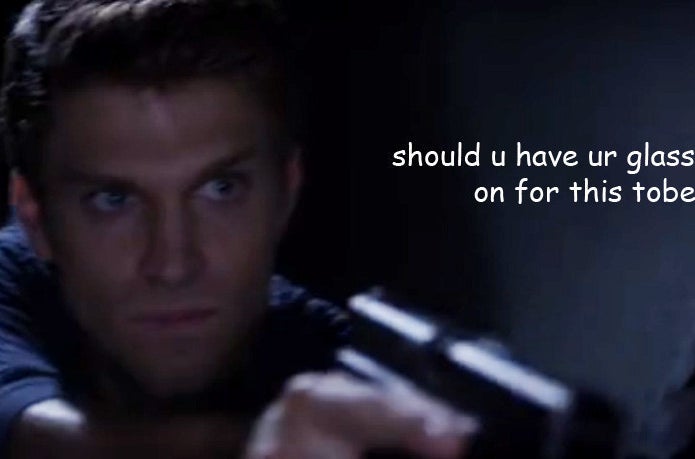 153. Oh heeeere we go.
154. So Charlotte was ADOPTED?
155. And her real mother is Mary Drake? (I mean, it explains CeCe Drake).
156. So Mary and Jessica DiLaurentis are the twins, right?
157. Wow blow my mind again I. Marlene. (That was sarcasm).
158. Someone wanted this file so hidden that they made a fake room and hid it within that, under a hotel. Like, just burn it maybe?
159. I guess the important takeaway from this is that Jason didn't make out with his sister, he just made out with his cousin.
160. K.
161. Aria, Ezra, and Caleb look so silly just running through the forest and setting off their own traps.
162. Where's Kenny D, Trap Lord when you need him?
163. Honestly, these idiots, why didn't someone stay stationed with eyes on the house?
164. ALI IS COMMITTING HERSELF?
165. DID YOU CALL YOUR HUSBAND FIRST, GIRL?
166. YOUR HUSBAND THE DOCTOR?
167. WHO TREATED YOUR SISTER OR COUSIN OR WHOEVER, IN THAT MENTAL INSTITUTION?
168. THE ONE WHO MADE HER BETTER?
169. Emily's only role in this whole episode is to stand around and listen to other people's problems.
170. She has actually been talking so much sense though.
171. I. Marlene is baiting Emison fans so much.
172. Imagine if it doesn't happen. We can only hope.
173. Oh yay! Olivia Benson won the election! This has become such a background storyline though.
174. Oh Toby, mate, if you don't want to jeopardise your relationship maybe you should be with your girlfriend and her losing mother right now?
175. If Spoby kiss this episode too, honestly, I might just die.
176. What a mess of a season.
177. LIKE MAYBE JUST DON'T BREAK THEM ALL UP TO START WITH FOR FAKE DRAMA TO LEAVE US HANGING ALL SEASON.
178. AND screw with the friendships in the process. Ugh.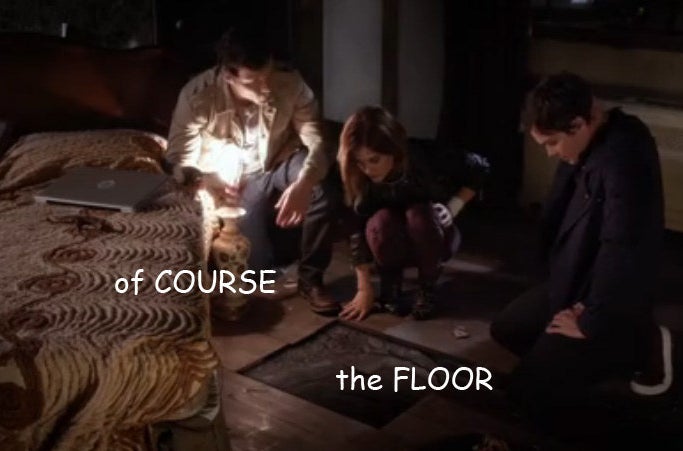 179. I cannot believe that Caleb just said, "I SHOULD HAVE CHECKED THE FLOORS!"
180. Of course, THE FLOORS.
181. DID YOU LEARN NOTHING FROM THE BUTTON JAR INCIDENT.
182. OK but why aren't they going under the floor to find Hanna?
183. OMG THERE'S SOMEONE ON THE FOREST SECURITY TAPE.
184. $500 says that it's definitely not going to be Sara.
185. Please be Mrs DiLaurentis/Mary Drake.
186. Wildennnn! I knew this wasn't a hallucination.
187. OMG HE'S TAKING OFF HIS FACE.
188. IT'S A MASK.
189. A'S MASK GAME HAS REALLY IMPROVED.
190. Please be Wren under that mask.
191. PLEASE. PLEASE.
192. Ohhhhhhh Rollins!
193. YES! I AM SO GLAD HE'S A BADDIE. Justifies his character tbh.
194. But he now has a British accent? Of course, like, "this adds to the mystery of it all!"
195. NOW TAKE OFF THE ROLLINS MASK AND BE WREN.
196. Mary Drake has dark hair which obviously makes her the bad twin. TROPES.
197. Holy shit this whole scene is so soap opera like. It's like something out of The Young and The Restless.
198. "I would have done anything for Charlotte." "You proved that when you married her cousin."
199. ACTUAL LINES FROM THIS ACTUAL SHOW.
200. WELL that delivery deserves an Emmy. WTF honestly.
201. Oh the Carissimi group has returned to the plot.
202. I can't deal right now tbh.
203. OK so they saw Mrs DiLaurentis/Mary Drake on the tape from the woods. But why didn't she just come up through her hole in the floor?
204. It's sentences like this that make me really wonder why I waste so much time on this show.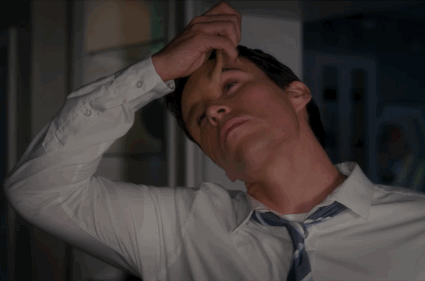 205. Back to the good old bell tower we go with a limp body.
206. At least there's continuity somewhere in this show.
207. Not gonna lie, this episode has pulled me right back in.
208. I never thought I'd say it, but now I just want to go back and rewatch this season.
209. DR ROLLINS I'M COMING FOR YOU.
210. Goddamnit.
211. When does next season begin?