The interview, which aired on Friday, has now been viewed more than 20 million times on Facebook.
During the conversation, Jordyn, 21, admitted she went to an afterparty at Tristan's house with some friends, and that "On the way out, he did kiss me. No passion...no tongue kiss, no making out, no nothing."
She denied giving Tristan a lap dance or having an intimate relationship with him.
"The last thing I wanted to do was be that person," she said. "I'm no home-wrecker. I would never try to hurt someone's home, especially someone that I love."
As you might know, Jordyn is Kylie Jenner's BFF and is very close with the Jenner–Kardashian family.
Well, along with millions of other people, Khloé, 34, was also apparently watching the interview, and immediately went on Twitter to drag Jordyn. She accused her of lying AND breaking up her family, which people have thoughts about.
Of course, there were many people who agreed with Khloé.
Khloé also went on to like three tweets from those who were on her side.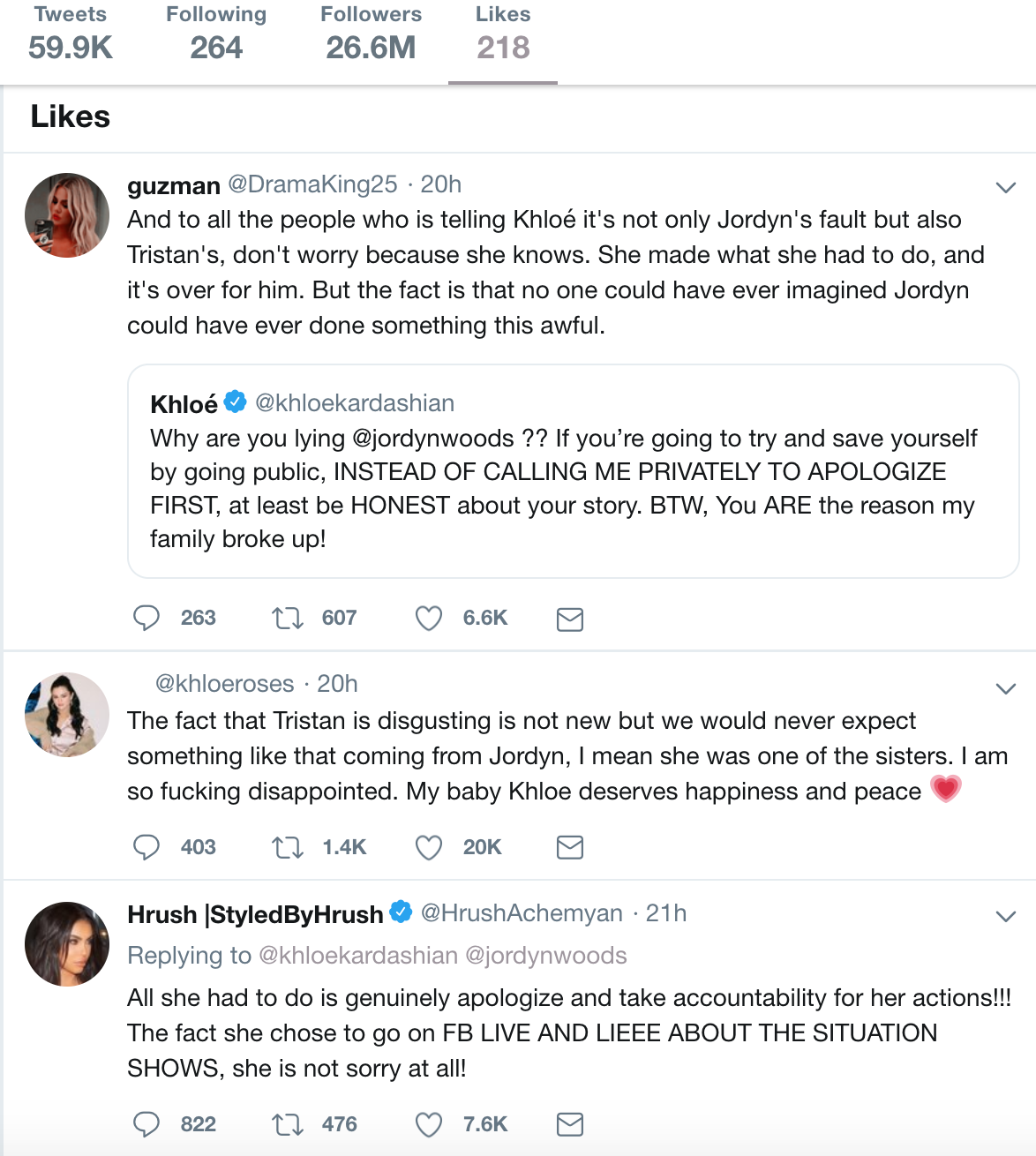 On the flip side, however, a lot of people have come to Jordyn's defence.
They wanted to know why Khloé didn't appear to be placing as much blame on her S.O. as she was on Jordyn over the allegations.
Well, this narrative is picking up steam. Jordyn's newfound supporters include British singer Jamelia, who expressed concern that a young black woman was being vilified.
"I have to call out the media/internet/trolls when dealing with Jordyn Woods. I urge you not participate in the diabolical crucifixion of our young black sister. Particularly when it is instigated, fuelled and supported by people guilty of their own abominable TRASH," Jamelia wrote on Saturday morning.
A lot of people have said that, if the allegations are true, Tristan is the one who should carry the burden of blame.
Others don't really understand why people are pointing the finger at Jordyn.
There's also a large wave of support for Jordyn because of the Smiths' cosign. As pointed out in the Red Table Talk episode, Will Smith has known Jordyn all her life, and has stepped in as a father figure after her dad died.
And some people are going all out to support Jordyn.
No doubt there'll be more drama to come. Watch this space.