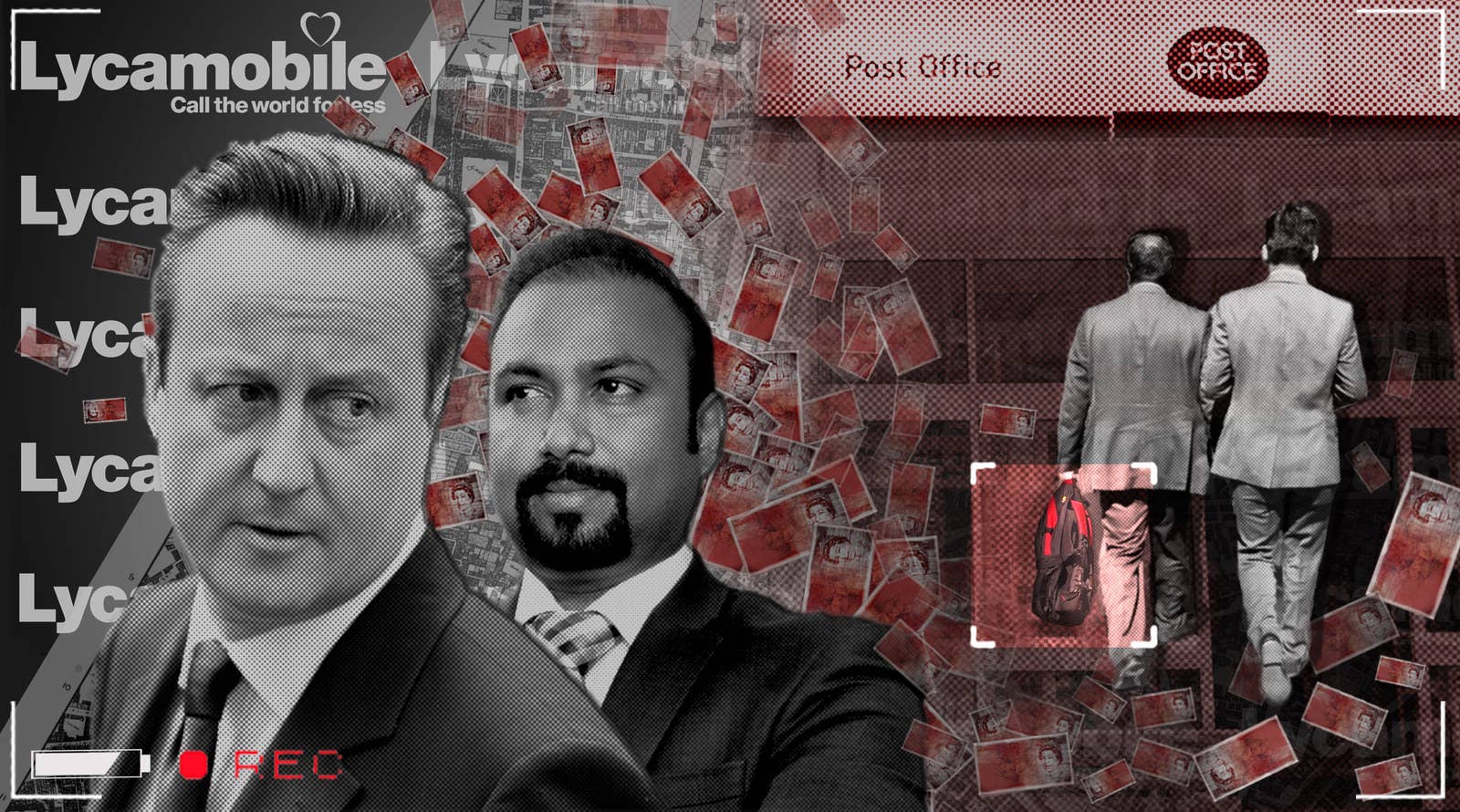 This is Part One of a BuzzFeed News investigation.

Part Two: Lycamobile's Offshore Empire Is Embroiled In Sri Lanka's Hunt For Stolen Assets.

Part Three: Tory Donor Reported To Cops For "Money Laundering" After Rival Spied On Cash Drops.
One of the Conservative party's biggest corporate donors, Lycamobile, is facing serious questions over its finances after three bagmen were secretly filmed dropping off rucksacks stuffed with hundreds of thousands of pounds twice a day at Post Offices across London.

A five-month investigation by BuzzFeed News has revealed that the Lyca telecoms group deploys three men to drive around in an unmarked people carrier depositing bags of money, which have totalled up to £1 million each week. Legal and financial experts said the "deeply suspicious" cash deposits should be urgently investigated.
Lycamobile has donated more than £1.3 million to the Conservative party since David Cameron came to power, including over £500,000 in this year alone, despite avoiding paying any corporation tax for years by moving revenue out of the UK through a complex offshore corporate network.
The evidence of Lyca's unorthodox Post Office deposits comes in the wake of criticism from its new auditor, KPMG, which unearthed almost £46 million of previously undeclared revenue earlier this year and said the company had failed to properly explain the gap in its finances so it had been impossible to tell whether "adequate accounting records" had been kept.
Internal Tory emails show that the party accepted a large donation from the telecoms giant just days after the party's compliance department raised concerns about its chaotic accounting in 2012. The gift bought the company's Sri Lankan-born owner, Subaskaran Allirajah, a place in David Cameron's private dining club for top donors, and the emails show he promised to advise the party on business and help deliver British Asian votes.
BuzzFeed News can also reveal that authorities in Sri Lanka are launching an investigation into a key offshore company in the Lyca empire as part of an international probe into allegations of corruption by the country's despotic former president Mahinda Rajapaksa.
There is no evidence of any connection between the corruption allegations in Sri Lanka and the mysterious cash deposits in London. However, the Tories are now facing renewed pressure to sever their ties with the company, having previously brushed off warnings about its links to Rajapaksa, who is accused of presiding over a kleptocracy and multiple crimes against humanity during his decade in power.
Lyca declined to answer detailed questions from BuzzFeed News but said the police were aware of security processes in place at the east London depot where it stores its cash. It said the deposits were "day to day banking," sanctioned by the Post Office. It has previously said that it is a cash-rich business because it collects money from shop owners selling its prepaid international calling cards and SIMs all over London.
However, experts said the company's unorthodox method of depositing cash at scattered locations should raise a red flag with the anti-money-laundering and tax authorities. Lord MacDonald QC, the former director for public prosecutions, called for an urgent investigation into Lyca's financial activities after seeing the evidence gathered by BuzzFeed News. "The use of unmarked vehicles, the lack of any security arrangements, the repeated deposits of huge sums of cash to multiple branches of the Post Office, is all conduct that cries out for explanation," he said. "Frankly, this is not the way a normal ... business deposits its cash. It is deeply suspicious and it demands serious investigation."
Senior Labour MPs joined calls for an urgent investigation and demanded that the Tories freeze all further donations from Lyca and consider handing back the money they have already accepted. Meg Hillier, the chair of the powerful Commons public accounts committee, said HMRC should launch an inquiry into the company's financial behaviour, and her predecessor, Margaret Hodge, said the revelations were "absolutely shocking".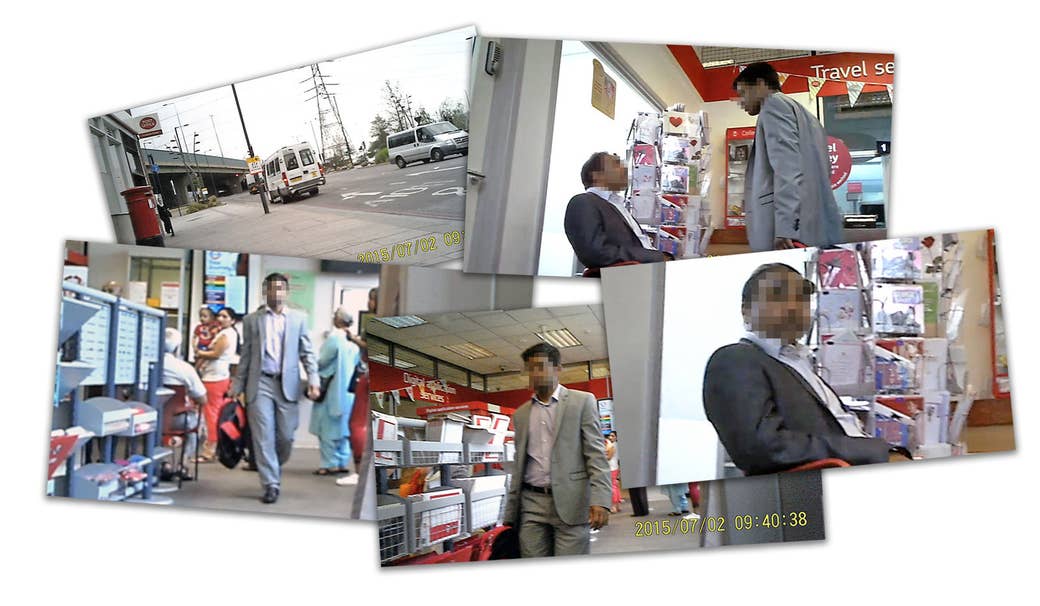 The twice-daily rucksack drops to multiple Post Offices are especially bizarre because the security firm G4S was filmed visiting the Lyca depot and collecting as many as 40 sacks of money at a time in an armoured van – the normal way for a cash-rich business to transport its takings. The company declined to explain why it is also sending staff to multiple Post Offices with bags of money every day when it has an armoured and properly audited cash-in-transit service at its disposal. Additionally, the Post Office has its own secure cash collection service, which charges just £220 to pick up £1 million a week and drive it directly to the bank.
The Post Office has not explained why Lyca's unusual cash transactions have been allowed to continue, citing client confidentiality, but it said in a statement that it was fully compliant with all its regulatory obligations and any suggestion to the contrary would be "unfounded".
However, staff in the branches visited by the couriers told BuzzFeed News they felt uncomfortable taking such enormous sums of cash and had repeatedly flagged the deposits as suspicious but were instructed to continue accepting the money.

BuzzFeed News has confirmed that around 18 months ago Santander Bank reviewed the unlimited amounts the company was previously allowed to deposit because of the large volumes of Lyca's cash flowing through the Post Office into its accounts. It imposed limits of between £100,000 and £240,000 on the money the couriers could drop off at each branch after a series of Post Office tellers raised suspicions.
A senior Santander insider said that the evidence BuzzFeed News had assembled of how Lyca deposits cash was "eye-opening" for the bank. "I think this is something that we've identified and are attempting to do our appropriate duty on," the source said. He also confided: "I suspect this is not the end of this one. I suspect things will progress probably partly due to the work you guys are doing."
The Lyca group buys surplus international airtime and data from the major telecoms operators wholesale and sells it on cheap prepaid calling cards and SIMs to its 14 million customers – mostly migrants from Asia, Africa, and South America living in Europe – so they can "call the world for less". Many of its customers pay for its goods in cash, although a Lycamobile insider told BuzzFeed News it sells the majority of its calling cards through large distributors that buy in bulk rather than directly to shop owners. Such distributors would not usually pay telecoms companies in cash but instead use bank transfers or other safe and efficient means.
Allirajah, the company's founder, is worth £160 million, according to the Sunday Times rich list. The Lyca group reported global sales of £1.1 billion last year, but it has consistently avoided paying UK corporation tax by moving revenue to the tax haven of Madeira through an intricate network of more than 60 companies.
The Tories have faced down heavy criticism for taking money from the firm, which was branded a "tax offender" by Margaret Hodge, then the chair of the Commons public accounts committee, two years ago. Allirajah, who spent £210,000 on a bronze bust of Margaret Thatcher at the party's exclusive Black and White Ball this year, bought a membership in Cameron's exclusive leader's group for top donors.
The party is now facing mounting pressure to sever its ties with the company amid serious concerns about its unorthodox cash movements, chaotic accounting practices, avoidance of tax, and alleged links to a defunct foreign regime mired in corruption claims.


BuzzFeed News began its investigation after being tipped off that cash couriers working at Lyca's depot at a business park in Beckton were driving to branches of the Post Office and making suspiciously large cash deposits.

In a surveillance operation over five weeks in June and July this year, our reporters watched the men leave the depot in an unmarked black people carrier and followed them to Post Offices scattered across east London. They were secretly filmed handing sums of up to £240,000 over the counter in a red-and-black rucksack. BuzzFeed News established that at least 10 separate Post Office branches have been regularly used to deposit cash by the couriers dating back several years.
The three bagmen had a well-practised routine, but they were sometimes visibly tense and were occasionally seen arguing as they conducted their cash rounds.
They would set off around 9:30am each morning for a Post Office, where two of them would get out on foot to drop off the rucksack and a third would wait at the wheel of the people carrier nearby. Inside the branch, one would sit or stand with his back to the wall scanning the room while the cash was being deposited by the other. The rucksack was shoved through the parcel-drop hatch and taken away to be counted by a member of staff while the couriers waited. They then presented a Santander bank card, which was used to deposit the funds into one of the company's bank accounts, before retrieving the empty rucksack and returning to the people carrier. They repeated the routine almost every afternoon.
On one occasion in July, a G4S driver in a security helmet and full-body armour was filmed arriving at the depot and loading his van with more than 40 bags of cash over a half-hour period. While the driver was at work, the three bagmen backed out of the yard past him in their unmarked people carrier and were followed to Hornchurch Post Office, where they deposited another bag of cash.
In some cases, Post Office staffers said the Lyca employees had offered cashiers mobile phones and calling cards, which they were forbidden from accepting. One teller was secretly filmed taking what appeared to be phone and a SIM card from one of the men. She could not be reached for interview.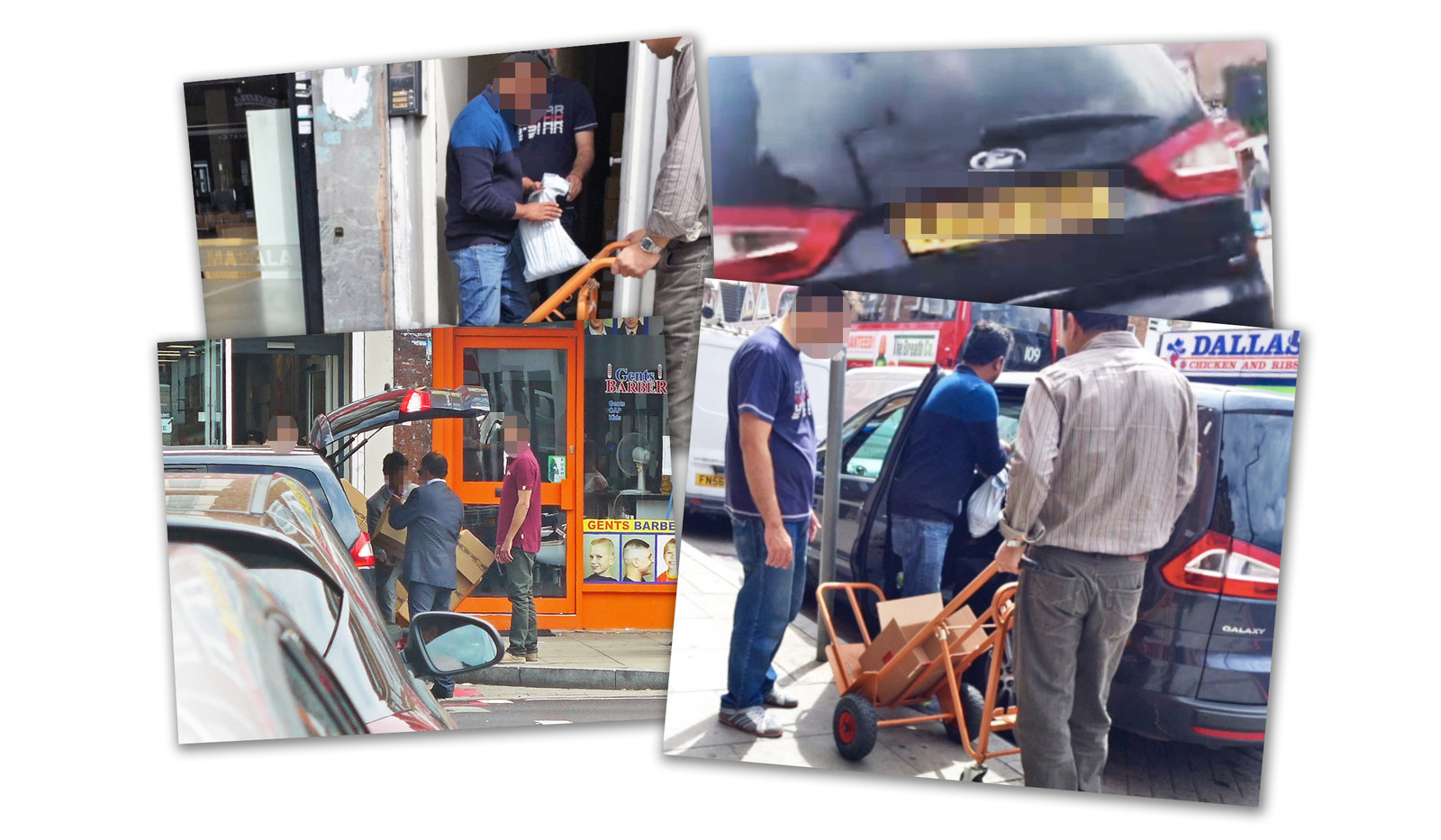 In between the two Post Office drops in the morning and afternoon, the couriers were followed across the city to the offices of AA Com, a distributor of international calling cards above a beauty salon in Norbury, south London. There, they were filmed each day unloading from the boot of the people carrier boxes that were taken into the company's hallway. Then they loaded an orange trolley with more boxes and, often, heavy bags full of cash from inside the office, which were wheeled along the pavement and transferred into the vehicle.

Staff at AA Com told BuzzFeed News reporters who visited the office that it sells its stock to agents, most of whom pay by bank transfer, but that some of its smaller customers pay in cash, which it either banks or passes to the Lyca couriers when they visit. However, the company declined to answer detailed questions sent in writing about why it so regularly hands over such large volumes of cash in plastic bags to the men from Lyca. There is no suggestion that AA Com is involved in impropriety.

After the surveillance was concluded at the end of July, BuzzFeed News interviewed staff members at six of the Post Offices where the couriers had been followed: Bow, Lea Bridge Road, Walthamstow, Canning Town, South Woodford, and Hornchurch. They confirmed that the transactions had been going on for several years, and almost all of them had flagged suspicions with the Post Office's investigators. However, they said Lyca had explained when questioned that the money was coming from shop sales of its calling cards. Santander had imposed limits on the amounts Lyca was allowed to deposit at each branch, they said, and the cash drops were allowed to continue. The tellers said they remained deeply uncomfortable about accepting such large volumes of cash, not least because it was difficult, time consuming, and risky to handle and count so much money.

Most of the nine staff members we spoke to said no other business customers paid in sums anything close to what the couriers regularly deposit. Most said the highest amounts any corporate customer ever brought in were around £10,000. The highest transaction anyone said they had seen, apart from the deposits by Lyca, was £26,000.
If Post Office tellers have concerns about a financial transaction they are being asked to make, they are duty-bound to flag their suspicions to their internal investigations team. The investigators then decide whether to file a formal suspicious activity report (SAR) to the National Crime Agency.
The Post Office declined to answer whether any of the suspicions about Lyca raised internally by their tellers had been referred to the NCA, but said it always passes on any concerns when appropriate. It said in a statement that it could not comment on Lyca's cash deposits because it treats customer information with "the utmost sensitivity and confidentiality" and because "to disclose details of cash transactions ... would jeopardise the security of our staff". However, it stressed that: "We take our obligation to comply with Anti Money Laundering regulations very seriously and are fully compliant." The statement said the Post Office would "wholly reject any inference to the contrary".
BuzzFeed News is protecting the identities of the Post Office staff who spoke to our reporters. One teller who dealt with the couriers at Bow Post Office said the Lyca bagmen would bring £120,000 a week in bundles of £20, £10, and £5 notes. "We actually complained about these things because we couldn't handle it," the teller said, explaining that staff had to lay the cash out over the floor of their office in order to count it. "I think people have been getting pissed off and fed up with these things because I have to spend over an hour to bag those things up, and we have to check [the money count] three times."
The teller said the branch had tried refusing to accept the cash, but the couriers had produced a letter from Santander authorising deposits of £120,000 a week into the Lyca account. The Post Office's own cash collection drivers had told staff that the couriers were depositing similar sums all over London. After hearing that, the teller had told the couriers to take their money to another, bigger branch and refused to accept any more of their cash.
A teller at Canning Town Post Office told BuzzFeed News that the couriers used to haul in a "huge amount" of money that could be more than £200,000 at a time, but the sums they were allowed to deposit had been capped 18 months ago around £100,000 after the branch had repeatedly flagged suspicions. The teller also said the couriers had offered staff free mobile phones and SIM cards, but that they had been turned down because it would be against the rules to accept any gifts.
Two staff members at Hornchurch Post Office said the couriers had been visiting for years with bags of cash. They said the couriers did not like them to unpack the money at the counter, as they usually would, but insisted that they take the rucksack into a backroom to count it away from public view.
One of the Hornchurch tellers called the huge cash deposits "suspicious" and said "three different managers" had flagged the cash transactions to the Post Office's investigators. But even after the amount Lyca could deposit had been capped at £240,000, the tellers said, the company's couriers had continued trying to exceed it by as much as £50,000 a week: "They think we're silly. We've got rules; we stick by them."

Staff at Lyca's bank, Santander, are also responsible for monitoring the flow of cash and filing SARs if they identify any unusual activity. The bank said in a statement that while it treated that responsibility seriously, it could not comment on the record about its banking relationship with Lyca, or even confirm the company was a client.
However, an insider confirmed that the bank had imposed limits on the amount of money the company could deposit in the Post Office "as part of our due diligence … that would have flagged there's significant money coming in and we need to put a cap on it". The insider said Lyca was among the bank's most "cash-rich" clients and agreed that the sums of money it deposited in the Post Office were extraordinary.
Lyca has explained when questioned that the cash it stores at its Beckton depot, and deposits in Santander through the Post Office, is collected from customers who retail its calling cards all over London.
During the surveillance, a reporter was detained by police after the bagmen realised they were being followed and dialled 999. Detectives from the flying squad at the Met later explained to BuzzFeed News that the men had feared they were being targeted by armed robbers because they were carrying large amounts of cash in their van. Lyca had told detectives that the firm was "cash rich" because it collected money from customers in shops all over London and that they "don't like using banks to transfer the money over".
BuzzFeed News has since learned that police have warned the company its staff are "sitting ducks" for armed robbers if they keep transporting money in unarmoured vehicles with no security. "We were all surprised at the amount of money going over the pavement and why they were doing that sort of thing," a Scotland Yard source said. "As you can see from your surveillance, they got a bag with £100,000-plus and they are quite happy to walk out with it."
A well-placed Scotland Yard source told BuzzFeed News that the cash couriers were also stopped by police from the Met's serious and economic crime command several years ago with a rucksack stuffed with about £100,000, which was seized but ultimately returned. The source said Lyca had been advised to hire a secure cash-in-transit service such as G4S to transport its cash to the bank, saying that driving it around in unmarked cars was "very strange".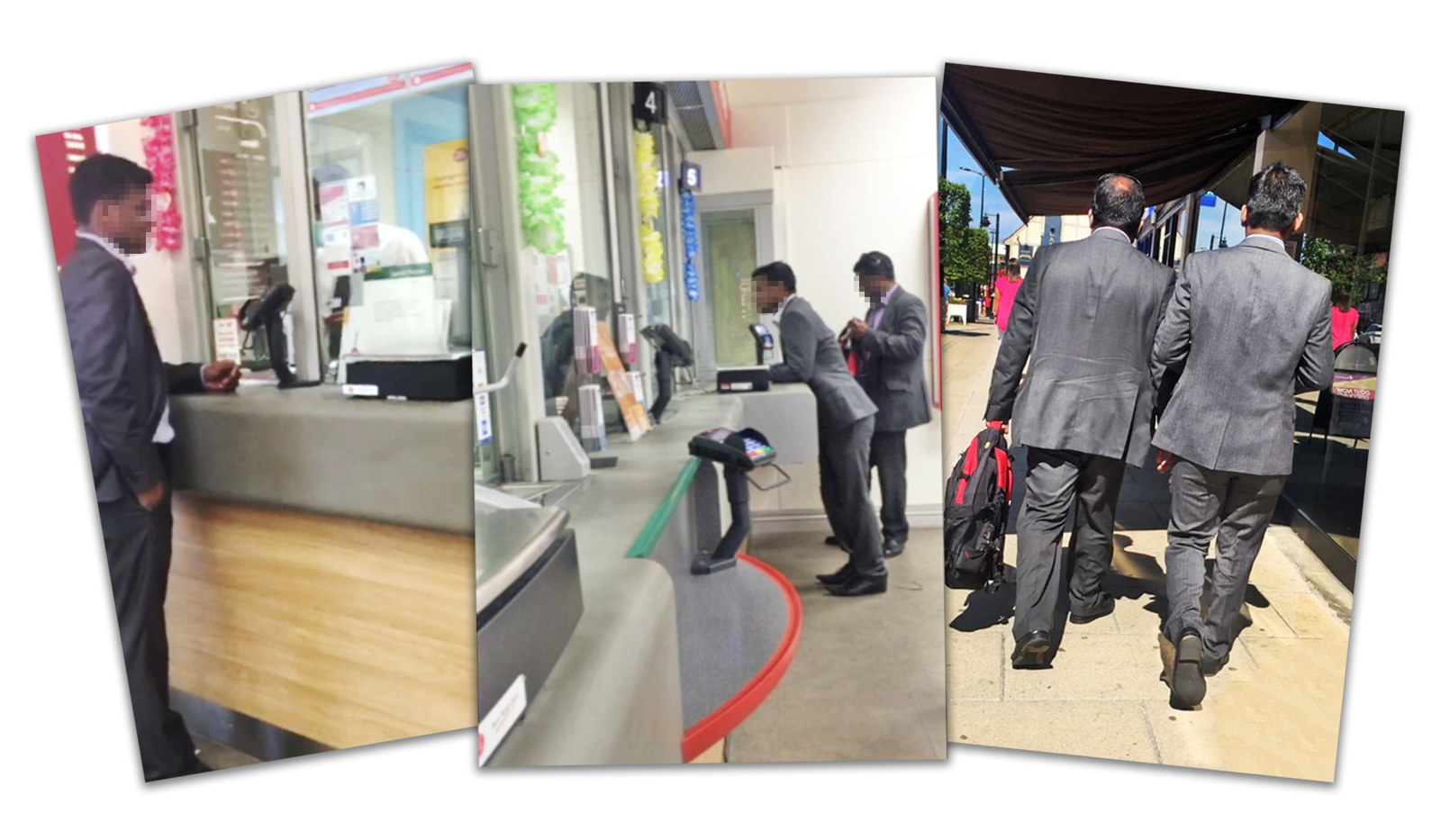 Former staff members at the company have raised questions about why it needs to handle so much cash. A former head of operations at Lycamobile, who spoke to BuzzFeed News on condition of anonymity, said that much of the company's sales are not to retail outlets that deal directly with customers and therefore take payment in cash, but rather to distributors: middleman companies that buy calling cards and SIMs in bulk. He added that the Lyca group had a bewilderingly complex structure with hundreds of different bank accounts.
A former regional manager at Lycamobile, who also asked to remain anonymous, said the company often opted to deal in cash and raised concerns that it did not keep proper sales records.
BuzzFeed News showed the evidence gathered during its surveillance to four financial experts who all said that the company's handling of its cash was highly unusual.
A former detective in the Met's fraud squad, Simon Baker, said that while "there may be very good reasons … why a mobile phone company [is] receiving large volumes of small denominations of cash", he could not understand why the company would ask its staff to drive it around to different Post Offices rather than sending it straight to the bank.
He said patterns of scattered deposits in different locations can be used as a way of creating deliberate confusion about the flow of money. "It would not be the way one would expect a normal big business to conduct its affairs and as such there is an element of concern that would tip over with what you're showing me here into reasonable suspicion that requires some further investigation," he said. "This seems to be a very loose arrangement – it seems to be slightly off the radar. It looks a little bit chaotic and disorganised ... Either you have a company that has poor practice or there's deliberately a little bit of organised confusion to maybe hide some nefarious activity."

BuzzFeed News began its investigation shortly after Lycamobile UK was censured by its new auditor this May for failing to keep proper financial records related to sales of its prepaid calling cards and SIMs. Its previous accountancy firm, Ernst & Young, had resigned in May last year and was replaced by KPMG. The new auditor identified almost £46 million of revenue that Lycamobile had previously not declared, a significant amount of which arose from unused airtime on calling cards it had sold dating back an unknown number of years. KPMG qualified the latest accounts this May, noting that it had been impossible to perform proper checks on this aspect of the firm's finances because: "We have not obtained all the information and explanations that we considered necessary for the purpose of our audit and in our opinion we have been unable to determine if adequate accounting records have been kept." Ernst & Young declined to explain the reasons for its resignation when contacted by BuzzFeed News, but said at the time that there were no factors it felt obligated to declare.

The Lyca business empire is a highly complex web of more than more than 60 entities spanning at least 19 countries, headed by the British companies Lycamobile UK and WWW Holding Company, which parents a network of subsidiaries. The corporate structure has been described by experts as being perfectly geared to avoid tax in the UK by moving money offshore. Most of the group's revenue flows ultimately to the tax haven of Madeira, where the intellectual property rights to its branding are squirrelled away. The Madeira companies buy up the airtime and sell it to the rest of the group.
After KPMG arrived, Lycamobile UK recognised a small corporate tax liability for the first time in eight years of £1.16 million on the newly increased revenue of £201 million. However, it is not possible to say whether it has paid the bill because its latest accounts have not yet been filed.
The firm has repeatedly come close to being struck off for being late filing its accounts, which is technically a criminal offence under the Companies Act and can lead to prosecution. The accounts for the year end of WWW Holding Company are now almost a year late.

Internal emails from the Conservative party's fundraising department, seen by BuzzFeed News, reveal that the party accepted Lycamobile's money days after being warned by its own compliance team about its repeated late filing of accounts.

The emails relate to meetings between Lycamobile lobbyist Dr Anwara Ali, the then Tory party treasurer Peter Cruddas, and party chair Andrew Feldman to discuss a donation of £110,000 in 2012. The donation was to cover two £50,000 memberships of the Leader's Group, the elite dining club through which top Tory donors mingle with the prime minister and members of the cabinet, as well as a £10,000 injection into Boris Johnson's campaign for re-election as mayor of London.
When Cruddas emailed Conservative campaign headquarters to tell them he and Feldman had a coffee meeting arranged with Ali, he received a sharp response from Mike Chattey, the party's head of fundraising. Chattey asked: "What is the Dr Ali meeting about please? She promised me the issue of late filing of accounts would be sorted by last Friday ... and compliance tell me they are still late. ... Clearly if this is none of my biz – tell me."
Cruddas replied that Chattey was welcome to come to the meeting to push Ali to provide a letter that had been requested by compliance, but reassured him that the issues raised were "not a problem".
The following day, Lycamobile provided a single-sentence letter confirming that "the company is carrying on business in the United Kingdom". However, its accounts had still not been filed and the company remained at risk of being struck off at the time the party accepted the company's donation.
Ali followed up after the meeting with an email thanking the party for the "welcome, kindness and generosity it had shown to Lycamobile", and promising to help advise on business and delivering "Bangladeshi, Tamil, Indian, Muslim and Hindu votes any way we can".
The party said in a statement: "All donations to the Conservative Party are properly and transparently declared to the Electoral Commission, published by them, and comply fully with Electoral Commission rules. Election law requires a party to satisfy itself that a corporate donor is "carrying on business in the UK".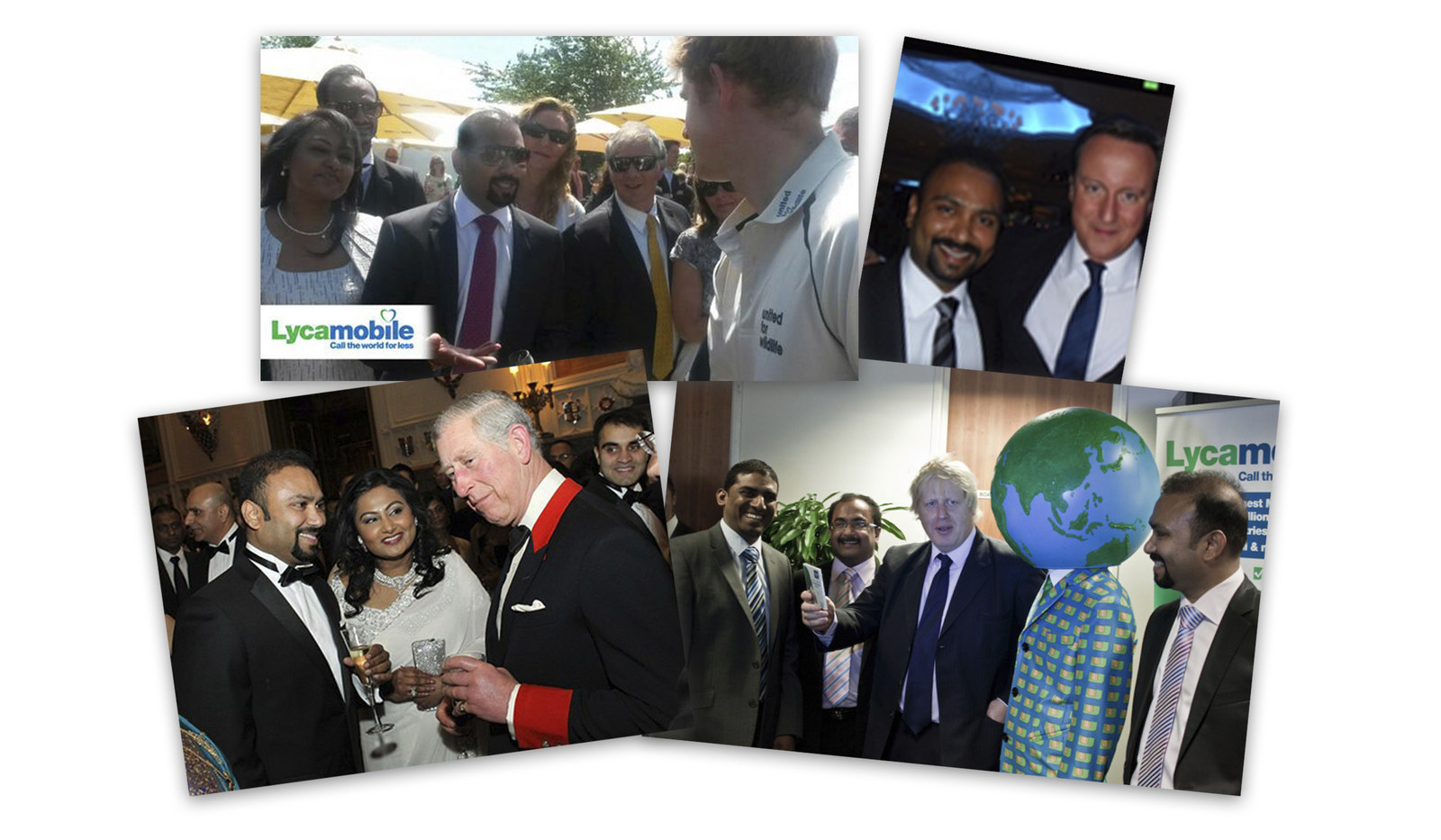 After receiving the company's donation to his re-election campaign, mayor of London Boris Johnson praised the company publicly, saying it was "just like the capital's economy – international, dynamic, successful and growing". He added: "I think it's a wonderful business, what a fantastic thing you're doing."
However, the party came under fire the following year when it emerged that one of its biggest donors had avoided paying any corporation tax in the UK. Hodge, the then chair of the Commons public accounts committee of MPs, branded Lycamobile a "tax offender" and lashed out at the government for taking money from a company that was not making its "fair contribution to the common good". The Labour MP Paul Flynn said the group's financial affairs were "outrageous" and that "the situation cries out for investigation and exposure".
The criticism came only months after chancellor George Osborne called for reform of global tax rules that have enabled "profit shifting" by multinationals and promised to clamp down on tax avoidance schemes. Lyca defended itself at the time by saying that all profits had been reinvested to grow each company in the group and that when they matured corporation tax would be paid.

In November 2013 , Cameron was urged to investigate Lycamobile's links to then Sri Lankan president Mahinda Rajapaksa, who had been accused of rampant corruption and war crimes. The Labour MP Tom Blenkinsop wrote to the prime minister warning that Lycamobile was "closely associated with the Sri Lankan government" through a variety of sweetheart business deals.
Cameron continued accepting its donations. He also controversially visited Sri Lanka and met with Rajapaksa in 2013, following the Commonwealth Business Forum in Colombo at which Lycamobile was the gold sponsor and other major Tory donors were present.
The Labour MP who wrote to Cameron warning him about Lyca's links to the Rajapaksa family called on the party to urgently investigate its connections to Rajapaksa in light of the evidence gathered by BuzzFeed News. "It sounds like they don't even know where their money is coming from," he said. "I would hope the Conservative party immediately investigate it and freeze any such money that they receive from Lycamobile."
Allirajah has previously denied allegations about his connections to Rajapaksa. But investigators in Sri Lanka have told BuzzFeed News that a company jointly owned by a key arm of the Lyca empire and the nephew of the former president will be investigated over a "shady" deal with the state telecoms company as part of a probe into alleged corruption.

Lyca is still doing business in Sri Lanka. When journalists from BuzzFeed News visited the company's London headquarters to put their questions to Allirajah earlier this month, they found a set of documents lying in the reception area relating to a new deal it is scoping in Colombo. The document was copied and quickly returned the same evening, but not before Lyca had called the police and reported it as stolen. It shows the group is looking into buying into a firm closely connected to Sri Lanka Telecom – the same majority state-owned company whose deal with the Lyca empire is now being scrutinised by the authorities.
There is no suggestion that there is anything improper about Lyca's latest foray into Sri Lanka. But tomorrow, BuzzFeed News will reveal internal documents, testimony from insiders, and interviews with government figures that lay bare the secrets of the earlier deal, which is coming under investigation as part of the worldwide probe into Rajapaksa's decade of alleged corruption.