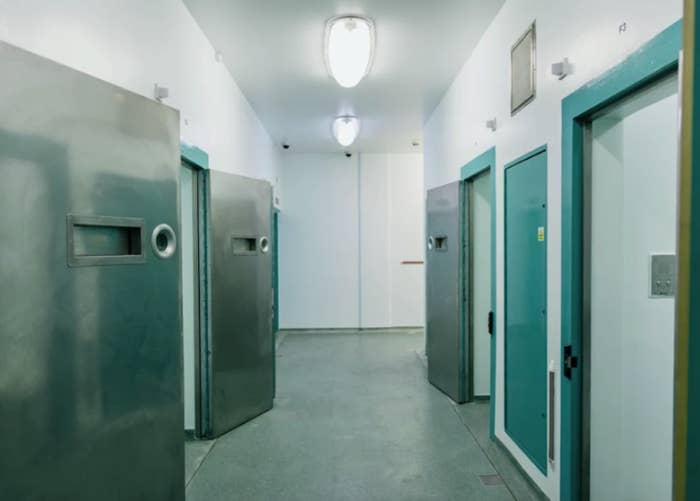 Police forces will be required to offer women period products and access to a woman member of custody staff under changes to the law due to be laid before Parliament, BuzzFeed News can reveal.
The Home Office will announce changes to the Police and Criminal Evidence (PACE) Act to "ensure all menstruating women, and others with personal health and hygiene needs, are treated with dignity whilst in custody".
Detainees will be automatically offered menstrual products, privacy in toilets, and a private conversation with staff of their own sex to discuss their needs. They will also protect their right to dignity during strip searches, the Home Office says.

The move comes after shocking reports from unannounced inspections revealed that women were being left to bleed without menstrual protection in cells around the UK.

Women had been denied tampons for safety reasons, recorded on CCTV while changing menstrual products, and left unable to wash their hands, or even shower, for several days, according to reports from the Independent Custody Visiting Association (ICVA), a Home Office-funded watchdog that advises the government and police authorities about custody conditions.
In a report by BuzzFeed News last year, one woman described how a male police officer laughed at her when she asked for sanitary products. Custody inspectors found one woman deemed at risk of self-harm was placed in a paper suit, and was denied underwear and tampons in case she tried to strangle or choke herself.
"These changes represent a paradigm shift in the way that female detainees are treated."
The changes will ensure that dignity is considered in the provision of toilets and washing facilities, and whenever a detainee's clothing is removed.
Katie Kempen, chief executive of the ICVA, told BuzzFeed News that they represent "a paradigm shift" in the treatment of female detainees.

"They recognise that detainees do not want to discuss their periods across busy booking in areas, and they secure basic human dignity that is much needed," she said.

Female detainees often have complex needs, she added, exacerbating stressful stays in male-dominated custody suites.

"Good menstrual care is a basic human need, and this was not being provided in many custody suites. Female detainees were making do and experiencing unnecessary humiliation because of the want of a difficult conversation and basic menstrual care products."

The government first announced that it was working on revisions to PACE Code C — which sets out the legal requirements for the detention and treatment of suspects in custody — last May, following an open letter from the ICVA in January calling for the introduction of minimum standards.
It opened its proposed changes to consultation in August, coinciding with the amendment of the College of Policing's Authorised Professional Practice guidance to include automatically offering women hygiene packs and access to a woman officer.
"We sadly still receive reports of unacceptable care. The changes ... will ensure that a good standard of care is in place across all police custody suites."
Kempen said she was "delighted" with the improvements on the ground so far, but noted that the ICVA "still receive[s] reports of unacceptable care". "The changes to PACE Codes will ensure that a good standard of care is in place across all police custody suites and that police will be held accountable for providing this," she said.

Improvements have yet to be made in court custody, however, despite calls from senior policing figures, politicians, and legal experts. BuzzFeed News revealed last year that detainees are expected to ask when they need menstrual products, even as they endure long, tense waits in the run-up to high-pressured court appearances.
Legal experts told BuzzFeed News that any failure on the government's part to address the needs of female detainees would be "undeniably a human rights issue".
The Ministry of Justice subsequently launched a review of its practices. It did not announce the review publicly, but confirmed its existence in response to a freedom of information request.
A spokesperson said that the review began in late November — three months after BuzzFeed News published the findings of the inspection reports — and that "work is underway to improve our provision and the care we provide".
The Ministry of Justice said its position had not changed when contacted ahead of this article's publication.