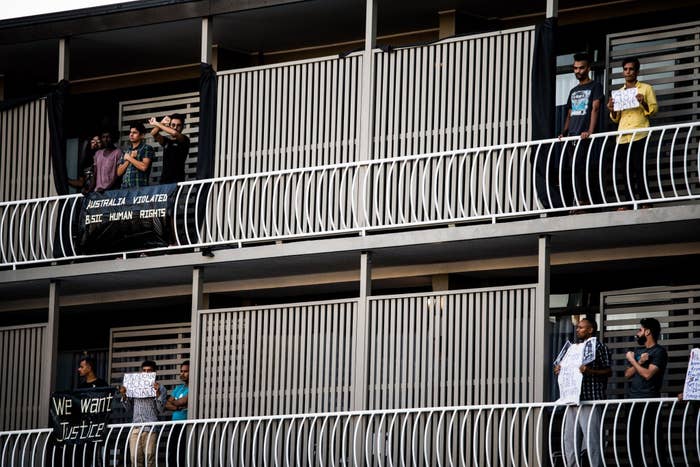 BuzzFeed News has reporters across five continents bringing you trustworthy stories about the impact of the coronavirus. To help keep this news free, become a member and sign up for our newsletter, Outbreak Today.
Hotel chains whose facilities have been used for months to detain refugees and asylum seekers are likely to be bombarded with negative online reviews to encourage them to stop the arrangement, after Amnesty International launched a new campaign on Friday.

More than 200 refugees and asylum seekers are currently detained at two budget hotels in Australia, where they say they risk contracting COVID-19 and cannot socially distance.
The Australian government has so far ignored calls from infectious diseases doctors and over 1,000 other health workers, religious leaders, charities and human rights organisations to release detainees to curb the public health risk posed by the crowded facilities, where many men share rooms.
After the hotel chains ignored its direct appeal to terminate their contracts with the government, Amnesty International is asking its supporters to leave negative reviews for the two hotels online.
On April 7, Amnesty International wrote to the Mantra Group and the Central Apartment Group, asking them to stop holding refugees and asylum seekers in their hotels, the Mantra Bell City in Melbourne's Preston and the Kangaroo Point Central hotel in inner-city Brisbane.
"We are on the brink of a health emergency breaking out in your hotel ... The only way to protect the health of refugees and asylum seekers is to release them from [the hotels] into the community," national director Sam Klintworth wrote. "Whilst the government is ignoring the experts' advice to do this, you can put pressure on them to act now."
Neither hotel group has responded.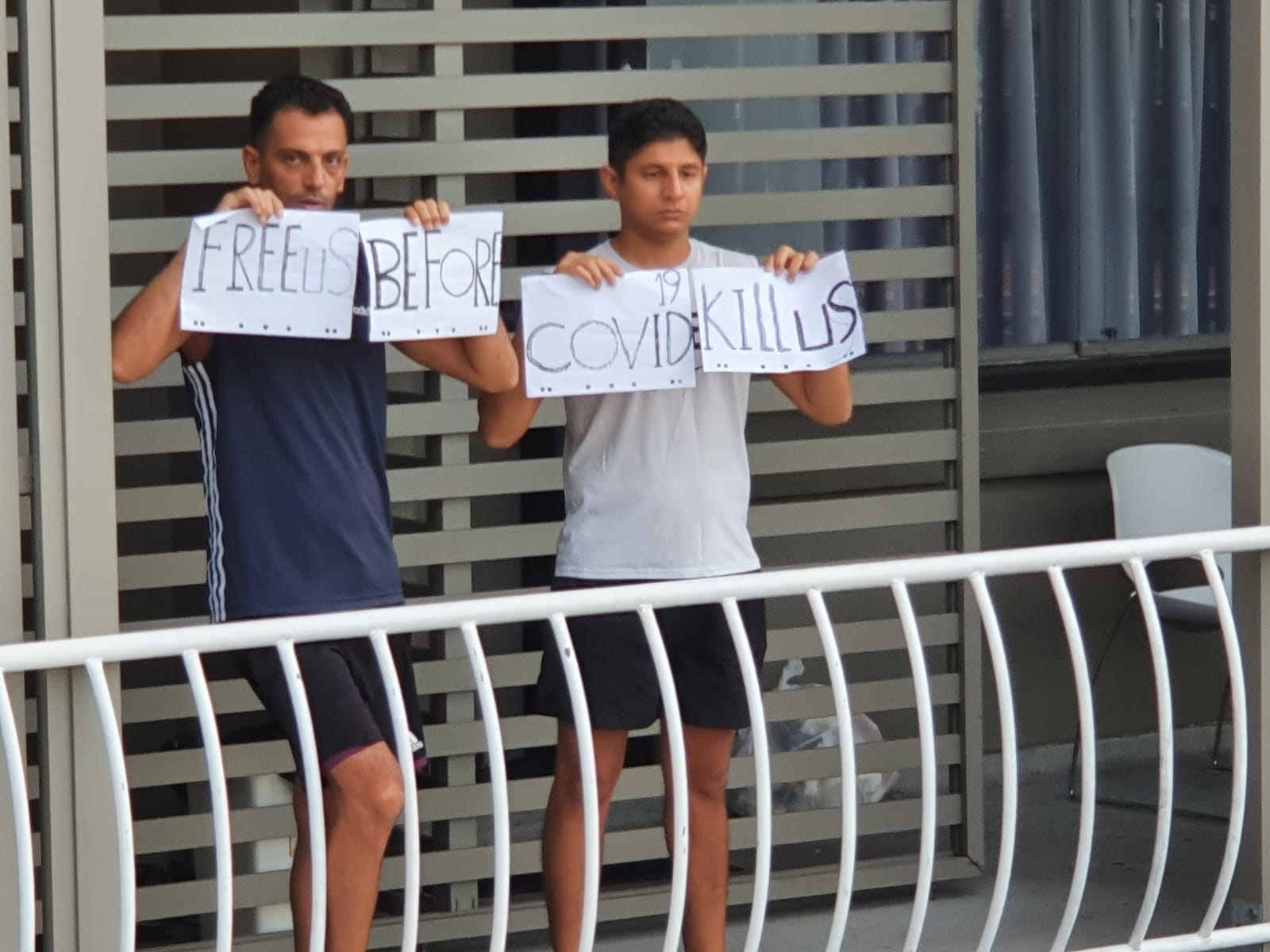 Abdulla Moradi is one of about 120 people detained at Kangaroo Point Central, where the government has now taken over all three buildings. In August 2019, he was brought to Australia for medical treatment from Papua New Guinea, where he had been detained since 2013, under the so-called medevac law.
"I'm scared," Moradi told BuzzFeed News. "We don't have any space to stay the social distance."
He said that more than 100 guards work at the centre, as well as cleaners, medical staff and a hotel manager, and that the guards laugh when he asks them to stay an appropriate distance from him. His fears of infection make him nervous to leave the room which he shares with his brother, he said.
Amnesty International Australia's refugee coordinator, Graham Thom, told BuzzFeed News that the hotel chains were complicit in the public health risk posed to the detainees and the broader community by the use of hotels as alternative places of detention (APODs).
"Everybody who is engaged in detaining these men in this way needs to accept some responsibility," he said. "People can't just keep passing the buck to the Department of Home Affairs. We're all in this together.
"If that means that these hotel groups insist that the men are housed in an appropriate way, that's an important step. If they insist that they don't want to be complicit in a public health crisis, then that would be a positive step too. Ultimately it should be about getting vulnerable people to a safe place where they can engage in the same practices that are expected of everyone else."
For the last month, Moradi has joined in daily protests staged by detainees on the balcony of the Kangaroo Point Central hotel. Members of the public have also staged protests outside the hotel. Anxieties over the virus have been particularly high at the hotel since detainees were told a guard had tested positive for COVID-19 in March.
A Kurdish refugee who helped to organise similar protests at the Mantra Bell City hotel was suddenly moved last week to a detention centre. He and his supporters claim the move was punishment for speaking out about the coronavirus risk, including on the ABC's Q+A program. (The Australian Border Force declined to comment on his case.)
Like Moradi, the men held at the hotel APODs were brought to Australia from offshore detention on Nauru or in Papua New Guinea for medical treatment. Moradi suffers from mental health problems, as well as issues with his stomach and other physical ailments.
"We're not talking about anyone but refugees, who have been brought here for medical treatment. So putting them in the community, a few hundred people, really should be a no-brainer," Thom said.
A spokesperson for the Australian Border Force told BuzzFeed News that it and its service providers were focused on the health and safety of detainees and staff and were following advice from health officials and the health department. The spokesperson said that no detainees had tested positive to COVID-19, and that hygiene measures and infection control plans had been introduced.
While the UK and US governments have moved to release some immigration detainees to address the risk of contagion, the Australian government has so far held firm in its refusal to let anyone go. Instead, it has cancelled visits and subjected people with even remote symptoms to harsh quarantine measures.
Thom said that the federal government had been open to having conversations and willing to listen to ideas and alternatives presented by Amnesty and other organisations, but that there had been a "failure to act".
Around 10,000 people have already signed Amnesty International's petition calling for the men to be released into the community.
The Central Apartment Group told BuzzFeed News it would not be making comment at this stage. The Mantra Group did not respond to a request for comment.