34 Ridiculous Facts About Makeup That Will Fuck You Up
Max Factor is an actual person.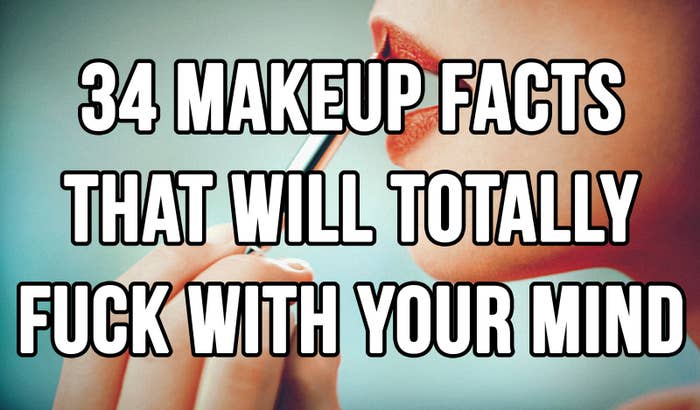 1. M.A.C. Cosmetics was established by two men named Frank – Frank Toskan, a makeup artist and photographer, and Frank Angelo, a beauty salon owner – who were frustrated at the lack of colours that would shoot well with photography.
2. It originates from Toronto, Canada and was launched for the first time in 1984.
3. During the Elizabethan period in England, people believed that lipstick could work magic, and possibly even ward off death. Queen Elizabeth I credited lipstick with lifesaving powers, and applied it heavily when she fell ill. When she died, Elizabeth had on nearly a half-inch of lip rouge.
4. The belief in lipstick's mystical powers caused uproar from the church and the state, who deemed its application sinful. Pictures of devils putting on lipstick were often used, and women had to address their lipstick use at confession. By the time the law stepped in, Parliament declared that using makeup to "deceive an Englishman into marriage" was "punishable as witchcraft".
5. Revlon was founded in 1933 by brothers Charles and Joseph Revson, and a chemist, Charles Lachman, who's the reason for the "L" in the REVLON name.
6. The word "cosmetic" is from the Greek word kosmos meaning "of this world" or "worldly".
7. Fish scales are a commonly used ingredient in various shimmery makeup, including lipstick and eyeshadow.
8. And crushed beetles have been used in nail polishes.
9. L'Oréal is the largest cosmetics corporation in the world, and is present in 130 countries on five continents.
10. It was founded in 1909 by Eugène Schueller, and began as the French Harmless Hair Colouring Company.
11. Lancôme, Yves Saint Laurent Beauté, Giorgio Armani, Urban Decay, Maybelline and NYX are some of the many companies part of the L'Oréal group.
12. Estée Lauder Companies Inc. own a ton of brands too, including Bobbi Brown, Smashbox, Tom Ford, and Too Faced.
13. Urban Decay was partly created in response to the abundance of pink being used in the industry.
14. One of the earliest fans of Urban Decay was Gwen Stefani, who was the first to create a celebrity collection with the brand.
15. In 2015, Urban Decay was selling the Naked palette at an approximate rate of one every six seconds.
16. And for naming palettes, UD have a name library. They categorise names into groups like "sex names" and "drug names", and when a team member thinks of a good one, it goes in the library.
17. The woman behind Anastasia Beverly Hills, Anastasia Soare, started out as a brow technician in Beverly Hills salons.
18. Her first celebrity client was Cindy Crawford. The next was Naomi Campbell.
19. In 2015, it was reported that Anastasia Beverly Hills had the most popular Instagram in the beauty industry with 7.5 million followers. The beauty-industry average is 1.4 million.
20. Since then, the figure has risen to 13.7 million followers, and continues to climb.
21. The first modern beauty salon was opened by Elizabeth Arden in 1910.
22. Max Factor is an actual person. In fact, it's the name of the Polish-Jewish cosmetician who founded the company in 1909.
23. The world's first glitter eyeshadow was invented by Too Faced Cosmetics.
24. Its CCO Jerrod Blandino also invented the first plumping gloss and 24-hour crease-proof shadow primer.
25. Illamasqua is a combination of the words "illusion" and "masquerade", and originates in Britain.
26. The first swivel-up lipstick in a tube came in 1923.
27. The annual bulk weight of Orgasm Blush sold by NARS is equivalent to that of a Lamborghini.
28. The name Stila is derived from the Italian word "stilare", meaning "to pen".
29. According to the company, it was chosen because "every woman's makeup should be as individual as her own signature".
30. The Stila Stay All Day Waterproof Liquid Liner is the most-pinned eyeliner of all time.
31. The official pronunciation of NYX Cosmetics is "Niks" ( not N.Y.X.), since it's named after the Greek goddess of the night.
32. Kat Von D's Studded Kiss Lipstick in Lolita was Sephora's number-one selling lipstick in 2015. It's one of the first lipsticks Von D created for the store.
33. She also draws all the artwork on her packaging herself.
34. In 1952, Queen Elizabeth commissioned her own lipstick shade to match her coronation robed called "The Balmoral Lipstick". The shade was named after her Scottish country home, and it was probably badass.