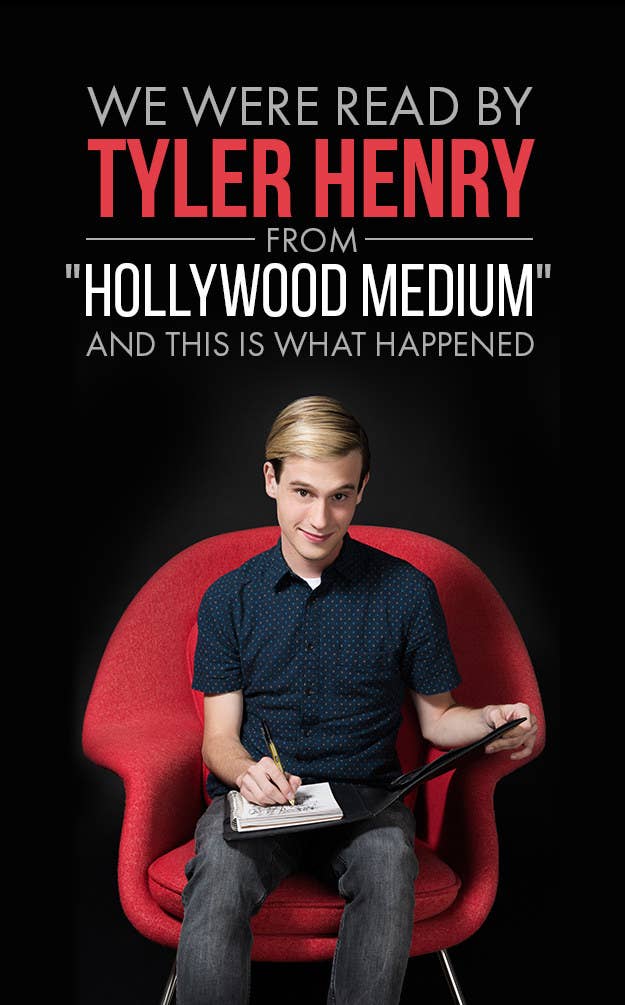 Hi! We're Farrah, Lindsay, and Christian. When we heard Tyler Henry — a clairvoyant medium who stars in his show on E! — was interested in coming to BuzzFeed to provide us readings, we were curious. How does it work? Would it work? Could he actually communicate with loved ones we'd each lost?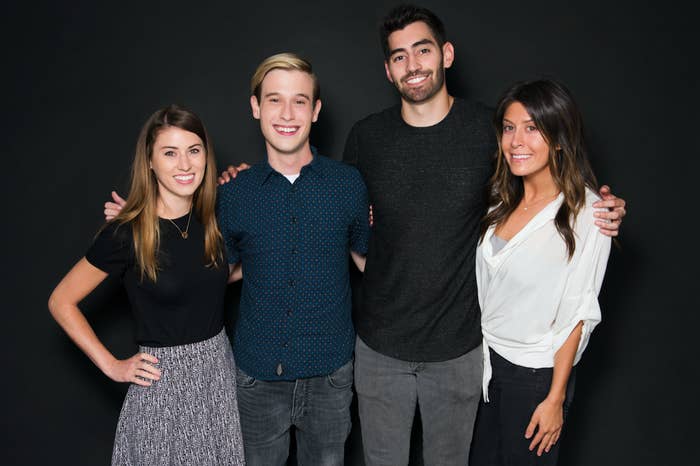 If you haven't heard of Tyler, you've probably heard of some of the big names he's read:
He nearly brought Matt Lauer to tears...
And stunned Kourtney, Kim, and Khloé when he connected them with their father, Robert Kardashian...
Needless to say, we were eager to try it out.

During his readings, Tyler communicates with loved ones a person has lost. Here's how he explains it:
"When I meet people, I relay things I see and feel. And in a reading when I interact with a person, I'll pick up on sensations and feelings and piece them together to make a coherent thought. My goal is to always get specific information and relay details that people will connect to. In doing so, you'll find that I kind of scribble [on my notebook]. Nothing too profound will be found on the scribbles as much as it helps me get in the zone. Sometimes I'll work with an object and that helps make a direct connection with someone who's passed."
Like many skeptics, we wanted to be sure that this whole ~connecting with the dead~ thing was legit. In order to see if this really worked, we followed strict guidelines to ensure that there was NO WAY Tyler could have researched us ahead of time.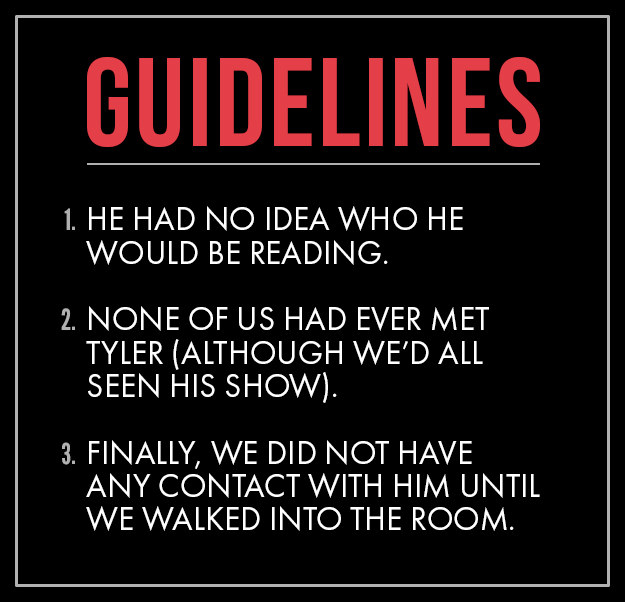 Farrah was nervous but eager to connect with her dad, who passed away earlier this year...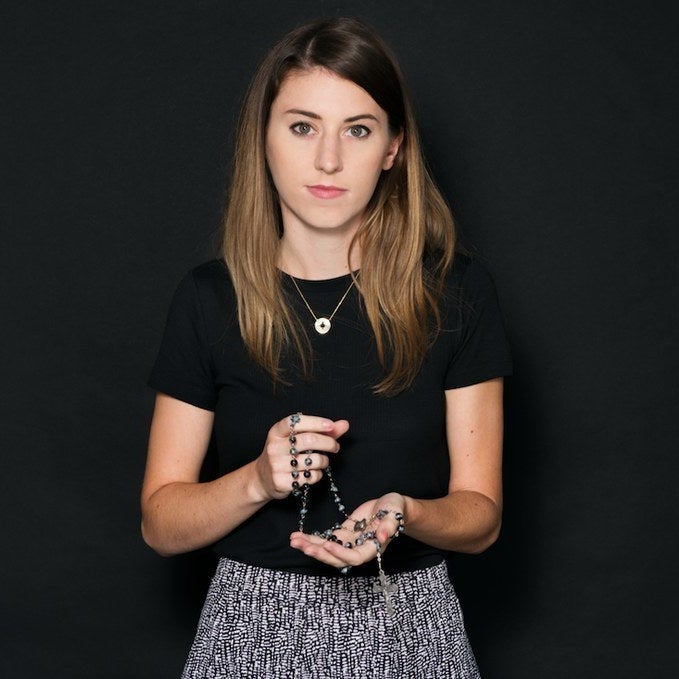 Farrah's initial thoughts: I can't express how nervous, anxious, and hopeful I was to meet Tyler. I lost my dad this year due to alcoholism and related complications, and it's been a huge weight of emotion on me every day. I loved my dad, despite knowing his struggle with this addiction, but his passing was still sudden and unexpected. The unknown scares me, but I've watched episodes of Hollywood Medium and have been blown away by Tyler's abilities.
Object that Farrah brought: Her dad's rosary beads.
She was absolutely shocked when Tyler instantly brought up alcoholism, something that her dad had struggled with for years.
"I'm having to talk about Dad's side and then I'm getting a reference to alcohol."
Why this was significant to Farrah: I was completely floored when Tyler said this, because it could not have been more accurate. To reiterate: We'd never met before this moment, and he knew nothing about me. Yet he was able to communicate in such a clear way that the person who'd been struggling with alcohol and addiction had passed on as well as other details about this side of my family. I was hanging on to his every word, waiting to hear what message he'd bring through.
Tyler also brought up something that her dad always told Farrah and her sister.
"When he comes through, he is so immensely proud of you. Please know when he comes through, there's no feelings of depression or alcoholism."
Why this was significant to Farrah: I immediately started crying when I heard this. One thing my dad would always tell both me and my sister was how proud he was of us. It meant a lot to me hearing it through his connection with Tyler. It always pained me knowing my dad struggled with his addiction and depression. When someone you love passes, people tell you that they're OK now and that they're no longer suffering. But hearing him connect through Tyler was surreal, and it gave me the closure I was hoping for on a whole different level.
Lindsay was excited but anxious, hoping that Tyler would be able to connect with her nana, who passed away in January...
Lindsay's initial thoughts: Going into this experience, I'm not gonna lie, I was really nervous, but also super excited and intrigued. I was hoping to connect with my nana, who passed away earlier this year after battling cancer. She was the most incredible, strong, selfless woman, and I miss her SO MUCH. The thought of possibly being able to talk to her was really wild.
Object that Lindsay brought: Her nana's necklace.
She was shocked when the first thing Tyler mentioned was her nana's two daughters, Lindsay's mom and aunt.
"Where are the two sisters on your mom's side?"
Why this was significant to Lindsay: Uh, WHAT?! Right then, my mind was BLOWN and I had been with Tyler for all of a minute. My nana had two daughters (my mom and my Aunt Susan), so it was strange that he picked up on them right away. He told me that there was an "older woman" coming through "super intensely" who was a "motherly figure." HI, NANA!!!
He also recounted specific details about the day her nana passed away, which was the closure that Lindsay was looking for.
"She is wanting me to know how important it is that people are aware that she really didn't need everybody by her side when she died. She shows me a funny symbol of basically waiting for someone to leave, actually. She did, she waited! She showed me a symbol of waiting for someone to leave and go to the bathroom, and then she passed. There's this feeling that this was intentional because 'I didn't want someone to have to see me die in that moment.' And from her perspective, she shows me this reference of a rush and she's like, 'There's no need for a rush — I'm fine going on my own!'"
Why this was significant to Lindsay: CUE THE WATERWORKS!! The morning that my nana died, she was sleeping when my mom arrived at the hospital and my aunt left, as they had been switching off. Just like Tyler said, my mom got up to use the bathroom and as soon as she came out, the doctors all came racing towards her, saying that my nana was passing away and that she only had a few minutes left. My mom frantically called my aunt and grandfather, telling them to rush back to the hospital as she held her hand, but by the time they got there she had passed away. For Tyler to somehow know this series of events and to explain that this was all intentional because my nana was so brave and selfless that she truly didn't want her grandchildren, husband, or even her daughters to see her die means EVERYTHING.
Christian was ready, hoping that Tyler would be able to reach his older brother, who passed away in 2006...
Christian's initial thoughts: I was anxious, as anyone would be. How do you prepare yourself to communicate with your dead brother? His passing in 2006 left my tight-knit family heartbroken and confused, which is exactly why I wanted to see if Tyler could connect me with him. Though his death isn't something I like to relive, how do you pass up the chance to interact with someone you miss so much?
Object that Christian brought: His brother's hoodie.
Christian was in disbelief when Tyler showed him his notepad, where he had written the name "Chris" before Christian even walked in the room.
"I wrote — earlier, when I was working in the other room — 'Chris' and I got a reference to 'Tony.'"
Why this was significant to Christian: When Tyler came into the office, we had no contact with him — he went right up to an empty room, where he sat alone for 10 minutes with my object. When Tyler shared with me that he wrote down the names "Chris" and "Tony" before my reading, I was speechless. Not only is "Chris" essentially my name, "Tony" was my grandpa's name who passed away when I was a child. I knew some supernatural shit was about to happen real quick after that moment.
He was also stunned when Tyler brought up a vehicle, since it had played a part in his brother's death.
"He's placing me in a vehicle for some reason."
Why this was significant to Christian: When Tyler started connecting to my brother, he told me he was placed inside a vehicle, seeing a foot push the accelerator. Immediately, my tear ducts were triggered. My brother's body was found in his running 1985 Toyota 4Runner. The autopsy report ruled "accidental carbon monoxide poisoning," but no one knows the series of events that led to his death. How could Tyler have known this?