In case you haven't heard, Urban Decay partnered with HBO to release a Game of Thrones limited-edition collection just in time for the final season. In fact, both Maisie Williams (who plays Arya Stark) and Nathalie Emmanuel (who plays Missandei) rocked the line at the Season 8 premiere — and looked like actual queens.
As enormous fans of the show, we knew we HAD to get our hands on this line to show you what it's like, try it out, and of course, like the loyal Starks that we are, give you our honest thoughts.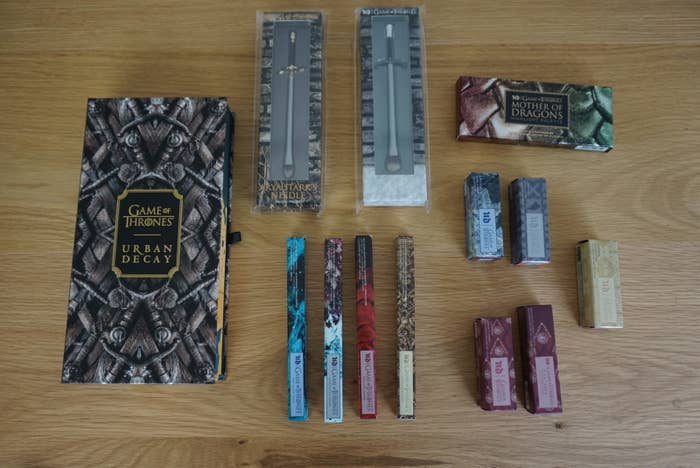 Just like the show, the details of the palette are very clever and intricate. We were all giddy over the pop-up Iron Throne that rises when you pull on the tab.
Each section of the palette is inspired by different "houses" — House Stark, House Targaryen, House Lannister, and the White Walkers. Right away, we loved them almost as much as Daenerys loves her dragons.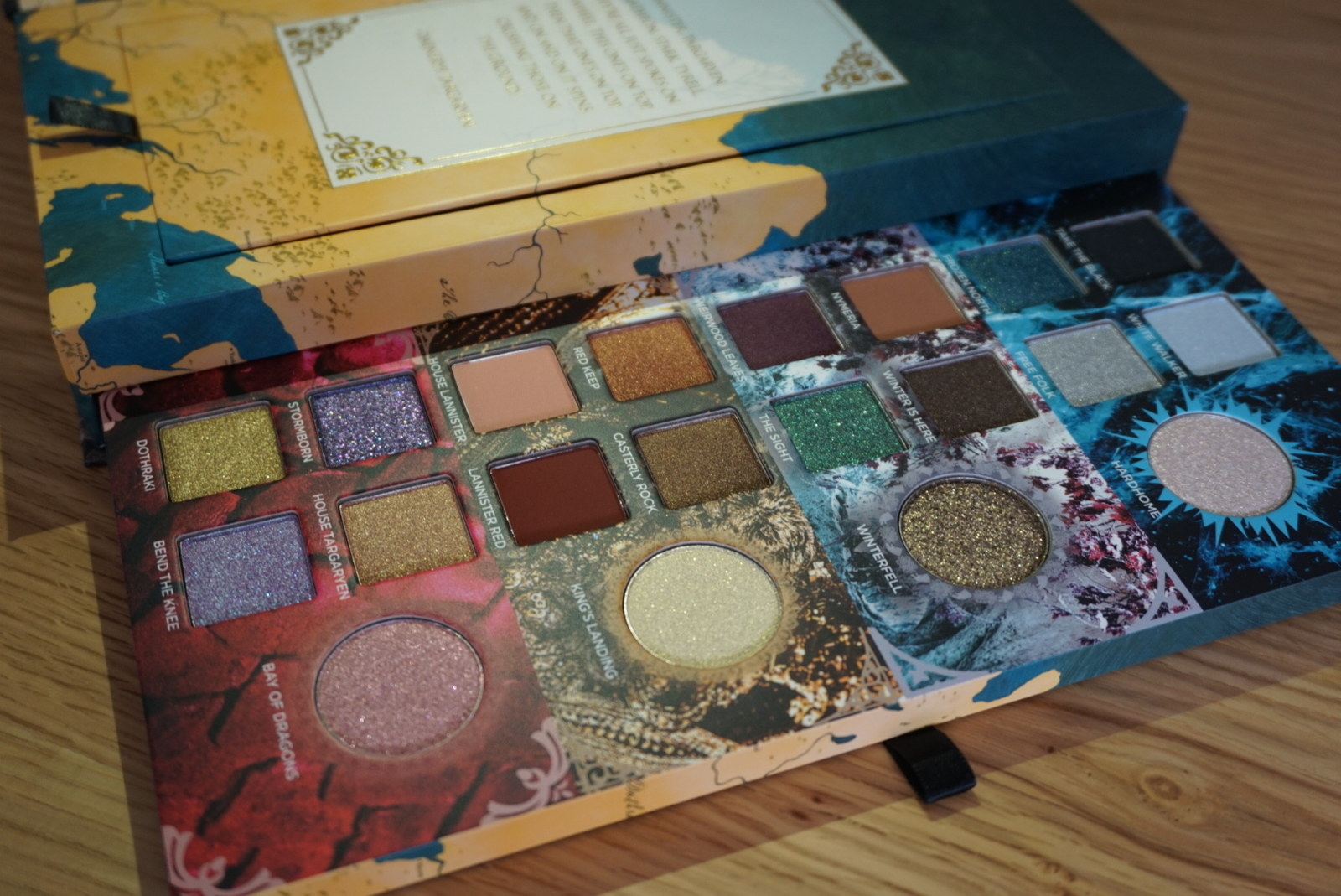 We even did a little swatch action so you can see what each color looks like.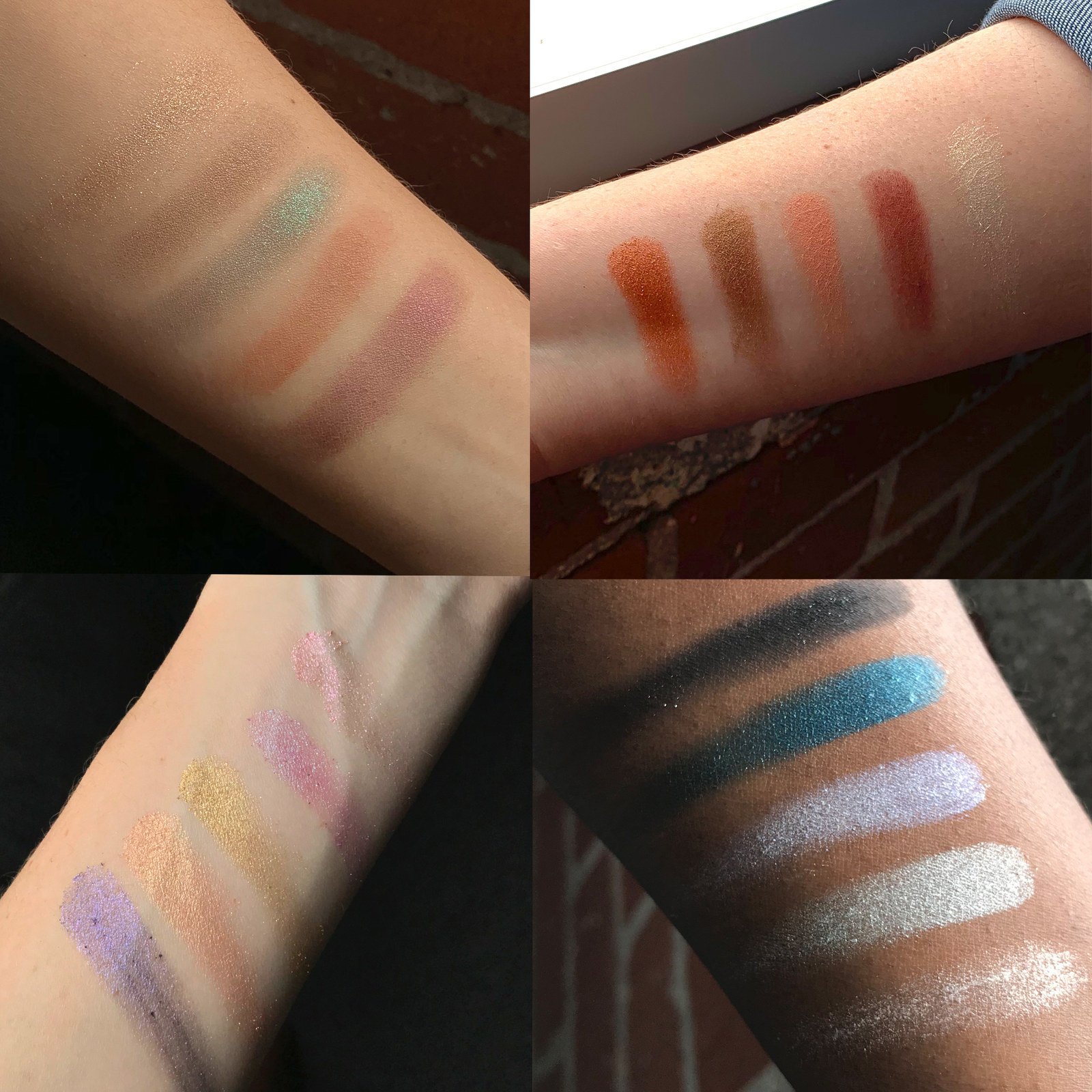 We were also obsessed with the Mother of Dragons highlight palette, which has beautiful, shimmery scales all over the packaging.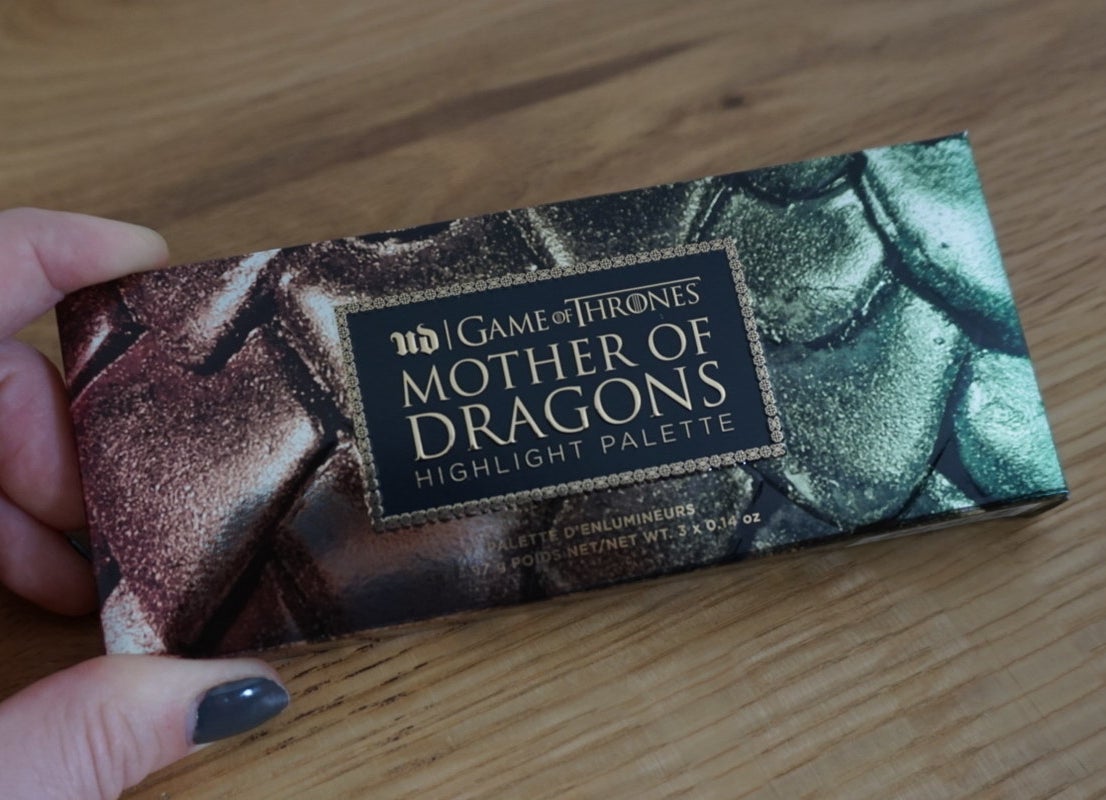 And each of the colors were named after Daenerys's dragons AND had dragon eggs imprinted in the highlighters...amazing.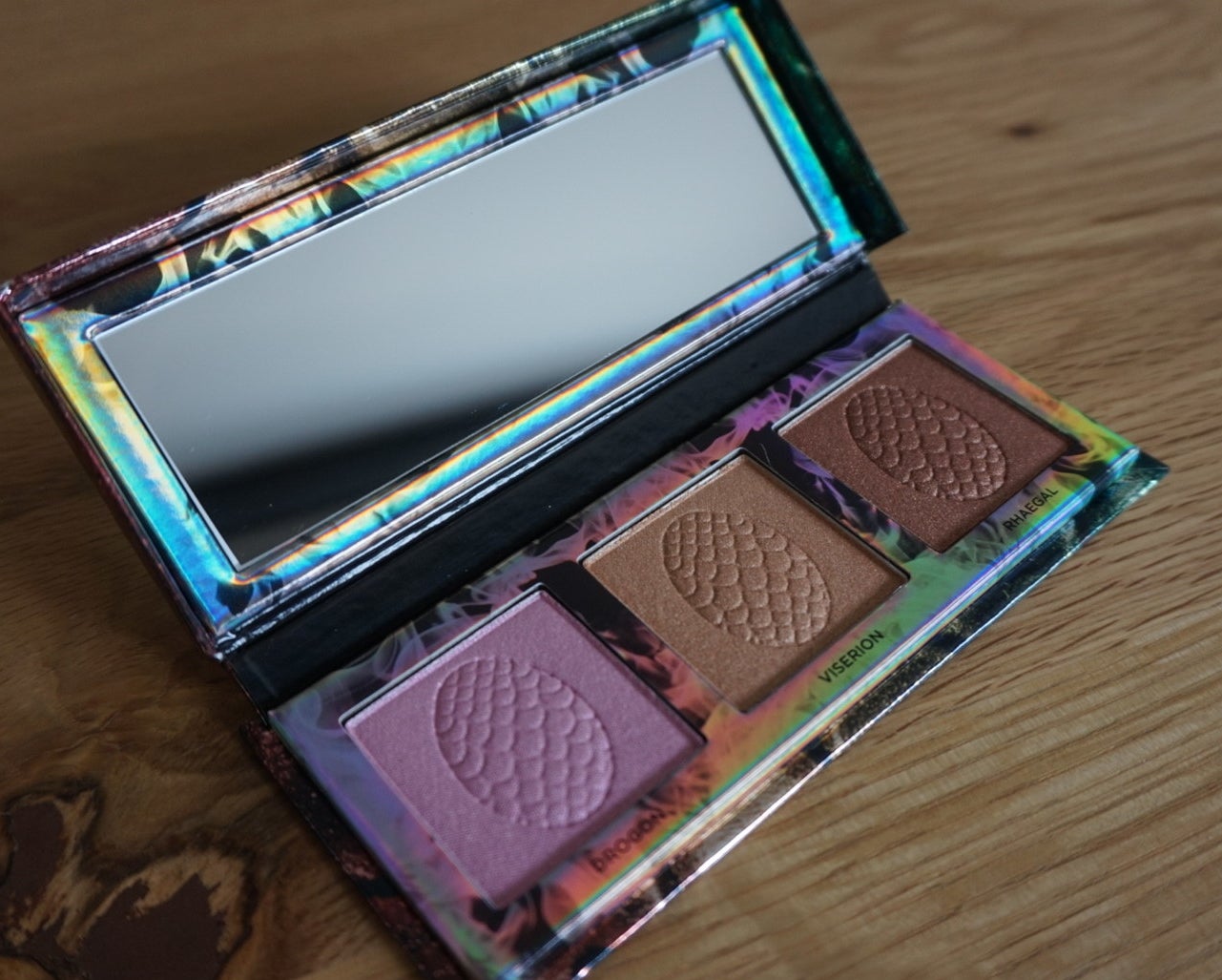 Another A+ touch is that the eyeshadow brushes are modeled after Longclaw (Jon's sword) and Needle (Arya's sword).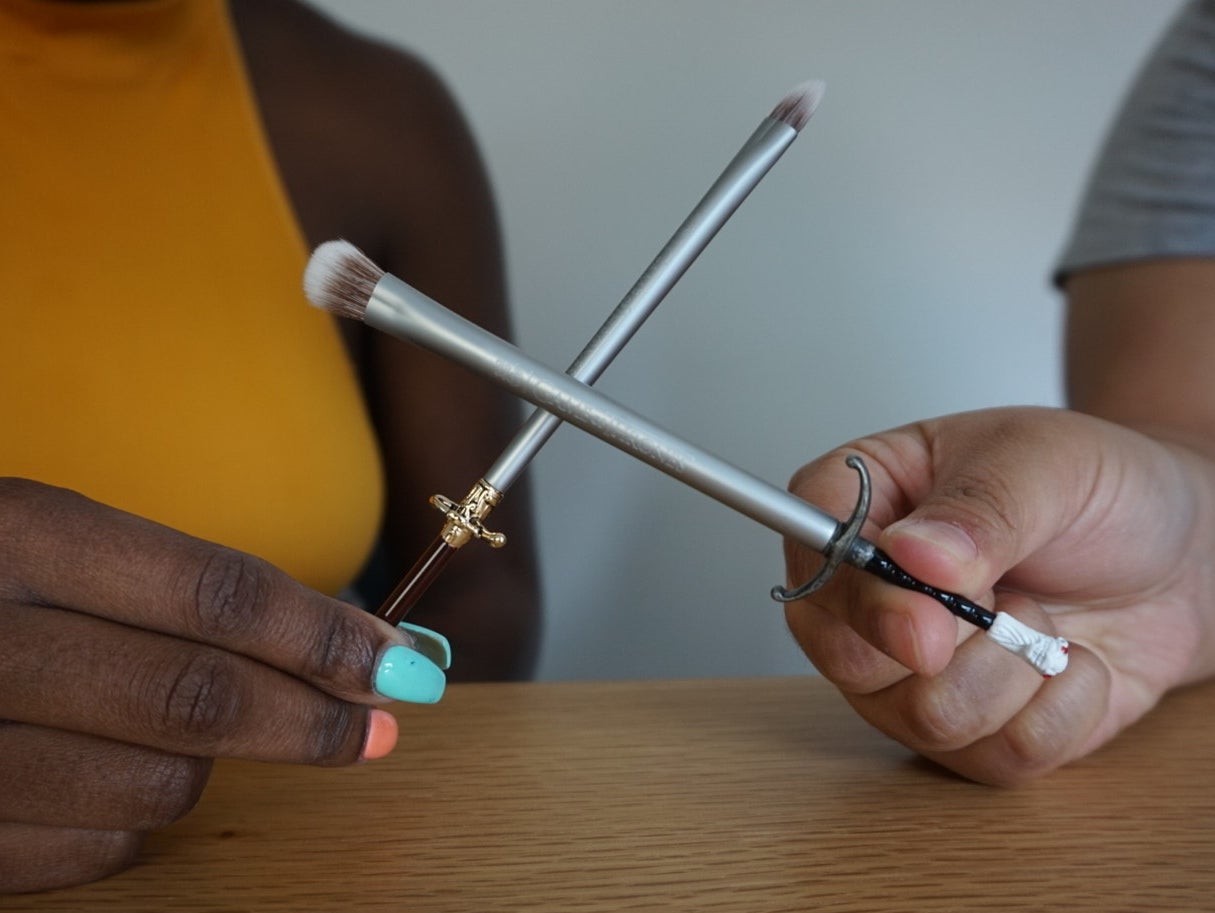 There are also four different colors of glide-on eyeliner, which were even more pigmented than the eyeshadows and left rich, shimmery, and bold colors on our skin.
The collection also has four lipsticks and one lip stain, three of which are named after three badass ladies in Game of Thrones.
Although we consider ourselves makeup lovers, we are in no way makeup artists! That being said, we decided to recreate some of Urban Decay's fantastical looks to the best of our ability to show you how the line looks.
Allie was pretty freakin' impressed with the lipsticks and eyeliner.
Ehis was SUPER into the lipsticks, but suffered from a ton of eyeshadow fallout.
Farrah was dazzled by all the colors in the palette, but was most impressed by the eyeliner.
Crystal thought the colors looked cool and was excited to see how each product looked on her face.
Overall, we LOVE a good theme and think Game of Thrones fans will adore this palette. You can officially buy the entire collection when it releases Sunday, the day of the Season 8 premiere!