Before we start, here's what I remember about this movie: A reporter goes back to high school to write a story (I don't remember what the topic was) and she meets a dude who is not in high school, they fall in love, and there's a big baseball-kiss scene at the end.
1. OK, Let's start.
2. Poor Josie, having five of her ideas passed along to reporters.
3. Her speech about finding the perfect man is super relatable.
4. Good thing Tinder wasn't around in 1999.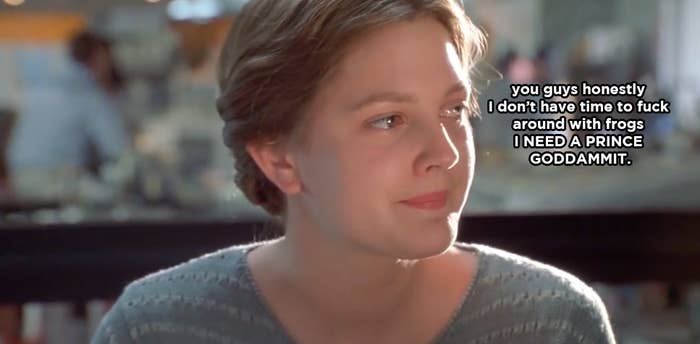 5. Going back to high school is my nightmare.
6. But I get it, she has to get that feature!!!!!!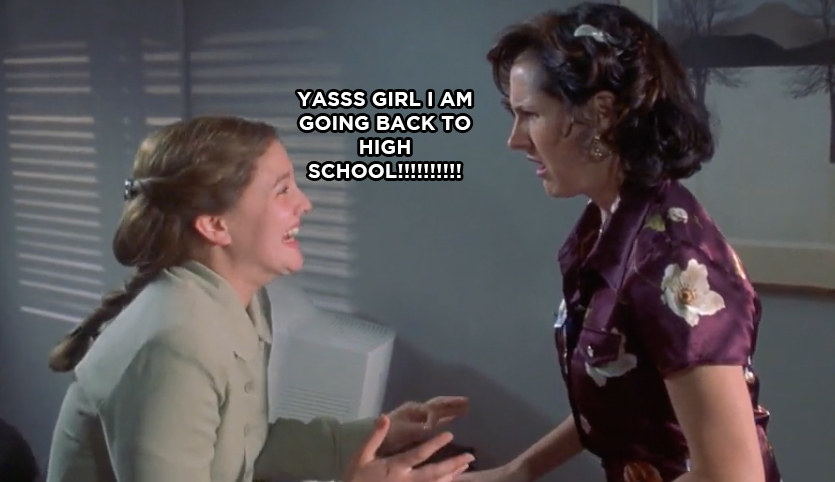 7. OH YEAH, I forgot she has a brother.
8. And he works at the Tiki Post. More shipping material places should have tropical themes is all I'm saying.
9. I thought this was the makeover scene but I don't think it's happening YET.
10. Oh my god. I do remember this outfit, though.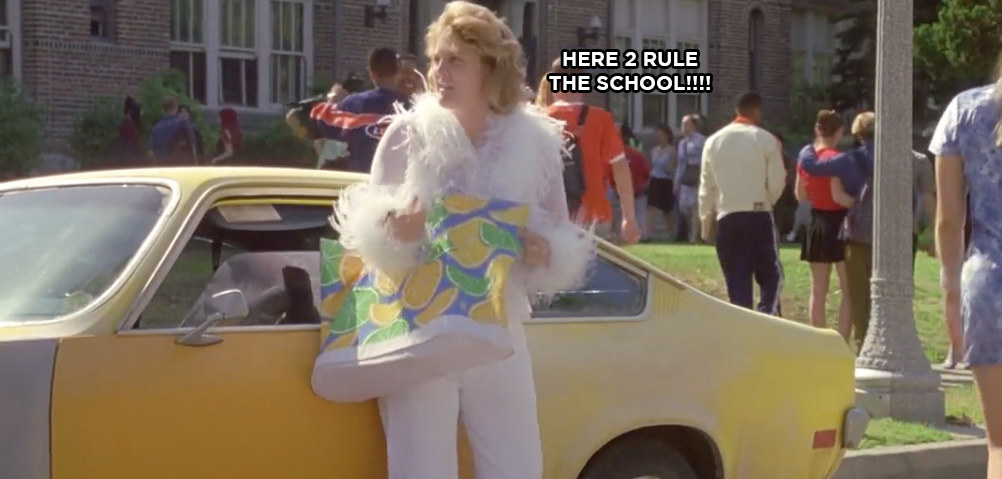 11. I don't think the best way to blend in is to wear ALL WHITE.
12. I'm kind of confused by what class she just entered. Is it French? Spanish? World History? All of the above?
13. OH NO SHE HAS TO WEAR THE SHAME SOMBRERO. This seems a little problematic.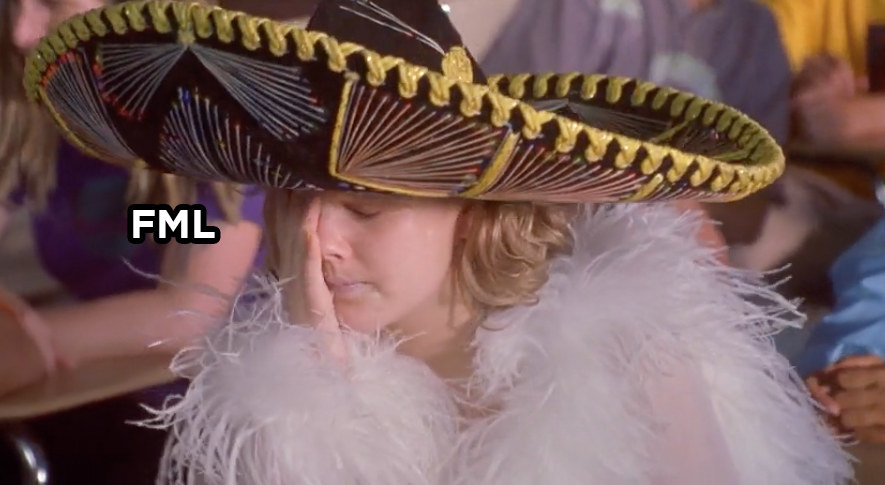 14. Also, talking into a recorder in the hallway isn't a great way to blend in either, Josie. You're suppose to be UNDERCOVER!!!!!
15. OHHHH, this has to be the teacher she falls for.
16. I def don't blame her.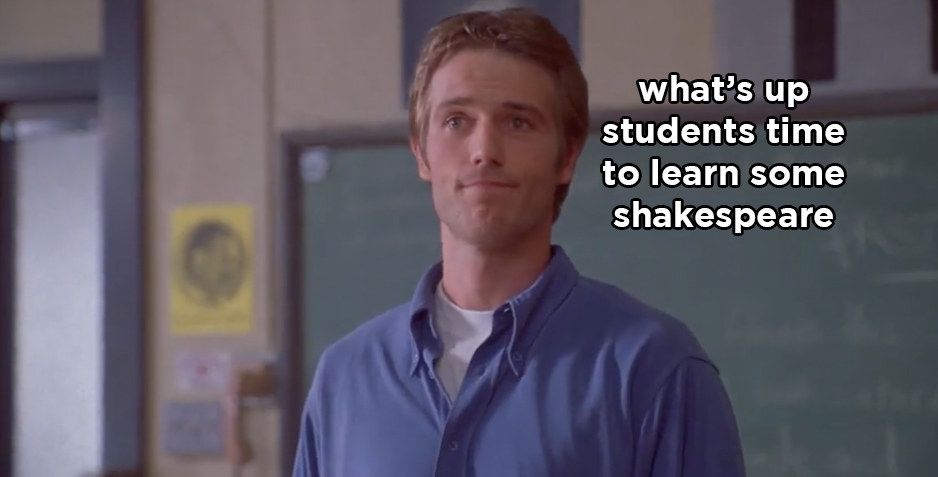 17. Teacher Sam is already onto her because she has zero chill.
18. This clique is giving me big Mean Girls vibes. Also, JESSICA ALBA?!?! The original Regina George.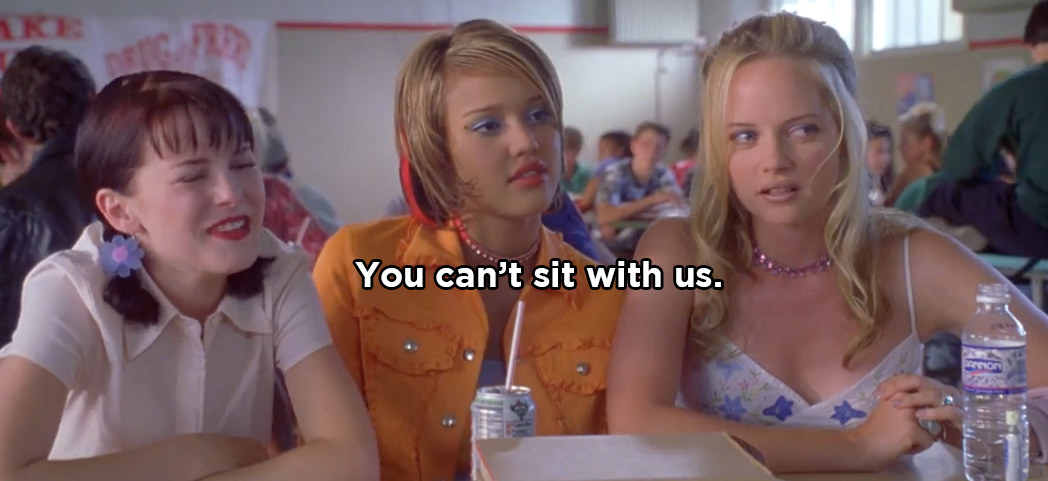 19. I'm actually kinda uncomfortable watching her get flustered around an ACTUAL 17-year-old boy.
20. I like Aldys and all her smarty-pants friends.
21. Josie is an inspiration. Good at grammar. Good at calculus. Good at...reporting?!?
22. The Denominators are like OG Mathletes.
23. Teacher Sam over here talking about disguises. He totally knows she is a grown-up lady.
24. PLOT TWIST. Her boss essentially wants her to be popular.
25. Her brother opened a can of pineapple to put on his pizza. He is the hero we all need.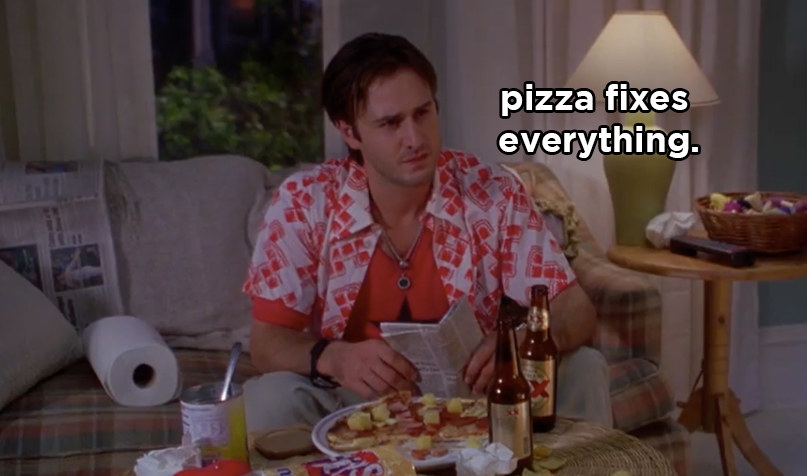 26. Oh, she is recording everything now with her lil' tiny camera. This has to be breaking so many laws.
27. Doesn't her brother come back to school at some point too???
28. Ahhh Teacher Sam has a girlfriend. And he's moving to New York.
29. ...OR IS HE?!?
30. Oh my god, James Franco is in this movie too!!!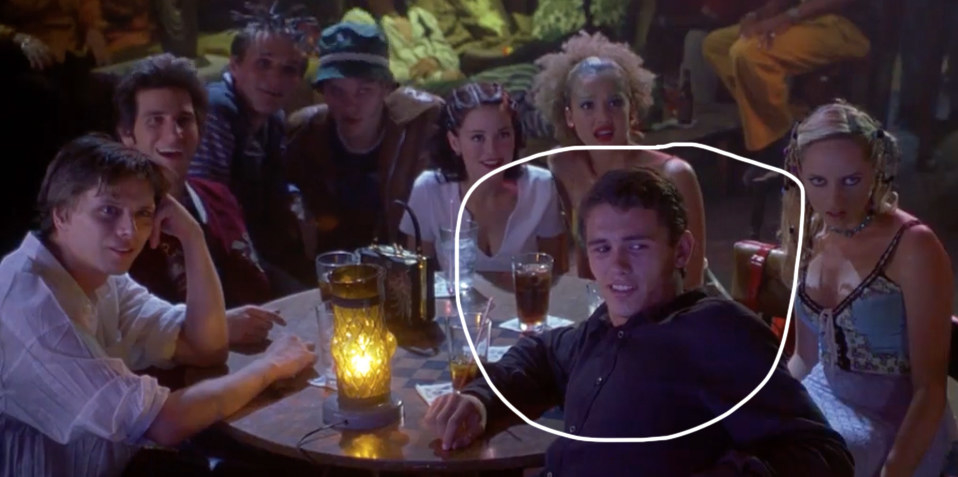 31. He's givin' off some real judgey vibes.
32. Aw, poor Josie. Bullies are The Worst.
33. BROTHER ROB TO THE RESCUE.
34. He is going to be on a toilet for seven years after eating that entire container of coleslaw.
35. OK, so this school has a metal detector, but they'll just let anyone in??? Rob is 23 and these girls are like 16 and 17.
36. These are things I think about as an adult lady watching this movie.
37. Hmmmm, I want to believe Sam is being a good teacher by keeping her company at the carnival, but also wouldn't that be mildly inappropriate IRL?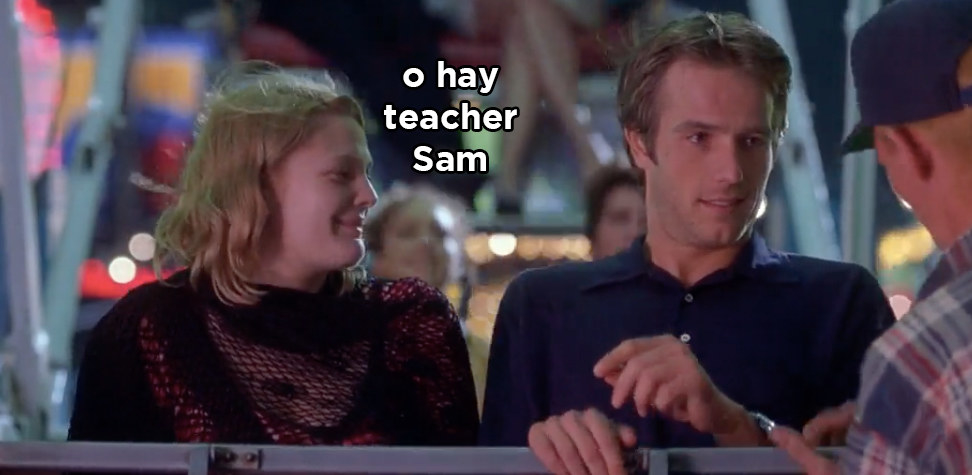 38. OK he is pretty self-aware of how he's acting, at least.
39. Rob did it. He made her ~popular~.
40. MORE MEAN GIRLS VIBES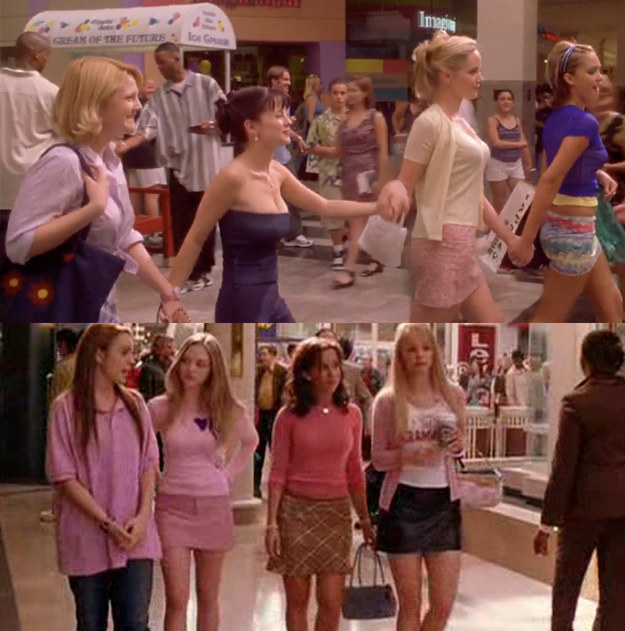 41. And she ditched her mathlete friends to be popular.
42. Tina Fey was INSPIRED.
43. Wow, they really raised the stakes. She's gotta get a story to them in two weeks or SHE IS FIRED.
44. They are going to prom with minors and I am uncomfortable again.
45. TEACHER SAM IS HER STORY!
46. I honestly forgot this was the prom theme and not a Halloween party.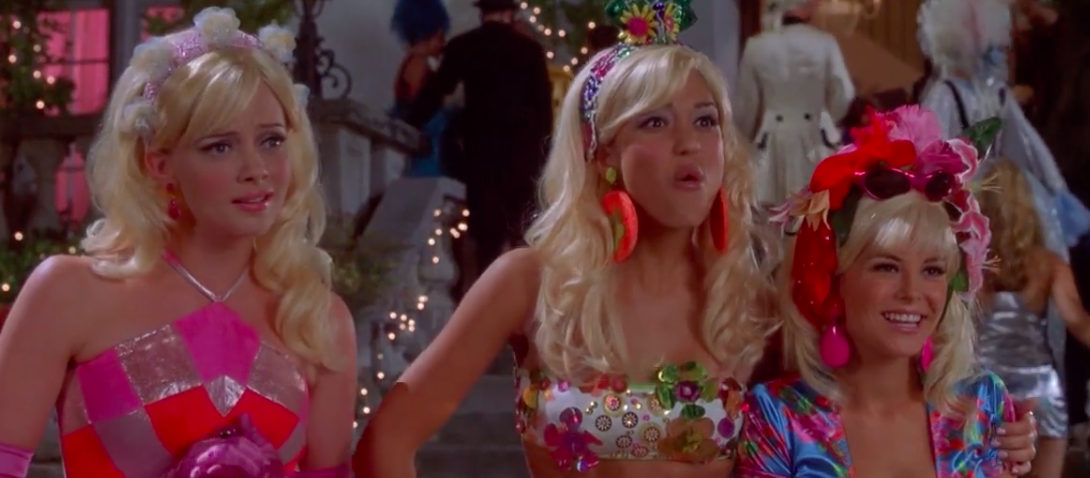 47. I don't know what kind of school would let Rob in the prom wearing only underwear.
48. Also, Jessica Alba as Malibu Barbie would definitely not be allowed in either.
49. OMG YASSS JOSIE'S PROM QUEEN.
50. Do we think that when Guy said he's thinking about his sword he was thinking about, you know, HIS sword????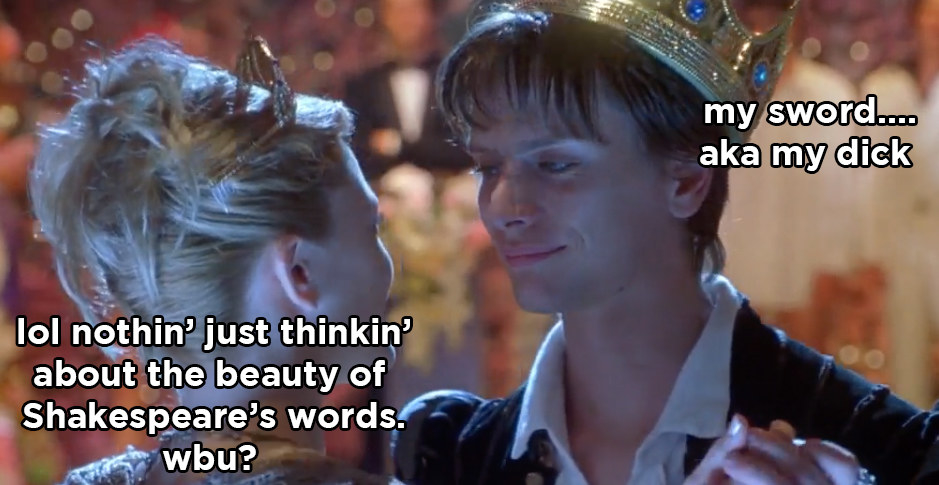 51. I know Teacher Sam and Josie are both adults, but if the rest of the student body thinks she's 17 then isn't it WEIRD she's dancing with a teacher????
52. I know, I know this is a rom-com, but it seems like this school isn't very strict.
53. Noooo mean kids nooooooo! WHAT ARE YOU DOING WITH THAT DOG FOOD.
54. This slo-mo shot means something is about to go down.
55. YAS JOSIE TO THE RESCUE. Suck it, mean girls.
56. But for real, what was Teacher Sam going to tell her????
57. OMG CROWN IS COMIN' OFF. I'm getting more Mean Girls vibes.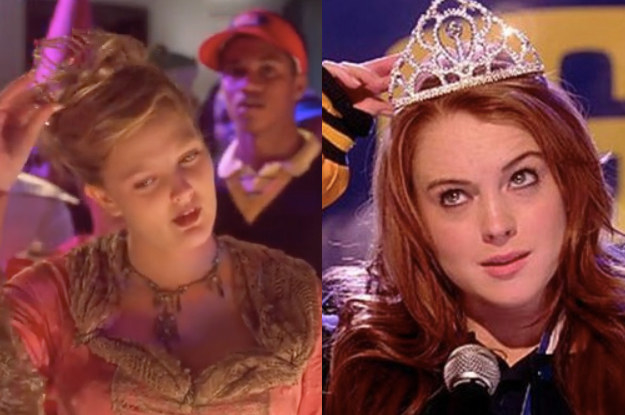 58. Welp, the cat is out of the bag. Now everyone knows she's 25.
59. WHERE IS TEACHER SAM GOING?????
60. To be honest, I get why Sam is upset that she lied to him.
61. But Rob can't be mad that he can't play anymore because he would have been disqualified for his age at some point in time, right????
62. Josie writing her piece about herself is super brave because she really has to be vulnerable again. ROOTING FOR YOU, GIRL.
63. OK this is the iconic baseball scene I remember.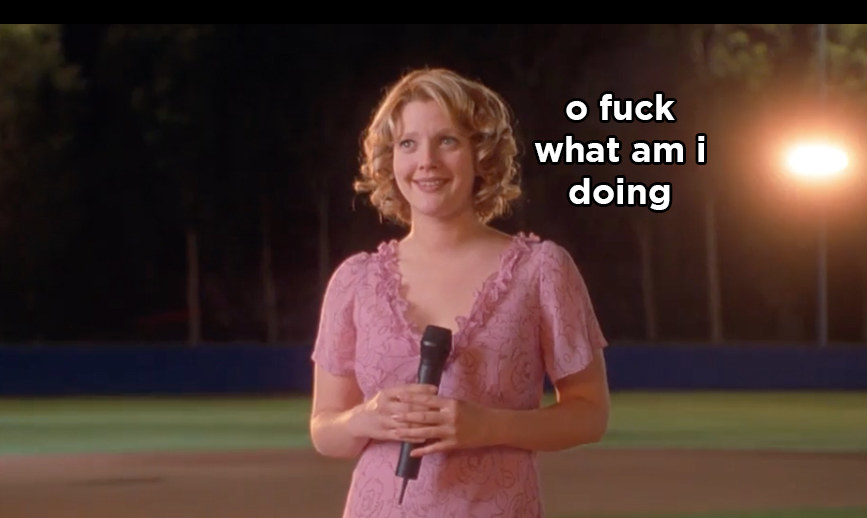 64. IT'S OKAY DON'T LOOK AT THE CLOCK HE IS COMING.
65. I mean, he has to come. This is a rom-com.
66. That was probably the saddest mic drop in history.
67. TEACHER SAM, YOU IDIOT, YOU'RE LATE.
68. KISS HERRRRRRR.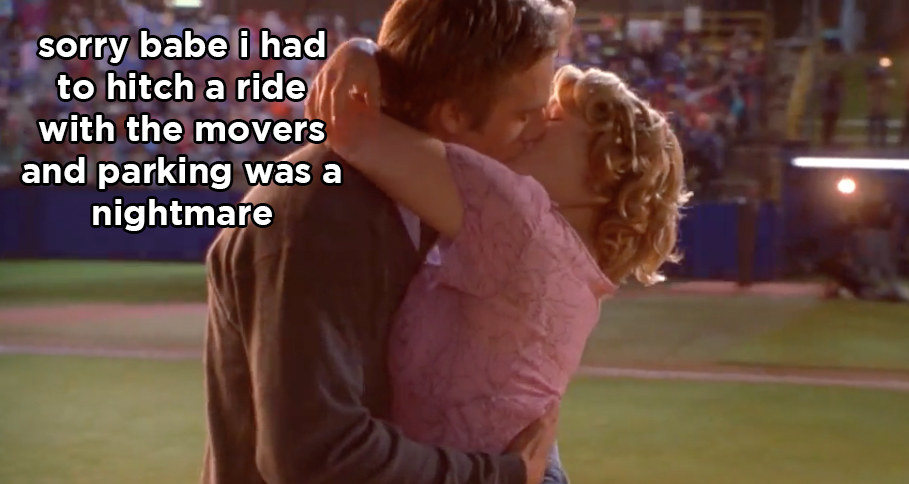 69. LOL. I love how this inspired the audience to start kissing each other. Except that James Franco gets rejected.
70. YAY BROTHER ROB IS ASSISTANT COACH!!!!!
71. You know what? That was still as cute as I remember...although the high school has questionable rules.