Kim Kardashian's Saturday Night Live debut was a family affair, complete with real and fictionalized appearances by her immediate relatives and some pretty aggressive digs that laid into each of their lives, as well as her own.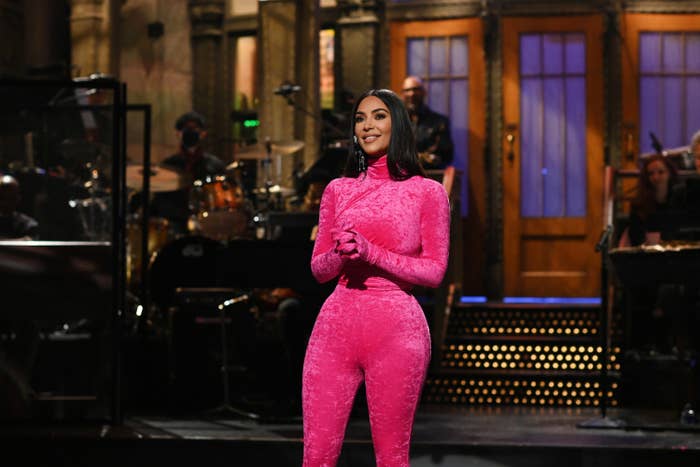 "I'm excited to be here tonight to show you guys that I'm so much more than just a pretty face, and good hair, and great makeup, and amazing boobs, and a perfect butt," said Kim as she delivered the host's monologue, before establishing that roasting was, essentially, the night's overarching theme.
Kim's monologue featured additional jokes about O.J. Simpson, Kanye West and Caitlyn Jenner's unsuccessful political campaigns, her divorce, her mother's relationship, and the sex tape that started it all.
Khloé Kardashian and Kris Jenner both made cameos during SNL's latest episode, and they notably played themselves in a courtroom segment where Kim impersonated Kourtney Kardashian.
Yes, that is Halsey on the right as Kendall Jenner.
Anyway, Kim's mom and sisters have shared their thoughts on the SNL episode, and it turns out all were big fans of her performance.
"Proud is an understatement!!! I am beaming pride and admiration towards you!" wrote Khloé, tagging Kim in a message that appeared on her Instagram story. "Congratulations queen!!!"
Kris, meanwhile, commended her daughter for taking on "one of the hardest stand up gigs in the world" and navigating it "with the best mix of LOVE, vulnerability, self depreciation [sic], humor, beauty, intelligence and kindness."
Kourtney appreciated the SNL sketches too. Alongside an Instagram story video taken while watching the courtroom scene, which partly focused on her romance with Travis Barker, she wrote, "Ahhhhh! This is everything!"
Basically, it sounds like everyone enjoyed the show.