In case you missed it, yesterday Taylor Swift spoke publicly about her political views for the first time, announcing she'll be voting for Democratic candidates Phil Bredesen and Jim Cooper in the upcoming midterm elections.
This is a huge deal because, in the past, Taylor has remained relatively silent about politics. Though she called for her fans to vote in the 2016 presidential election, she never said who she was voting for, which resulted in widespread speculation that she was a Trump supporter.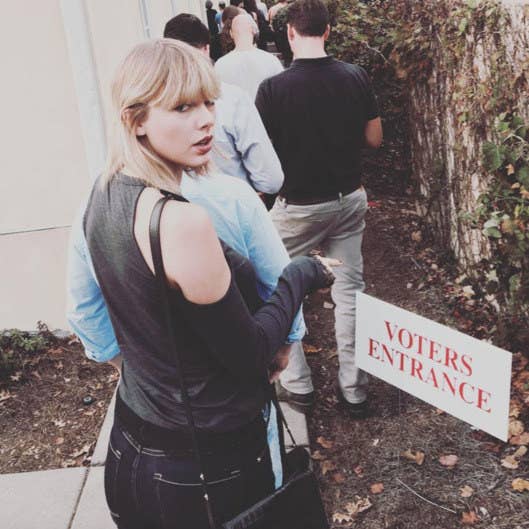 One of Taylor's BFFs, dancer Todrick Hall, referenced the rumours in an interview last year, saying people were "making a huge assumption", and adding that if Taylor did speak out about her political views, she'd "probably be ridiculed for not being vocal enough, or not being on the right side".
Now Todrick is leading the huge number of celebrities, friends, and fans who are praising her decision to go public with her politics.
"When I met her I was a bit afraid to be my true self around her because I didn't know where she stood on LGBTQ+ rights and I didn't honestly know if I could explain to someone with blue eyes and blonde hair what it feels like to not only walk around our country, but her neighborhood specifically," Todrick wrote in a lengthy Instagram post.
Several other A-list celebrities liked Taylor's post on Instagram, including Reese Witherspoon, Jennifer Lopez, and ever Taylor's ex-feud partner Katy Perry.
While others like Alyssa Milano, Molly Ringwald, and Rosie O'Donnell thanked her for speaking out.
But by far the loudest voices of support came from Taylor's fans, who took to social media to show her their love and pride.
And, of course, Taylor was lurking on Tumblr liking their posts. Many fans shared personal stories about what Taylor's words meant to them.
One person pointed out the significance of Taylor being named one of Time's "Silence Breakers" after she sued a radio DJ who sexually assaulted her in 2013.
Many, many, many others simply thanked her for her words.
And, of course, there were jokes.
Basically, after that post and these likes, this is the entire Taylor Swift fandom:
We're proud of you, Taylor. 💖
Need help registering and getting ready to VOTE? Sign up at TurboVote and get access to a 50% off Lyft promo code for your ride to the polls here!