On Tuesday night, BTS made their third appearance on the Late Late Show to promote their new single, "Black Swan", and their upcoming album Map of the Soul: 7.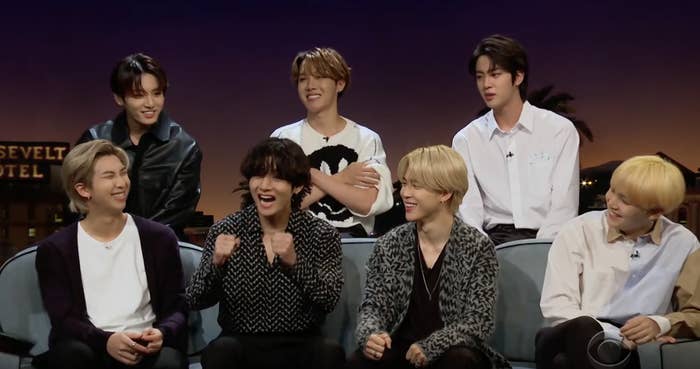 The band's members — RM, Jin, Suga, J-Hope, Jimin, V, and Jungkook — sat down for an interview to discuss their recent appearance at the Grammys, the new album, and the worldwide stadium tour they're embarking on in April.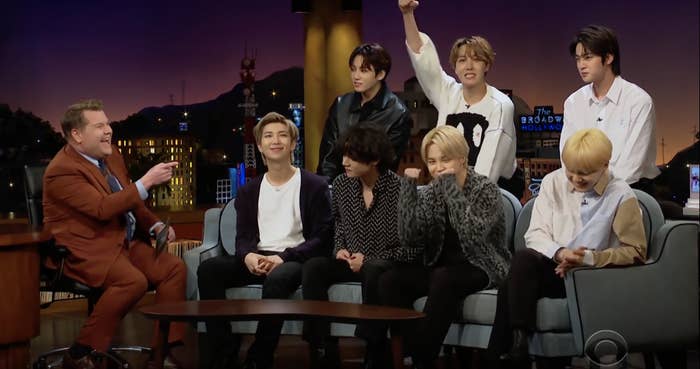 They also treated us to the first TV performance of "Black Swan", showcasing their — as always — impressive choreography and live vocals, and giving us serious "Fake Love" vibes.
Oh, and they ended the show with a game of hide and seek, which culminated in Jin being fireman's lift-ed out of the photobooth and deposited onto a stool by Ashton Kutcher.
The BTS ARMY couldn't have been happier with the appearance, and many thanked James Corden and the show for making the band feel comfortable and not asking them which western artist they'd most like to collaborate with.
(And for providing us with the pure happiness that was the hide and seek segment, obviously.)
So, to thank James for his support of BTS, one ARMY decided to search for charities he's shouted out in the past, encouraging other fans to donate to show their gratitude.
And James sent the ARMY back his love in return.
According to the spokesperson, Magic Breakfast have received 585 donations and counting from members of the BTS ARMY in 54 different countries.
And this isn't the first time they've done something like this — BTS fans regularly organise donations to charity to commemorate the members' birthdays, celebrate their UNICEF ambassadorship, or... just because.