The Grammys happened at the Staples Center in LA on Sunday night, and just as they promised in 2019, BTS were back for their second year running.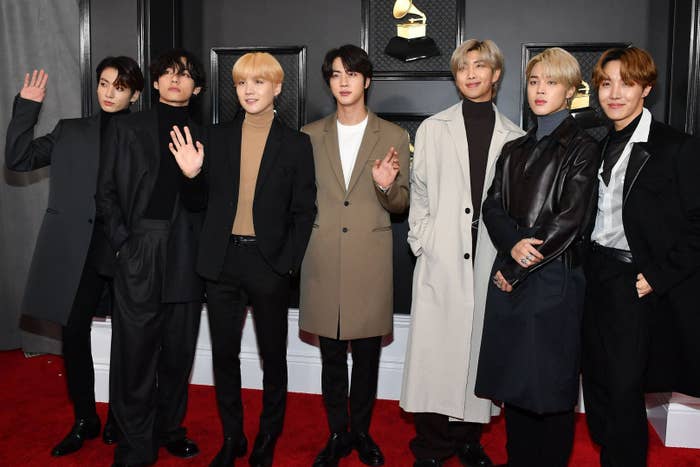 The group's seven members showed up on the red carpet looking like the leading men from all our '90s rom-com dreams, and just generally showing everyone how it's done.
But the biggest moment of Bangtan's night was their performance onstage as part of the ceremony's tribute to Lil Nas X's mega-hit, "Old Town Road".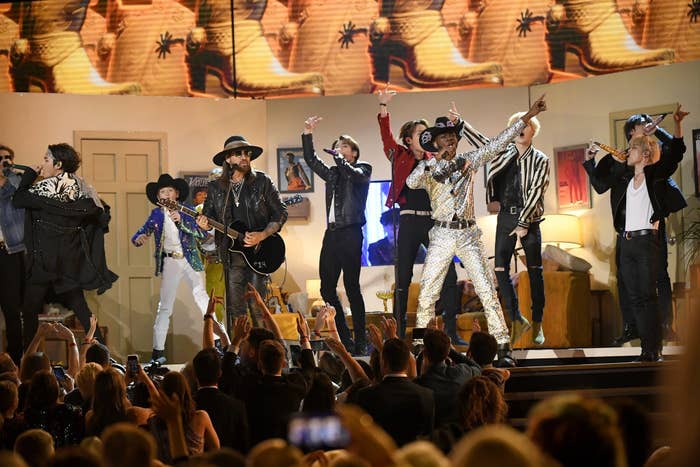 Earlier this year, the song broke Mariah Carey's 1996 record to become the longest-running No. 1 on the Billboard Hot 100, with a little help from BTS's RM, who collaborated with LNX on the "Seoul Town Road" remix.
So, to celebrate, the whole group joined Lil Nas X on the Grammys stage — along with Billy Ray Cyrus, Diplo, and Mason Ramsey — and in doing so, became the first Korean act ever to perform onstage at the ceremony.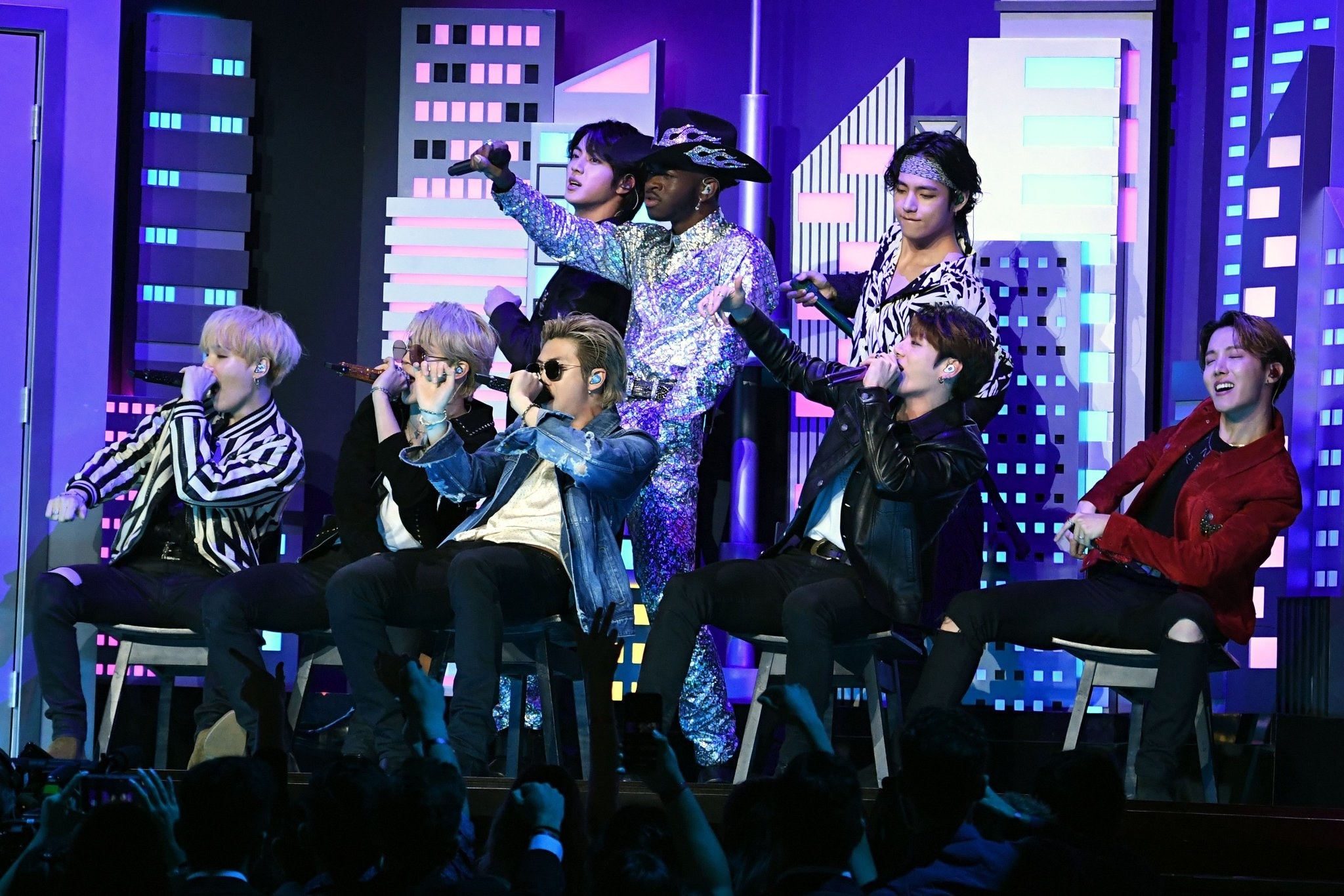 During a red carpet interview with Ryan Seacrest, RM revealed the performance had come about at the last minute. In fact, they'd only learned it was happening a couple of weeks before.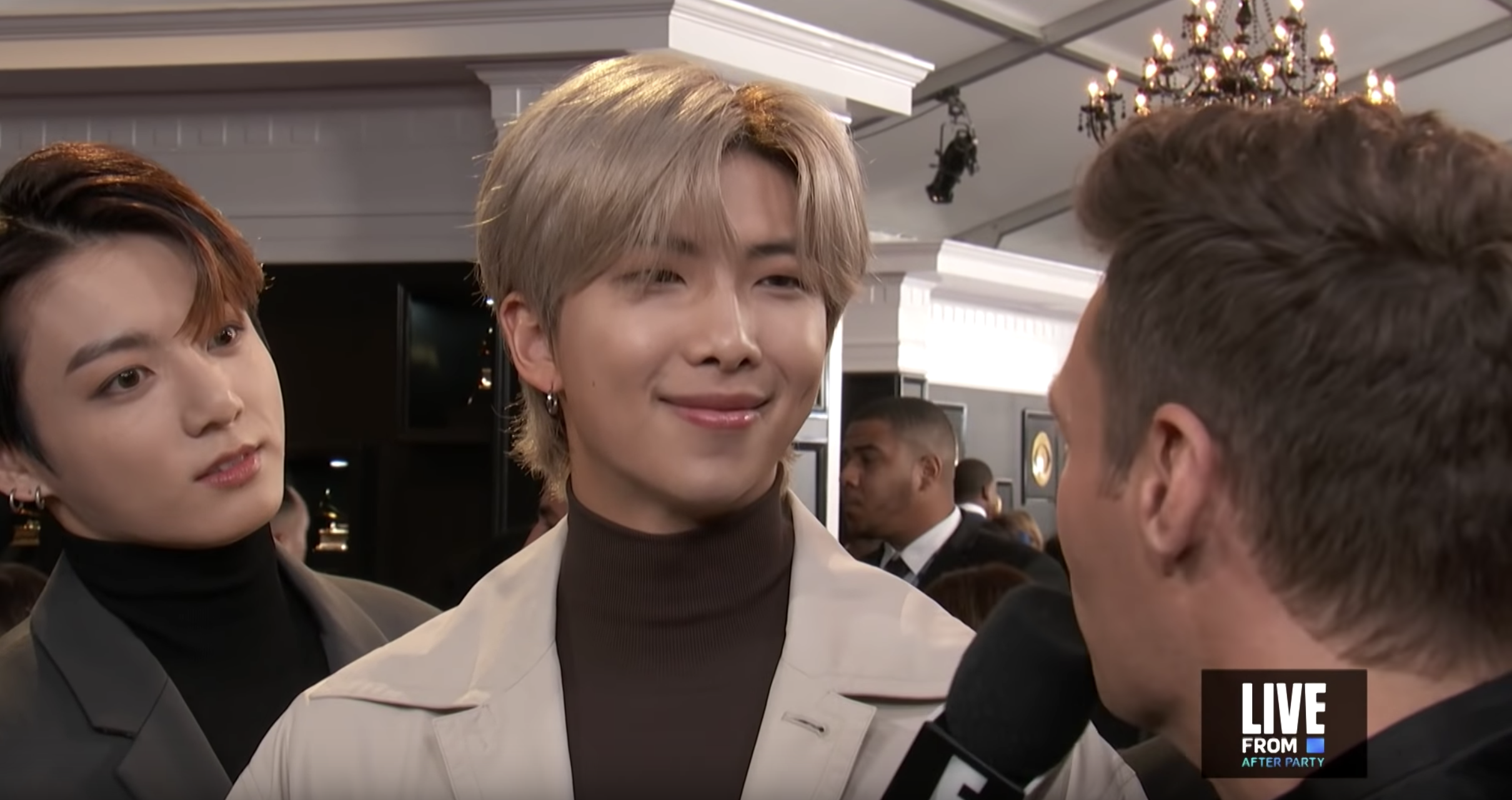 He also revealed that the news of their performance came as a total surprise to the members, since they've never been nominated at the Grammys and therefore aren't able to perform on their own solo stage.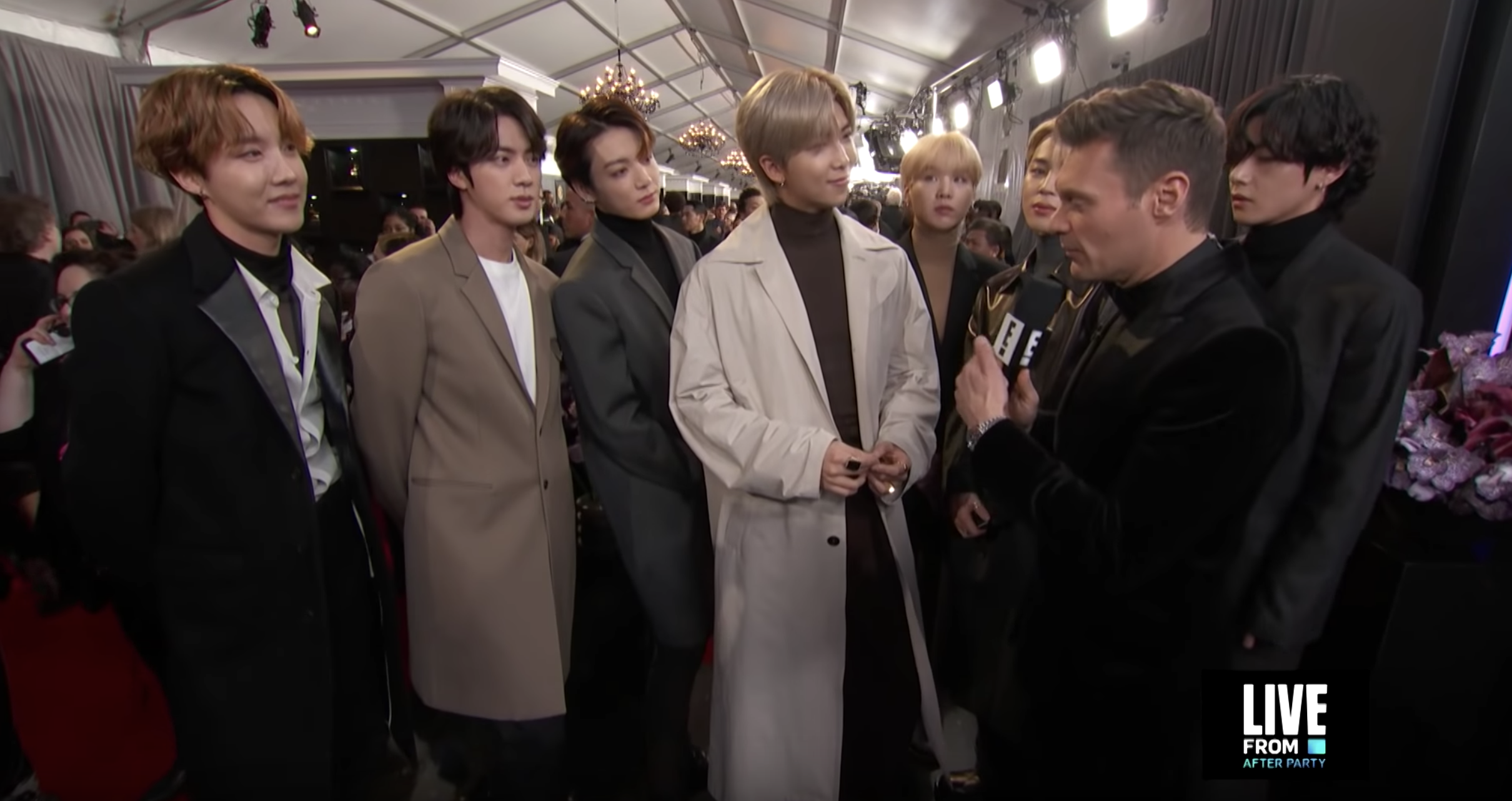 But despite the fact that they only appeared for around a minute of the collaborative performance, there's no doubt BTS made the stage their own.
Of course, the ARMY couldn't have been prouder of them, and it's no surprise that BTS were the most tweeted about act of the night.
A lot of people got emotional over how far they've come since their debut in 2013.
And it looks like BTS themselves had a pretty great time, too. They posted photos from backstage meeting their idol Nas...
As well as videos interviewing each other on the red carpet.
And a seriously adorable group selfie. 💜
In a VLive stream after the ceremony was over, the members made a toast to their success and expressed their wishes to return to the Grammys next year — maybe even with a nomination.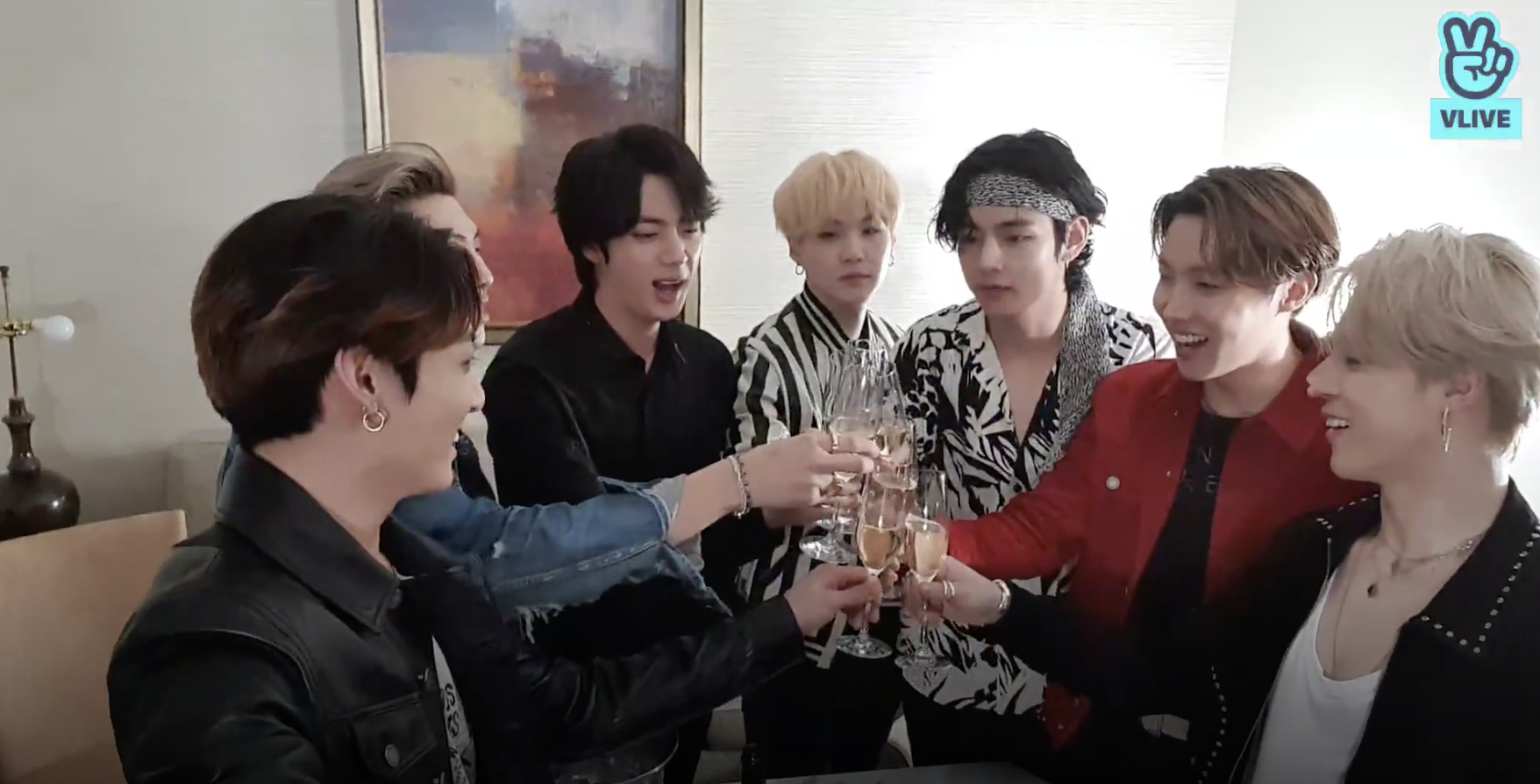 "We said it last year presenting: We'll be back," RM said during an interview with ET. "We thought it would never come true, but I think this is the reason why you should speak out your ambitions — maybe it will come true."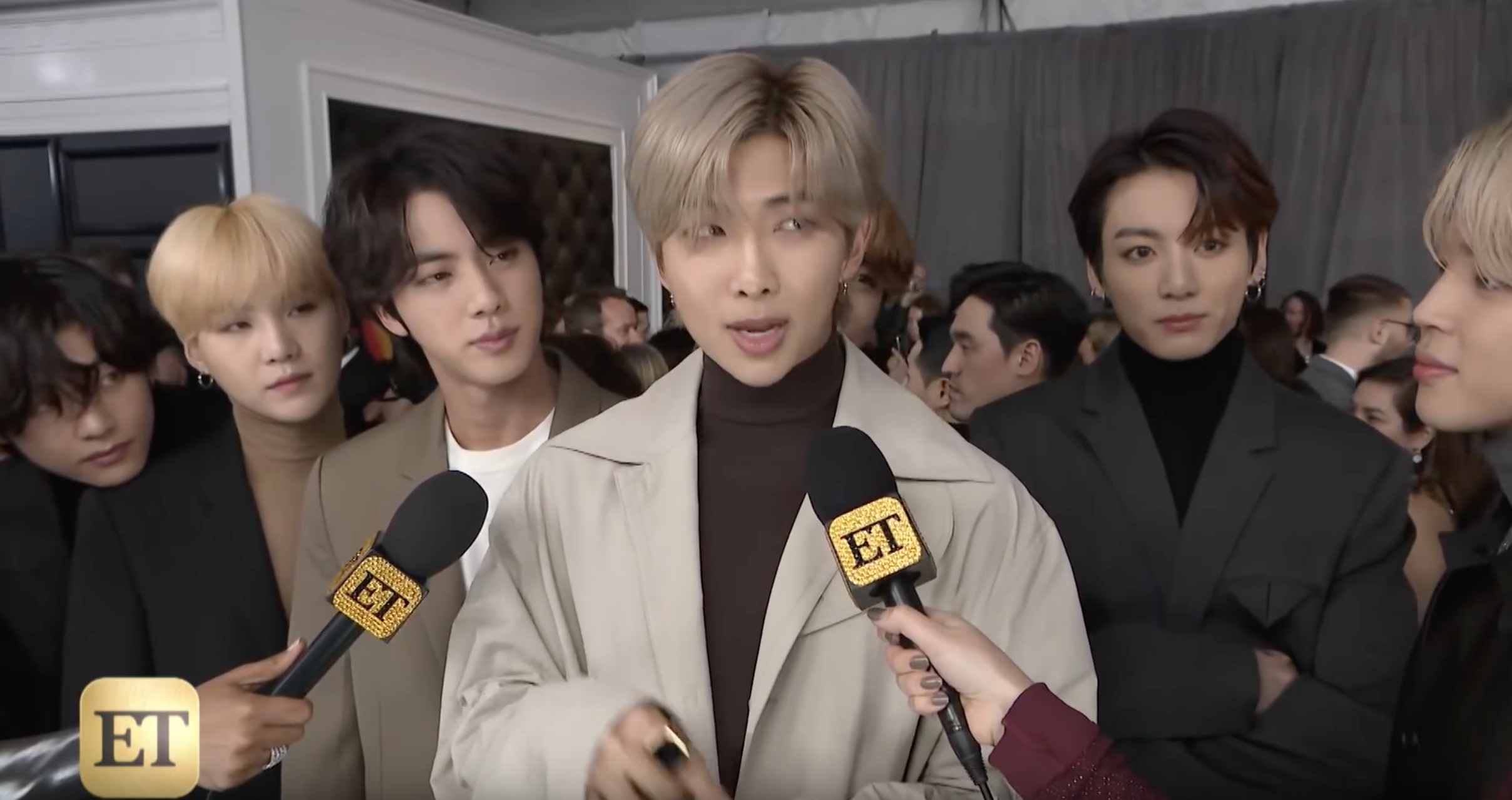 In that case, let's all hope for a BTS Grammy nomination in 2021. 💜