1.
A box of Mighty Patch blemish patches containing hydrocolloid to spot-treat those pesky skin eruptions that always seem to pop up at the most inconvenient times. Leave 'em on overnight, and in the morning you'll be rewarded with a patch full of gross yet satisfying white residue (aka pimple gunk).
BuzzFeed Shopping's Ciera Velarde says: "I've used this specific brand for years now and have found them to be the best at reducing the size and redness of breakouts! Whenever I notice a zit popping up, I put one of these one right before bed, and it stays put all night, even when I toss and turn a lot. By morning, it's much less noticeable and is practically nonexistent when I cover the zit with makeup. It's such a great practically zero-effort way to treat blemishes!"

Promising review: "I heard all about these on TikTok so I decided to order. I switched my birth control and was having a ton of breakouts, these are amazing! They helped me stop picking at my face and my skin is so clear now. Will always have these in my house from now on!" —Kiara Galloway 
Get a pack of 36 from Amazon for $12.99 — you can also subscribe and save 10%!
2.
A plant-based stainless steel cleaner for anyone who loved the look of their shiny appliances the first week they got them, then quickly realized they're actually a breeding ground for fingerprints. It's made with aromatic lavender essential oil, which polishes and shines without streaking and creates a protective barrier for preventing future smudges.
Promising review: "The stainless-steel appliances in our rental were so stained and smudged. Regular cleaners didn't work. I saw this product recommended on TikTok and immediately looked it up on Amazon. The reviews were good and price was right, but what won me over was the plant-based ingredient list and lavender scent. I used the product the day it arrived in the mail. Worked like a charm! Easy-to-use spray, microfiber cloth included. So now my stainless-steel appliances look shiny and my kitchen smells amazing! Highly recommend." —diana

Get it from Amazon for $19.95 (also available in packs of two or six) — you can also subscribe and save 5%!
3.
A foaming garbage disposal cleaner that'll replace lingering smells — you know, the ones that always make you think, Wow, should I be cleaning my garbage disposal? — with a bright, lemony scent. Plus, watching it bubble up is pretty fun!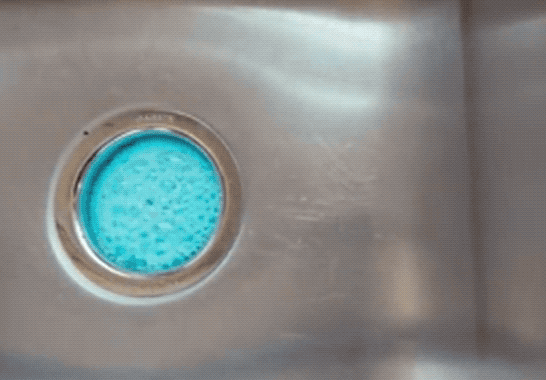 Promising review: "Saw on TikTok (don't judge) and automatically added to cart. So easy to use, takes probably a minute to fully bubble up and clean, and you're left with a clean sink! I use with other drain cleaning products, but would 100% recommend for weekly maintenance." —Jessica Hamilton
Get a four-pack from Amazon for $4.25 (also available as a pack of 24) — you can also subscribe and save up to 5%!
4.
A roll-on migraine stick you can dab over your temples, forehead, and neck whenever you feel a headache coming on. It contains peppermint, spearmint, and lavender oils, which can help ease pain at the onset, and since it's about the size of a tube of lip balm, it's perfect for keeping in your bag in case one of those pesky headaches sneaks up while you're out and about.
Promising review: "This stuff is my go-to fix when I feel a migraine coming on. I suffer from sinus headaches and migraines usually once or twice a week. This product I put on each temple, under my nose and on my wrists when I feel the pressure starting and it cuts the pain to a minimum. It seems to stop the worst pain before it has a chance to start. Thank you for a great product! I will buy again and again!" —Brenton1985
Read BuzzFeed's Migrastil Migraine Stick review for more deets!
Get it from Amazon for $11.99 — you can also subscribe and save 10%!
5.
A beloved carpet cleaner that'll help you keep your cool the next time your dog/kid/S.O. makes a mess on that white rug you insisted on getting. Don't worry, it'll make stains and regret vanish!
Promising review: "This stuff is AMAZING. We have a 1.5-year-old puppy and have make several futile attempts to clean up carpet stains from her potty training days. Another dog owner clued us into this, and we cannot believe we didn't buy it sooner. Seriously, the same night this arrived, I spilled an entire bottle of beer on white carpet (oops), grabbed the Folex, sprayed a bunch onto the stain, massaged it into the carpet with my finger tips, and blotted with a damp towel. You can't see ANY remnant of a stain. I've also attacked old stains (like 1-plus year old) and saw the same results. Seriously, buy this!!!" —AKM

Get it from Amazon for $12.85+ (available in two sizes and in packs) — you can also subscribe and save up to 5%!
6.
Or a nontoxic carpet cleaning solution any pet owner will want in their arsenal, stat. You can use it with your vacuum, and not only does it help remove those stubborn stains, reviewers say it'll take care of lingering odors with its refreshingly minty scent as well!
This solution works great with Bissell, Hoover, McCulloch, Rug Doctor, Kenmore, and Carpet Express vacuum cleaners.
Sunny & Honey is a family-run small business making cleaning products designed for pet owners who want keep their homes stain- and odor-free. 
Promising review: "A true sensory experience while completing a mundane, laborious chore! The scent from this cleaner was pleasing versus the harsh chemical smell from the other brands out there. Yet, it was able to remove old stains that had been in the carpet fiber for well over seven years. This surprised me as I had just accepted that those stains were there to stay. Plus, it's concentrated so I just used over a bit of the recommended amount. Now the carpet looks great with no grainy feel to it when you walk on it with bare feet; although I did vacuum afterwards. Just as important, the carpet does not have the unpleasant odor that has lingered and would rear its ugly head from time to time! Thanks to Amazon for carrying this and making it easy for me to locate on the site!!!" —Marie J.
Get it from Sunny & Honey on Amazon for $19.99+ (available in two sizes) — you can also subscribe and save 5%!
7.
A smudge-proof eyeliner stamp, because achieving the perfect cat-eye shouldn't be a major source of stress in the morning. Line your eyes using the fine end, and then *boop!* stamp the outer corners to complete the look sans shaky hands.

Oh, and it comes with two stamp pens — one for each eye!
Promising review: "Best eyeliner ever! This item was a 'TikTok made me buy it' LOL but overall, I am truly happy with this purchase. Thank you! Your product is truly amazing!" —Samantha Lopez

Get a set of two from Amazon for $13.48+ (available in three styles as well as a combo set) — you can also subscribe and save 10%!
8.
A water-based, nontoxic grout pen that'll have those gunk-coated spaces between your tiles looking downright dazzling without any bleach or heavy scrubbing. 
Promising review: "I was pleasantly surprised by how far these went. I did the entire floor of my large master bathroom plus a little of the shower with one pen. It is pretty forgiving, and you have quite a bit of working time before it dries completely. This was not a quick task, but it went faster than I thought it would. I was worried the white would look too bright, but it just makes everything look so much cleaner. I'm very happy with this product!" —Jenelle
Get it from Amazon for $8.99+ (available in two sizes) — you can also subscribe and save 10%!
9.
E.l.f.'s Poreless Putty Primer, which has over 19,000 five-star ratings — probably because it's more than just a smooth makeup base. It contains squalane, which mimics oil naturally found in our bodies to keep thirsty skin hydrated, so your face will feel as good as it looks. Oh, and reviewers say your makeup will. not. budge with this stuff. 
Promising review: "I saw this on TikTok and thought I'd take a chance. I have sensitive skin and have to watch what I use. I LOVE this product! Goes on smooth and you don't need to use a lot. I put it on before I put on my foundation. Makes a huge difference. Highly recommend and will buy again!!" —Leslie Mattingly

Get it from Amazon for $9 — you can also subscribe and save up to 5%!
10.
A tub of *iconic* cleaning paste The Pink Stuff, because once you realize how much stain-lifting power this unassuming stuff has, you'll wonder how you ever got anything clean without it. Not only does it get stains out, it does so quickly and with minimal effort on your part.
After seeing countless videos on cleaning TikTok that raved about The Pink Stuff, I knew I had to try it out on my stained, grime-coated sheet tray. I mean, if it could make a dent in that, I'd probably believe in magic. Well, I started scrubbing one corner as a test, and lo and behold, the difference was nothing short of DRAMATIC (check out the photos for proof!). And I didn't even have to scrub very hard, though as someone with ~minimal~ upper body strength, I doubt any force I could physically apply would even constitute as heavy scrubbing. At any rate, it worked so well that I tried it on a pair of dirty tennis shoes and a blue stain that had been singed onto my toaster oven for months, and, yup, it worked. I will say, if you want your sheet trays to look brand spankin' new, you might need one of those cleaning scraper tools to get every last bit off, but as far as general stain removal goes, consider me a FAN. 

Get it from Amazon for $5.97 (also available in packs of two or three). 

11.
Or a bottle of Bar Keepers Friend you can use on practically anything in need of a little refresh. Grease-coated pans? Check. Rust-stained shower? Check. Streaky stainless steel? Check. 

Promising review: "Bought our refrigerator seven years ago when we moved into our house and within a year rust spots showed up (cheap and didn't clean the stainless steel properly). Have tried numerous products over the years with no avail. Received Bar Keepers Friend today and after dinner decided to give it a whirl. This product was easy to use and all the rust stains are gone. My wife came in and said, 'Where are the orange spots? I never thought those would go away.' Highly recommend and will continue to clean our appliances with this product." —Andrew Riebesehl

Get it from Amazon for $8.70 (also available in packs of two, four, and six). 
12.
And a pack of melamine sponges, which are fantastic for tackling mysterious wall smudges, dirt, and grime without the need for chemical sprays. Just wet with water and wipe!
Reviewers say they're an excellent dupe for the Mr. Clean Magic Erasers, and much more affordable!
Promising review: "As good as Mr. Clean Magic Erasers but half the price. They clean so many surfaces better than anything. We use them at the bar and clean our chalkboards, metal sinks and ice wells, beer coolers, FRP backsplash walls, and even graffiti in the bathrooms comes off more easily with these than other cleaning products. I took one home and cleaned my shower faster and more easily than with bottles of shower cleaner. Highly recommended." —Stephen Brandau
To learn more, check out BuzzFeed's STK extra-thick cleaning sponges review. 
Get a 20-pack from Amazon for $11.95 — you can also subscribe and save 5%!

13.
A bottle of truly legendary Bio-Oil Multiuse Skincare Oil to take your skin from borderline scaly to oh-so-soft after just one application. It's formulated with vitamins A and E, along with chamomile, sunflower, and lavender oils to provide much-needed hydration without clogging pores or making skin feel greasy (the worst!).
Promising review: "I've been using Bio-Oil on and off for several years. I love it. I have some slight scarring from bad acne when I was younger and after a few months of applying the Bio Oil the scarring was considerably improved and my skin was smoother. I have oily skin so I was concerned about using any type of oil on my face, but this stuff doesn't make me greasy at all (and I use it before bed). Added bonus; I LOVE the scent." —Amazon Customer
Get it from Amazon for $8.92+ (available in three sizes) — you can also subscribe and save 5%!