First up, some rollerblades for all the rad adults out there:
1.
A lightweight pair of Roller Derby adjustable inline skates boasting thousands of 5-star reviews ideal for casual indoor rollin' at your local rink or getting some fresh air skating through the park. Might as well bring the dog along if the latter!
Don't forget to get a helmet and some protective gear too! 
Promising review: "I've been literally searching for rollerblades all my life and never found the perfect ones. I finally met my destiny with these bad boys and I seriously can't take 'em off. I literally rollerbladed at 10 p.m. pitch black, 62 degrees out. I might sleep in them. Probably sign up for rollerblade competitions and clubs. Moral of this review: BUY THEM." —Pamella
Get them from Amazon for $49.99+ (available in one adjustable size fitting women's sizes 7–10 or unisex sizes 6–9).
2.
An adorable pair of Impala inline skates with optional heel brakes so pretty you'll be finding every excuse you can to wear 'em out and about.
Impala also made it onto our list of the best places to buy roller skates online!
Promising review: "These skates are so stinkin' cute and comfortable! I have not blades in 20+ years and I have been LOVING getting back into it. I tried to be a badass with no pads, but severely regretted it, so get some pads and some wrist guards as well. Also, attach the brake unless you're en expert. Overall, I love the look, the price, and the quality of these blades. I even got a second matching pair for my BFF, and now we started a gang called the Blade Babes! You will also need a fanny pack to carry your speaker, ChapStick, and your snacks." —Trua
Get them from Amazon for $79.95+ (available in women's sizes 5–11 and eight colors).
3.
A pair of 3-wheel inline speed skates by Epic Skates designed with gold-polished aluminum hard shells to provide extra stability and control. They also just look really cool, so there's that.
Promising review: "The best skates EVER. I love mine! They are awesome and they glide over concrete and rocks and dirt. Still trying to get my power stop down, but other than that I love them! They are awesome if you have a dog that needs to run like I do. Your dog can pull you with ease and get some serious speed. So much fun! Definitely worth every penny! They make you feel super tall! It can be a little intimidating but you'll get used to it. Get! Them! Man!" —HannahDrew
Get them from Amazon for $149+ (available in sizes 6–13).
4.
A best-selling pair of lace-up Roller Derby Aerio inline skates featuring a semi-soft boot with memory foam padding so your feet will stay nice and comfy for for hours and hours.
How about some cute workout clothes and accessories to match those new skates?
Promising review: "Love, love, love! Not a single complaint about these blades! I'm an out of shape 34-year-old with an active dog. I loved rollerblading when I was young. I want to get back into this, get into shape, and get my dog out, and I knew this was the perfect way. These run smooth, feel secure on, easy to get on off, and have plenty of ways to get the right fit. They are so nice looking. Great purchase." —L. Randall
Get them from Amazon for $59+ (available in sizes 5–10 and four colors).
5.
A pair of K2 Skate Alexis inline skates complete with a Boa system allowing you to tighten or loosen 'em with the twist of a knob. No lacing up required!
Promising review: "Fits true to size. I bought 8.5 and my actual size is 8.5. They're very comfortable inside. I LOVE the adjustable string thingy versus laces! It makes the fit so snuggly and tight (not dangerously tight). I find that it has to be super snug in order to rollerblade properly — my feet and the rollerblades became ONE when they're fitted on properly. It's like a bike with clipless pedals! I love the brand K2 because my son had a size 4–8 for five years and they're still intact, strong, and have a lot of years left. These are easy to get on and off my feet. The big wheels are also really smooth nice, for a beginner I think I go too fast sometimes, lol. I'll be buying K2 again for my son this summer as he's outgrown the old one." —anonymous
Get them from Amazon for $159.95 (available in women's sizes 6.5–11).
6.
A pair of lace-up Rollerblade Macroblade inline skates touting three wheels and a breathable mesh upper for anyone who lives for speed. Imagine how quickly you could pick up your morning iced coffee in these things!
Promising review: "Love these and super happy with them. These are fast skates. Great for smooth roads. For exercise and general skating these are perfect. Things I love: The laces use a pulley cord which tightens up and loosens quickly, good ankle support once used to skating in them, and roomy enough boot. Kids love seeing their mom on skates and told me, 'You sure don't fall as much as you said you would,' and 'That looks cool, Mom.'" —Boymom
Get them from Amazon for $219+ (available in women's sizes 6–10.5).
7.
A pair of Liku inline skates complete with removable cushioned linings so you can take them out and clean 'em whenever your skates need a refresh. 
Promising review: "I have to say this thing is well built, firm, stable, high quality wheels, well put together. Can't beat it for the price. I really love them they are very comfy indeed. So far this gets a 10/10 for me" —A. Bailey
Get them from Amazon for $98.96+ (available in women's sizes 7–11.5 and men's sizes 6–10.5).
8.
A pair of pink and black Bladerunner by Rollerblade Advantage Pro inline skates ideal for beginners or anyone trying to get back into the skating game. Its composite frame design helps with stability and control for a smooth ride — even if it's been a hot minute since you last skated!
Psst, if you also happen to be on the lookout for a new sports bra, here are some that Amazon reviewers absolutely swear by.
Promising review: "I absolutely love these rollerblades! They are sturdy, well made, easy to ride, and have a super sleek design. It's a hobby that is not only fun to do, but it also keeps you physically fit. After posting on social media about my new blades and my love for them, many friends reached out to me trying to find how they can get their hands on a pair! I easily copied the link and sent them the info! I am highly satisfied and I know my friends who will purchase will be highly satisfied as well!" —Melissa Batto

Another promising review: "It has long been my dream to know how to rollerblade; really to blade with the greats. To have long hair, toned legs, and glide the streets of my city. These rollerblades have been my first step in making that dream come true. And you know what? It has. A cute boy I know from church offered to teach me how to rollerblade once he found out I bought these. He did. Then he paid for my dinner. Then a week later, my lunch. Things are going great for us. Thank you, Bladerunner!" —SmartShopper
Get them from Amazon for $84.79+ (available in women's sizes 5–10).
9.
A pair of Rollerblade Zetrablade performance inline skates reviewers say have virtually no break-in time so you can throw these four-wheelers on the second you get them and head out for a ride.
Promising review: "As a 35-year-old man, I thought I knew what cool was. I was wrong. These blades have made me the coolest dad in my neighborhood. I leave everyone in pure awe as I fly by them. 'Was that the Flash?' they ask. Nope, just that dope ass dad from down the block (DADFDTB)." —Ryan
Another promising review: "Very comfortable!!! They have a nice slick look. They are not bulky, big, or shaped weird. The brakes are adjustable and removable. I went skating with my kids and was very impressed by how great my feet still felt inside the roller blades after a few hours. There was no rubbing, discomfort, or soreness after a long period of use. Would definitely recommend these Rollerblades to people who enjoy skating!" —Amazon Customer
Get them from Amazon for $119+ (available in men's sizes 8–13).
10.
A sturdy pair of K2 Skate Kinetic inline skates featuring high-performance wheels and a soft boot to keep your feet snug (but not too snug) while you reminisce about your junior high roller rink days.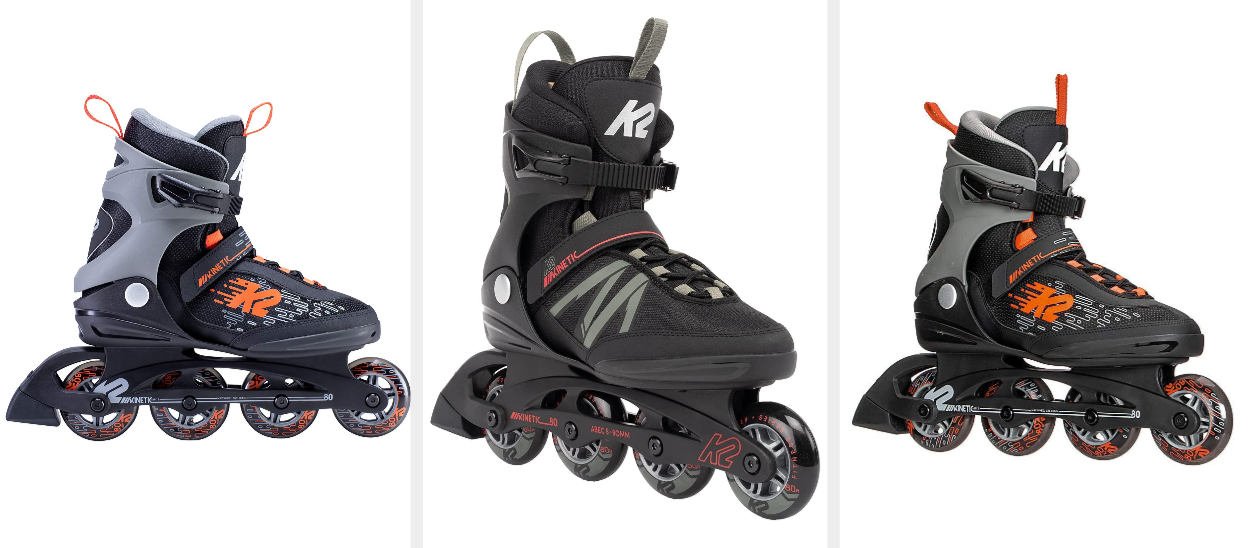 Promising review: "I remember when rollerblading was EVERYONE'S favorite thing to do. K2s were something I grew up only seeing on the shelves of the sports stores. I never would have thought that I would be able to own one. Now that I have one, I am amazed by its comfort and the ability to feel my legs and feet as though I were becoming like Iron Man. K2 a great piece of art." —Bryan Andalis
Get them from Amazon for $66.39+ (available in men's sizes 6–12.5 and three colors).
11.
A pair of red and black Bladerunner by Rollerblade Advantage Pro skates that even people who claim to be super picky about their blades swear by.
Oh, and here are some other items that'll transform your at-home workout space!
Promising review: "I haven't rollerbladed since I was a kid. I actually saw these in a store and tried them on in person before finding them here on Amazon for cheaper. They fit remarkably well (normal shoe size) without any uncomfortable rubbing or pinching that seems commonplace for me in rollerblades. No blisters or sores after our first skate. These are great. Much looser wheels than I had anticipated, so if you haven't been in a while take it easy your first time again! ;)" —Bill
Get them from Amazon for $86.89+ (available in men's sizes 7–13).
12.
A durable pair of Roces aggressive inline skates specifically designed with a gap between the second and third wheels to accommodate all those badass grinds and jumps!
Note: Some reviewers suggest ordering two sizes up from your regular shoe size.
Promising review: "Really love these. The straps are very sturdy and do their job well. You may want to consider replacing your wheels every now and then because they seem to wear through quickly. In general for stopping you will want to slow to a stop by turning in a circle, going into the grass, or grabbing something. Overall, I love the skates. I've spent 10 hours in the past two days in these boys and I love them." —Mitchell Batu
Get them from Amazon for $189.99+ (available in men's sizes 6–15).
13.
A splurgeworthy pair of high-quality Bauer street hockey skates designed with memory foam padding and a microfiber liner ideal for beginners and experts alike (you also don't need to play roller-hockey to rock these).

Just starting to ease your way back into a workout routine? These fitness items will help keep you on track.
Promising review: "First of all, I love these skates. These skates are fast, they feel solid, and are very light and comfortable without socks so far. I have tried them on cement and on blacktop and they are fine going over cracks too." —Chicago Flash
Get them from Pure Hockey for $349.99 (available in men's sizes 6–10).
Next, a few options for kids *and* adults (you know, so the whole fam can match):