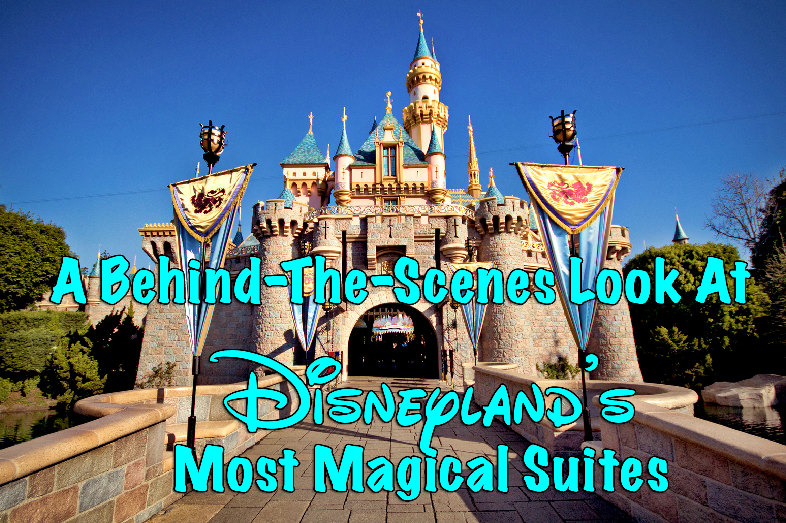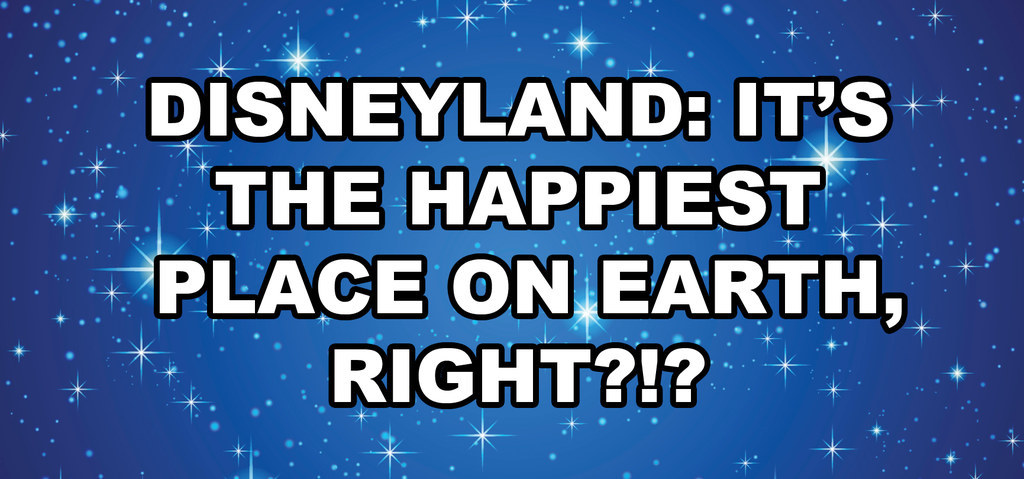 The entryway magically lights up with the help of Tinker Bell, fully immersing you in a Disney fantasy the moment you walk in.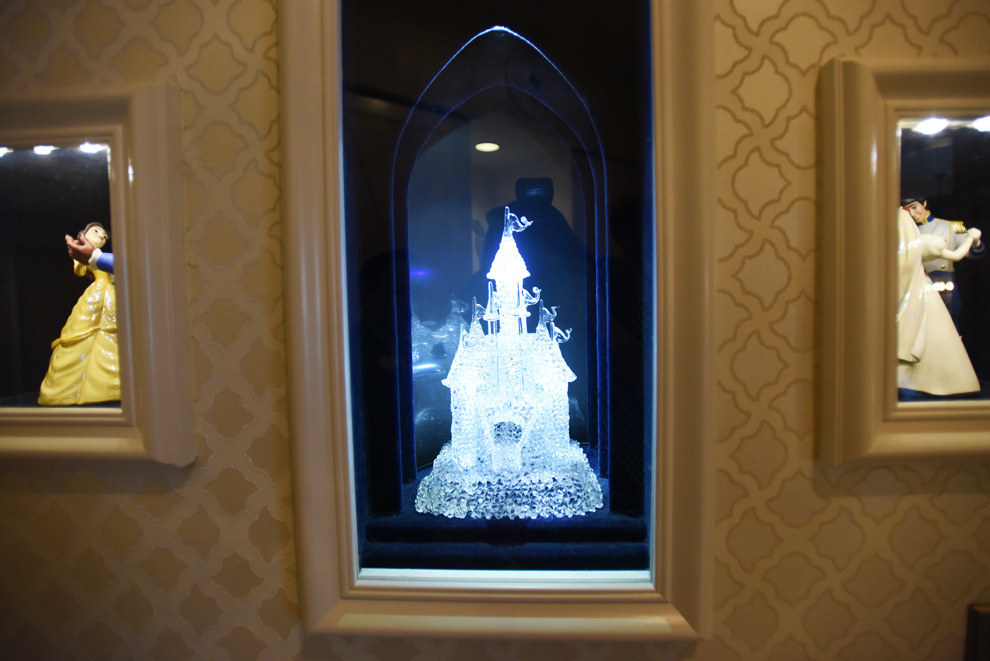 A lush canopy bed looks like something you would totally want to to live happily ever after in.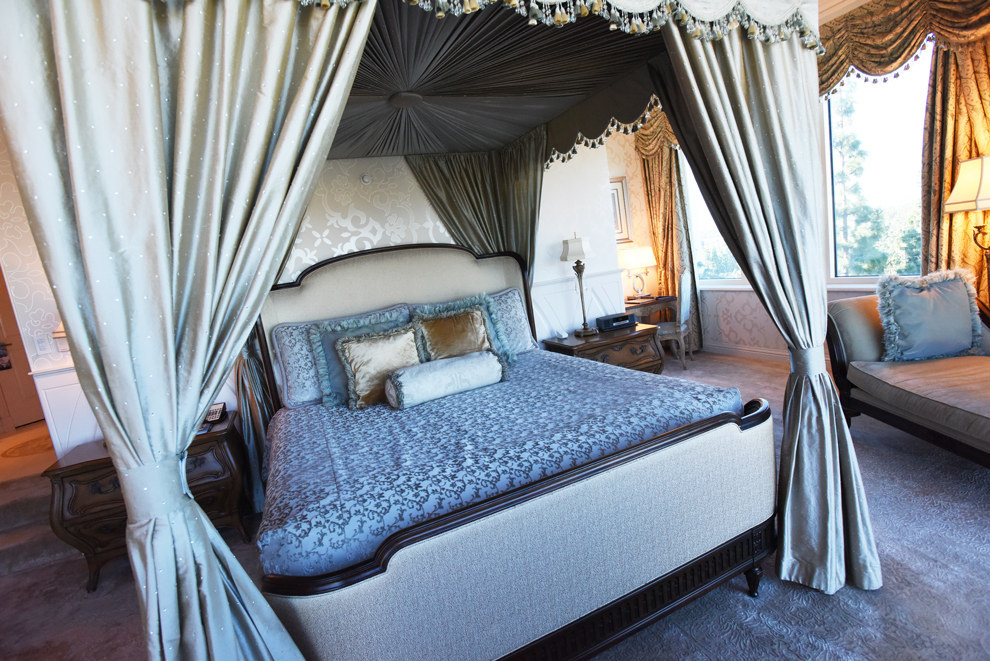 The bathtub is certainly fit for royalty. You could definitely imagine Ariel taking a bath in this.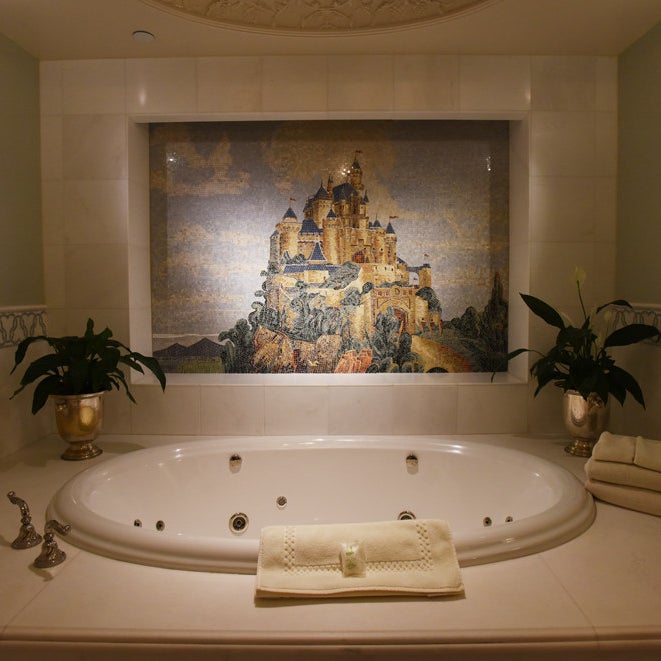 What We Liked: When you enter the suite, Tinker Bell greets you and lights up the entranceway. How cool is that?! Also, the marble lights up in the bathroom. This really IS the Fantasy Suite, isn't it? Plus, the mosaic of the stunning castle that overlooks the hot tub is absolutely slaying. This room is really fit for a prince or princess. The only thing it was missing was a "ROYALS ONLY" sign above the entryway.
What We Didn't Like: It almost was a little TOO fancy, like when you go over to your aunt's house and you're really afraid of breaking something. Like, after a long day in the parks, I don't know how you could kick back and relax here. It's a little too ornate, and I would worry about getting the sheets dirty. Also, it was across the hall from the Pirates of the Caribbean Suite, so I'm sure it must be tough to fall asleep while all those scalawags drink rum and cause mayhem throughout the night.
Who Is The Suite Perfect For? Cinderella wannabes, Kate Middleton, enchanted woodland creatures who know how to not make a mess.

A familiar face immediately greets you at the front door.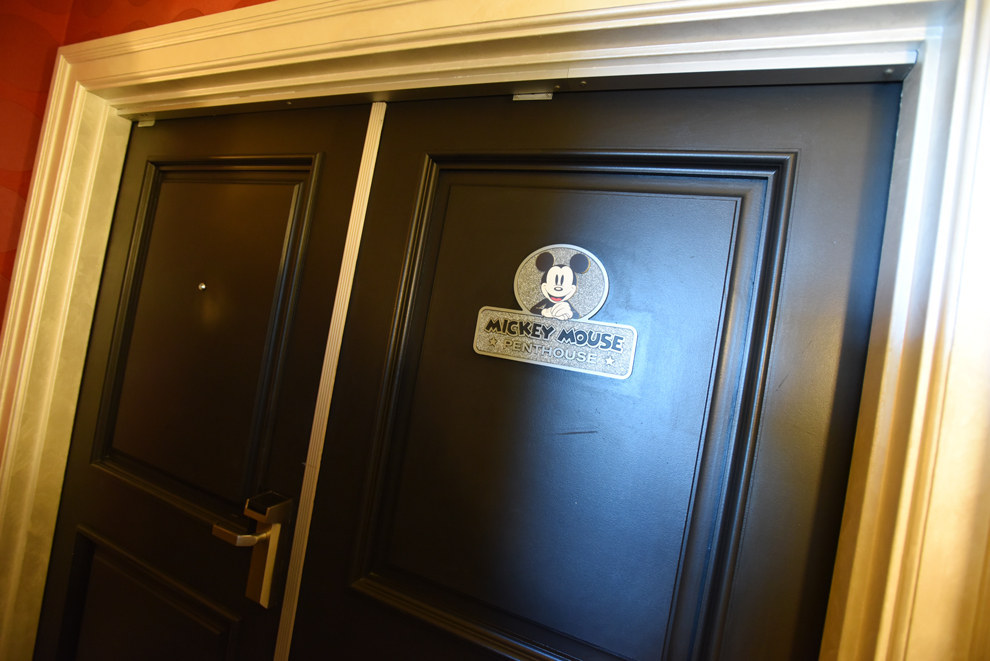 Of course the living and dining room feature some subtle and not-so-subtle nods to the Mouse — but all done elegantly, 'cause Mickey wouldn't have it any other way.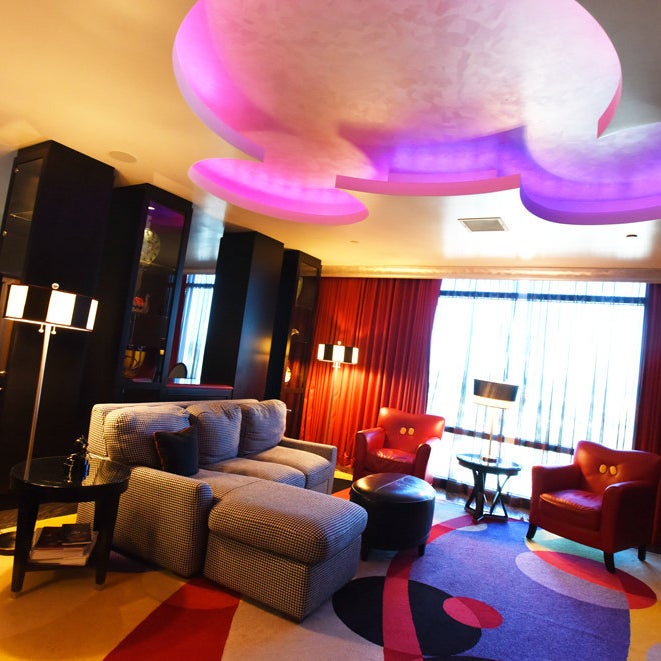 The suite comes complete with an adjoining kids bedroom that literally looks like you're being engulfed by Mickey.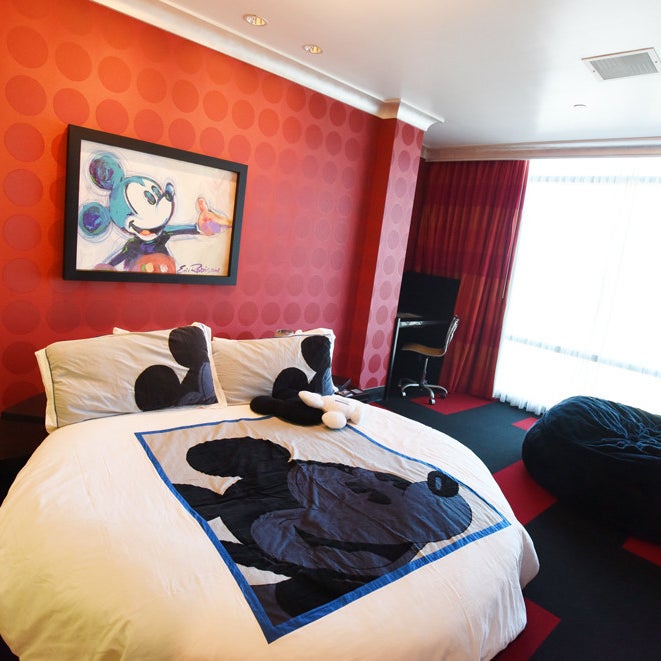 The master bedroom is a bit more subdued, with only a few pieces of art paying tribute to the Mouse, while the master bathroom is certainly somewhere we can imagine both Mickey and Minnie wanting to unwind after a long day of entertaining guests at the park.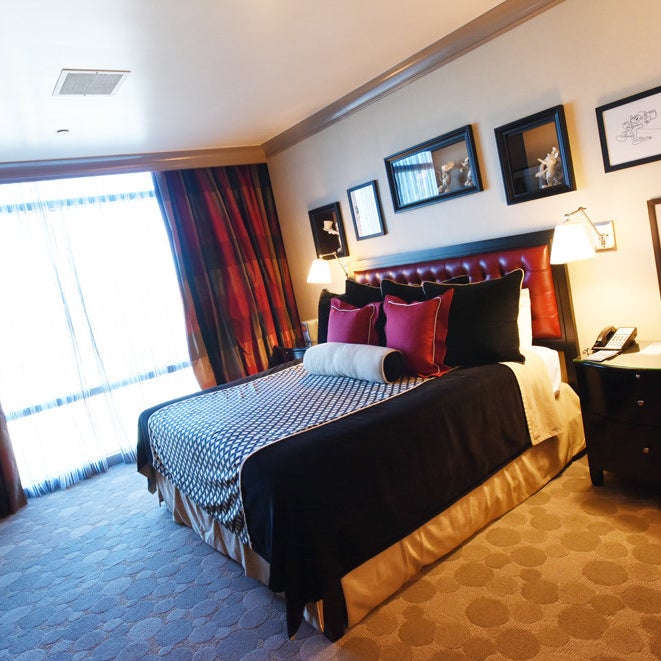 A giant model sheet hangs over the office space, in case anyone needs a little inspiration while writing those postcards (aka Facebook updates) to everyone at home.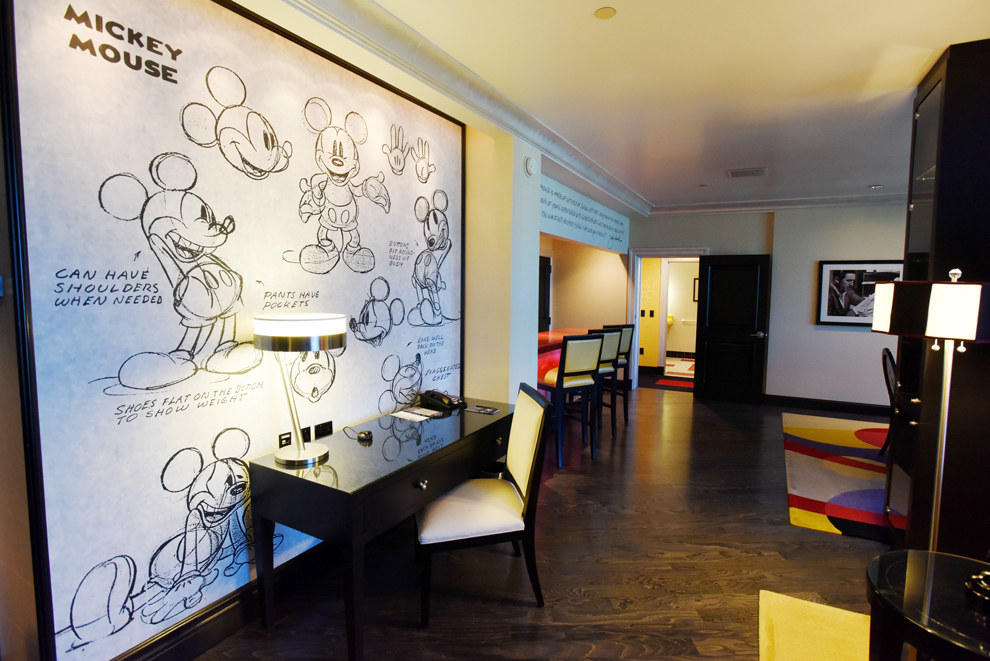 What We Liked: Everything — and we mean EVERYTHING — in this room is Mickey Mouse–themed. But what sounds tacky on paper is actually incredibly cool in person; whether it's the Mickey-themed overhead lighting or the TV stand shaped like his head, you could spend all day trying to catch every reference to the world's most famous mouse, both subtle and overt. Really, could you get a more quintessentially Disney overnight stay?
What We Didn't Like: If Mickey Mouse isn't your thing, then duh, this isn't the right suite for you (more important, who hurt you???). But there's really not much to complain about here! If anything, the room is so cool that you'll have to really struggle to pull yourself away to make it to the parks...but I think most of us would settle for that struggle any day of the week. Also, where is the Minnie stuff???
Who Is This Suite Perfect For? Mickey Mouse, Minnie Mouse, Walt Disney's cryogenically frozen head, HUGE Disney stans.

The interior doorbell in the Big Thunder Suite lets you know you're staying in the wildest room in the resort!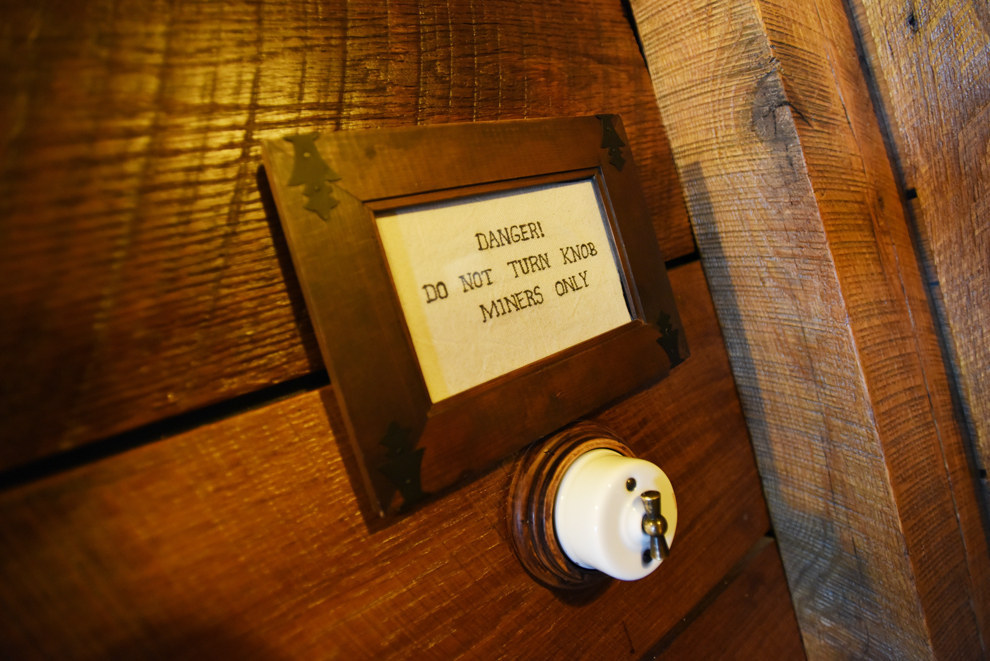 Now I think anyone can agree this is the best way to ~rough~ it like a cowboy in the Old West.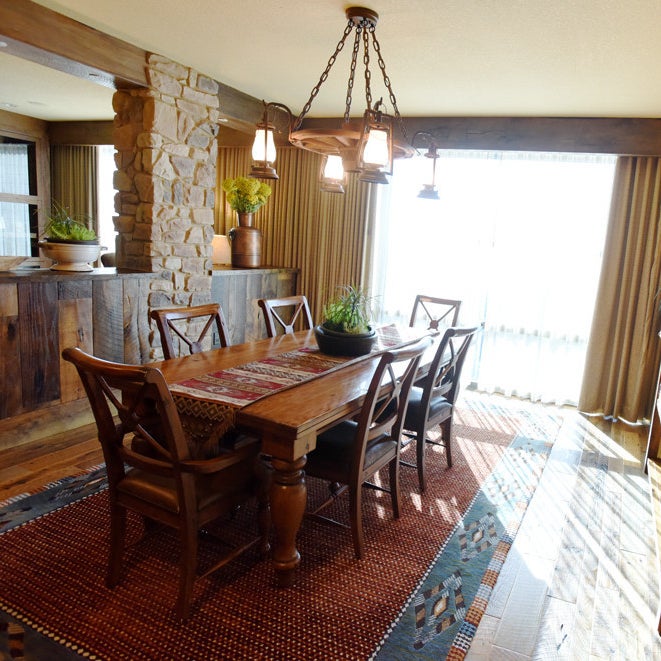 The suite comes with a guest room that, appropriately, has a view of the very Western-themed Knott's Berry Farm.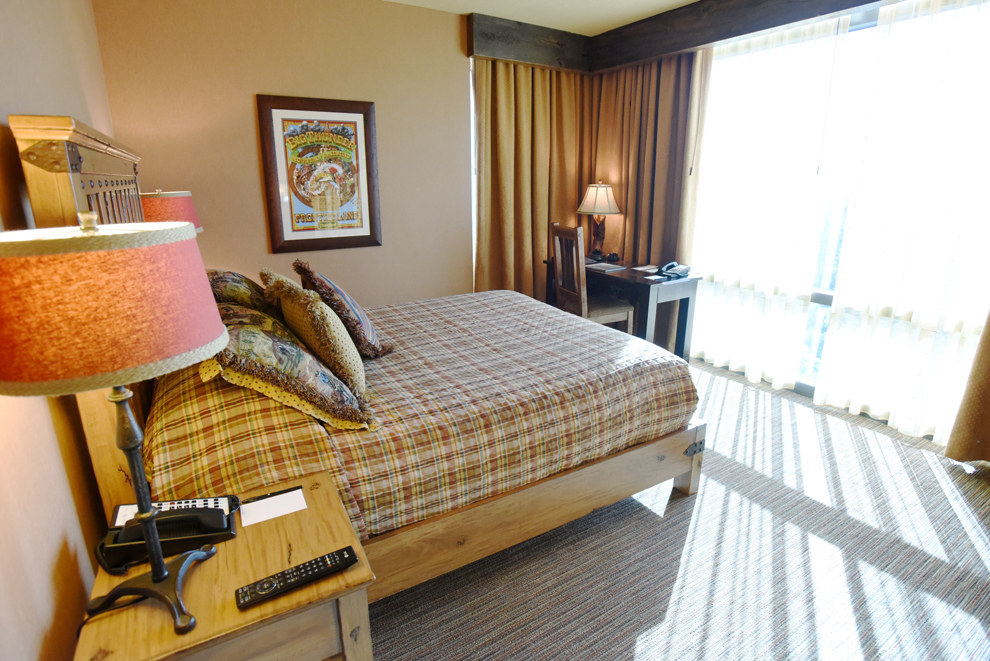 No sleeping underneath the stars by a campfire for cowboys or cowgirls staying in the master bedroom — plus you can soak your tired bones in an amazing copper tub.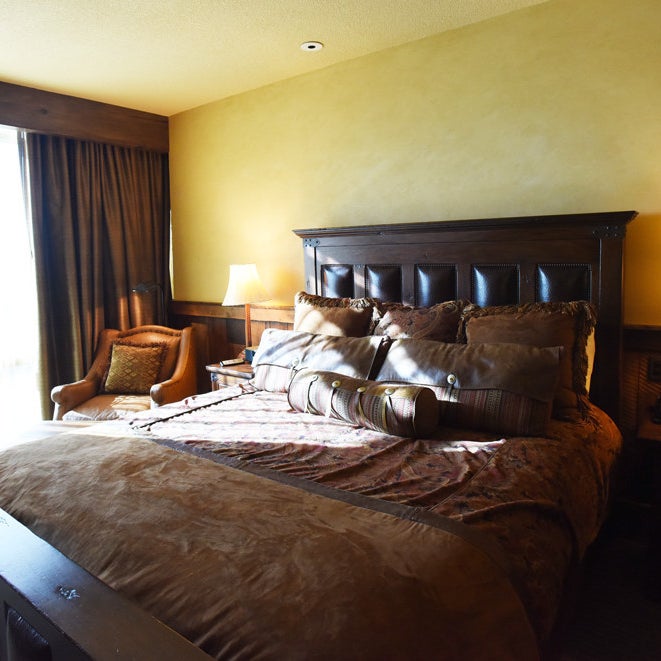 What We Liked: If you're a Frontierland fan, THIS is the place to stay. The attention to detail is amazing — you'll love the copper tub and the sliding barn door that leads to the bathroom in the master bedroom — and you'll feel like you're in the Wild, Wild West while ALSO enjoying all the amenities of a super posh hotel. Howdy, partner!
What We Didn't Like: Lit'rally nothing. This is the perfect way of roughing it — by staying in a Western-themed five-star hotel suite. The only bad part is you have to check out at some point.
Who Is This Suite Perfect For? Gold diggers (both kinds), cowboys and cowgirls, Woody from Toy Story.
Have a MAGICAL stay!