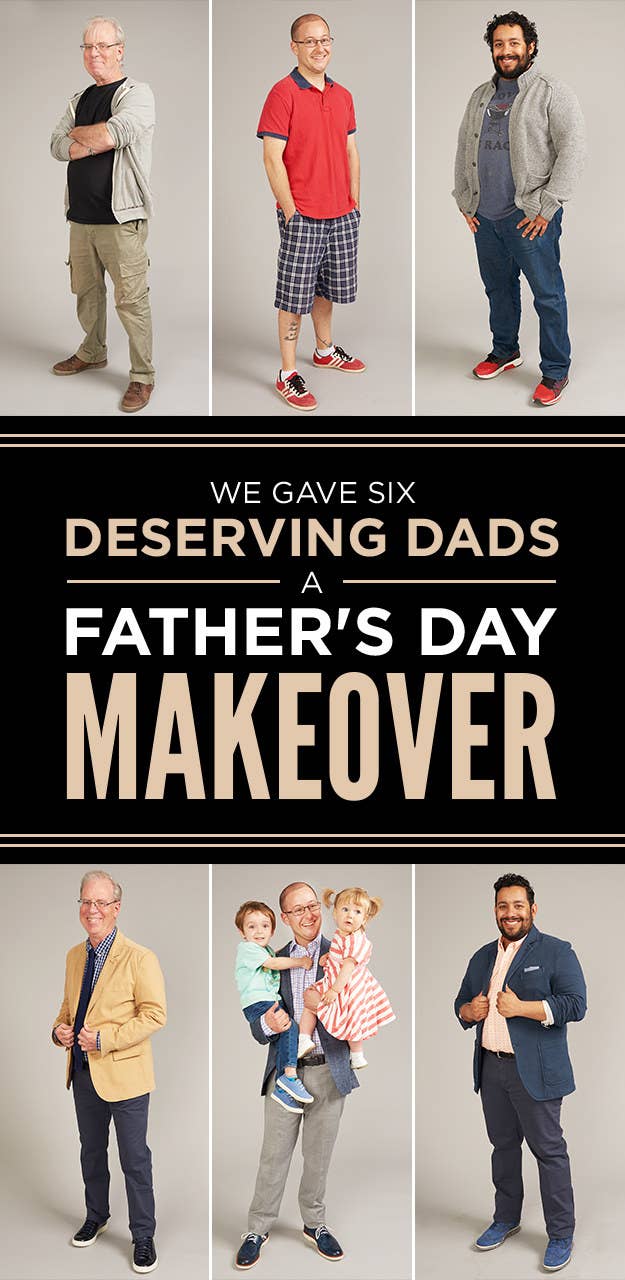 Parents work hard.
So who can blame them if maybe they don't keep up with the latest trends or always look their spiffiest? That's why we gave a handful of deserving dads a style upgrade for Father's Day.
With a little help from their families, we teamed up with professional wardrobe stylist Nicola Harrison-Ruiz and master hairstylist Amit Abraham from Dop Dop Salon to give these dads a brand new look.

First up: Michael, 64, a photography professor who keeps his outfits verrry casual.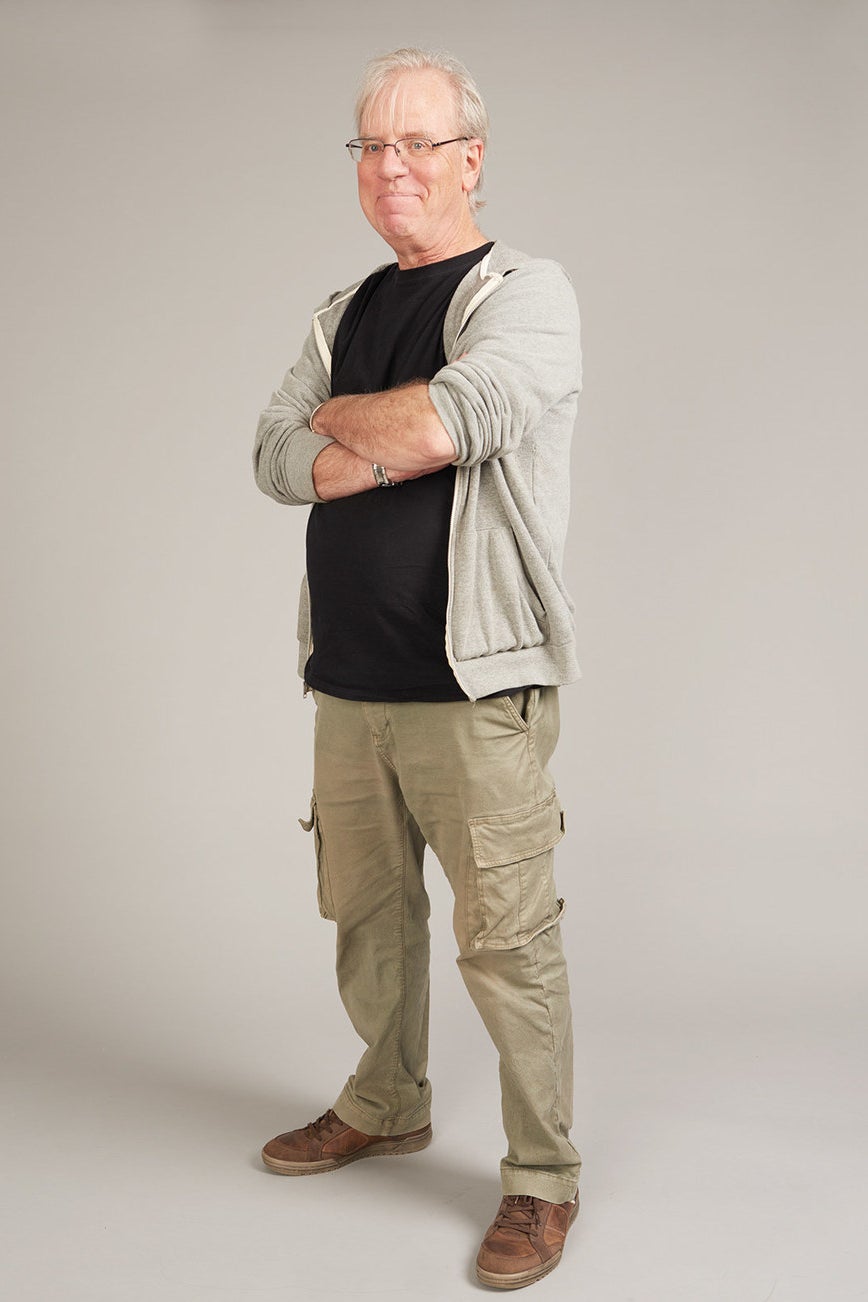 His wife, Haren, and daughter (BuzzFeed design director) Justine have a lot of thoughts on his typical look.
"He has a long torso so he buys shirts that will be long enough, but they end up being really baggy everywhere else," Justine said.
"He's skeptical of anything that is too fashionable. He thinks skinny jeans are against nature," Haren said. "Because he works with college kids, he's terrified of looking like he's trying to look cool."
What we did:
• For Michael's look we wanted to dress him up a bit but make sure he was still comfortable and casual.
• A khaki blazer like this one is a great way to class up your look without going to a full suit.
• Similarly, a knit tie is an easy way to dress up without feeling too stuffy.
• Simple dark sneakers like these add to the casual factor, and they're more comfortable than dress shoes if Michael has to be on his feet teaching.
"It's kind of amazing," Michael said. "I look like somebody I would buy something from."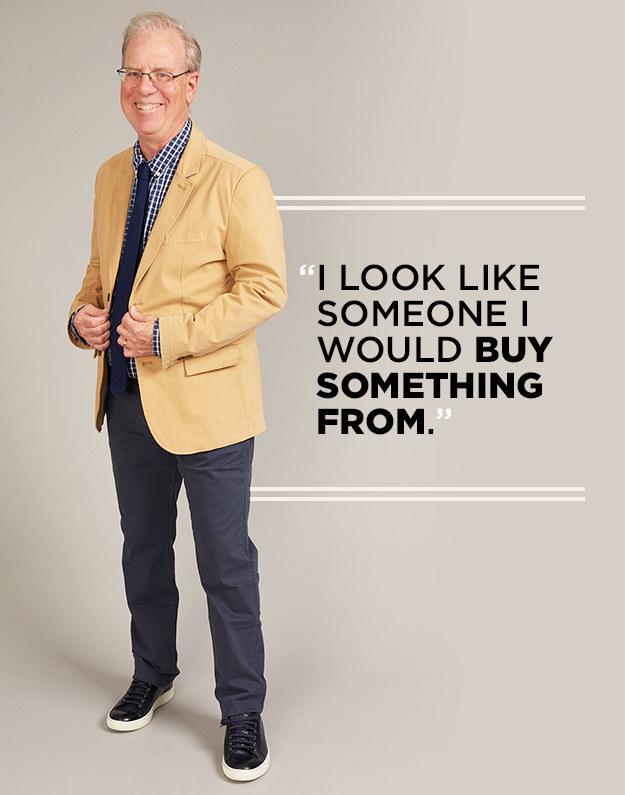 Kellin, 28, just lost 25 pounds (and plans to lose more) and he's trying to adjust his wardrobe to his new body.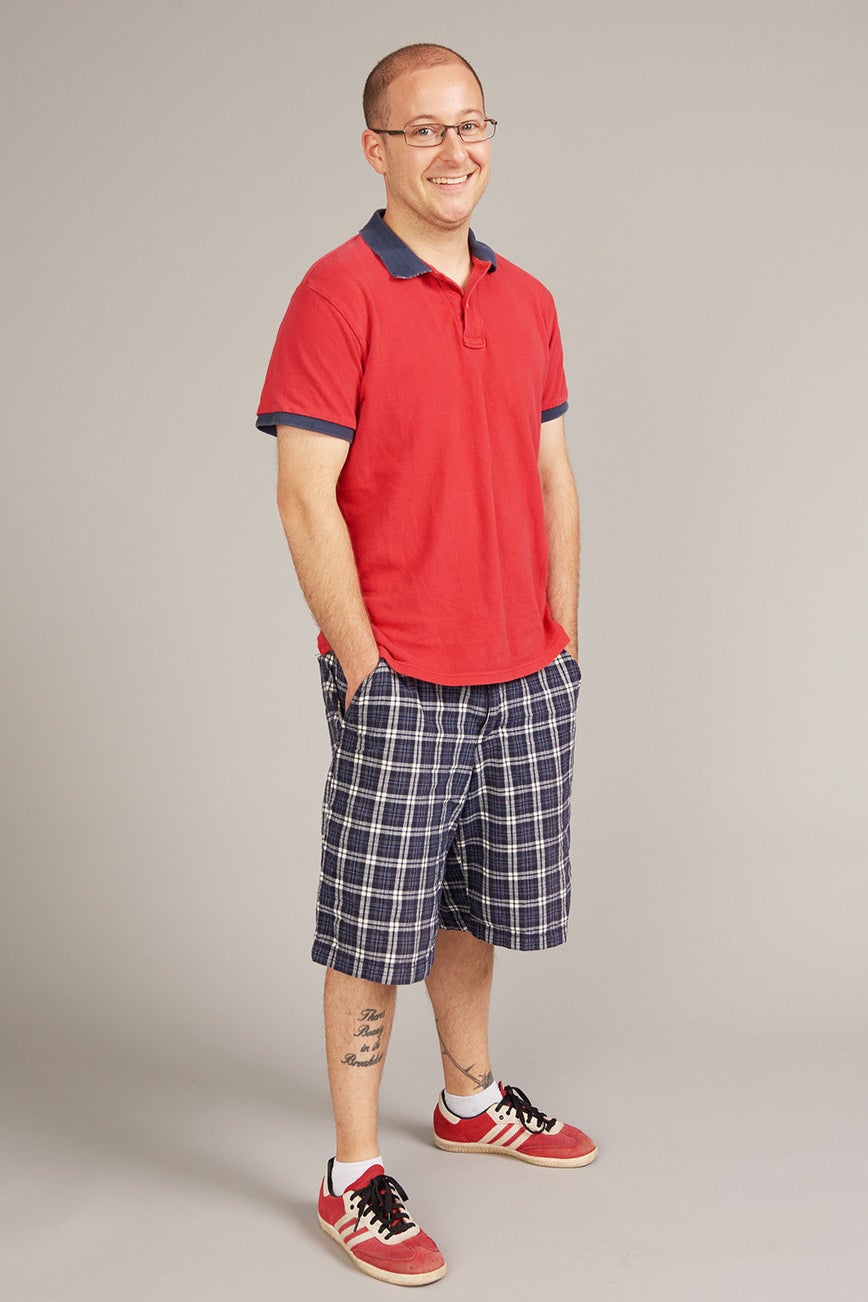 As an aerospace consultant, Kellin has to dress pretty business-y. He mostly shops at Old Navy, American Eagle, and Express.
"Everything I do style-wise begins and ends with 'Can I be a dad in this?'" Kellin said.
What we did:
• For Kellin's new look, we wanted to keep things professional and explore some brands outside of his mall store staples.
• The jacket, checkered shirt, and Michael Kors trousers are all business, but ditching the tie keeps it work-appropriate without being stuffy.
• The blue shoes (his favorite part of the outfit) keep the look young and fun.
"The clothes were more comfortable than I was expecting, especially the pants and the shoes," Kellin said. "I would wear this to any wedding or work party."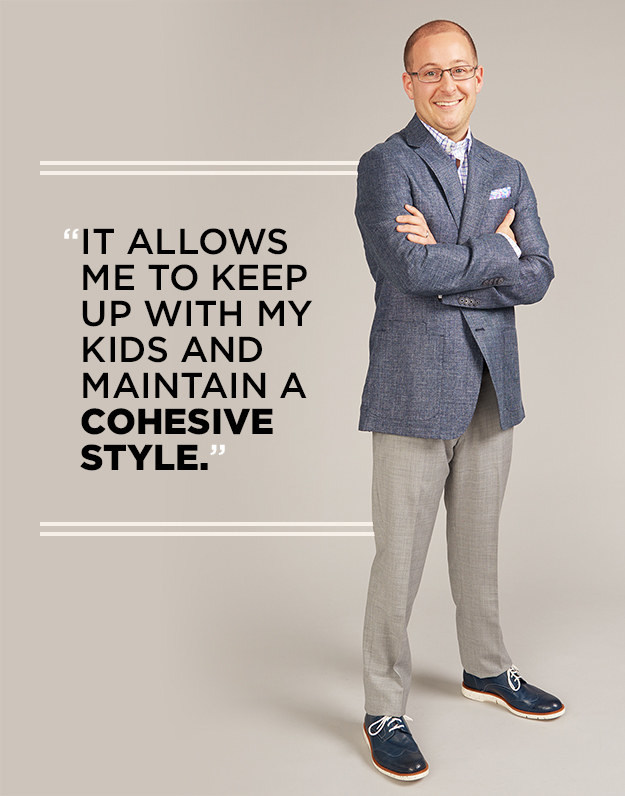 Chuck, 48, has been in a wheelchair for nearly 16 years, and his daughter Lucy says his go-to outfit — cargo shorts and a baggy T-shirt — hasn't changed much in that time.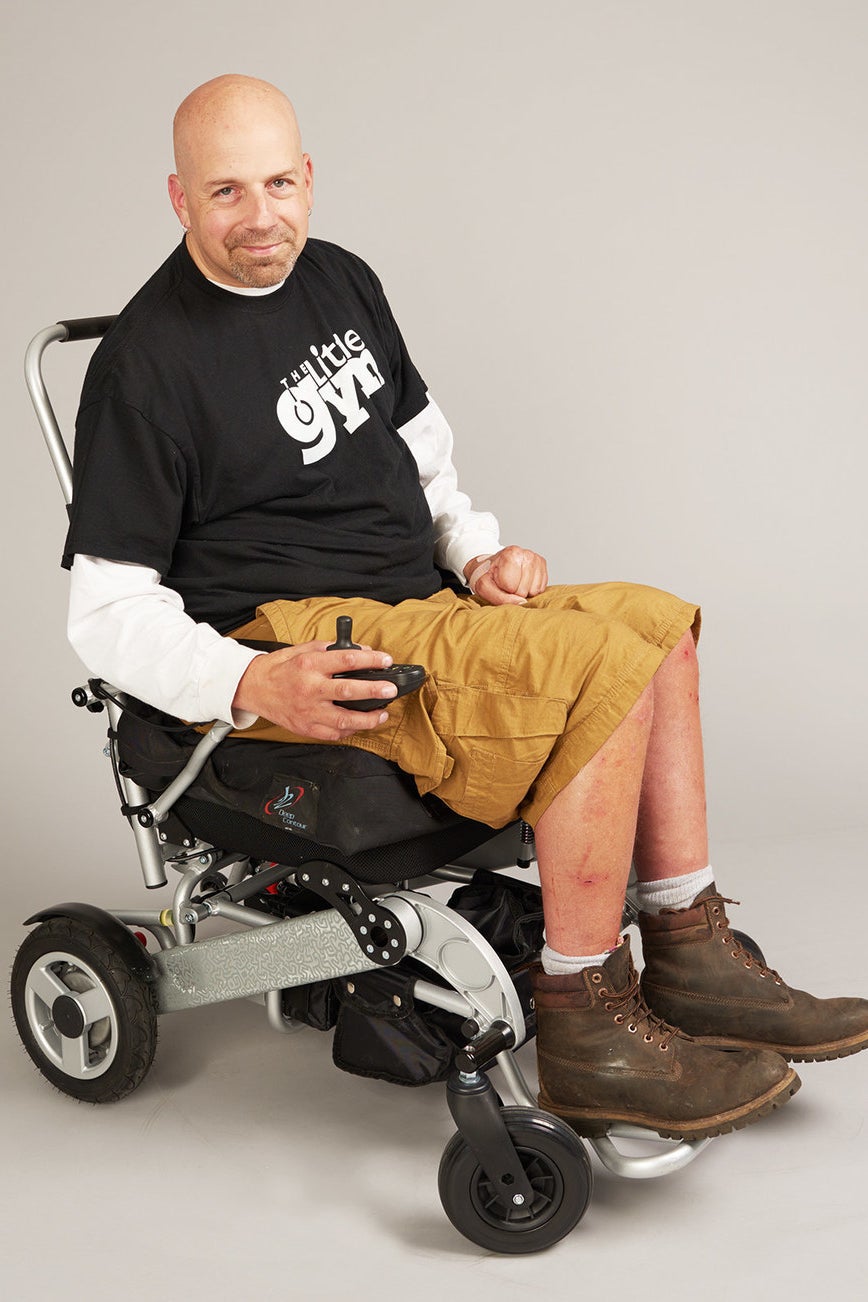 "My dad has a great sense of humor and adventure," Lucy said. "I would love for him to be confident and convey a great sense of style."
What we did:
• For Chuck's look, we wanted to maintain his fun and casual attitude while getting him out of his shorts and boots routine.
• A muted Hawaiian shirt like this keeps things light and the pants are a comfortable stretch denim similar to these Levi's.
"I'm more comfortable in my casual look, but also understand that there are some times when it isn't appropriate," Chuck said. "With the way looks have been trending toward casual, maybe someday shorts will be OK everywhere."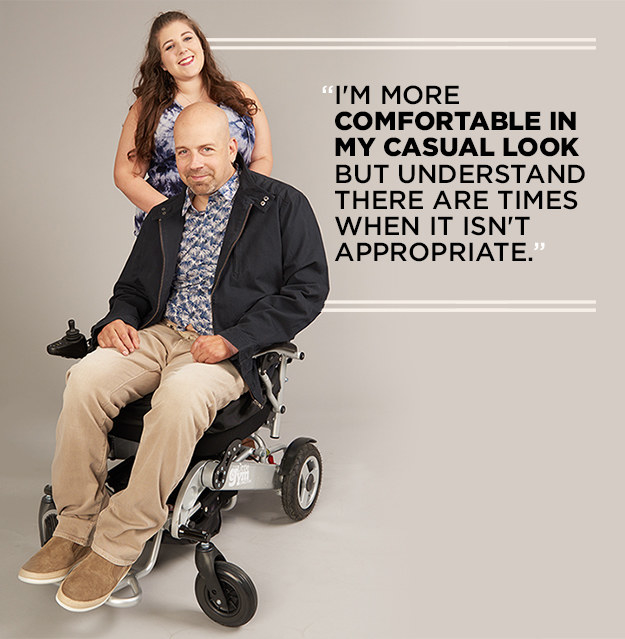 D.J., 35, usually wears a T-shirt, hoodie, and jeans, but he's been working on a documentary film for five years and needs a look he can wear when the film premieres.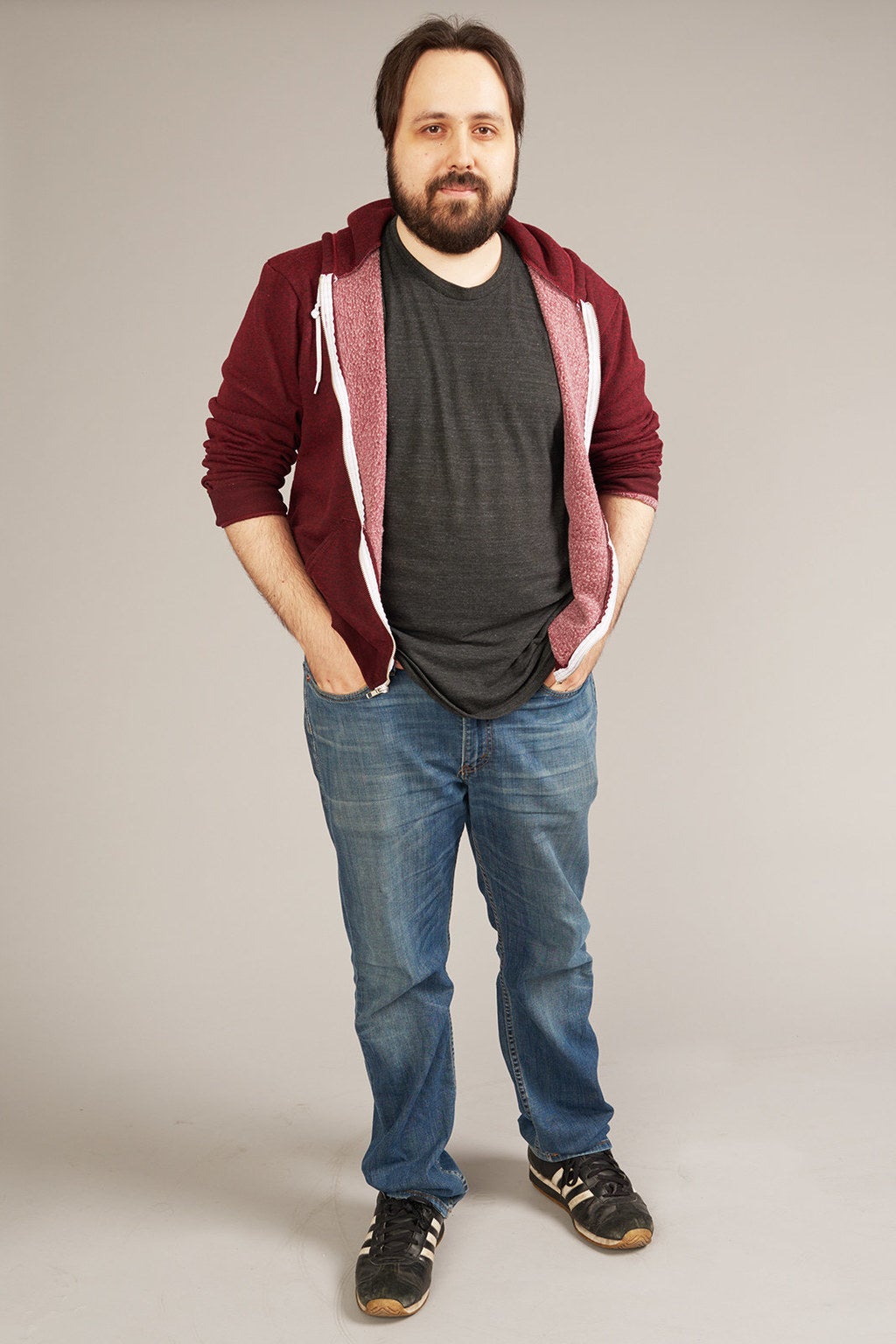 D.J. is "New York-born and -raised, a consummate guy from IT, and a wonderful father to our 1-year-old daughter," his wife, Courtney, said. "He also sucks at dressing himself, grooming his facial hair, and throwing out shoes and socks that have holes in them."
What we did:
• We decided to give him a cleaned-up but still very "New York" look with black jeans like these and boots balanced out by a casual blazer.
• We also cleaned up his middle-part haircut in favor of something a little more slick.
It was the haircut and trimmed beard that made the biggest impression on Courtney.
"I like seeing him with shorter facial hair," she said. "It's exactly what I wanted to see."
D.J. himself was even-keeled when it came to his new look.
"People seem to like it," he said.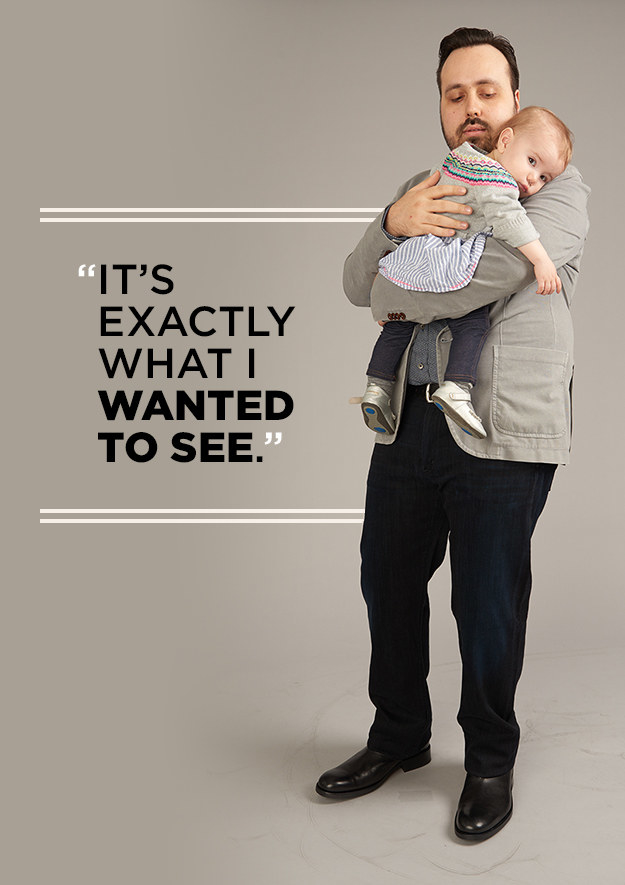 Alexis, 35, says he hasn't prioritized his own style while helping raise four kids.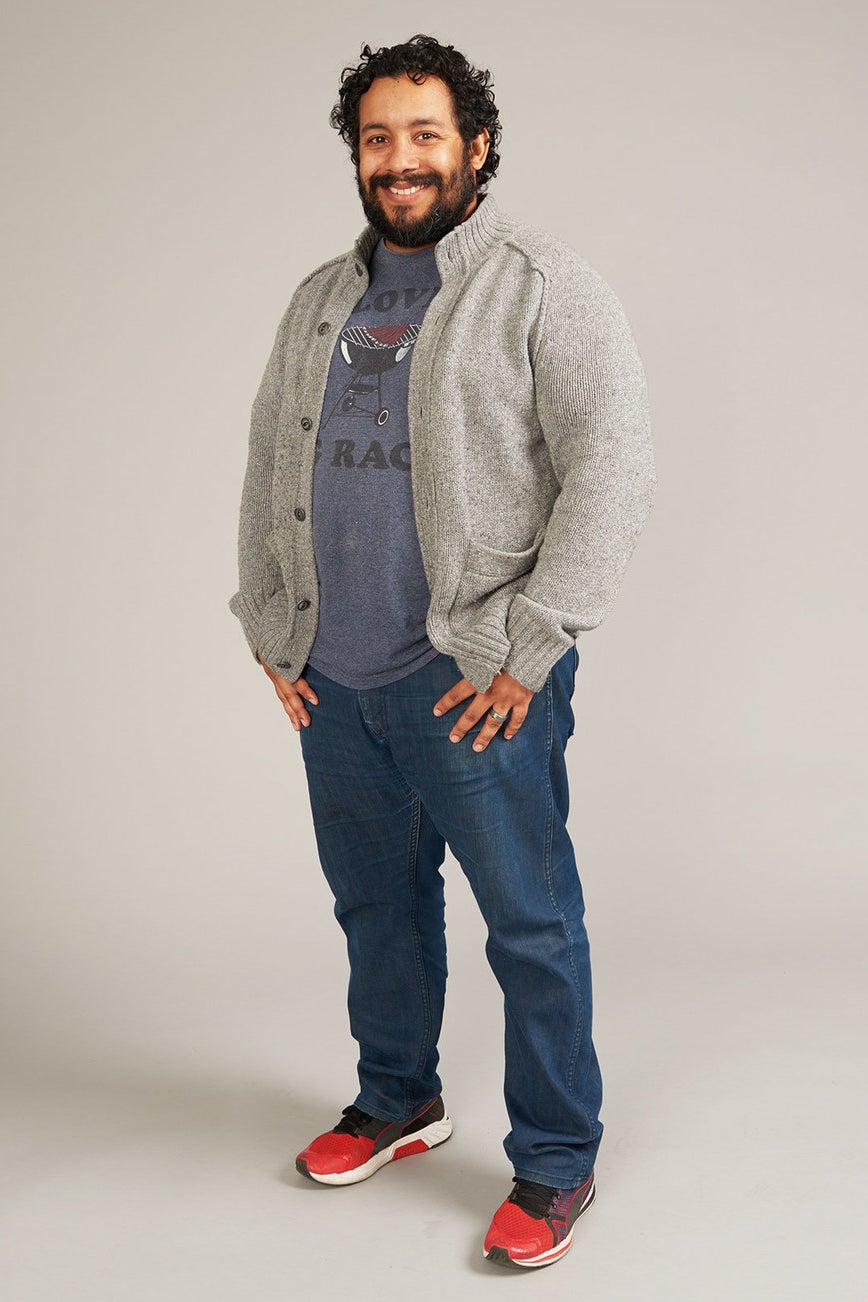 Alexis and his wife, Celia, have their hands full with two young daughters while also taking care of their teenage nephews. He works as a systems analyst, and has to dress business casual in the office, but admits not everything he owns fits as well as it should.
What we did:
• The main focus of Alexis's makeover was cleaning up his haircut and facial hair.
• We took him out of his comfort zone a little bit with a bold colored shirt.
• We finished the look with a comfortable hybrid sneaker/dress shoe.
"It's not something I would typically go out and buy, but I love my new look," Alexis said. "If I spend a few more dollars on some quality pieces, over time I'll be able to build a longer-lasting, complete wardrobe and look I can feel proud of."

Mark, 60, actually went in the opposite direction, with a makeunder.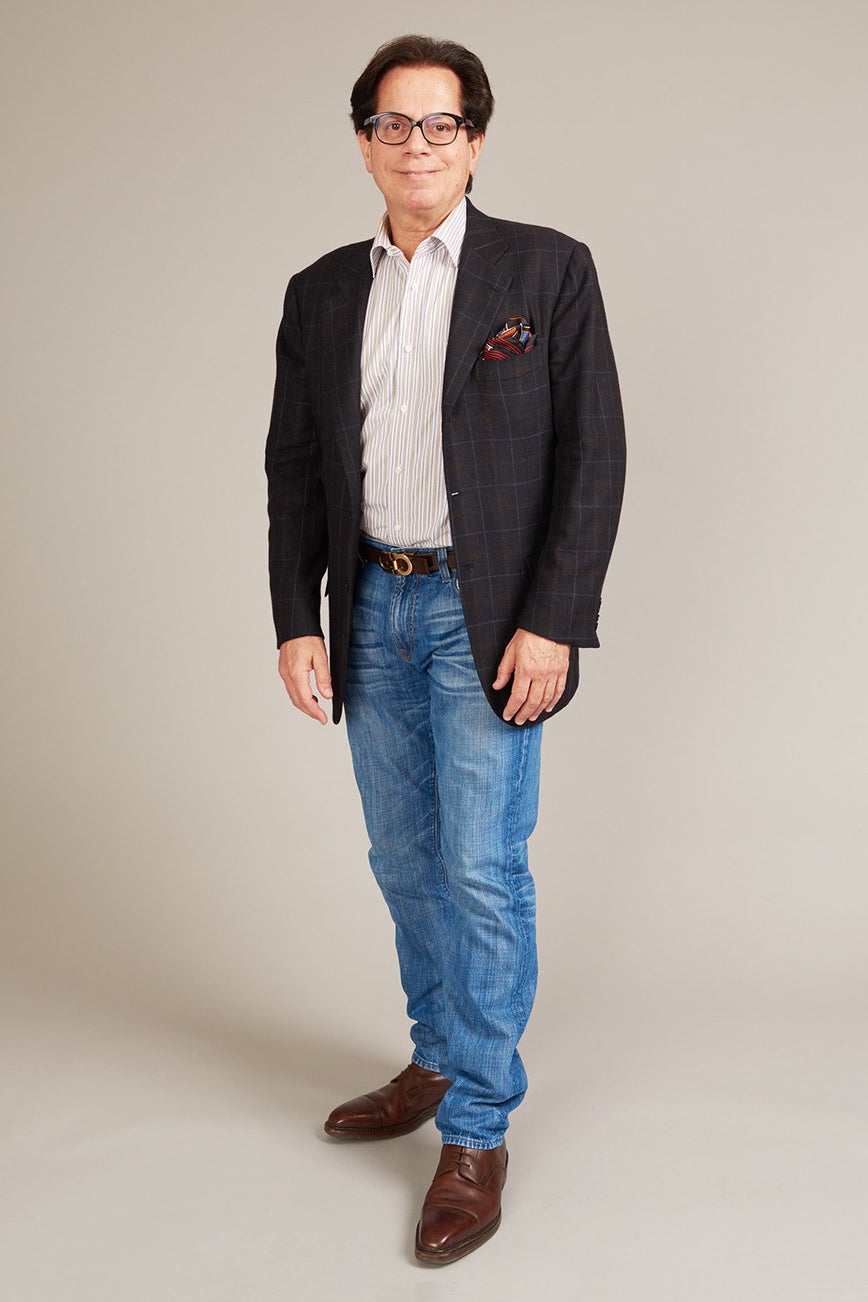 Mark is a snazzy dresser. His daughter (BuzzFeed social media director) Rachel said he basically has two modes: "TOTALLY FUCKING FANCY-swag-casual in a way that makes him look like a rich European, and then, like…scrub suit pants and an oversized Yankees T-shirt."
What we did:
• We wanted to take Mark's look in an unexpected direction without sacrificing his taste.
• We dressed him in a trendier streetwear style with sneakers, destroyed denim and a high-fashion sweatshirt.
"I like that my dad can still look cool without wearing a suit," Rachel said.
Mark was less out of his comfort zone in this outfit than expected.
"It didn't make me look like something I'm not," he said. "I felt comfortable. One thing I was really surprised to discover was how the all-white sneakers kick up the look of urban vogue."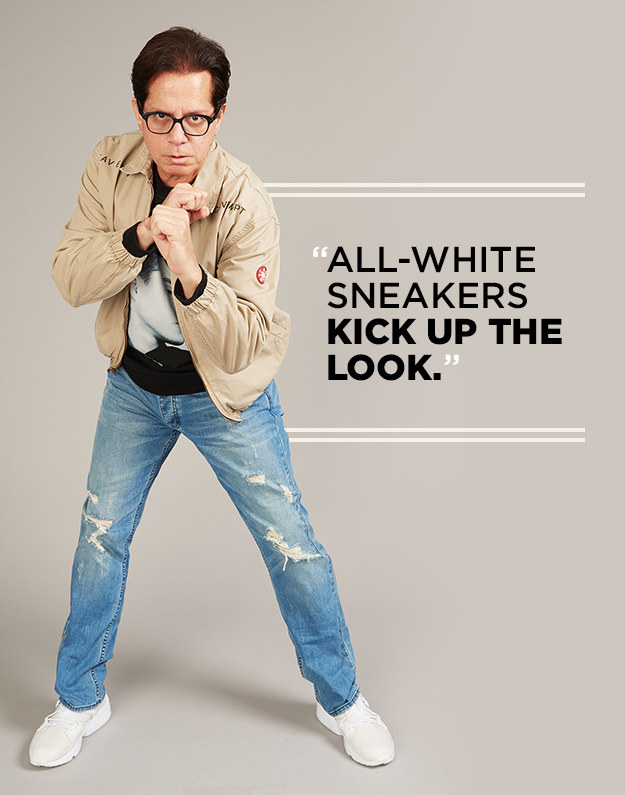 Special thanks to Nicola Harrison-Ruiz, Amit Abraham, Dop Dop Salon, Dove Men+Care, and Dollar Shave Club. All clothing courtesy of Rothmans, Jack Threads, The Tie Bar, and Mr. Porter.
On Michael:
Blazer: Jach's, $199; Shirt: Jack Thread, $49; Jeans: Joe's, $145; Shoes: Santorini Apache, $565; Tie: Bruno Patella, $35; Belt: Trafalgar, $85
On Kellin:
Blazer: Michael Kors, $395; Shirt: Nikki Capri, $225; Pants: Ballin, $195; Shoes: Donald J. Pilner, $225; Belt: Trafalgar, $85; Pocket square JSB, $55
On Chuck:
Jacket: Rodd & Gunn, $275; Shirt: Rodd & Gunn, $125; Jeans: J. Brand, $235; Belt: Bucks Club, $88; Shoes: Vince, $275
On DJ:
Blazer: Circolo 1901, $595; Shirt: W.R.K., $98; Jeans: Citizens of Humanity, $295; Boots: Wolverine, $295; Belt: Trafalgar, $85
On Alexis:
Blazer: Circolo 1901, $595; Shirt: Jack Threads, $39; Pants: Joe's, $145; Shoes: Cole Haan, $270; Belt: Trafalgar, $85; Pocket square: The Tie Bar, $15
On Mark:
Jacket: Cav Empt, $167.50; Sweatshirt: Raf Simons, $680; Jeans: Jack Threads, $69; Sneakers: Puma x STAMPD, $135