We hope you love the products we recommend! All of them were independently selected by our editors. Some may have been sent as samples, but all opinions and reviews are our own. Just so you know, BuzzFeed may collect a share of sales or other compensation from the links on this page if you decide to shop from them. Oh, and FYI — prices are accurate and items in stock as of time of publication.
1.
A pair of gel padded bike gloves effectively protecting your hands from bumpy road vibrations, while also letting them breathe due to the micro-mesh backing.
Promising review: "These gloves are a little more expensive than many others, but they are worth every penny. Light and comfortable. No more numbness on my hands. I would definitely buy them again." —Gerosa Massimo
"Done a few 50 mile rides with these gloves so far. They're my new go-to glove. Would recommend." —ALC
Get it from Amazon for $49.99 (available in men's sizes XS—XXL and five colors).
2.
A padded anti-slip bike glove at a super affordable price point, that you'll find yourself wearing over and over again because they make your bike ride so much more enjoyable.
Promising review: "The riding gloves fit great. Very comfortable and breathable. It gets warm here in Texas. Sweaty hands were not an issue. Between the gel padded gloves and the ergonomic design of the handlebars, I had zilch for hand pain. Mind you this is the first time I have ridden a bike in fifteen years. Some other parts of the body were speaking to me but not the hands. Considering I have turned a wrench most of my life I was impressed. Thank you for a good product." —Tuckerd4
Get it from Amazon for $11.95 (available in sizes M–XXL, three colors, and half or full finger versions).
3.
A pair of Biogel bike gloves reviewers say is truly moisture-wicking and temperature-regulating, which is crucial, since sweaty hands + precise handlebar control = no bueno.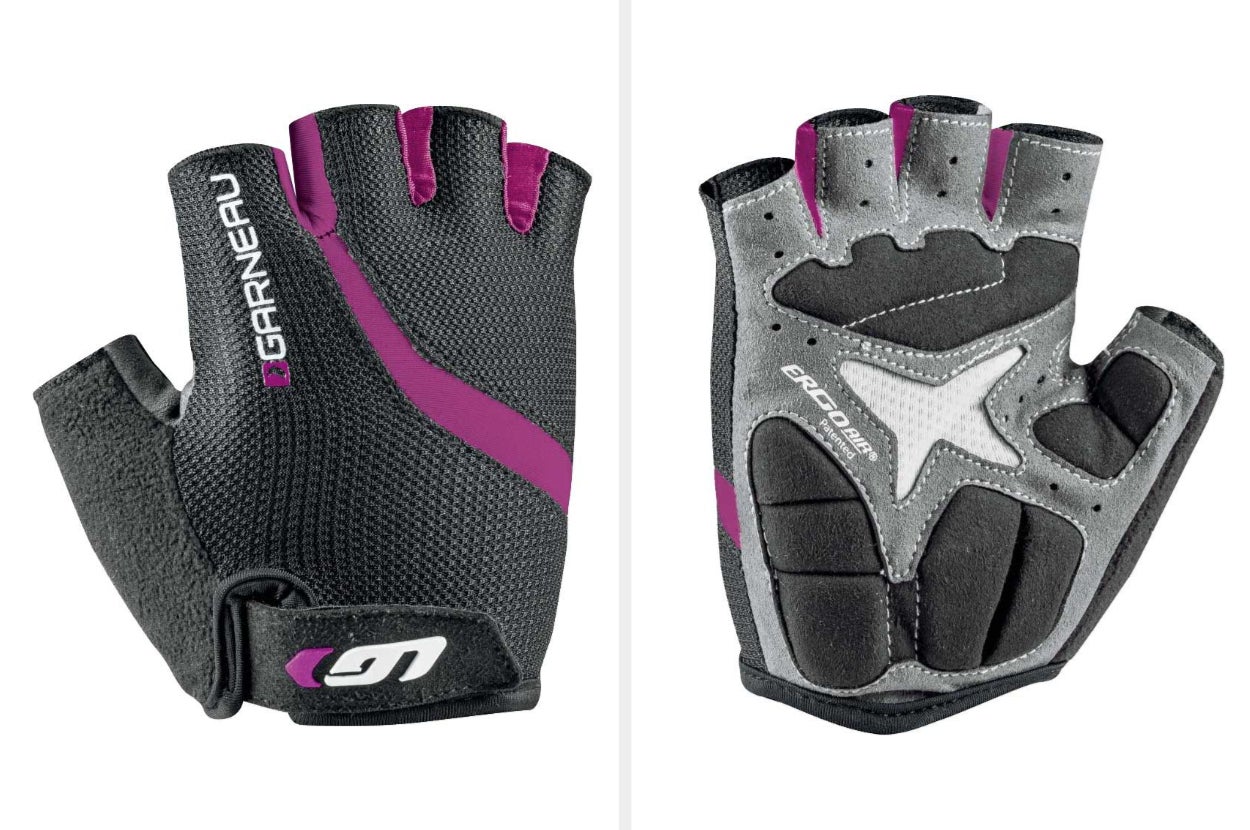 Promising review: "I use these every day and I love them. Good construction. Great fit. Very comfortable. I don't even know that I have them on, but they keep my hands from going numb." —jdub6150
"I was having a difficult time changing gears because of sweaty hands (sorry, gross, I know). I decided to buy these gloves and they are great! I switch gears without any problem and my hands stay dry and cooler than without gloves. Definitely a great buy." —KatyC1957
Get it from Dick's Sporting Goods for $28.99 (available in women's sizes S–L and three colors).
4.
A pair of lightweight crochet bike gloves formulated from breathable cotton and cowhide leather that's the best mix of fashion and function, so you can show off your wrists while whizzing around town.
Thousand is an Asian woman-owned small business that makes functional, sustainable bike helmets and accessories!
Promising review: "I needed cycling gloves for some extra cushioning, and these gloves were the perfect solution for me. Being in Texas, I was not looking for a glove that would keep my hands warm but one that would be cool enough to wear during hot weather and would provide some cushion in the palm area. I purchased the red/blue stripe crocheted gloves and am very pleased with the product. Using the provided sizing chart, I measured 7.5" and bought size small. Great fit with a little room to spare and lightweight. Fortunate for me I found out about Thousand!" —Phyllis H.
Get it from Thousand for $23 (available in sizes S–L and four designs).
5.
A pair of touchscreen-compatible bike gloves that are lightweight yet durable at the same time, not to mention an absolute must when taking out your phone to snap a pic on the fly.
Promising review: "These lightweight gloves work in any weather. I can comfortably hold my phone and type on my phone, all whilst riding, sending drops. The grip is perfect for haulers. You don't have to take it off just to pack your stuff, etc. The straps are an ingenious idea for a quick fit check and also adds flair to the overall look." —Eman K.
Get it from Chrome Industries for $32.50 (available in sizes S–XL and two designs).
6.
A breathable bike glove tricked out with pull tabs for easy removal, a shock-absorbing three-panel palm, and a terrycloth thumb patch specifically designed to wipe away that errant bead of sweat that would otherwise break your laser-sharp focus.
Promising review: "I'm 70-years-old and usually hike in the high desert north of Tucson, but I decided to start riding an old 25-year-old bicycle I have. My hands and wrists were bothering me after 20 miles or so. I decided I'd try some bike gloves not even realizing there is padding in the gloves. So I ordered them and couldn't be happier. My fingers no longer tingle and my palms don't feel bruised. I love the little tabs on the middle fingers to facilitate removing the gloves. I have large hands and the XL size fit perfectly. Highly recommend!" —T. Dore
Get it from Amazon for $15.99 (available in sizes S–XXL and eight colors).
7.
A pair of bike gloves made with breathability in mind, so your hands won't overheat, even after clutching your handlebars for hours on end.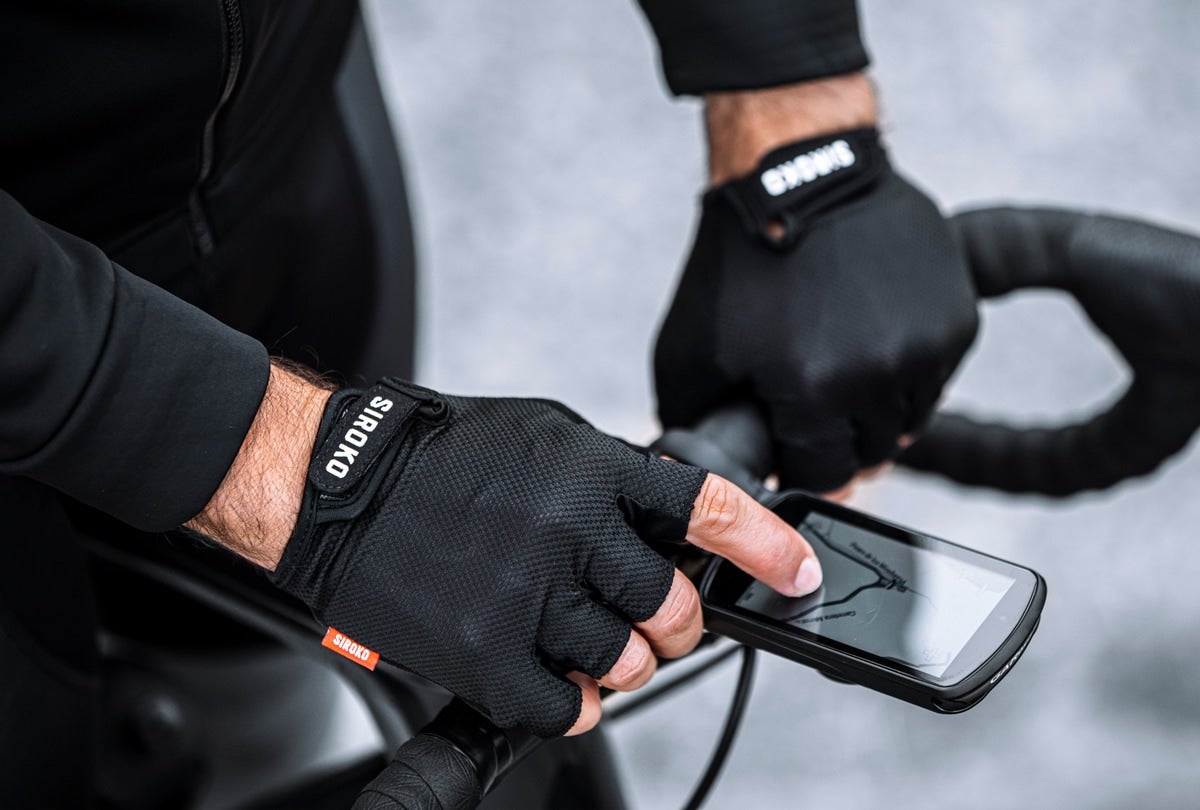 Promising review: "Very comfortable and light." —Valter Prestento
Get it from Siroko for $26 (originally $34; available in sizes XXS–XL).
8.
A pair of floral bike gloves destined to become an indispensable bike accessory that makes you feel good about getting up on those handlebars and working up a sweat (in style)!

Wild Rye is a woman-owned small biz that aims to provide performance-driven outdoor gear for women-identifying people to enjoy the outdoors!
Promising review: "Great for long rides, don't snag or get caught in thorny plants. Microfiber thumb is a necessity, gets frequent use. Touch points for phone works well. They dry quick. Stand up well to several wearings between washes. And super cute." —ElizabethS

Get it from Wild Rye for $34 (available in women's sizes XS–L and two designs).
9.
A mountain biking glove practically made to make you feel like a badass, even if you're a complete beginner. This bad boy features touch-screen compatibility, a thumb sweat wipe, and a compression molded cuff!

Promising review: "Perfect glove. The fit is excellent, soft, nice gel inserts. Not bulky so you can feel the motorcycle controls very well. Nice for riding in warm and hot weather. Overall excellent quality and price." —Sam

Get it from Amazon for $35.95 (available in men's sizes S–2X and three colors).
10.
A pair of gel padded fingerless bike gloves with a vintage, nostalgic design that will make you want to hop on that bike gathering dust in your garage and ride into the sunset.

Promising review: "Everything I want in a cycling glove: extremely comfortable, quality knit that allows for enough stretch without losing shape, and a good leather padding that only get better over time. These are my second pair of ATD gloves; first lasting almost seven years." —Michael A. Hernandez

Get it from Amazon for $24.99 (available in sizes XS–3X).
11.
A cult fave bike glove avid cyclists and biking amateurs alike agree is a staple for anyone who bikes more than any other mode of transportation, and is looking for that next bike-related hit of serotonin. 

Promising review: "This is my third pair in 10 years. I have tried others but they are either too heavy or have a bump that hurts my hand while riding. I love the material, especially on your thumb, for wiping sweat away from your eyes. It washes up well too!" —Tom

Get it from Amazon for $28 (available in men's sizes S–XL and five colors).
You, after procuring a pair of bike gloves that make biking comfy and enjoyable:
Reviews in this post have been edited for length and clarity.