We hope you love the products we recommend! All of them were independently selected by our editors. Some may have been sent as samples, but all opinions and reviews are our own. Just so you know, BuzzFeed may collect a share of sales or other compensation from the links on this page if you decide to shop from them. Oh, and FYI — prices are accurate and items in stock as of time of publication.
1.
A classic NordicTrack treadmill that folds up and out of the way when you need to store it and is still ultra sturdy and reliable. 
This treadmill features a 10% incline and comes with an interactive personal training via a Bluetooth app membership.
Promising review: "Uh-MAZING. I paid for assembly and delivery to the exact room where my treadmill would go. After months of stalking treadmills online, scouring OfferUp, and diving deep into the reviews sections of websites, I decided to go with this treadmill as my quarantine machine. Honestly, I wish like heck I had just taken the plunge sooner because this has been one of the BEST purchases of my year. I'm not the best runner, but I like to get a good sweat in and wanted something that offered at least up to 10mph of speed. This treadmill offers that and level 10 incline. The fold-up mechanism is also brilliant! It's so easy and there's some sort of suspension thing that makes folding it up/down a breeze. I have had no problems with this treadmill and I've used it every day since owning it — usually, walk/run/sprinting anywhere from two-four miles. All-in-all, I'm enamored with this treadmill and honestly wish I had gotten this thing as soon as the pandemic hit. This is a great piece for the casual runner and you can get your workout in at any time of the day. The treadmill has a bit of a quake when I run, but it doesn't feel un-sturdy. Final takeaway: This is a good little machine. Spring for the assembly if you don't like lifting a 200-pound box and doing spatial math. You won't be disappointed!!! Can't recommend her enough! :)" —Kit-Kat

Get it from Amazon for $649 (also available with a ten-inch touchscreen display for $999).
2.
Or you can get the fancy schmancy NordicTrack Commercial version with up to a 22-inch touchscreen that tilts and pivots, 0–12 MPH speed, -3% to 15% incline, and the ability for your iFit personal trainers to adjust your workout in real time!

Promising review: "After countless weeks and hours researching treadmills, I kept coming back to the NordicTrack Commercial 1750, so when I saw it on sale for Prime Day I finally pulled the trigger and I am so glad I did. It took me four hours to assemble but it wasn't difficult and the instructions were excellent. I am confident that choosing this treadmill was the best choice and the quality is as good as the super expensive commercial treadmills you'll find at a gym. The platform is super wide compared to others in the same price range which makes a big difference. Additionally, this is the only treadmill that has a decline which is very helpful for training. The treadmill also came with a year of iFit which I have grown to absolutely love. There are so many different trainers and you can go on 'adventures' for your runs. What really impressed me is not just all the locations the trainers will take you around the world for runs, walks, or hikes, but they will also teach you about the different places along with giving you tips on running form, breathing, etc. Just recently I ran in Shanghai China, Croatia, Japan, and even did a five-part series running the Boston marathon! Oh, and in case you weren't aware the trainers will control your treadmill so when they are running up and down a hill or bridge the incline and decline will follow as well. iFit also tracks all of your runs and you can set goals as well. I also have separate profiles setup for my wife and kids so they can do the same. Hands-down this was my best purchase of 2020 and my family is really enjoying the treadmill and iFit. I highly recommend this treadmill and am so glad I chose it." —Glenn S.
Get it from Amazon for $1,799+ (available in five models).
3.
An ultimate under-desk treadmill with a tracking app, Bluetooth speakers, an auto-align belt, and smart handrail speed control that you can use on carpet or hardwood, for an unlimited amount of time, however you like. A lot of words to say: it's worth it!
Buzzfeed editor Genevieve Scarano loves this treadmill; read her full in-depth review here!
Promising review: "I've been jogging almost daily on this treadmill, and it's been a big help when it's too cold outside or when gyms are closed. You can walk or jog up to 5 mph, move the handrail up or down (and yes, this means you can walk on the treadmill even with the rail *all the way down on the floor* for workouts), *and* track your daily progress in the Treadly App. Walking and running on this treadmill feels the same as other treadmills I've tried in the past (minus the up to 5 mph feature). What I love about that speed limit though is that it helps me focus on my form when I'm jogging or walking. I'm being mindful of each step and not rushing, so I really enjoy using it for workouts." —Genevieve Scarano

"I love this treadmill. It's really quiet and I love that I can control it with the app. I also love that it's easy to store away. I use it every day, just to keep moving since I work from home. I don't have to get bundled up and go out in the cold for a 15 min walk every hour or so. I love that I can play my music or listen to a podcast and the speaker has really good sound. This was my best purchase of 2021 so far." —Mindy S
Get it from Treadly for $749+ (originally $849; available in Basic and Pro versions).

This is on our list of best under-desk treadmills if you want to check out more!
4.
A space-saving WalkingPad foldable treadmill that can transform into your choice of a completely flat under-desk option or an adjustable handrail option for a more involved power-walking experience.
Promising review: "This treadmill is perfect for home use and the main reason I bought it is because it folds. I have been using it for two weeks about 30 minutes a day and can say it's very sturdy and very quiet. I love the no frills remote, very easy to use. App works as designed and has lots of options I've yet to explore. Treadmill is perfect for someone like me that loves brisk walking. Can't judge running since I'm not a runner. I'm 6'3", and the length of pad works well. Instructions are easy to understand and explain everything you need to know. Seller responded to my inquiry in a timely manner. Treadmill is packed very well. Something tells me I will have this treadmill for years of good use." —JK
Get it from Amazon for $799.
5.
A compact, space-saving Echelon Stride treadmill that folds super easily but still comes with all the bells and whistles you get at the gym, minus all the unpleasantness of the gym. 
Promising review: "I am SUPER happy with the treadmill so far. I can run, incline walk, etc as I would on any full size treadmill. I am 5'6" and have no issue with the size of the tread. I have a small apartment and was worried it would ruin the look of my living room, but it didn't at all. It's a nice looking piece of equipment and takes up very little space. It is also extremely quiet compared to your average treadmill. It is also really awesome that no assembly is required. You just have to take it out of the box, which is not easy, but definitely doable. Regardless, the wheels and weight of the treadmill make it accessible for anyone to set it up in their home. I paid the $20 to have the box delivered to the room of my choice and that was very worth it. Would have been impossible to get up a flight of stairs on my own." —Caroline Martin
Get it from Amazon for $1,299.99+ (available in two models).
Check out more at-home fitness products for when the gym is too far.
6.
A nonfolding treadmill whose wide belt, 400-lb weight capacity, and shock-absorption feature will make working out at home an actually enjoyable activity instead of something you dread.

Promising review: "Outstanding treadmill — industrial quality by LifeFitness at a high-end, home-gym price point. I've had this treadmill for approximately one month and log about 30 miles per week. Exceptional deck providing comfortable runs on my joints." —Thomas L.
Get it from Life Fitness for $2,999.
7.
A manual and auto-adjusting treadmill for the budget-conscious fitness enthusiast or shoebox apartment dweller who wants to start building their home gym without compromising on quality.

Promising review: "I don't typically write reviews but I am so pleased with this treadmill that I felt compelled. I had gotten used to high-end treadmills at Orangetheory Fitness and once the quarantined started, I wanted something at home so I could keep running but also not destroy my knees. This treadmill has far surpassed my expectations. It's compact, easy to maneuver, and I use it every day with no issue. It was easy to assemble and set up and does not require any special activation or credit card to begin using (unless you choose to utilize an iFit membership). I have not only been able to keep running, but have been able to increase my speeds and decrease my 5K time. My only complaint is that the max speed is 10 and the incline is manual with only two options — and not even really complaints but something I may consider in the future if decide to upgrade." —Drew Woods

Get it from Amazon for $349.
Check out more cheap treadmills here!
8.
An XTERRA folding treadmill with handlebar controls so you don't have to flail your exhausted limbs at the dashboard every time you want to change the settings.

Promising review: "Very high quality, extremely sturdy. I'm a heavy person and it holds me with no problem whatsoever. Plenty of room on the track to walk as far as length and width. It runs very quietly. I especially like the heart rate sensors on the rails where you rest your hands. Also the speed controls and incline controls on the hand rails are very convenient. Everything works perfectly. I rate this treadmill 5 out of 5 stars ⭐⭐⭐⭐⭐" —BC

Get it from Amazon for $899.99.
9.
A folding treadmill you'll log all the miles on, even on rainy days and lazy days when you can't be bothered to leave your house — now you don't have to!

Promising review: "Due to COVID-19 our family has had to limit activities, one of those was me finally getting a gym membership. After MUCH research we were led to this treadmill. It is VERY nice for the price point. It comes with everything you need to set up and maintain it. Shipping was fast and the carrier brought it into the house for me. Speed, incline all are smooth transitions from one to another. Has MANY preset programs to choose from — you won't get bored, and there is a YouTube channel to find additional workouts based off skill level. My family and I are enjoying this machine very much and would recommend it to others." —Amazon Customer
Get it from Amazon for $799.99.
10.
A treadmill desk if sitting for eight hours a day is finally starting to get to you and your body is screaming at you for a change...this could be that change.

Promising review: "I absolutely LOVE my new standing treadmill desk. With my company working 100% remote since March 2020, I am on video calls at least four hours a day and this treadmill desk helps me to get well over 20,000 steps each day! It's sturdy and quiet with plenty of room for two monitors, keyboard, and mouse. Highly recommended for anyone working from home!" —Rosalyn N.

Get it from LifeSpan for $1,399.99 (originally $1,999; available in two desk widths, six desk colors, and two frame colors).
If you love this, check out a rolling desk bike and more TikTok fitness products reviewers are raving about!
11.
A Horizon treadmill to finally kick off that fitness journey you say you'll start every single New Year's Eve, but never actually do...if nothing else has worked, maybe this smart investment in your health will! 

Promising review: "We bought this during the pandemic in the winter months and it really helped lift the mood to go on a walk/run on this treadmill. It has enough speed and incline to serve all needs and also has a Bluetooth speaker that you can connect your phone/iPad to. It is well-built and sturdy and very easy to operate. It can track your heart-rate using the sensors on the handlebar and has a few pre-programmed tracks too. Additionally, it folds up and lends itself, via the wheels on one end of the base, to be moved around. All in all, this was a great purchase for us. We highly recommend it." —Anantharaman G.
Get it form Horizon Fitness for $649 (originally $999).
12.
A LifePro folding treadmill you can simply sync your tunes, or perhaps a sensible podcast episode, to via Bluetooth and run along to the built-in speakers.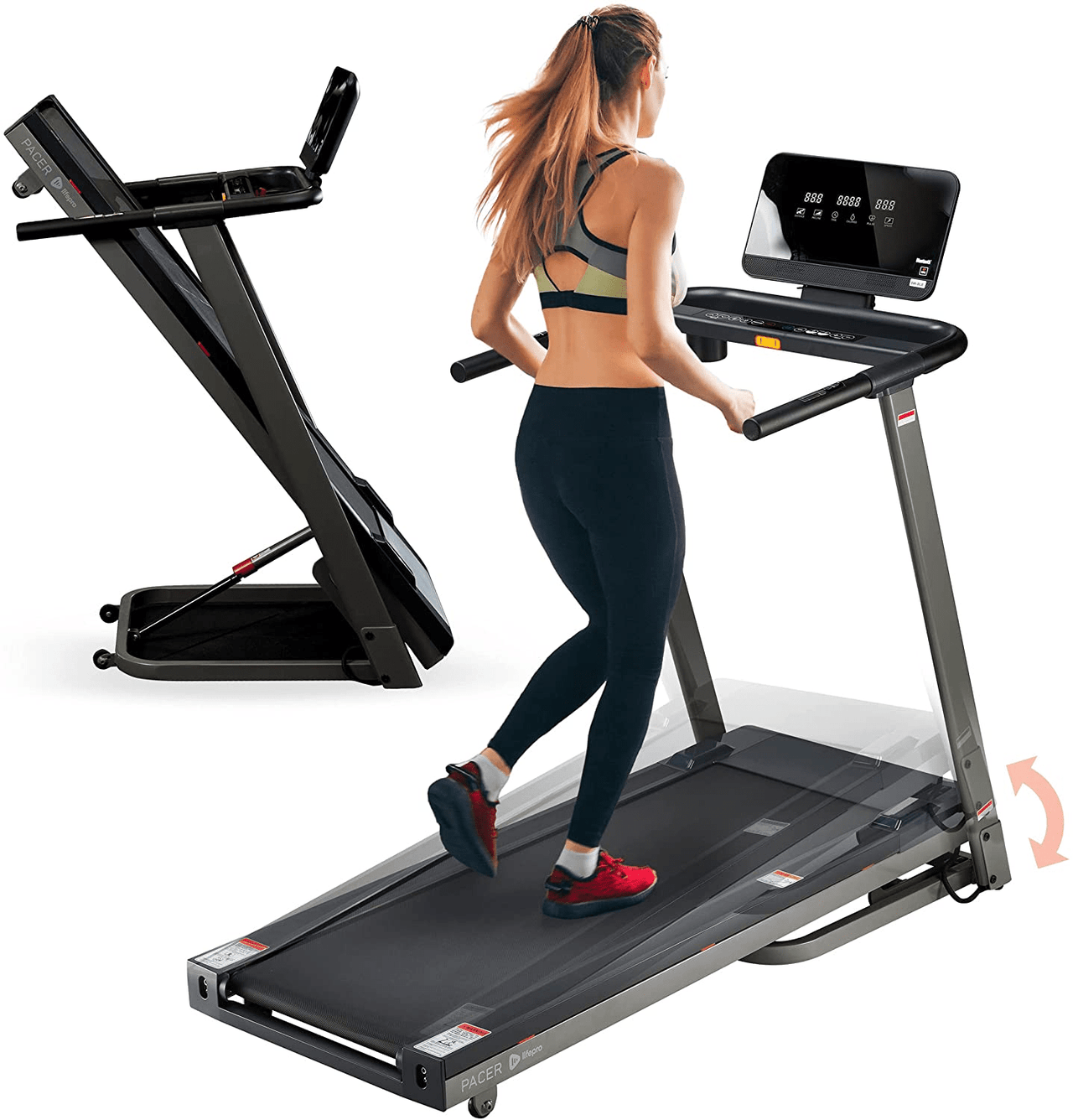 Promising review: "The treadmill is easy to set up, and it looks like a much more expensive treadmill. It is also easy to use it and it has great features. There are no subscription or contracts, which means that you can jump on it and start running or walking right away. Great product." —J. Z.

"It was very easy to set up once we got it out of the box. It took maybe 10 minutes to get it up and running. I was surprised at how quiet it is. The treadmill fits perfectly in the small space that I have and the hydraulic lift to raise and lower the deck works very well so far." —John W.
Get it from LifePro Fitness for $749.99 (originally $1,119.99).
13.
A big daddy Bowflex treadmill that's definitely better than the ones they have at your gym, with a motorized incline that goes from -5% to 20%, Bluetooth-enabled heart monitors, and a super-wide touchscreen you can watch Netflix on to distract you from the suffering.

Promising review: "I have been a loyal NordicTrack user for 20 years. I actually almost bought one. I read some reviews, and ultimately purchased the Bowflex for two reasons...the larger motor, and the ability to stream shows. Let me tell you, this treadmill is a beast! I said the only con was storing it. I have to raise mine when I finish on it, and it is sooo heavy! With that being said, it's because it's so well built. I love the programs, the music, the workouts anywhere in the world, the smoothness and the quietness. I am definitely glad I chose this machine, and I am 100 percent happy!" —BryanW

Get it from Bowflex for $2,699.
Time to get your cardio on!
Reviews have been edited for length and/or clarity.