ICYDK, it's winter. Which means you're probably working out indoors and using a "home gym" — aka a tiny area that's supposed to magically fit dumbbells, a yoga mat, and maybe an exercise machine. If you live in an apartment like me, this can be a challenge when you don't have a lot of square feet to work with.
Enter the Treadly 2 Pro, a foldable treadmill that lets you walk *and* jog at home. It's the exercise equipment everyone who works out indoors has been dreaming of: it's easy to use and space-saving. This bad boy can fit in any room, and when you're not using it, under a bed or couch. 😲
I've been jogging almost daily on this treadmill, and it's been a big help when it's too cold outside and most gyms are closed due to COVID-19. You can walk or jog up to 5 mph, move the handrail up or down (and yes, this means you can walk on the treadmill even with the rail *all the way down on the floor* for workouts), *and* track your daily progress in the Treadly App.
I find both walking and jogging on the Treadly 2 Pro so easy and enjoyable. Having this treadmill is great, because I can exercise without having to go outside (I live in upstate NY where it's really cold outside) or move furniture around my apartment. It doesn't even matter that it "only" goes up to a jogging speed, I *still* feel sweaty after spending time on it.
Now let's talk specifications: The Treadly 2 Pro has a weight limit of 265 pounds, an auto-align belt that centers when you walk, a light-up display that shows speed, steps, time, and distance, and a built-in Bluetooth speaker so you can play music.
Setup is a breeze: Adjust the handrail in the up or down position, lock it in place on each side of the treadmill, plug the cord into an outlet, and switch on the power button located at the bottom of the treadmill. Now, you're ready to hop on and hit the start button to get moving!
And that's not all, folks: With the Treadly 2 Pro, you can also use the Treadly App (available for iOS, Android coming soon) to log walks and jogs, monitor your daily progress, *and* (this is really cool), control the treadmill. I love it because it definitely holds me accountable when I want to do more cardio.
I'm not the only one who adores this treadmill. Reviewers also rave about its exercise versatility, especially if they don't have a lot of space, live in a location where the weather isn't always great, or are staying home during quarantine.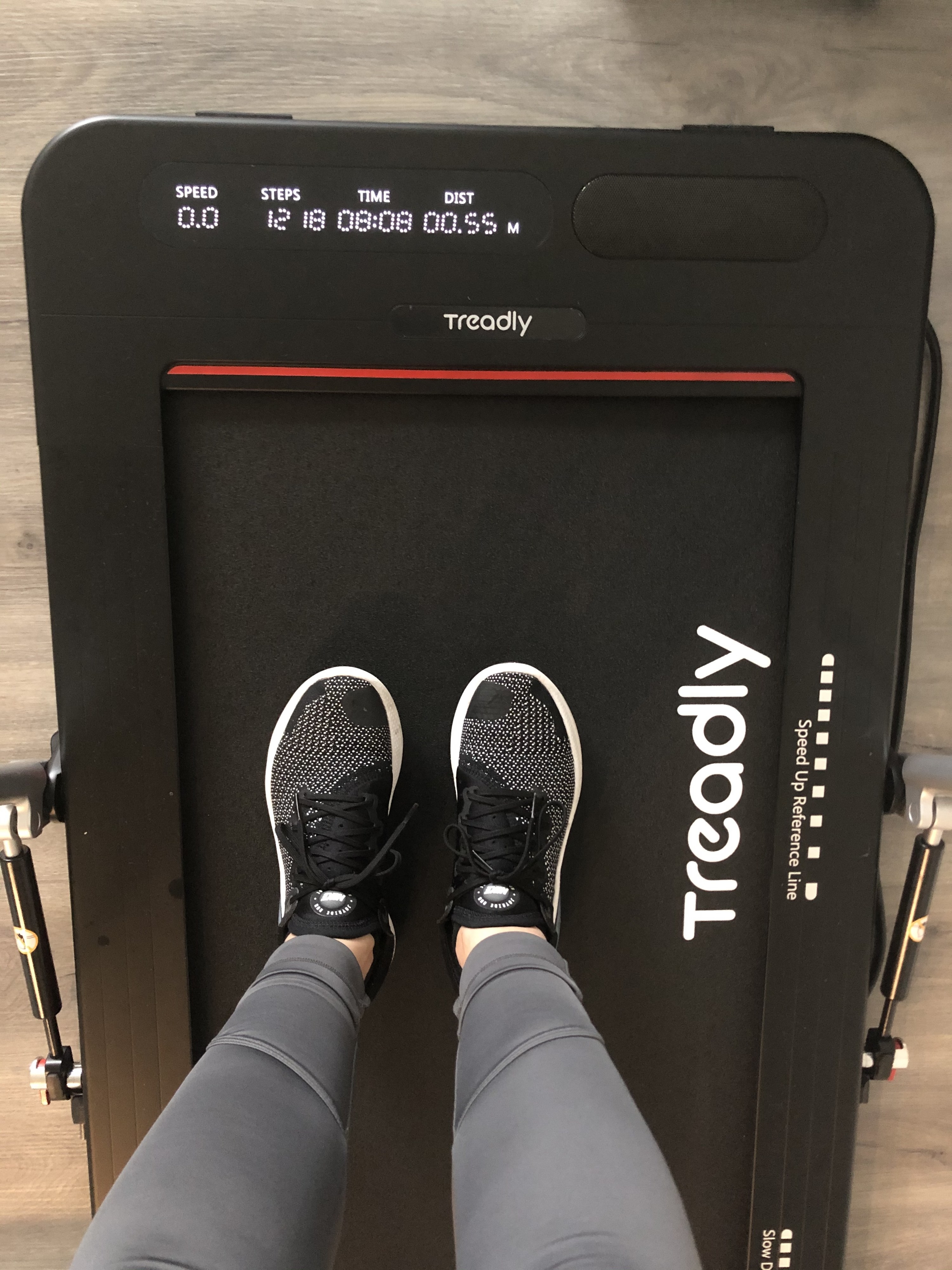 TL;DR: If you're thinking of getting a Treadly 2 Pro, here are some things to consider:
- If you live in a small apartment, studio, or home and you don't have a lot of space for workout equipment, the Treadly 2 Pro easily fits in a corner *and* slides under a couch or bed.
- If you're looking to walk or jog when you can't go outside, this treadmill can help you get moving. (Yes to ~working up a sweat~ on rainy and snowy days!)
- Or, if you miss going to the gym during quarantine, this piece of equipment can help you get some cardio in *and* help strengthen your legs.
- If you're looking to train for a marathon, the Treadly 2 Pro may not be for you. Even though it's great for walking and jogging, it *only* goes up to 5 mph, so you won't be ~running like the wind~.
-If you don't prefer to use the Treadly App while you workout, there's a Treadly 2 Basic model available that comes with a remote control and costs less than the Treadly 2 Pro.
That feeling when you complete a workout at home:
What's your favorite product?