1.
A 2-in-1 folding treadmill with Bluetooth speakers you'll love if WFH has you itching to move your legs while you work (or scroll). And for when you actually want to buckle down and do some running, just pull out the arm to go into exercise mode!
2.
A under-desk treadmill so compact and convenient, it'll barely take up any space in your living room.
3.
A cheap treadmill that's ALSO foldable, with handrails, pulse sensors, pre-loaded workouts, and everything else you need in a reliable indoor treadmill.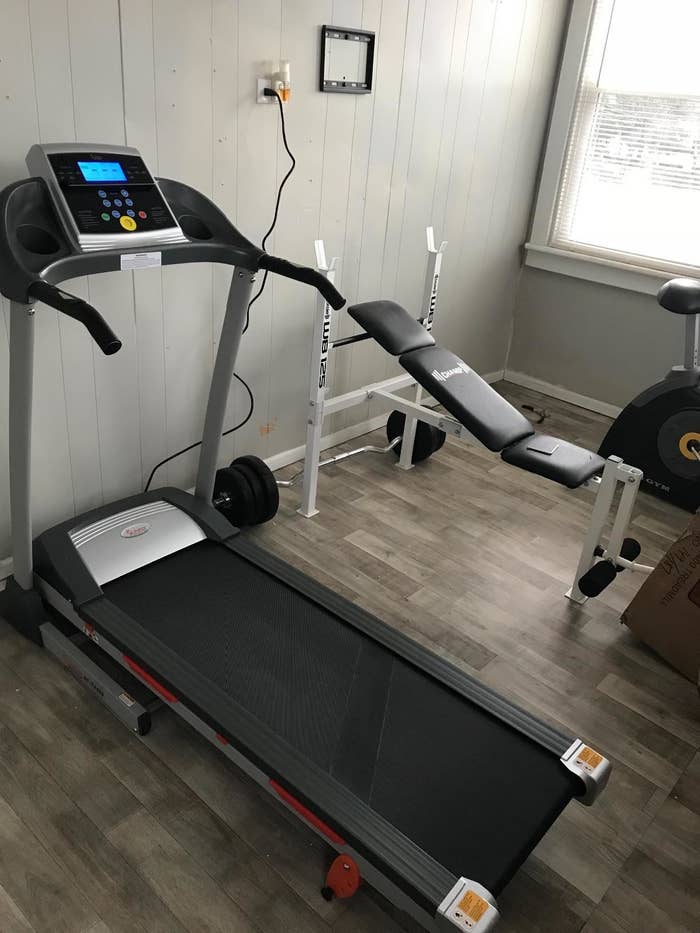 4.
A bar-less under-desk treadmill which couldn't be more convenient to whip out whenever you're in the mood to run due to the rollers and foot mats on the bottom.
5.
A folding portable treadmill loaded up with preset workouts and automatic and manual speed settings. It also has a safety key in case of emergencies, so you don't have to work out in constant fear of an epic face-plant. This one also comes in pink!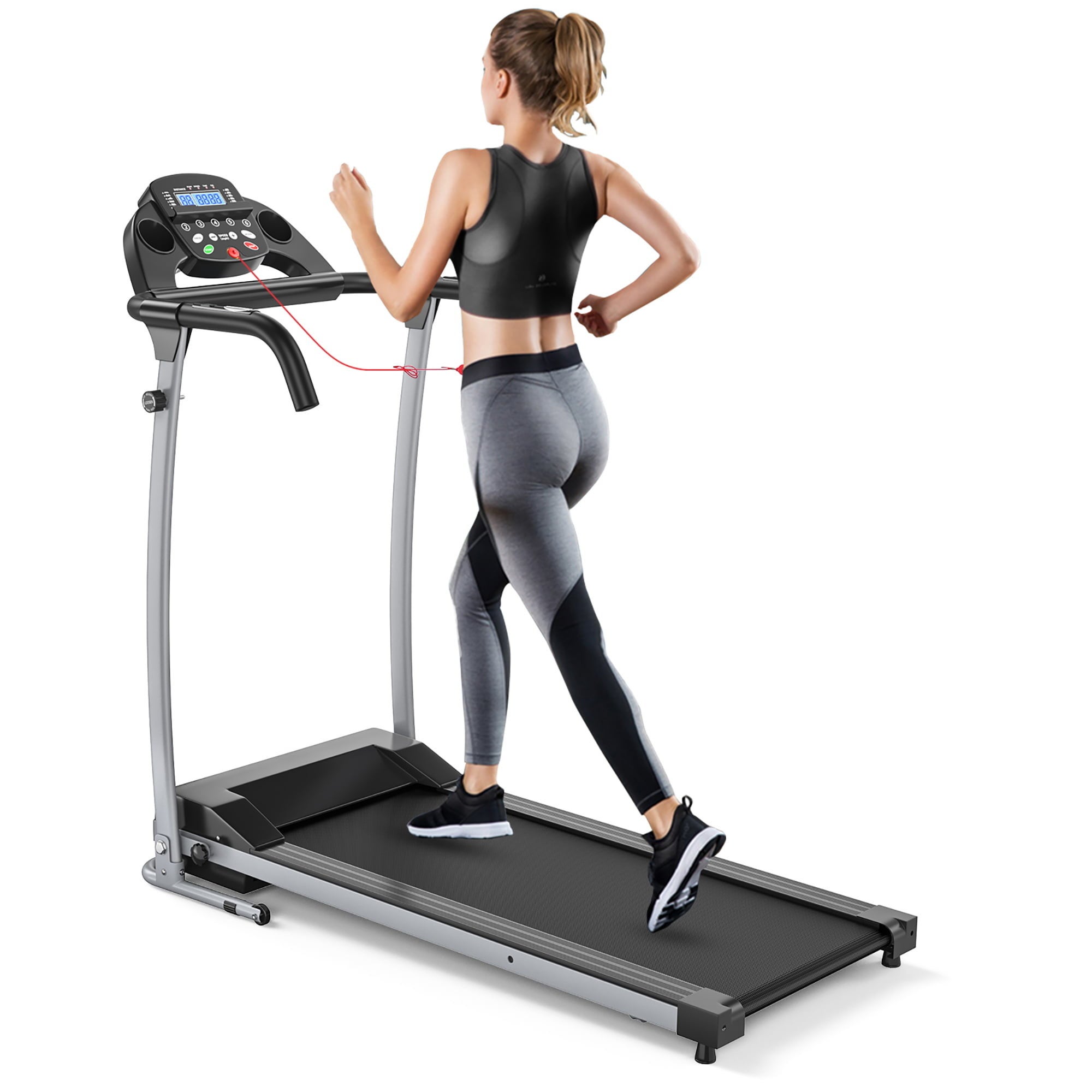 6.
A treadmill with its own workstation you can prop your laptop on during your morning email scroll, or use to watch your TV show so you can get your steps in to the White Lotus theme song.
Promising review: "This is exactly what I was looking for! It's small and compact, has cup holder on each side, and a place for my laptop. It's very easy to see distance and change speed. There is no incline, which I knew when I purchased but that's the only thing I would change..." –Justin
Shipping: Free; typically arrives in 3–6 days.
Get it from Amazon for $399+ (available in two colors).
7.
A top-rated folding treadmill that goes up to 10 miles per hour with three incline settings. If you're looking for a sturdy, durable treadmill that still has the flexibility of folding up, look no further.
8.
A two-in-one foldable and under-desk treadmill with a quiet design so you won't disturb anyone with that "treadmill sound" (you know what I'm talking about), nor will you distract yourself if you're using it while you work. 
Promising review: "This treadmill is great if you don't have a lot of open space. It runs well and is really cute too. We love the fact that the handle bar can be folded down, so if you don't want the bars on the side you can just fold it down. It's a great feature. If I could change one thing it would be so that the screen showed the end result of your walk/run when you stopped." –Jon Desimone
Shipping: Free; typically arrives within eight days.
Get it from Amazon for $299.99 (available in six colors).

9.
A slightly more splurge-worthy classic NordicTrack treadmill, featuring Bluetooth speakers, real-time performance tracking, and 20 pre-set workouts for under $800!
10.
A space-saving treadmill you can flip 'n fold up to stow away just about anywhere – from the corner of your home office to a nearby closet to under your bed! 

Promising review: "So far, this has been the best little treadmill investment! It is compact, easy to fold up, stores upright taking minimal space, the belt is a good size to accommodate a variety of walking strides, and the speed variety is great! I bought this because I wanted to get my daily walks in without having a heat stroke by walking outside this summer in the Texas heat. It takes less than a few minutes to set up and tear down each time. I am thoroughly enjoying having this in my apartment!" –Dina V.

Shipping: Free; typically arrives within 1–3 weeks.
Get it from Amazon for $329.99 (available in three colors).
11.
A Urevo 2-in-1 folding treadmill small and versatile enough to be used just about anywhere in your house (under your desk or otherwise), as well as for low to higher-impact workouts, since it reaches an impressive speed of 7.6 miles per hour!

Promising review: "I cannot say enough good things about this treadmill. It was ready to go right out of the box, and I've used it 4–5 times a week for two months now. I work from home, and have started walking while I work on the computer, scaling up from 30 minutes at a time to the max of 99 minutes (before it automatically shuts off). I love that the max speed is higher than most other similar models I found, high enough to support a jog if I'm just listening on a call. I've had no mechanical issues whatsoever, and it's a breeze to set up and store (I have it leaning up against the wall when not in use). Very worthwhile investment to get some exercise and break up the workday a little bit!" –Elleena Powell

Shipping: Free; typically arrives within 7 days.
Get it from Amazon for $309.99+ (available in five colors). 

12.
Or this lightweight folding treadmill you can easily drag and drop (or, you know, gently place on the ground) in your home, so you can workout in front of the TV, desk, or even a window if you feel like being a nosy neighbor (no judgement). All this to say, you might even forget that you're exercising!
Promising review: "Best purchase I've ever made... This treadmill has most of the bells and whistles that $2,000 machines have but it's about as compact as it could possibly be. It stands up by itself so you don't even have to lean it against something else. It's on wheels and ball bearings so it slides out easily, then rolls to wherever you want it. I lay it down, pop the handle up, plug it in, and go. It's not for people nearing 6 feet because their stride would be too long. I'm 5'4" and it's got plenty of stride room for me. No giant handlebars sticking out, nice and lightweight, easy to handle, and it fits just about anywhere. Who could ask for more?" —Jaye Millette
Shipping: Free; typically arrives within five days.
Get it from Amazon for $259.99+ (available in three colors; clip the coupon to save $50).

You, running on your new treadmill: