1.
A two-in-one folding treadmill with everything you need to make the workday more exciting, including a Bluetooth speaker. You can set it up with arm bars like a conventional treadmill or simply slide it under your desk!
2.
An under-desk treadmill that'll have you up and at 'em on those days when it seems like the tedium of Zoom calls may never be broken.
4.
A walking treadmill for aspiring power walkers who want to work up a sweat in their downtime but don't need to expend all that energy sprinting.
5.
A fancy-schmancy GlowUp Under-Desk Treadmill with a portable console that allows you to control your speed from the comfort of your desk. This way, you don't have to worry about looking down and potentially face-planting (ouch).
6.
A two-in-one treadmill for the multitaskers of the world who just want more efficiency. Grinding away calories while on your daily work grind...watching your favorite shows while mindlessly getting swole as heck...the options are endless.
7.
An under-desk treadmill that has everything you could ever need in a treadmill (just like the ones at the gym), so you can achieve your ultimate lazy dream of never leaving your house ever again.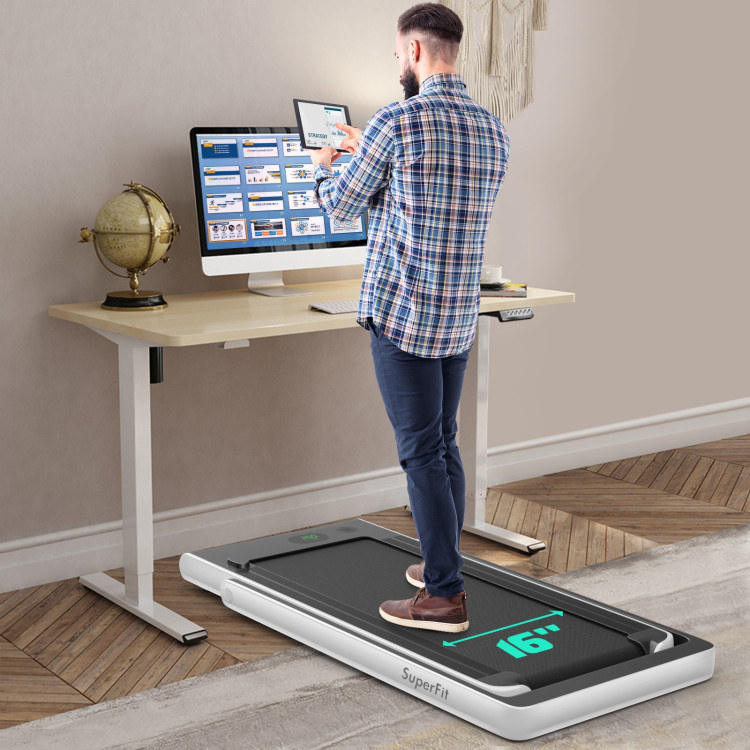 8.
A wireless under-desk treadmill so you can be the active person you pretend to be on Slack and also not drive the other members of your living space crazy with the clomping noises of a conventional treadmill.
9.
A splurge-worthy Unsit under-desk treadmill with a shortened, wider belt (that's 55% more walking space) for maximum impact while you work while taking up as little precious space as possible.
10.
A Bluetooth treadmill with an under-desk walking mode and a running mode with a handrail, as well as a sleek digital interface that put all your other bulky exercise equipment to shame.
11.
A space-saving treadmill you can flip 'n fold up to stow away just about anywhere – from the corner of your office to a nearby closet to under your sofa! Some reviewers have even transformed it into their permanent WFH spot.

Promising review: "So far, this has been the best little treadmill investment! It is compact, easy to fold up, stores upright taking minimal space, the belt is a good size to accommodate a variety of walking strides, and the speed variety is great! I bought this because I wanted to get my daily walks in without having a heat stroke by walking outside this summer in the Texas heat. It takes less than a few minutes to set up and tear down each time. I am thoroughly enjoying having this in my apartment!" –Dina V.

Shipping: Free; available for three- or four-day delivery with Amazon Prime, otherwise it typically arrives within eight days.
Returns: Most items can be returned within 30 days of delivery. Read about Amazon's Items that Can't Be Returned for more info.
Get it from Amazon for $299.99+ (clip the coupon to get $20 off this price; available in four colors). 

This is you, completing athlete-level mileage while working at your desk:
Reviews have been edited for length and/or clarity.